27 Best Haunted House Books To Totally Creepy You Out
Get ready to travel around the world with enthralling haunted house books to read right now. We dare you not to get the shivers.
From historic homes and old hotels to creepy boarding houses and churches converted into rentals, you'll never find a shortage of books about haunted houses.
The recipe for the perfect haunted house book usually includes some inexplicable paranormal activity, a murder mystery, and a few unreliable narrators.
Are there really ghosts hiding in the walls or is something or someone manipulating their surroundings? Is this the work of witchcraft or vengeful lovers?
Below, head to the Mexican countryside, secluded Scotland, and across the U.S. in the best haunted house books sure to keep you awake all night – whether from reading or in sheer terror.
Of course, "best" is subjective, and we'd love to know your favorite haunted house novels in the comments. Let's get started!
Read even more creepy and spooky books to keep you up at night.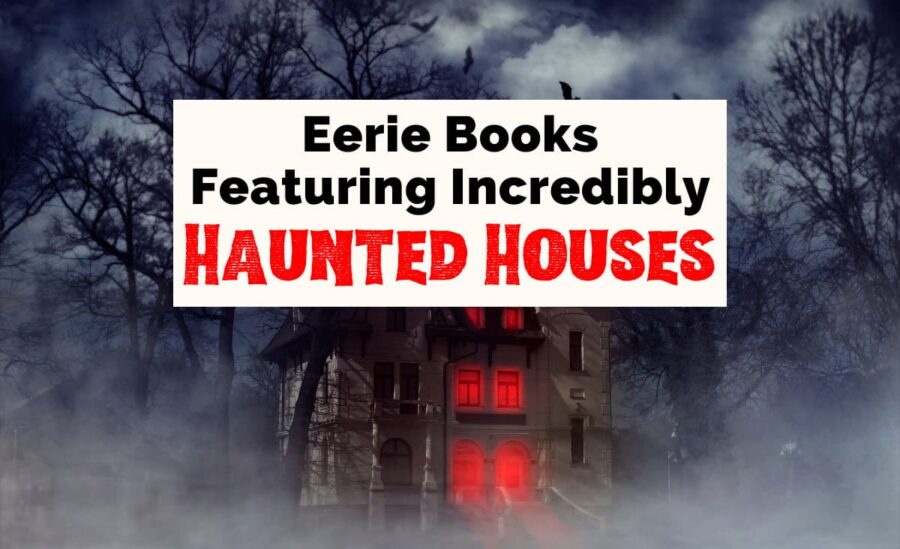 Grab your favorite books about haunted houses here:
27 Engrossing Haunted House Books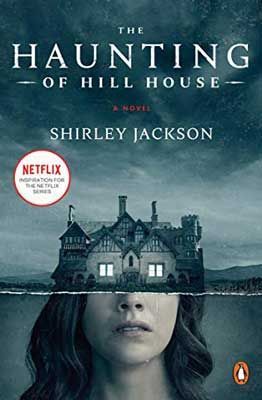 1. The Haunting Of Hill House by Shirley Jackson
You can't put together a list of the best haunted house books without including The Haunting Of Hill House – the clue's right there in the name!
Shirley Jackson's 1959 Gothic horror novel has become a classic of the genre, widely considered one of the best ghost stories of the 20th century, and with good reason.
Jackson was inspired by the true story of a group of "psychic researchers" who solemnly reported their "scientific findings" of a haunted house to the Society For Psychic Research.
In Jackson's version, one such researcher – Dr. Montague – rents the supposedly – haunted Hill House for the summer.
He invites several friends who he believes have had genuine supernatural encounters, with the hopes of proving that the ghosts of the mansion's horrific past are real.
If you enjoy The Haunting Of Hill House, don't miss these fantastic books with ghosts.
Read The Haunting Of Hill House: Amazon | Goodreads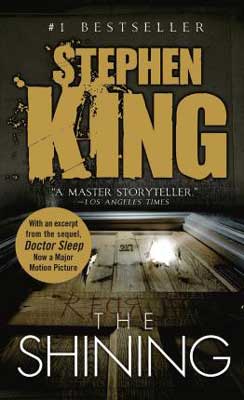 2. The Shining by Stephen King
Here's Johnny!
Before it was a terrifying Stanley Kubrick film, The Shining was one of the best haunted house books of the '70s.
It was Stephen King's third published novel, one that established him as the King Of Horror, master of the psychological thriller, and the contemporary Gothic.
King drew inspiration from his own visit to The Stanley Hotel in 1974, and his own struggle with alcoholism, to develop this haunted house book.
It's the story of Jack Torrance, a struggling writer and recovering alcoholic who takes a job as a winter caretaker of a hotel with a horrific past – a past that his psychic son has the preternatural ability to sense.
If you love books like The Shining, explore even more books set at hotels – both creepy and luxurious.
Or, find another King novel on our werewolf reading list.

Read The Shining by Stephen King: Amazon | Goodreads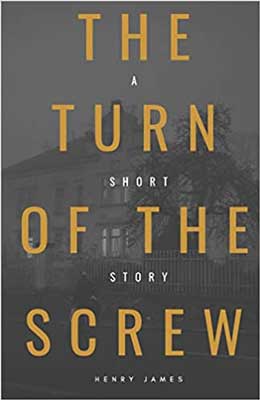 3. The Turn Of The Screw by Henry James
Henry James called The Turn Of The Screw a "tale," but it's really the haunted house book that inspired all other haunted house books, from its original publication in Collier's Weekly magazine in 1898 to the present day.
The plot is what we now consider to be the classic Gothic ghost story, but at the time, James actually turned a lot of the usual tropes on their heads.
Instead of explicitly inventing actual ghosts to service the plot, he left the "haunting" of his novel ambiguous.
Perhaps the new governess, looking after two young orphans, really did experience a paranormal torment – or maybe it was something entirely natural, a day-to-day trick of the mind that drove a young woman to madness…
Readers are still arguing about the "truth" of The Turn Of The Screw to this day.

Read The Turn Of The Screw: Amazon | Goodreads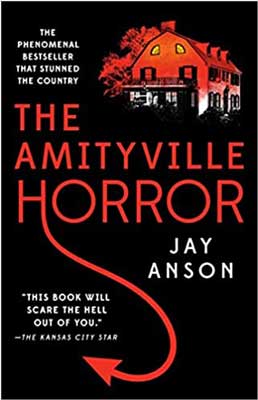 4. The Amityville Horror by Jay Anson
You might be more familiar with The Amityville Horror from the film franchise of the same name, but that cinematic universe was actually based on the 1977 book by Jay Anson.
At the time, Anson presented his haunted house book as non-fiction, but (unsurprisingly) a number of complaints about its veracity emerged soon after publication.
It's now most often shelved in the horror fiction section. What's not in doubt is the true crime story that kicked things off.
In 1974, Ronald DeFeo Jr. shot and killed six members of his family in their large Dutch Colonial house, a mighty shock in the Long Island suburb of Amityville.
A year later, the Lutz family moved into the cursed house – only to flee shortly thereafter, claiming to have been chased away by terrifying paranormal phenomena.

Read The Amityville Horror: Amazon | Goodreads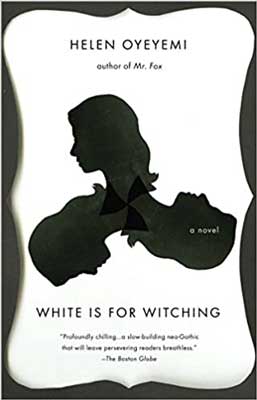 5. White Is For Witching by Helen Oyeyemi
The best haunted house books don't just give you chills – they give you something to think about, too.
That's what you get with White Is For Witching by Helen Oyeyemi, a story about what can only be described as a racist haunted house (one that even serves as a narrator, in part!).
The prologue reveals that the protagonist, Miranda, is missing – dead, actually, with a chunk of apple in her throat, and homesick (or "home sick", as the house puts it).
Oyeymi then takes the story back to the beginning, with Miranda and her twin, Eliot, moving into their mother's childhood home – which is the racist house, the one that chases away the guests and staff that upset its xenophobic sensibilities.
This is a particularly strange and unconventional haunted house book, with hints of the vampiric and allegorical.

Read White Is For Witching: Amazon | Goodreads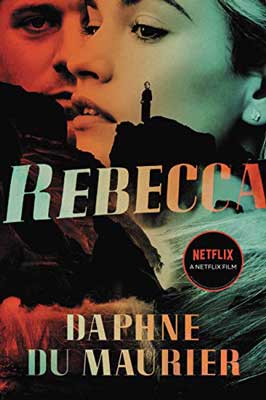 6. Rebecca by Daphne du Maurier
Haunted house books don't always feature literal ghosts. Sometimes the haunting is metaphorical, as in Rebecca, where a nameless narrator's marriage is haunted by the death of her husband's first wife.
The housekeeper, Mrs. Danvers, resents the arrival of a new young bride at the Manderley estate and will go to great lengths to keep Rebecca's memory alive.
Rebecca seems to be hiding around every corner of the Manderley mansion – so why does her husband refuse to so much as mention her name?
This 1938 Gothic novel has become a classic of the genre, and it has never gone out of print.
It was the basis for a 1940 Alfred Hitchcock film adaptation, which was rebooted by Ben Wheatley for Netflix in 2020.

Read Rebecca by Daphne du Maurier: Amazon | Goodreads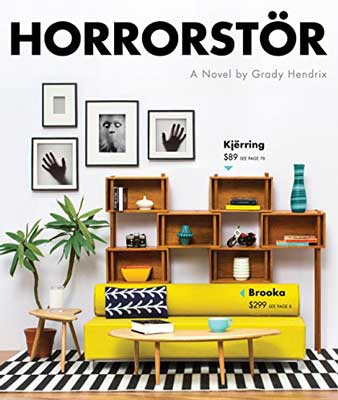 7. Horrorstor by Grady Hendrix
If you've ever found yourself lost in IKEA, you'll immediately appreciate the premise of Grady Hendrix's 2014 horror-comedy (books about haunted houses can be funny, too–who knew?).
Horrorstor is set in a fictional ORSK store, quite closely based on the real-life Swedish furniture empire, which seems to be under attack by supernatural forces.
The store manager and a few of his staff decide to stay overnight in the store, to try to get to the bottom of the random acts of vandalism that have plagued their workplace, but they might find more than they bargained for…
(Psst: the paperback design, by Quirk Books, is particularly clever and visually stunning–this haunted house book is worth checking out for that alone!)

Read Horrorstor: Amazon | Goodreads
Take The Uncorked Reading Challenge!
Travel around the world with our Uncorked Reading Challenge. Never be late to the party with unique new book releases. Get the latest movie and book lists straight to your inbox.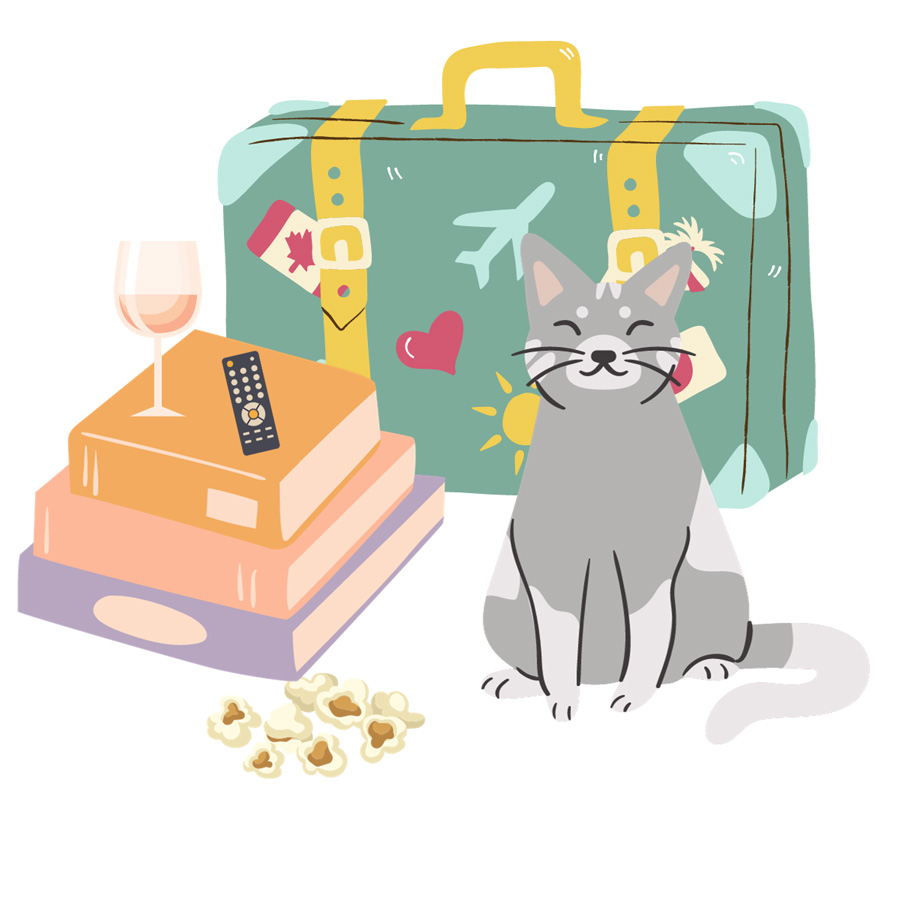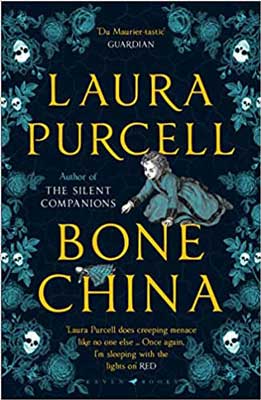 8. Bone China by Laura Purcell
If you're looking for the best haunted house books to curl up with on a cold winter's night, look no further than Bone China.
In Laura Purcell's homage to Daphne du Maurier, a dangerous experiment might prove to be the cure for the illness that ravaged the Pinecroft family… or it could be their undoing.
The patriarch of the family, Dr. Pinecroft, moves his daughter Louise to the Cornish seaside, believing (as many did at the time) that the salty air and ocean spray would protect her against the disease of consumption.
Forty years later, Hester arrives at that same Pinecroft home, to care for the near-paralyzed and totally-mute Louise.
It's here the nurse finds strangely superstitious staff and dark secrets from the past.

Read Bone China: Amazon | Goodreads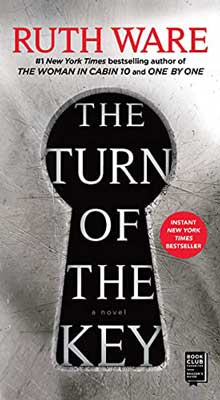 9. The Turn Of The Key by Ruth Ware
As the title suggests, Ruth Ware's 2019 book The Turn Of The Key is a contemporary adaptation of the classic haunted house book Turn Of The Screw.
All the essential ingredients are there: two young children, a new live-in nanny, and a house that holds far too many secrets.
Ware carefully combines classic gothic elements with modern technology to produce one of the best haunted house novels to genuinely scare anyone with a "smart" device in their home.
Plus, the frame of the novel is cleverly turned on its head in the final pages; you'll be gripped, and left guessing the truth of this haunted house book until the very end.
If you enjoy The Turn Of The Key, find even more books based in Scotland – funny, scary, and full of thrilling and suspenseful mystery.

Read The Turn Of The Key: Amazon | Goodreads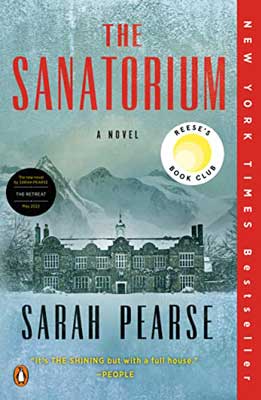 10. The Sanatorium by Sarah Pearse
There is perhaps no spookier setting for a haunted house book than an abandoned sanatorium – unless it's one that's been refurbished with ultra-modern conveniences to host paying guests.
That's the premise of The Sanatorium, Sarah Pearse's 2021 atmospheric winter thriller.
Elin Warner is on leave from her job as a detective, plagued by anxiety from the trauma she experienced on the job.
She heads to the Swiss Alps, the sanatorium (now branded as a luxury hotel, Le Sommet), to celebrate the engagement of her estranged brother.
But when his new fiancée disappears, and a fearsome storm isolates them all from even the nearest town, Elin has no choice but to put her detective skills to use.
Unfortunately, uncovering the truth might be worse than not knowing…
Read The Sanatorium: Amazon | Goodreads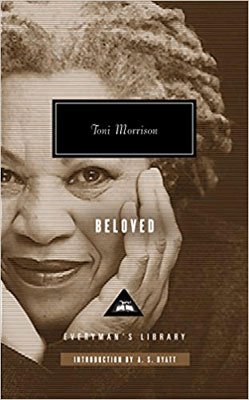 11. Beloved by Toni Morrison
There aren't many haunted house books that have received the literary acclaim of Toni Morrison's Beloved –but that's not all that makes this heart-wrenching and thought-provoking story of a former slave unique.
Morrison's novel is actually based on the real-life of Margaret Garner, an escaped slave who fled to the free state of Ohio.
Margaret chose to kill her children rather than have them returned to plantation life under the Fugitive Slave Act of 1850.
In Morrison's version, the protagonist, Sethe, is haunted by the ghost of the daughter she killed, a child known only by the one word Sethe could afford to have engraved on her tombstone: Beloved.
This essential book is dedicated to "sixty million and more" – the estimated number of Black men, women, and children killed in the African slave trade.
Explore even more of the most notable books published in the '80s.

Read Beloved: Amazon | Goodreads | Book Information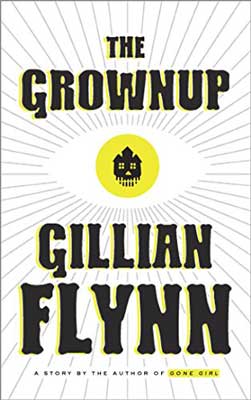 12. The Grownup by Gillian Flynn
In Gillian Flynn's The Grownup, an award-winning homage to classic haunted house books, a young "psychic" con woman gets more than she bargains for when she visits the Victorian home of the wealthy and enigmatic Susan, her latest mark.
Carterhook Manor, according to Susan, is under the control of a malevolent spirit. The narrator goes along with it, pretending to believe, but soon finds she doesn't need to pretend at all.
Susan's 15-year-old stepson, Miles, doesn't help matters – he has a grisly imagination, and something has clearly disturbed him.
Fans of Flynn's realist thrillers will find the spook factor turned way up in this story.
Although a short horror novella, The Grownup still features all of the hallmarks of Flynn's other best-sellers: an unreliable narrator, a curious mystery, themes of vengeance, and heart-stopping scares.

Read The Grownup: Amazon | Goodreads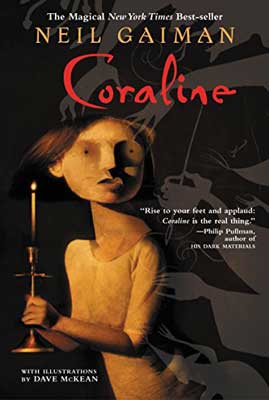 13. Coraline by Neil Gaiman
Illustrated by Dave Mckean: When Coraline's family moves into an old mansion, (relatively) recently converted into flats, she can't shake her curiosity about what's behind the locked door.
The "crazy old man upstairs" tells her not to go in there. The two elderly women next door see danger when they read her tea leaves.
But still, Coraline's curiosity overcomes her.
Neil Gaiman's Coraline is a dark children's fantasy for fans of haunted house books that – like a spoonful of sugar – help the story go down.
This is a story about innocent curiosity gone wrong, and a warning against anything that seems too good to be true.
Sometimes, doors are locked for a reason! (Be sure to pick up the original version, with beautiful and iconic illustrations by Dave McKean.)
If you adore Coraline's feline friend, don't miss these books with cats for adults.
And, don't miss the animated film!

Read Coraline: Amazon | Goodreads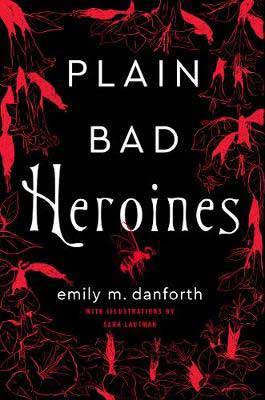 14. Plain Bad Heroines by Emily M Danforth
Plain Bad Heroines combines the best of dark academia and haunted house books, with a queer love story and Hollywood glamour to boot!
The story is set across two timelines.
In 1902, at the Brookhant's School For Girls in Rhode Island, two young girls are infatuated with each other and with the writing of bisexual feminist author Mary MacLane.
They meet a young and tragic death when they are stung by eastern yellowjacket wasps in the orchard where they had clandestine trysts.
In the present day, a film crew has taken over the abandoned Brookhant campus to make a movie about the school's strange history.
Two celebrity actresses are cast as the young girls, and they work closely with the author who wrote a best-selling book about the school.
It's not long before the past and present become entangled, and the haunting of Brookhant becomes all too real.
This is an illustrated story-within-a-story that places strong queer women front and center. Read even more fabulous LGBTQ+ books for teens.

Read Plain Bad Heroines: Amazon | Goodreads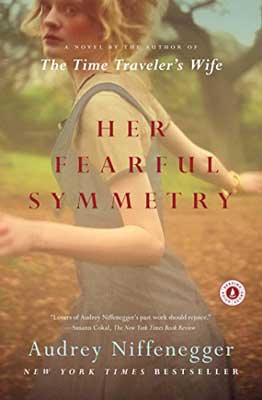 15. Her Fearful Symmetry by Audrey Niffenegger
Audrey Niffeneggger is perhaps best known for her romantic stories about true love (The Time Traveler's Wife – one of the most well-known time travel romances), but in Her Fearful Symmetry, she proves she's got the chops to write brilliant haunted house novels, too!
The story is set in London's Highgate Cemetery (where Niffenegger once worked as a tour guide) — what better setting for a spooky haunted house book?
When Elspeth dies, she leaves her apartment overlooking the cemetery to her twin nieces, Julia and Valentina.
The two American girls move to London, to their aunt's apartment, and slowly become enmeshed in the lives of her former neighbors.
Only, it would seem that their aunt isn't quite ready to leave them, or the apartment, behind…
Her Fearful Symmetry is a wonderfully moving haunted house book, one that explores the bonds of sisterhood and the strength of secrets.

Read Her Fearful Symmetry: Amazon | Goodreads
More Books About Haunted Houses From Christine: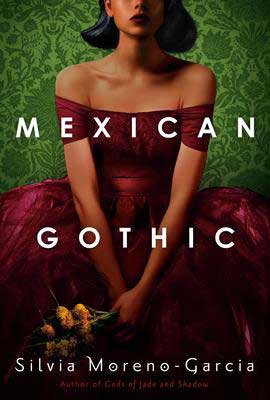 16. Mexican Gothic by Silvia Moreno-Garcia
One of the most talked about haunted house books of 2020, head to the Mexican Countryside during the 1950s in Moreno-Gacia's Mexican Gothic.
It's here you'll meet Noemí Taboada, one kick-butt woman in historical fiction, as well as the creepiest home on this list, High Place.
High Place's walls are filled with dark demons and swirls of death.
Noemí receives a disturbing letter from her cousin, Catalina, warning that home is taking a toll on her health.
When Noemí arrives, she instantly realizes that something much more sinister is at play.
The depressing atmosphere masks secrets and possibly even murder. Will these cousins escape the home alive?
Find dazzling details juxtaposing gore with the brilliant and golden darkness. The suspense and imagery promise to engross unsuspecting readers.

Read Mexican Gothic: Amazon | Goodreads | Book Information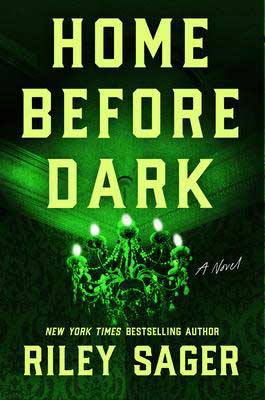 17. Home Before Dark by Riley Sager
Travel across the 50 States to Vermont with Sager's ghost thriller and haunted house book, Home Before Dark.
Upon the death of her father, Maggie begrudgingly returns to her childhood home, Baneberry Hall — her inheritance that is in dire need of restoration.
Unfortunately, it's also been foreshadowed that Maggie will die on this visit.
No one wants her there. Maggie's father's bestselling and famous nonfiction book changed all of their lives — and not for the better.
Plus, general consensus is that Maggie's father lied about Baneberry Hall's paranormal activity to make a few extra bucks.
Still, something more is wrong. Was daddy dearest also covering up something darker and deadlier?
If you love spooky books with haunted houses, dressers you'll never want to open, and Ouija boards, Home Before Dark is for you.
Read Home Before Dark: Amazon | Goodreads | Book Information→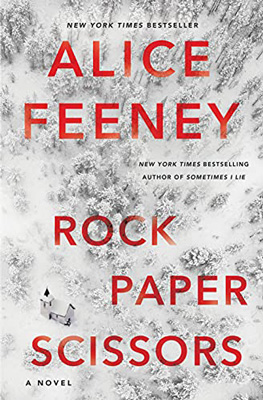 18. Rock Paper Scissors by Alice Feeney
Feeny's Rock Paper Scissors is one of the best slower-paced, keep-you-guessing, and suspenseful haunted house novels on this list.
Find a story chock full of surprises you won't see coming.
Similar to the storyline of Goodnight Beautiful, meet multiple unreliable, unhappy narrators — each with their own agenda.
Adam and Amelia are hoping that a weekend getaway to Scotland will ignite the quickly diminishing spark in their marriage.
Mysteriously, Amelia won a free stay at a historic church converted into a creepy home and rental property. Something or maybe someone is out to get them. (Please know that Bob the dog will be OK.)
Those traditional anniversary gifts and fluffy white rabbits are much more hellish than they appear.
A book about stories — the ones we write as well as the ones we tell ourselves — Rock Paper Scissors questions if can ever really know the person we married.
Heck, can we distinguish the truth from the lies we tell ourselves? Encounter themes of raging revenge and guilt in one of our most-anticipated books of 2021.

Read Rock Paper Scissors: Amazon | Goodreads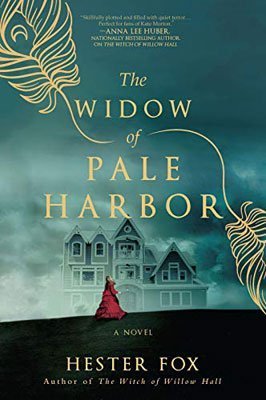 19. The Widow of Pale Harbor By Hester Fox
For books with Salem Witch Trials themes, travel to Maine in Hester Fox's The Widow Of Pale Harbor.
Fox, the author of The Witch of Willow Hall – an equally creepy haunted house book set in MA – is back at it with another eerie story filled with Gothic romance and murder.
Castle Carver – the setting for this story – is based on real-life Castle Tucker, which is located in Wiscasset, Maine.
It's here in small-town Maine, ruled by fear and hatred, that Sophronia Carver stays self-imprisoned in her home, accused of murdering her husband.
Of course, the story of a spinster and witchy maid paired with a reclusive, stunningly beautiful, and deadly widow fits right in 1846.
To the conservative townspeople, something is brewing between the two outcasts and alleged occultists.
As Sophronia manages her husband's literary magazine, disturbing and threatening gifts arrive at her front door: hurt birds and candles with notes promising fatal outcomes.
Is this merely the crime of bored school children? Unlikely.
And now, people are dying and all of the murders mimic scenes from Edgar Allan Poe's stories and poems.
Add in a love affair with an alleged minister, and The Widow of Pale Harbor has a cauldron full of suspenseful and mysterious elements perfect for a wickedly enchanting haunted house novel.

Read The Widow Of Pale Harbor: Amazon | Goodreads | Review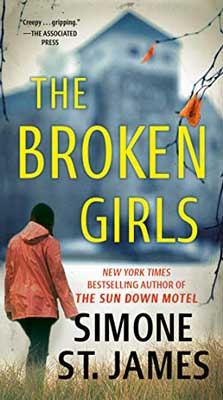 20. The Broken Girls by Simone St. James
Simone St. James is the goddess of paranormal books about haunted houses, hotels, and boarding schools.
In dark academia novel, The Broken Girls, St. James takes readers to a petrifying and dilapidated closed boarding school that's about to be reopened by a mysterious donor.
Beginning in Vermont in the 1950s, Idlewild Hall was where families would abandon their 'unwanted' or secret children.
The worst part, though, is that – to this day – Mary Hand haunts the school, and Mary is not a happy, peaceful soul.
Terrorizing the four main characters, all young women, one will eventually end up dead.
Flash forward to 2014. Fiona Sheridan is determined to find answers about the murder of her sister. An assigned story takes her back to Idlewild where the past and present collide.
Also from St. James, The Sun Down Motel is one of the most haunted hotel stories set in New York – complete with a murder mystery and double timeline.
Explore more books demonstrating the power of friendship.
Read The Broken Girls: Amazon | Goodreads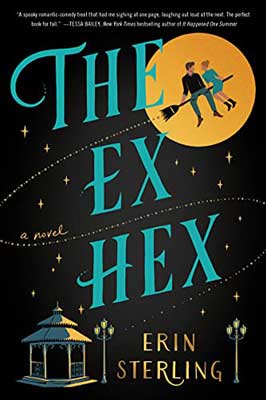 21. The Ex Hex by Erin Sterling
For non-spooky haunted house books, travel to Wales and small-town Georgia in The Ex Hex. If you enjoy spell-binding and wickedly witchy romances, this recommendation is for 100% you.
"Never mix vodka with witchcraft," which is quite sound advice when heartbroken teenage girls are involved.
Unfortunately, that's exactly what Vivi does when her summer fling, Rhys, breaks her heart. Rhys is betrothed to someone else and just happens to conveniently leave out that part.
As Rhys returns home to Wales, Vivi jokingly places a hilarious curse on him. Of course, it won't work. Cough, cough.
Nearly a decade later when Rhys returns – and he seems completely out of luck – he must enlist the help of Vivi and her quirky family to rid him of the curse.
Can Vivi and Rhys re-kindle their romance too?
Meet angry ghosts, a haunted house, and a talking cat. Plus, shop at the best witch store in town.
For a light-hearted rom-com, especially perfect for the fall, The Ex Hex promises all of the fluff.
Read The Ex Hex: Amazon | Goodreads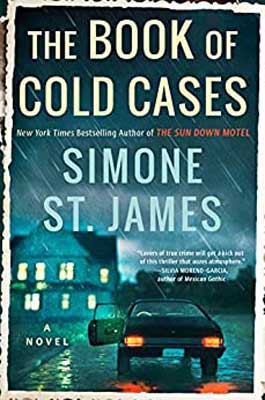 22. The Book of Cold Cases by Simone St. James
Although a repeat author on this list, you cannot overlook 2022 book release, The Book of Cold Cases. This is the ultimate thriller, murder mystery, and haunted house book.
Shea Collins is a doctor's office receptionist. At night, Shea transforms into an intuitive true crime blogger, fascinated with serial killers since her traumatizing childhood abduction.
One day, Beth Greer — the alleged 1970s Lady Killer (who was acquitted) — walks into the office. Shea cannot resist dropping back into the black hole of details and research about the case.
Even more enticing, Beth grants Shea an unheard-of interview at her creepy Oregon mansion. Spoiler alert: the mansion is both haunted and dangerous.
Does sexy AF and cold make for a murderess or merely the perfect scapegoat? Is Beth innocent? And if so, who is the real Lady Killer?
The Book of Cold Cases is full of thrilling and chilling suspense with quite a few plot twists. The character depth and development make for one unforgettable and thought-provoking paranormal story.
Read The Book of Cold Cases: Amazon | Goodreads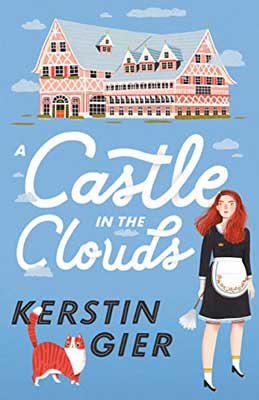 23. A Castle In The Clouds by Kerstin Gier
Translated into English by Romy Fursland: We know our readers pretty well, and along with The Ex Hex, we knew that we needed at least one or two more light-hearted and sweet haunted house novels on this list.
Travel to the Swiss Alps in Gier's YA romance and mystery novel, A Castle In The Clouds.
Of course, this castle is more of a hotel than a house; however, many of the staff live permanently on-site – so, put those thumbs away and back away from our comment section!
Sophie is a high school dropout and a new hotel intern. As internships tend to go, along with her housekeeping duties, Sophie is also tasked with the hotel's surplus of children.
Between paranormal activities, the Forbidden (possibly immortal) cat, and rather wealthy guests with large diamonds, Sophie is in for one wild ride, including a little romance with the hotelier's son.
You might also get Janet Evanovich vibes here when you meet Sophie's other love interest…
It doesn't help that the hotel isn't making money and there might be a criminal (or two) on the loose.
Can Sophie help save the hotel, her heart, and this luxury Swiss hotel? Encounter secret identities, and waltz on the rooftop.

Read A Castle In The Clouds: Amazon | Goodreads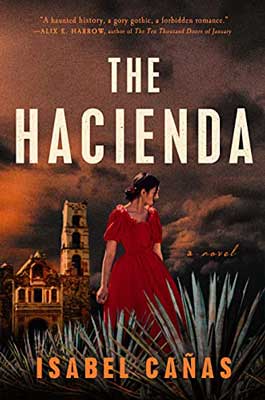 24. The Hacienda by Isabel Cañas
Fans of Mexican Gothic and Rebecca retellings will devour 2022 book release The Hacienda.
Set in Mexico after the Mexican War of Independence, Beatriz knows that she must strategically marry to save her mother and herself.
Marrying Don Rodolfo Solórzano is clearly the answer, even though his wife mysteriously died in their country estate, Hacienda San Isidro.
For books about haunted houses, San Isidro is chock full of horrors, including a skeleton with glowing red eyes and one ticked-off and vengeful spirit. No wonder the house staff sleeps elsewhere.
Who is haunting this family, and can the local priest perform a secret exorcism before it's too late? Clearly, Beatrix is next to die.
Find romance and a story about witches in this chilling and thrilling haunted house book for historical and Gothic fiction lovers.
Read The Hacienda: Amazon | Goodreads | Book Information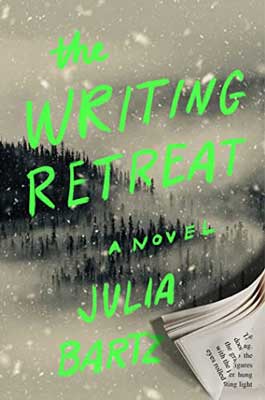 25. The Writing Retreat by Julia Bartz
TWs for sex, violence, and drink spiking
When looking at haunted house books, we have to talk about those nightmarish 2023 book releases too. And trust us, we have just the book for you…
Alex wants nothing more than to be a published author and make amends with her former best friend Wren.
When she's added to a coveted spot at her favorite author and role model's writing retreat, her dreams might finally come to fruition.
However, Roza Vallo is a bit unorthodox in her ways, and her secluded mansion might be a tad haunted following the tragic deaths of its former inhabitants.
Even more stressful, Roza makes this retreat high-stakes: one of the five women invited will get their book published.
However, something sinister is at play here, and as a blizzard closes them off to the world, it's debatable if everyone will survive.
From quirky charm necklaces to desperation and manipulation, The Writing Retreat is a book about writing and books and the struggles and pressures of being an author.
How far would you go to be famous and get a book published?

Read The Writing Retreat: Amazon | Goodreads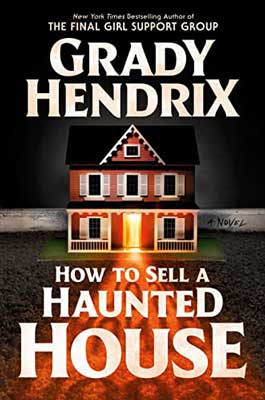 26. How To Sell A Haunted House by Grady Hendrix
CWs: graphic violence
One of the scariest haunted house books we've read in a long time – that goes slightly off the rails – people either loved Hendrix's 2023 release or felt it was his weakest title.
However, besides the fact that dolls and puppets are creepy AF – just like clowns – we largely enjoyed How To Sell A Haunted House… although we could have done without Mark's college detour backstory.
When her not-quite but almost estranged brother Mark calls Louise letting her know their parents are dead, Louise heads home to South Carolina to help with the logistics.
Of course, to her, childish Mark hasn't changed a bit, and she's devastated to learn that her mother left Mark everything except her art, including their terrifying childhood home filled with bad memories and possibly even demons.
So, how do you sell a haunted house that is literally trying to kill you? The puppets come alive, and let's just say, there is a lot of violence, blood, and gore before the resolution.
Hendrix has penned one of the best haunting books sure to chill you to the bone about families, secrets, the selfish lies we tell ourselves for self-preservation and generational trauma.
It's a terrific book about sister relationships with their brothers too.
With 39-year-old Louise at the heart of the novel, we'd also say this is a pretty solid "middle-aged character" read, especially as she navigates her parents' deaths and raising her own daughter, Poppy.
Read How To Sell A Haunted House: Amazon | Goodreads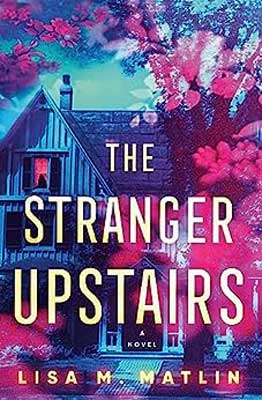 27. The Stranger Upstairs by Lisa M. Matlin
CWs: sick/hurt animals (Reaper will be OK), suicide, murder, alcoholism, and more
For new books about haunted houses (2023) with despicable characters that you will still find yourself rooting for, The Stranger Upstairs makes for a riveting and suspenseful mystery.
Sarah Slade and her husband have just purchased Black Wood House, a murder home in Melbourne, Australia, where a husband viciously hammered his wife to death and attacked their daughter before killing himself.
But therapist and bestselling self-help author Sarah Slade doesn't care. With a crumbling marriage and failing career, she only sees dollar signs.
Yet, is even awful Sarah evil enough to withstand the legacy of this haunted home, including someone possibly poisoning her cat and trying to kill her?
The police will find dead bodies… who will they belong to? Haunted house novels don't get any darker than this, and for debut novels, this is a strong start for Lisa Matlin.
Discover even more great books from, about, and across Australia.
Read The Stranger Upstairs: Amazon | Goodreads
We have even more spooky treats for our haunted house genre fans…
If you love haunting books, be sure to visit our haunted house movie list, filled with funny, scary, and suspenseful movies about the creepiest houses out there. You'll even find a few titles from this list that were adapted into horrifying films like The Shining, The Amityville Horror, and The Haunting of Hill House. Maybe just leave the lights on, and hold on tight to your popcorn…
Grab the best haunted house books for later:
Do you have a favorite haunted house book?
Which haunted house novels will you never forget? Are there any that fell flat for you? Let us know in the comments.
Related Articles:
Save The Most Eye-Catching Books About Haunted Houses For Later: