Wreak havoc all over town with the best monster books to read for adults and teens.
Monsters come in all shapes and sizes: vampires, alien beings, murderers, werewolves, and those large, imaginary, sometimes ugly, and terrifying beasts.
Yet, they also brew up coffee, fight xenophobia and racism, and devour books.
So, what are the best novels about monsters for adults and teens? There is certainly no shortage.
Below, find just a few terrific books with monsters across genres, including graphic novels, LGBT+, contemporary lit, horror, suspense, mysteries, thrillers, and more.
And, not all of these books about monsters are terrifying. In fact, there are quite a few fantasy monster novels that are very sweet – and even romantic.
Be sure to share your favorites in the comments. Let's get started!
If you love monsters, head over to our best books about aliens reading list.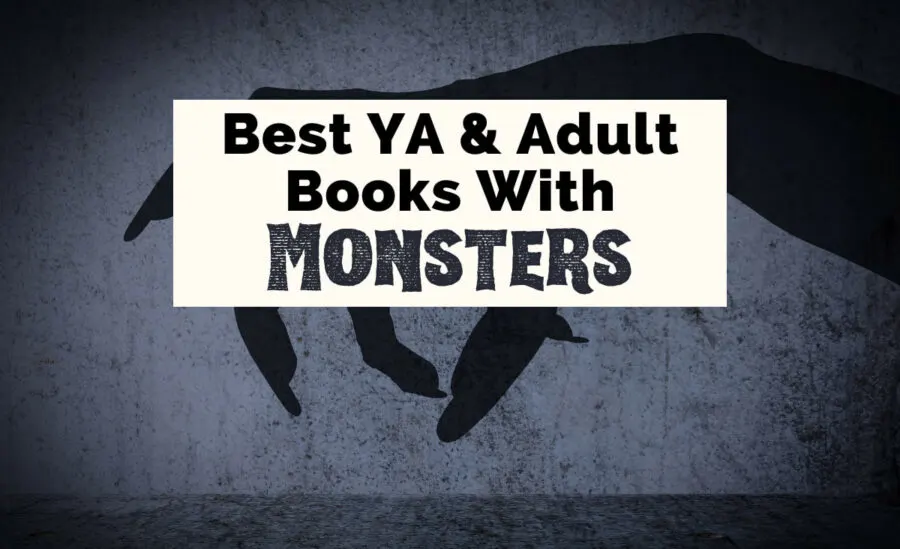 Grab your favorite movies and novels about monsters here:
18 Best Monster Books
Pet by Akwaeke Emezi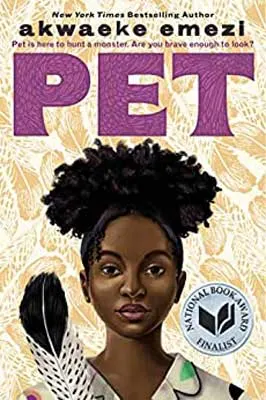 With Pet, Nigerian non-binary author Akwaeke Emezi brings us an alternative present-day USA in which all monsters have been banished and everyone lives in a peaceful utopia.
One city in this brave new world includes Lucille, where we find the young high-schooler Jam; she's a Black, trans girl who prefers to sign rather than speak.
Her mother, Bitter, is an artist, and she's on the verge of finishing her latest painting of a horned creature, complete with harsh brush strokes and sharp objects embedded in it.
Unfortunately, Jam accidentally cuts herself on the painting, and this somehow brings forth the creature from the canvas to the real world, right into Bitter's studio.
This menacing being is Pet, and Pet has a mission: it's time for a monster hunt. Because not all monsters show their claws.
Pet is not only one of the best novels about monsters to read on paper; it's also a great fantasy audiobook to listen to.
Ring Shout by P. Djèlí Clark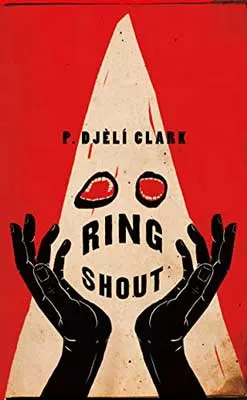 Next on our monster books list is a mixture of historical fiction and dark fantasy in a Southern Gothic setting.
The year is 1922, the place is Macon, Georgia, and the group performing the marches through the streets in white robes is the Ku Klux Klan.
Ever since the release of the propaganda film The Birth of a Nation 7 years previously, the KKK has been on the rise, spreading fear, violence, and hatred under the guise of "salvation."
Opposing them are a trio of resistance fighters, led by the fierce Maryse Boudreaux.
Maryse and her friends know that there's more than just the evil hearts of white folks at play here; they're being aided by supernatural forces – monsters that hide in plain sight.
These monsters are building toward something, and it looks an awful lot like the end of the world…
Ring Shout is a great monster novel if you are looking for horror books under 200 pages to read.
Read Ring Shout: Amazon | Goodreads
Hide and Seeker by Daka Hermon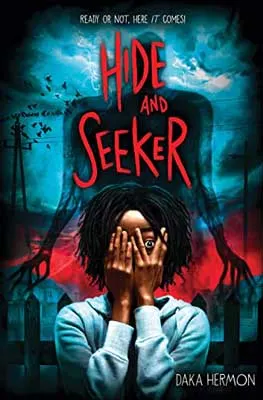 Something is wrong with Zee.
Missing for a whole year, now he has returned. But he's different somehow, and his best friend Justin can sense it, somehow.
That's not going to stop everyone from throwing a "Welcome Back Zee" party, though. But during a game of hide and seek, something goes horribly wrong.
People are disappearing, namely those that took part in the game. Now they're stuck in a tormented world like a bad dream, come to life.
It turns out that this is where Zee has been all this time, and now it's everyone else's turn to hide from The Seeker.
Taking an innocent children's game and giving it a devious twist, for great books about monsters, author Daka Hermon's middle-grade Hide and Seeker is one of the creepiest and most terrifying.
Read Hide and Seeker: Amazon | Goodreads
Sweet Home by Kim Carnby, art by Young-chan Hwang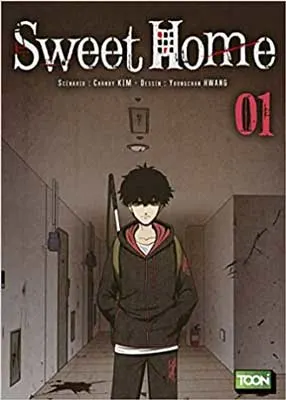 After experiencing a huge family tragedy, depressed 18-year-old Cha Hyun-soo moves into an apartment in a block called Green Home.
But he's only been there a short while before strange things start happening; residents start to experience unusual ailments, such as nosebleeds and hearing evil voices.
Then, Hyun-soo witnesses something nightmarish – one of his neighbors transforms into a misshapen, human-devouring monster.
It soon becomes apparent that she wasn't the only one, and soon there's a bloodbath with the survivors becoming fewer and fewer.
Hyun-soo not only needs to find out what's happening and why, but he also needs to survive – and avoid becoming a monster himself – until the next day. And the next …
This dark and unflinchingly gruesome South Korean Manhwa is the first in a series of monster books that originally began as a webtoon.
Find Sweet Home and more on our dark graphic novels reading list.
Read Sweet Home: Amazon | Goodreads
Frankenstein by Mary Shelley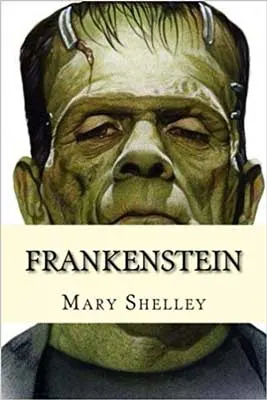 What is a list of the best books with monsters without mentioning the one that many people believe started it all?
Also known as "The Modern Prometheus," Frankenstein tells the tale of a young brilliant scientist named Victor Frankenstein, who builds and successfully reanimates a creature made from dead bodies.
This does not go well, and what begins as a misguided exercise in scientific curiosity and ego stimulation, descends into a tragedy of sorrow and revenge.
Author Mary Shelley was just 20 years old when Frankenstein was first published in 1818.
This makes Frankenstein – in addition to being one of the most famous monster books ever written – arguably the first-ever science fiction novel.
Fun fact: this book came about as a result of a bet between Shelley, her future husband Percy Bysshe Shelley, and the legendary Lord Byron as to who could write the best horror novel.
Explore more scary books for adults and teens!
Read Frankenstein: Amazon | Goodreads
The Book Eaters by Sunyi Dean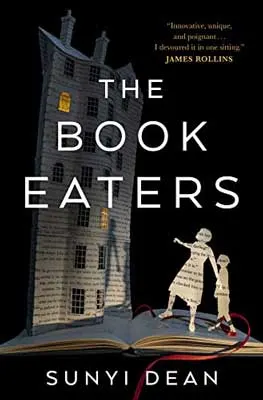 We can never resist unique folk horror novels.
There is a group of creatures living in secret among regular humans. You may not see them, but they are there, hiding in their secluded mansions deep in the countryside.
They may look like humans, for the most part, but these supernatural creatures have a highly irregular diet: they eat books, absorbing knowledge and savoring the distinct taste of words.
But even among these "book eaters," there are a few who are even more unusual; even more deadly… even more monstrous.
Sometimes a book eater child is born with a darker appetite – they need living human brains.
When Devon's child is born this way, she must flee from everything she has ever known, including her people, who now want nothing more than to capture and slaughter her son.
The dark atmosphere in this book about monsters is evident from the very beginning, as is the abundant creativity and engaging story in which we find empathy in the most unusual places.
The Book Eaters is one of the most original modern gothic monster novels of recent years and great books about books.
Read The Book Eaters: Amazon | Goodreads
Monstress by Marjorie Liu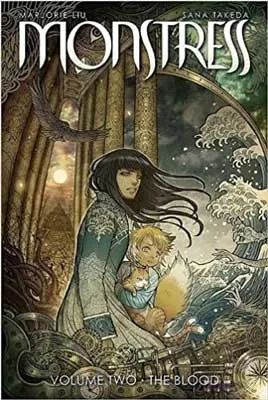 Set in a reimagined matriarchal early 1900s Asia, this series of collected monster books (of which Volume 1 contains the first six issues) is a fantastical story of the traumas of war.
The human Federation, led by a group of sorceresses, has been battling against the magical Arcanics – supernatural beings that can sometimes pass as human.
Our protagonist is Maika Halfwolf, a teenage Arcanic who appears human but who shares an unusual psychic link with Zinn, a monstrous being of great power.
Maika is on a quest to avenge her dead mother. At times, her connection to Zinn proves useful, but other times, it is a struggle to remain in control.
Fans of epic fantasy, books with cats, and strong female protagonists will enjoy this highly imaginative comic series.
Discover even more werewolf fantasy books.
Read Monstress: Amazon | Goodreads
The House in the Cerulean Sea by TJ Klune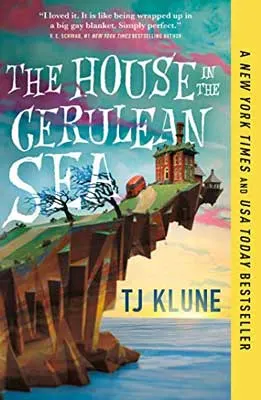 Prepare to be charmed by author TJ Klune's delightful and emotional twist.
The House in the Cerulean Sea is one of the best novels about monsters – and a great reading selection if you are doing a book with a color in the title challenge.
Linus Baker works for the Department in Charge of Magical Youth. It's his job to head out to the many orphanages under governmental care and make sure the children are properly taken care of.
But on this assignment, it seems as though he's being given his toughest assessment yet.
Sent to the mysterious Marsyas Island, he has to not only get an update on the children, but also their carer – the enigmatic Arthur Parnassus.
On top of that, this orphanage apparently houses the most dangerous and unpleasant magical children, including a beast, a were-creature, a gnome, a sprite, and the Antichrist.
The locals in the nearby village believe them all to be monsters, but appearances can be deceiving.
Over time, Linus may just find that his time spent at the Marsyas Island Orphanage opens his eyes to what he was missing back in his small house in the city.
The colorful cast of characters alone makes this one of the most enjoyable and heartfelt monster stories on this list, perfect if you enjoy gay fantasy novels.
Read The House in the Cerulean Sea: Amazon | Goodreads
Perdido Street Station by China Miéville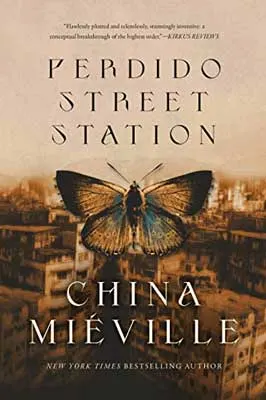 If you're looking for books with monsters in them, Perdido Street Station has one of the largest collections of nightmarish creatures on this list.
Set in the fantastical city of New Crobuzon, where beings from seemingly all species live and interact, a discovery is made.
This discovery will lead to death and destruction the likes of which have not been seen outside of legend. But for now, it remains hidden, awaiting release.
Meanwhile, a half-man, half-bird warrior makes a pilgrimage to a scientist to make an impossible request, and an insectoid artist is commissioned to create a sculpture of a mutant mob boss.
Oh, and there might also be a secret society of usurpers, an A.I. army led by the undead, a contract with Hell, and a revolution.
Unspeakable horrors that stretch the fabric of reality are just around the corner, all of it under the rumbling of trains traveling through the central hub of Perdido Street Station.
Author China Miéville is one of the forefront writers of the "New Weird" genre, and it's easy to see why. This is one of the most original books about monsters you'll ever read.
Discover more books with trains.
Read Perdido Street Station: Amazon | Goodreads
The Only Good Indians by Stephen Graham Jones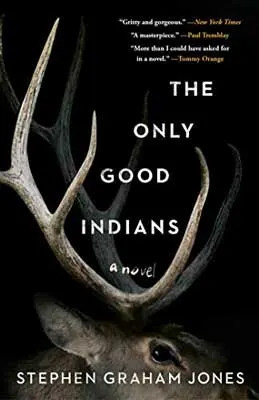 It's the end of hunting season, and four young Blackfeet men have needlessly killed more than they need.
Fast forward several years and the men find themselves being stalked by a vengeful entity trying to right the wrongs of their youth.
Often what we don't see is more terrifying than what we do. This is certainly true in The Only Good Indians, where we are only given glimpses of the entity for most of the book.
As the men fight for their lives, we are given insight into Blackfeet culture, including life on their rez and a deep love of basketball.
With rotating perspectives – and many truly terrifying moments – The Only Good Indians is one of the most haunting monster books by an Indigenous author.
Find The Only Good Indians and more on our winter-themed books reading list.
Read The Only Good Indians: Amazon | Goodreads
Join The Uncorked Reading Challenge Today
---
Travel around the world with the Uncorked Reading Challenge. Get the best book and movie recs straight to your inbox. Sign Up Now.
The Me You Love in the Dark by Skottie Young, art by Jorge Corona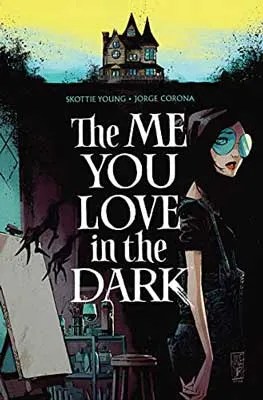 Don't you just hate it when your creative juices falter and start to run dry?
Sometimes you can't get back in the groove without a change of scenery – the more drastic and remote the better.
That's the situation Ro finds herself in when she absconds from the hustle and bustle of the city to a crumbling old house deep in a small, out-of-the-way town.
She's looking for inspiration, and she gets more than she bargained for when she begins to experience the actions of an "entity" in the house.
Before long, she has a new muse. But this muse might have opinions about the idea of Ro eventually leaving…
The art alone should be enough to get you to pick up The Me You Love in the Dark.
It is an interesting subversion of haunted house monster novels, with an examination of unhealthy relationships and some unexpected twists thrown in.
Find even more of our favorite haunted house books for adults.
Read The Me You Love in the Dark: Amazon | Goodreads
Sour Candy by Kealan Patrick Burke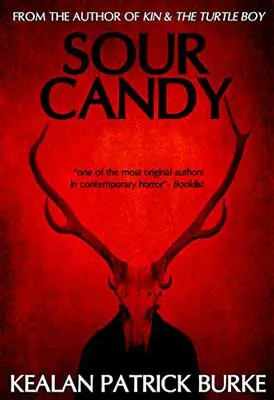 No one would have suspected anything abnormal about Phil Pendleton and his young son, Adam.
From their visits to the park to their trips to the zoo and their occasional meals by the lake, it looks like a perfect father-and-son relationship.
The only thing people might comment on is how much leniency Phil gives Adam, seeing as how he lets him choose his own bedtime and eat candy seemingly at any time.
It might also be pointed out that Phil also doesn't appear to discipline Adam at all, even when he has a tantrum in public.
But what might definitely raise a few eyebrows is the fact that, until they met by chance a few weeks ago, Phil had never seen Adam before in his life.
If you like psychological monster horror books, Sour Candy is the novella for you.
Read Sour Candy: Amazon | Goodreads
Sawkill Girls by Claire Legrand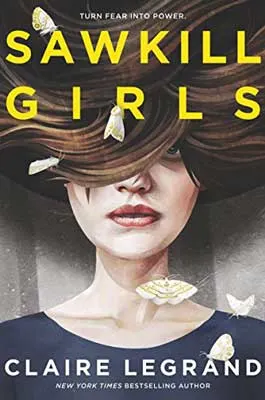 For years, girls have been disappearing from the island of Sawkill Rock, an idyllic – if foreboding – place with roaming horses, rocky coasts, and rolling fields.
The evil entity supposedly responsible for these kidnappings is not spoken of openly; only around the quiet campfires and at carefree parties is it mentioned, and very discreetly.
But the days of being cowed into silence are coming to an end.
Three sapphic young women may just be the answer that the community has been waiting and hoping for.
Together, these Sawkill Girls will show the monster that it is the one that should be afraid.
With an emphasis on complex, well-written characters with depth and development, Sawkill Girls is one of the best YA monster books with a mystery at the core.
Read Sawkill Girls: Amazon | Goodreads
Nimona by N.D. Stevenson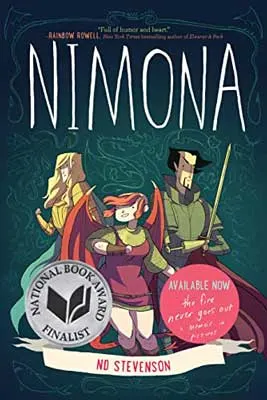 Have no fear, citizen of the kingdom! The virtuous Sir Ambrosius Goldenloin and the Institution of Law Enforcement and Heroics are here to protect you!
They're brave and stalwart, and they have your best interests at heart! Or, at least, that's what they want you to think.
Lord Ballister Blackheart knows different: he knows how self-serving and rotten to the core the Institution is, and he's going to prove it, one evil scheme at a time.
But "helping" him on his vendetta is the young Nimona. Despite her enthusiasm for diabolical plots and violence, she might be more of a hindrance at the moment.
How did she find his evil lair? What are her reasons for such bloodthirsty actions? And how does she manage to change shape into seemingly any person or creature at will?
Written and drawn with dynamic energy and dark humor by N.D. Stevenson, Nimona is one of the most fun and engaging teen graphic novels about monsters you can find.
Read Nimona: Amazon | Goodreads
More from Christine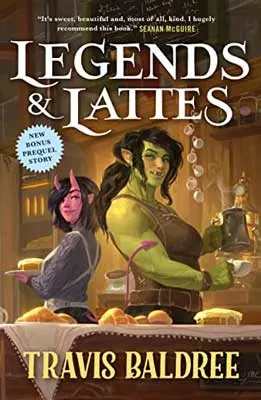 Legends & Lattes by Travis Baldree
Viv is an orc, and she has decided to retire from a life of violence to start Thune's first-ever coffee shop.
The problem? She has no idea how to run a business, and the townspeople have never heard of coffee. But, she's got a little help with a magic Scavlert's stone.
Viv isn't the only one who thinks the stone is bringing her great luck and financial success, though, which is jeopardizing her entire business and newly found friends' lives. What's an orc to do?
We can never resist books with food themes, and Legends & Lattes is all about Thimble's delicious baked goods like biscotti and croissants along with fudge and cookies.
Of course, there is also coffee – and a little sapphic romance. Who knew that books about monsters could be so sweet?
Read Legends and Lattes: Amazon | Goodreads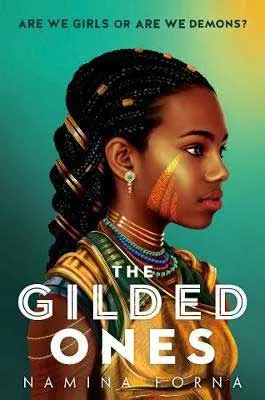 The Gilded Ones by Namina Forna
YA fantasy monster novels can pack a heavy punch, and that's exactly what Forna's The Gilded Ones aims to do.
Forna tackles triggering issues of misogyny, abuse, xenophobia, and racism in a mesmerizing, fantastical, and West African mythology-based plot.
Like all of the women in their village, Deka fears her upcoming blood ceremony, which determines her fate as a community member or outcast. It's not a spoiler that Deka fails, signifying she is a demon.
Deka must either accept a fate worse than death – she is pretty much immortal – or agree to fight in the emperor's army with the promise of purity and redemption.
But as Deka begins killing the monsters around her, she realizes that they aren't much different than her.
Dive into themes of family, love, and survival in a story filled with powerful, dynamic women and strong friendships.
The Gilded Ones: Amazon | Goodreads | Book Information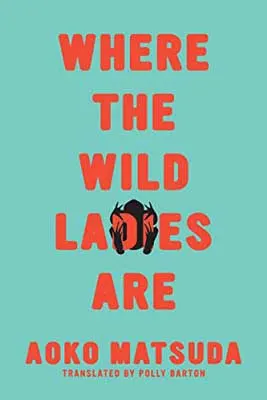 Where the Wild Ladies Are by Aoko Matsuda
Translated by Polly Barton
If you are looking for more Japanese books to read, Where the Wild Ladies Are is one of the terrific metaphorical monster books begging the question, who really is the monster?
Just a forewarning that our Uncorked Readers were all over the map with their opinions about this recommendation. It isn't for everyone.
Follow a young woman getting laser hair removal after her recent breakup. But is the pain worth it, or should she embrace her fuzz like the ghost of her dead aunt suggests?
And, how do you keep the retail ghosts away? What happens when you fall in love with someone who isn't alive?
Where the Wild Ladies Are is first and foremost one of the best ghost story novels. However, you'll see demons and monsters too, especially with themes of revenge and jealousy.
This is a woman-centric short story collection and will make you think more deeply about family, work, and identity.
Read Where the Wild Ladies Are: Amazon | Goodreads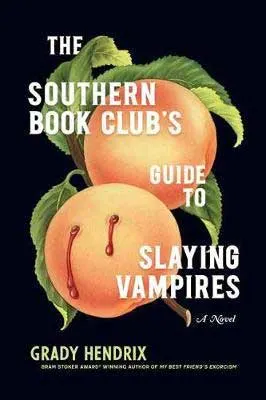 The Southern Book Club's Guide To Slaying Vampires by Grady Hendrix
We could put numerous Grady Hendrix titles on this list; like Stephen King, he is the king of monster horror books.
If you are looking for terrifying puppets and dolls, pick up How to Sell a Haunted House. If you are looking for serial killer thrillers, try The Final Girl Support Group.
And for the best vampire novels, The Southern Book Club's Guide To Slaying Vampires is sure to make you rethink your small-town life…
After reading true crime novels for book club, Patricia craves more excitement in her life, especially since all of these housewives' deplorable husbands think they are just hysterical and weak servants.
But when James Harris moves to town and people start disappearing, Patricia is going to put her book club skills to use to catch one cocky AF vamp.
For books with monsters that take place in the South, The Southern Book Club's Guide To Slaying Vampires promises gore, terror, and maybe a bit of retribution.
Trigger warnings for suicide, domestic abuse, violence, and sexual assault.
Read The Southern Book Club's Guide To Slaying Vampires: Amazon | Goodreads
Grab the best novels about monsters here:
Save Your Favorite Monster Novels For Later: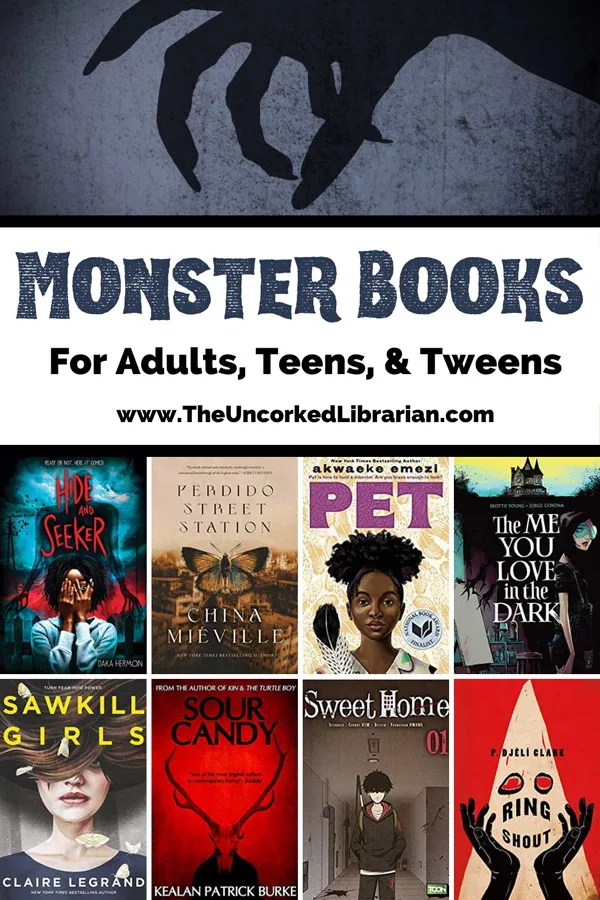 What novels about monsters do you love and recommend?
Monsters come in all shapes and sizes, and there are so many books with monsters, we couldn't possibly name them all. What are your favorite monster novels? Do you prefer horror or fantasy monster books? Let us know in the comments.
Related Articles:
This monster reading list pairs well with 2023 Uncorked Reading Winter Bingo.