15 Fantastic Books About Cats For Adults Sure To Make You Purr
If you love those energetic and lovable felines as much as we do, you'll just purr for this list featuring books about cats for adults.
It's no secret that here at The Uncorked Librarian, we don't necessarily seek out animal stories, especially if a pet is hurt or dying.
However, many of the best books about cats are quite uplifting, hilarious, and loads of fun. Just like us, cats are full of adventure and spirit.
Below, meet a cat who wishes to save all of the neglected and unloved books in the world.
Then, find nonfiction and fiction books about cats and people who save each other from their current circumstances.
Similar to how Christine adopted ZoomBa in the library parking lot, you'll meet Dewey – an abandoned and beloved small-town library cat that changed the lives of the community.
Of course, there are a plethora of translated novels about cats and their nine lives. Or, maybe you wish to take a road trip with your best feline friend.
Keep reading to uncover some of the best books with cats as main characters for adults (and a few for young readers that adults will enjoy too). Talking cats and big cats included!
Of course, "best" is subjective, and we'd love to know your favorite books about cats in the comments. Let's get started!
Love those canines, too? Don't miss the best books for dog lovers.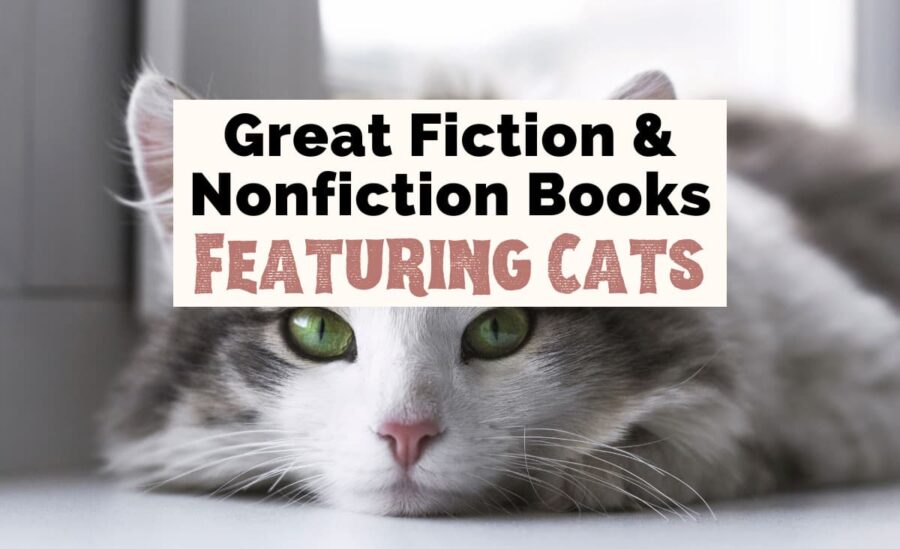 Grab your favorite books about cats here:
15 Must-Read Books About Cats
By Dagney McKinney
With additions from Christine
Fiction Books About Cats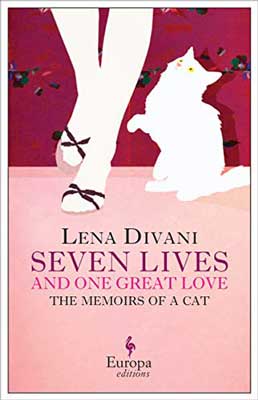 Seven Lives and One Great Love: Memoirs of a Cat by Lena Divani
Translated into English by Konstantine Matsoukas: Having spent six of his nine lives among a diverse series of owners and companions, protagonist cat Sugar Zach now uses part of his seventh life to recount his past experiences to the reader.
Told from the perspective of Sugar Zach (who speaks in very intellectual and eloquent sentences), we learn about how he has never found a human he cannot domesticate to his liking.
That is until he becomes acquainted with Madam Sweetie, his current "owner."
Madam Sweetie – also known as The Damsel – is a frenetic and somewhat chaotic writer. She has no love for felines of any kind.
Despite his experience and worldly wisdom, Sugar Zach is left perplexed as to how he is to get her under control.
This is a whimsical and touching take on the "cats own us, not the other way around" idea.
With plenty of literary references, Seven Lives… is one of the most enjoyable and surprisingly educating books about cats available.

Read Seven Lives and One Great Love: Amazon | Goodreads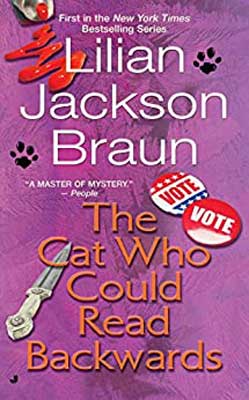 The Cat Who Could Read Backwards by Lilian Jackson Braun
Although he usually writes about crime, prizewinning reporter James Qwilleran finds himself unexpectedly on the art team when he takes a new job at the newspaper, The Daily Fluxion.
This leads him to encounter the formidable George Bonifield Mountclemens III, the paper's acerbic and unpopular resident art critic.
Surprisingly though, Mountclemens offers Qwill an apartment to live in (for very low rent, no less) and assumes that he will have to cat sit for Mountclemens' Siamese cat, Koko.
But, Koko is far from your average feline; he can read – if only backward – and happens to have a good nose for clues.
Which will come in useful, because it's not long before Qwill is back on the trail of crime after a body is found.
Fans of fiction books about cats will be happy to know that this is the first in a series of cozy mysteries that will delight cat and crime lovers in equal measure.

Read The Cat Who Could Read Backwards: Amazon | Goodreads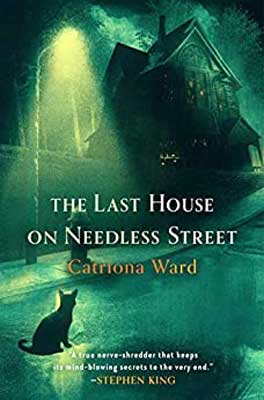 The Last House on Needless Street by Catriona Ward
What is inside the last house on Needless Street? A man with gaps in his memory? A teenage girl who isn't allowed outside? A cat that enjoys naps and reading the Bible?
Perhaps all of these are true, and perhaps everything you think you know is a lie. But whatever the truth is, it can't stay hidden for long.
It's very easy to give away spoilers with these kinds of books about cats.
If the only thing you know going in is that one of the narrators is a cat, that should be all the preparation you need for this creepy and unusual reading experience.

Read The Last House on Needless Street: Amazon | Goodreads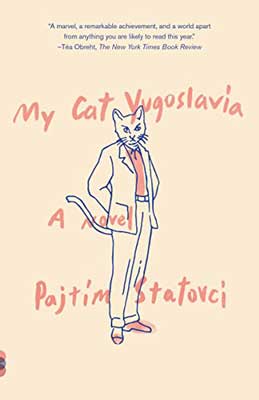 My Cat Yugoslavia by Pajtim Statovci
Translated to English by David Hackston: Having grown up in Finland as the son of an immigrant family, Bekim finds himself an outcast in Finnish society; not just because he is treated with suspicion as a "foreigner," but also because he is gay.
He and his family were forced to flee their native Yugoslavia when the country became destabilized by war, and now the only companion in his apartment is a boa constrictor that he is terrified of.
But despite this sad existence, something wondrous is about to begin.
While he is at a gay bar, Bekin meets and befriends a talking cat which — and after moving in with him — starts Bekim on a journey that will lead him to both the possibility of true love and to confronting the family secrets of his past.
A genre-spanning story that looks at the plight of the outsider from a creative angle, My Cat Yugoslavia is one of the more unique novels about cats on this list.

Read My Cat Yugoslavia: Amazon | Goodreads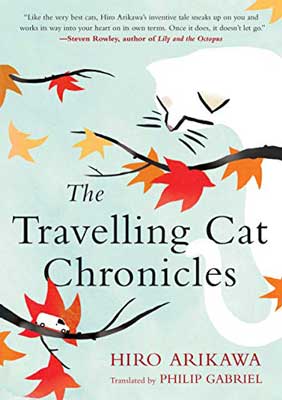 The Traveling Cat Chronicles by Hiro Arikawa
Translated into English by Philip Gabriel: Nana is being taken by his owner Satoru to visit some of Satoru's friends.
Nana doesn't know why – and Satoru won't say – but he's just happy to be able to sit in the front seat of their silver van and watch the beautiful Japanese scenery go past.
Having been taken in by Satoru after being hit by a car, Nana now remains fiercely loyal and thankful to Satoru, and would gladly follow him anywhere.
As they travel across the country, Nana is taken to a pet-friendly B&B, meets a brusque farmer for whom cats are semi-useful tools, and is convinced by a dog that not all canines are to be looked down upon.
With vivid descriptions of Japan's changing seasons and Nana's unique perspective on things, this buddy road trip is one of the most moving novels about cats to be written in recent years.
Travel across Japan with even more great books.
Read The Traveling Cat Chronicles: Amazon | Goodreads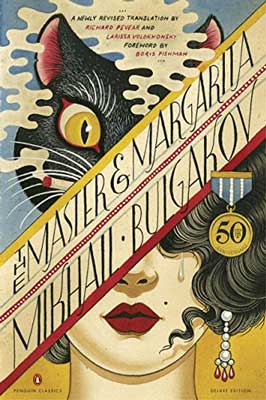 The Master and Margarita by Mikhail Bulgakov
Translated into English by Richard Pevear and Larissa Volokhonsky. Illustrated by Christopher Conn Askew.
During one hot springtime in 1930s Russia, a strange group arrives in Moscow: the Devil and his retinue; they've come to bring chaos to those who refuse to believe in religion.
Among his retinue is a hitman named Azazello, a beautiful vampire called Hella, and a huge talking black cat named Behemoth, who happens to have a fondness for chess and vodka.
Though the citizens of Moscow are understandably shaken by the arrival of Satan and his minions, two people instead find peace with their visit.
They are the Master, an embittered writer who wrote a novel about Pontius Pilate, and Margarita, his besotted and devoted follower.
Written under the regime of Stalin, author Mikhail Bulgakov's social satire is widely regarded as one of the best novels of the 20th century, making it one of the most prestigious books with cats as the main characters on this list.
Find another one of Mikhail Bulgakov's books, The White Guard, on our Ukraine books reading list.

Read The Master and Margarita: Amazon | Goodreads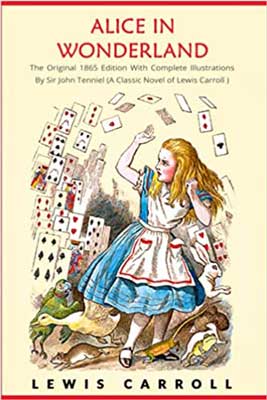 Alice in Wonderland by Lewis Carroll
In one of the most famous and beloved works of fantasy ever written, young Alice finds herself in the confusing and chaotic world of Wonderland after following a white rabbit with a watch down a rabbit hole.
Now she must contend with a whole host of unusual situations, including a nonsensical tea party, a queen who wants to cut off her head, and a series of talking animals, including the Cheshire Cat, who may or may not be on Alice's side.
Author Lewis Carroll's exploration of the absurd has had a lasting impact on western literature.
It created one of the most iconic feline characters that fiction books about cats have referenced and imitated for generations since.

Read Alice in Wonderland: Amazon | Goodreads
Books About Big Cats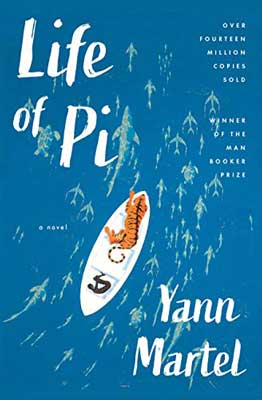 Life of Pi by Yann Martel
From award-winning Canadian author Yann Martel, meet Piscine Molitor Patel.
Young Piscine Molitor Patel was not leading a normal life, even before he became lost at sea.
Known as "Pi" to avoid awkward questions, he and his family have packed up their collection of zoo animals and are making the long crossing across the sea from India to Canada.
Unfortunately, the ship sinks in a storm, leaving Pi left alone and adrift in the ocean.
Alone, that is, except for his four animal companions: a hyena, an orangutan, a wounded zebra, and Richard Parker – a Bengal tiger.
Before long, Richard Parker has Pi all to himself. But through his cunning and ingenuity, Pi manages to find a balance that ensures both of their survival for 227 days before washing up on land.
All he needs to do now is convince people that his story is true.
Part survival tale, part nautical adventure, and part spiritual journey, author Yann Martel's novel is fantastical and heart-wrenching in equal measure.
Books about cats don't often come with prose this elegant and thoughtful, and The Life of Pi may well restore your faith in something, be it life, faith, or the human spirit.
Discover more books set (or starting in) in India.

Read Life of Pi: Amazon | Goodreads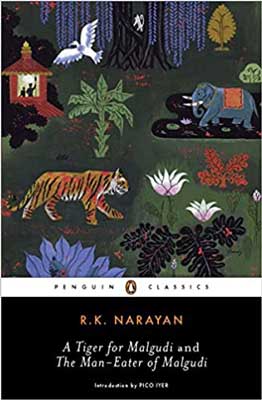 A Tiger for Malgudi by R.K. Narayan
Set in the fictional town of Malgudi, our story is told in first-person narration by Raja, the tiger of the title. Now old and venerable, he recalls the pivotal moments of his life.
From his beginnings running wild in the jungles of India and his fathering of a litter of cubs, we follow as he is captured and imprisoned in a circus, where he is starved and forced to do tricks for an audience.
After years of suffering, Raja manages to escape.
Once his animosity and rage have burned out, he finds himself captive again – but this time willingly – under what becomes the tutelage of an old monk who lives in the hills. Together, they manage to find peace.
Despite the unpleasant and cruel treatments Raja is subjected to, this is a spiritually uplifting and very moving novel, perfect for anyone who wants to read satisfying novels about cats.

Read A Tiger for Malgudi: Amazon | Goodreads
More adult books with cats from Christine: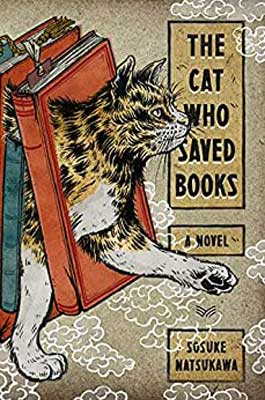 The Cat Who Saved Books by Sosuke Natsukawa
Translated into English by Louise Heal Kawai: If you enjoy Japanese books about cats and bookstores, The Cat Who Saved Books will appeal to you.
Rintaro Natsuki is closing up the secondhand bookshop he inherited from his grandfather when Tiger appears. Mind you, Tiger is a talking cat, and he has one noble request.
Tiger wishes to team up and save unread, imprisoned, and destroyed books from their negligent owners.
A story about books and unusual friendships, travel with Rintaro and Tiger as they rescue books from librarians' worst nightmares.

Read The Cat Who Saved Books: Amazon | Goodreads
Non-Fiction Books About Cats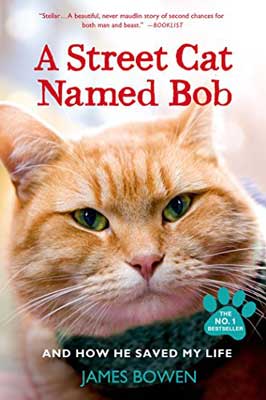 A Street Cat Named Bob by James Bowen
Homeless street musician James Bowen finds an injured cat in the lobby of an apartment building one evening.
Having seen the cat in the same place a few nights in a row, and after asking the residents if the cat is theirs, he takes it to the local vet.
In order to pay for the antibiotics needed to heal the cat, which he names Bob, James uses his last remaining money. Having helped Bob, James sends him on his way.
But Bob keeps coming back again and again and even starts following James into the city where goes to busk for change.
Soon, the public comes to recognize James and Bob, and their popularity in the community grows.
James didn't know he was looking for it, but Bob turns out to be the friend James needed to help him get his life back on track.
The incredibly heartwarming nature of this true-life story makes A Street Cat Named Bob one of the best books about cats you can hope to find.

Read A Street Cat Named Bob: Amazon | Goodreads
More Nonfiction books with cats from Christine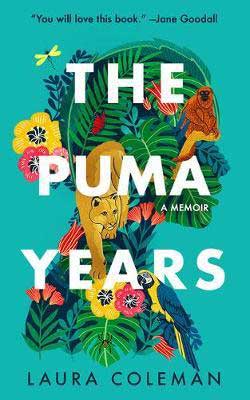 The Puma Years by Laura Coleman
Head to Bolivia and the Amazon jungle in Coleman's memoir, The Puma Years.
In her early 20s – while trying to figure out her future – Laura Coleman quits her job to backpack across Bolivia.
She finds herself at a wildlife sanctuary in the Amazon jungle where she is charged with Wayra, a gorgeous and complicated puma. Mind you, Coleman has absolutely no experience with large cats.
Each resident animal as well as the staff and volunteers have their own unique stories filled with love, trauma, abuse, and heartache.
Watch as they learn and grow from each other. Find salvation and friends in the jungle.
For nonfiction books about cats, The Puma Years promises a discussion about deforestation, the illegal and exotic pet market, and forest fires.
Read The Puma Years: Amazon | Goodreads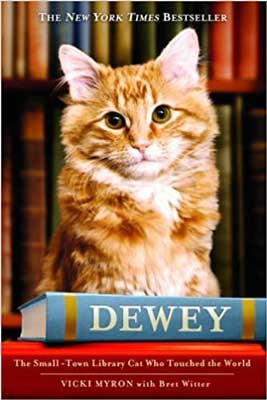 Dewey: The Small-Town Library Cat Who Touched the World by Vicki Myron
With Bret Witter
If you enjoyed Marley and Me but are craving books about cats, Dewey's story might just touch your heart.
Meet Dewey Readmore Books, an abandoned kitten who becomes a small-town library cat and national celebrity.
On a chilly night, someone stuffs Dewey into the library dropbox. Thankfully, Vicki Myron – the library director – discovers and rescues him.
Going through a rough patch herself, Myron (and the library) take in Dewey where he thrives for almost two decades.
Dewey becomes a staple of this Spencer, Iowa library and community, transforming all of their lives for the better.
You honestly cannot go wrong with nonfiction books about cats set in the library. Plus, if you are looking for cat books for young readers, know that there's a special edition just for them.
We might have a soft spot here, too, seeing as how Christine owns an abandoned library cat.

Read Dewey: Amazon | Goodreads
Novels About Cats For Younger Readers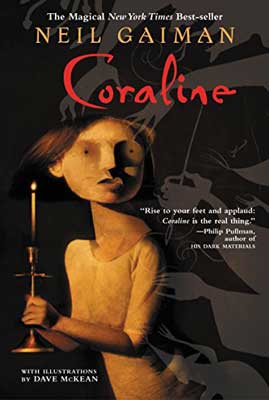 Coraline by Neil Gaiman
Having recently moved to a new house, Coraline Jones is definitely unimpressed.
First off, she and her parents only get to use part of the house because other tenants live there. Second, the other tenants are boring and weird.
In fact, the only thing that's interesting is the small door that leads to the apartment next door. But even that's bricked up.
So when she opens the door one day and finds that now there's a corridor to another place – another world – she is understandably excited.
The door leads her to an exact copy of her new home, complete with parents; the Other Mother and the Other Father, identical to Coraline's Mom and Dad except for their shiny black button eyes.
But is this Other place really a dream come true, or is it a nightmare? Coraline will have to learn how to survive with her only companion: the black cat from the real world, who it seems can now talk.
The ideas here are very creative, but Coraline is definitely on the darker side of children's fiction books about cats. This one is especially fun if you enjoy haunted house books.

Read Coraline: Amazon | Goodreads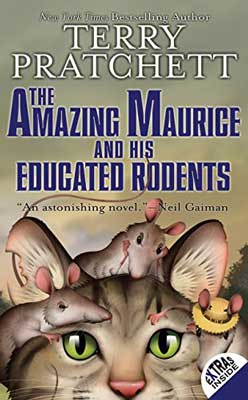 The Amazing Maurice and His Educated Rodents by Terry Pratchett
The Amazing Maurice is a very enterprising cat. He's also one of the best con artists in the business.
Along with his collection of talking rats and a young piper named Keith, he can make a quick buck at any town they visit.
First, the rats enter the town, causing the appearance of an infestation.
Then, Keith arrives with his pipe and "saves" the town from the rodent menace by leading them away with his playing. All for a reasonable fee.
It's the perfect Pied Piper scam, and everything is going great. Until they arrive at the town of Bad Blinitz, that is.
Bad Blinitz already has a rat problem, and beneath that, an even greater issue – an unnamed evil presence that seems to be controlling everything … and getting stronger.
Author Terry Pratchett's spin-off from his successful Discworld series of books is full of quirky characters and silly British humor.
The Amazing Maurice and his Educated Rodents is perfect for anyone looking for lighthearted books with cats as main characters.

Read The Amazing Maurice and His Educated Rodents: Amazon | Goodreads
More Great Books With Cats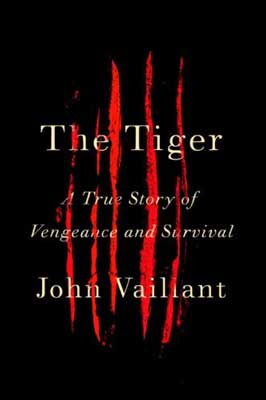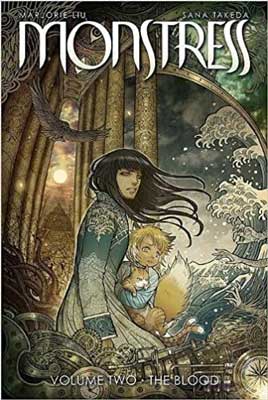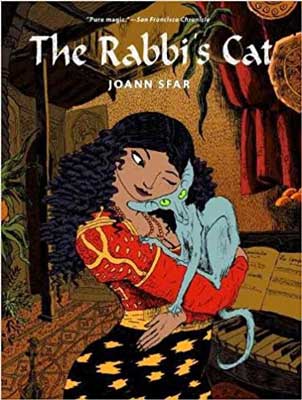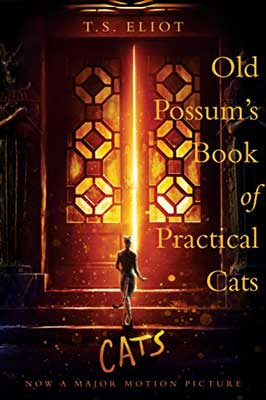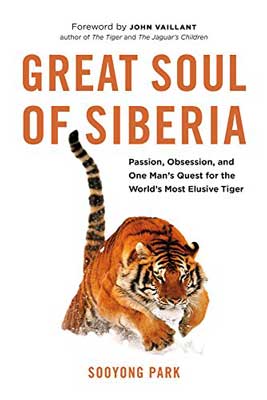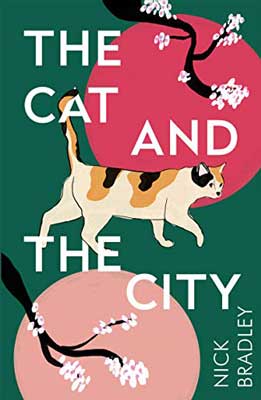 Save The Best Books About Cats For Later: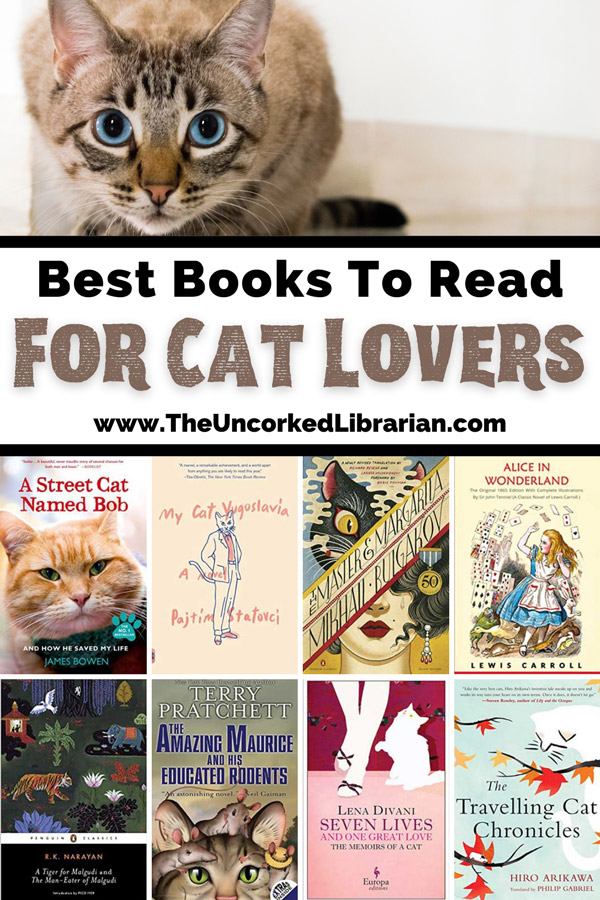 Grab your favorite novels about cats here:
Thank you to TUL contributor, Dagney McKinney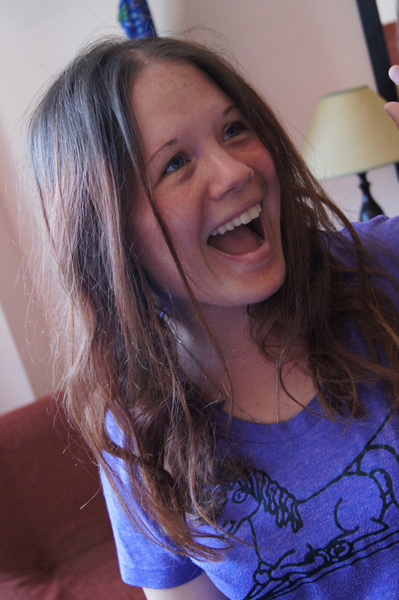 Dagney (pronouns: any) is a neurodivergent writer who loves all things macabre and weird. She likes outrageously spicy food, long walks through graveyards, and historical tangents. You'll most likely find her wandering around somewhere quiet or underground, buying salt, or whispering to camels.
What are your favorite books with cats as main characters?
Which books about cats for adults do you love?
Do you sometimes find it hard to read animal stories like us?
And, who are your favorite lead cats? Growing up, we devoured the Garfield comic books. Let us know in the comments!
You May Also Enjoy:
Read more animal books as part of our annual Uncorked Reading Challenge (2023).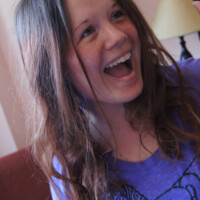 Dagney (pronouns: any) is a neurodivergent writer and book nerd who is drawn to all things weird and macabre. She also loves anything to do with fast cars, unhinged anti-heroes, and salt. When she isn't working or reading, you're likely to find her eating Indian food, playing board games, or hiding out somewhere dark and quiet, stuck down an internet rabbit hole. The easiest way to win her over is through cats and camels.