Read the most chilling horror graphic novels for adults and teens set across the globe.
Do you have a favorite horror graphic novel?
We have so many, it was hard to choose just a few. Plus, there is certainly no shortage of horror manga (Japan) and manwha (Korea), which could be their own lists.
Below, unearth just a few of the best horror graphic novels for adults and teens set around the world. Travel to places like Japan, California, and Nigeria – and into mysterious forests.
Some of these scary graphic novels will give you nightmares while others are a bit less spooky. Find haunted houses, monsters, witches, ghosts, and werewolves.
Enjoy horror graphic novels in short story and audiobook form too. A few of these creepy graphic novels were made into not-to-miss movies and TV series.
So, which dark graphic novels should you read this season? Let's get started!
If you are looking for something slightly less terrifying, try these creepy but not too scary books.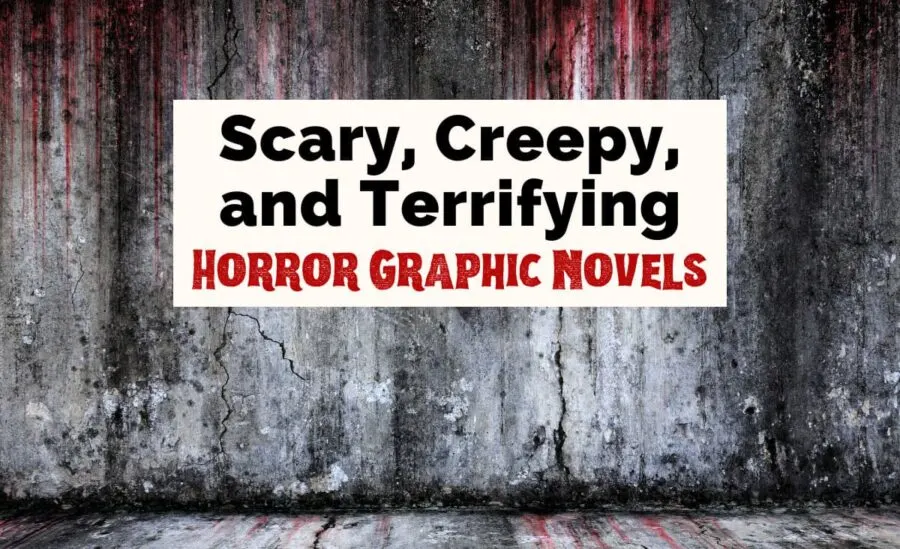 Grab the scariest graphic novels here:
23 Best Horror Graphic Novels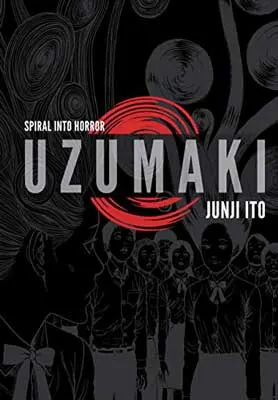 Uzumaki by Junji Ito
Junji Ito is a master at horror, and if you love Uzumaki, he has many other must-read scary graphic novels, as well.
Uzumaki is his most famous work (for good reason), and a great starting point for Junji Ito.
In Uzumaki, we witness the residents of the Japanese town Kurozu-cho as they become obsessed with spirals (uzumaki) and begin to unravel – both physically and mentally.
We've never been so terrified of spirals and found ourselves noticing them an uncomfortable amount after reading this.
There is a lot of body horror, and this graphic novel is not for the faint of heart. So beware!
If you like Japanese horror graphic novels, you might also enjoy these Japanese fantasy books.
Or, travel to Japan with this reading list.

Read Uzumaki: Amazon | Goodreads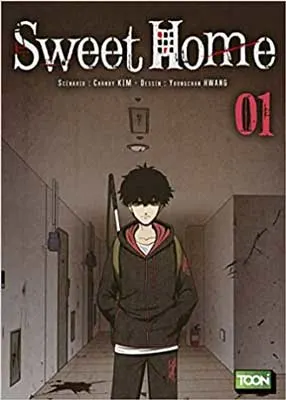 Sweet Home by Kim Carnby and Youngchan Hwang
Did you know that a horror graphic novel inspired the hit apocalyptic TV series on Netflix, Sweet Home?
The story follows Hyun, a teenage boy forced to move into a studio apartment block following a terrible tragedy. However, his nightmare is only just beginning.
Not long after moving in, weird things start happening, people disappear… and then suddenly a monster apocalypse is in full force.
Hyun and a few other survivors from his building must do whatever it takes to save themselves, and possibly humankind.
For scary graphic novels and horror books with monsters, Sweet Home is more of a tense psychological thriller.

Read Sweet Home: Amazon | Goodreads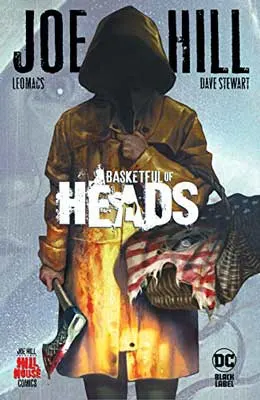 Basketful of Heads by Joe Hill
Illustrated by Leomacs and Riccardo La Bella
This horror graphic novel is just so perfect, we don't even know where to begin. It's 1983 and June Branch is visiting her boyfriend Liam on Brody Island, Maine.
Liam has been interning with the Brody Island police force for the summer and staying in Chief Clausen's houseboat.
But on the day June arrives, several prisoners escape from the local penitentiary. They break into the Clausen family home while everyone but June and Liam is out.
Liam is kidnapped, and June suddenly finds herself fighting for her life.
When she accidentally beheads one of the men with an old Viking ax, both are shocked to find that the head can still talk.
Basketful of Heads is darkly funny and fabulously illustrated. At 184 pages (depending on your edition), it's a fantastically creepy novella.
June is one of our favorite protagonists of all time, and this is easily one of the best horror graphic novels out there.
Travel around the U.S. with our 50 States book list.

Read Basketful of Heads: Amazon | Goodreads
The Low, Low Woods by Carmen Maria Machado
Illustrated by DaNi
El and Vee live in Shudder-to-Think, a small town in Pennsylvania where women's memories inexplicably disappear.
When the two friends wake up at a cinema with absolutely no recollection of what they just watched, they soon realize that it's happening to them.
They go on a journey to discover what's happening to the women of Shudder-to-Think, seeking the help of mystical beings and encountering some truly terrifying creatures in the titular woods.
The Low, Low Woods is a creepy horror graphic novel about power and toxic masculinity.
Undoubtedly this book won't appeal to everyone, nor will DaNi's somewhat loose art style (although we loved it). However, the horror in this book is visceral and raw.
The Low, Low Woods is relentlessly troubling to read and uncomfortable – but also empowering. It very much crawled under our skin and stayed there long after we were done.

Read The Low, Low Woods: Amazon | Goodreads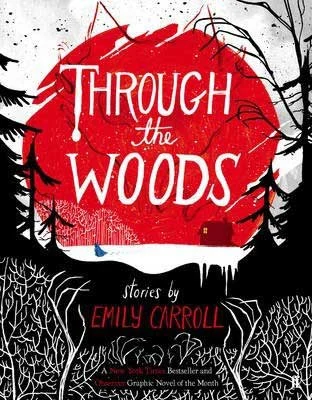 Through the Woods by Emily Carroll
Through the Woods is a fantastic horror graphic novel for teens that adults will also enjoy.
Told in short stories, like a book of illustrated, unnerving fables, this isn't one you'll want to read too late at night if you get creeped out easily.
Each story has its own style of art, and all of it is stunning and terrifying.
These five stories take place in and around the woods and might leave you never wanting to enter any that you come across in the future.
And, if you are looking to get a feel for folk horror short stories, Through the Woods is a terrific start.
Read Through the Woods: Amazon | Goodreads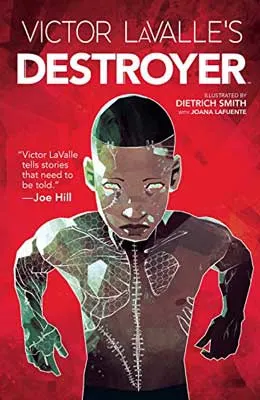 Victor Lavalle's Destroyer by Victor Lavalle
Illustrated by Dietrich Smith and Joana Lafuente
Victor Lavalle's Destroyer is the Frankenstein sequel we didn't know we needed in our lives. And it is fitting that a sequel of a horror classic is one of the best horror graphic novels out there.
Destroyer takes place in the modern day, and we find out that Frankenstein's monster is still alive.
However, he has lost any humanity he once had. Now he is hellbent on destroying everything that crosses his path; now he is the Destroyer.
In the U.S., Dr. Baker – a potential descendant of Victor Frankenstein – is reeling after the loss of her son at the hands of a racist cop.
A brilliant scientist, Baker is determined to recreate Frankenstein's experiment to bring back her son – only she's made some improvements.
Destroyer is a brutal exploration of grief, racism, vengeance, and motherhood, with a terrifying backdrop of an immortal bloodthirsty monster.
We do wish the story was slightly longer as the ending is somewhat abrupt, but otherwise, it's one of our favorite horror graphic novels.

Read Victor Lavalle's Destroyer: Amazon | Goodreads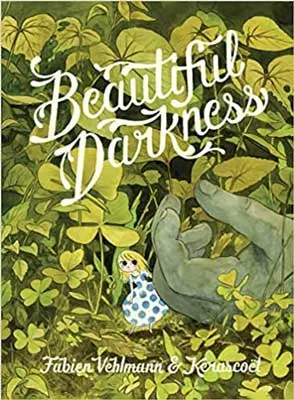 Beautiful Darkness by Fabien Vehlmann
Illustrated by Kerascoët; Translated into English by Helge Dascher
"WTF did we just read?!" was our immediate reaction after reading Beautiful Darkness. And then we promptly read it again.
Beautiful Darkness is Lord of the Flies meets Disney. And it gets weird.
Princess Aurora and her kingdom inexplicably wind up in a forest with a rotting corpse. Aurora quickly takes charge, seeking out food for the others and trying to maintain order.
However, things soon spiral into pure chaos.
Don't let these charming watercolor panels fool you; for dark graphic novels, this one is brutal and quite the trip.

Read Beautiful Darkness: Amazon | Goodreads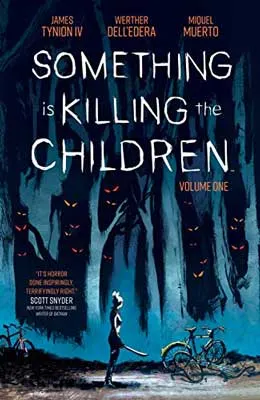 Something is Killing the Children by James Tynion IV
Illustrated by Werther Dell'Edera
If we are honest, the title basically summarizes the entire plot of this horror graphic novel. But if you need a little more info…
Children are going missing from the small town of Archer's Peak, Wisconsin – and they never return.
When a strange woman appears in town, many are suspicious. She seems to know more about the disappearances than she should.
And, in fact, Erica Slaughter does know a lot about the missing children because she knows what's been taking them: monsters.
Erica is part of a secret organization that hunts down and kills monsters, and now she's here to find the monster in Archer's Peak.
Something is Killing the Children is one of our favorite horror graphic novel series (mostly because everything James Tynion IV does is fantastic).
The art is stunning and absolutely terrifying while the story is compelling and a fast-paced thrill ride until the end.
If you love this series, there is now a companion series called House of Slaughter that delves into the inner workings of the secret organization to which Erica belongs.

Read Something is Killing the Children: Amazon | Goodreads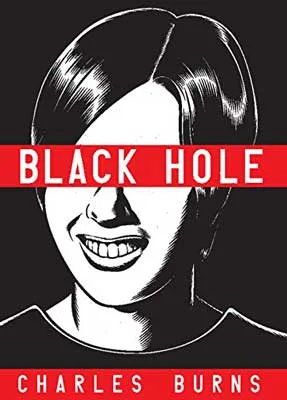 Black Hole by Charles Burns
In Black Hole local high school students are all inexplicably contracting a highly contagious, incurable disease.
At first, they don't think much of it, even though they all gossip about who has it and where it's come from.
But as increasingly weird things start happening, the students become freaked out about what exactly these black holes they keep seeing are doing to them.
This graphic horror novel is perfect for young adults as the disease is somewhat of a metaphor for adolescence itself, albeit a form with often far more dire and horrifying outcomes.
The bold and chunky black-and-white artwork makes it impossible to look away, no matter how disturbing it gets.
Black Hole is set in urban Seattle in the 1970s. If you enjoy books from their time, check out our '70s reading list featuring books published then.
We are also huge fans of books set in schools, which means that our dark academia reading list might also appeal to you.

Read Black Hole: Amazon | Goodreads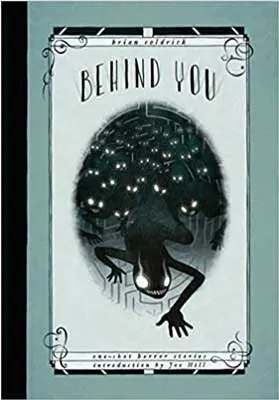 Behind You by Brian Coldrick
Each drawing in Behind You is its own terrifying story. In each image, you will find an otherworldly creature lurking behind someone.
But, are they friends or foes?
The mystery and scenarios we make up in our own minds drive the horror in Behind You. Even better, most of these can be found on Brian Coldricks's website where they actually move.
Sadly the artwork in the book isn't animated, but if you love his work, this is a great horror graphic novel to pull out and share with the family just before bed.

Read Behind You: Amazon | Goodreads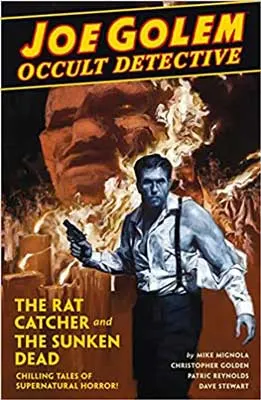 Joe Golem by Mike Mignola and Christopher Golden
Illustrated by Patric Reynolds
The Drowning City, formerly Lower Manhattan, has been flooded for forty years.
As if that wasn't enough, children are being snatched and dragged down into the dark depths by a vicious and mysterious creature.
Sent to solve the case and stop the children from disappearing, meet Joe Golem, Occult Detective.
But Joe is struggling with some kind of recurring dream – a dream which may in fact be a memory of a time long since passed.
Joe Golem is your classic occult kidnapping alternate reality horror adventure detective caper – a genre as old as time.
It's also one of the best horror graphic novels to come out of Dark Horse Comics in recent years.
The art style is vivid and visceral, with an overall sepia tone that would fit a classic Hollywood noir with Humphrey Bogart in the lead.
However, there's more of a strong Indiana Jones vibe surrounding Joe Golem himself – a key ingredient for protagonists in any adventure horror comic.
The alternate timeline period setting is another plus for the series (of which this volume encompasses the first two storylines).
There is a good bit of world-building that helps the reader to engage with the supernatural elements of the story, and we can't resist a book set in NYC.
What would seem impossible in the real world, feels a lot more natural in the Drowning City.

Read Joe Golem: Amazon | Goodreads
Join The Uncorked Reading Challenge Today
---
Travel around the world with the Uncorked Reading Challenge. Get the best book and movie recs straight to your inbox. Sign Up Now.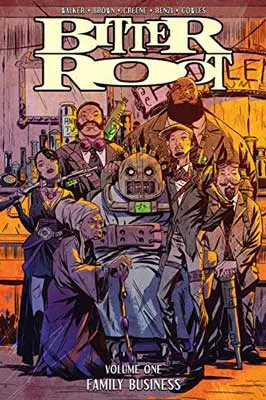 Bitter Root by David F. Walker, Chuck Brown, and Sanford Greene
In 1920s Harlem, the Sangeryes are a Black family who use root magic to fight monsters.
Their main adversaries are the Jinoo, humans that have been consumed by hate and anger, causing them to morph into monsters.
But when two of them are out on a mission, a new kind of monster shows up, something they've never seen before.
This unsettling graphic horror novel depicts racism as a literal and physical monster that at times feels unbeatable.
But the Sangeryes won't give up, even though it is clear they have suffered their own losses in this fight.
We absolutely love the artwork in Bitter Root.
The monsters are truly terrifying, and although some might find the muted tones difficult to distinguish, it makes the whole novel feel more nightmarish.
There are references throughout to important Black historical events, especially the Tulsa Massacre and Red Summer. There is also an assumption that you are aware of these events.
If you aren't, you can still appreciate this horror graphic novel, but it wouldn't hurt to do a quick Google search to get the most out of the book.
We also recommend reading the interviews and author notes at the end of each chapter, as they add interesting discussions to the story.
Out of all of the horror graphic novels on this list, Bitter Root promises to educate as well as entertain.

Read Bitter Root: Amazon | Goodreads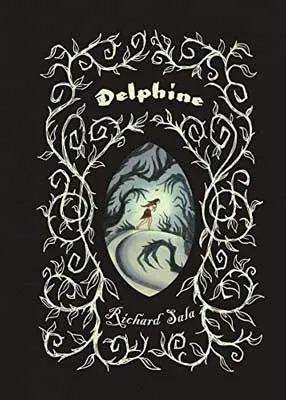 Delphine by Richard Sala
Delphine is delightfully unnerving.
An unnamed man arrives in a small town to find "the one who got away" back in college.
After she had returned home to care for her sick father, Delphine is never heard from again.
As we follow our Prince Charming while he searches for his damsel in distress, we are treated to an endless, surrealist waking nightmare in gorgeous sepia-tone art.
But where is Delphine?
Each encounter with the local townsfolk is more bizarre than the last, and it soon becomes clear they might not have the best of intentions.
Dark graphic novels don't get any more beautifully creepy than this.

Read Delphine: Amazon | Goodreads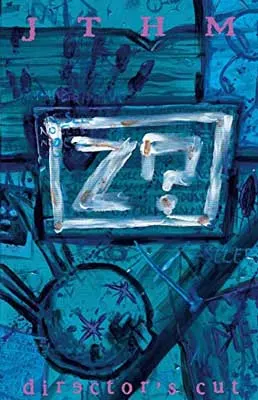 Johnny the Homicidal Maniac: Director's Cut by Jhonen Vásquez
Johnny (called Nny by his friends) is, well, a homicidal maniac. He tries to get along with the neighbors, but it never ends well.
Although Johnny the Homicidal Maniac is great for adults, it's one of the quintessential graphic horror novels every teen should read.
It might be a dark and violent comedy about homicide, suicidal thoughts, and depression, but that's what makes it so comforting too.
Night after night, Nny stalks the streets, looking for purpose.
He torments his neighbor Todd (also known as Squee), confesses dark thoughts to his Die-ary, and tries to make sense of who he is through his own horror graphic novels.
Johnny the Homicidal Maniac won't be for everyone, but if you enjoy your horror with a lot of taboo humor, this is one of those creepy graphic novels you won't be able to put down!

Read Johnny the Homicidal Maniac: Amazon | Goodreads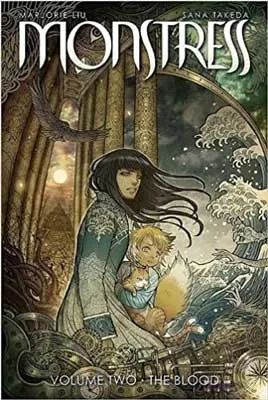 Monstress by Marjorie M. Liu
Illustrated by Sana Takeda
Monstress is a steampunk art deco horror graphic novel set in an alternate 1900s Asia. This book is best if you just throw yourself into it blind.
Truly epic in scope, the plot covers massive concepts like war, trauma, interspecies combat, disability, supernatural powers, power dynamics, and slavery.
We follow the main protagonist on her quest for revenge – and that's just the first volume. There's so much more to come.
Plus, the artwork in Monstress is out of this world and features a talking cat and an anthropomorphic wolf. It's truly a fantastic book for cat lovers.

Read Monstress: Amazon | Goodreads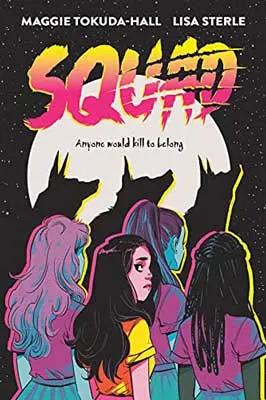 Squad by Maggie Tokuda-Hall
Illustrated by Lisa Sterle
If you are looking for darker LGBT graphic novels, Squad checks many boxes, especially for werewolf book lovers.
Becca and her mom have just moved to California for her junior year of high school, and she's dreading being the new girl.
She feels like she's hit the jackpot when the coolest girls in school immediately take an interest and befriend her.
One evening at a party, Becca discovers their biggest secret: they're werewolves, and once a month they must feed on humans to survive.
But they have a code: they only hunt boys and only bad ones, those who harass or hurt other girls. They want Becca to join them.
Is she willing to become a monster to keep the best group of friends she's ever had – and the girl she likes?
Squad is on the lighter side when it comes to horror graphic novels, and if you love YA werewolf novels, this feminist tale is a must.
Find even more sapphic horror novels to love.

Read Squad: Amazon | Goodreads
The Sandman by Neil Gaiman*
*Each volume is illustrated by different artists
In the basement of a mansion in the early 20th century, a greedy magician attempts a ritual to capture Death in order to become immortal.
Unfortunately, he fails but manages to trap another being: Lord Dream of the Endless, Morpheus – the Sandman.
Content to wait decades for his release, the magician eventually dies and Morpheus escapes.
Now he must repair the damage done in his absence; both in the real world and in the world of dreams.
Preludes and Nocturnes serves as an excellent introduction to the equally horrific and fantastical world that author Neil Gaiman has created for the Sandman series.
The whole series comprises ten volumes and just gets better and better.
Each volume has a different and unique art style, and the richness of the tone and depth of each character can be felt throughout each one.
Published by DC Comics, Preludes and Nocturnes features some characters from other DC storylines, such as John Constantine and the Martian Manhunter.
Newcomer readers might find this a little confusing if you're not aware of who (or what) they are.
However, this was to help immerse the character of the Sandman into the DC universe at large and stopped once the Sandman became more popular in his own right.
Fortunately, it doesn't distract too much from the overall story and is an added bonus if you are familiar with the other characters.
These are some of the best horror graphic novels of all time, and we don't say that lightly!

Read The Sandman: Amazon | Goodreads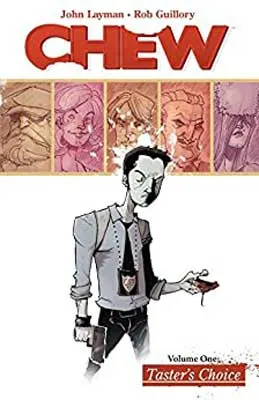 Chew by John Layman
Illustrated by Rob Guillory
Cannibalism stories aren't normally our bag, but Chew is just such a unique gem for dark graphic novels.
Set in a post-pandemic world where chicken is no longer legal, detective Tony Chu often solves impossible cases thanks to his bizarre and gross special ability.
Tony can see the history behind everything he eats, whether it's a vegetable or a human. Except for beets; beets are safe.
And yes, occasionally he does what he has to and solves a bit of crime by digging into the flesh of corpses.
When Tony finds himself recruited by the super-powerful Special Crimes Division of the FDA, that's when things start to get really weird.
While this horror graphic novel puts a lot of emphasis on the graphic aspect, it's also surprisingly funny at times.
However, if you can't handle body horror, body fluids, or gore, this one won't be for you!

Read Chew: Amazon | Goodreads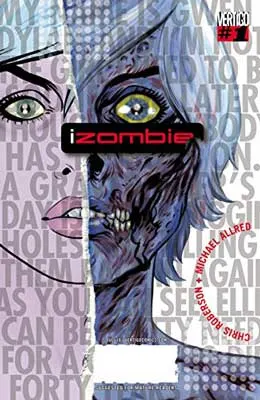 iZombie by Chris Roberson
Illustrated by Mike Allred
iZombie follows Gwen Dylan, a zombie who needs to eat brains to stop becoming a mindless creature.
However, whenever she eats brains, she takes on the memories and traits of the deceased. So when she eats the brain of a recently murdered man, she decides to try and solve his murder.
She is joined by her supernatural friends, Eleanor the Ghost from the 60s and Spot the were-terrier who is crushing on Gwen.
The town is also crawling with bloodthirsty vampires and monster hunters.
While this graphic horror novel is the inspiration for the supernatural detective TV series of the same name, they really are two different animals.
If you've seen the show and are curious if the books are worth checking out: yes!
There are a few problematic jokes and comments throughout but on the whole, this is a fun and zany romp through the afterlife as far as scary graphic novels go.
Find even more books with ghosts.

Read iZombie: Amazon | Goodreads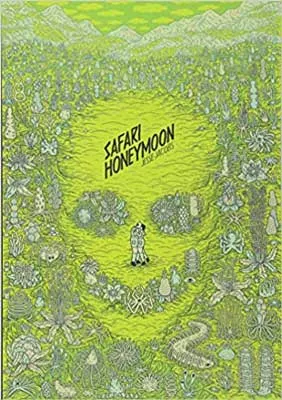 Safari Honeymoon by Jesse Jacobs
If you love mysterious forest adventures, Safari Honeymoon is the perfect horror graphic novel for you.
Privileged newlyweds are on their honeymoon in a peculiar and dangerous forest.
They are led by their knowledgeable guide trying his best to keep them safe, frequently shooting at the creatures he deems dangerous.
At every turn, they meet increasingly cute and terrifying alien creatures who live in this unnamed forest.
In fact, it seems like everything here either wants to devour them or crawl inside of them and merge with their minds.
And, the husband is so unlikable it's hard not to hope for his demise.
The artwork is simple but effective, and we were enamored with these strange critters.
While this is a light fantasy horror, Safari Honeymoon is definitely one of the scariest graphic novels if parasites creep you out.

Read Safari Honeymoon: Amazon | Goodreads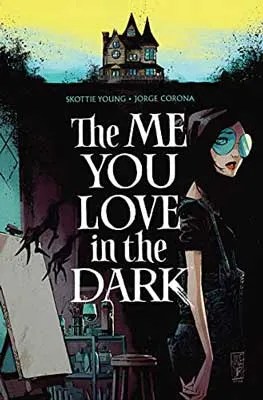 The Me You Love In The Dark by Skottie Young
Art by Jorge Corona
Artist Ro is looking for a place to get away, paint, and find some inspiration for her next collection.
When she finds the perfect house to rent, not even tales of hauntings can deter her from staying there. After all, Ro doesn't believe in ghosts.
Initially, Ro taunts and teases the supposed ghost, daring it to come out and be useful.
But when things start to get weird, she wonders if there might actually be something to the stories… and even so, is the entity within the house really all that bad?
Although the story is slightly predictable and cliche, it's still a truly chilling tale. The absolutely stunning artwork makes it all the more unsettling.
The Me You Love In The Dark is perfect for anyone looking for short, standalone scary graphic novels that provide a visual feast.
If you seek out haunted house stories, you'll enjoy this horror graphic novel.

Read The Me You Love In The Dark: Amazon | Goodreads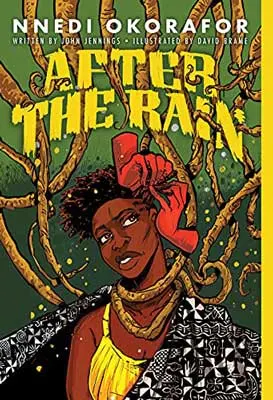 After the Rain by Nnedi Okorafor
Adapted by John Jennings & Illustrated by David Brame
On the night of a terrible storm, Chioma hears a knock at the door and opens it to find a young boy with a terrible injury.
She hasn't seen an injury this bad since her cop days in Chicago. However, here in the small Nigerian town where her family lives, it is unheard of.
Wanting to comfort the boy, she reaches out to him. Instead, he "tags" her, causing her skin to burn. He then runs off laughing.
Afterward, Chioma keeps smelling something she shouldn't and begins to feel haunted by some kind of presence.
A woman of logic, the only chance Chioma has of surviving is to learn more about her Nigerian heritage and find out what the spirits want in exchange.
After the Rain is adapted from the short story, On the Road, from Nnedi Okorafor's short story collection, Kabu-Kabu. It is a horror story about identity and embracing your true self.
We personally favor the short story itself – as it is deeply unsettling. However, if you prefer horror graphic novels to short stories, this is still a fantastically creepy tale!
If you enjoy the setting for After The Rain, find even more books set in and about Nigeria.

Read After the Rain: Amazon | Goodreads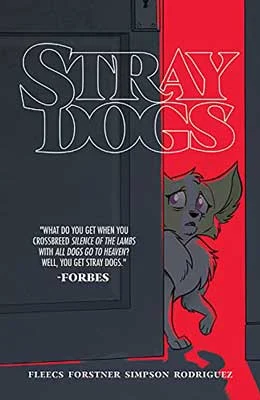 Stray Dogs by Tony Fleecs
Illustrated by Trish Forstner
Sophie has no idea how she wound up in her new home. But she can't shake the feeling that something is… off.
There are tons of new dogs to show her the ropes, and they all assure her that their owner is a great guy.
When a piece of clothing triggers a memory for Sophie, she believes this new owner might be a serial killer who killed her former person.
Is Sophie right? And if so, are the dogs here in danger? Will they be able to escape and get justice before it's too late?
Stray Dogs will be one of the most difficult horror graphic novels for dog lovers to read. But if you are able to stomach it, the story is well worth your time!
Tony Fleecs is clearly an animal lover, and he handles the subject with love and care – and has included many photos of real dogs (sent in by owners who are fans) to cheer you up!
CW: animal death and cruelty
If you enjoy animal stories, you might also appreciate these famous dogs in fiction.

Read Stray Dogs: Amazon | Goodreads
Grab the best horror graphic novels here:
Save These Dark Graphic Novels For Later: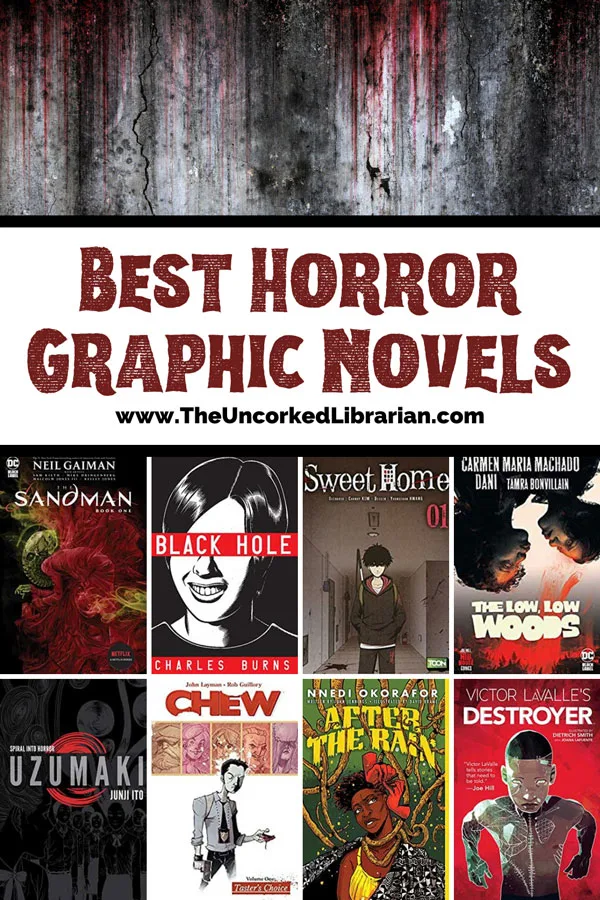 What is your favorite horror graphic novel?
Which of these dark graphic novels have you read and loved?
Are there any that weren't too scary that you recommend? And, what was the scariest graphic novel you've read thus far?
Are there any creepy graphic novels that aren't on our list that you enjoy and recommend? We are always updating our articles and adding them to our TBR pile.
Let us know your favorite horror graphic novels in the comments!
Related Articles: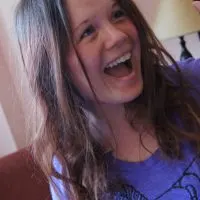 Dagney (pronouns: any) is a neurodivergent writer and book nerd who is drawn to all things weird and macabre. She also loves anything to do with fast cars, unhinged anti-heroes, and salt. When she isn't working or reading, you're likely to find her eating Indian food, playing board games, or hiding out somewhere dark and quiet, stuck down an internet rabbit hole. The easiest way to win her over is through cats and camels.