Travel across the world with the best Japanese fantasy novels for adults and teens.
Do you love traveling back in time and into new realms, especially if those experiences promise to fulfill your wishes or allow you to see loved ones for one last time?
If yes, you'll enjoy these Japanese fantasy books, especially the ones with science fiction and paranormal elements.
Also, find fantasy books set in Japan, including a Mulan retelling and a story of a young woman collecting souls to prove her worth.
Head to a back alley cafe, Feudal Japan, a remote island, London, and Los Angeles, California.
Uncover Japanese-inspired fantasy books with futuristic flairs and stories where authorities steal memories, cats can talk, and characters overcome curses and assumed destinies.
So, keep reading for the best Japanese fantasy novels, and don't forget to let us know your personal favorites in the comments. Let's get started.
Explore even more books set in and about Japan.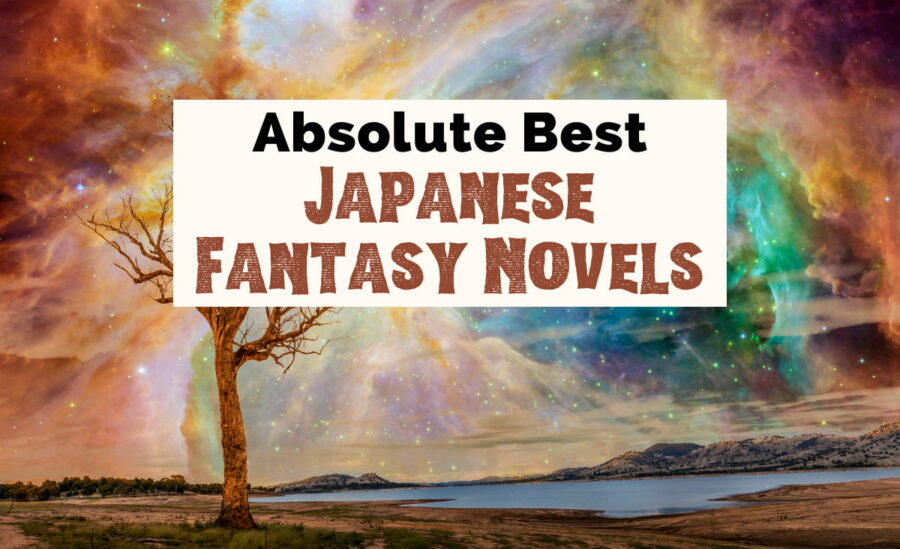 Grab these Japanese-inspired fantasy novels here:
1. We get the month's hottest new and upcoming titles from Book of the Month.
2. Try Audible Plus.
3. Find books via Kindle Unlimited Membership Plans.
4. As a member of Amazon Prime, don't miss Amazon First Reads — early access to Kindle books.
12 Invigorating Japanese Fantasy Novels
By Jeremy Paterson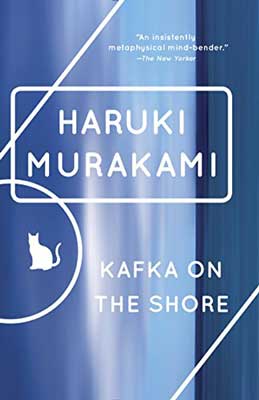 Kafka on the Shore by Haruki Murakami, translated by Philip Gabriel
Two protagonists, two odysseys of discovery. Both are separate, yet both are indelibly linked.
First, we are introduced to Kafka, a 15-year-old runaway fleeing from the dark implications of a prophecy against his father.
As he searches for the rest of his missing family, he may just find a new one who will take him in.
Our second main character is the aging Nakata.
Since a mysterious incident in his childhood, he has been seen as something of a simpleton, but in addition to the mental difficulties, he has also become something of a cat whisperer.
Kafka on the Shore serves as a good introduction for newcomers to Haruki Murakami's books.
Like many of his other Japanese fantasy novels, there's plenty of magical realism and a lot of quirky "miracles" to enjoy here, as well as some particularly dark moments.
Kafka on the Shore has some relatable and likable characters. With a sometimes dreamlike quality to its proceedings, it often leaves readers free to decide their own interpretation of the book.

Read Kafka on the Shore: Amazon | Goodreads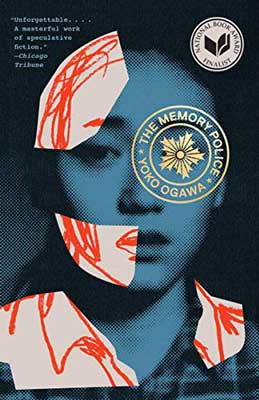 The Memory Police by Yōko Ogawa, translated by Stephen Snyder
What if there was an organization in charge of what you could and couldn't remember? That's the premise of Yōko Ogawa's intriguing and unsettling fable.
For the residents of an unnamed island off the coast of an unnamed land, life is normal, except things keep disappearing.
First hats, then ribbons, then birds seemingly cease to exist – and it gets more serious from there.
It's a curious phenomenon, made more so by the fact that no one remembers that these things were ever there.
Or, almost no one. There are a few that remember the smell of perfume, or the color of roses.
But those people live in fear of the Memory Police, who routinely patrol the streets, rounding up those who haven't forgotten what they were supposed to forget.
The unnamed protagonist's mother is one such person; she can only be kept hidden and safe for so long.
The more you think about this simple premise, the more unsettling it gets. Anyone looking for some Japanese fantasy novels that will creep you out should definitely pick this one up.
Explore even more books set on islands, big and small.

Read The Memory Police: Amazon | Goodreads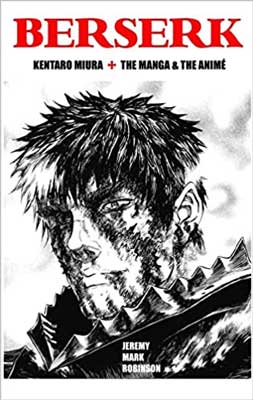 Berserk by Kentaro Miura, translated by Duane Johnson and Jason DeAngelis
With an iron hand, an enormous sword, an Elf sidekick, and a body made of scar tissue, Guts the Black Swordsman is out to defeat evil anywhere, anytime, and with any amount of blood being spilled.
Aiding him in his endeavors is The Brand – an unholy symbol permanently marked onto his body that draws evil toward him.
But instead of being his doom, this mark makes it much easier for Guts to find and dispose of the damned who would claim his soul.
Manga books often leave subtlety at the door, and Berserk is no exception.
This is one of the more violent Japanese fantasy books on this list, but with extreme injuries and gore, you also get humor and compelling characters.
If you have a strong stomach, Berserk could be right up your street.
There's also a TV adaptation (of which the second season is considered by many to be some of the greatest anime of all time) and a trilogy of film adaptations.

Read Berserk: Amazon | Goodreads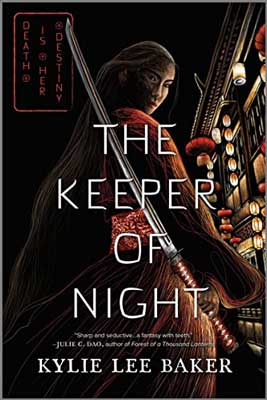 The Keeper of Night by Kylie Lee Baker
Ren Scarborough is an anomaly. Half British Reaper, half Japanese Shinigami, she is caught between two worlds.
On the streets of London in the 1890s, she collects souls using skills she has honed over the centuries.
In order to stay out of trouble with the Reapers, she keeps her Shinigami side suppressed.
But when a lapse in control leads to a necessity to leave England, she flees with her younger brother to Japan in search of the freedom and sense of belonging she has been lacking.
But even among the Shinigami, Res finds rejection and distrust. So in order to prove herself worthy, she undertakes an impossible task – a task which might well prove once and for all that "death is her destiny."
There's a lot of good YA writing and style to enjoy in The Keeper of Night.
Kylie Lee Baker has written one of the most enjoyable fantasy books set in Japan, though be warned that this is the first in a series.

Read The Keeper of Night: Amazon | Goodreads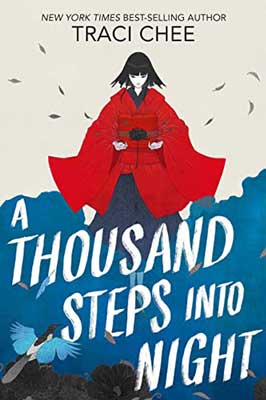 A Thousand Steps into Night by Traci Chee
Although it may be boring, living the uneventful life of an innkeeper's daughter might just be a blessing in disguise in a world populated by gods and monsters.
However, any dreams of stability young Miuko may have had are shattered when she becomes cursed by a demon and forced into a journey that will forever change her.
Due to the curse, she develops a deadly touch, and though it brings obvious dangers, it also provides her with a freedom she had previously not thought possible.
With a magpie spirit sidekick, and constantly having to think her way out of life-threatening situations, will she manage to break the curse and return home? And after all this, will she want to?
Anyone who enjoys the work of Studio Ghibli will find similar themes and lots more to like in Traci Chee's YA adventure.
In fact, it may well be that recent Japanese fantasy novels like this one have indeed been influenced by such institutions, but that definitely isn't a bad thing.

Read A Thousand Steps into Night: Amazon | Goodreads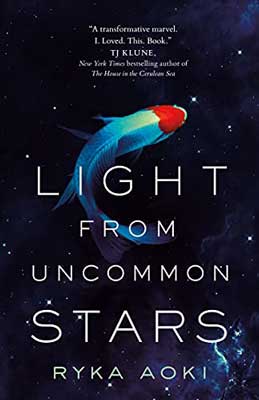 Light from Uncommon Stars by Ryka Aoki
Young trans woman Shizuka Satomi has managed to escape her abusive family and follow a kind boy she met at a queer youth conference to Los Angeles.
As a brilliant violinist, she manages to entice many an arrogant prodigy to join her as her pupil.
However, her motives for acquiring such gifted protégés are more than just prestige-based: unless she can deliver seven souls to Hell, her own will be forfeit. She's managed six so far, just one more to go.
Into her sphere comes Katrina Nguyen, a transgender runaway herself, who just might have the skill to fit the bill.
But then Shizuka meets Lan Tran – mother of four, also a refugee … and a retired starship captain. Shizuka's world just got a whole lot bigger.
Mixing fantasy with science fiction, Light from Uncommon Stars is set in the US but revolves around a Japanese main character.
This is one of the few (but hopefully increasing number of) Japanese-inspired fantasy novels with trans characters written by a trans author.
Read Light from Uncommon Stars: Amazon | Goodreads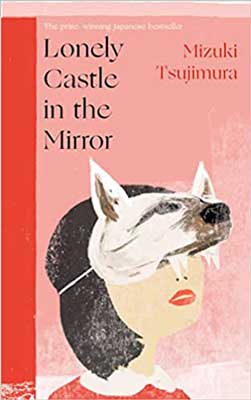 Lonely Castle in the Mirror by Mizuki Tsujimura, translated by Philip Gabriel
When 7 lonely students find that life is too hectic and try to hide themselves away in their rooms, they couldn't have known that they were about to be given a taste of the magical.
By touching their suddenly-glowing bedroom mirrors, they are transported to a mysterious castle, full of portraits, chandeliers, winding staircases, and – most importantly – clues.
Because while the castle is a refuge, it is also a puzzle; whoever solves it and finds the key will be granted a wish.
With the real world far behind them, they can stay in the castle without fear; unless they stay past 5 pm. For then they become prey to the keeper of the castle: the Wolf Queen. And she is hungry indeed.
This is one of the best Japanese fantasy novels for introverts or anyone else who hoped one day to find a way to literally escape into another world.

Read Lonely Castle in the Mirror: Amazon | Goodreads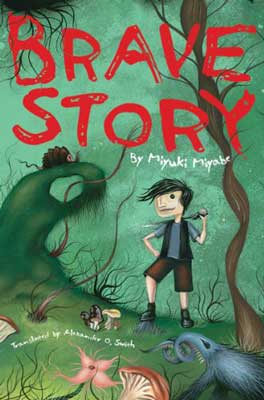 Brave Story by Miyuki Miyabe, translated by Alexander O. Smith
Wataru Mitani is having a tough time.
His father is breaking the family apart and leaving with his mistress, causing his mother to fall into depression. It's making the young 5th grader's life very unpleasant indeed.
Fortunately, the old Daimatsu building is there to distract him. Some people claim that a ghost haunts the abandoned building, and Wataru is determined to investigate.
After he follows an old man into the building, Wataru finds that he has crossed into the world of Vision through a portal that only opens for 90 days every 10 years.
If he collects five gemstones and takes them to the Tower of Destiny, he is told that he will receive one wish.
But is this place real, or all in his head?
Brave Story falls thematically into a space somewhere between Pan's Labyrinth and The Secret Garden, with our young hero trying to work through the struggles of everyday life by escaping into a world of fantasy and adventure.
This is one of the more family-friendly Japanese fantasy novels on this list.

Read Brave Story: Amazon | Goodreads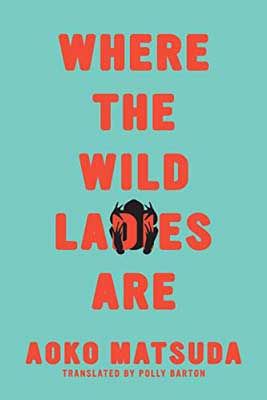 Where the Wild Ladies Are by Aoko Matsuda, translated by Polly Barton
In a twist of narratives, the traditional Japanese folk tales collected together in Where the Wild Ladies Are are given a reinvigorating feminist retelling.
A woman spurned by her boyfriend gets turned into a monster and traps him in a temple bell. Instead of being feared, as per the original fable, she is empowered and justified in doing so.
After fishing a skeleton out of a river on a fishing trip, a woman becomes partners with its ghost – a ghost who originally was killed by the man she refused to marry.
These alternate versions breathe fresh life into a world where, previously, ghosts would have haunted the living, rather than comforted, and feminine traits would have been overpowered, rather than respected.
Humorous, witty, cleverly reworked, and relatable, this is one of the best Japanese fantasy books for anyone looking for a less male-centric take on Japanese folklore.

Read Where the Wild Ladies Are: Amazon | Goodreads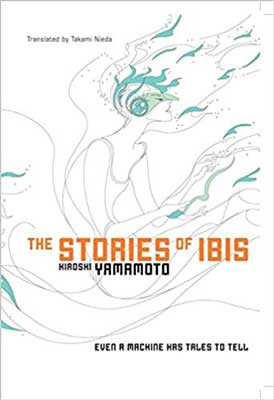 The Stories of Ibis by Hiroshi Yamamoto, translated by Takami Nieda
While wandering a land in which androids have created their own civilization and humans are a minority, a storyteller intent on the end of artificial life encounters the beautiful android Ibis.
After a short battle, Ibis takes the storyteller to an android hospital, and while he recovers, she tells him stories that gradually reveal the reasons for the fall of humanity.
While not strictly speaking a full fantasy novel, The Stories of Ibis is science fiction with a strong fantasy flavor.
This is a short story collection wrapped up in an overarching narrative, and Ibis' telling of those stories is similar to how humans would tell folktales around the campfire.
It is an intriguing premise and makes for one of the more left-field Japanese-inspired fantasy books on this list.

Read The Stories of Ibis: Amazon | Goodreads
More fantasy books set in Japan from Christine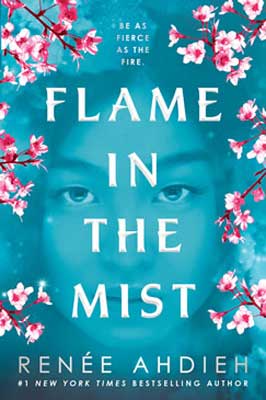 Flame In The Mist by Renée Ahdieh
One of the most popular YA fantasy books set in Japan with a bit of romance, Flame In The Mist is a classic Mulan-retelling.
As the daughter of a samurai set during Feudal Japan, Mariko feels powerless. Forced into a marriage of convenience, she must either sit back and accept her arranged fate or fight back.
Mariko chooses to fight, assuming a man's identity to defeat members of the Black Clan trying to murder her.
What happens when Mariko finds love, though? And, can her newfound community move past her real identity?
Read Flame In The Mist: Amazon | Goodreads | Read More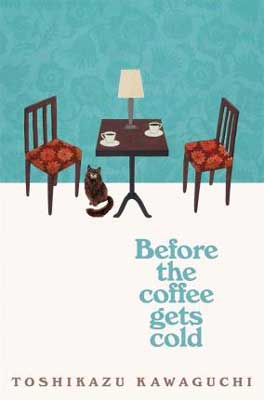 Before the Coffee Gets Cold by Toshikazu Kawaguchi, translated by Geoffrey Trousselot
Although a small stretch for Japanese fantasy novels – with science fiction and paranormal elements – Before the coffee gets cold will most certainly appeal to time travel book lovers.
Enter an unassuming cafe in Tokyo, Japan. Along with coffee, this 140-year-old establishment allows visitors to travel back in time.
Four such visitors are in the cafe for this reason, and true to the title, they can only confront who they wish to meet before the coffee gets cold.
If they fail to leave in time, ghostly consequences await them.
Who would you ask to see one last time – knowing that you cannot alter the present? Is change still somehow possible?
The details are everything in Before the coffee gets cold, and if you enjoy stories with ghosts, be sure to check out our haunted house book reading list.
Before the coffee gets cold: Amazon | Goodreads
Save These Japanese Fantasy Books For Later: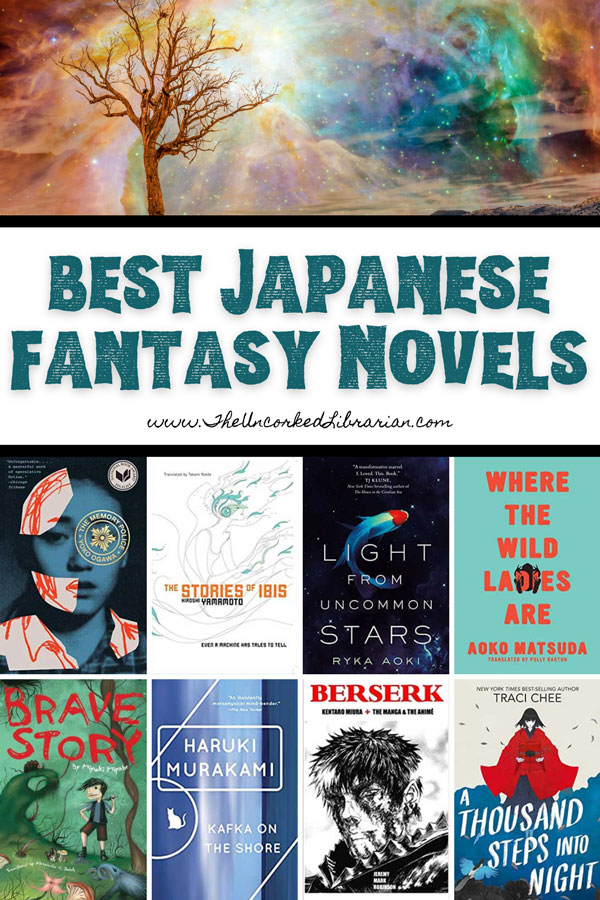 Grab your favorite Japanese fantasy novels here:
1. We get the month's hottest new and upcoming titles from Book of the Month.
2. Try Audible Plus.
3. Find books via Kindle Unlimited Membership Plans.
4. As a member of Amazon Prime, don't miss Amazon First Reads — early access to Kindle books.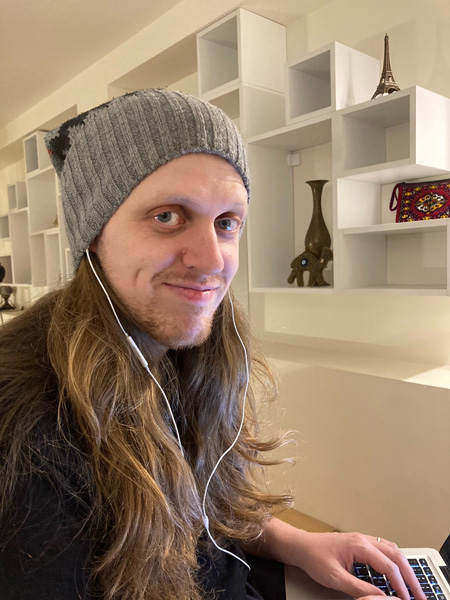 Thank you to TUL contributor, Jeremy Paterson from Dark Distractions
Jeremy (pronouns: any) is an autistic writer, hobbyist, and movie buff, as long as that movie is Labyrinth. Since leaving the corporate world behind in 2018, he has read more books than he thought possible. True to his British upbringing, his first instinct in any given situation is to put the kettle on.
What are your favorite fantasy books set in Japan?
Which Japanese-inspired fantasy books do you enjoy? Are there any more we should add to our TBR pile? Let us know in the comments.
You May Also Enjoy: