Uncorked 2024 Reading Challenge Bingo For Travelers
Travel around the world with a good book (or movie) with our Uncorked 2024 Reading Challenge. Join any time with quarterly bingo cards filled with themes related to travel, diverse authors, history, and fantastical beings and places.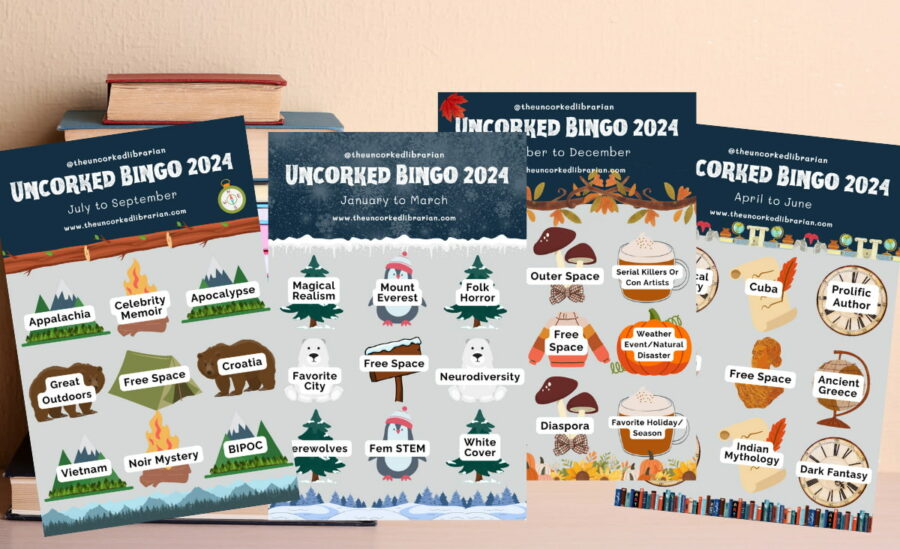 With suggestions from our Uncorked Readers, climb Mount Everest, fall in love over a science experiment, and survive the apocalypse. Travel to places like outer space, Vietnam, Croatia, Ancient Greece, Appalachia, and Cuba.
We hope you find new authors, read your favorites, and push your reading boundaries. Grab a drink of choice, snap a photo with a furbaby, and get ready for another great year of Uncorked Reading.
Directions
For our Uncorked 2024 reading challenge, read as much or as little as you like. Some of our readers swap in movies, TV shows, or drinks from an area. The "rules" are simple:
Bingo cards span three months; do 1 or all 4; join in or leave at any time.
Score a "bingo" in any direction – horizontal, vertical, or diagonal (3 spaces total).
Take the free space as a free choice or count it as already done.
For fun, complete the entire card or as much as you can; many of our readers complete the entire card.
If the topic is "Cuba," read a book from, about, or set in Cuba.
Grab the bingo cards by clicking and saving them, taking a screenshot, signing up for our newsletter, and/or joining our Facebook group.
Share what you are reading in our Facebook group, Uncorked Readers.
Use the hashtag #UncorkedReading and tag us @ theuncorkedlibrarian when talking about the challenge on social media.
Rules are meant to be broken. Have fun!
Uncorked 2024 Reading Challenge Themes
Find four bingo cards spanning three months paired with reading lists. Please check back each season as we update with even more great book lists and recommendations.
Take The Uncorked Reading Challenge!
Travel around the world with our Uncorked Reading Challenge. Never be late to the party with unique new book releases. Get the latest movie and book lists straight to your inbox.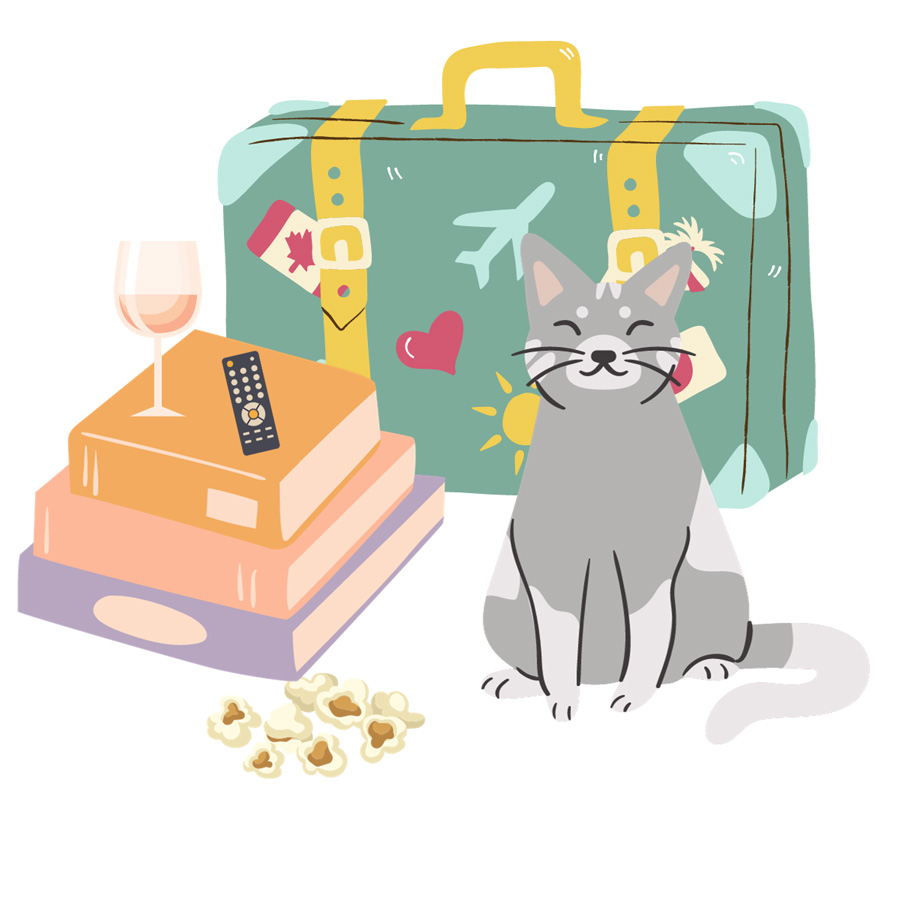 January Through March
January through March topics include:
Magical Realism – Magical realism is a genre grounded in the real world that has an undercurrent of fantasy or magic.
Mount Everest – Scale the highest mountain above sea level. Start with our Everest reading list, including fiction and nonfiction.
Folk Horror – This genre navigates angry spirits, ancient rituals, and isolated landscapes into sinister stories. We have just the folk horror reading list to get you started.
Favorite City – Travel to your favorite city; this could be a place you live, have visited, or wish to visit.
Neurodiversity – "Neurodiversity" is a word used to explain the unique ways people's brains work. Read self-identified, neurodiverse authors or books with neurodiverse characters.
Werewolves – Howl into the night – and forest – with your favorite werewolves. We have two reading lists for you: adult werewolf books we love and teen/middle grade werewolf novels.
Fem STEM – As a nod to our love for Ali Hazelwood, read about women in science, technology, engineering, and math.
White Cover – It's as easy (or as hard) as it sounds – find a book with a predominantly white cover.
April Through June
April through June topics include:
Historical Mystery – Head back to the past to solve a mystery or crime.
Cuba – Learn more about Cuba – from its rum to the Cuban Revolution – with our fiction and nonfiction reading list.
Prolific – A prolific author (or producer) is defined as someone who creates a large amount of work. A few famous authors: Stephen King, Corín Tellado, Isaac Asimov, R.L. Stine, and Ryoki Inoue.
Southern Gothic – This genre has themes of slavery, poverty, racism, violence, and alienation. Dismantle idealist versions of the Antebellum South. Find a great Southern Gothic reading list on our sister site, Uncorked Asheville.
Ancient Greece – From philosophy to architecture, travel back to Ancient Greece. Get started with this Greek mythology reading list.
Debut – Find a first-time author or maybe even an author who has published their first book in a new genre.
Indian Mythology – We've traveled to India via past reading challenges. A popular destination for our readers, dive deeper with Indian mythology books.
Dark Fantasy – Explore dark and disturbing themes in the fantasy genre.
July Through September
July through September topics include:
Appalachia – Travel across Appalachia through states including Alabama, North Carolina, Tennessee, Georgia, and more. Our sister Asheville site has just the Appalachia-set books reading list for you.
Celebrity Memoir – There have been so many great celebrity memoirs in recent years. Read about a celebrity you know and love or try something different.
Apocalypse – It's the complete destruction of the world as we know it. Find a great book about the apocalypse. Post-apocalyptic tales work too.
Great Outdoors – Breathe in that fresh air, go for a hike, road trip, and more with our great outdoors theme. To get you started, try our hiking and backpacking reading list.
Croatia – If you follow us on social media, you know that part of our team traveled to Croatia, enjoying day trips from Split. For our armchair travelers or if you are planning a visit, head off to Croatia with this reading list.
Vietnam – Whether you want to learn more about the Vietnam War or Vietnamese culture, this theme promises to teach you more and take you there. Be sure to peruse our Vietnam reading list filled with nonfiction and fiction selections.
Noir Mystery – Part of the crime-fiction genre, enter a darker world of mysteries filled with unethical, cynical characters, gritty backdrops, and disturbing scenes.
BIPOC – Read a book with a BIPOC character or from a BIPOC author; "BIPOC" stands for Black, Indigenous, and people of color.
October Through December
October through December topics include:
Coffee – We've done wine and beer; now, it's time for coffee!
Outer Space – Travel to outer space with this reading challenge theme. Get started with our extraterrestrial reading list.
Serial Killers or Con Artists – Read fiction and nonfiction books about serial killers. However, if you find that topic triggering or it's just not for you, select a book about a con artist.
Historical Fiction – Travel back in time with these books. The sub-genres and topics are truly endless here.
Weather Event/Natural Disaster – Whether through fiction or nonfiction, read about a weather event such as a tropical cyclone, tornado, flood, freeze, or heat wave. Or, read a book about a natural disaster including an earthquake, wildfire, tsunami, or landslide.
New England – From Connecticut and Massachusetts to New Hampshire and Maine, travel to New England. To get you started, head over to our 50 States book list or our MA-based reading list (we also have a Salem, MA list linked).
Diaspora – Diaspora is defined as a group of people who have been dispersed across the globe from their homeland. Read diasporic authors and books for this theme.
Favorite Holiday/Season – Celebrate your favorite holiday or season across the globe.
Additional Ways To Track Your Reading
In addition to our bingo cards, we also offer free PDF trackers to record your reading.
Frequently Asked Questions
Do audiobooks count?
Yes, audiobooks and even podcasts count for this reading challenge.
Will there be an end-of-year giveaway?
We are not doing prizes. However, we may offer the occasional surprise giveaway.
Is using the bingo card format optional for themes?
Yes; please track your reading (and share with the group) however you wish. Just try to read within the correct timeframe.
Do I have to start this reading challenge in January?
No! You can start Uncorked Reading at any time. It's easy to catch up, jump around, and skip months. We are pretty chill and welcome you anytime.
Do I have to join the Facebook group or newsletter?
No, joining our FB group and signing up for our newsletter is optional. However, our newsletter is great for more book recommendations and to stay updated. Our Facebook group is a fantastic way to see what others are reading and join a supportive bookish community.
How do I add book covers to bingo cards?
We suggest uploading book covers and bingo cards into Canva, which is free. Our bingo cards are 1000 x 1500 px (a standard Pinterest pin template in Canva).
Look back on past challenges and find more reading lists
Let us know in the comments if you will be joining us for 2024 Uncorked Reading (we hope so!). What theme are you most excited about? Do you have any questions? You can always email Christine ([email protected]) or comment below.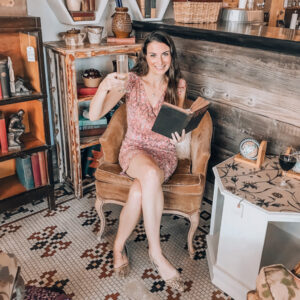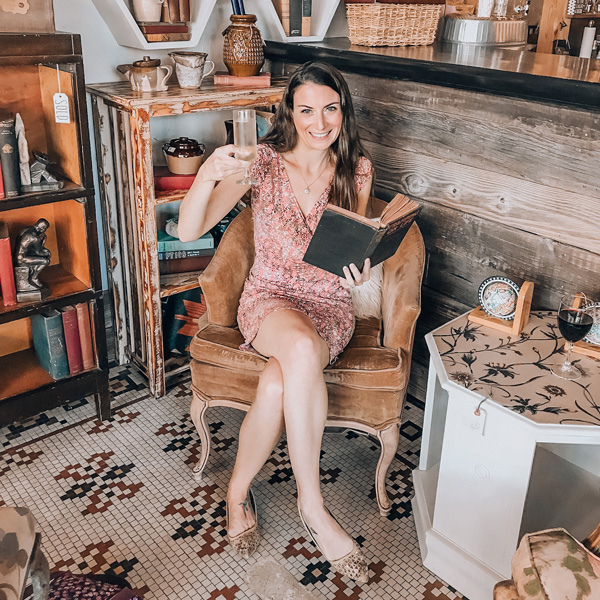 Christine (she/her) is the owner, lead editor, and tipsy book sommelier of The Uncorked Librarian LLC, an online literary publication showcasing books and movies to inspire travel and home to the famed Uncorked Reading Challenge.
With a BA in English & History from Smith College, an MLIS from USF-Tampa, and a U.S. Fulbright Fellowship in Christine's back pocket, there isn't a bookstore, library, or winery that can hide from her. Christine loves brewery yoga, adopting all of the kitties, and a glass of oaked Chardonnay. Charcuterie is her favorite food group.