11 Treacherous Everest Books
Climb the highest mountain above sea level with the best Everest books to read, fiction and nonfiction.
If you are fascinated with the intrigue and pull of climbing dangerous and deadly Mount Everest, this reading list is for you.
Mount Everest is the highest mountain above sea level at 29,032 feet and is located at the crest of the Great Himalayas on the border of Nepal and the Tibet Autonomous Region of China.
Below, explore must-read nonfiction books about Everest from a variety of standpoints, including different climbers, researchers, journalists, and Sherpas.
Then, uncover fictional books on Mount Everest that address some of the "what-ifs" while tackling contemporary issues, including our need to be seen on social media.
These books about Everest promise to be thought-provoking while also transporting you there. Additionally, they make for great reads if you enjoy isolated settings.
Be sure to let us know your favorite Mount Everest book in the comments. Let's get started!
Read even more books across Asia.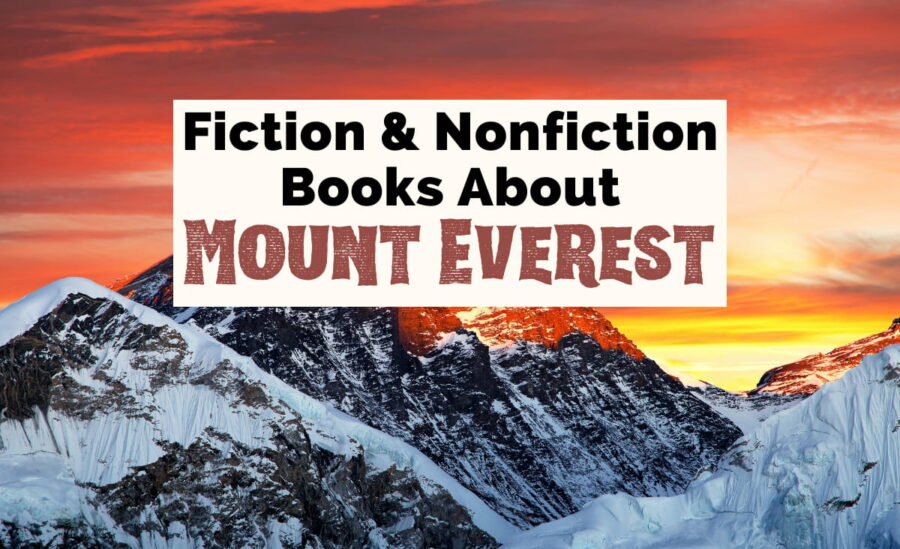 Grab your favorite books on Mount Everest:
11 Best Everest Books
Nonfiction Everest Books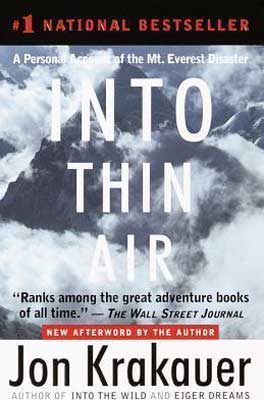 Into Thin Air by Jon Krakauer
By far one of the most well-known Everest books is Into Thin Air, which is journalist Jon Krakauer's first-hand account of the unfolding of the 1996 Mount Everest Disaster.
At the time, it was the worst single day in Everest's history with 8 people dying on the mountain, and it remains one of the most well-known Everest disasters – in part due to Krakauer's book.
Krakauer, himself a skilled technical climber (albeit one with no experience climbing 8000-footers), was on assignment with Outsider magazine.
Initially, Krakauer only intended to reach base camp, but the allure of Everest led him to change his mind and train for a summit.
This is why he was on the mountain and a partial witness to the tragedy of May 10th, 1996 as a storm descended over Everest.
Although this is a climbing memoir and does contain its share of technical jargon and historical info, most of the book reads more like a novel
Into Thin Air is easily one of the most accessible books about Mount Everest and will have you racing to find out what happens next.
Read Into Thin Air: Amazon | Goodreads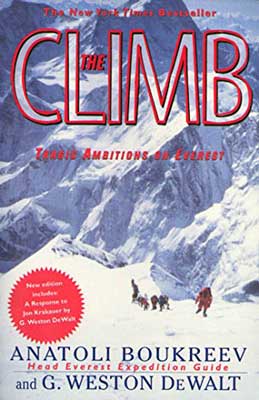 The Climb: Tragic Ambitions on Everest by Anatoli Boukreev and G. Weston DeWalt
The 1996 Everest Disaster is one of my special interests, and I've read nearly every Mount Everest book there is about it.
While Krakauer's account is undeniably the easiest to read and the one with the widest general appeal, it is not necessarily my favorite.
But it doesn't give the full story of that day, and, in my opinion, paints Anatoli Boukreev in a rather unfair light.
If you want both sides and another fantastic Everest survival book, I highly recommend picking up Boukreev's own account, The Climb: Tragic Ambitions on Everest.
Author's Note: For a completely different perspective on the day, try The Other Side of Everest: Climbing the North Face Through the Killer Storm by Matt Dickinson.
Dickinson was climbing up the other side of Everest with British actor Brian Blessed, and they had their own encounter with the storm.

Read The Climb: Amazon | Goodreads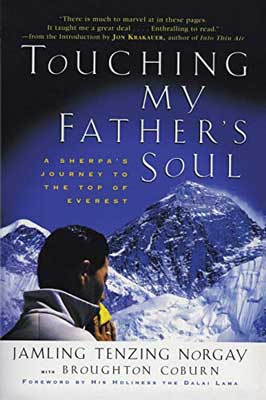 Touching My Father's Soul: A Sherpa's Journey to the Top of Everest by Jamling Tenzing Norgay
In 1953, Sherpa Tenzing Norgay summited Mount Everest with New Zealand explorer Edmund Hillary. They were the first people to ever reach the summit and did so together.
In 1996, his son, Jamling Tenzing Norgay, accompanied a team of legendary climbers making an IMAX documentary.
Also an experienced climber, Jamling saw the expedition as a way of connecting with his father, recounting this spiritual journey in his memoir.
However, Touching My Father's Soul is also important because it was the first Mount Everest book to focus on the Sherpa experience.
The book candidly explores the relationship between Sherpas and rich clients and calls out the lack of attention paid to Sherpa deaths despite the heavy attention on wealthy climbers.
Those looking for reflective books about Mount Everest that put Sherpas at the forefront will love this memoir.
For a more in-depth read about Tenzing Norgay's life and 1953 climb, read his grandson, Tashi Tenzing's book, Tenzing and the Sherpas of Everest.

Read Touching My Father's Soul: Amazon | Goodreads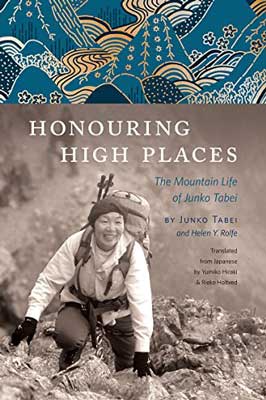 Honouring High Places: The Mountain Life of Junko Tabei by Junko Tabei with Helen Y. Rolfe
Translated by Yumiko Hiraki and Rieko Holtved
Junko Tabei is one of the most impressive names in mountaineering, but compared to some of her White male counterparts, has been largely forgotten in the Western world.
Tabei was the first woman to not only summit Everest (1975), but to climb the 7 summits (the tallest peaks on each continent), which she completed in 1992.
Honouring High Places is a collection of tales from Tabei's impressive climbing career chronicling her greatest achievements and most devastating losses.
Although her time climbing Everest is only a small part of the book, it is still worth including for those interested in books about hiking and mountaineering.
Because it covers a range of climbs, this is great for those curious to dip their toes into books on Mount Everest without fully committing.

Read Honouring High Places: Amazon | Goodreads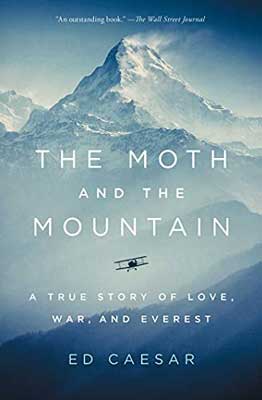 The Moth and the Mountain by Ed Caesar
At this point, many might think there isn't much left to write about in Mount Everest books that are fresh and original, but this 2020 release proves the haters wrong.
The Moth and the Mountain is about the greatest Everest expedition you've never heard of!
In 1933, after struggling to recover after WWI – and after Mallory's failed summit attempts – veteran Maurice Wilson decides to climb Everest.
Although he has little climbing experience, Wilson becomes obsessed with climbing Everest and is convinced he can do the impossible.
How, you ask?
Wilson believes that intermittent fasting and prayer can solve all illnesses and help overcome any hardship. And, he intends for his ascent of Everest to prove just that.
To carry out his mission, Wilson procures a plane, flies from the UK to India, and then sneaks into Tibet in disguise.
Covering Wilson's childhood, his life during and post WWI, and his Everest expedition, The Moth and the Mountain is one of the most unique books about climbing Mount Everest.

Read The Moth and the Mountain: Amazon | Goodreads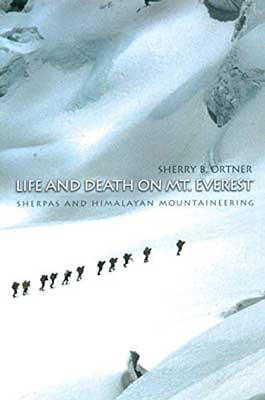 Life and Death on Mt. Everest: Sherpas and Himalayan Mountaineering by Sherry B. Ortner
Life and Death on Mt. Everest is an ethnography about Sherpa life by anthropologist Sherry B. Ortner who has studied the Sherpas since the mid-1960s.
Her book explores Sherpa culture and religion, their enduring love of the mountains which are their home, as well as their complicated relationship with foreign climbers.
Ortner recounts various historic expeditions and examines the effects the mountaineering industry has had on the Sherpas and their livelihood – for better and for worse.
The book always discusses misconceptions surrounding Sherpas and the general treatment they have faced by the climbing community.
Although Life and Death on Mt. Everest is one of the most academic books about Everest, and won't appeal to everyone, it is a must for those interested in learning more about Sherpas.
Everest books and narratives largely center on wealthy white men, and Ortner does her best to always put Sherpas front and center in their own history and mountaineering feats.

Read Life and Death on Mt. Everest: Amazon | Goodreads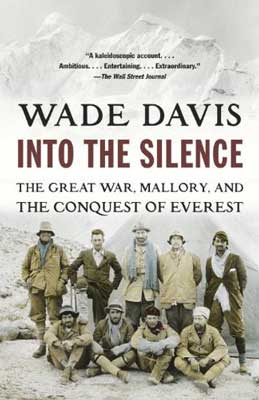 Into the Silence: The Great War, Mallory and the Conquest of Everest by Wade Davis
Throughout the early 1920s, three different expeditions attempted to conquer Mount Everest, all of them led by the British.
With his extensive and very thoroughly researched book, author Wade Davis puts these missions of geological conquest into perspective by discussing the historical environment of the time.
In particular, Davis relates the attempts of the British climbers to summit the mountain to the context of British imperialism and the after-effects of the First World War.
Many of the 23 climbers who went on the three expeditions were either former soldiers or medics who had seen action during WWI.
This included George Mallory, who led and famously disappeared on the third expedition.
Was the climbers' determination to keep trying until they succeeded driven by a notion of nationalist duty, to restore a failing empire as it struggled with collapse?
10 years in the making, this is one of the most interesting and well-researched Everest books on this list.

Read Into the Silence: Amazon | Goodreads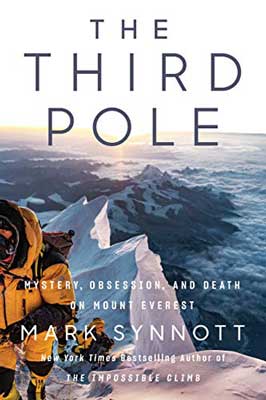 The Third Pole: Mystery, Obsession, and Death on Mount Everest by Mark Synnott
What exactly is the lure of Everest? Why are so many people willing to die for the chance to reach it?
In 2019, Mountaineer Mark Synnott set out to try and better understand the answer.
But he also wanted an answer to another question: were Mallory and Irvine the first to summit Everest in 1924?
Although he doesn't get an answer – we will likely never have one – he does deliver a riveting look at the obsession behind Everest.
Synnott provides an honest look into the commercialization of Everest, and the dangers this has led to.
The book expertly weaves between his own story of climbing the treacherous North Face, the 1924 expedition and subsequent events, and the disastrous 2019 climbing season.
You won't find many books on Everest that successfully navigate so much history and terrain.

Read The Third Pole: Amazon | Goodreads
Fiction Everest Books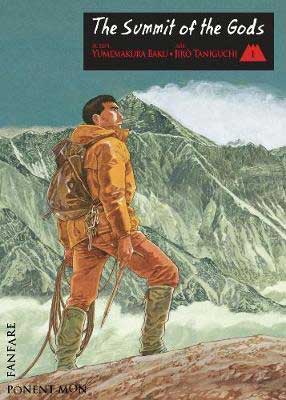 The Summit of the Gods by Jirō Taniguchi
Based on a novel by Baku Yumemakura
In June 1924, George Mallory attempted his third – and final – summit of Mount Everest with his climbing partner Andrew Irvine.
Sadly, neither man ever returned from the mountain.
Additionally, whether or not they were the first people to summit Everest remains a hotly contested subject.
However, it is believed that this claim could be proven if we ever recover the camera Mallory had with him…
69 years later, Japanese photographer and fellow mountaineer, Makoto Fukamachi, finds an antique camera in Nepal that just might belong to Mallory!
Fukamachi's discovery leads him and his mountaineering friend Habu Joujii on their own epic Everest adventure as they try to retrace Mallory's final expedition.
This 5-part manga is one of the best fiction books about Everest and is a great entry point for non-climbers interested in the subject and history.
It is based on a [non-translated] Japanese book of the same name by Baku Yumemakura and was made into an animated French climbing film.

Read The Summit of the Gods: Amazon | Goodreads
Take The Uncorked Reading Challenge!
Travel around the world with our Uncorked Reading Challenge. Never be late to the party with unique new book releases. Get the latest movie and book lists straight to your inbox.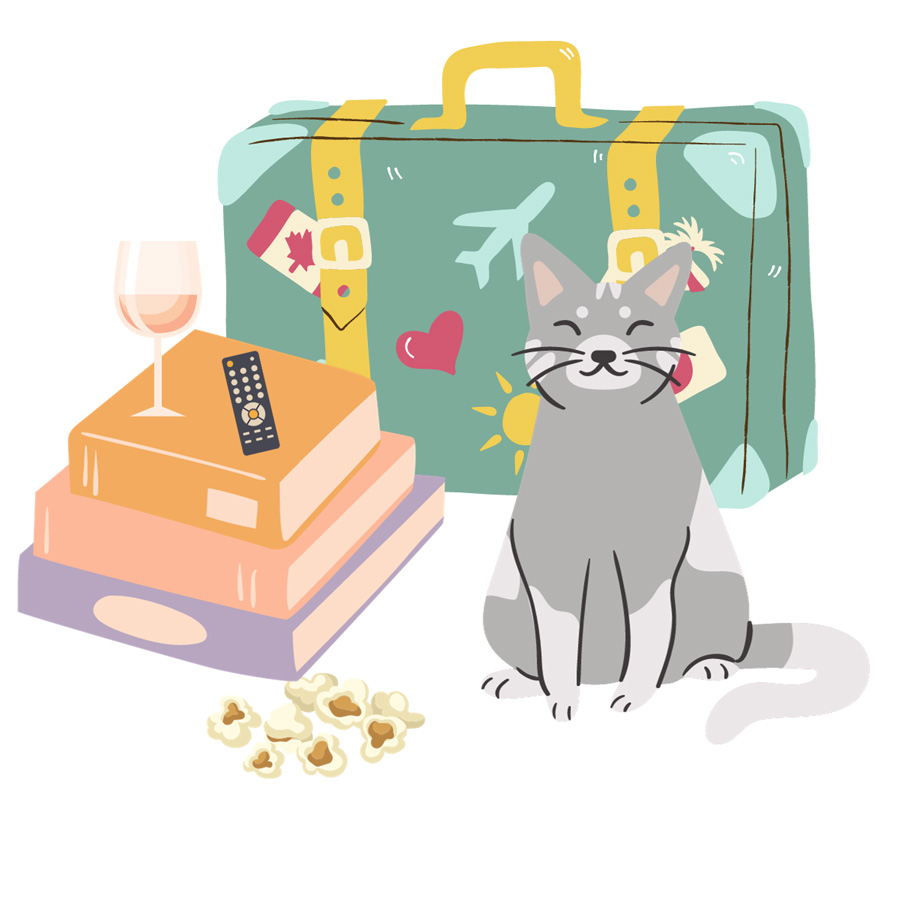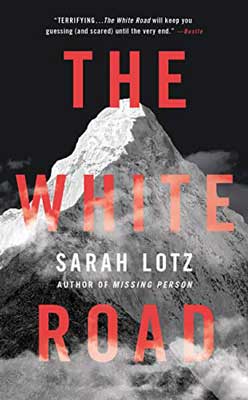 The White Road by Sarah Lotz
In order to get some much-needed views for his website, former adrenalin junkie Simon Newman attempts to traverse the dangerous Cwm Pot caves of Wales, UK.
Unfortunately, no one has been through the caves for years, and with good reason. When Simon's trip turns deadly in the claustrophobic catacombs, he barely manages to get out alive.
But with shocking footage comes intense interest, and soon Simon's macabre footage is blowing up online.
To top this event, he decides to turn his attention from the depths of the world to its heights instead: summiting Everest.
Will this be the viral moment his website needs? Or will he find himself in a whole heap of trouble in the Dead Zone?
Maybe he'll even solve an unsolved mystery on the way.
Author Sarah Lotz creates tense atmospheres for her characters to try and overcome with vivid descriptions and dramatic pitfalls that will pull the reader right into the action.
This is one Mount Everest book that will get under your skin, in a good way.

Read The White Road: Amazon | Goodreads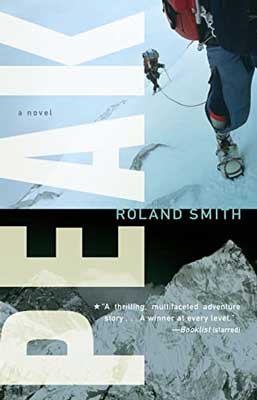 Peak by Roland Smith
Fourteen-year-old Peak Marcello is being given a choice, and it's more difficult to decide than it may seem at first.
Having been caught and arrested for scaling a skyscraper in New York City, he's on the fast track to Juvenile Detention.
Or, he can join his father on a mission to summit Mount Everest.
Flying across the world for this climbing expedition would be far from a no-strings-attached vacation; Peak hasn't had any contact with his estranged dad for quite some time.
This newfound interest in father-son bonding might not be as wholesome as his dad would have him believe.
Peak's father thinks he can become the youngest person to reach the highest point on Earth, which will do wonders for his Thailand-based climbing company. So there's that.
But while he has the climber's instinct within him, Peak also knows that summiting Everest is not exactly a safe thing to do.
This Mount Everest book is the first in a series of climbing-based novels by author Roland Smith.

Read Peak: Amazon | Goodreads
Save The Top Books About Mount Everest For Later: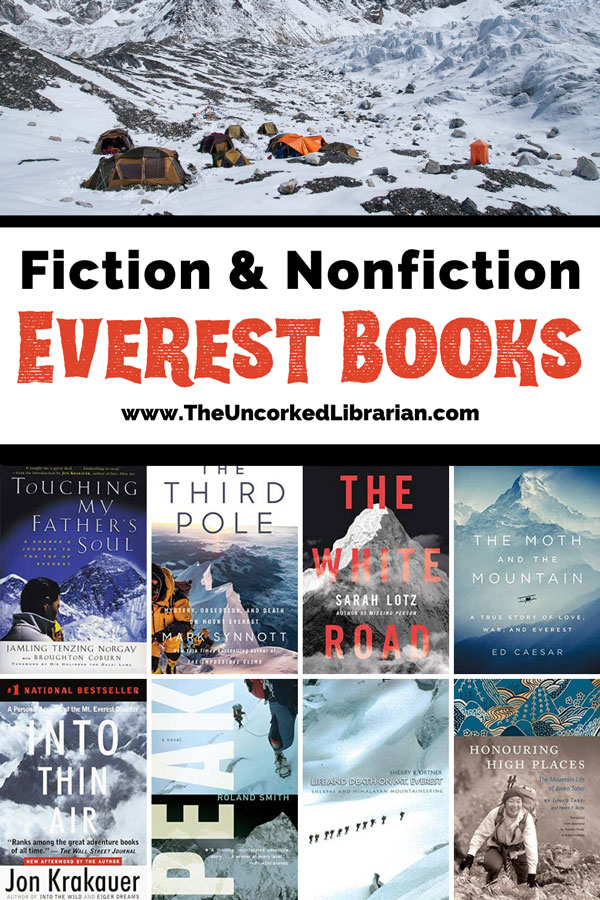 Grab the best books about Everest here:
What books on Mount Everest do you love and recommend?
With so many books out there, how do you choose? Do you prefer fiction or nonfiction Mount Everest books? Which ones do you recommend?
And, what other hiking, climbing, and mountaineering books do you enjoy? Let us know in the comments!
One of the 2022 books we enjoyed, Breathless, is a fictionalized account of climbing Nepal's Manaslu. Find a review on our winter reading list.
This Everest book list pairs well with 2023 Uncorked Reading's "Isolated settings" theme.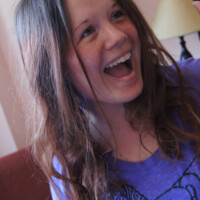 Dagney (pronouns: any) is a neurodivergent writer and book nerd who is drawn to all things weird and macabre. She also loves anything to do with fast cars, unhinged anti-heroes, and salt. When she isn't working or reading, you're likely to find her eating Indian food, playing board games, or hiding out somewhere dark and quiet, stuck down an internet rabbit hole. The easiest way to win her over is through cats and camels.