Travel around the world with the best hiking movies, including movies about backpacking and favorite hiking documentaries.
If you seek out thrillers, survival stories, and grand adventures, you'll devour these movies about hiking.
Watch experienced and famous hikers as well as the most unlikely gaggle of trekkers — with little to no backpacking experience.
Many are hoping to reclaim their lives and reset their life course. A few are seeking forgiveness and understanding while others crave the thrill of adventure.
Discover backpacking documentaries showcasing extremely dangerous feats to break records — also reminding us why we need to have a healthy respect for Mother Nature.
Lastly, explore infamous hikes, mountains, and trails along with lesser-known treks from across the globe.
So, what are the best hiking and backpacking movies to watch right now? Keep reading (and watching) as we head outside and climb mountains via our armchairs.
Keep in mind that "best" is subjective; we'd love to hear your favorite hiking movies in the comments. Let's get started!
*Please know that since our readership is based largely in the U.S., we try to pick titles that are accessible and available in America or that you can add to your watchlist.
Explore even more movies across the globe.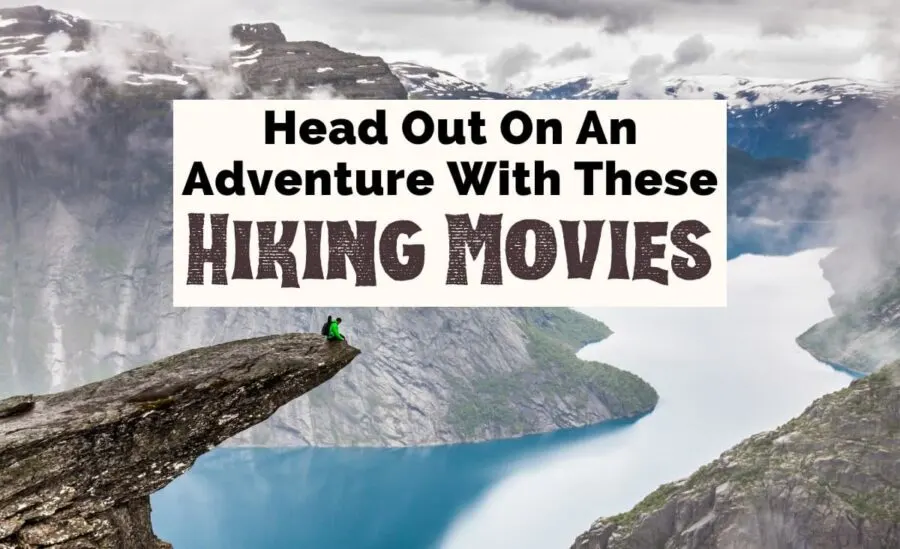 Watch the best movies about hiking here:
1. Book of the Month: Get the month's hottest new and upcoming titles from Book of the Month. You might snag an early release or debut author. Along with selecting a book a month, find terrific add-ons, both trendy and lesser-known titles.
2. Audible Plus: From Amazon, listen to Amazon Originals, podcasts, and audiobooks. They add new titles every week.
3. Amazon Prime: Don't miss Amazon First Reads – early access to Kindle books. Get fast delivery as well as movies, music, Originals, shows, and more.
4. Or, start your trial of Amazon Video for movies and tv series on demand.
Best Hiking Movies
By Tori Curran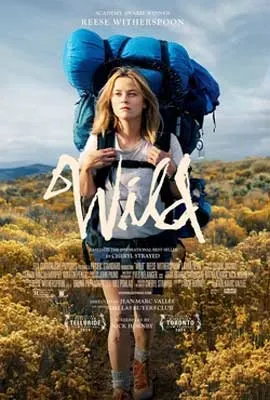 Wild (2014)
Based on the popular hiking memoir by Cheryl Strayed, Wild is one of the most popular movies about backpacking and hiking along the Pacific Crest Trail.
After the loss of both her mother and her marriage, Cheryl Strayed is on the brink of a mental breakdown.
With no experience in the Backcountry, she decides to hike her way out of self-destruction along the country's longest through-hike: The Pacific Crest Trail.
Raw, vulnerable, and sometimes humorous, Wild depicts how nature and hiking can help us cope, heal, and discover ourselves once again.
Wild also makes for a great road trip audiobook. Learn more about Cheryl Strayed.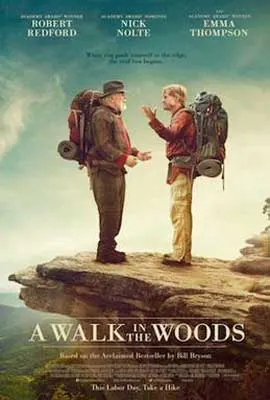 A Walk in the Woods (2015)
Bill Bryson is one of the world's most well-known and beloved travel writers. After years of living abroad in the UK, he plans to move back to the States to New Hampshire.
Instead of settling down, though, 60-year-old Bryson embarks on a thru-hike of the Appalachian Trail with his friend Stephen Katz.
The two learn quickly – only about a mile in – that their quest will be no easy triumph.
What could go wrong when two overweight, out-of-shape, elderly gentlemen take on one of the world's most notorious hikes?
See where else you can find A Walk In The Woods on TUL.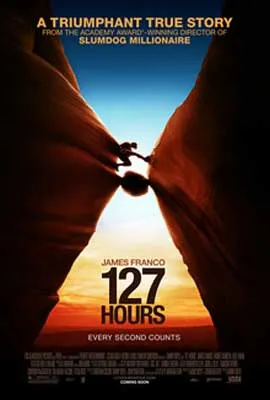 127 Hours (2010)
Aaron Ralston's story is well known and shocking.
An experienced hiker and climber, he heads into Utah's Bluejohn Canyon alone. While climbing in the slot canyon, a boulder shifts; Ralston's right hand becomes wedged.
For six days, Ralston miraculously hangs on, rationing his water and food. After a dream, he comes to terms with his only option for survival.
Using a dull multi-tool, he amputates his own arm in a desperate attempt to free himself. He is eight miles from his vehicle, though, and had not let any friends or family know his whereabouts.
Based on Ralston's own memoir, Between a Rock and a Hard Place – one of the best survival books – 127 Hours is also one of our favorite triumphant hiking movies.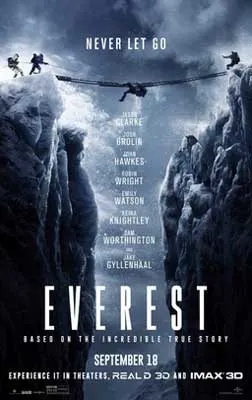 Everest (2015)
If you're looking for more of the best hiking movies based on true stories, Everest follows the ill-fated climbs of two expeditions led by Rob Hall and Scott Fischer.
Everest brings the 1996 Mount Everest disaster – which was also the premise of Krakauer's novel Into Thin Air – to the big screen.
Rob's group departs for the summit around dawn. However, the group discovers the guide ropes are not attached, causing delays.
Meanwhile, Scott is seemingly overexerting himself as he attempts to assist another climber, then re-ascend himself.
As oxygen begins to run low, and night falls, a blizzard hits Everest.
Will any of the climbers make it out alive? And if they can descend to base camp, is a rescue attempt possible in the harsh conditions?
Find Krakauer's Into Thin Air on our books for Father's Day reading list. And, you might also enjoy our Mount Everest books reading list.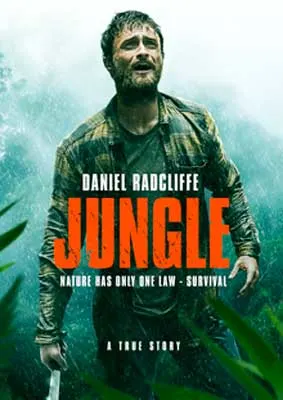 Jungle (2017)
A young adventurer, Yossi Ghinsberg, along with other mismatched backpackers and travelers, follow an Austrian geologist into the Bolivian jungle in search of a remote, Indigenous city.
It isn't long before doubt about their guide's past settles in.
Ghinsberg and another separate from the group and decide to continue alone. But a rafting accident leaves Yossi to fend for himself in the jungle, his friend nowhere in sight.
He must fight for his survival in the deadly wilderness amongst the torrential weather and predators.
Jungle is based on the true story of the real Yossi Ghinsberg, who got lost in the Bolivian Amazon.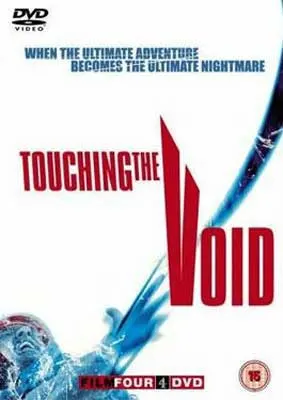 Touching the Void (2003)
Touching the Void depicts the true tale of two friends – Joe Simpson and Simon Yates – and their attempt to scale the western face of Siula Grande in the Peruvian Andes.
The men defy the elements, beat the odds, and even cheat death to reach the summit, but their descent down becomes fateful.
A single moment, if it doesn't mark their deaths, will change their friendship forever.
Touching the Void is one of our favorite suspenseful hiking movies that ultimately touches upon why hikers and climbers tempt fate.
The void – as we come to understand – symbolizes more than just the emptiness of the sky above, but the totality of potential death below.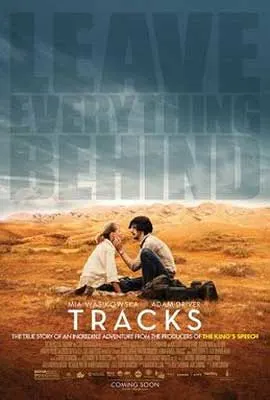 Tracks (2013)
Follow the true story of Robyn Davidson who leaves her life in the city to walk 200 miles across the Australian desert with four camels and her dog.
When people asked her why, she'd simply respond why not.
Departing from the traditional finding yourself narrative, Davidson is simply a girl who wants to be alone in the desert and live on her own accord.
But along the journey, she meets National Geographic photographer Rick Smolan who began to photograph her trek.
The breathtaking cinematography, though, is what makes this an absolute standout hiking film.
Watch even more Australian films.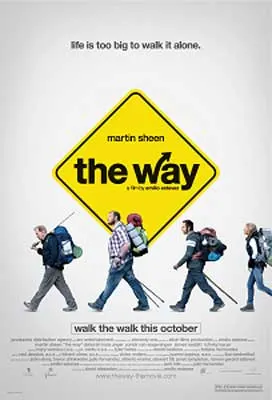 The Way (2010)
Tom, an American father, heads to France to retrieve the body of his estranged son who died attempting the Camino de Santiago, a pilgrimage from France to the Santiago de Compostela in Spain.
In a final act of love, and in an attempt to finally understand his son, Tom decides to walk the pilgrimage himself, spreading his ashes along the way.
Ultimately, Tom learns to connect with the son he misunderstood and to take his advice to start living a full life.
For meaningful movies about hiking that depart from the trail and tug at your heart, this is it.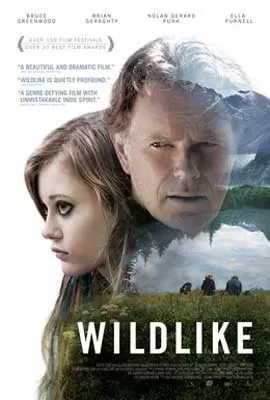 Wildlike (2014)
TW: sexual assault
Fourteen-year-old Mackenzie is sent to Alaska to live with her uncle following the death of her father and the hospitalization of her mother.
When her uncle begins abusing her, Mackenzie flees and befriends a widowed backpacker.
Mackenzie follows him across the Alaskan wilderness on a healing journey, before turning her sights towards home.
The breathtaking landscapes, unlikely friendship, and sensitivity make this one of the most poignant, genre-defying movies about hiking and healing.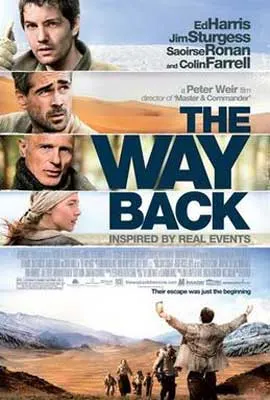 The Way Back (2010)
Inspired by real events, The Way Back is an adventure and hiking film about a Polish prisoner of war who leads a daring escape from a Soviet Gulag during WWII.
But the escape is only the beginning.
They must cross 4,000 miles of unforgiving wilderness, including the Himalayas and the Gobi Desert, to reach India.
Along the way, the group faces death, scarce resources, and welcomes an orphan into their group.
Survival would be nothing short of a miracle.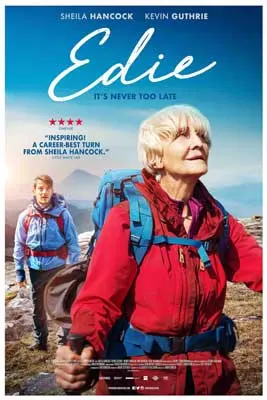 Edie (2017)
Edie, a bitter woman in her 80s recently lost her controlling husband and is struggling to maintain a relationship with a daughter who wants to place her in a nursing room.
Facing a future she's not entirely thrilled about, Edie worries she'll die with regret.
She makes plans to fulfill an almost thirty-year dream of hiking a mountain in the Scottish Highlands.
Doubt will of course settle in, but Edie's tremendous courage and grit will see her through. As Edie comes to realize, it's now or never.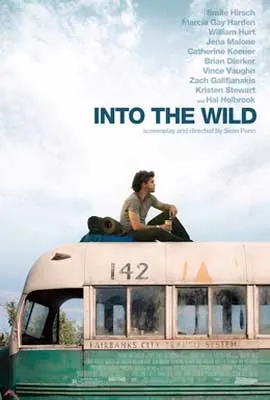 Into the Wild (2007)
One of the most well-known backpacking movies and books, Into the Wild is based on the true story of Chris McCandless.
After graduating from a prestigious university, McCandless gives away all of his possessions to live out of a backpack in the Alaskan Wilderness.
While we all know his story is tragic – and at times controversial – McCandless embodies a true adventurer's spirit.
His Thoreau-esque take on life encourages us all to seek comfort in nature, rather than in material possessions.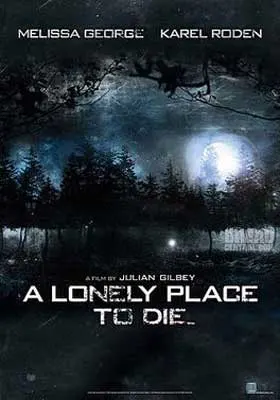 A Lonely Place to Die (2011)
While hiking through the Scottish Highlands, a group of friends stumbles upon a young Serbian girl, Anna, buried in an underground chamber.
They attempt to rescue her, facing difficult cliff rappelling and the treacherous wilderness. When Anna's kidnappers discover them, it's debatable if they will all escape alive.
Taken fans will appreciate this action-packed, suspenseful flick set in and about Scotland.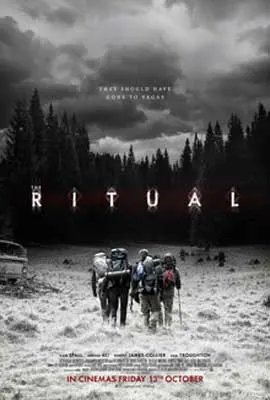 The Ritual (2017)
Reviews for this Netflix original are mixed, but if you're looking for another hiking thriller, The Ritual is reminiscent of an adventure horror flick.
After the tragic death of their friend, four college buddies meet up to hike through northern Sweden.
When one of the friends injures his knee, the group changes course and decides to cut through the forest rather than stay on the long trail.
As soon as they enter the forest, strange things begin to happen to the group.
Overnight, each becomes afflicted with horrific nightmares, and they quickly realize they are being stalked by an unseen creature.
Top Hiking Documentaries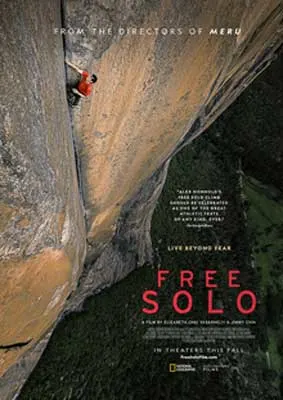 Free Solo (2018)
One of the most well-known and best hiking documentaries, Free Solo is where outdoor adventure films meet suspense thrillers.
The Oscar-winning picture documents climber Alex Honnold's "free solo" – or equipment-less – scale of El Capitan's 900-meter vertical rock wall in Yosemite National Park.
Despite knowing the outcome, viewers sit in suspense as Honnold attempts to conquer one of the most dangerous rock faces with his bare hands.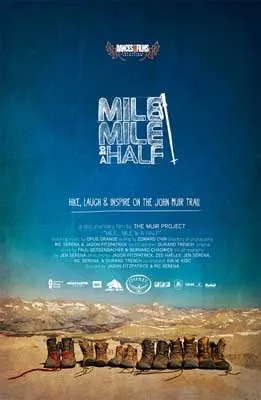 Mile…Mile & a Half (2013)
In the summer of 2011, a group of backpackers, teachers, artists, and filmmakers, set out to conquer the 219-mile John Muir Trail in California in 25 days.
Instead of focusing on accomplishing a goal or showcasing the vastness of the trail, they seek to capture the details.
In one of the most heartfelt backpacking documentaries, rediscover an appreciation for hiking.
While the John Muir Trail is no Everest, this documentary will remind you that not every trail needs to be "the most" in order to be epic.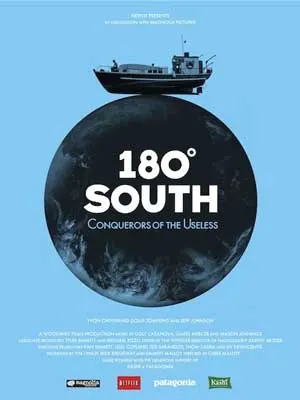 180 Degrees South (2010)
Inspired by film footage of his heroes, Yvon Chouinard and Doug Tompkins, Jeff Johnson embarks on an epic adventure to retrace their legendary journey to Patagonia.
180 Degrees South begins with footage of Chouinard and Tompkins and continues with Johnson's documentation of his own trek, including sailing, climbing, and surfing his way to Chile.
The adventure culminates with an attempt to hike up the Corcovado Volcano.
Ultimately, 180 Degrees South is one of those hiking documentaries that will make you think more deeply about life.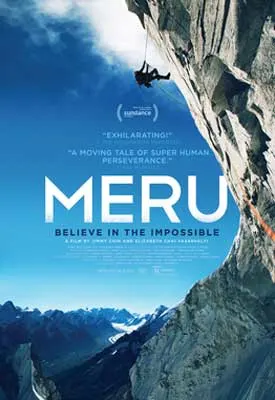 Meru (2015)
After failing a previous attempt to summit Meru Peak in the Indian Himalayas, three climbers return to conquer the northeast face known as the "shark's fin" – a 4,000 wall of granite.
Meru uses footage from both the first and second attempts while weaving together a story of three climbers facing their own demons on the mountain.
Near-fatal injuries, an avalanche, a mini-stroke, and a broken portaledge won't stop the men from making history.
Watch even more films about, from, and set in India.
Do More With Less (2015)
There's certainly no shortage of backpacking documentaries about the PCT. Do More With Less features over 100 interviews and conversations with hikers along the trail
Along the 2,660 mile hike, the community discusses hiking, living off-grid, the adventure lifestyle, and why living out of a backpack is actually freeing.
The film is not-for-profit and was created to give back and support the PCT community.
Read more about and watch Do More With Less here.
Shorter Documentaries & Movies About Backpacking
Lastly, we've rounded up a few very short but poignant hiking and backpacking movies.
Through the Great Southwest (2020)
Everyone knows about the Pacific Crest and Appalachian Trails and their beauty.
Through the Great Southwest showcases another, lesser-known epic American thru-hike: The Arizona Trail.
From Mexico to Utah, the 800-mile trail winds its way through the spectacular scenery of Arizona and the great southwest.
With some of the most rugged terrain in America, the trail features mountains, valleys, canyons, desert, and of course, The Grand Canyon.
While only forty minutes, this film reminds us that our central American trails are just as jaw-dropping and worthy of preservation as our coastal ones.
Stringbean (2021)
After completing the PCT, Joe McConaughy, also known as "stringbean," swears off another thru-hike.
Ambition gets the best of him, and he decides to attempt the Appalachian Trail in record time.
While most hikers take four to five months to complete the 2,000+ miles, Joe gives himself just 45 days for his self-supported record attempt.
Stringbean is his real, raw footage, filmed on his go-pro and condensed by a film editor into 15 epic minutes, making this one of the shortest backpacking documentaries on this list.
It Is The People (2020)
Elina, a young New Zealander hiking the PCT, captures hearts with her beautiful scenery and thought-provoking commentary.
But at the heart of her short documentary are the people she meets and interviews along her journey.
Elina's video is on her YouTube channel, which is also full of informative thru-hiking shorts — if this list of hiking movies is encouraging you to get outdoors.
Where to watch and read more about these hiking and backpacking documentaries:
Amazon Prime Video | Netflix | IMDb | Hulu | Max
Save your favorite hiking & backpacking movies for later: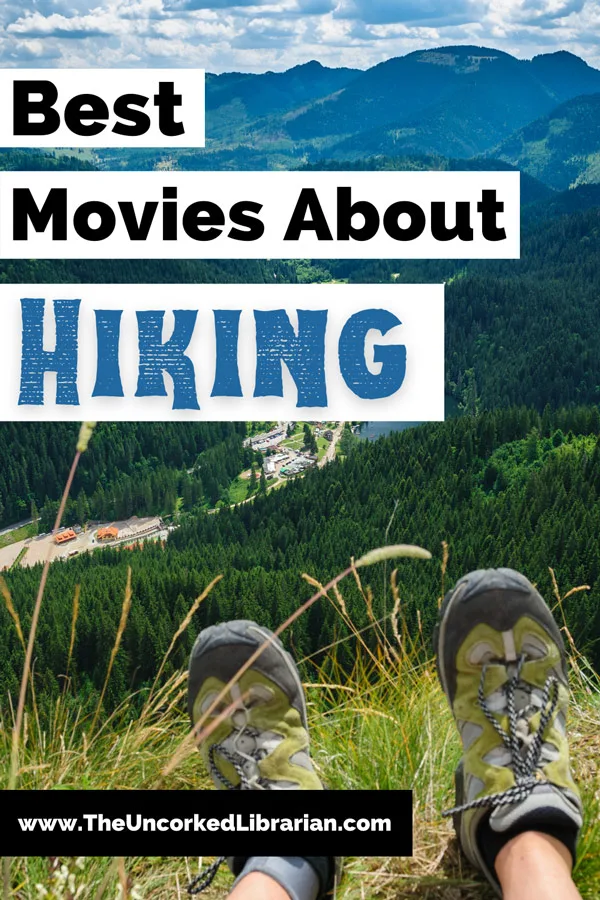 Grab your favorite movies about hiking and read your favorite backpacking books here:
1. Book of the Month: Get the month's hottest new and upcoming titles from Book of the Month. You might snag an early release or debut author. Along with selecting a book a month, find terrific add-ons, both trendy and lesser-known titles.
2. Audible Plus: From Amazon, listen to Amazon Originals, podcasts, and audiobooks. They add new titles every week.
3. Amazon Prime: Don't miss Amazon First Reads – early access to Kindle books. Get fast delivery as well as movies, music, Originals, shows, and more.
4. Or, start your trial of Amazon Video for movies and tv series on demand.
Thank you to TUL contributor, Tori Curran from Explore With Tori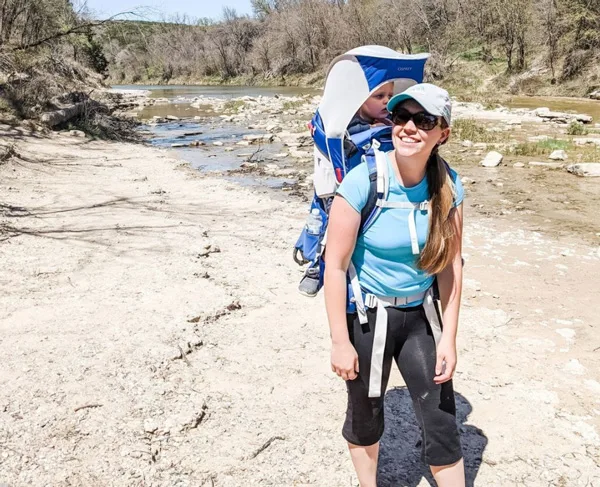 Tori (pronouns: she/her) is a children's librarian and mom to two boys living in New York. She's an avid traveler, nature enthusiast, and writer, encouraging families to get outside and start exploring the world. When she's not hiking or traveling, you can find her lost in a historical fiction book, watching Bravo reruns, or obsessively decluttering her home.
What are your favorite movies about hiking?
What are your personal favorite hiking movies? How about backpacking movies?
Are there any hikers you follow or watch on YouTube?
Where do you love to hike? What are your favorite trails? Let us know in the comments!
What To Watch Next: