Travel to remote villages and learn about creepy legends with the best folk horror movies to stream right now.
Folk horror films are filled with themes of terrifying folklore, rural and isolated locations, and unexplained happenings. There might even be witches, vampires, and demons hiding in the woods.
Unsuspecting travelers might run into cult leaders, and find religious beliefs clashing against pagan practices.
Enter the heart of darkness by starting with the "unholy trinity" of folk horror movies: The Wicker Man, The Blood on Satan's Claw, and Witchfinder General.
Then, move on to even more pagan and folklore horror movies set across the world.
Films like Impetigore, Ring, and Inhuman Kiss promise to transport readers to places like Indonesia, Thailand, Iran, Guatemala, and Japan.
Be sure to let us know your favorites in the comments. Let's get started!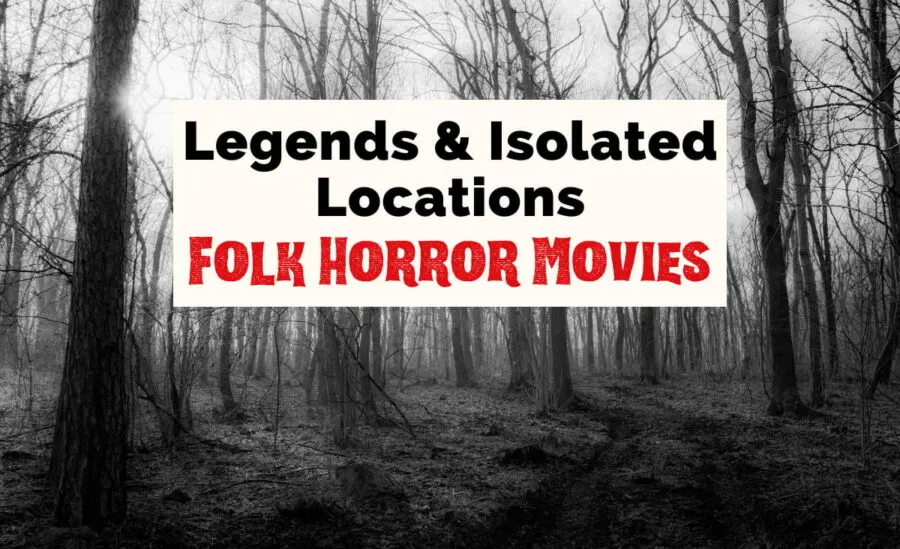 Grab the best films and books here:
Express VPN – Using Virtual Private Networks (VPNs) allows you to view movies worldwide – and they help keep your information safe. Our writers couldn't have such diverse film reviews without a VPN.

Amazon Prime Video – Stream thousands of ad-free movies and TV series on demand with Prime Video.

Audible Plus: From Amazon, listen to Amazon Originals, podcasts, and audiobooks. They add new titles every week.
20 Best Folk Horror Movies
The Wicker Man (1973)
If you are looking for pagan horror movies in the folk horror genre, then The Wicker Man is a must for you. This is a tale about the search for a missing girl, pagan rituals, and a creepy isolated island. It is undoubtedly one of the most quintessential folk horror movies ever made.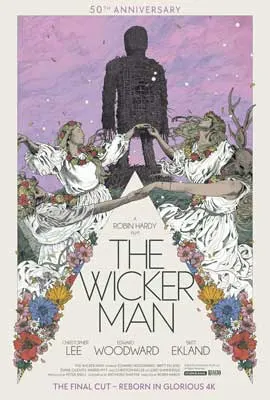 After receiving a warning that a young girl has gone missing, police sergeant Neil Howie takes a seaplane to the remote island of Summerisle in the Scottish Hebrides.
Once on the island, Howie, a devout Christian, is immediately suspicious of the island's pagan beliefs.
His search for the young girl, Rowan, is fruitless with everyone, including her single mother and younger sister, claiming Rowan doesn't exist.
Undeterred, Howie meets the island's leader, Lord Summerisle, with whom he immediately clashes.
Soon, the police officer's desperation and paranoia have him questioning everything. Was Rowan used for an annual human sacrifice ritual? Or is she still alive?
If you love folk horror films, you can't miss this The Wicker Man. It's also one of our favorite British horror movies ever made.
Both Christopher Lee as Lord Summerisle and Edward Woodward as Neil Howie are absolute perfection in their roles. You might even find yourself wondering where your loyalties lie.
There is also a 2006 remake with Nicolas Cage, which is worth watching for the cultural references but just can't compare to the original!
Travel to Scotland with even more movies about and set there.
Impetigore (2019)
Indonesian horror is deeply rooted in folk tales, black magic, and dark secrets. Impetigore perfectly encapsulates all of these, which is why it's one of our favorite folk horror movies.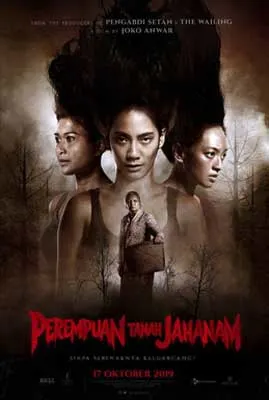 A terrifying attack at work leads tollbooth attendant, Maya, to inadvertently learn more about her parents, who died when she was very young.
Believing she might learn even more, and have property to sell to help kick-start her business, Maya and her best friend, Dini, visit the remote village where she was born.
But upon their arrival, it becomes clear that the villagers don't like Maya, or her family, as they blame them for a curse on the village.
If you love the style of Impetigore, director Joko Anwar's Satan's Slaves is another fantastic folk horror movie. As is The Queen of Black Magic, which he wrote, but did not direct.
Ring (1998)
It's fair to say that Ring is one of the most influential folk horror movies of modern times, bringing Japanese horror prominently into the Western consciousness.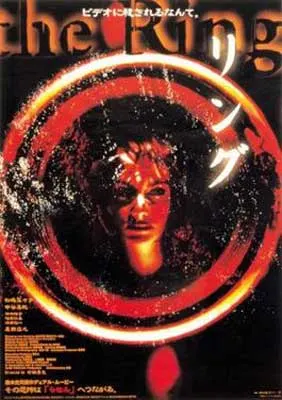 After a period where slasher movies dominated the horror genre, this subtler approach left things to the audience's imagination and ushered in a new era of creepiness into Western cinemas.
When her niece dies suddenly at a sleepover with friends, journalist Reiko Asakawa starts to investigate an urban legend that concerns a supposedly "cursed" videotape.
According to the tale, anyone who watches the tape ends up dying 7 days later, with a horrific expression on their face – just like Reiko's niece did.
As part of her investigation, Reiko accidentally watches the tape, and now the race is on to save herself from a terrifying death.
Find even more of the best Japanese movies to stream across genres.
Midsommar (2019)
As one of the most unsettling folk horror films of recent years, Midsommar serves as a dire warning for any unsuspecting tourists who might be traveling to an isolated village.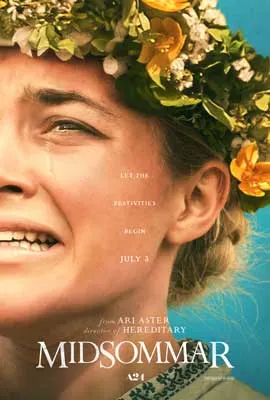 Writer/director Ari Aster's visuals leave a lasting impression, drawing on inspiration from various midsummer festivals that take place throughout folklore in Sweden, Germany, and England.
Following a severely tragic and shocking event, American student Dani (played by the incredible Florence Pugh) is left depressed and unable to process her trauma.
Sadly, her relationship with her boyfriend has also deteriorated. However, the incident keeps them together, and they join a group heading to Sweden to observe their midsummer festival.
At first, the villagers and their practices seem strange yet accommodating. But before too long, things start to spiral into danger, violence, and insanity.
Candyman (1992)
The eponymous Candyman is the star of one of the best modern folk horror movies. He has joined the ranks of such slasher movie legends as Freddy Krueger, Jason Voorhees, and Michael Myers, complete with his own recently rebooted franchise.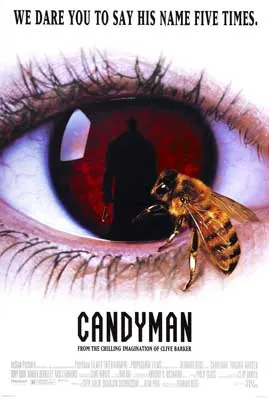 In this original outing from 1992, grad student Helen is researching urban legends when she comes across rumors of a being called the Candyman.
Said to be the angry spirit of a Black slave murdered in the early 1900s, this urban legend has been named responsible for a series of deaths that occurred on the nearby Cabrini-Green housing project.
Helen begins to investigate, but unfortunately for her, these ghost stories might turn out to be more true, and more deadly, than she could have believed.
The Blood on Satan's Claw (1971)
16th-century England is a great backdrop for unsettling folk horror movies, and The Blood on Satan's Claw is a very distinctive entry into that category. Rural settings like this are enough to put you on edge even before any kind of supernatural forces start to appear, especially combined with the filmmaking techniques of director Piers Haggard.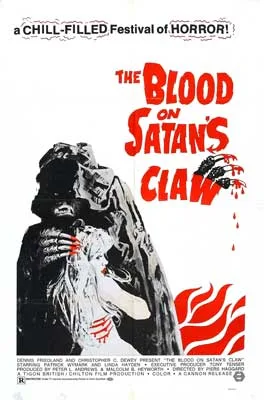 Our story begins when a farmer accidentally uncovers an inhuman skull – complete with a full eyeball – while tilling a field outside a village in the English countryside.
Soon after, strange events start to take place in the village. The young residents begin to act hysterically and violently, and some begin to show signs of weird patches of hair on them.
Because it appears to be only the young that are affected, this suspected black magic makes the villagers question their religious beliefs.
And it all seems to revolve around the mysterious Angel Blake, a young woman in the village who might just be the center of it all.
The Ritual (2017)
As you can likely guess from the name, The Ritual is one of the best folk horror films that centers on cults and pagan beliefs. It's also a terrific choice if you enjoy adventurous movies about hiking.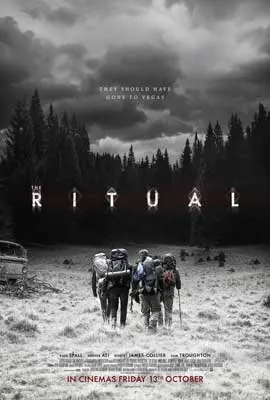 Six months after their friend Rob is murdered in a robbery, friends Luke, Dom, Hutch, and Phil, head to Sweden for a hiking trip in Rob's memory.
Although things are strained amongst the once close-knit group of friends, the trip is going well and they are enchanted by Sweden's beauty.
However, things start to go wrong when Dom injures himself and they take what they believe to be a shortcut in order to get him help quicker.
But the shortcut has only slowed them down and now strange and sinister things keep happening; the group aren't sure they're alone in the woods.
The Ritual is based on one of the top folk horror books – so it's no surprise it was adapted into one of the most fun pagan horror movies.
And, you can't help but root for the loveable Rafe Spall and the rest of the cast as things go from bad to worse.
Inhuman Kiss (2019)
If you are interested in terrifying Thai cinema, and based on the Thai folklore spirit of the krasue, Inhuman Kiss is one of the most unique folklore horror movies.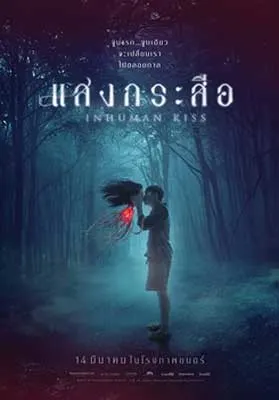 A krasue is a supernatural entity that lives as a woman during the day, but at night, her vampiric disembodied head floats around craving blood.
As kids, friends Sai, Noi, Jerd, and Ting play a game of hide in seek in the forest near their remote Thai village.
Despite warnings of a krasue living within, Sai and Noi decide to hide in the house near the forest. By chance, Sai hides in the very box the krasue sleeps in.
Many years later in 1940s Thailand, the friends are now teens, living disparate lives due to WWII.
However, Noi, Sai, and Jerd are all reunited in their childhood village, which is currently hunting a krasue; a krasue that might just be Sai.
For another fun movie about a leyak (Indonesian word for krasue), check out the Indonesian cult classic, Mystics in Bali – one of our favorite horror films set at a hotel.
The Serpent and the Rainbow (1988)
One of cult horror director Wes Craven's forays into folk horror movies, The Serpent and the Rainbow delves into the world of Haitian Vodou and zombies.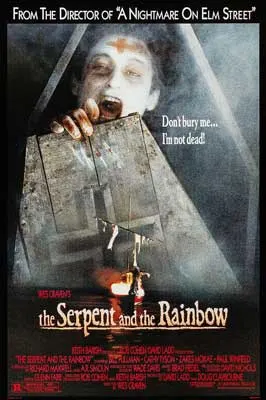 The film follows Dennis Alan, a Harvard anthropologist visiting Haiti in the midst of a revolution to study the use of a Haitian Vodou herb reportedly used to create zombies.
While in Haiti, Dennis begins to learn more than he bargained for about this local practice. Soon, he finds himself on the run for his life from the Haitian government.
But it might not just be the officials who have it out for Dennis now that he knows of one of the country's more secret practices.
Apostle (2018)
Having revitalized the action movie genre with his Indonesian The Raid movies, writer/director Gareth Evans returns to his Welsh roots to deliver one of the great gothic folk horror movies.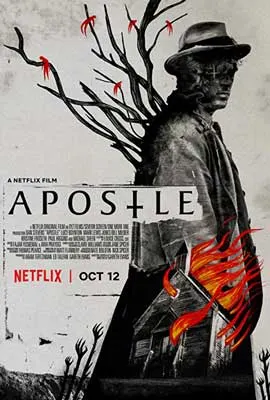 Set in the early 1900s, the film follows Thomas, a drifter whose sister has been kidnapped and held ransom by a cult that operates on an isolated island off the coast of Wales.
Thomas has a plan to try and rescue his sister from the cult, without having to cave in to their demands.
But, when he arrives posing as a new initiate, he comes up against the strong-willed leaders of the cult. Soon, he uncovers deeper and darker secrets than he could have thought possible.
Under the Shadow (2016)
If you enjoy a good jump scare in your folklore horror films, Under the Shadow will have you jumping in your seat even as you're gripped by the narrative. British-Iranian writer/director Babak Anvari's Persian language period piece is one of the best folk horror movies ever made – and one of the most well-reviewed movies of all time.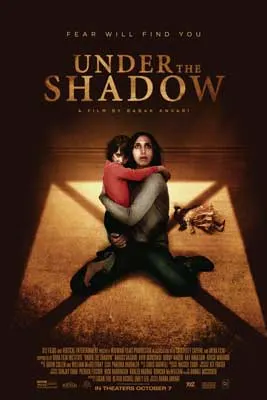 Set in Tehran in the 1980s during the Iran/Iraq War, we are introduced to former medical student Shideh and her daughter Dorsa, who are struggling to get by in a city constantly under fire.
As their situation becomes more dire with the intensifying war, Shideh finds that Dorsa has been talking with the son of a neighboring family, who told her about the legend of the demonic Djinn.
But Shideh learns from the boy's guardians that he has been mute since the death of his parents.
Things also begin to go missing from their apartment, and Shideh and Dorsa start to have terrible nightmares.
Could their house be possessed by an evil spirit?
Watch even more scary movies with haunted houses filled with ghosts and demons.
The Witch (2015)
Before shocking viewers with his dramatic and baffling movie The Lighthouse, writer/director Robert Eggers originally made this unnerving entry into the folk horror movie genre. Using only natural light and candlelight for filming, as well as a minimalist, dissonant soundtrack, the audience is kept on edge from the beginning right to the shocking conclusion.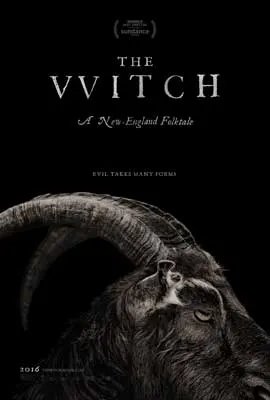 Having left Britain for the distant fairy tale countryside of 1630s New England, a family of settlers find themselves cast out from a Puritan settlement, and having to live on their own farm.
The eldest daughter, Thomasin (played by Anya Taylor-Joy), is charged with looking after her siblings, including her brother Caleb, the twins Jonas and Mercy, and newborn baby Samuel.
One morning, Samuel abruptly disappears, and Thomasin is blamed. However, she knows she is not responsible.
Unbeknownst to the family, a witch living in the nearby forest has taken him, and their nightmare is just beginning.
Sleepy Hollow (1999)
You can't have a list of the best folk horror movies without talking about one of the most famous American folktales. Bringing together the trifecta of Tim Burton, Danny Elfman, and Johnny Depp in their most successful period, Sleepy Hollow is a gory, gothic treat.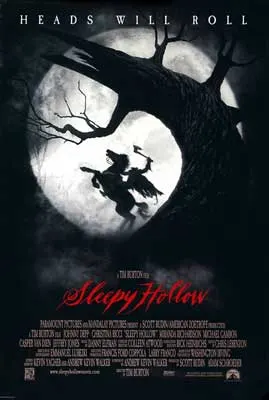 At the turn of the 19th century, New York City police constable Ichabod Crane is dispatched to the remote village of Sleepy Hollow to investigate a series of mysterious deaths.
Each of the victims is found decapitated, having fled in terror from an unknown person on horseback.
While no one has been apprehended, the local residents all seem to think they know who is responsible.
Can the legend of the Headless Horseman really be true?
If you love spooky books with ghouls, you might also wish to read The Legend Of Sleepy Hollow by Washington Irving.
La Llorona (2019)
The lines between historical fiction and urban fantasy begin to blur in this somber retelling of a poignant moment in Guatemala's history. La Llorona uses supernatural shocks and political commentary to create one of the best folk horror movies with a modern spin on a classic Latin-American legend.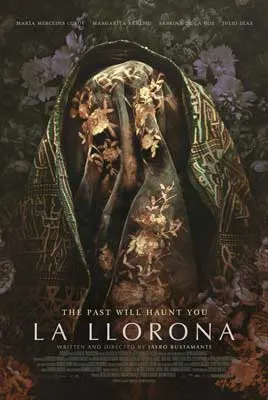 Put on trial for his numerous crimes against humanity, former Guatemalan dictator Enrique Monteverde has become paranoid in his old age.
As he tries to avoid conviction and the death penalty for his role in the atrocities committed against the Maya communities, he must also battle the ghosts of his past.
However, these ghosts are becoming more and more real, with strange occurrences befalling him and his family, all seemingly linked to a mysterious new housekeeper.
Join The Uncorked Reading Challenge Today
---
Travel around the world with the Uncorked Reading Challenge. Get the best book and movie recs straight to your inbox. Sign Up Now.
You Are Not My Mother (2021)
Delivering a unique take on a popular Irish legend, You Are Not My Mother is one of the creepiest folklore horror movies and will have you thinking about it long after it ends.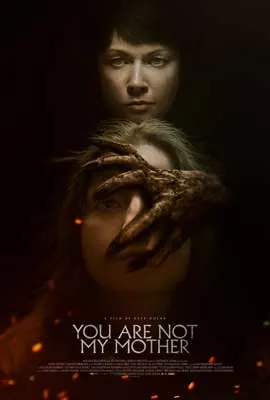 When Char was a baby, her grandmother took her to the forest and performed a strange ritual despite her mother's objections.
Now, as a teenager, Char lives in a North Dublin housing estate with her mother and grandmother.
Her mother, Angela, is struggling to keep the household running as she is depressed and often unable to get out of bed all day, so food is scarce.
Although she is brilliant in school, Char is relentlessly bullied, so both school and home provide their own stresses.
Then one day Angela's mother abandons her car on the side of the road and disappears, only to show back up a few days later happier than she's ever been.
However, Angela's behavior becomes increasingly erratic. The family is concerned that maybe the Angela that disappeared isn't the Angela that came back.
Watch even more of the best films about Ireland, including culture, history, and legends.
Trollhunter (2010)
Scandinavia has a rich history of folktales, and Trollhunter has updated some of the most well-known ideas and stories into one of the most original modern folklore horror movies.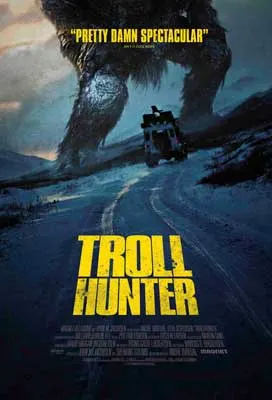 Shot in a guerrilla documentary style, with plenty of handheld camerawork, we follow a group of Norwegian students as they attempt to make a film about a reclusive bear hunter named Hans.
After tracking him down and refusing to follow his requests to leave him alone, the students suddenly find themselves under attack from a large, dangerous creature: a troll!
It turns out, Hans is not actually a bear poacher, but is instead a troll hunter working for the government.
And now, the students will have to do exactly what he tells them if they want to survive.
Roh (2019)
Trigger warning: child endangerment and death | If you want to be shaken to your core and have trouble sleeping tonight, then Roh is one of the best folk horror movies for you!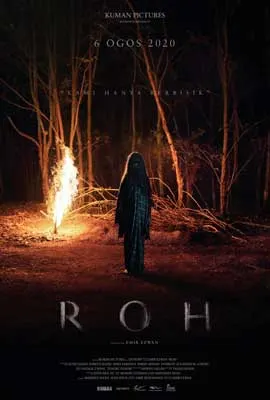 Set in an unknown time in the past, we are introduced to Along and Angah, two children who live in a shack in the forest with their widowed mother, Mak.
One day, the children encounter a mysterious young girl named Adik, who follows them from the forest back to their home.
After spending the night there, the family awakens to hear Adik deliver a dire prophecy: she says that all of them will be dead before the next full moon.
With such a minimalist plot, Roh is all about atmosphere. There's enough tension in this Malaysian indie gem to keep even the most experienced horror fan up at night.
The Blair Witch Project (1999)
The Blair Witch Project is not only one of the most well-known folk horror movies of all time, but it's also responsible for popularizing found footage horror in the modern day.
The movie follows three film students, Heather, Mike, and Josh, who in 1994, are making a documentary about the local legend of the Blair Witch.
When they arrive in the small town of Burkittsville, the group of friends start by interviewing locals.
Through these interviews, they are told about a hermit living in the nearby woods whose gruesome history also piques their interest.
While in the woods, strange things start happening. Soon, the three start to wonder if there really are evil supernatural elements within.
In both the town and the woods, the young filmmakers are always filming, and we see the entire film through their footage.
When the film was first released in 1999, it caused quite a stir.
All of the marketing claimed The Blair Witch Project was so scary that moviegoers were vomiting in cinemas; this only helped its box office numbers.
Of course, it was the shaky cam more than the content. However, that didn't stop this from quickly becoming – and remaining – one of the most infamous folk horror films.
Witchfinder General (1968) | The Conqueror Worm
If you like your folk horror films to be more rooted in reality and based on real events, Witchfinder General is perfect for you. The film stars legend Vincent Price as the real-life witch hunter Matthew Hopkins, who traveled around East Anglia, England reigning terror during the English Civil War.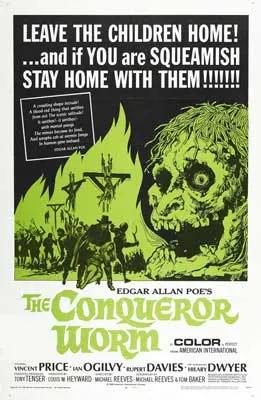 We follow Hopkins as he travels through remote villages in East Anglia trying to find a supposed Devil's Mark so that he can accuse locals of being witches.
Hopkins abuses his position as Witchfinder General to then extort the locals for money for every witch that he "finds."
Although the film is a fictionalized account of Hopkins's life, the evil and cruelty that Hopkins was responsible for is perfectly captured in the film.
Lamb (2021)
Lamb takes place on a rural farm, providing the perfect atmosphere for one of the most unsettling folk horror movies.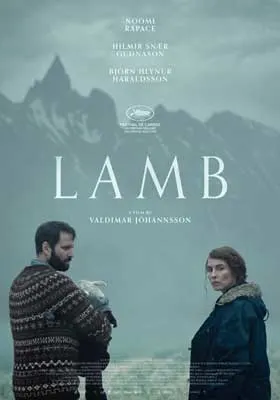 In this eerie Icelandic horror story, an unseen creature appears in a barn after upsetting some horses.
Shortly after, María and Ingvar, the owners of the barn, are shocked when one of their sheep gives birth to a human-sheep hybrid.
Despite their initial shock, the couple decide to take in and raise the child as their own, naming her Ada.
Although Ada has a predominantly human body, her head and right arm are that of a sheep.
Things are complicated for the couple when Ada's sheep mother tries to bond and Ingvar's brother shows up.
But these might not be the only hurdles in their lives with Ada. After all, who was that mysterious entity, and will it return for Ada?
Noomi Rapace returns to her Icelandic cinema roots in this creepy, bleak folk horror film.
Grab the best movies and books here:
Express VPN – Using Virtual Private Networks (VPNs) allows you to view movies worldwide – and they help keep your information safe. Our writers couldn't have such diverse film reviews without a VPN.

Amazon Prime Video – Stream thousands of ad-free movies and TV series on demand with Prime Video.

Audible Plus: From Amazon, listen to Amazon Originals, podcasts, and audiobooks. They add new titles every week.
Save your favorite movies for later: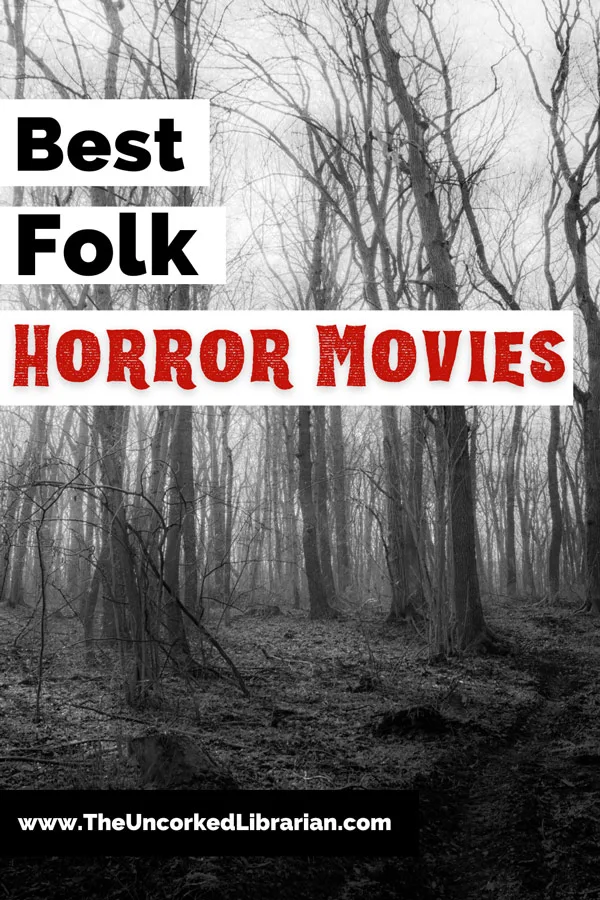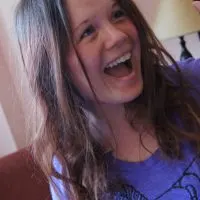 Dagney (pronouns: any) is a neurodivergent writer and book nerd who is drawn to all things weird and macabre. She also loves anything to do with fast cars, unhinged anti-heroes, and salt. When she isn't working or reading, you're likely to find her eating Indian food, playing board games, or hiding out somewhere dark and quiet, stuck down an internet rabbit hole. The easiest way to win her over is through cats and camels.