Watch the best Indonesian horror movies sure to thrill and scare. Maybe keep the lights on too!
Each year, there are well over 100 films released by the Indonesian film industry.
This means that most of these Indonesian horror films were made in a matter of weeks, which is quite an impressive feat.
Not to mention that Indonesian horror movies are some of the most terrifying films we have ever watched.
The one thing we love about Indonesian horror is that it is based on local ghost stories and folklore, teaching us more about Indonesian culture.
A few staple themes also include classism and revenge. Indonesian cinema is rife with angry, vengeful spirits that haunt mansions.
Many of the best Indonesian horror films rely heavily on gore and body horror, which isn't everyone's jam and may be triggering.
Many of these movies are available on streaming services; however, quite a few are only available on Netflix Indonesia (also Malaysia).
If you aren't currently based there, and you enjoy watching foreign films as much as we do, we strongly recommend investing in a VPN.
So, what are the best Indonesian horror movies to watch right now?
Keep reading to find out, and be sure to let us know your favorite Indonesian horror movie in the comments. Let's get started!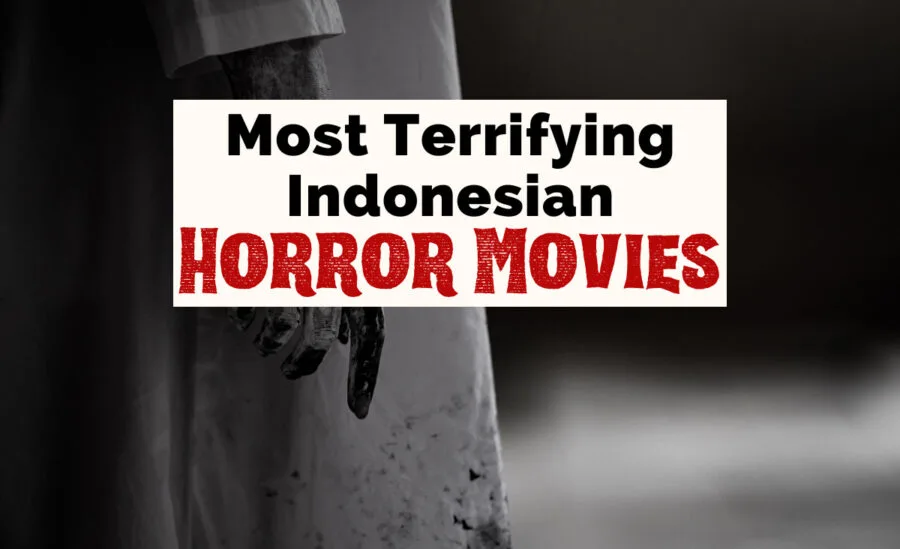 Grab the best Indonesian horror films and books here:
Express VPN – Using Virtual Private Networks (VPNs) allows you to view movies worldwide – and they help keep your information safe. Our writers couldn't have such diverse film reviews without a VPN.

Amazon Prime Video – Stream thousands of ad-free movies and TV series on demand with Prime Video.

Audible Plus: From Amazon, listen to Amazon Originals, podcasts, and audiobooks. They add new titles every week.
17 Best Indonesian Horror Movies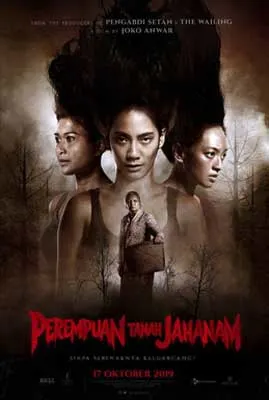 Impetigore (2019)
A vicious attack at work leads Maya to discover more about her deceased parents and the village she is from.
Realizing she might have property there that she can sell to help get her business off the ground, she decides to visit.
Dini, her best friend as well as business partner, is supportive and insists on coming along.
However, once they arrive, Maya is weary of sharing her true intentions with the villagers as it is clear they harbor significant animosity towards her family.
Maya soon learns that the village suffers from a terrible curse possibly linked to her family – and everyone wants her dead.
We know most people prefer director Joko Anwar's Satan's Slaves (below), but we absolutely love Impetigore.
This is the best Indonesian horror movie (and probably one of our favorite horrors in general), and it will be hard to top it in the future.
If you enjoy Impetigore as much as us, find even more great folk horror films set across the globe.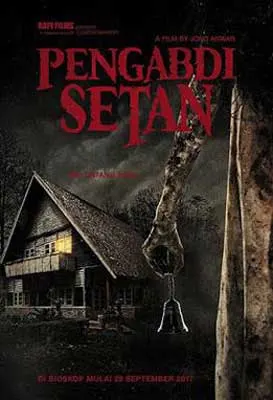 Satan's Slaves (2017)
When their mother dies, Rini and her three siblings are devastated. But after three long years of illness, the family is beginning to suffer financially.
When their dad leaves for a few days to sort out their financial situation, the siblings start to experience strange occurrences in their home.
They each begin to question if they are being haunted by evil spirits.
After another tragedy, they learn that their mother might have been part of a satanic cult – a group that is owed at least one of their souls.
Although Joko Anwar's Satan's Slaves is often called a remake of the 1980s cult classic Satan's Slave, it is technically a prequel.
Regardless, both have cemented themselves as classic Indonesian horror movies.
You don't need to see the original, but there are a few callbacks that you might appreciate. We do suggest watching them back-to-back!
And, if you love these scary Indonesian movies, watch all of the best films coming out of Indonesia.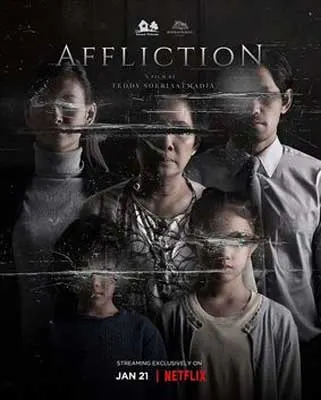 Affliction (2021)
After a mysterious woman visits Nina, she finds out that her mother-in-law is sick and in need of care.
Nina convinces her husband Hasan (Ibnu Jamil) to take her and their two kids to visit his mom.
Hasan is initially hesitant and upset about returning to the rural village where he grew up, but eventually, he acquiesces.
However, once they arrive, it is clear that things are worse than they thought with Hasan's mom. And, it seems there might also be something sinister and supernatural haunting the home.
This Indonesian horror film kicks off with a [graphic] suicide scene. However, Affliction is pretty tame on the gore by Indonesian standards.
Affliction is a slow-burn, supernatural psychological thriller, and haunted house movie that unravels slowly.
This type of horror won't be for everyone, but we think it's one of the best Indonesian horror films out there.
Author's note: Affliction is sometimes just called Pulang, even in English-subtitled copies, which is the original Indonesian name.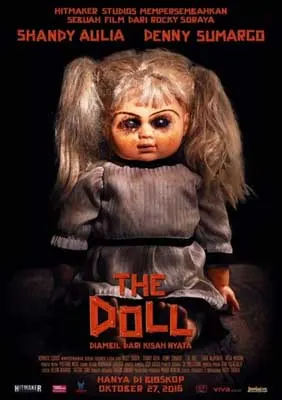 The Doll (2016)
Three kids are haunted by a doll they encounter on the side of the road.
Sometime later, we meet a happy couple, Daniel and Anya. Daniel is a construction worker, and Anya makes dolls.
After a new promotion, the couple is thrilled to move into a much larger house in a nice neighborhood closer to Daniel's job.
However, their happiness is soon disrupted by a doll Daniel comes across at work… The same doll that was haunting kids at the beginning of the film.
Rocky Soraya's Doll series could really be its own Annabelle-esque spin-off to The Conjuring. The only difference is that it's Indonesian and more enjoyable.
However, the low budget of this particular Indonesia horror movie actually works to its advantage. The Doll often comes across as a dark comedy rather than a straight-up horror, which we love.
Well, at least initially it does. The last hour or so is an all-out gorefest.
There are currently two sequels: The Doll 2, which follows a different doll from the first film, and Sabrina.
Although Sabrina feels like a direct sequel to The Doll 2, and even follows the same doll, director Rocky Soraya has claimed it is instead a spin-off.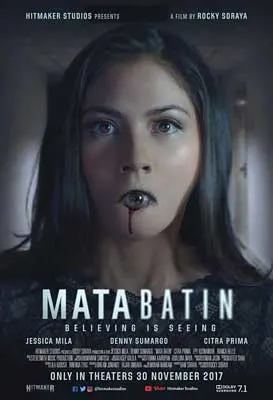 The 3rd Eye (2017)
When their parents suddenly die in a car accident, Alia and her younger sister, Abel, move back into the childhood home they inherited from their parents.
But Abel, who was attacked there as a child, is terrified to move back in. She insists there is someone – or something – else living in the house.
To help them adjust, Alia's boyfriend moves into a spare room.
Meanwhile, Alia takes Abel to Bu Windu, a spiritualist Abel has been seeing since she was attacked as a child.
Bu Windu tells Alia that Abel's third eye is open, which allows her to see and interact with spirits. But not all these spirits are harmless…
The Third Eye is another fun and frightening Indonesian horror movie by director Rocky Soraya.
We actually prefer this one to The Doll, though, which seems to be the more famous of the two series (although the CGI in this one might be worse).
There are some badly contorted crawling zombified spirit effects – but that's part of the charm!
Overall, there's also a lot less gore, if you're not a big fan. Oh, and did we mention there's a sequel?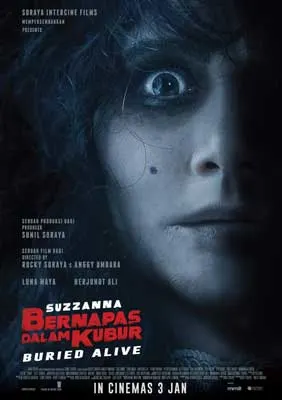 Suzzanna: Buried Alive (2018)
Suzzanna and Satria are thrilled to find out that after five years of trying, Suzzanna is finally pregnant.
But the celebrations are put on hold for a week while Satria goes abroad to Japan for work. Meanwhile, before leaving, several of Satria's employees have asked for raises.
Although Satria sympathizes, he says he is unable to do so, especially so soon after their previous raise just a few months prior.
Desperate, they decide to rob his home while he is away on a night they know Suzzanna and their staff will be out for the evening watching a film.
The film, it turns out, is the 1981 cult classic Indonesian horror movie Sundelbolong, on which Suzzanna: Buried Alive is based (and is now very difficult to find with English subtitles).
Unfortunately, things don't go according to plan, and Suzzanna comes home early. After discovering the intruders, they attack Suzzanna to keep her quiet and bury her in the backyard.
However, as the film's title suggests, Suzzanna is still alive. And now she's out for revenge.
Another Rocky Soraya vehicle (directing alongside Anggy Umbara), Suzzanna: Buried Alive is his most accomplished Indonesian horror film.
Yet, it is also the least scary, even though Luna Maya is truly terrifying as the titular character.
Suzzanna: Buried Alive is more a "thriller with gore" than horror going in, and it has Rocky's classic touch of dark humor.
For Indonesian horror movies, this one is perfect for anyone who loves revenge stories.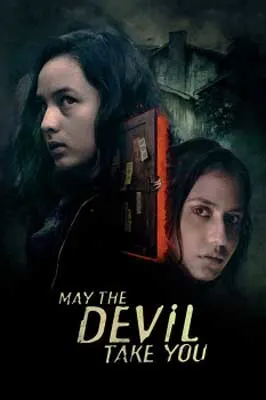 May the Devil Take You (2018)
A woman leads a man into a basement where she performs a satanic ritual that results in a briefcase suddenly overflowing with cash.
Through a series of news clippings, we learn that the man had become wealthy overnight.
His wife committed suicide leaving behind their daughter, and he remarried a famous actress before going bankrupt.
Now, 10 years later, the man – Lesmana – lies in a coma for unknown medical reasons, his face covered in boils.
Alfie, his estranged daughter from his first marriage, comes to visit him and experiences a terrifying supernatural occurrence.
Her step-sister Maya mentions that they would like to look for any remaining assets at his villa, which is in Alfie's name.
Although Alfie says it's fine, she too heads to the villa ahead of her father's new family. And it is here that they all discover dark secrets, and evil, supernatural creatures.
If you love body horror and gore, this is one of the best Indonesian horror movies for you. Get ready for 110 minutes of blood and demonic possession.
Director Timo Tjahjanto wrote the film as a love letter to Sam Raimi's Evil Dead series, and fans of the franchise will be delighted by the result.
As moviegoers who aren't the biggest fans of body horror, this definitely isn't our favorite Indonesian horror movie, but we can see the appeal.
And, we were hooked for the first half hour or so, minus a bloody vomit scene and some hair ingesting that we definitely could have done without.
Considering this film was completed in around 25 days, we are honestly more impressed with the result than grossed out.
The good news is, if you love this kind of horror, there's a sequel called May the Devil Take You Too and a third installment in the works.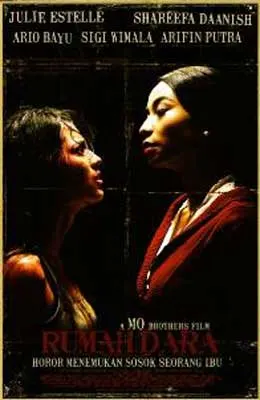 Macabre (2009)
After a night out, a group of friends is returning home to Jakarta when they nearly run over a woman on the road.
She's dazed and says she's been robbed. The group agrees to take her home in the middle of nowhere.
She insists they come inside so that she can properly thank them with tea and a meal with her family.
And since this is a post about the best Indonesian horror movies, you can imagine that their kindness isn't about to be repaid with hugs and bunnies.
Macabre is one of the most famous Indonesian horror films.
The best way to describe it is Hostel meets The Hills Have Eyes – luckily sans the weird, ableist-deformed villain trope horror directors love so much.
If you enjoy chainsaws, decapitations, and buckets of blood, you'll love Macabre. Plus Shareefa Daanish, who plays the family matriarch, is truly terrifying.
Written and directed by The Mo Brothers (Timo Tjahjanto and Kimo Stamboel), it's no surprise this is gory AF. Their films both as a duo and made separately are infamously bloody.
Author's note: Macabre is based on the characters from a short called Dara, which was made by The Mo Brothers to get funding for Macabre.
Although the characters (and actors) are mostly the same (with one exception character-wise), they are completely different films.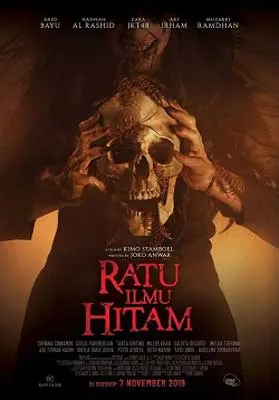 The Queen of Black Magic (2019)
Nadya, Hanif, and their kids are visiting the orphanage where Hanif grew up because the man who raised him is very sick.
On the way there, they run over a deer. And, as they drive away, there might be something else on the side of the road…
Once the family arrives at the orphanage, they greet a few childhood friends of Hanif's and their spouses. Everyone reminisces, and the kids make some new friends.
But what starts off as a bittersweet reunion soon turns into an increasingly sinister evening as secrets are revealed.
This is our second favorite Indonesian horror film, and if you love body horror, this is definitely the best Indonesian horror movie for you.
Not that it's all that surprising considering it's directed by Kimo Stamboel, one-half of The Mo Brothers. Plus, the movie is written by Joko Anwar, who wrote and directed Impetigore.
The Queen of Black Magic is a loose remake of a 1981 Indonesian film of the same name.
Join The Uncorked Reading Challenge Today
---
Travel around the world with the Uncorked Reading Challenge. Get the best book and movie recs straight to your inbox. Sign Up Now.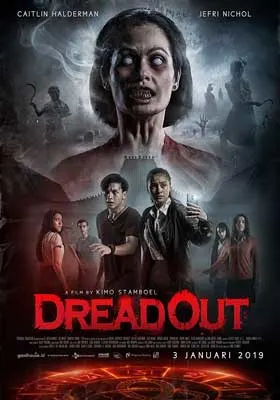 DreadOut (2019)
What would you do to be internet famous?
In DreadOut, six friends are willing to break into a spooky, abandoned tower block and live stream their adventure in hopes of going viral.
The building was the site of a demonic ritual and a kidnapping many years prior, and everyone is curious about what really went down.
Of course, once they're in, they immediately do the one thing they were told not to do (enter the area marked off by police tape).
They find themselves in the very room where everything happened.
But things get really interesting when they accidentally open a portal into another dimension. Two of the friends get sucked inside and separated.
This movie is all over the place and has very little plot and no character development. However, enjoy great set pieces and special effects.
DreadOut was directed by Kimo Stamboel, and fans of his will probably be disappointed because it lacks the level of gore they're likely used to in his other Indonesian horror films.
However, this might have more to do with the age rating and the fact that he probably wasn't a good choice to direct a 16+ film since it doesn't fit his goretastic-style.
Fans of the original video game this is based on (also called DreadOut) are also likely to be let down as the game is far superior in every way.
Yet, for some reason, we appreciate this movie. The acting is fairly solid, and there are creepy moments and interesting concepts. Plus, it's a fun example of mixed-media filming.
DreadOut isn't overly violent – in case you're in need of a break from some of the intense graphic violence in some of the other Indonesian horror movies on this list.
Just be aware of the faults going in, and know that it tends to be quite a marmite film.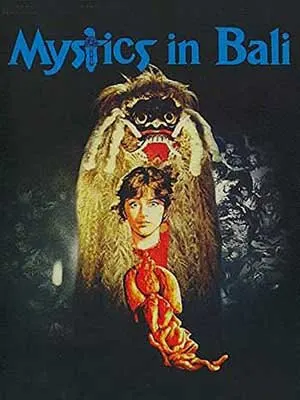 Mystics in Bali (1981)
Anthropologist Cathy Kean is in Bali doing research on Indonesia's Black Magic.
Her boyfriend and guide – Mahendra – helps her set up contacts, taking her deep into the forest to see one of the spots where it is practiced.
Cathy is able to meet with an old woman who is a practitioner of Black Magic. The woman claims to be the queen of the Leák (also spelled Leyak).
The Leák is a vampiric creature in Balinese folklore who feeds off the blood of newborns or pregnant women to sustain their own lives.
They are floating heads that drift around with the body's organs and entrails still attached.
The old woman agrees to show Cathy some of the Leák practices but makes her promise to come along – at night.
However, Cathy is tricked and is herself turned into a Leák, forced to unknowingly do the queen's evil bidding…
Mystics in Bali is one of the most beloved cult classics of Indonesian horror movies.
This is one of those so-bad-it's-amazing films, complete with outrageously cringe low-budget special effects and awkward dubbing.
Depending on the dub you get, Cathy is either American or Australian. Trust us, you don't want to miss this gem, especially if you enjoy horror movies in hotels.
Author's note: Director H. Tjut Djalil also made the absolutely iconic Lady Terminator.
While this Indonesian horror movie was made in the country and the director is Indonesian, the film doesn't have anything to do with Indonesia, which is why we featured Mystics in Bali instead.
If you enjoy this genre of horror, though, you'll love Lady Terminator.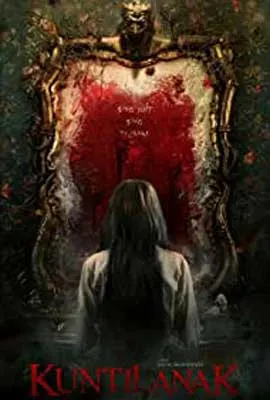 Kuntilanak [The Chanting Revisited] (2018)
In Indonesian folklore, a Kuntilanak is a mythical creature who often takes the form of a grieving mother or a pregnant woman who can't give birth.
She is also frequently depicted as wearing a white dress and is sometimes referred to as vampiric (many Indonesian vampire myths likely stem from the Kuntilanak).
She is also found in Malay and Singaporean folklore and is referred to as Pontianak.
In the film Kuntilanak, we meet five young children living in an orphanage that become convinced they are being haunted by a Kuntilanak spirit.
They set out to prove the Kuntilanak exists by catching it on film.
This Indonesian horror movie is meant for a young audience, so it's a bit more lighthearted than some of the others on this list.
If you're an adult who loves Indonesian horror movies but gets scared quickly, or you're looking for dark kids' movies to introduce the little ones to horror, Kuntilanak is a great option.
The stakes are low, and unlike many others on this list, there isn't much gore.
This is a remake of a 2006 film series by the same name (also called The Chanting Revisited). Unfortunately, the original series, though not very old, is difficult to find.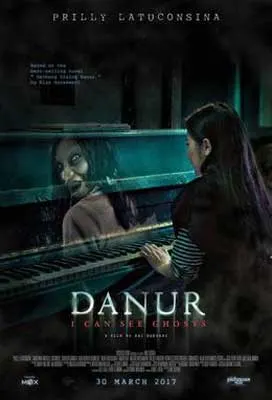 Danur: I Can See Ghosts (2017)
As a young girl, Risa spends most of her time alone in her family's mansion.
This leads her to befriend three Dutch boys whom she believes to be neighbors but are actually ghosts that died in the house.
After a concerning incident with her ghost friends, she closes herself off from them, and the family moves away.
Many years later, Risa and her younger sister, Riri, return to the house to help care for their grandmother.
When the new care nurse, Asih, shows up, she seems far more interested in Riri than in the grandmother, and Risa is growing increasingly suspicious.
While this isn't one of the best Indonesian horror films, the tension is enjoyable. And, as always, Shareefa Daanish is creepy.
Because of the pacing, Danur: I Can See Ghosts feels more like a psychological thriller with some horror elements, which might put some horror fans off.
However, this is a solid good option if you're looking for something a little slower and a lot less gory.
And, like many of the Indonesian horror movies on this list, there's already a sequel out – and a third on the way!
There's also a spinoff film series called Asih, and we are sure you can guess what it's about.
CWs: suicide, forced restraint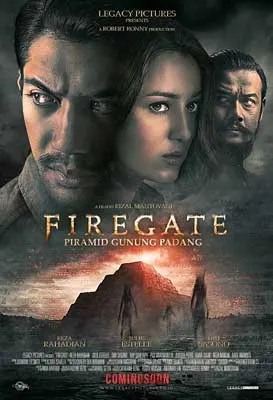 Firegate (2016)
In the vein of 1999's The Mummy, Firegate is an Indonesia horror movie about a pyramid excavation gone wrong.
Tomo, a disgraced journalist, now writes for a supernatural tabloid.
While he knows his stories are made up, he does what it takes to support his daughter and ex-wife.
Meanwhile, Archaeologist Arni and his team discover that Gunung Padang might be the oldest pyramid in the world.
Tomo and shaman Guntur both head to the site to find out more based on their respective professions.
However, increasingly weird and supernatural events linked to the pyramid keep happening. Soon, the unlikely trio finds themselves working together to save the world.
While nowhere near as fun as the aforementioned The Mummy, Firegate is still a fun edition for anyone who loves this genre and wants to try out something new.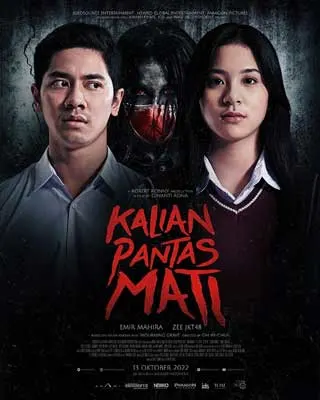 Kalian Pantas Mati [Tainted Soul] (2022)
Raka has a special ability that has always set him apart from his peers – he can see and communicate with ghosts.
Unfortunately for Rakka, this means he is often haunted by spirits looking to settle unresolved struggles from when they were alive and use him as a conduit.
Although he uses this ability to help the police solve crimes, Rakka is tormented by his peers and just wants to fit in.
To escape the bullying, Rakka moves in with his uncle in another part of the country.
But just as Rakka begins to form a real friendship with a ghost, it seems another, more vengeful spirit is after his new classmates.
Tainted Soul is another one of the best Indonesian horror movies that is a remake – but this time of a Korean film called Mourning Grave.
But like all scary Indonesian movies, Tainted Soul is still its own story with a heavy focus on Indonesian culture and folklore.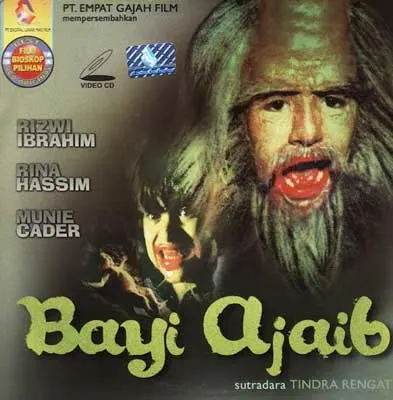 Bayi Ajaib (1982)
Dorman and Kosim are two ambitious men who believe there is a diamond mine in their Indonesian village.
The two strike up a not-so-friendly competition to be the first to find it and become rich and powerful.
Kosim, who already has money, finds a diamond, further pushing him to be the first to find the mine.
Meanwhile, Dorman uses a map belonging to his Portuguese ancestor, Alberto Dominique, in hopes of being the first to find it.
But as the two men's competition becomes fiercer, strange and unexplainable things start to happen around the village.
The horror of Bayi Ajaib builds unexpectedly and will leave you feeling unsettled and terrified.
This is one of the classic Indonesian horror movies and can be hard to find outside of Indonesia. But it's worth a watch if you can.
Also, know that Bayi Ajaib was remade in 2023, and that version may be easier for Western audiences to get ahold of.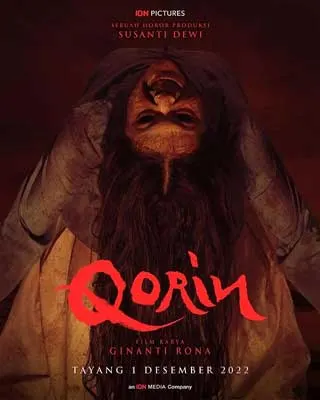 Qorin (2022)
Ever wonder what it would be like to have a duplicate of yourself wandering around?
Well, in this Indonesian horror movie, the kids at a boarding school find out just how terrifying it can be.
Zahra strives to be a model student and get good grades. And if a teacher tells her to do something, she does so without question.
So when Zahra and a few of her classmates are coerced by one of their teachers to perform the ritual of Qorin, they do so willingly.
But soon weird and unnerving things are happening to all those who participated – including being visited by a djinn who seems to resemble them.
Zahra and her classmates find themselves battling for not just their lives but for their souls against this evil entity who looks just like them.
If you're interested in learning more about Islamic traditions through a horror lens, Qorin is one of the best Indonesian horror movies on Netflix for you.
Grab the most terrifying Indonesian horror movies and books here:
Express VPN – Using Virtual Private Networks (VPNs) allows you to view movies worldwide – and they help keep your information safe. Our writers couldn't have such diverse film reviews without a VPN.

Amazon Prime Video – Stream thousands of ad-free movies and TV series on demand with Prime Video.

Audible Plus: From Amazon, listen to Amazon Originals, podcasts, and audiobooks. They add new titles every week.
Save The Best Indonesian Horror Films For Later: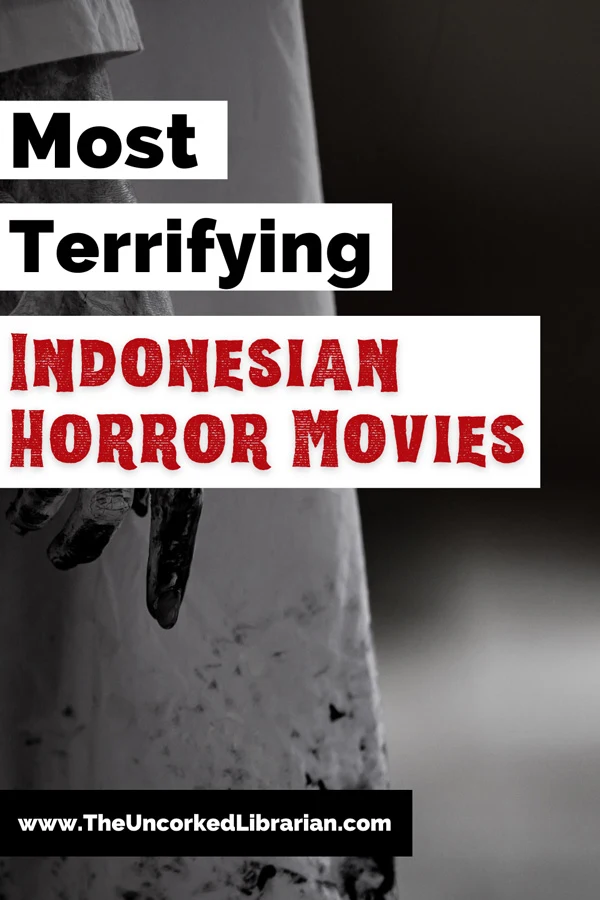 What is your favorite Indonesian horror movie?
Which of these Indonesian horror films have you watched? What is the scariest Indonesian horror movie of all time? Let us know in the comments.
Before You Go…
If you love horror movies from Indonesia, you might also enjoy our best books on Indonesian culture, history, and life reading list. Find books from, about, and set in Indonesia. In fact, the owner of The Uncorked Librarian, Christine, even lived there for a year.
Or, watch even more horror movies set across the globe, including these scream-worthy British movies and terrifying Thai films.
Related Articles: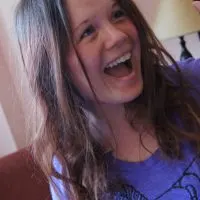 Dagney (pronouns: any) is a neurodivergent writer and book nerd who is drawn to all things weird and macabre. She also loves anything to do with fast cars, unhinged anti-heroes, and salt. When she isn't working or reading, you're likely to find her eating Indian food, playing board games, or hiding out somewhere dark and quiet, stuck down an internet rabbit hole. The easiest way to win her over is through cats and camels.