Scream across the globe – and maybe reconsider your accommodations – with the best hotel horror movies to watch right now.
If you are craving a night in with some spooky suspense, murder mysteries, and psychological thrillers, we have just the scary hotel movies list for you.
Get ready for all things gruesome and dark, sure to stir up feelings of dread and utter terror.
Stay overnight in the Scottish Isles, Iceland, the U.S. mountains, China, New York City, Japan, and more, and maybe even re-think your next hotel stay…
From haunted resorts to sketchy roadside motels, uncover the best horror movies about hotels and motels from across the globe.
Be sure to let us know your favorite hotel horror movie in the comments. Let's get started!
Watch even more great movies set at hotels and motels.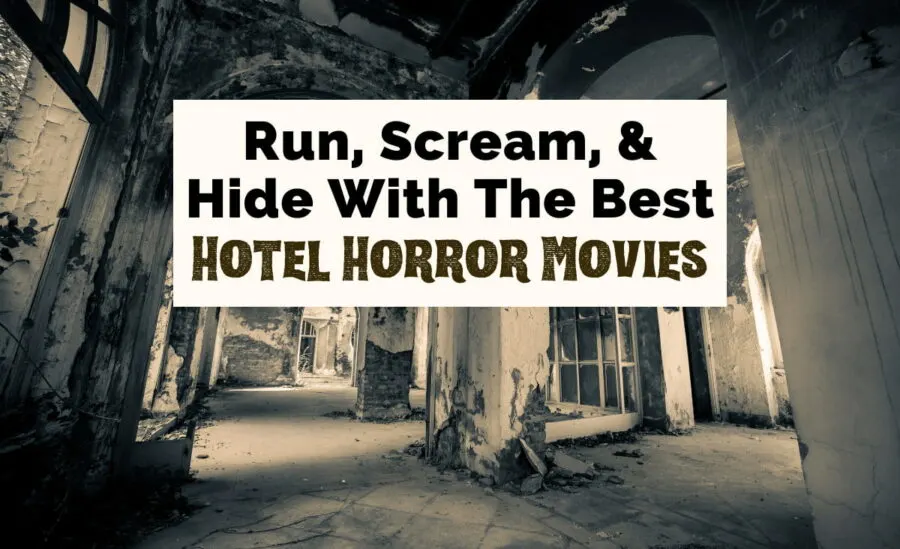 Grab your favorite hotel and motel horror movies and books here:
Express VPN – Using Virtual Private Networks (VPNs) allows you to view movies worldwide – and they help keep your information safe. Our writers couldn't have such diverse film reviews without a VPN.

Amazon Prime Video – Stream thousands of ad-free movies and TV series on demand with Prime Video.

Audible Plus: From Amazon, listen to Amazon Originals, podcasts, and audiobooks. They add new titles every week.
20 Best Hotel Horror Movies
The Shining (1980)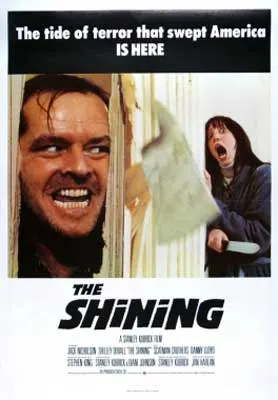 During the off-season, someone needs to take care of the Overlook Hotel, and that someone is struggling writer Jack Torrence.
He's in the mood for some solitude and a clean space to do some writing, so he takes the caretaker position, bringing his wife Wendy and young son Danny with him.
But as time passes, strange things start happening; a pair of twin girls make sporadic appearances, and there are visions of a huge wave of blood cascading through the lobby.
Is Jack starting to lose his grip on reality? And can Danny – who has a talent known as "shining" – help stop a gruesome outcome?
The Shining is one of the main pillars of the scary hotel movies genre, with plenty of scenes and moments that have been parodied, referenced, and paid homage to all throughout modern media.
Anyone who has never watched any hotel horror movies should definitely make sure to check this one out. Heeeere's Johnny!
Find The Shining novel on our seriously spooky books and hotel-themed reading list too.
1408 (2007)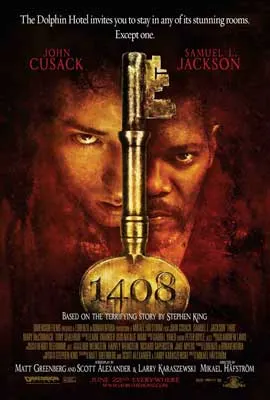 Since the death of his young daughter, hack writer Mike Enslin spends his days seeking out supposedly haunted hotel rooms and debunking their owners' inflated stories about them.
Then on one trip, he finds himself at the Dolphin Hotel in New York, where he intends to stay in Room 1408, which has an unusually high mortality rate.
Despite many attempts by the manager of the Dolphin to persuade him to abandon his mission, Enslin insists on staying there.
At first, all seems to be in order, even a little boring. But then Enslin finds himself experiencing a series of paranormal events, each more deadly than the last.
Adapted from a Stephen King short story, 1408 features some great concepts, a bravura performance from John Cusack, and high levels of creepiness throughout.
This is one of the most accomplished hotel horror movies on this list.
Psycho (1960)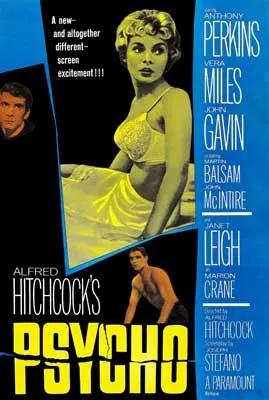 One bad decision leads to a rollercoaster ride of unpredictability in one of the most widely known and talked about hotel horror movies ever made.
So that she and her lover Sam can afford to get married and pay off their debts, Secretary Marion Crane steals a huge pile of money that was entrusted to her to deposit at the bank.
Now on the run with the loot, Marion seeks out a place to lay low for the night before she can meet up with Sam.
Fortunately for her, she stumbles upon the Bates Motel on an out-of-the-way bit of road. There, she meets the young and nervous Norman Bates, proprietor of the motel.
From there, events take a series of unexpected turns.
It's hard to find horror movies about hotels that are more iconic than Psycho.
Chances are, you are already familiar with how the story turns out, but if for some reason you're not, don't let anyone spoil this masterclass thriller from notorious director Alfred Hitchcock.
The Wicker Man (1973)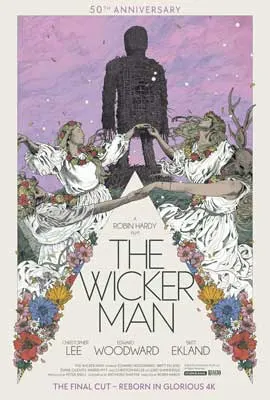 Frequently ranked not only as one of the best horror movies of all time but also one of the best British movies ever made, The Wicker Man continues to disturb people to this day.
On the trail of a missing girl, Christian police officer Neil Howie travels by seaplane to the remote location known as Summerisle.
While staying in a hotel on the island, the uptight and rigid Howie is shocked by the seemingly barbaric and Pagan activities that the islanders take part in, especially the children.
Encountering resistance at almost every turn, no one is more enigmatic and sinister to him than the leader of the island, Lord Summerisle.
Film icon Christopher Lee, who plays Lord Summerisle, considered this to be his best-ever performance.
If that doesn't already make this sound like one of the greatest scary hotel movies on this list, know that Lee appeared in an astonishing 275 movies throughout his 60+ year career.
Watch even more movies that take place on islands.
Retreat (2011)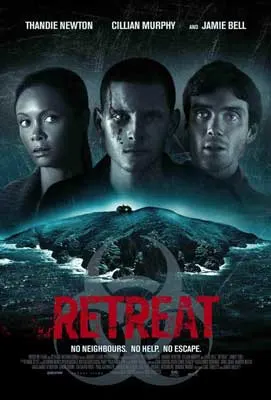 In a twist to the motel horror movies genre, Retreat is set on a remote island as opposed to a backwater town.
We are introduced to Martin and Kate, a London couple whose marriage is on the rocks.
To try and rekindle their relationship, they decide to take a mini vacation at Fairweather Cottage, a remote hotel cottage and the only dwelling on Blackholme Island off the coast of Scotland.
But while staying alone at this seasonal holiday home – which is only reachable by private ferry – Martin and Kate find a mysterious unknown man.
He's delirious and covered in blood, and while the man is recuperating on their couch, Martin and Kate discover that he has a gun.
The man they're now trapped with says he's a soldier, and that the world has been devastated by an airborne virus. And he doesn't want them to leave.
There are obvious parallels with recent global events that might make Retreat an uncomfortable watch for some.
But back in 2011, this was just the outlandish plot of one of the most tense and claustrophobic hotel horror movies to come from the UK.
Watch more movies about Scotland to teach you more and take you there.
I Remember You (2017)
On a remote Icelandic island, three people arrive in order to renovate an old house into a potential hotel, and they will be the only people on the island while they do it.
While they're there, unusual things start to happen.
One of them finds a cross from a nearby cemetery, which has clearly been uprooted recently, and mysterious footprints appear in their house.
The trio starts to think that there's someone else on the island, and gradually they unearth the dark past associated with this foreboding place.
Meanwhile, a detective on the mainland struggles to solve an old mystery involving a missing child.
Based on the Icelandic novel of the same name by author Yrsa Sigurðardóttir, I Remember You is a tense psychological mystery with two intersecting storylines.
Fans of movies based on books will have much to like in horror movies about hotels like this one.
Watch even more films set in Iceland!
Hostel (2005)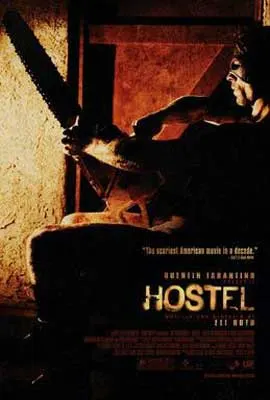 While on a trip through Europe with their Icelandic friend Óli, Americans Paxton and Josh take the advice of a man they meet in the Netherlands to go to a hostel he knows in Slovakia.
There, he says, they will find many beautiful women. So, the trio heads off in search of a good time.
Arriving at the hostel in Slovakia, the men do indeed find beautiful women staying there, and they all go out together.
However, after the first night, Óli goes missing, and then Josh and Paxton are drugged, waking up in what appears to be a torture facility – they've been lured and kidnapped!
Hostel created quite a reaction upon its original release, and catapulted writer/director Eli Roth into the horror spotlight.
Today it remains one of the most gory and shocking hotel horror movies ever made, and incidentally did huge unwarranted damage to the international reputation of the country of Slovakia.
Travel across Europe with these great movies.
The Night (2020)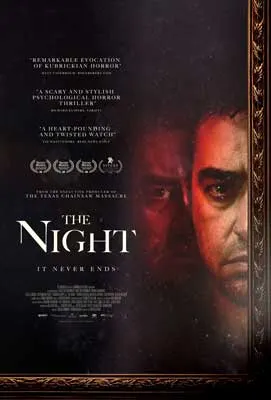 After driving around aimlessly for hours, Iranian married couple Babak and Neda decide to spend the night in a hotel.
During the night, the two of them each experience some strange occurrences, such as strangers knocking at their door and mysterious banging sounds from upstairs, though no one is there.
Things begin to get more and more surreal, as their grip on reality seems to come undone. On top of all of this, no matter how much time passes, the night doesn't ever seem to end.
With parallels to The Shining, the claustrophobic and nightmarish atmosphere of The Night make it one of the most compelling horror movies in hotels of recent years.
Bad Times at the El Royale (2018)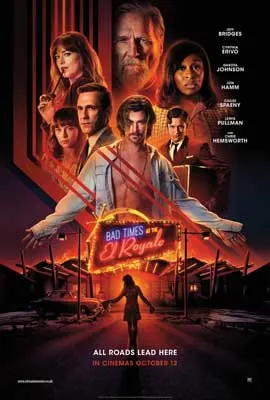 The El Royale sits on the border between California and Nevada. Once it was highly successful, but since losing its gambling license, it's fallen on hard times.
Nevertheless, it's the perfect place for anyone looking to lie low, and that's exactly why several different guests arrive within a short space of time one day in 1959.
Each one has a secret – some more deadly and terrifying than the others. As events begin to escalate, things get turned up to eleven upon the arrival of a sinister and murderous cult leader.
But nothing at the El Royale Motel is what it seems.
Featuring a stacked A-list cast that most hotel horror movies would kill for, Bad Times at the El Royale is one of the most entertaining psychological thrill rides on this list.
Identity (2003)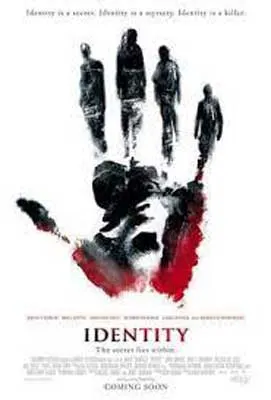 During a fierce rainstorm, a number of strangers are forced to take shelter at a remote Nevada motel.
Among them are an ex-cop turned limousine driver, two newlyweds, a sex worker, an officer transporting a convicted murderer, an actress, and two parents with their 9-year-old son.
As they try to make the best of the situation, it soon becomes clear that people are going missing.
Someone is picking them off one by one, but is it an unknown stranger, or one of the group?
Identity is relatively similar to the Agatha Christie crime/horror classic …And Then There Were None, and there's plenty of fun to be had in trying to work out just who the killer could be.
It should also be said that, unlike other motel horror movies on this list, Identity does take some liberties with mental health representation for the sake of narrative, so bear that in mind when watching.
The Trollenberg Terror/The Crawling Eye (1958)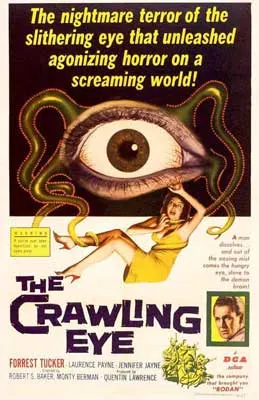 If you're looking to try out some obscure scary hotel movies from the glory days of the sci-fi B-movie, then The Trollenberg Terror (released as The Crawling Eye in the U.S.) could be your next new favorite!
A series of unexplained accidents have been claiming the lives of climbers on Trollenberg Mountain. Eyewitness accounts tell of people being decapitated, but no bodies are ever found.
Everything points to a suspiciously stationary cloud – possibly radioactive – that sits on the side of the mountain.
Guests at a nearby hotel begin to panic; among them are a man sent from the UN, a professor studying the phenomenon, and a pair of sisters who perform as mind-readers.
But before they can work out what's happening, the hotel is under attack! What is this mysterious Trollenberg terror?
This is peak horror from the "new age of the atom bomb."
The performances in this hotel horror movie are often stiff or melodramatic (sometimes both), and the effects have aged in such a way that many would find them endearing.
Just grab your popcorn and let the black-and-white drama wash over you!
Reincarnation (2005)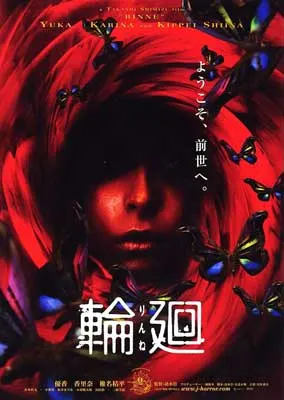 35 years after a massacre that saw a local professor kill 11 people – including his own family – and then commit suicide, film director Ikuo Matsumura decides to make a movie about the event.
But far from attempting a schlocky splatterfest, Matsumura instead aims to honor the victims of the attack.
However, in a move that may prove to be disastrous, he decides to shoot the movie in the same location as the killings.
Young actress Nagisa Sugiura is hired and set to star as the lead, but shortly after she signs on, she starts to see visions of restless spirits.
The professor who went on the murderous rampage was attempting to learn more about reincarnation; could it be that he succeeded?
This scary hotel movie follows in the footsteps of many Japanese psychological thrillers, with suggestion and imagination playing a large part.
If you've already seen plenty of by-the-numbers hotel horror movies and want to enjoy something a little less predictable, Reincarnation is for you.
Watch even more Japanese movies, including a few Japanese fantasy films.
The Rental (2020)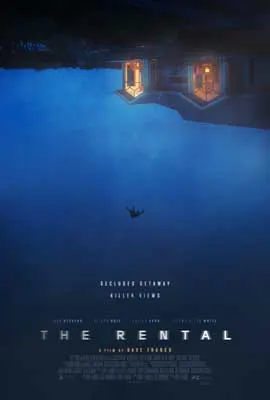 What starts as a group holiday soon becomes a nightmare for two couples who stay at a remote guesthouse on the Oregon coast.
Things get off to an awkward start when the house's caretaker makes some uncomfortable remarks while showing them around, but everyone's partying and enjoying themselves by nightfall.
The next morning, one of the guests finds a camera inside the shower, and soon things begin to spiral out of control as secrets become exposed and paranoia sets in.
As if that wasn't bad enough, a violent stranger also starts to wreak havoc on the couple, and their fear for their lives sends them over the edge.
The Rental has a fresh new take on some of the classic tropes of hotel horror movies, as well as some creative cinematography and solid performances from the four leads.
Vacancy (2007)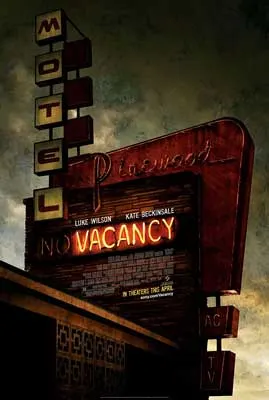 Having accidentally left the interstate highway while returning from a family party, married couple Amy and David Fox are even further dismayed when their car breaks down.
Making their way in the dark to try and find some help, they find an auto repair garage, but it won't be open until the next day.
Across from the garage is a motel, and the two book a room there for the night. However, this motel is your classic grimy nightmare, with dark water in the sink and cockroaches under the carpet.
The two are disgusted, but this proves to be the least of their worries after David puts on a VHS tape in the room and finds that it is a violent film that looks like it was filmed in their exact room.
Sure enough, an investigation leads to the discovery of a camera, and soon Amy and David are in a fight for their lives.
You don't get motel horror movies that are much more stripped down than Vacancy; this lean feature is more psychological thriller than gorefest.
But what they do put into these intense 84 minutes, they do well, which is more than can be said of some longer and more highly regarded hotel horror films!
The City of the Dead/Hotel Horror (1960)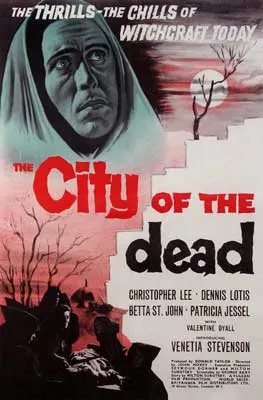 On advice from her history professor, college coed Nan Barlow heads to the Massachusetts town of Whitewood on her summer vacation to learn about their history.
Nan is interested in witchcraft, and the town of Whitewood has a juicy background when it comes to the occult.
Way back in the 1600s, a pair of witches lived in Whitewood, and one was burned at the stake for making a pact with the Devil to try and achieve eternal life.
But while staying in a local hotel, Nan hears some dire warnings from some of the townsfolk, urging her to leave as soon as she can.
Little does she know, witchcraft may still be alive and well in Whitewood.
This is one of the oldest hotel horror movies on this list and features a characteristically intense performance from horror veteran Christopher Lee as Nan's history professor.
Be prepared for some over-the-top performances and some iconic 1960s affectations.
Pair this movie with some great Salem Witch Trials books for adults and teens.
Join The Uncorked Reading Challenge Today
---
Travel around the world with the Uncorked Reading Challenge. Get the best book and movie recs straight to your inbox. Sign Up Now.
Secrets in the Hot Spring (2018)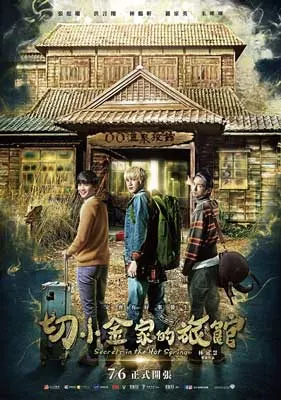 Xiaogin is not happy with how his winter break is going.
The only thing worse than the fact that he has been tricked into staying at his family's old hotel is the fact that two other students – who are not his friends – are coming with him.
In fact, fellow classmates Little Princess and Lu Qun don't like Xiaogin either; they're just trying to avoid a long break from being bullied.
Things get even worse once they arrive at the hotel: it's dirty and dusty and everything seems to be coin-operated. And they haven't even met any of the ghosts yet!
There's something unique about the mixture of horror and comedy in modern Chinese cinema.
Secrets in the Hot Spring has enough bizarre laughs and horrific moments to keep everyone happy, especially if you like the more campy range of movies about hotels out there.
Check out even more terrific Chinese movies to watch, including a few fun fantasy Chinese films.
Mystics in Bali (1981)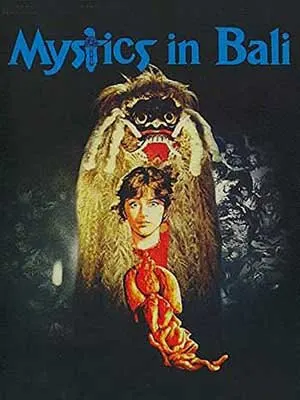 A boom in the Indonesian film industry led to the creation of Mystics in Bali, one of the most unusual hotel horror movies on this list.
In order to research "black magic" and voodoo for her book, writer Cathy Kean travels to Bali to learn about the mysterious Leák magic.
While staying at a local hotel, she comes into contact with a witch known as Mahendra, who agrees to teach Cathy about magic.
However, something entirely unexpected happens: Cathy is tricked into becoming a form of vampire, where her severed head floats around with her internal organs dangling beneath it!
Mystics in Bali has a lot in common with Sam Raimi's The Evil Dead; it's one of the most ridiculous, gory, shocking, hilarious, and unique horror movies in hotels ever made.
You are guaranteed to see at least a couple of visuals that you will find disturbing.
Watch more terrifying Indonesian horror movies as well as movies from, about, and set in Indonesia.
Piercing (2018)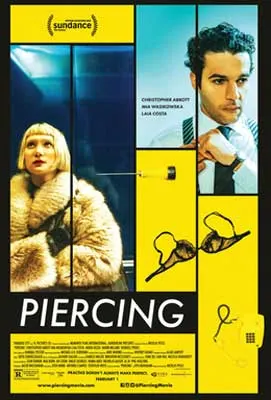 On the surface, Reed is living the perfect high life: he has a stylish apartment, a budding family, and a successful career.
However, beneath all of this, he has a burning desire to kill – and specifically to kill with an ice pick.
In order to get this out of his system, he arranges a stay in a hotel and hires an escort who will be his victim.
But little does he know that the escort he hires, Jackie, is no ordinary call girl; she has her own reasons for being in Reed's room.
What follows is a thrilling game of cat and mouse, with one question at the core: is Reed really in control of all of this?
As unpredictable as it is stylish, Piercing is one of the best hotel horror movies for anyone willing to be taken for a ride during a night in with some popcorn.
Prom Night (2008)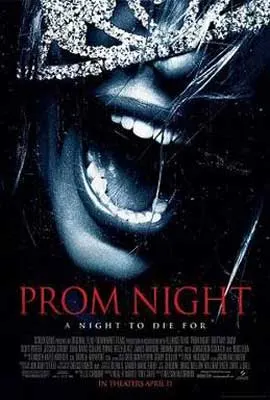 Donna Keppel and her friends are preparing for the biggest evening of their lives so far: senior prom.
Everything is going great until Donna finds out something that puts her life in danger. Namely, Richard Fenton – the man who murdered her family – has escaped from prison.
Fenton was Donna's biology teacher until he became obsessed with her, and it seems that his unhinged mind has gone even further off the rails in captivity.
Before long, Donna and her friends are under siege in their after-party hotel. The exits are blocked, and the power is unstable. Will they survive the night?
This is one of those scary hotel movies that fall into the "so bad that it's good" territory for quite a lot of people.
So feel free to either watch it seriously or ironically, depending on your mood.
Hell House LLC (2015)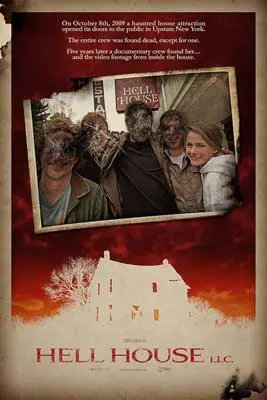 We can't talk about hotel horror movies without touching on the "found footage" genre!
In this installment, a documentary crew travels to an abandoned hotel in Upstate New York to investigate the scene of a tragedy that occurred five years previously.
The hotel had been converted into a Halloween haunted house tour, but on opening night, 15 guests died following an unexplained malfunction.
Most of the crew was also killed, but there was one survivor – and she has footage of what transpired on that fateful night.
Soon after the documentary crew arrives at the scene, unexplained things start to occur.
Hell House LLC follows in the footsteps of horror movie staples like The Blair Witch Project and Paranormal Activity with plenty of jumpscares to be enjoyed.
Where to watch and learn more about these movies:
Amazon Prime Video | Netflix | IMDb | Hulu | Max
Save The Best Scary Hotel Movies For Later: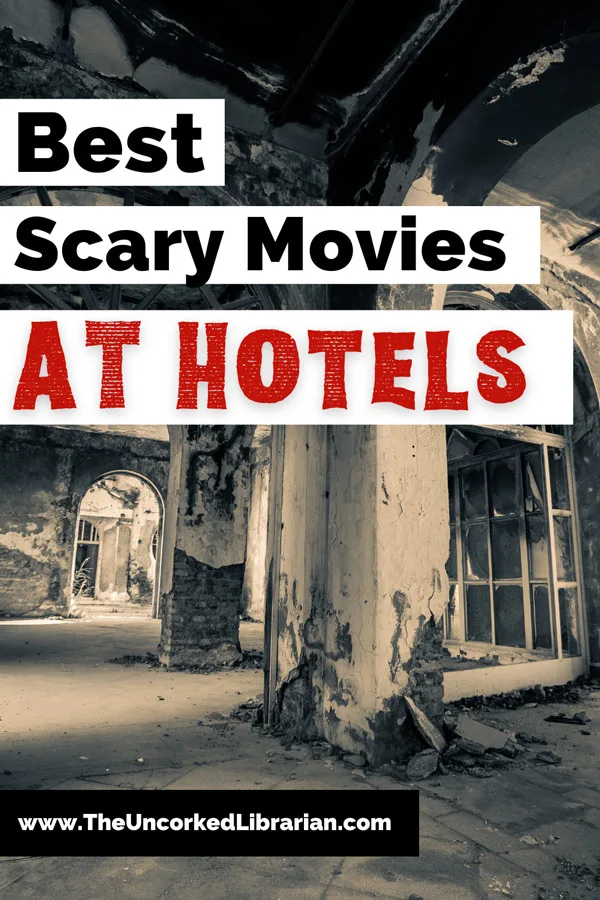 Grab your favorite hotel and motel horror movies and books here:
Express VPN – Using Virtual Private Networks (VPNs) allows you to view movies worldwide – and they help keep your information safe. Our writers couldn't have such diverse film reviews without a VPN.

Amazon Prime Video – Stream thousands of ad-free movies and TV series on demand with Prime Video.

Audible Plus: From Amazon, listen to Amazon Originals, podcasts, and audiobooks. They add new titles every week.
What are your favorite horror movies about hotels and motels?
Do you have a favorite scary hotel movie? Let us know in the comments!
You May Also Like:
This reading list pairs well with our 2023 Reading Challenge.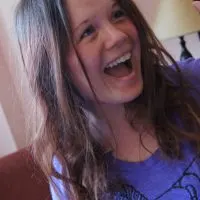 Dagney (pronouns: any) is a neurodivergent writer and book nerd who is drawn to all things weird and macabre. She also loves anything to do with fast cars, unhinged anti-heroes, and salt. When she isn't working or reading, you're likely to find her eating Indian food, playing board games, or hiding out somewhere dark and quiet, stuck down an internet rabbit hole. The easiest way to win her over is through cats and camels.