Adventure across Asia from your couch with the best Chinese movies to watch right now.
If you are looking for action-packed and comedic Chinese films for movie night, there certainly is no shortage on this list.
From top Chinese movies of all time to award-winning films and lesser-known gems, find something for everyone: murder mysteries, martial arts dramas, romance, zombie horror, and more.
Watch as a daughter travels back in time to help her mother find happiness, partners attempt to rekindle their love, and friends battle the bad guys.
Plus, laugh out loud at a few popular Chinese movies featuring some of your favorite stars.
Then, find classic retellings of western movies as well as movies adapted from books. And of course, travel to China with all of that gorgeous cinematography.
So, what are the best Chinese films to keep you laughing and on the edge of your seat?
Keep reading, and be sure to let us know your personal favorite Chinese movie in the comments. Let's get started!
Find even more movies from, about, and set in Asia.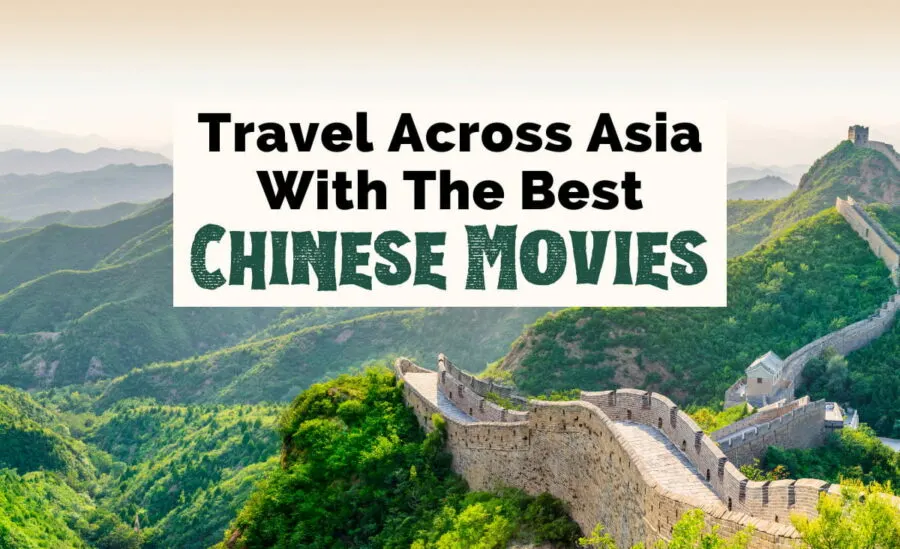 Grab the best Chinese movies and books here:
Express VPN – Using Virtual Private Networks (VPNs) allows you to view movies worldwide – and they help keep your information safe. Our writers couldn't have such diverse film reviews without a VPN.

Amazon Prime Video – Stream thousands of ad-free movies and TV series on demand with Prime Video.

Audible Plus: From Amazon, listen to Amazon Originals, podcasts, and audiobooks. They add new titles every week.
35 Chinese Movies You Don't Want To Miss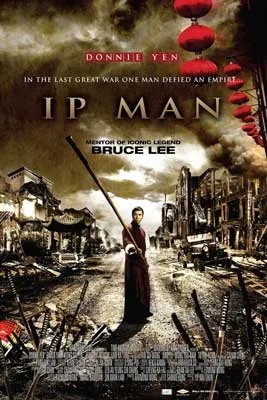 Ip Man (2008)
The year is 1935, and Ip Man lives a peaceful life with his wife and son in the province of Foshun, an area teeming with martial arts schools, each with its own students and masters.
While Ip Man promotes the appearance of calm and pleasantness, he is in fact quietly the most skilled martial artist in the town.
When the Japanese army begins its invasion of China, Ip Man and his family are forced from their home, and the local people are subject to brutality and poverty.
One Japanese general in particular causes suffering, as he lures men into dangerous fights with his warriors with the promise of a bag of rice for the winner.
With the help of his martial prowess, can Ip Man and the townsfolk stand up to their invading oppressors?
Based on the life of the real Ip Man, who is credited with training the legendary Bruce Lee, this martial arts film is essential viewing for anyone who enjoys Chinese films.
Donnie Yen shows off his impressive skills as the titular character in the first of a series of films following the life of Ip Man.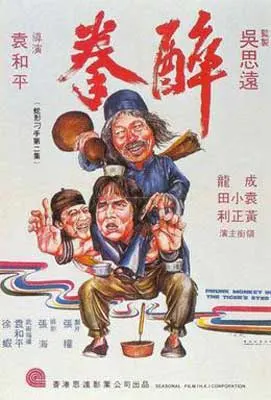 Drunken Master (1978)
Despite attempts to be taught kung fu by his father, the young and rambunctious Wong Fei-hung remains disruptive and disobedient, despite his good nature deep down.
Continually getting into all sorts of scrapes, japes, and misunderstandings, Wong's father finally loses his final straw and sends him off to be educated by a much harder teacher.
Wong finds himself under the tutelage of Beggar So, a hard taskmaster and an expert in the art of Drunken Boxing.
Hopefully, with enough "persuasion," Wong can learn to find the right path for himself.
In any case, he has to put his new skills to good use when his father needs rescuing from an assassin.
Drunken Master is notable for two reasons: it is one of the flagship Chinese movies for the comedy martial arts genre, and it is one of the first major outings for the then-up-and-coming Jackie Chan.
This is the first in a series of Drunken Master movies, and the second (Drunken Master II) is just as good – if not better – than the first.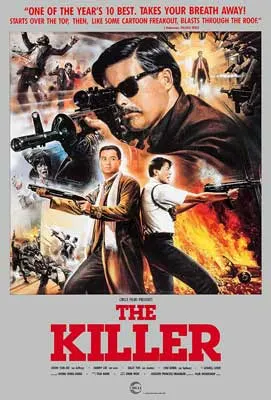 The Killer (1989)
While participating in a shootout with gangsters on his supposed final job, hitman Ah Jong accidentally damages the sight of a young nightclub singer by firing his gun too close to her eyes.
Feeling guilty over this serious, albeit accidental injury, Ah Jong watches over the singer, whose name is Jennie, for months, eventually beginning a relationship with her.
Unfortunately for them both, Jennie is told that her eyesight will be completely gone unless she is able to have a complete corneal transplant.
So in order to get the money for such an operation, Ah Jong must take on one last job and dive back into the world he tried to leave behind.
The Killer was written and directed by John Woo, one of the most highly acclaimed and influential creators of both western and Chinese movies alike.
Relatively unsuccessful when first released in Hong Kong, this movie was a hit with western audiences, strongly influencing the likes of Robert Rodriguez and Quentin Tarantino.
Today, it is regarded as one of the best action movies ever made.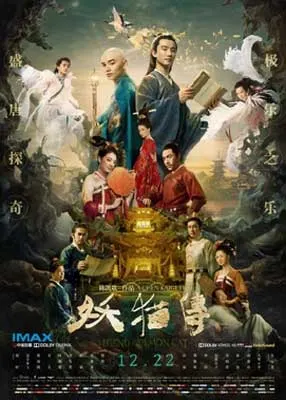 Legend of the Demon Cat (2017)
During the Tang Dynasty period of ancient China, chaos is beginning to erupt following a series of unusual and ominous events.
Most notably so far, the Emperor appears to have been cursed with an ailment that has all the hallmarks of the supernatural.
Even more suspicious are the sounds of a wailing cat that seem to accompany his increasingly rapid decline.
Brought together to solve these mysterious goings on are two unlikely companions: Kukai, a Japanese Buddhist monk, and Bai Letian, a poet.
Kukai was summoned to assist the Emperor when he first became unwell, and Bai Letian documents the Emperor's every action, so feels he must know what is happening in order to complete his work.
Together, they will try and solve the mystery of the demon cat!
The sumptuous visuals, clever use of special effects, and overall semi-insanity of this period fantasy should more than make up for any misgivings viewers might have about an evil cat antagonist.
Just sit back, relax, and enjoy one of the most entertaining and top Chinese movies for cat lovers!
Watch even more great Chinese fantasy movies.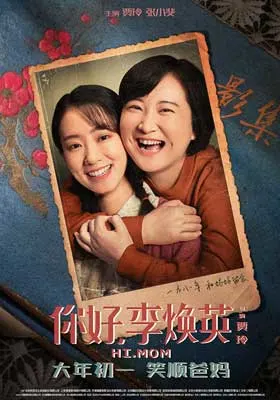 Hi, Mom (2021)
When her mother, Li Huanying, is involved in a car accident and passes away, Jia Xiaoling becomes stricken with grief.
She believes her mother had a mostly unhappy life and wishes there was some way she could have helped to make it better.
But then the hospital room becomes golden and bright.
Jia Xiaoling heads out into a corridor filled with light, before then finding herself falling from the sky and straight into the street.
The year is now 1981, and Jia Xiaoling has been given the opportunity to ensure that her mother has a happy life by immediately becoming her best friend!
This supernatural comedy has plenty of goofy moments, plus some romance as Jia Xiaoling tries to set her mother up with prospective better partners.
Hi, Mom is one of the most lighthearted Chinese films on this list and also happens to be one of the highest-grossing movies of all time.
In fact, it's taken enough money to make writer/director/star Jia Ling the highest-grossing female director in the world.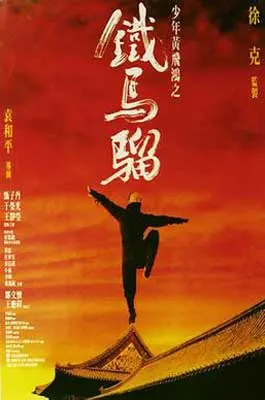 Iron Monkey (1991)
In ancient China, law officials are at a loss as to how to capture the elusive criminal known only as Iron Monkey.
Despite their best efforts, Iron Monkey has been consistently robbing the rich and giving loot to the poor and needy.
Little do they know that Iron Monkey is actually the alter ego of Yang Tianchun, a physician living and working in the town.
One day, another physician named Wong Kei-ying arrives with his son, and he too appears to be skilled in combat.
When an evil Shaolin monk takes over the government of the town, it's up to the two of them to team up and defeat corruption once and for all.
For popular Chinese movies, this action crime drama has a lot in common with many Robin Hood fables.
It is directed by Yuen Woo-ping, who would go on to choreograph some of the most famous fight scenes in movie history.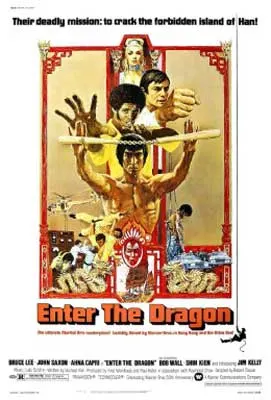 Enter the Dragon (1973)
On his own private island, the suspected drug lord Han plans to hold a high-profile martial arts tournament.
Using the event to their advantage, British intelligence decides to enlist the help of Hong Kong fighting instructor Lee as a way to infiltrate the island and find information about Han's illegal dealings.
As an added incentive to take the job, Lee learns that Han's closest bodyguard is a man named O'Hara, who was responsible for Lee's sister's death.
Once he arrives at the island fortress, Lee has his work cut out for him while trying to expose Han's criminal organization and also avoid being defeated in the tournament.
You don't have to be a martial arts movie fan to have heard of Enter the Dragon.
This seminal action film launched Bruce Lee into western consciousness and remains one of the most iconic and best Chinese movies ever made.
Still Life (2006)
The city of Fengjie is soon to become underwater thanks to an initiative known as the Three Gorges Dam project.
Because of this, the city is gradually being demolished and the citizens are relocating to other areas – if they can.
Into this setting come two separate people with the same goal: Han Sanming, a coal miner, and Shen Hong, a nurse.
Both are estranged from their loved ones – Shen Hong from her husband, and Han Sanming from his wife and daughter – and both have returned to Fengjie determined to find them.
This melancholy drama is beautifully shot, with frames carefully constructed to give the viewer exactly the right combination of information, artistry, and tone.
Like many good Chinese movies, there is some strong social commentary throughout both of the dual storylines, about poverty, industry, and wealth disparity.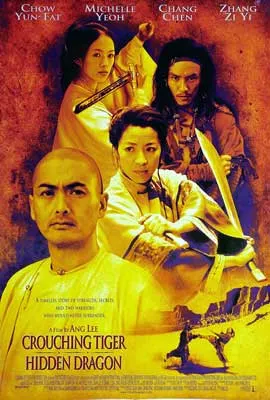 Crouching Tiger, Hidden Dragon (2000)
Out of all of the Chinese films on this list, you've probably heard of Crouching Tiger, Hidden Dragon.
It is the early nineteenth century, in the last years of the Qing dynasty, a time when heroic warriors perform extraordinary feats of athleticism and combat.
After deciding to leave behind the world of fighting, the renowned swordsman Li Mu Bai marks the occasion by gifting his legendary sword – the Green Destiny – to a local governor.
However, after his trusted warrior ally Yu Shu Lien delivers the gift, it is stolen by a mysterious masked thief. The race to recover it is on.
From this point we are then taken on a whirlwind journey, full of action, drama, revenge, and not one but two sweeping love stories.
This wuxia genre cinema masterpiece is one of the most popular Chinese movies of all time, and definitely one of the most famous to western audiences.
The fight choreography alone is enough reason to fall in love with this period epic, but many viewers will also be enchanted by the beautiful visuals and the gorgeous landscape of historic China.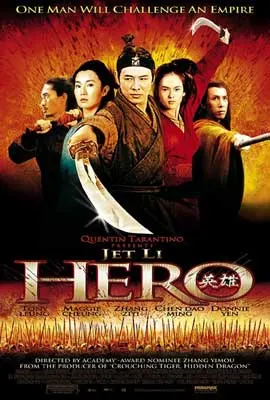 Hero (2002)
During a turbulent time in ancient China, the Qin kingdom is being besieged on many sides, and individual warriors have the power to cause it harm, if they are strong enough.
However, three of those potentially dangerous warriors have been dispatched, seemingly by one man – a defense officer simply referred to as Nameless.
Called by the king of Qin to an audience, Nameless enters the palace of the king to meet with him and is invited to explain just how he managed to defeat these martial masters.
Through his own recounting of his actions, we are shown how Nameless met and fought with each legendary combatant, named Long Sky, Flying Snow, and Broken Sword.
By telling a series of stories within a story, director Zhang Yimou is able to lend the appropriate level of fantasy to the proceedings.
The color palettes chosen for each encounter are a visual feast, and the dazzling choreography elevates the story even further.
Hero is one of the best Chinese movies and for many remains the principal actor and martial artist Jet Li's finest work.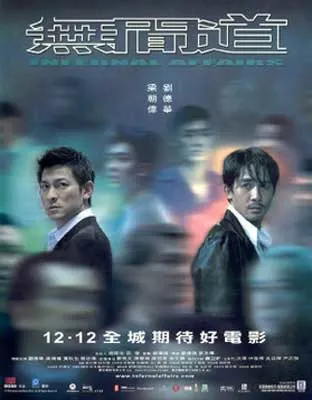 Infernal Affairs (2002)
In order to have an effective spy in the Hong Kong Police Force, Triad boss Hon Sam dispatches the loyal gangster Lau Kin Ming to join their police academy.
Rising quickly through the ranks, Lau becomes a Senior Inspector after only ten years, all the while providing information to Hon.
On the other side of the coin, police cadet Chen Wing Yan is expelled from the academy and joins Hon's triad.
But secretly, he is working undercover to try and bring the organization down, reporting directly to the Police Superintendent, which takes a heavy toll on him over the years.
When both sides discover they have moles working inside them, each man is tasked with finding and revealing the other, in a deadly game of cat and mouse.
If this all sounds familiar, it's because this film was remade for western audiences as 2006's The Departed, with director Martin Scorsese moving the action from Hong Kong to Boston.
But Infernal Affairs is the original article – the first in a trilogy no less – and stands as one of the best Chinese films and one of the greatest crime dramas ever made.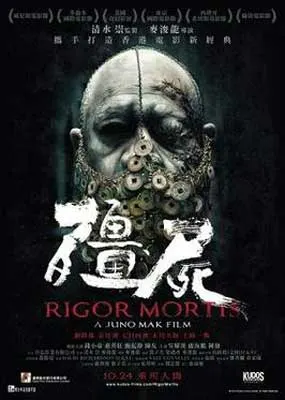 Rigor Mortis (2013)
After his wife and son leave him, former movie star actor Chin Siu-ho becomes severely depressed and suicidal.
He moves into a rundown apartment building, and it's not long before he tries to hang himself.
However, as he nears his death, something unexpected happens: he attracts the attention of the undead. Two twin girl spirits come to him and begin to possess him.
Into the scene bursts Yau, one of Chin's new neighbors, who drives the spirits back.
After rescuing Chin, Yau tells him some shocking truths; he's part of a long line of vampire hunters, and the apartment building is full of supernatural entities.
There is a whole host of supernatural threats from the annals of Chinese horror to be enjoyed in this disturbing and grisly creature feature.
If you're looking to experience some of the best Chinese movies made for horror fans in recent years, make sure to add this to your list.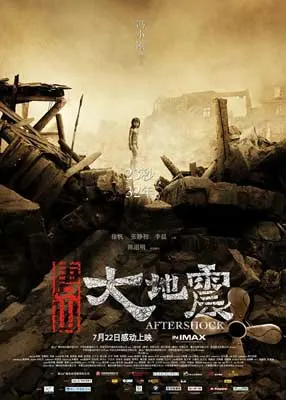 Aftershock (2010)
Based on real events, Aftershock follows the story of two twin siblings separated by a desperate decision.
On July 28, 1976, an earthquake strikes the city of Tangshan. During the destruction, Fang Daqiang and Li Yuanni rush to rescue their children from their collapsing apartment block.
Fang Daqiang is killed, and their two children – Fang Deng and Fang Da – are trapped beneath a large piece of rubble.
Rescue workers inform Li Yuanni that saving one child will kill the other and that she must make a decision on which to save.
Distraught, she chooses to save the son, Fang Da, and Fang Deng is left behind. However, Fang Deng did not die as expected.
What's more, she heard her mother make the choice.
We follow Fang Deng as she grows up as an adopted orphan, full of anger at her mother's betrayal. Will circumstances cause them to ever meet again?
This heart-wrenching historical drama packs some powerful emotional punches and combined with the scenes of panic and destruction makes for one of the tensest Chinese movies on this list.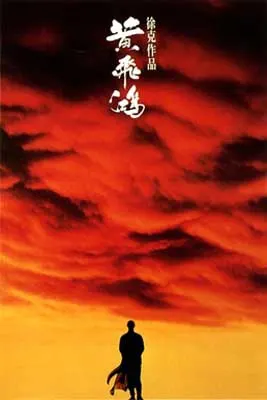 Once Upon a Time in China (1991)
In 1891, China is under threat of invasion from multiple nations from the west.
With little to stand in the way of their plundering, all seems like it could be lost, until one man takes a stand against them: legendary martial arts warrior Wong Fei-hung.
Despite running a local traditional medicine clinic, Wong Fei-hung is also in charge of training the local militia, using his formidable fighting skills.
Things are stable for now, but tensions begin to rise due to the actions of local bandits, rogue fighters, government assassination attempts, and invading soldiers.
Wong Fei-hung knows that it won't be long before something causes chaos to break out, but he's determined to be ready when it does.
Hong Kong action royalty Jet Li was firmly put on the map by this historical action epic.
The choreography and set pieces are spectacular, and for great Chinese films, Once Upon a Time in China is widely credited with starting the early 90s martial arts movie craze.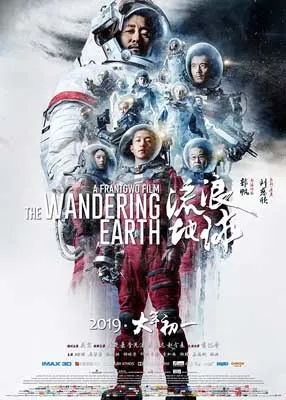 The Wandering Earth (2019)
As humanity enters the latter half of the 21st century, the aging sun begins a new phase of its existence, as it begins to transform into a red giant that will engulf and destroy the Earth.
Knowing they only have approximately 100 years before total annihilation, humanity bands together to form the United Earth Government.
Scientists from all nations begin to work together to solve the problem of humanity's extinction, and an incredible solution is found.
By building gigantic fusion-powered engines, the planet itself can be literally pushed out of the Solar System and relocated to the orbit of another star.
Aside from the obvious, there's one problem looming on the horizon: the journey will take 2500 years, and a lot can go wrong in that time.
Based on the short story of the same name by sci-fi writer Liu Cixin, this galactic action-adventure is one of the highest-grossing Chinese movies of all time.
Watch more exciting movies based on books.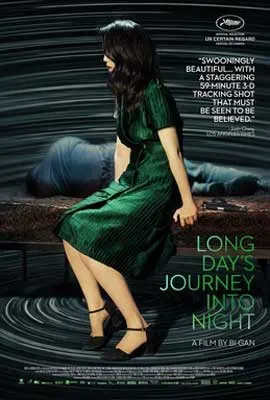 Long Day's Journey into Night (2018)
Having fled his hometown of Kaili years ago, Luo Hongwu now finally returns to attend his father's funeral.
Once he arrives, he begins to remember a woman he once knew; he remembers her beauty and the air of mystery that surrounded her.
In truth, he fell in love with her and is still in love despite having not seen her for over a decade. With the memories of the woman burning in his mind, he resolves to track her down.
This cerebral film noir features some interesting choices from writer/director Bi Gan, not least of which is a near hour-long single take.
With flashbacks to the past mixing with events of the present – and not shown in chronological order, either – the real and the dreamlike begin to mesh and blur the narrative.
Long Day's Journey into Night is firmly in the arthouse camp and definitely meant for fans of Chinese movies where the plot is not as important as the vibe.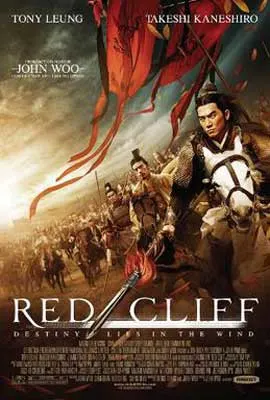 Red Cliff (2008)
In the summer of 208 AD, after convincing the Emperor that decisive action is needed to unite all of China, Chancellor Cao Cao begins a military campaign the likes of which has never been seen.
As he slowly makes his way across the provinces, his two main oppositions to his plan are the southern "warlords," Liu Bei and Sun Quan.
Realizing that they would stand a better chance of fighting together than separately, Liu Bei sends his trusted advisor Zhuge Liang to persuade Sun Quan to join forces with them.
The two leaders and their armies gather together at a base in Red Cliff, a mountainous defensive position that also sits right on the water.
With Cao Cao bringing the full might of his forces to this historic place, the fate of all of China will soon be decided.
Director John Woo's historical epic mixes the factual with the romantic as he mixes accuracy with fantasy in order to draw the most emotional responses from his audience.
If you're a fan of period pieces with plenty of large-scale battle sequences and some captivating prominent characters, Red Cliff will be a feast for your eyes.
Originally released in two parts, the overall runtime of Red Cliff clocks in at just under 5 hours.
There is an abridged version available, but even though it's by far the longest of the Chinese movies on this list, if you have a spare afternoon, we do recommend the full-length version!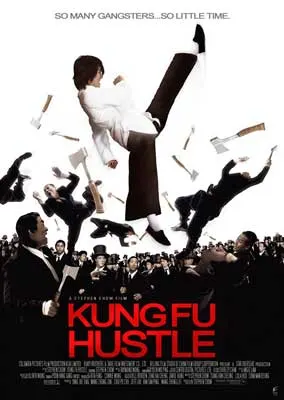 Kung Fu Hustle (2004)
The notorious Axe Gang have put themselves in charge of a small town in 1940s China.
Desperate to join this criminal outfit, the inept Sing and his accomplice Bone attempt to pose as members in order to extort the residents of a local slum area known as Pig Sty Alley.
Unfortunately for Sing and Bone, the residents are actually highly skilled martial artists living in secret, some of which have seemingly superhuman powers and abilities.
During their charade, the two are discovered as pretend Axe Gang members, and they also accidentally start a feud between the real Axe Gang and the Pig Sty Alley locals.
No one knows who will win, but surely whoever comes out on top will be seen to be the greatest kung fu master of all!
Written, produced, directed by, and starring Stephen Chow, Kung Fu Hustle is something of a unique cinematic experience, especially for western audiences.
The action comedy here has a distinctly original flavor and is at times almost like watching a live-action Looney Tunes adventure.
This is possibly one of the most anarchic Chinese movies ever made.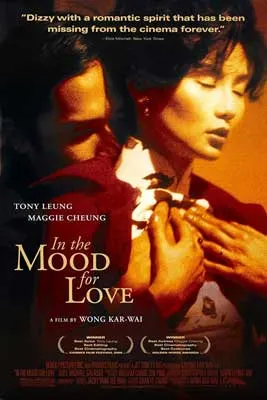 In the Mood for Love (2000)
Set in Hong Kong while under British control in 1962, newspaper editor Chow Mo-wan and his wife move into an apartment in a new building.
At the same time, secretary Su Li-zhen and her husband move into the apartment opposite.
Due to their partners having jobs that keep them at work for long hours, both Chow Mo-wan and Su Li-zhen find themselves at home much of the time and become friends.
They both have a lot in common and enjoy each other's company. But both are shocked and hurt to discover that their spouses are having an affair.
However, resolved to be nothing like their cheating partners, the two choose not to act on the growing feelings they have for each other, no matter how strong they may be becoming.
Shot with beautiful cinematography and a rich color palette, In the Mood for Love is a heart-achingly dramatic romance, showcasing tenderness and longing in an incredibly captivating way.
Chinese films like this may have you feeling teary-eyed, but you definitely shouldn't miss it.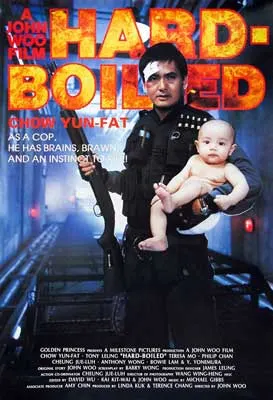 Hard Boiled (1992)
Hong Kong is experiencing a surge in illegally imported weapons. Two smuggling groups in particular are turning the city into a war zone as they fight over territory.
During a raid of their operations, ace police inspector "Tequila" Yuen Ho-Yan loses his partner during a vicious shootout.
Determined to avenge the death of his friend, he teams up with an inside man in order to bring down these criminal organizations for good.
Do you like to see bullets flying everywhere? Especially in slow motion? Are you disappointed when a movie only turns the action up to eleven?
Hard Boiled is quintessential Hong Kong cinema action viewing, and it cemented director John Woo and star Chow Yun-Fat as staples of the genre.
Often imitated, possibly never bettered, this is one of the most popular Chinese movies ever made, and has one of the most frenetic and adrenaline-pumping finales of any action movie.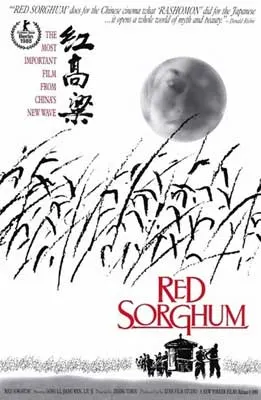 Red Sorghum (1988)
Jiu'er is a poor girl living in rural China in the 1930s. Sent into an arranged marriage by her parents, she finds herself wed to an old man who runs a wine distillery.
Her new husband also has leprosy, and it is not long at all before he succumbs to his illness and dies, leaving the distillery and its fields of red sorghum plants to her.
Adding to the complications of not knowing anything about running a winery, Jiu'er falls in love with one of the servants who worked for her late husband.
As she struggles with her new lover's drunkenness and groups of bandits who attack the isolated winery, events escalate even further with the arrival of the invading Japanese army.
Based on the novel of the same name by Mo Yan, Red Sorghum is one of the top Chinese movies – and wartime dramas – running the gamut from intense romance to moments of horrific violence.
It also features beautiful cinematography.
Watch even more movies about wine.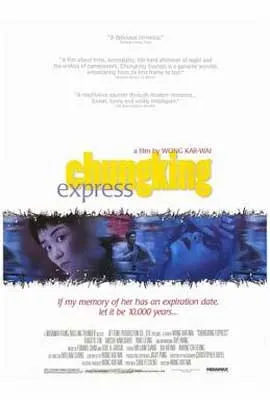 Chungking Express (1994)
Two police officers are each in love and try to process the end of their relationships in different ways in one of the most erudite Chinese films.
The first, Cop 223, is dumped by his girlfriend on April 1st.
He begins to buy cans of pineapple – one a day, because his ex enjoys pineapples – for a month, to see if she was really serious about breaking up.
As the days tick by, we also start to follow a lady in a blonde wig who works as a drug smuggler.
The second officer, Cop 663, has been dumped by his flight attendant girlfriend.
Another lady, named Faye, begins to develop a crush on him, and regularly uses his ex's keys to enter and clean his apartment.
All of this might sound a little disjointed and unusual, and there's a good reason for that.
Chungking Express is a very cerebral film, mainly to be enjoyed by people who enjoy filmmaking over plot or narrative.
What helps casual viewers out is that the characters are well drawn and the visuals are frenetic and engaging, in keeping with the film's fast pace.
Director Wong Kar-wai's exploration of love and longing might not be for everyone, but it is undeniably one of the more interesting Chinese movies.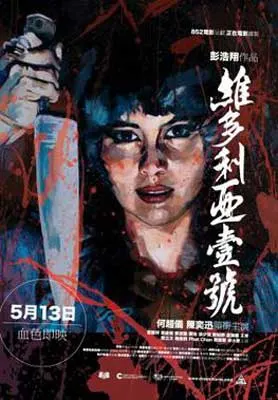 Dream Home (2010)
Are you ready for one of the most satiric and horrific Chinese films on this list?
Ever since they were evicted from their low-rent housing, Cheng Lai-sheung has vowed to one day own her own apartment overlooking Victoria Bay in Hong Kong.
She and her family were forced out by developers who wanted to build high-rise luxury apartments – places that they could not and still cannot afford.
Now an adult, Cheng Lai-sheung works hard at two jobs in order to afford the downpayment for an apartment at No.1 Victoria Bay.
Her mother passed away before she could buy a home for them all, and her father is terminally ill – and getting worse.
When the owners of the apartment suddenly jack the price up, it sends Cheng Lai-sheung into a murderous frenzy.
If you've ever had to experience the pitfalls of buying a home, you'll probably have some empathy for Cheng Lai-sheung, even as she begins to dispatch the wealthy residents in gruesome ways.
Anyone looking to explore the slasher genre entries of Chinese movies will have lots to enjoy here.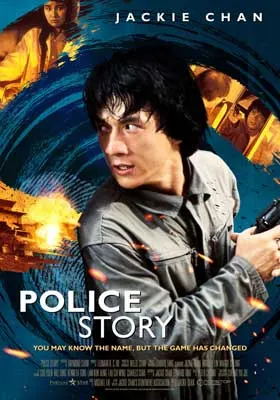 Police Story (1985)
A major undercover sting operation is underway. The aim is to capture and convict the notorious crime lord Chu Tao and bring an end to his illegal drug operations.
Despite some unexpected escalations, the plan is a success, thanks to the above-and-beyond efforts of Inspector Chan Ka-Kui, who chased down Chu Tao on foot.
However, when Chu Tao is released on bail, he frames Ka-Kui for the murder of another policeman as revenge for being arrested.
Desperate to clear his name, and protect his loved ones from further aggression from Chu Tao, Ka-Kui must bring him to justice, whilst working hard to avoid being killed… or dumped by his girlfriend.
It wouldn't be a complete list of the best Chinese movies without talking about Jackie Chan's action comedies.
Police Story is the first in a series and is a great showcase for everything Jackie Chan and his stunt team are capable of.
Remember: filming regulations (and insurance practices) were quite different in Hong Kong compared to Hollywood.
Jackie and his team are doing everything – EVERYTHING – for real.
Join The Uncorked Reading Challenge Today
---
Travel around the world with the Uncorked Reading Challenge. Get the best book and movie recs straight to your inbox. Sign Up Now.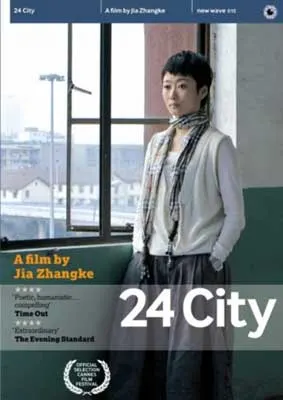 24 City (2008)
In the city of Chengdu in Sichuan province, an old state-owned factory is being torn down to make way for an apartment complex.
The project is called "24 City," and marks a drastic change in the lives of many citizens of Chengdu.
As the factory is dismantled and removed, many residents reflect on what its presence has meant for them and their town.
On the face of it, that's not much of a plot for a feature film. But 24 City doesn't need anything more complicated to focus on.
Writer/director Jia Zhangke's movie is an intriguing mixture of fictional drama and nonfictional documentary, with scenes from the past re-enacted by actors mixed with interviews with genuine residents of Chengdu.
The result is a beautiful snapshot in time, both clinically pointed and surprisingly emotional, and makes 24 City one of the most unique Chinese movies on this list.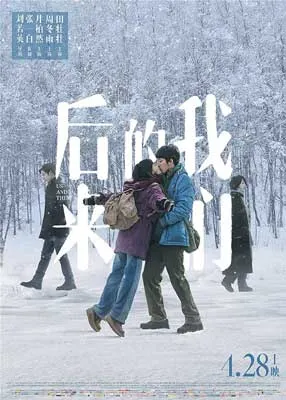 Us and Them (2018)
While heading home for the Chunyun Spring Festival period – a time of heavy amounts of travel for China – Lin Jianqing and Fang Xiaoxiao meet on a train.
They learn that both of them are living in Beijing and trying to find success. Over time, their friendship blossoms into a relationship – and love.
However, as time goes by, they become distant with conflicts and tragedies taking their toll on their relationship.
Eventually, they break up and go their separate ways. But, the two still have feelings for each other.
Ten years after they first met, the two find themselves on the same flight during Chunyun. With a second chance, can they learn to properly navigate loving each other?
Told with a narrative that bounces back and forth across the years, this romantic drama is perfect for fans of Chinese movies that fully explore relationships and the trials of everyday life.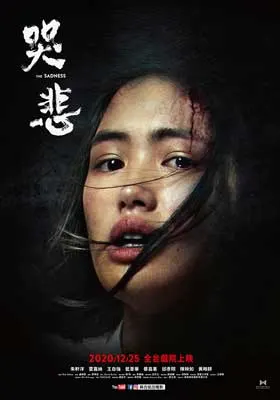 The Sadness (2021)
Trigger warning: pandemic virus outbreak
In modern-day Taiwan, scientists have recently been dealing with a flu-like virus that the government has made little effort to prevent from spreading.
However, just when many people believe that the virus may not exist at all, it mutates into a far more dangerous form, turning ordinary people into bloodthirsty maniacs.
Into this emerging disaster come the young couple Kat and Jim. Initially unaware of the situation, they soon find themselves separated and surrounded by the violent infected.
Strangely, the people are not raving and seem to be fully lucid and articulate as they go about committing unspeakable acts of violence and depravity… and enjoying it as they do so.
The Sadness is one of the most graphic and disturbing Chinese movies on this list and is a very effective entry into the survival horror genre.
That may be reason enough for more sensitive viewers to give this one a miss, but considering the recent global pandemic, this may also hit a little too close to home for others as well.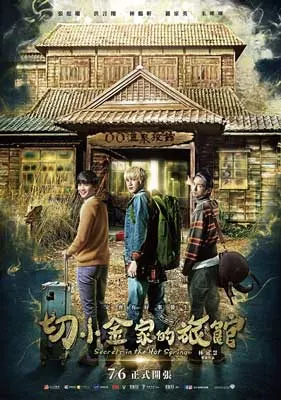 Secrets in the Hot Spring (2018)
During the winter break, Xiaogin is tricked into visiting his family hotel by his grandparents.
To make matters worse, he is joined by two of his classmates – Lu Qun and Little Princess – who tag along uninvited because following him is better than being bullied back at school.
When they arrive, the trio is horrified to discover that the hotel is not the luxurious 5-star experience they were hoping for.
Everything is unclean, covered in dust, rundown, and – bizarrely – coin-operated. Also, they begin to think that the hotel is haunted.
When they find out that there actually is more than meets the eye to this place, they band together to try and solve the mystery of what lies beneath the hot springs.
Have no misgivings about this film: it is first and foremost a comedy.
What horror there is to be found is on the campy end of horror, and plenty of the horror clichés are either debunked or subverted.
With likable leads and some great set-building, Secrets in the Hot Spring is one of the more underrated Chinese movies for you to enjoy!
Watch even more scary movies set at hotels.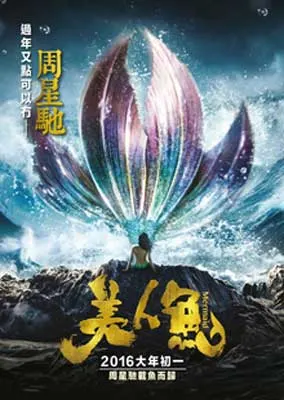 The Mermaid (2016)
Throughout history, mermaids have lived in secret in the ocean, fearing the industrial progress humans continue to make which threatens their ecosystem.
When wealthy real estate developer Liu Xuan plans to reclaim land in a wildlife reserve for a building project, mermaid Shan is dispatched to assassinate him in order to protect the livelihood of her race.
Shan has been trained to walk on her fins and can blend in with the humans – and so poses as a dancer at a party in order to attract and seduce Liu Xuan before dispatching him.
However, soon they begin developing feelings for each other, and Shan persuades Liu Xuan to stop the project.
But by that time, a hidden organization is onto Shan, and they'll do anything in their power to hunt her down.
A colorful fantasy set in the modern day with a strong eco-friendly message and dazzling creature-based special effects? What's not to like?
As one of the more melodramatic and slightly ridiculous Chinese films on this list, The Mermaid is enjoyable fun, even if sometimes it's for unintentional reasons.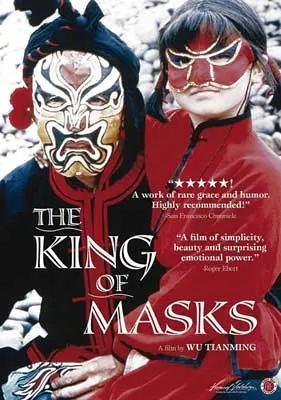 The King of Masks (1996)
For Wang, performing on the street with his bian lian routine of magic mask-changing is his sole purpose in life.
However, despite being the "king of masks," he remains a melancholy and quiet soul.
This is because he has no male heir to pass his skills and secrets on to after his son died at a young age.
Finding himself at an illegal child market, Wang buys a young boy from a slave trader posing as the child's parent.
With a renewed purpose now that he has a disciple, Wang is given a new lease on life until he finds out a shocking revelation: the child is in fact a girl.
Because tradition dictates that only male heirs can be taught his skills, Wang struggles with once again seemingly being the last of his line.
But through compassion and care, perhaps this young girl can make him take a different course.
The setting and scenery – plus some very entertaining mask work, of course – are a huge part of what makes The King of Masks one of the most poignant and uplifting Chinese movies around.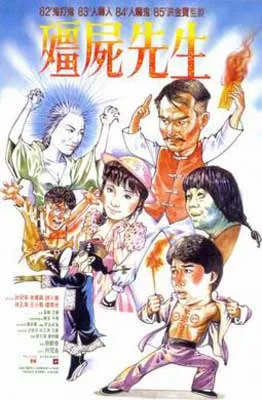 Mr. Vampire (1985)
Master Kau is a Taoist monk with two fairly inept assistants who work to maintain the balance over malevolent spirits during the early 20th century.
One day, a rich businessman decides that it would be auspicious if the body of his deceased father was dug up and reburied in a location that would bring more prosperity to his family.
During this process, Master Kau inspects the body of the dead man and finds that it has not decomposed in the usual way.
He realizes that this man has in fact started to become a vampire!
The body is transported to Master Kau's heavily spiritually protected house for further study, but the bindings placed around the coffin are not completed properly, and the vampire escapes.
Now the race is on to stop the spread of the vampire curse!
There are two things that make this comedy horror worthy of being one of the Chinese films you should definitely check out.
First, the fight choreography is surprisingly good. Second, rather than flying or even running, all the vampires hop everywhere.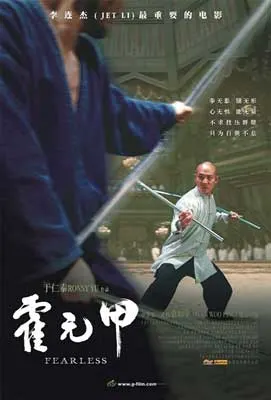 Fearless (2006)
Inspired by the skills of his father, young Huo Yuanjia wants to be a fighter, just like him. But his father refuses to teach him because of his asthma.
Not to be deterred, he teaches himself martial arts in secret, becoming one of China's fiercest warriors.
But with his talent also came recklessness and pride, and after an ill-judged fight that leads to tragedy, Yuanjia wanders the land in shock and shame.
After finding kindness at the hands of a stranger, Yuanjia re-enters society, looking to clear his name.
And it's just in time as well, because there are four invading countries looking to divide China up for their own gain.
Sensing Yuanjia could be a threat, they organize an "unwindable" tournament for him to try to win. But Yuanjia may just prove that knowing yourself will make you truly fearless.
This historical action drama is one of the main star Jet Li's greatest works, backed up by fighting choreography from fellow master Yuen Woo-ping.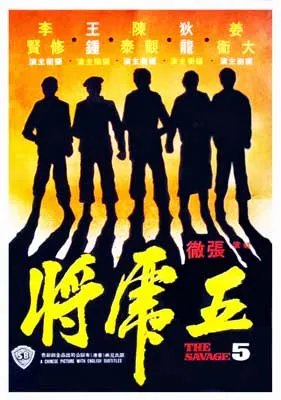 The Savage Five (1974)
Having managed to steal a safe full of money from a neighboring town, a group of vicious robbers carries it to a small village where they completely take over.
They demand that the local silversmith – a man named Wei – use his skills to open the safe for them.
Wei refuses, and the robbers begin taking action against the other villagers in order to persuade him to work for them.
Escaping to get help from the law, Wei manages to alert a government official, but unfortunately, this only makes things worse because he's on the bandits' side.
Just when all seems lost, a group of five vigilantes with elite fighting skills arrives to stand up to the robbers and take the village back for the people.
For top Chinese movies, The Savage Five is practically a Western, with similarities to plenty of well-known cowboy movies.
In line with many Shaw Bros. movies of the period, there is a very distinct style here, which will be nostalgic for some and mildly baffling to others, but entertaining in all cases nonetheless.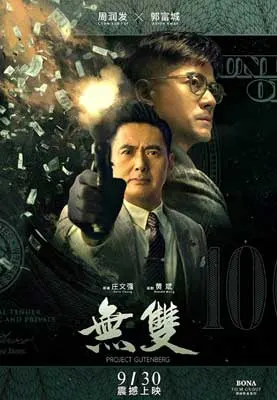 Project Gutenberg (2018)
Expert counterfeiter Lee Man is one day unceremoniously extradited from Thailand to Hong Kong.
There he meets Inspector Ho, who tells him that he will be part of an investigation into a series of crimes involving his forgeries.
A mysterious criminal known only as "Painter" has been committing various robberies and murders, and the Hong Kong Police Force can only take him down with Lee Man's help.
But as with all forgeries, the truth is sometimes indistinguishable from lies, and soon everyone is drawn into a narrative with plenty of twists and turns.
Featuring the Hong Kong action star power of Chow Yun-Fat as "Painter," this slick crime thriller makes for some very entertaining viewing.
As with many Chinese movies that cover the subject of misdirection and fakery, the less you know going into Project Gutenberg the better.
Just grab a big bucket of popcorn and let yourself be taken for a ride!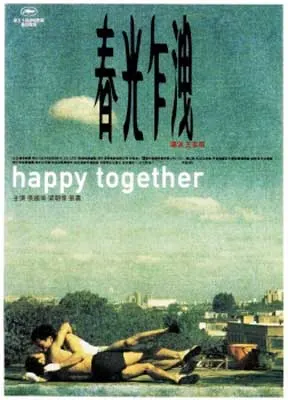 Happy Together (1997)
Lai Yiu-Fai and Ho Po-Wing are a gay couple whose relationship has become marked by turbulence, frustration, and periodic separations.
As a means to try and reconcile once again, they take a trip to Argentina, intending to holiday there.
However, while exploring Iguazu Falls, they become lost, and in a tense situation decide to break up again.
Another problem the pair now have is that they do not have enough money to fly home again, so Yiu-Fai takes a job as a doorman at a tango bar in Buenos Aires to earn the money.
But while Yiu-Fai works to get out of his situation, Po-Wing seems to be drifting further and further toward despair and self-destruction.
This hard-hitting drama is powerful and can be tough to watch at times.
Director Wong Kar-wai uses jarring camera work and alternating color techniques to help emphasize the unsettling nature of being trapped in a land far away from home.
Happy Together is probably one of the most polarizing Chinese films on this list.
See Where To Watch & Read More About These Chinese Movies:
Amazon Prime Video | Netflix | IMDb | Hulu | Max
Save The Best Chinese Films For Later: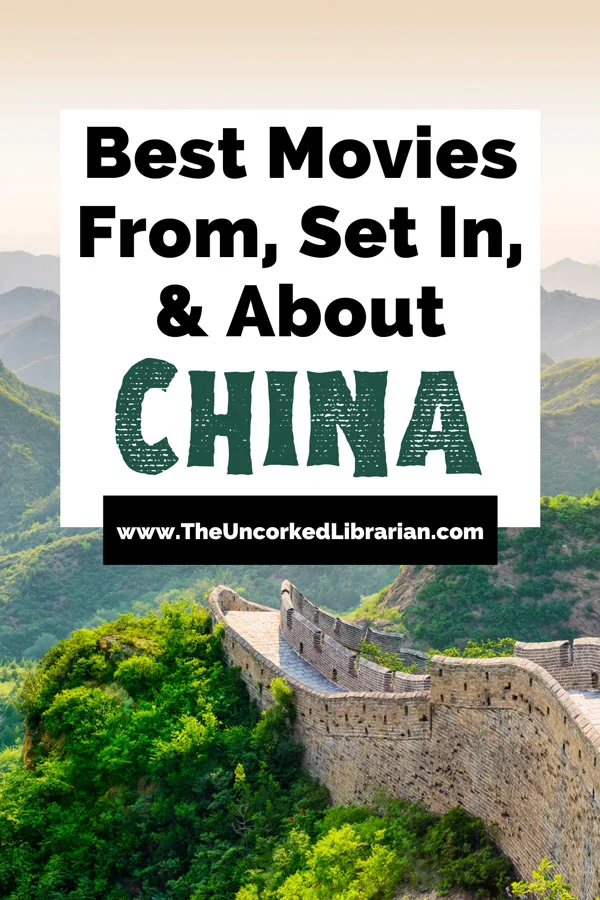 Grab popular Chinese movies and books here:
Express VPN – Using Virtual Private Networks (VPNs) allows you to view movies worldwide – and they help keep your information safe. Our writers couldn't have such diverse film reviews without a VPN.

Amazon Prime Video – Stream thousands of ad-free movies and TV series on demand with Prime Video.

Audible Plus: From Amazon, listen to Amazon Originals, podcasts, and audiobooks. They add new titles every week.
What popular Chinese movies do you love and recommend?
What are the best Chinese movies that you've seen? Which ones should we add to our "to-watch" list? Let us know in the comments.
You May Also Enjoy These Asian Movies:
Indian Movies
Indonesian Movies
Korean Movies
Japanese Movies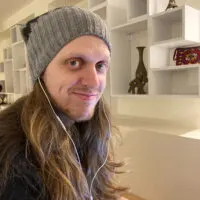 Jeremy (pronouns: any) is an autistic writer, hobbyist, and movie buff, as long as that movie is Labyrinth. Since leaving the corporate world behind in 2018, he has read more books than he thought possible. True to his British upbringing, his first instinct in any given situation is to put the kettle on.