17 Beautiful Icelandic Novels To Inspire Your Trip
Looking for books set in Iceland and books about Iceland to inspire your travels? Don't miss these essential Icelandic novels to transport you to the land of fire and ice.
After returning from an out-of-this-world Icelandic winter adventure, pairing Icelandic fiction and nonfiction with our travels proved both thrilling and enlightening.
I 'wandered' to Iceland in both the figurative and literal sense with the best Icelandic books.
Now, I know what it is like to walk through an infamous Bonus grocery store as Sarah Moss describes in Names for the Sea. Let's not forget the sun disappearing in the winter, too.
Unimaginable wind gusts indeed create chilly and dangerously harsh winters with unpredictable weather as described in Hannah Kent's Iceland-based book, Burial Rites. You have to feel that bone-chilling cold to believe it.
We had a surprise date with those sneaky and heavenly Northern Lights — just how I imagined them after reading LoveStar, Icelandic science fiction.
Lastly, I tried my hardest as I tongued my way through Icelandic pronunciation. Jökulsárlón really tripped me up. I still don't think I have it right, but I loved learning Icelandic in person.
Below, find a list of beautiful as well as heartbreaking books set in Iceland.
From deadly spinster tales based loosely on facts to love stories and social engineering science fiction, learn about humanity, grief, and Icelandic history and culture.
I promise there is something for everyone, too: Icelandic fiction and literature that has been translated into English as well as Icelandic mysteries, travel books, and famous historical fiction.
Let's get started with these amazing books about Iceland to take you there.
You may also enjoy these Icelandic movies.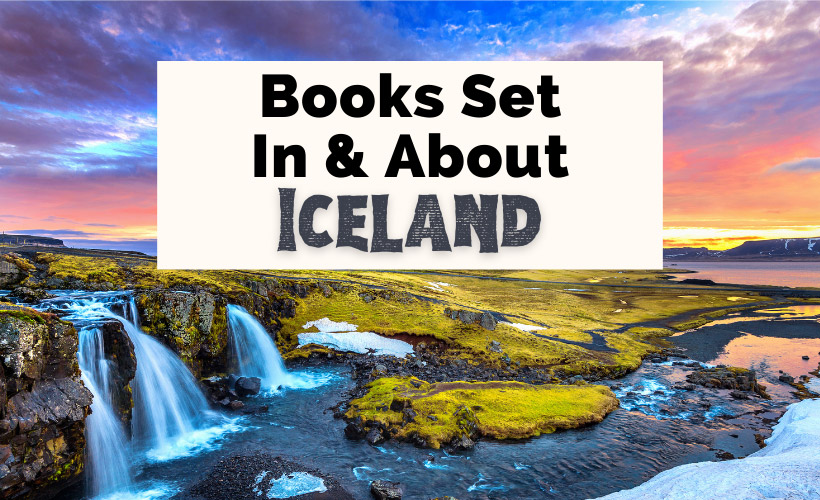 Some Of The Best Books Set In Iceland
Moonstone: The Boy Who Never Was by Sjón
The Blue Fox by Sjón
Burial Rites By Hannah Kent
Woman at 1,000 Degrees by Hallgrímur Helgason
Independent People Halldór Laxness
The Fish Can Sing by Halldór Laxness
Angels of the Universe by Einar Mar Gudmundsson
The Sagas of Icelanders by Anonymous
The Greenhouse by Audur Ava Olafsdottir
101 Reykjavik by Hallgrímur Helgason
Jar City by Arnaldur Indridason
LoveStar by Andri Snaer Magnason
Names for the Sea Strangers in Iceland by Sarah Moss
And discover helpful Iceland travel books…
Grab these fantastic Icelandic books here:
Please note that any title marked with ** is a contribution from a travel blogger, Dagney.
Historical Fiction Books Set In Iceland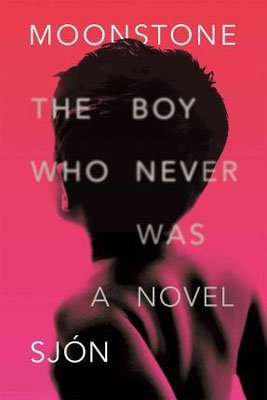 Icelandic Fiction Translated Into English by Victoria Cribb
Moonstone is an eclectic Iceland novel where magical realism meets historical fiction.
Teenage Máni Steinn is trying to find his place in the world. Yet, Iceland, and Reykjavík especially, is under attack. Watch as Katla erupts. The "Spanish flu" is killing thousands of people. WWI promises invasion.
How does a young boy escape?
With the movies, of course.
To make matters even more complicated, Máni is gay. Unfortunately, society punishes same-sex relationships.
Even worse, politicians and residents scapegoat the pictures as indulgent and corrupt. Fevered dreams, magical realism, and history merge to create an artistic Icelandic novella.
Máni must persevere to help and work in a culture that wishes he'd just disappear.
Beautifully written, Sjón's Moonstone is allegorical, intense, and compelling.
A statement about a young boy surviving widespread flu versus another gay man dying of AIDS offers readers a powerful statement on prejudice and misconception.
Moonstone is a book set in Iceland that addresses larger political issues and the LGBT+ community.
Sjón is a famous Icelandic author, and if you enjoy Greek mythology, be sure to check out Sjón's The Whispering Muse.
Find your copy of Moonstone by Sjon here: Amazon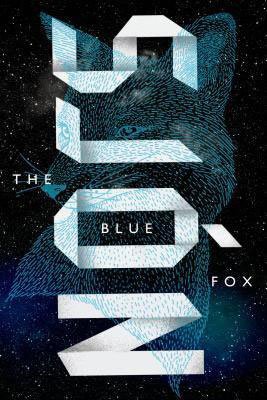 Iceland Book Translated by Victoria Cribb
This beautiful novel is set in Iceland, 1883. Follow the lives of a priest, a fox, a naturalist, and a young woman with Down's Syndrome. Their lives are inescapably intertwined against the harsh Icelandic winter.
The Blue Fox is challenging and relentlessly tragic.  Sjon's delicate prose takes you on a bewitching journey. Find hints of Moby Dick, White Fang, and Burial Rites. This lyrical novel will leave you guessing until its last breath.
Discover even more books set on islands big and small.
Find your copy of The Blue Fox by Sjón here:   Amazon
Icelandic Novels For And About Women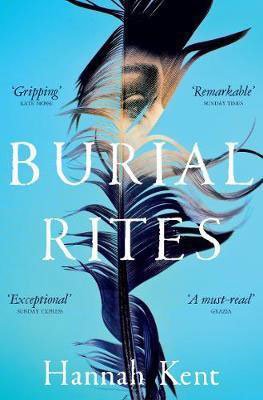 Burial Rites is one of those Icelandic novels that will keep you thinking long after you close the book.
Based on a true story, Kent imbues humanity into accused murderess, Agnes Magnúsdóttir, the last person executed in Iceland.
Caught up in a deadly love story, Agnes is convicted for her role in the savage murders of Natan Ketilsson and Pétur Jónsson at Illugastaðir in 1828.
Set in a harsh and frigid Icelandic backdrop, Agnes must await her beheading in a family home at Kornsá. Breathe in the smell of dung and dull repetition of farm life.
Watch the downfall of an intelligent, intimidating woman. We know this spinster tale all too well.
Just as the Northern Lights ignite magic in the sky, Agnes gains empathy from unlikely characters. The assistant priest and her now familial wardens care for her.
Learn Agnes' side of the story amid illegitimacy, child mortality, and wandering eyes.
For a book set in Iceland, Burial Rites will spark your historical wanderlust. And, for winter-set books, it's extremely atmospheric. Read More→
Save This Icelandic Reading List For Later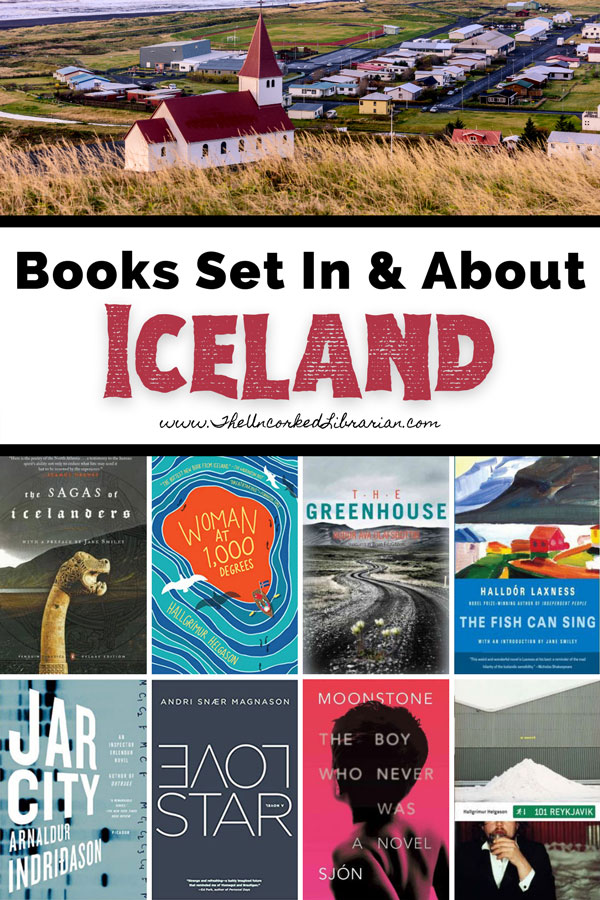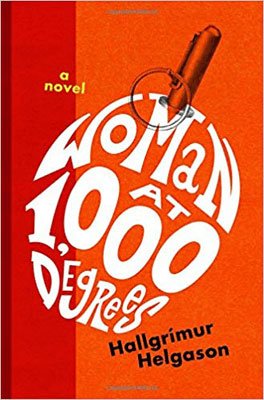 Icelandic Fiction Translated Into English by Brian FitzGibbon
Content/Trigger Warnings:  Rape, abuse, incest, child death, abandonment, and murder
Did you ever have a love-strongly dislike relationship with a book? Woman at 1,000 Degrees is an almost unheard-of story about an Icelandic family fighting for Hitler during WWII.
A brutally honest and vile historical fiction Iceland novel, learn about Herra's youth as a displaced child of war. Readers will both champion and despise Herra as a mother, lover, child, and storyteller.
Emotionally draining yet powerful, Herra's character is based loosely on the first Icelandic Prime Minister's granddaughter. Read TUL's full review of Woman at 1000 Degrees→
Read more about Iceland's Unique Bookish Traditions.
Best Books About Iceland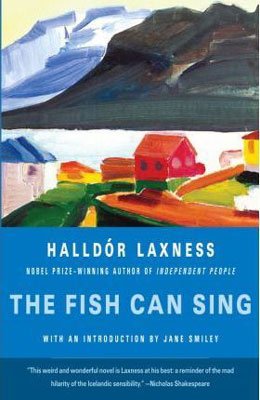 Álfgrímur is an orphan who has been raised by a kind elderly couple in Brekkukot, a rural Icelandic village.
He wants nothing more than to follow in his adoptive grandfather's footsteps and become a fisherman. That is, until, world-famous Icelandic singer, Gardar Holm recognizes Álfgrímur's musical talents.
Like many of Laxness' Icelandic novels, The Fish Can Sing is a bit of a slow burn.
The novel lovingly crafts a portrait of life in rural Iceland against the stark modernity of Reykjavik and beyond. The prose itself is as alluring as Álfgrímur's voice.
The Fish Can Sing is sure to have you booking a trip to Iceland ASAP.
Find your copy of The Fish Can Sing here: Amazon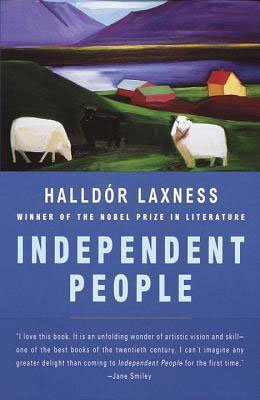 Halldór is a Nobel Prize-winning Icelandic author infamous for writing books about Iceland with a funny yet intellectual and historic flair.
Independent People is nostalgic of both Iceland's Sagas as well as Sigrid Undset's Kristin Lavransdatter–a trilogy of historical novels about Northern life in the Middle Ages.
After years as a servant, Bjartur wants to raise his sheep in simple peace.
Meanwhile, his daughter would also like to live unchained to Bjartur. A darky comedic novel about love, independence, and family, Independent People is a touching and telling book set in Iceland.
Find a copy of Independent People here: Amazon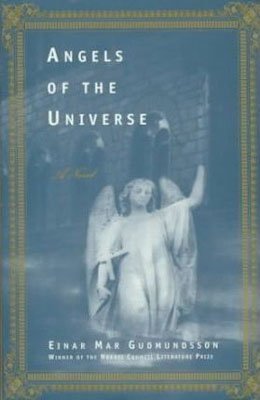 Translated by Bernard Scudder
This bizarre and delightful book set in Iceland takes place in Klepp, an Icelandic psychiatric facility. The story follows schizophrenic Paul as he grapples with reality.
Paul recounts his life growing up as he gradually descends into madness.  The novel jumps back and forth between the past and present, helping to highlight Paul's erratic mind.  The prose flirts with surrealism.
Angels of the Universe itself is profound, hilarious, and deeply heartbreaking. Read this Icelandic novel for insight into mid-to-present Icelandic history, as well as a taste of Icelandic humor. 
Find your copy of Angels of the Universe here: Amazon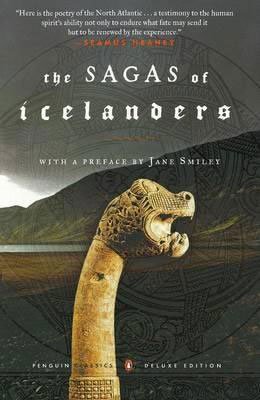 One of the most important books about Iceland, the Sagas showcase the lives of the Norse men and women who arrived in Iceland and eventually migrated across Greenland into North America.
Considered one of the greatest medieval literary treasures, these ten Icelandic Sagas follow explorers such as Leif Eiriksson and the Vikings to the New World.
Find uniquely modern and relevant elements as well as themes of love, hate, and exploration.
Find a copy of The Sagas of Icelanders here: Amazon
If you love legends and myths, read more about Southern Iceland's Legendary Waterfalls.
Contemporary Icelandic Fiction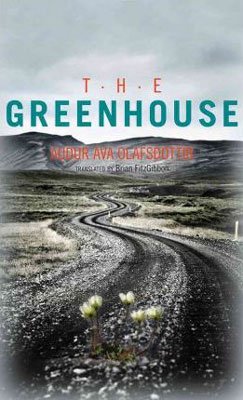 Icelandic Fiction Translated In English by Brian FitzGibbon
One of the most relatable Icelandic novels, meet twenty-two-year-old Lobbi who is facing his own quarter-life crisis.
Lobbi's mother dies in a tragic car accident. Obsessed with death and the carnal body, Lobbi is completely lost.
With a devastated father and an autistic twin brother, Lobbi learns he is also a father. Flóra Sól is the product of a one-night stand.
Fleeing to find himself, Lobbi leaves behind his mother's beloved Icelandic greenhouse. His new life mission is to tend to a dead monastic garden in an unknown country.
Making friends with an alcoholic monk, Lobbi learns about grief, life, and love through movies.
Quiet but poetic, The Greenhouse is a meditation on finding oneself. Although Icelandic fiction, readers transcend the body and borderlines.
Characters learn and overcome in numerous 'religious' forms.
Mundane life in the form of flowers and household chores defines Lobbi's familial role.  Finding solace in discomfort heals. 
The ending is anything but perfect; Lobbi surprises even the reader in this gorgeously poignant Icelandic book. Read more books with green in the title.
Find your copy of The Greenhouse here: Amazon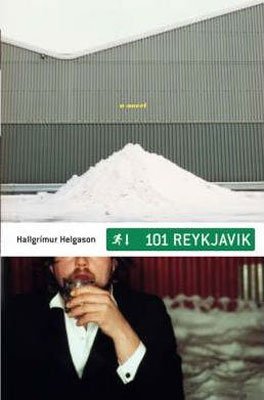 Translated Iceland Fiction by Brian FitzGibbon
This Icelandic black comedy certainly isn't for everyone.
Protagonist Hlynur is a 30-something loner. He still lives at home with no intention of doing anything else. Soon, Hlynur's mother comes out as a lesbian. He falls in love with her new girlfriend.
Because Hlynur never leaves his room, the book itself feels very claustrophobic. Yet, the Icelandic novel is wildly unpredictable good fun.
For those who enjoy Irvine Welsh or Bret Easton Ellis, Helgason has created an Icelandic book sure to thrill. Read More→
Icelandic Thrillers And Mysteries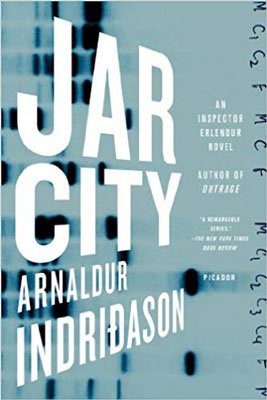 One of my to-be-read Iceland books, Jar City is a Reykjavik thriller and murder mystery.
Inspector Erlendur opens an unsolved crime after coming across a dead body of an older man. The killer has left a note and photograph of a young girl's grave, hinting that something more is going on here.
Erlendur must uncover more than just the mystery behind this murder.
Find your copy of Jar City here: Amazon
Science Fiction Novels Set In Iceland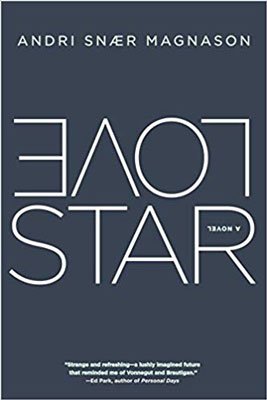 Translated by Victoria Cribb
Indridi and Sigrid are the equivalents of Icelandic science fiction millennials. They live in a cordless and wireless world where data is transmitted via birdwaves.
Their entire lives are now premeditated. Sounds like M.T. Anderson's Feed, right?!
The impersonal, borderline obsessed, and super genius, LoveStar is responsible. He has socially engineered society and its hidden miseries. LoveStar is a techie version of Mark Zuckerberg.
Along with disintegrating bodies into shooting stars upon death and rewinding bad children, LoveStar has calculated the perfect mate for each individual.
Madly in love, this new pairing tests Indridi and Sigrid's relationship. Society and its not-so-subliminal messaging threaten to tear them apart. Whatever happened to free will?
Magnason questions the meaning of happiness and the effects of social engineering. A science fiction book set in Iceland, watch all-consuming love fall apart under the Northern Lights.
Innovative and quirky, question how technology and consumerism play a role in our lives.
Find your copy of LoveStar here: Amazon
Nonfiction Books Set In Iceland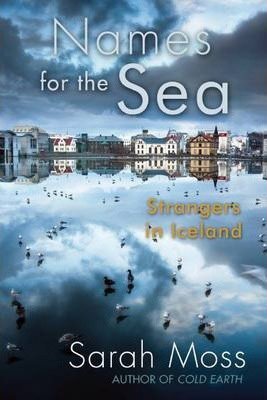 If you are looking for an Iceland novel written by an expatriate, you'll love Moss.
After road-tripping across Iceland in her youth, Sarah Moss moves her family back to the land of fire and ice.
Hoping to recapture her romanticized version of the island, she instead learns what it means to be an expat in her Icelandic nonfiction novel, Names for the Sea.
As an academic and writer, Moss embraces Icelandic culture and traditions with curiosity. Her public servant's salary as a teacher enforces a life of simplicity.
Desiring to understand both Icelandic history and its present state during a financial crisis and volcanic eruption, Moss must push through the hardships of daily Icelandic life.
Beautifully written, Names for the Sea asks readers to consider how we travel and build community. Does our nationality define us? How so? Are we always outsiders?
Delving into the meaning of identity and foreignness, Moss works hard to make Iceland her home. Read More→
Iceland Travel Books
Rick Steves Iceland – Join Rick Steves with this Iceland travel book. He'll provide a wide array of tips from glacier hiking to how to save money in the infamously expensive Icelandic city of Reykjavik.

Lonely Planet Iceland – One of our favorite Iceland travel guides, Lonely Planet offers both history and itineraries filled with a ton of personality. See what to skip, must-sees, and a few hidden gems in Iceland.
Lonely Planet Best Of Iceland – Even though Iceland appears smaller than some countries, there is still so much to explore. LP suggests some of its favorites in this Iceland travel book filled with must-sees.
Lonely Planet's Iceland's Ring Road – When we visited Iceland, we loved driving along the southern part of Ring Road. Discover LP's recommendations for Ring Road road trip itineraries.
Along with Iceland, travel to some of our favorite European countries via a good book:
Iceland captured our hearts and souls; the landscape is just utterly breathtaking, and we'd never seen seals out in the wild let alone glaciers or both together until Iceland. Add in the Northern Lights and black sand beaches, and it was love at first sight. A few of our other favorite European destinations include Scotland, Italy, Greece, and the Baltics.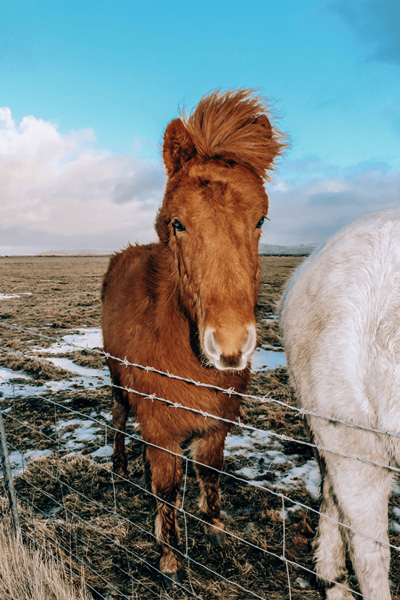 Enhance your trip and spark your wanderlust to Europe with these additional reading lists:
What Are Your Favorite Books Set In Iceland?
Our favorite Icelandic books are Burial Rites, Names For The Sea, and LoveStar. Sjón is eccentric and unique. What are some of the best books about Iceland that you have read? What Icelandic author or book would you add to this list? Let us know in the comments!
Inspired To Visit Iceland? Save This Iceland Reading List Or Your Favorite Iceland Novel For Later.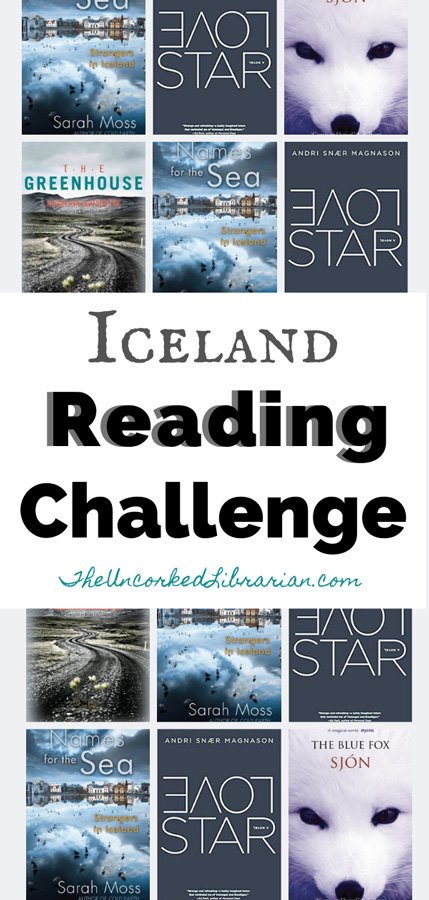 European Book Lists You Might Enjoy:
Plan Your Icelandic Vacation Here: