Read across the rainbow and the world with these books with colors in the title. Find titled books with red, blue, black, green, and many more vibrant shades.
If you find yourself in a reading slump, we have just the fun and creative book list for you: great books with a color in the title.
The color might be a part of someone's name or an adjective. Think The Picture of Dorian Gray and Get a Life Chloe Brown.
Oftentimes, the title's color may give powerful meaning to the story — and sometimes none at all.
Find books with red in the title like All Systems Red and The Question Red or riveting books with blue in the title including The House in the Cerulean Sea and All Boys Aren't Blue.
We all know about books with orange in the title like Clockwork Orange as well as controversial books with gray in the title like Fifty Shades of Grey.
But, what about Sepetys's Between Shades of Gray and Jones's Silver Sparrow?
Not to mention that there are endless books with colors in the title and an infinite amount of colors; we couldn't possibly name them all.
Below, find just a few of the best books with a color in the title — or one of its beautiful shades.
Explore LGBTQ+ novels, romances, mysteries, short stories, novellas, translated literature, and so much more.
Don't forget to let us know your favorite book with a color in the title in the comments. Let's get started!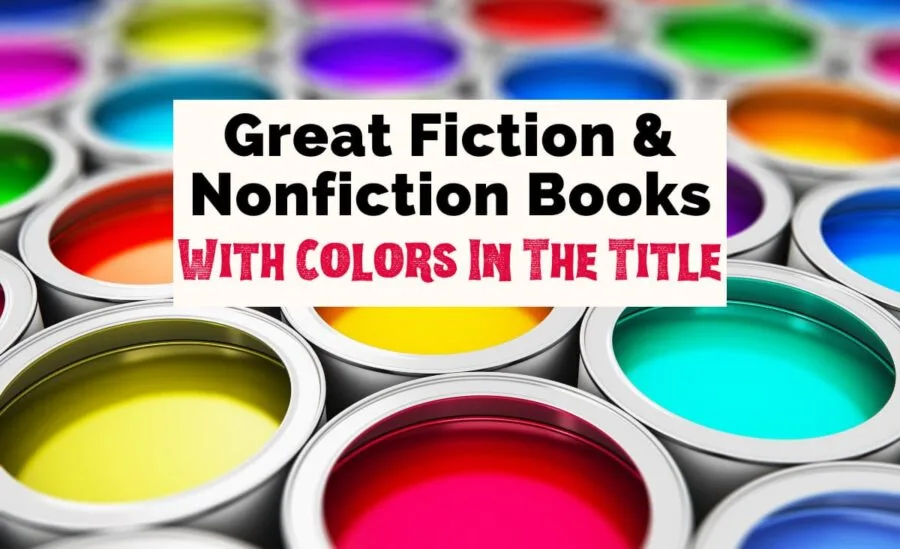 Grab your favorite books with a color in the title:
33 Books with Colors in the Title
Books with Red in the Title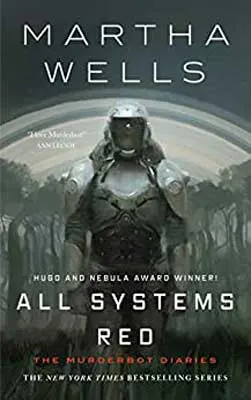 All Systems Red by Martha Wells
While most books with red in the title might invoke romance, Martha Wells' robo-centric sci-fi novella couldn't be further from it.
This is the first in a series called the "Murderbot Diaries," and that may give you an idea of what you're getting into, even if it is a little misleading.
All Systems Red is set in a future where corporations run the show, especially where interstellar travel is concerned.
Because of the dangers involved in space exploration, all teams are accompanied by security robots owned and operated by The Company. Unfortunately, that doesn't mean nothing will go wrong.
During a mission on a distant planet, a group of scientists finds that their particular Company-supplied robot has broken from its governor module, enabling it to develop sentience.
It names itself "Murderbot," but instead of going on the expected killing spree, Murderbot just wants to be left alone to figure out who it is, and maybe watch some unrealistic soap operas.

Read All Systems Red: Amazon | Goodreads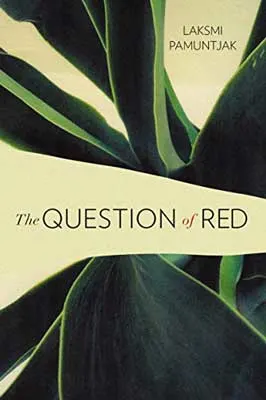 The Question of Red by Laksmi Pamuntjak
One of the longer books with a color in the title The Question of Red is a saga based on the story of Amba from the Mahabharata.
Although the Mahabharata is one of the most popular inspirations for books about Indian mythology, this book is set in Indonesia where Hindus number approximately 4 million (or 1.7% of the population).
It is also the main religion on the Indonesian island of Bali.
After a very brief synopsis of the Mahabharata, the book opens with two women unconscious in the hospital being treated for knife wounds.
One of the women, Mukaburung, attacked the other woman, Amba, when she found her hugging the grave of her dead husband.
From here, the story jumps back to 1960s Indonesia.
Amba is a young woman with a name burdened by history and myth.
Having spent years trying to create her own story, she believes it is fate when she meets two men who match her namesake's own suitors: Salwa and Bhisma.
Amba, Salwa, and Bhisma's stories unfold against the backdrop of Suharto's bloody anti-communist regime of the mid-1960s that left upwards of one million dead.
If you are looking for historical fiction or tragic romance books with red in title, The Question of Red should be top of your list.
And if you fall in love with the setting, there are plenty of other amazing books about Indonesia to choose from next.

Read The Question of Red: Amazon | Goodreads
More books with red in the title from Christine, TUL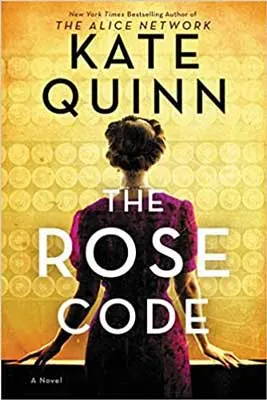 The Rose Code by Kate Quinn
Kate Quinn is back at it with another historical fiction novel featuring strong female leads. Meet Osla, Mab, and Beth, characters inspired by real-life, female WW2 military code breakers.
You'll love Osla and her feisty feminist vibes. She can even woo a prince in her boiler suit. She's not just another dizzy Deb.
War and betrayals will destroy this once tight friendship.
When the women reunite – as one is in a mental health institution – they must crack a final code to catch the traitor. Meanwhile, Britain is preparing for a royal wedding.
The character development and plot will engross you. If you enjoy reading about lesser-known stories during the war – especially those shining a light on women, The Rose Code is a must.
Plus, it's a fabulous book about friendship.
Our Uncorked Readers also loved The Rose Code as part of our annual Uncorked Reading Challenge. Find even more of the best books about WW2.

Read The Rose Code: Amazon | Goodreads | Book Information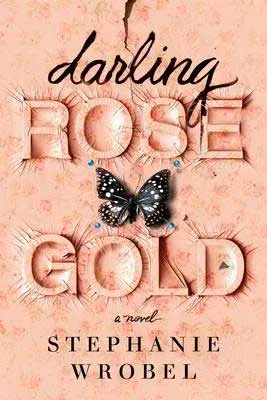 Darling Rose Gold by Stephanie Wrobel
For the most thrilling and suspenseful books with red in the title (as well as yellow), Darling Rose Gold is a must. Right away, you know that something bad is about to happen.
Nothing is as it seems: everyone is unreliable, including the narrators. They are each living and telling a selfish and deluded story.
The novel begins with Poisonous Patty who is serving a 5-year prison sentence because she would poison Rose Gold's meals, making her a permanently sick child.
To add to the illusion of her daughter's "illness" meant solely for the public eye, Patty would shave Rose Gold's hair, pull her out of school, and convince Rose Gold that she needed a wheelchair.
Fast forward to Patty's prison release day. Rose Gold picks her up with a new son in tote.
Patty moves in with Rose Gold in her old childhood home, which was also filled with abuse. Why would Rose Gold do this?
From here on out, readers watch a vindictive and disturbing game. You wonder if someone is going to die.
You know something is messed up. And, you pretty much hate everyone.
Toxicity penetrates all of these dysfunctional relationships in a thrilling tale. Readers will talk about Darling Rose Gold for quite some time — it's a great book club novel.

Read Darling Rose Gold: Amazon | Goodreads | Book Information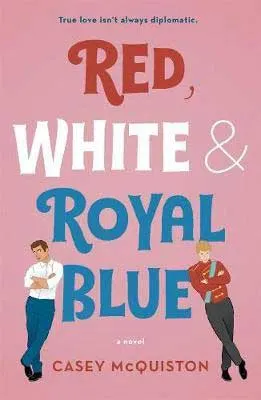 Red, White & Royal Blue by Casey McQuiston
One of the best LGBTQ+ rom-com novels set in England and Washington D.C., McQuiston's Red, White & Royal Blue will warm your heart.
You may also recognize McQuiston for One Last Stop, a sexy novel set on a train in NYC.
Red, White & Royal Blue is perfect for new adults (and everyone). The main characters are in college in their early 20s — and are learning more about themselves and who they wish to be.
America's First Son, Alex, hates Henry the Prince of Wales. Or, does he?
Come to find out, Alex's feelings are completely the opposite. Alex is just now realizing that he is bi and loves Henry.
With foreign relations, politics, and the traditional ways of the Crown, Henry and Alex find themselves caught up in a secret and passionate affair — that is hard to keep under the radar and out of the tabloids.
With his mom up for reelection, could Alex single-handedly destroy her chances at a second term?
Red, White & Royal Blue is one of the funniest books with red in the title. We enjoyed the historical love letters and steamy romance scenes.
A story about coming out and changing century-old traditions, we highly recommend this escapist enemies-to-lovers read for those looking for a hot romance.
Uncover even more books to the big screen (in 2023).
Read Red, White & Royal Blue: Amazon | Goodreads | Book Information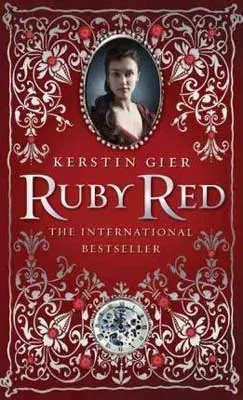 Ruby Red by Kerstin Gier | Translated by Anthea Bell
If you are looking for YA time travel books and enjoy historical fiction set in London, don't miss Ruby Red. Ruby Red is the first in the series.
Sixteen-year-old Gwen grew up thinking that her beautiful and more sophisticated cousin, Charlotte, had the special ability to time travel.
Charlotte's family raised her for such an expected fate, teaching her multiple languages, immunizing her, and giving her strict history lessons.
One day with a queasy feeling in her stomach, Gwen finds herself traveling back to the 18th century completely unprepared for the world of time travel.
Gwen, not Charlotte, is the chosen time traveler, and Gwen must quickly learn how to adapt to this new and frightening role.
Find a budding romance between Gwen and her rival, Gideon, as they navigate the secrets of the past.
We had mixed feelings about this title but others devoured it. You'll enjoy traveling to a different period in time but may cringe at Gwen's helplessness.
Sometimes, the enemies-to-lover trope seems a bit sexist — but you also fall for the romance.
Read Ruby Red: Amazon | Goodreads
Books With Red In The Title You May Also Love:
Metallic Red by Jennifer Ann Shore – A YA indie vampire book and one of our all-time favorite vampire books

Red Queen by Victoria Aveyard – Dystopian YA fantasy

Scarlet by Marissa Meyer – Book 2 in The Lunar Chronicles and a YA fairytale retelling — we just love this series featuring one pretty famous dog in fiction
Books with Orange in the Title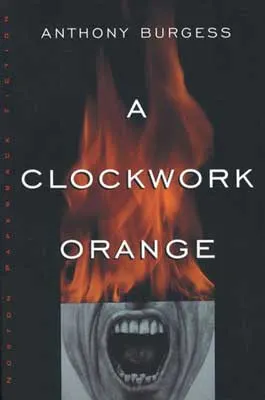 A Clockwork Orange by Anthony Burgess
Set in a dystopian near-future England, Anthony Burgess' exploration of control, authoritarianism, and violence was a landmark of literature when it was first published in 1962 and has been divisive ever since.
Our main protagonist is 15-year-old Alex, a wayward and intelligent youth who enjoys sex, drugs, ultra-violence, and the music of Beethoven.
He and his gang of "droogs" spend their nights beating up members of the public, stealing, and fighting rival gangs, as well as other horrendous activities.
When one particular instance gets Alex arrested, he is given the chance to change his ways by volunteering for a new method of rehabilitation, which will also greatly reduce his jail time.
But the procedure might just prove to be as bad as imprisonment, or worse.
This book is not for the faint-hearted. The trigger warnings alone (drug use, violence both brutal and sexual) might be enough to prevent some readers from trying it out.
But it does deserve its place in the world of literature – and is one of the best books from the '60s.
Of all the books with colors in the title, this one is particularly noteworthy in the way that it was written. As we see events from Alex's viewpoint, we are taken on this ride with his voice, and his language.
Written in a fictitious future vocabulary called "Nadsat," with elements taken from Slavic languages, British cockney rhyming slang, and interpreted Russian, A Clockwork Orange takes a little while to get used to.
But the method is effective and immerses the reader into the world very well.

Read A Clockwork Orange: Amazon | Goodreads
More Books With Orange In The Title:
Orange Is The New Black by Piper Kerman – You may have seen the Netflix series about a privileged woman (and Smithie) imprisoned for delivering a suitcase filled with drug money
Of Goats and Poisoned Oranges by Ciku Kimeria – A book about modern-day life and culture in Kenya
Books with Yellow in the Title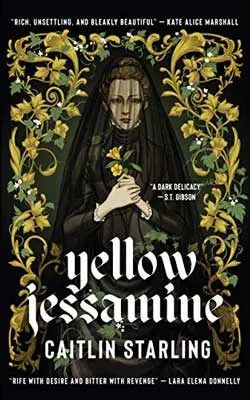 Yellow Jessamine by Caitlin Starling
The city of Delphinium is dying, choked under the hold of a military naval blockade.
So when one ship – owned by the powerful shipping magnate Evelyn Pernadu – manages to make port, Evelyn counts herself lucky.
But that luck soon turns to misfortune, as members of the crew of the ship suddenly begin to fall ill.
The mysterious sickness seems to give them bright eyes and alters their behavior, before plunging them into a catatonic state. What's worse is that the sickness is spreading.
As she goes to ground in her secluded estate, Evelyn contemplates what the sickness means for her standing in the city – a city over which she had held great influence.
But as more and more desperate people begin to turn their attention to her, including the law, she must reconcile with old family secrets in an attempt to turn the tide.

Read Yellow Jessamine: Amazon | Goodreads
More books with yellow in the title from Christine, TUL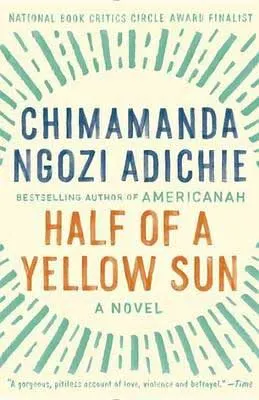 Half Of A Yellow Sun by Chimamanda Ngozi Adichie
One of the best historical fiction books about Nigeria, Half of a Yellow Sun portrays Biafra's struggle to become an independent republic in Nigeria in the 1960s.
The novel follows one part of Nigerian's tumultuous history after British Independence and the Nigerian Civil War, also known as the Biafran War.
Meet Ugwu, Olanna, and Richard. Ugwu works for a University professor, Olanna is the professor's mistress, and Richard is a timid British man.
With the advancement of the Nigerian troops, all three must run for their lives to survive.
Half Of A Yellow Sun is a powerful story about colonialism, race, power, class, and love.
Read Half Of A Yellow Sun: Amazon | Goodreads
Books with Green in the Title
Green Island by Shawna Yang Ryan
A lush and lyrical historical epic, Green Island follows the lives and the struggles of the Tsai family as they deal with six decades of change in post-war Taiwan.
Beginning in 1947 with the delivery of the youngest Tsai daughter, we see Taiwan become enshrouded in martial law and the father, Dr. Tsai, imprisoned by Chinese nationalists.
Following his return years later, he finds people to be paranoid and wary of him, though he grows closer to his young daughter.
When she too, having traveled to the United States, must decide how best to protect her family now that she has become a mother, she realizes that history is repeating itself.
Those looking for books about Taiwan history that have a strong family-orientated foundation will get a lot out of Shawna Yang Ryan's emotional historical novel.

Read Green Island: Amazon | Goodreads
More books with green in the title from Christine, TUL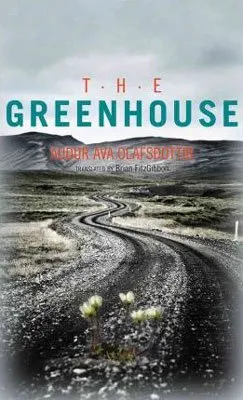 The Greenhouse by Audur Ava Olafsdottir | Translated by Brian FitzGibbon
One of the most poignant books set in Iceland, The Greenhouse follows twenty-two-year-old Lobbi — a man who is facing his own quarter-life crisis.
Obsessed with death after his mother dies in a tragic car accident, Lobbi is utterly lost.
With a devastated father and an autistic twin brother, Lobbi learns of his own child, Flóra Sól. She is the product of a one-night stand.
Lobbi runs away, leaving behind his mother's beloved Icelandic greenhouse. His new life's mission is to tend to a dead monastic garden in an unknown country.
Making friends with a tipsy monk, Lobbi learns more about grief, life, and love through movies.
Quiet and poetic, The Greenhouse is a meditation on finding oneself. Transcend the physical body along with country borders. Characters learn and overcome in numerous 'religious' forms.
The Greenhouse is for readers looking for more esoteric and somber books with green in the title.

The Greenhouse: Amazon | Goodreads
Join The Uncorked Reading Challenge Today
---
Travel around the world with the Uncorked Reading Challenge. Get the best book and movie recs straight to your inbox. Sign Up Now.
Books with Blue in the Title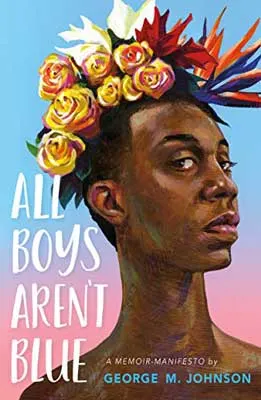 All Boys Aren't Blue by George M. Johnson
In this powerful memoir-manifesto, non-binary journalist and queer rights activist George M. Johnson explores issues of gender identity and toxic masculinity.
They explore these topics through the intersection of being both Black and queer.
For those looking for non-fiction books with a color in the title, All Boys Aren't Blue is an incredibly moving collection of essays that I would encourage all queer people and our allies to read.
However, I imagine it is an especially impactful book for young queer Black boys, non-binary kids, and gender non-conforming individuals.
Please note: Although the 'about' section of the book refers to Johnson as 'he,' Johnson has since come out as non-binary and goes by the pronouns they/them.
Read even more LGBTQ+ books for teens.

Read All Boys Aren't Blue: Amazon | Goodreads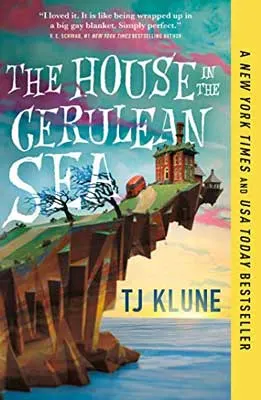 The House in the Cerulean Sea by TJ Klune
Linus Baker leads the life of your typical bureaucrat.
He's approaching middle age, he's still working at a desk, and he has a modest house with a nosy neighbor and a cat that hates him.
Occasionally he has to go into the field to make sure the children in the orphanages that his department looks after are being cared for, but all in all, his career is not going great.
So when Linus is summoned to the offices of Extremely Upper Management, he assumes he is being fired. But instead, they task him with a special assignment. A secret assignment.
Linus must go to a particular orphanage on the distant Marsyas Island. But as well as checking on the children, he must also assess the master of the house – the mysterious Arthur Parnassus.
And if that wasn't unusual enough, he's going to have to deal with more than just extra work.
Linus works for the Department in Charge Of Magical Youth, and the children on Marsyas Island are some of the most dangerous in the world.
The House in the Cerulean Sea is at times charming, amusing, dramatic, and heartwarming.
TJ Klune gives us elements of LGBT fantasy and romance, peril, and adventure as Linus and the children help each other to come out of their shells.
Discover even more books featuring monsters.

Read The House in the Cerulean Sea: Amazon | Goodreads
Books with Purple in the Title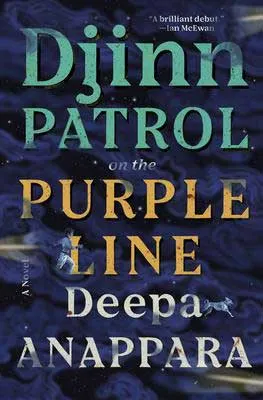 Djinn Patrol on the Purple Line by Deepa Anappara
Children keep disappearing around 9-year old Jai. But because they are poor kids from the basti (slum), the police don't seem to care.
When one of his friends goes missing, Jai takes it upon himself to find him and recruits his friends Faiz and Pari to help.
The three friends set out to solve the mystery of the disappearances, traversing the basti as they interview suspects. But the more they dig, the more dangerous their search becomes.
Although the main characters are young, the book gets pretty dark as it deals with very real topics. Anappara has said the kids are composites of real kids she met from the bastis when she worked as a journalist in India.
During this time, there was a string of kids who went missing from the bastis, and Anappara felt it was a story she needed to tackle when she started writing fiction.
Set in a fictional Indian basti, Djinn Patrol on the Purple Line is a great pick for anyone looking for slow-burn mystery books with a color in the title.
It's also one of my favorite books about India – and I highly, highly recommend the audiobook.

Read Djinn Patrol on the Purple Line: Amazon | Goodreads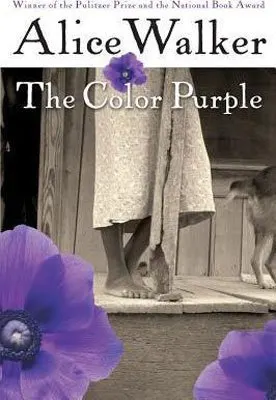 The Color Purple by Alice Walker
You can't have a list of books with colors in the title without including the iconic epistolary novel, The Color Purple.
This is a haunting and sad book about two sisters, Celie and Nettie. They are young Black girls living in the Southern USA in the early 1900s.
Their father is both physically and sexually abusive and completely controlling over the sisters.
To make sense of the world and process the trauma in her life, Celie regularly writes letters to God. As the sisters grow up and are separated, she instead writes to Nettie, who responds.
The Color Purple is a difficult book to read, but it's also a beautiful book about sisterhood, friendship, and love.
The format of the book – with the plot told entirely through the letters Celie and Nettie write – is a very pleasing and popular narrative technique.
This classic novel is perfect for anyone looking for LGBTQ+ books with a color in the title. This is also one of the best Southern novels and most iconic 1980s books to read.

Read The Color Purple: Amazon | Goodreads | Book Information
More Books With Purple In The Title:
Purple Hibiscus by Chimamanda Ngozi Adichie – A brother and sister learn about life beyond what they've been taught in their restrictive home
The Lilac Girls by Martha Hall Kelly – Popular WWII historical fiction and historical fiction about Poland
Books with Black in the Title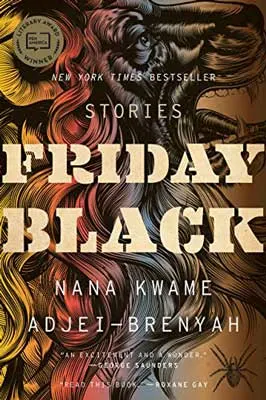 Friday Black by Nana Kwame Adjei-Brenyah
With strong themes of race, horror, cultural unrest, and injustice at the fore, Friday Black is one of the books with colors in the title that features a collection of short stories set in a twisted dystopian near-future.
Nana Kwame Adjei-Brenyah takes the reader through scenarios that have a lot of relevance with the politics of today, but with a magical realism twist.
In one story, both the victim and the perpetrator of a school shooting end up in the same purgatory.
In another, the protagonist is able to "dial his Blackness" up or down depending on the situation; down for a job interview, up when a group of black children is killed by a chainsaw-wielding White maniac.
From the horrors of consumerism and through racist theme park rides to the metaphysical nightmares of time loops, Friday Black will make you take a long look at the state of the world today.

Read Friday Black: Amazon | Goodreads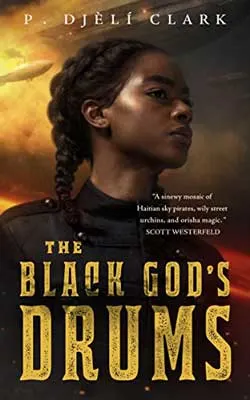 The Black God's Drums by P. Djèlí Clark
Creeper is a young girl scraping a living on the streets of an alternate New Orleans, where America is in the midst of the Civil War.
As she deftly scales the walls of the city, trading information to get by, she dreams of finally being able to leave New Orleans behind and explore the world.
Her best way to do that is to find a way to get on board a pirate ship, and fortunately for her, she has a plan to do just that.
But before she has the chance to pull it off, she and her prospective captain are drawn into a secret mission to save the country.
All they have to do is stop a scientist who has control of a secret weapon; something called the Black God's Drums.
Though it is a daunting task, Creeper has an ace up her sleeve, for Oya, the African orisha of the wind and storms, speaks to her strongly, and has even been known to help her out from time to time.
Which is good, because she's going to need all the help she can get.
P. Djèlí Clark's urban fantasy novella comes with plenty of steampunk stylings thrown into the mix. I can almost guarantee that there aren't many books with colors in the title more imaginative than this one.

Read The Black God's Drums: Amazon | Goodreads
Books with Brown in the Title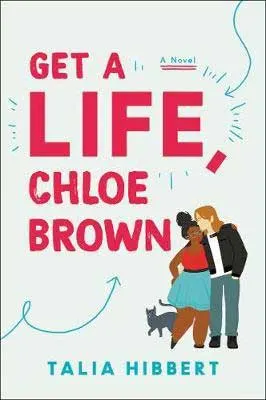 Get a Life Chloe Brown by Talia Hibbert
There aren't many books with brown in the title, but luckily, the Brown sister trilogy exists. I am not the biggest fan of romance books, but these steamy diverse romances totally won me over.
Chloe Brown is the oldest of the Brown sisters, and also the most guarded.
This guardedness is due to being unsupported and abandoned by former friends and an ex after being diagnosed with fibromyalgia, a painful chronic disability.
After Chloe nearly dies, seeing her life flash before her eyes, she realizes she hasn't been living life to the fullest. She sets out to remedy this.
Chloe makes a To-Do list of exciting things and begrudgingly enlists the help of her cute handyman, Red.
Begrudgingly because the two have a bit of an antagonistic, er, acquaintance.
Of course, she soon falls for Red, who is himself recovering from an emotionally abusive, classist ex-girlfriend and struggles to trust new people.
If you want romance books with a color in the title, you cannot go wrong with the Brown sisters (yeah, it's a name, not just a color, but I don't care).
These books deal with big issues while still being totally sexy and relatively lighthearted.
As someone with fibromyalgia (and many of the other disabilities discussed throughout the series), I absolutely loved the representation in these books and the handling of disability and neurodivergence in general.
Because the books take place in the UK, they're also great for anyone looking for books set on islands.

Read Get a Life Chloe Brown: Amazon | Goodreads
Books with Grey/Silver in the Title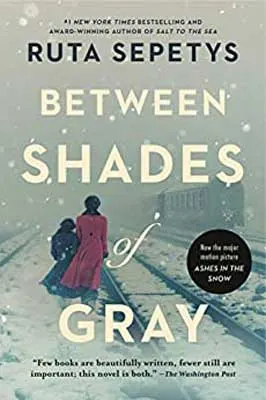 Between Shades of Gray by Ruta Sepetys
In 1941, Lina is living the typical life of a 15-year-old in Lithuania. But all that changes when the NKVD (soviet police) arrest her entire family and Lina is sent to a labor camp in Siberia.
Lina, her mother, and her younger brother are able to stay together but are separated from her father, who is sent instead to a prison camp.
Although they are fortunate to stay together, Lina's life in the labor camp is incredibly difficult, and the family struggles not to succumb to starvation, disease, or despair.
Through it all, Lina draws. She illustrates their lives in the camp, and it is her one respite from the world. Drawing helps her feel connected to her father.
Between Shades of Gray is a harrowing YA WWII book about survival, family, and the effects of totalitarianism. It is perfect for those looking for historical fiction books with a color in the title.
While most of the book takes place in Siberia, aspects of Lina's Lithuanian culture are threaded throughout (Sepetys is also of Lithuanian descent).
So, it's also a great option for anyone interested in books about the Baltics and Baltic culture. Between Shades of Gray is also a great audiobook selection.

Read Between Shades of Gray: Amazon | Goodreads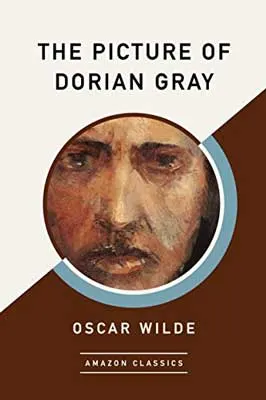 The Picture of Dorian Gray by Oscar Wilde
In Oscar Wilde's only novel, the reader is thrown into a 19th-century world of debauchery, vice, and corruption.
At the center of this hedonistic morality tale, we find the titular Dorian Gray – young, rich, and strikingly handsome.
While sitting for a portrait of himself, Gray is introduced to the decadent Lord Henry Wotton.
He believes that beauty is the most valuable commodity in life, and as such, he prioritizes seeking out the most extreme pleasurable activities.
Seduced by the idea of this lavish lifestyle, Gray wishes that this new portrait would age instead of himself, so that he may better indulge himself.
What follows is a deep dive into cruelty, desire, and wanton selfishness. As Gray miraculously maintains his youth and vigor, his portrait ages and decays as the only manifestation of Gray's evil deeds.
Despite being one of the more classic literature books with a color in the title, the adult content of Wilde's cautionary tale caused some sensation upon its original release in 1891, offending the sensibilities of many Victorians.
While it may seem tamer by today's standards, The Picture of Dorian Gray is still very effective in delivering its message; namely, that everyone must eventually pay for their actions.
The novel is also one of our favorite creepy classics.

Read The Picture of Dorian Gray: Amazon | Goodreads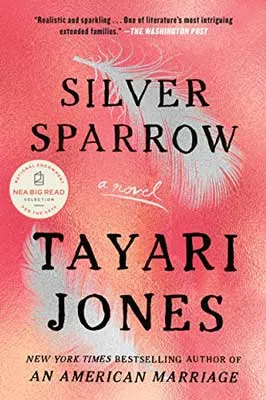 Silver Sparrow by Tayari Jones
One of my favorite coming-of-age books with a color in the title is Silver Sparrow, a story about familial bonds, and especially sisterhood.
The book follows two half-sisters, Dana and Chaurisse, in the 1980s. They are both the daughters of James Witherspoon, a bigamist who keeps his families entirely separate from each other.
One family is aware of the others' existence, while one is blissfully unaware of his deception.
But one day the sisters' lives intersect, and the fragility of James' carefully crafted double life is exposed.
Silver Sparrow is full of rich, complex characters and relationships, and absolutely beautiful writing. I fell in love with this book and Tayari Jones' writing from the first sentence.
I was completely torn between devouring the book in one sitting and taking my time and soaking up the writing.

Read Silver Sparrow: Amazon | Goodreads
More books with gray in the title from Christine, TUL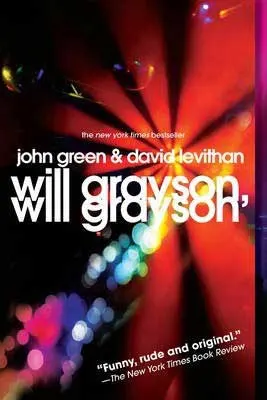 Will Grayson, Will Grayson by John Green and David Levithan
For books with gray in the title, we just love Green and Levithan's comedic LGBTQ+ YA novel Will Grayson, Will Grayson.
Shunned by his closest friends for defending the not-so-tiny and gay Tiny Cooper, Will Grayson is struggling through high school.
While attempting to win over Jane, balance Tiny's dramatic relationship roller coaster, and avoid being sucked into the play Tiny Dancer, Will slams right into himself.
In an odd moment at an 'adult' store, Will Grayson happens to meet another Will Grayson. What happens from that moment on changes the course of their lives.
Will Grayson, Will Grayson addresses depression, friendship, and coming out. Encounter a contemporary coming-of-age story with mature teen issues.

Read Will Grayson, Will Grayson: Amazon | Goodreads
More Books With Gray In The Title:
Gracefully Grayson by Ann Polonsky – Meet a transgender child who wishes to play Persephone in the school play in this tween novel
Fifty Shades of Grey by E L James – Do we even need to go here? We think not. Watch Ana fall for Christian Grey, a man with dark sexual preferences.
Books with White in the Title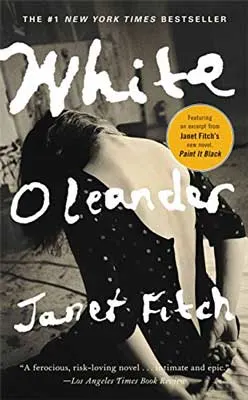 White Oleander by Janet Fitch
Astrid's mother Ingrid is beautiful and fiercely independent, and Astrid idolizes her. She's also vengeful and dangerous.
When Ingrid finds out her new boyfriend, Barry, is cheating on her, she poisons him.
After Ingrid is arrested and sentenced to life in prison, 12-year-old Astrid is put into the foster care system where she hops from one toxic, dysfunctional home to the next for years.
As she gets older and more jaded by her time in foster care, Astrid also grows increasingly disillusioned by and resentful of her mother.
White Oleander is an unforgettable California-set book about motherhood and finding one's place in the world, as well as a skating indictment of the foster care system.
It is ideal for anyone looking for hard-hitting contemporary books with colors in the title that are about motherhood or mother-daughter relationships.

Read White Oleander: Amazon | Goodreads
Whitefly by Abdelilah Hamdouchi | Translated by Jonathan Smolin
Three bodies have washed ashore in Tangier, and Detective Laafrit is sure they are harraga (illegal immigrants) who drowned at sea, unable to make it safely to Spain.
However, when a fourth body washes up, Laafrit is thrown for a loop as this one is incredibly well-dressed… and full of bullets.
Given the rarity of guns in Morocco and the difficulty procuring them, Laafrit is sure all he needs to solve the case is to find the gun. But that is much easier said than done.
Hamdouchi has written several detective books about Morocco, and sadly they don't seem to land well with an English audience.
Admittedly, they're not the most satisfying murder mysteries – often leaving many unanswered questions. However, this is often an unfortunate reality in Morocco.
I personally enjoyed the mystery in Whitefly. As someone who has visited Morocco multiple times and lived in the Middle East for many years, I think Whitefly is an excellent little insight into Moroccan and Muslim culture.
And because it was an engaging, fast-paced novella, it's one of the best books with colors in the title to expand your horizons.

Read Whitefly: Amazon | Goodreads
Grab your favorite books with colors in the title:
Save your favorite books with a color in the title for later: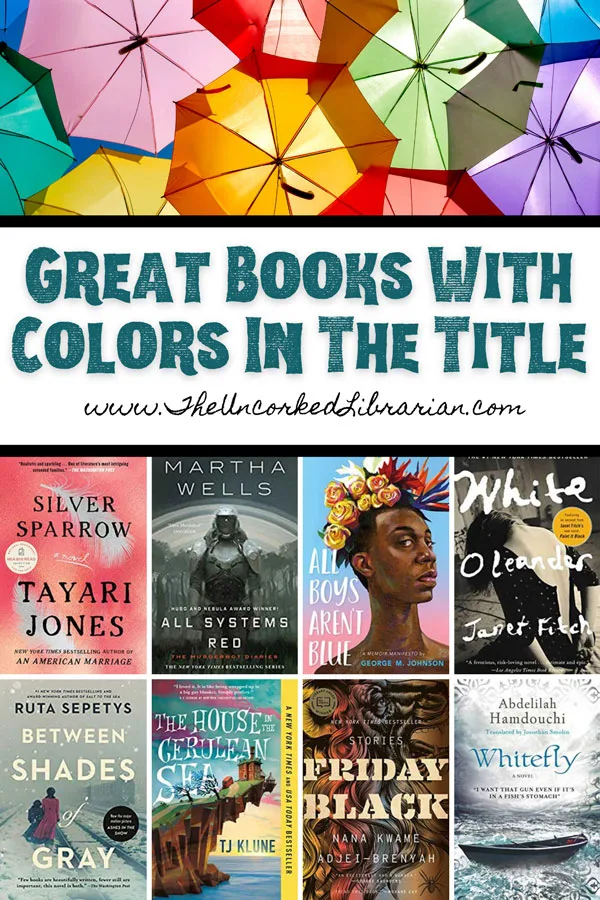 What are your favorite books with red in the title? How about blue, grey, and purple?
What are the best books with colors in the title? And, what is your favorite color? Let us know in the comments.
Related Articles:
This reading list was originally a part of our 2022 Uncorked Reading Challenge.