These Indian mythology books are sure to entertain as well as teach you more about Indian culture, tradition, and history.
In undergrad, with a concentration in South Asian history, we studied classic books on Indian mythology including The Ramayana and The Mahabharata.
At the time, Mount Holyoke College and Smith offered the best South Asian history, religion, and lit courses.
While in Bali, Indonesia, we watched multiple performances of The Ramayana, including the Kecak dance at Uluwatu.
Hanuman, Sita, and Rama's battle captivated us, bringing the epic to life amidst the meditative chanting and vibrant fire. Sneaky (and hungry) monkeys enveloped us in the trees.
These cultural shows celebrate the values, oral traditions, and lessons found in Indian mythology stories.
In modern times, there is a trend in publishing to retell these texts with more and more contemporary themes – like Patel's Kaikeyi.
Authors wish to give voice to characters who didn't previously have them, especially women and the LGBTQ+ community.
So, which Indian mythology book should you read first?
Below, we are sharing classics, retellings, and the best books on Indian mythology – from one of our contributors who lived in India.
Dagney is certainly our go-to Indian literature expert. Let's get started!
Read even more books set in India. Or, watch the best movies about India.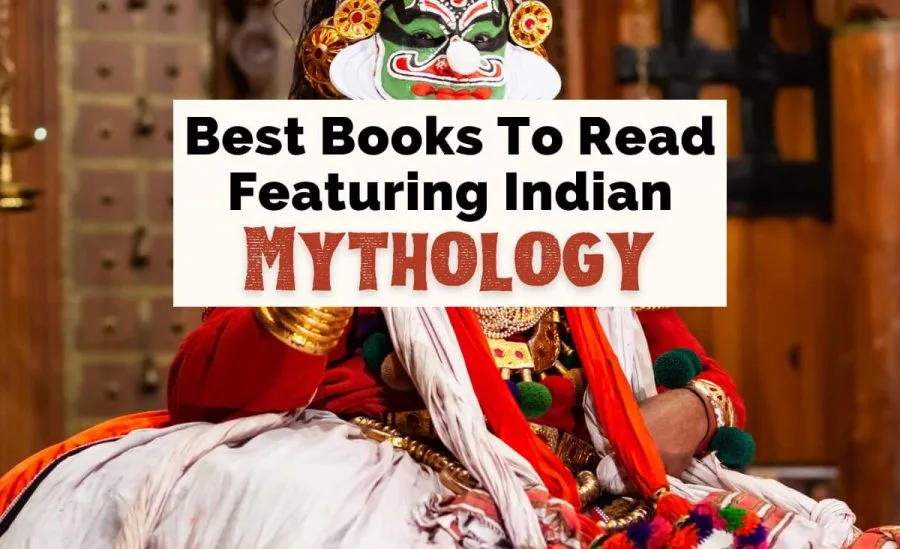 Grab your next favorite Indian mythology book here:
14 Best Indian Mythology Books
By Dagney McKinney
*Book additions by Christine
Author's Note: It is worth knowing that many Indian mythology retellings are written in a somewhat similar style to the epics they are based on, which were originally oral histories, and often implement telling rather than showing.
Women don't tend to fare very well, sometimes even in feminist retellings.
For non-Indian readers, the language and flow of such books can be an adjustment if you did not grow up hearing this particular style of storytelling (many of the ebook versions could also use several more run-throughs of edits).
Not all of the stories on this list are written in this way, but those that are might not work for everyone.
On the plus side, for those whose writing style you do enjoy, almost all of the authors below have additional Indian mythology stories.
Classic Indian Mythology Books
There are several classic texts for those interested in Indian mythology stories (whether Hindu or Buddhist).
However, I have only included the two most popular epics below – and kept their descriptions brief. These two classics are the basis for most retellings in modern books on Indian mythology.
For both of these, there are multiple translations, editions, and authors – including versions from different countries.
I have not included authors as they are traditionally oral stories and have been rewritten numerous times. The version you read will depend on the kind of story you want.
The Penguin Classic editions provide good, in-depth introductions, and are often considered the best, but can be more academic.
I, personally, prefer child-friendly versions that come with pictures and read more like fun stories than epic poems.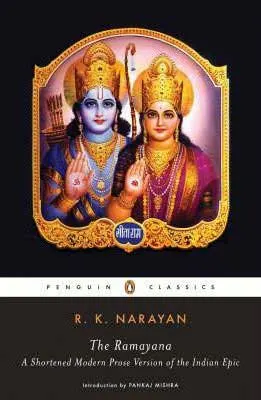 1. The Ramayana
Prince Rama is exiled to the forest for 14 years by his stepmother. He is joined by his brother Lakshmana and wife Sita.
While in exile, Sita is kidnapped by Ravana, king of Lanka, resulting in war. The Ramayana is a tale about morality, loyalty, and sacrifice. Buy a copy of The Ramayana | Add to Goodreads
2. The Mahabharata
The Mahabharata is one of the most famous epic poems in the world and is the longest ever written.
It tells the story of two conflicting families of cousins, the Kaurava and Pandava, during the Mahabharata War (also called the Kurukshetra War).
The main themes of The Mahabharata are whether war is just and Dharma (cosmic law or ultimate truth). It also examines loyalty, deception, and caste boundaries.
The Mahabharata contains many famous stories within, including The Bhagavad Gita, and an abridged version of The Ramayana. Buy a copy of The Mahabharata | Add to Goodreads
Indian Mythology Books Based on the Ramayana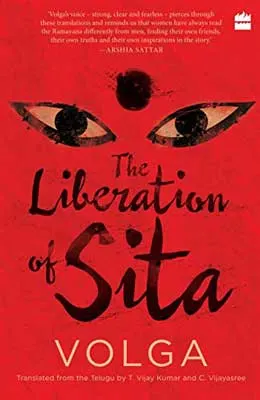 3. The Liberation of Sita by Volga
The Liberation of Sita is a collection of five short stories that give some much welcome insight into the potential motivations and thoughts of the female characters in The Ramayana.
Many of the stories take place just after the end of the epic (though not all). Each story gives the perfect amount of closure to the characters who otherwise have little to no voice.
This short story collection requires some previous knowledge of The Ramayana to get the most out of the stories.
However if like me, you've always found the female characters of The Ramayana to be pretty one-dimensional and dull, The Liberation of Sita is a great addition to the original story.
If you are familiar with the stories and are looking for a feminist lilt, this is definitely of the best Indian mythology books. Buy a copy of The Liberation of Sita | Add to Goodreads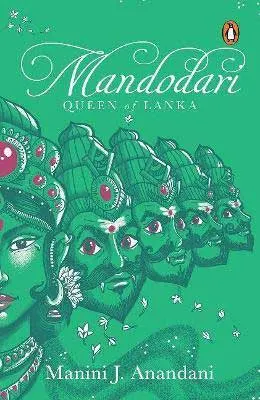 4. Mandodari: Queen of Lanka by Manini J. Anandani
In The Ramayana, Mandodari is the demon king Ravana's wife and has little to do with the story — though some versions have her playing a slightly larger role regarding Hanuman.
Equally, Ravana and the Asuras are painted entirely as evil.
However, in Mandodari: Queen of Lanka we get to see what was really unfolding in the kingdom of Lanka from Mandodari's strategic point of view.
She shares the decisions that lead to Sita's kidnapping by Ravana, and ultimately the war that destroyed Lanka – or did it?
Mandodari: Queen of Lanka is a light and quick read. Find a great intro into the story of The Ramayana perfect for those who enjoy books on Indian mythology with a feminist twist.
As Lanka is a fortified island, this is also a great book for anyone who loves reading books set on islands. Buy a copy of Mandodari: Queen of Lanka | Add to Goodreads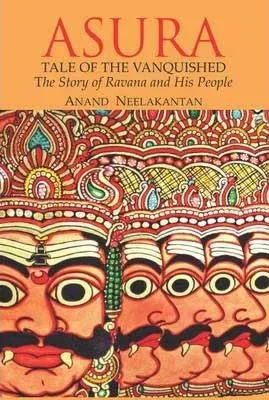 5. Asura: Tale Of The Vanquished by Anand Neelakantan
Touted as being The Ravanayana (the untold story of Ravana), Asura: Tale Of The Vanquished is The Ramayana from the point of view of Ravana and the Lankans.
The story paints an entirely different view of those, who with time, have become one-note villains.
The book opens with Ravana dead, contemplating his funeral and remembering his final battle with Rama.
From there the book jumps back and forth in time with Ravana recalling his unhappy and impoverished childhood, and his growing rage at non-Asuras.
This is one of the most controversial Indian mythology books as it is highly critical of the caste system, and particularly those at the top of it. Buy a copy of Asura: Tale Of The Vanquished | Add to Goodreads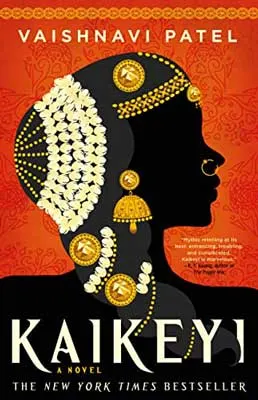 6. Kaikeyi by Vaishnavi Patel
One of the best new 2022 books on Indian mythology, don't miss this feminist Ramayana retelling full of two-faced gods and mortals.
The story follows Kaikeyi, one of Rama's three mothers, beginning with her upbringing in Kekaya.
Mysteriously abandoned by her mother and raised by a father who scorns all women, Kaikeyi is determined to change the narrative, especially since the Gods do not hear her prayers.
Kaikeyi defies society's imposed gender norms, learning to drive a chariot and throw a spear.
As she becomes Dasharatha's youngest bride, she must find her place in this new home, building (and destroying) relationships with her magical powers.
Forming a Women's Council, Kaikeyi subtly changes the lives of women, but she cannot help feeling as though she's failed her own sons, husband, and kingdom in her godly defiance.
Plus, there's her interesting relationship with Ravana.
This epic story will leave you in tears, and every chapter is utterly engrossing.
Watch in awe as this once-overlooked princess transforms into a powerful and soon-to-be hated mother, deadly warrior, kind sister, and smart leader.
We are thrilled to hear her side of the story, and named Kaikeyi one of our top books from 2022.* Buy a copy of Kaikeyi | Add to Goodreads
Join The Uncorked Reading Challenge Today
---
Travel around the world with the Uncorked Reading Challenge. Get the best book and movie recs straight to your inbox. Sign Up Now.
Indian Mythology Books Based on the Mahabharata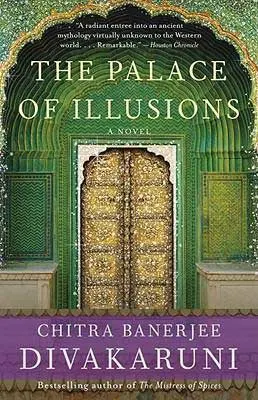 7. The Palace of Illusions by Chitra Banerjee Divakaruni
The Palace of Illusions is one of the most well-known Indian mythology books and is also one of the most accessible to those unfamiliar with the stories.
This beautifully written story is told from the point of view of Panchaali (normally called Draupadi in The Mahabharata).
Panchaali is the wife of all five Pandava brothers and is often blamed for inciting the entire Kurukshetra War.
The book follows her entire life – from her birth through fire, her childhood friendship with Krishna, her marriage to the Pandavas, the war, and the aftermath.
The Palace of Illusions is perfect for anyone who loves reading about strong women in historical fiction books. Panchaali is a brilliant and fierce warrior in her own right.
Hers is a story full of lust and vengeance, that also brings the history of India and women's places in it to light. Buy a copy of The Palace of Illusions | Add to Goodreads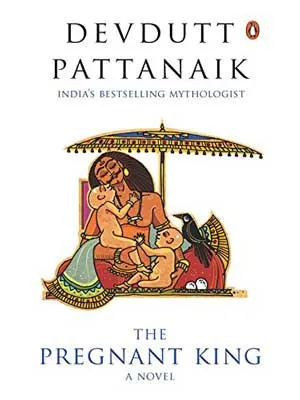 8. The Pregnant King by Devdutt Pattanaik
One of the lesser-known stories of The Mahabharata is that of Yuvanashva, the childless king.
One day, he accidentally drinks a potion that was intended to make his queens become pregnant and bear him children. Unfortunately, this leads to Yuvanashva giving birth to a son by himself.
This throws many assumptions into question. Things grow even more complicated when Yuvanashva successfully has another child with one of his wives.
Is Yuvanashva still a king, or is he now technically a queen since he has given birth? Is he a mother, or a father? And how should his new child see him?
This is one of the best books on Indian mythology to deal with gender fluidity, including the way Devdutt Pattanaik covers the story of Shilavati — who is withheld from attaining kingship because she is a woman.
Then, there is that of Arjuna, the castrated warrior forced to masquerade as a woman, and Ileshwar Mahadev, a god by day and a goddess by night. There are many more, too.
At every turn, the concept of gender is explored and scrutinized, especially in regards to its relationship with the ability to rule. Buy a copy of The Pregnant King | Add to Goodreads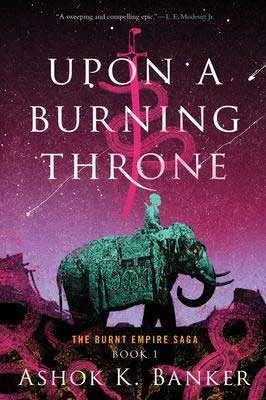 9. Upon a Burning Throne by Ashok K. Banker
When the Emperor dies, the Burnt Empire is left without a ruler. Among those in contention for the now-vacant highest position in the land, are his sons: Adri and Shvate.
But a bloodline bond does not mean a guarantee; those who would be Emperor must pass the Test of Fire and sit on the Burning Throne without being incinerated by its dark magics.
Both survive, but so too does another – a girl from another kingdom, whose father is the demonlord Jarsun.
All too soon, war has begun, as Jarsun threatens to destroy the Burnt Empire and leave whoever is left standing in only ruins.
This is the first in a series of Indian mythology books that form an epic story – The Burnt Empire Saga – and as such, involves a plethora of characters.
This also means the story comes with multiple narrators. Oftentimes, the shift in perspective can be a little jarring for those not yet accustomed to the common style of such tales.
It's easy to get lost if you miss the fact that years have passed between the narrated sections, for example. But keep on top of that, and you should be good to go. Buy a copy of Upon a Burning Throne | Add to Goodreads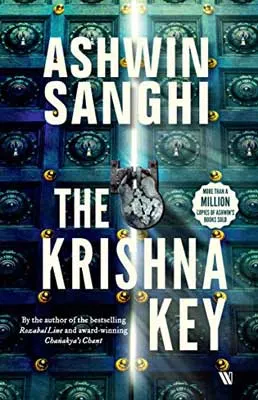 10. The Krishna Key by Ashwin Sanghi
This Indian mythology book takes a sidelong approach to the telling of The Mahabharata by using the medium of the thriller novel.
Our protagonist for this outing is Professor Ravi Mohan Saini, a historian frantically trying to find an ancient artifact that will prevent both a catastrophe and also a huge miscarriage of justice.
Along the way, he uncovers hidden truths about a young serial killer who believes that he is the final avatar of Lord Vishnu and kills with seemingly divine purpose.
There are those who believe Ashwin Sanghi to have a similar literary approach to Dan Brown, author of The DaVinci Code and other historical thrillers. Read into that what you will.
The Krishna Key, while not perhaps being Sanghi's best novel, is certainly one of the better Mahabharata-based murder mysteries available.
Fans of that genre who also enjoy well-researched history will find much to be happy about in these kinds of Indian mythology stories.
Sanghi parallels The Mahabharata while sending his characters on a journey of research and discovery at breakneck speed. Buy a copy of The Krishna Key by Ashwin Sanghi | Add to Goodreads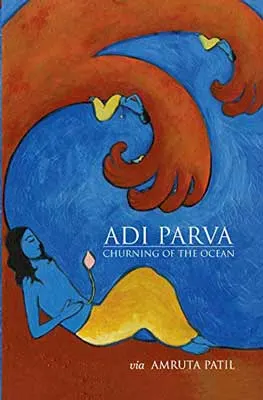 11. Adi Parva: Churning of the Ocean by Amruta Patil
If you prefer your myths in picture book form (and really, don't we all?), then this stunning graphic novel by Amruta Patil will become your go-to Indian mythology book.
However, the novel will be difficult to wrap your head around without some prior knowledge of at least The Mahabharata, if not other mythical beings from the Hindu god stories.
Adi Parva is a beautiful feast for the eyes, told from the River Ganga as she retraces moments in all of India's history. She starts with the river's creation by the Vedas, leading up to the beginning of The Mahabharata and the Kurukshetra War.
This is the first in a duology. The sequel Sauptik: Blood and Flowers, is just as good, if not better. Buy a copy of Adi Parva: Churning of the Ocean | Add to Goodreads
Other Indian Mythology Books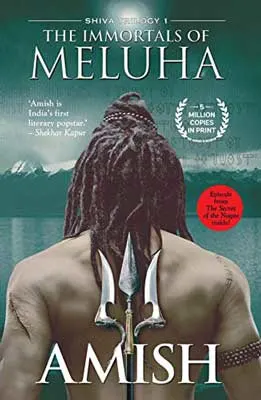 12. The Immortals of Meluha by Amish Tripathi
A crisis is building in the near-perfect empire of Meluha. The Saraswati river, which supplies Meluha with its primary water source, is drying up.
To make matters worse, the nation is being attacked by the Chandravanshis, a legendary warrior-ruling caste said to be descended from moon-related deities.
The Chandravanshis have also allied themselves with the cursed Nagas, who bring even more peril with their devastating martial prowess.
In this time of need, surely a hero will come forth to prove the old prophecy true and save the empire?
Yes! For the people of Meluha, that hero is Shiva, chief of the Guna tribe. But is Shiva really the hero they need? And does he want to be the hero at all?
Indian mythology stories are often epic in nature, and The Immortals of Meluha is no exception.
Trials of love, death, destiny, duty, and heroism are here to be enjoyed, with fierce battles and explosive plot twists to keep readers on their toes. Buy a copy of The Immortals of Meluha | Add to Goodreads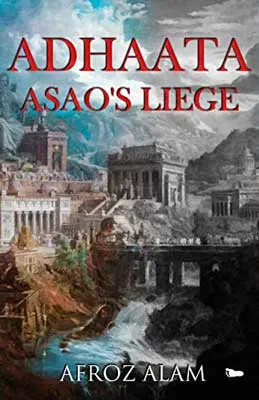 13. Adhaata Asao's Liege by Afroz Alam
Adhaata Asao's Liege will feel familiar to fans of Indian mythology books (for example, you'll meet an avatar of Vishnu), but is set in its own, unique fantasy world.
Even those well versed in Hindu mythology, won't know what's coming!
The book opens with five friends, merchants, returning home from a long journey. They hope to make it to the city of Kushlam before nightfall.
With the rain approaching, they make the decision to head up into the mountains rather than across the open plains.
However, no one who has entered the mountains has ever returned… Buy a copy of Adhaata Asao's Liege | Add to Goodreads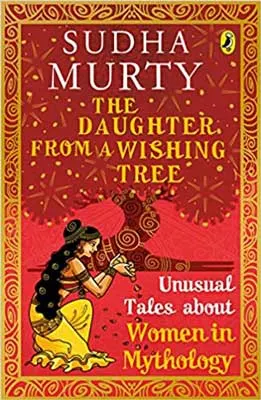 14. The Daughter from a Wishing Tree: Unusual Tales about Women in Mythology by Sudha Murty
Sudha Murty has a series of books that are each a collection of Hindu god stories with a theme.
The Daughter from a Wishing Tree is my favorite of the series so far as women are so often relegated to the background in these myths.
The book starts with a few of the more well-known goddesses, such as Saraswati and Lakshmi, but also introduces readers to lesser-known deities like Ashokasundari and Amba.
And, even amongst the more well-known goddesses, Murty brings to life some of their lesser-known exploits.
These collections are a great introduction to different Hindu gods and goddesses, or anyone interested in reading more Indian mythology stories.
The stories also have beautiful accompanying illustrations to help tell the story – and remember who is who. Buy a copy of The Daughter from a Wishing Tree | Add to Goodreads
You may also enjoy The Question of Red by Laksmi Pamuntjak, a saga set in Indonesia based on the story of Amba from the Mahabharata.

Read more on our books with a color in the title reading list.
Save The Best Indian Mythology Books & Hindu God Stories For Later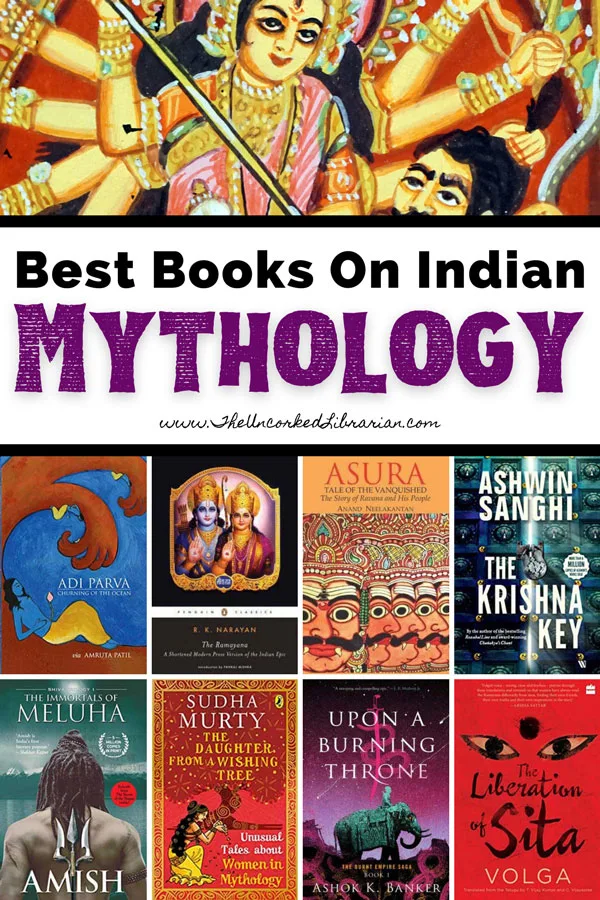 Grab your favorite books on Indian mythology here:
Thank you to TUL contributor, Dagney McKinney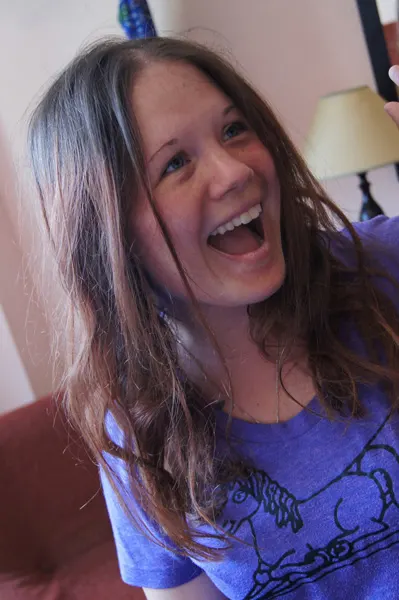 Dagney (pronouns: any) is a neurodivergent writer who loves all things macabre and weird. She likes outrageously spicy food, long walks through graveyards, and historical tangents. You'll most likely find her wandering around somewhere quiet or underground, buying salt, or whispering to camels.
What are your favorite books on Indian mythology?
Have you read any of these Indian mythology stories? What is your favorite Indian mythology book? Let us know in the comments.
Keep Reading Around The World:
Fantastic Books About & Set In India
Travel To The Philippines With These Books
Thai Books
Japan-Set Books
Books Across Asia
Or, watch the best movies about India.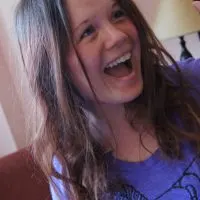 Dagney (pronouns: any) is a neurodivergent writer and book nerd who is drawn to all things weird and macabre. She also loves anything to do with fast cars, unhinged anti-heroes, and salt. When she isn't working or reading, you're likely to find her eating Indian food, playing board games, or hiding out somewhere dark and quiet, stuck down an internet rabbit hole. The easiest way to win her over is through cats and camels.