10 Great Books About Thailand
Travel to Asia with the best books about Thailand. These Thai books are sure to teach you more and take you there.
If you are traveling via plane or armchair, which books on Thailand should you read before your trip?
Below, find translated Thai books, riveting short story collections, and more personal nonfiction books about Thailand.
Some will inform you about current and past issues within the country. Others will make you think more deeply — days after finishing the last chapter.
Many of these Thailand books will talk about overcoming hardship or finding a new way to live and enjoy life. Explore themes of family and religion too.
Plus, find books set in Thailand for mystery and historical fiction lovers along with travelers desiring more authentic experiences.
So, what are the best books about Thailand to enhance your next trip or remind you of your last visit? Let's get started.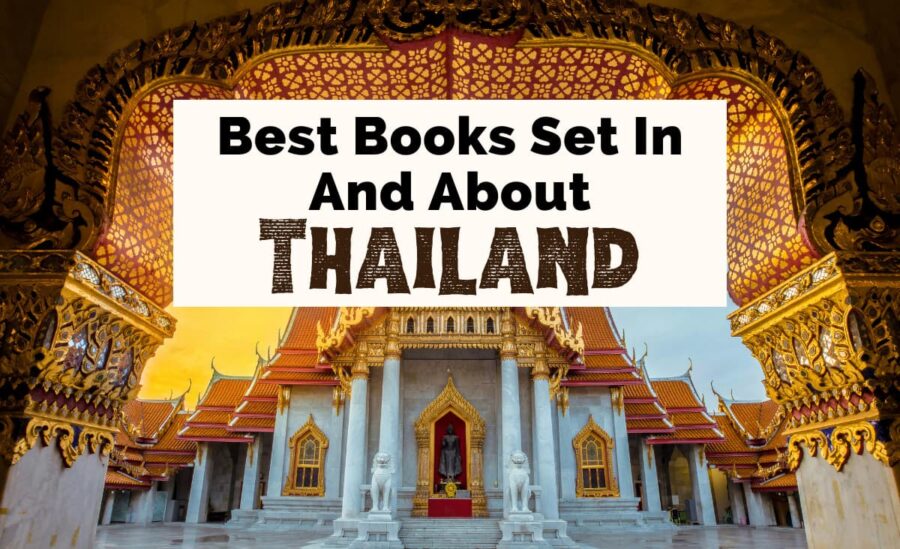 Grab your favorite Thailand books here:
10 Best Books About Thailand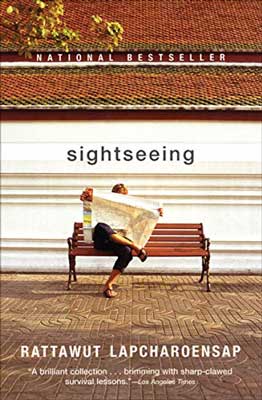 1. Sightseeing by Rattawut Lapcharoensap
One of my all-time favorite books about Thailand, Sightseeing is the kind of short story collection that crawls inside of you and stays long after you've finished reading.
The writing is captivating and made even more impressive by the fact that it was written when the Thai-American author was just 25.
The seven short stories in this collection are about complex relationships and highlight the intricacies of Thai life without the fetishization so common in books about Thailand.
Many of the stories are about issues that exist within Thailand, such as the impact of Westernization and xenophobia, toxic masculinity, poverty, and familial responsibility.
If you only read one of these Thai books, please make it this one.
Read Sightseeing: Amazon | Goodreads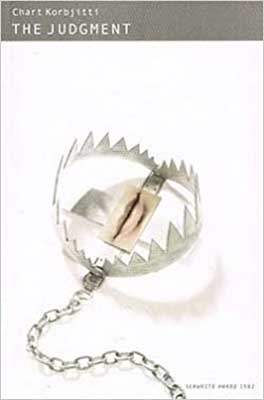 2. The Judgment by Chart Korbjitti
In rural central Thailand in the 1980s, main protagonist Fak works as a janitor at a temple school.
Although he had a promising future as a monk, Fan removed himself from the religious path he was on in order to better support his aging father.
When the old man dies, Fak finds himself sharing his living space with his father's widow.
However, despite keeping to himself and maintaining a respectful distance, gossip and discussion in the town begin to turn public opinion against Fak.
Facing an increasing amount of unjust animosity, while others who are actually behaving badly are flourishing, Fak takes refuge in any means of escape he can find, even if it means self-destruction.
As one of the highest-regarded satirical novels about Thailand, The Judgment stands as an indictment of modern society.
This is a depressing yet poignant exploration of how incorrect public opinion can raise up or destroy a person entirely from beyond their control.

Read The Judgment: Amazon | Goodreads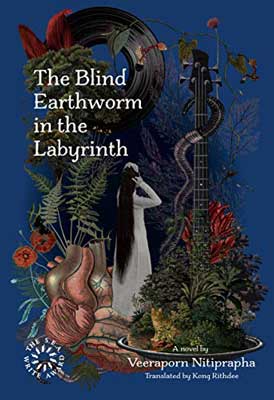 3. The Blind Earthworm in the Labyrinth by Veeraporn Nitiprapha | Translated by Kong Rithdee
Charreya and Chalika are two sisters living on the outskirts of Bangkok.
Since the tragic early deaths of their parents – from heartbreak and insanity borne of jealousy respectively – the girls have been raised by their eccentric uncle.
As they spend their time amid romance novels and flights of fancy, they both befriend the young orphan boy Pran.
Together, the three friends grow up with increasingly unrequited feelings and frustrations, eventually finding out just how difficult it can be to escape the mundane and suffocating "labyrinth" of their daily lives.
Veeraporn Nitiprapha's evocative novel is based on popular Thai soap operas, but here she has taken things to a heightened, almost surrealist level.
Unlike many of the scripts of the soap operas she is referencing, books about Thailand such as this are full of beautifully lyrical prose.
Nitiprapha's vivid descriptions of everyday life in Thailand are strong enough to make you believe that you've been there yourself.

Read The Blind Earthworm in the Labyrinth: Amazon | Goodreads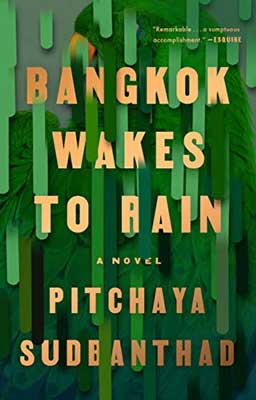 4. Bangkok Wakes to Rain by Pitchaya Sudbanthad
In a series of vignettes that span a period of centuries, author Pitchaya Sudbanthad paints a vibrant picture of Bangkok through the eyes of its inhabitants.
During the course of its non-linear narrative, we follow a number of different characters.
There is the 19th-century missionary doctor, who misses his New England home as he attempts to treat victims of cholera. Following WWII, a society woman becomes heavily immersed in her new familial role.
Later, an aging jazz pianist is hired to play music for ghosts, and we even take a glimpse into a possible future, with tourists visiting now-flooded landmarks that the city has forgotten.
Throughout all of this, the stories of these seemingly disparate people are linked through various narrative devices – including, at one point, an interlude narrated by birds.
If you're looking for some books on Thailand that lean more towards the cerebral, then Bangkok Wakes to Rain should be high on your list.

Read Bangkok Wakes to Rain: Amazon | Goodreads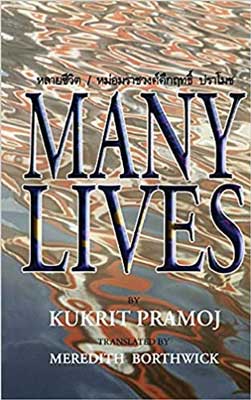 5. Many Lives by Kukrit Pramoj | Translated by Meredith Borthwick
During a stormy crossing from Ban Phaen to Bangkok, a ferry capsizes and 11 passengers drown.
From this one tragic event, author Kukrit Pramoj then delves into the lives of those passengers. Encounter eleven different studies of their individual circumstances, revealing their hopes, dreams, failings, and beliefs.
The strength of the character development alone makes this one of the best Thai books available.
Pramoj based the concept on his own personal experience of a similar tragic event when he witnessed a bus accident that resulted in the deaths of almost all of the passengers.
This terrible experience led him to wonder about the differences between a group of people who are seemingly only connected by one single – albeit final – moment.
However, even with an ensemble group of characters, we are given a full and well-defined picture of every one of them as well as a look into what potential forces might have brought them together.
Discover even more books about shipwrecks to read.
Read Many Lives: Amazon | Goodreads
Take The Uncorked Reading Challenge!
Travel around the world with our Uncorked Reading Challenge. Never be late to the party with unique new book releases. Get the latest movie and book lists straight to your inbox.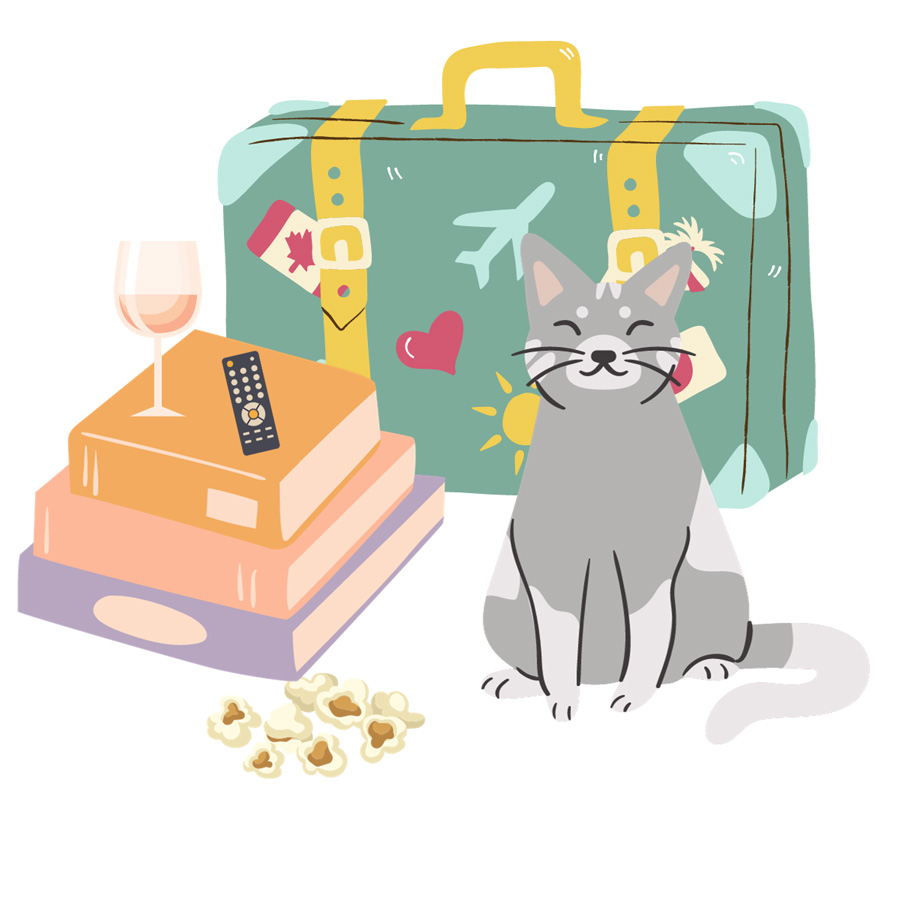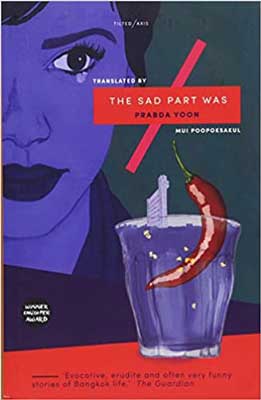 6. The Sad Part Was by Prabda Yoon | Translated by Mui Poopoksakul
This collection of post-modern short stories is one of the most metafictional books about Thailand on this list.
With stories that blur the boundaries of possibility, unusual uses of punctuation, and even a fourth-wall break where the author addresses the reader directly, this is a literary oddity in a good way.
The stories in this collection feel fresh and innovative, with different writing techniques giving energy to places the reader might not have expected.
In addition to this, the translation into English has managed the rare feat of bringing much more of the lyrical quality of the original Thai language than is usually achieved.
However, be wary of looking for a definitive meaning for these stories. Author Prabda Yoon writes with a deliberately ambiguous intention much of the time.
The reader is invited to interpret many of the cryptic or abrupt endings that can be found in this most idiosyncratic of Thai books.
Just let it wash over you, and draw your own conclusions.

Read The Sad Part Was: Amazon | Goodreads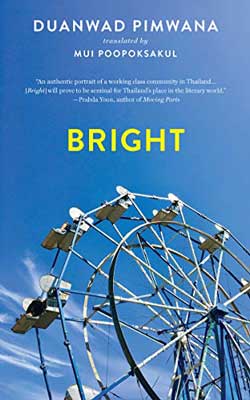 7. Bright by Duanwad Pimwana | Translated by Mui Poopoksakul
When Kampol's father tells him to go and wait for him by an old tenement building, he dutifully does so, despite his confusion.
He waits, and waits, and eventually is given food and a place to sleep for the night by generous residents of the building. Unfortunately, Kampol's father is never coming back.
Having been abandoned, Kampol now becomes part of the community that lives in the building. By finding and working odd jobs, he is able to gradually find his way through life, day by day.
He makes friends, searches for lost coins, raises crickets, and battles loneliness in a series of vignettes that range from melancholic to joyful.
Of all the books about Thailand, this coming-of-age story was the first-ever Thai novel by a woman to appear in English translation.
Author Mui Poopoksakul draws you in with her descriptions and characterizations that are so well written, you will feel like you've lived in the apartment building right along with Kampol.
Bright is definitely one of the best books set in Thailand you can find.

Read Bright: Amazon | Goodreads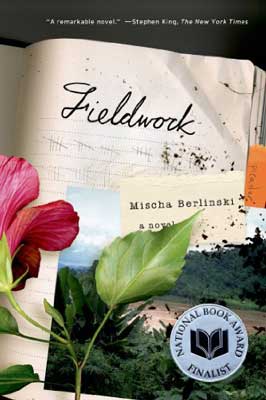 8. Fieldwork by Mischa Berlinski
In a Thai prison, Dutch-American anthropologist Martiya van der Leun commits suicide. She was in prison for murdering a missionary and was serving a 50-year sentence.
When slacker American journalist Mischa Berlinski (a fictional version of the author) hears about the story from his friend, he is finally motivated to write something more than the bare minimum.
This brilliant murder mystery – a whydunnit rather than a whodunnit – takes readers on a journey through rural Thailand.
As Mischa digs into both Mariya and her victim's past, he becomes obsessed with the story and everything he uncovers.
Fieldwork is one of the most unique books about Thailand with beautiful descriptions of the country and important discussions around missionary work, anthropology, and expats. It is not one you will soon forget.

Read Fieldwork: Amazon | Goodreads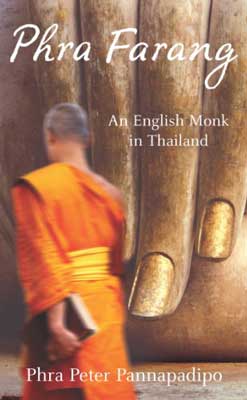 9. Phra Farang: An English Monk in Thailand by Phra Peter Pannapadipo
I was raised in an eastern philosophy household. And as a kid, I read a lot of books about religions like Hinduism, Taoism, and Buddhism.
Phra Farang was one of those, and I remember quite enjoying this one.
It definitely won't be for everyone as there's a heavy focus on Buddhism, but there are also lots of unique insights into Thai culture and life.
At 45, Peter Robinson was a successful businessman in London, wrapped up in the exhausting rat race and seeking something more in life.
After the sudden death of his equally driven older brother, Peter realized that he could be next. He begins making preparations to join a Thai monastery and walk away from his old life.
In this memoir, Peter reflects on his ten years as a phra farang (foreign monk) in Thailand as he navigates both Thai and Buddhist culture as an outsider.
If you're interested in picking up books set in Thailand that center on Buddhism, this is a funny and frank book about being a farang in Thailand while trying to be a better person.

Read Phra Farang: Amazon | Goodreads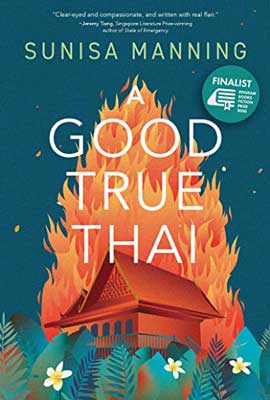 10. A Good True Thai by Sunisa Manning
Set during the 1970s protest movement, one of the most politically tumultuous periods for the country, A Good True Thai is one of the best books on Thailand for historical fiction lovers.
The book is told from the point of view of three university students: Det, Chang, and Lek.
These three perspectives couldn't be more different. Det is descended from royalty, while his best friend Chang is from the slums, and their love interest, Lek, is a Chinese immigrant.
Together these three friends must safely maneuver through an ever-changing political landscape as they examine their own beliefs and politics.
However, while the book is about an interesting period in history I knew very little about, I was disappointed by the focus on the love triangle over the history.
But, I am not a romance person. If this doesn't bother you, and the period sounds interesting, it's worth a read.
Read A Good True Thai: Amazon | Goodreads
If you love traveling to Thailand via armchair, try…
Along with reading, if you love movies, you might scream over these top Thai horror films. Many Thai horror movies are based on famous folklore and legends. Head into haunted mansions, and see if you can tell the difference between what is real and imagined.
Grab your favorite Thailand books here:
What are your favorite books on Thailand?
Which Thai books do you love? What other books set in Thailand should we read? Please let us know in the comments.
Head here next:
This reading list was also part of our 2022 Uncorked Reading Challenge
Save Your Favorite Books Set In Thailand For Later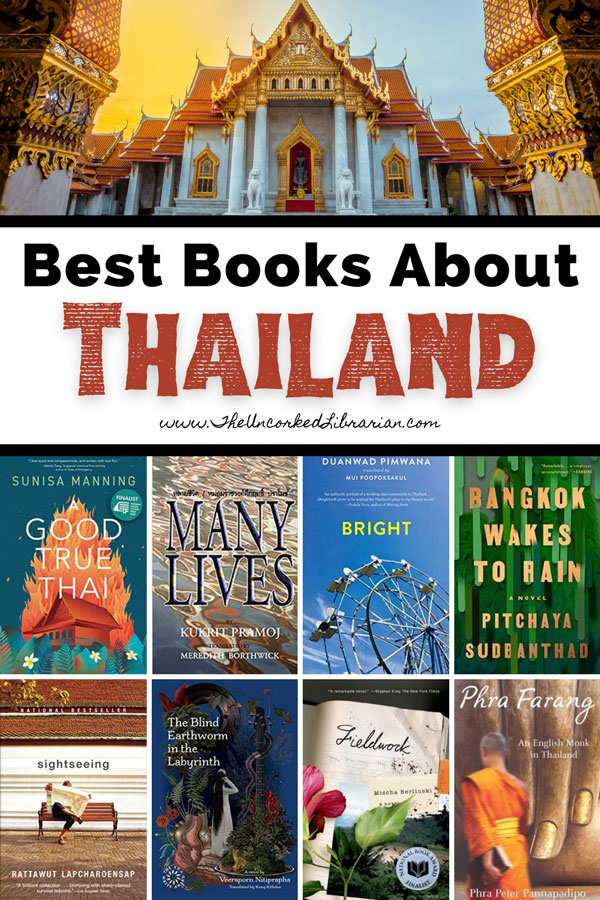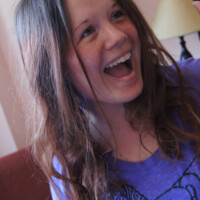 Dagney (pronouns: any) is a neurodivergent writer and book nerd who is drawn to all things weird and macabre. She also loves anything to do with fast cars, unhinged anti-heroes, and salt. When she isn't working or reading, you're likely to find her eating Indian food, playing board games, or hiding out somewhere dark and quiet, stuck down an internet rabbit hole. The easiest way to win her over is through cats and camels.