19 Best Books About Sri Lanka
Travel across Asia with the best books about Sri Lanka to take you there and teach you more.
What Sri Lanka books should you read before going? Who are must-read Sri Lankan authors?
Below, uncover some of the best Sri Lankan books – both fiction and nonfiction – that will teach you more about Sri Lanka's tumultuous history.
Read about times of civil war and colonialization as well as everyday meditations on identity, race, and family.
Travel across the country with a local, soaking in the beauty of the landscape and its people juxtaposed with corruption and war.
Then, discover some of the best Sri Lankan novels sure to transport you there, including murder mysteries, wedding thrillers, and even middle-grade adventure books.
Many of these titles will make you think more deeply, bring tears to your eyes, and offer hope and inspiration in the most trying of times.
So, what are just a few great books set in Sri Lanka that we recommend?
Let's get started, and be sure to share your favorites in the comments.
Read even more books across Asia.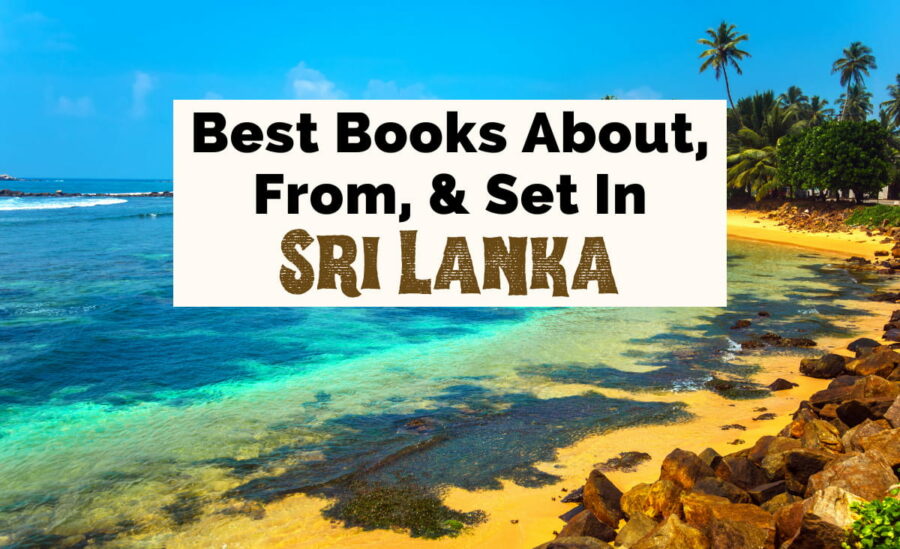 Grab your favorite Sri Lanka books and movies here:
19 Best Books About Sri Lanka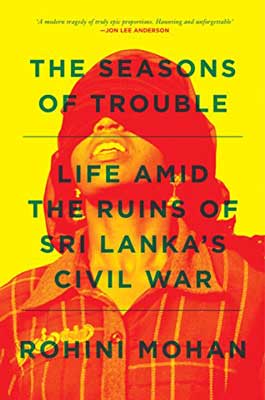 The Seasons of Trouble: Life Amid the Ruins of Sri Lanka's Civil War by Rohini Mohan
Following the three decades of civil war that raged in Sri Lanka over the turn of the millennium, there was supposed to be an era of peace.
However, the momentum of the conflict continued on, causing yet more years of trauma and struggle for many.
Three of those people are the subjects of author and journalist Rohini Mohan's The Seasons of Trouble, one of the most brutal yet beautiful books about Sri Lanka.
Young Sarva is forcibly taken from the streets by state forces and tries to flee the country in a desperate attempt for asylum somewhere else.
His mother, Indra, is left to wade through the red tape of the post-civil war Sri Lankan bureaucracy in an attempt to find out what happened to him.
And Mugil, a former child soldier, decides to return home to the village of her youth and try to find a normal life there.
The Seasons of Trouble is one of the most movingly empathetic books set in Sri Lanka written in recent times.

Read The Seasons of Trouble: Amazon | Goodreads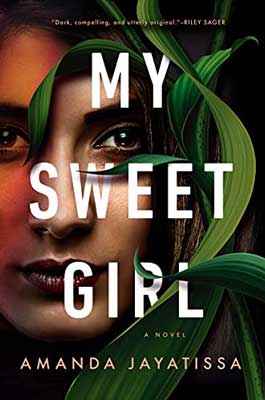 My Sweet Girl by Amanda Jayatissa
One of the more recent books about Sri Lanka shows a (hopefully) new trend in Sri Lankan literature in this debut novel.
Since leaving her days at a Sri Lankan orphanage behind, Paloma has been living the American Dream.
She's had excellent schooling and plenty of disposable income from her perfect Californian parents, but the bubble had to burst eventually.
When she essentially gets cut off, Paloma needs to make some quick cash, so she sublets her spare room to Arun, a man who recently arrived from India.
Things then get complicated very quickly because Arun does the unthinkable: he discovers Paloma's dark secret and then turns up dead in a pool of his own blood.
Is Paloma safe because the secret remains once again unexposed? Or, is this just the beginning?
This gripping thriller is one of the most suspenseful Sri Lankan novels on this list.
Author Amanda Jayatissa writes plenty of twists and turns to keep the reader guessing, and an atmosphere of paranoia and unease that draws you in and keeps you there.
Discover more fun books set in California.
Read My Sweet Girl: Amazon | Goodreads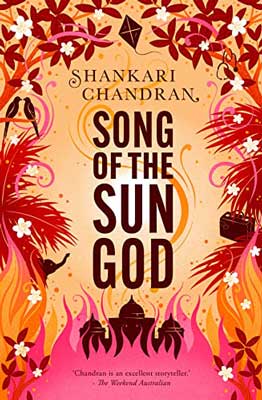 Song of the Sun God by Shankari Chandran
Just as Sri Lanka is about to become independent from British rule, young couple Nala and Rajan are married.
Brought together through arrangement, the two learn to love each other and begin a family.
But as civil war breaks out and racial tensions rise, Nala and Rajan must take increasingly drastic steps in order to ensure their family's survival.
They may be forced to flee their homeland, but Nala and Rajan will make sure that their children will remember their roots and their heritage.
Or at least, the roots that shouldn't be left to history and forgotten.
Song of the Sun God is one of the more epic Sri Lankan books, with a saga spanning three generations across three continents.
Author Shankari Chandran paints a rich picture of life in 20th-century Sri Lanka, with insights into family dynamics, social traditions, local history, and even cuisine.
Read Song of the Sun God: Amazon | Goodreads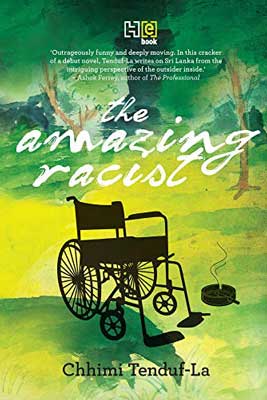 The Amazing Racist by Chhimi Tenduf-La
There aren't many books about Sri Lanka with titles this tongue-in-cheek!
While working in an international school in Colombo, English teacher Eddie Trusted falls for local Sri Lankan beauty Menaka Rupasinghe.
All Eddie wants to do is settle down with his beloved Menaka, but there's one seemingly immovable obstacle in the way: her father, Mr. Thilak Rupasinghe.
Unfortunately, Mr. Thilak Rupasinghe thinks all people like Eddie are bloody colonialists who plundered his Motherland, and he'll be damned if he's going to let one marry his daughter.
He'd rather she marry someone almost identical to her, preferably from the same region.
In order to win him over, Eddie's going to have to sail way out of his comfort zone, into all sorts of unpleasant and questionable situations.
Who'd have thought true love would be so difficult?
With sharp wit, searing awkwardness, and great comic timing, The Amazing Racist is one of the best books set in Sri Lanka for fans of family dynamics and cringe comedy.
Read The Amazing Racist: Amazon | Goodreads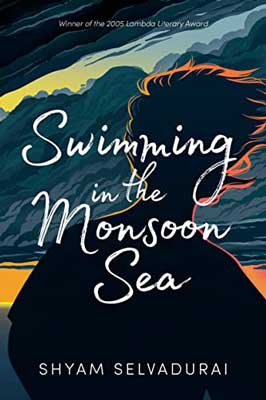 Swimming in the Monsoon Sea by Shyam Selvadurai
It's monsoon season in Sri Lanka; the year is 1980, and 14-year-old Amrith is living with his Aunt Bundle and his Uncle Lucky.
Life in their household is cheerful and pleasant, but Amrith has some dramatic plans. Namely, he wants to appear in his school's production of Shakespeare's Othello.
But even a simple desire such as this can be thrown into turmoil, which in this case happens to take the form of the visiting Niresh.
Like all the girls in his high school, Amrith finds himself swept away by Niresh; he's new, he's charming, he's Canadian, and he's pretty cool.
But eventually, Amrith realizes he might feel more strongly about him than he first thought.
Playing out against the backdrop of Othello – with its themes of jealousy and betrayal – this award-winning LGBT coming-of-age story is one of the best YA Sri Lanka books from a top Sri Lankan author.

Read Swimming in the Monsoon Sea: Amazon | Goodreads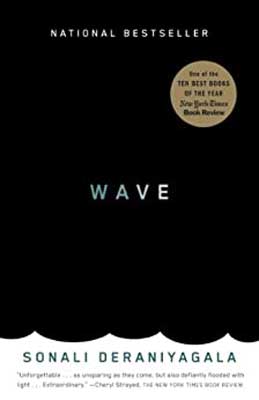 Wave by Sonali Deraniyagala
In one of the bleakest and most moving books about Sri Lanka of recent times, author Sonali Deraniyagala tells of her emotional road to recovery from the loss of her family.
When the tsunami of December 26th, 2004 hit the eastern side of Sri Lanka, Sonali and her family were already trying to escape.
Having noticed the rising sea, she gathered everyone – her husband, her two young sons, and her parents – together, got into a jeep, and was driving away when the wave hit.
When she came to, she was the only survivor.
In the years that followed, Sonali talks candidly about her struggles with suicidal thoughts and self-medication as well as her efforts to keep her family alive in her mind.
This is a difficult and powerful memoir; a study of both grief and love and one of the most emotionally affecting Sri Lankan books ever written.
Discover more nail-biting nonfiction survival books.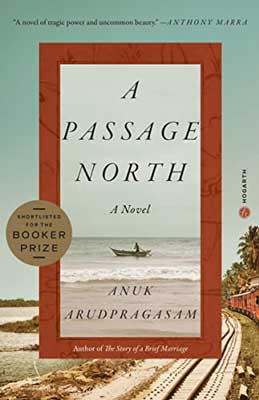 A Passage North by Anuk Arudpragasam
A Passage North is one of the most introspective books about Sri Lanka and delves into difficult topics like trauma, grief, death, family and so much more.
Krishan, a young Sri Lankan Tamil man, is traveling north from Colombo to attend the funeral of his grandmother's caretaker, Rani.
As he travels further north, he is confronted by the effects of the civil war that ravished the Northern Province.
Deeply affected by what he sees, and still processing Rani's death, as well as the recent phone call from an old love, Krishan retreats into himself.
His journey transforms into meditation as Krishan muses on what it all means.
If you're looking for plot-based Sri Lankan novels with lots of action, this won't be for you. But if you love a good literary quandary, read on!
Read A Passage North: Amazon | Goodreads
The Seven Moons of Maali Almeida by Shehan Karunatilaka
Maali Almeida is not having a good day. Because he's dead.
Having woken up in something akin to a celestial visa office, he is distressed by the knowledge that he has no idea who killed him.
The list of possible murderers is worryingly long, especially because Maali Almeida had not lived the conventional life of a Sri Lankan citizen.
He's been a minority in many aspects: in religion as an atheist, in sexuality as a gay man, in hobbies as a high-stakes gambler, and in a profession as an itinerant war photographer.
So many people could have wanted him dead, and he has only seven moons in which to lead those who are still alive to a stash of photos that will shake things up, big time.
Part mystery, part supernatural thriller, part historical drama, this LGBT satire is one of the most interesting books about Sri Lanka on this list.
Read The Seven Moons of Maali Almeida: Amazon | Goodreads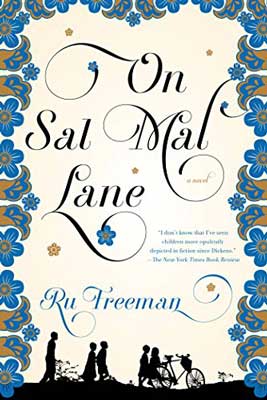 On Sal Mal Lane By Ru Freeman
The residents of Sal Mal Lane are a microcosm of Sri Lanka.
There are people from many backgrounds, ethnicities, social statuses, and poverty levels, and it's in this environment that the Herath family moves at the start of the novel.
While the adults adjust to their arrival, the children simply play together in the quiet street.
But as civil war edges – and then gallops – closer and closer to becoming a reality, their innocence will be one of the many victims of the prejudices and hateful actions of their parents.
There are a host of vibrant characters in this ensemble of protagonists, and author Ru Freeman manages to imbue each one with their own agency, nuance, and weight.
This feat, along with Freeman's rich and evocative prose, makes On Sal Mal Lane one of the top Sri Lanka books.
Read On Sal Mal Lane: Amazon | Goodreads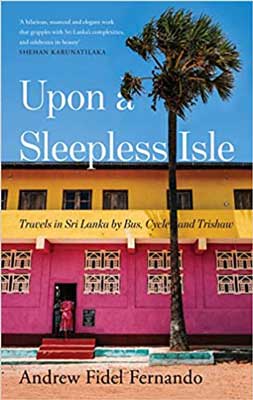 Upon a Sleepless Isle by Andrew Fidel Fernando
As a self-proclaimed combination of "local and tourist" in his own country, author and cricket commentator Andrew Fidel Fernando offers an observant travelog of Sri Lanka.
Traversing mountains and marshlands, paddy fields, and jungles – by way of various standards of hotels – Fernando covers many of the wonders and mysteries this country has to offer.
But he also doesn't shy away from the less amenable aspects of Sri Lanka.
For every escapade involving an eviction from a restaurant, there's a discourse about incompetent bureaucrats and corruption.
You'll be shown both the ancient temples of Anuradhapura and also the aftermath of war in Jaffna.
As Fernando says, all are Sri Lanka.
Told with evocative language and an eye for detail, Upon a Sleepless Isle is one of the perfect nonfiction books about Sri Lanka for anyone who wants to see a unique collage of the country.
Read Upon a Sleepless Isle: Amazon | Goodreads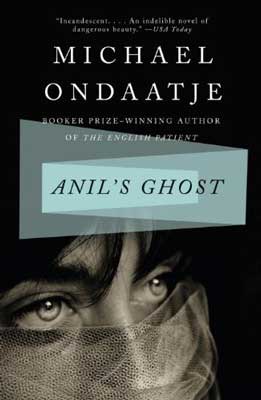 Anil's Ghost by Michael Ondaatje
In one of the more crime-orientated books set in Sri Lanka on this list, we follow the titular Anil Tissera, a forensic pathologist, as she returns to her homeland of Sri Lanka.
It is the 1980s and the Sri Lankan civil war is becoming increasingly more violent with each passing day. Anil has been sent by the United Nations to look into potential war crimes.
That is, until she and her assigned partner, archaeologist Sarath Diyasena, discover some recently murdered skeletal remains inside an ancient burial site.
How did they get there? And why? Together, Anil and Sarath probe deeper into the murdered man's history and why he wound up dead.
But as they try to piece together his identity and what happened to him, Anil herself is forced to grapple with her own fractured sense of self.
Part detective story, part self-discovery, part brutal historical fiction, Anil's Ghost is one of the most beautifully written books about Sri Lanka.
Read Anil's Ghost: Amazon | Goodreads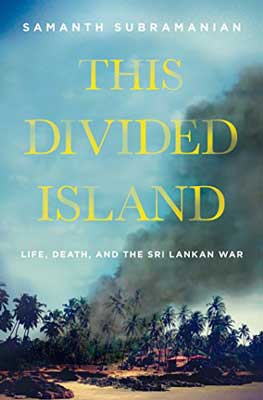 This Divided Island: Life, Death, and the Sri Lankan Civil War by Samanth Subramanian
In 2011, Indian journalist Samanth Subramanian moved to Sri Lanka to research the effects that the civil war – which ended two years prior – had on everyday Sri Lankans.
The result is this amazing narrative nonfiction book that is easily one of the most essential books about Sri Lanka.
Subramanian handles the stories told to him with the utmost care and shares them without any bias or criticism.
Instead, he simply shows us how the war has affected the entire country, and how everyday people's lives were forever altered by the violence.
This Divided Land is the perfect Sri Lankan book for those who want a compulsively readable nonfiction introduction to the country's brutal history.
Discover more books set on islands.
Read This Divided Island: Amazon | Goodreads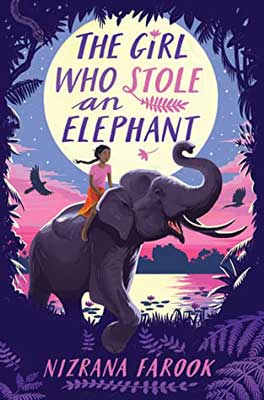 The Girl Who Stole an Elephant by Nizrana Farook
For Chaya, there's nothing better than sneaking into the houses of royalty and nobility and taking a few precious jewels.
After all, stealing from the rich and giving to the poor benefits everyone; she gets something out of it, and so does the community. It's a win-win.
But when Chaya steals some of the Queen's jewels from a bedside table, things take a turn for the worse.
One messy getaway and a prison break later, and suddenly this nobleman's daughter is on the run – on the back of the King's prized elephant, no less.
It's not all bad, though, because now Chaya and her ragtag group of friends are on an adventure!
This charming middle-grade book is one of the most fun Sri Lankan books for the entire family.
Chaya is a likable protagonist, and the lessons she learns on her journey are joined by a good sprinkle of beautiful moments.
Read The Girl Who Stole an Elephant: Amazon | Goodreads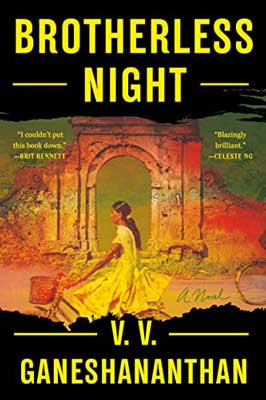 Brotherless Night by V.V. Ganeshananthan
Jaffna, 1981: with a desire to become a doctor, 16-year-old Sashi gets a trial by fire when civil war breaks out across the nation.
Deciding to take action when her four brothers and her friend K get drawn into the conflict, she accepts K's offer to work as a medic for the hardline Tamil Tigers group.
But even though her only wish is to heal, she finds her values and judgment questioned over the course of the next ten years.
Sashi witnesses atrocities on all sides, from the murder of one of her former teachers to the brutal actions of some of the Indian "peacekeepers."
Determined to remain a force for good, Sashi takes a path that could lead to a certain disaster.
Many novels set in Sri Lanka cover their civil war, but author V.V. Ganeshananthan's study of survival – both physical and emotional – delves deeply into the murky waters of morality.
Read Brotherless Night: Amazon | Goodreads
Take The Uncorked Reading Challenge!
Travel around the world with our Uncorked Reading Challenge. Never be late to the party with unique new book releases. Get the latest movie and book lists straight to your inbox.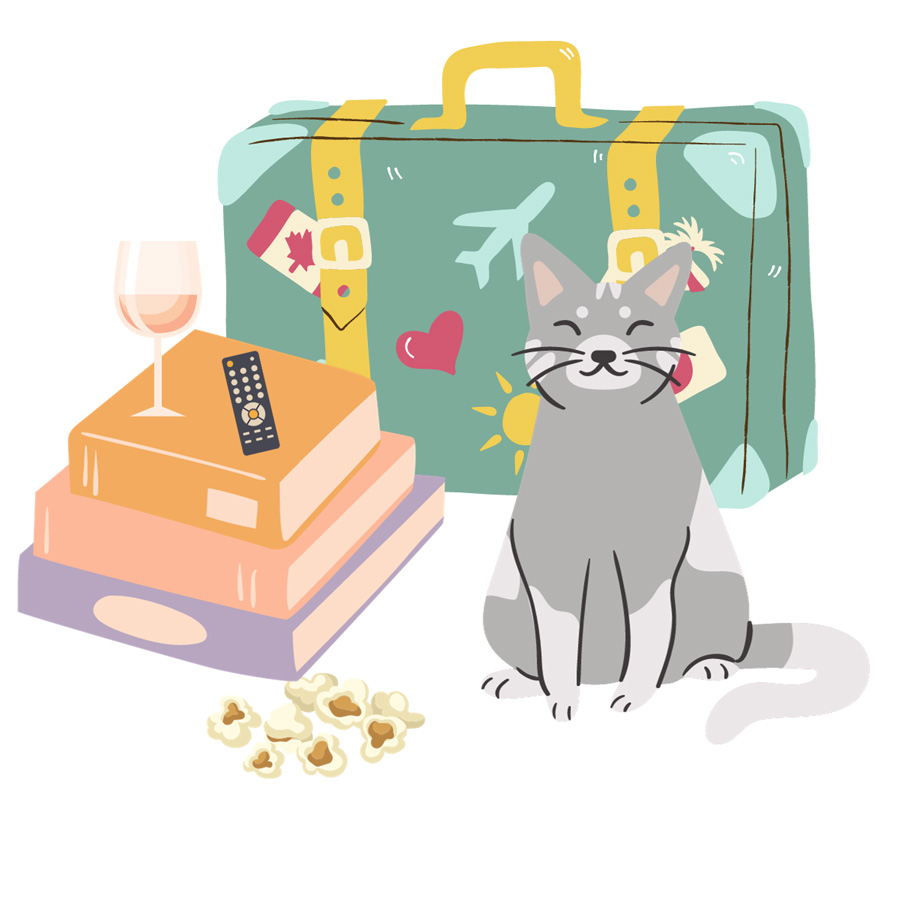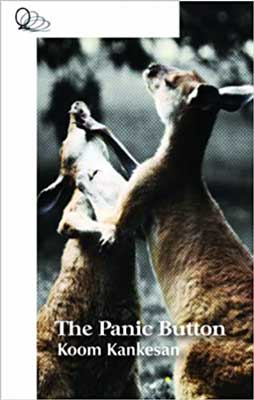 The Panic Button by Koom Kankesan
You wouldn't know it on the face of things but, on the inside, Thambi is at war with himself.
As a native Sri Lankan, he has grown up with an entirely different set of expectations, traditions, and obligations from his now-Canadian peers.
He left one world to join another, and it's causing him a lot of grief.
For one thing, his heart seems to belong to a white Canadian girl he met at work, which is a problem.
To make things even more complicated, he's about to be joined by his father, who's coming over from Sri Lanka after an absence of a couple of decades.
Thambi knows who he used to be – and who he should be – but neither appears to be who he really is.
If you've ever had a crisis of identity, especially if your heritage has clashed with a new culture, The Panic Button will be one of the most relatable Sri Lanka books on this list for you.
Read The Panic Button: Amazon | Goodreads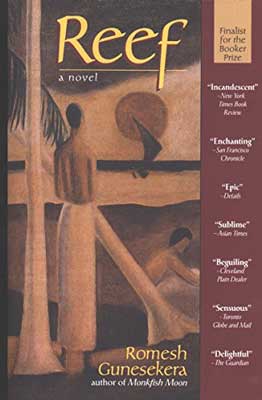 Reef by Romesh Gunesekera
At the young and impressionable age of 11, Triton is taken by his uncle to enter into the service of Mr. Salgado.
Little did he know, it would be the beginning of a long relationship that would shape him as a person.
Mr. Ranjan Salgado, the aristocratic marine biologist, is obsessed with many things: swamps, sea movement, and especially the reef that is gradually disappearing from the surrounding waters of Sri Lanka.
It is impressed upon young Triton that he needs to work hard and do a good job, and in doing so, Triton develops an obsession of his own – keeping his new master happy.
Over the years, as the twentieth century becomes ever more turbulent, Triton remains mostly oblivious, instead concentrating on his improving skills as a house chef.
Told in part in flashback, Reef is an engaging work of historical fiction and is one of the books about Sri Lanka to successfully ride the line between tragedy and comedy.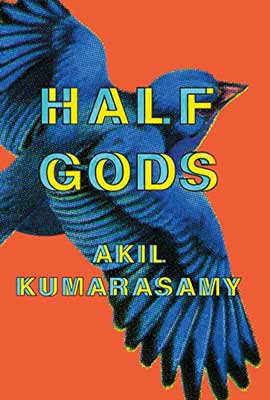 Half Gods by Akil Kumarasamy
In this poetic and inventive short story collection, debut author Akil Kumarasamy brings together ten different interlinking narratives, each with its own surprises.
Spanning borders and boundaries, religions and revelations, we are introduced to two brothers named after demigods from the epic Mahabharata, and their histories and futures.
Following this, we are shown a fractured family grappling with the past, a kind entomologist searching for his son, a baby Muslim girl named after a Hindu goddess, and more.
With each tale, Kumarasamy delves into the themes of hope, family, tragedy, and how each person we know somehow makes us a reflection of them, and vice versa.
Some of these stories are beautiful; some are an emotional punch to the gut. Find out which is which in one of the most remarkable Sri Lankan novels.
Discover more books featuring Indian Mythology.
Read Half Gods: Amazon | Goodreads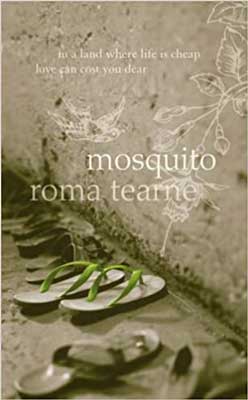 Mosquito by Roma Tearne
Sometimes it seems like the universe itself is determined to keep two people from being together.
That definitely feels like the case in Mosquito, one of author Roma Tearne's more tragic books set in Sri Lanka.
We follow author Theo Samarajeeva, recently a widower who is returning home to Sri Lanka to escape his feelings of loss by losing himself in the beautiful landscape.
What he didn't expect, however, was to find the artistic Nulani, develop a burgeoning friendship, and fall in love again.
But life is unkind to these new lovers, and soon the violence and chaos force them apart, into disastrous and nihilistic situations.
If you're looking for an emotional rollercoaster, this is one of the books about Sri Lanka that won't disappoint.
Read Mosquito: Amazon | Goodreads
More books on Sri Lanka from Christine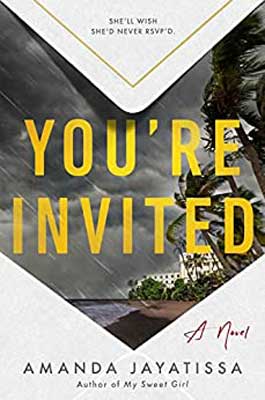 You're Invited by Amanda Jayatissa
One of our most anticipated books of 2022, Amanda Jayatissa's You're Invited is perfect if you are looking for wedding books that aren't all romances.
Imagine that your estranged best friend – Kaavi, who you stalk on social media – is rather suddenly marrying your ex.
Even odder, you are invited to the wedding. Seriously, though, WTF?!
That's just the situation that Amaya finds herself in, and she's understandably confused and upset. Still, Amaya travels to Sri Lanka for the wedding, mostly seeking closure.
When Kaavi goes missing during wedding festivities – and is thought to be dead – her family conducts a private murder investigation. Kaavi is, of course, a likely suspect.
Provocative, suspenseful, and filled with dark humor, You're Invited isn't the most explosive thriller we'd anticipated.
However, for books set in Sri Lanka about dysfunctional families and friendships gone sour, it's a unique and worthy read.
Discover more books about best friends.
Read You're Invited: Amazon | Goodreads
Travel Across Asia With More Book Lists:
Save The Best Sri Lankan Books For Later: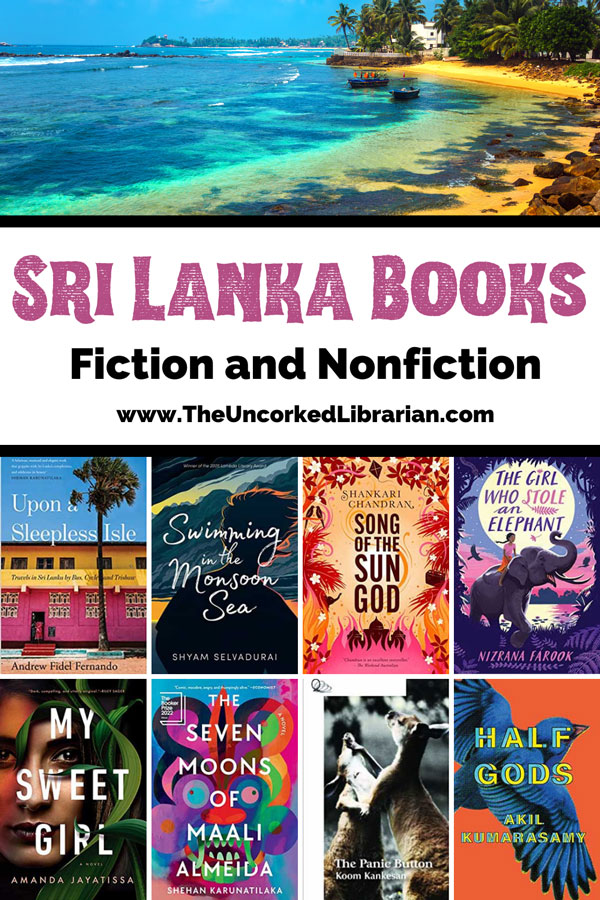 Grab your favorite Sri Lanka books and movies here:
What books set in Sri Lanka do you recommend?
What books about Sri Lanka have taught you more? What books have transported you there? Let us know in the comments.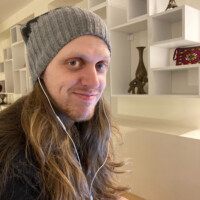 Jeremy (pronouns: any) is an autistic writer, hobbyist, and movie buff, as long as that movie is Labyrinth. Since leaving the corporate world behind in 2018, he has read more books than he thought possible. True to his British upbringing, his first instinct in any given situation is to put the kettle on.