14 Riveting Survival Books To Read
Read the best survival books from around the world – they will have you on the edge of your seat or even on the edge of a mountain.
If books about survival interest you, we have just the reading list to start with.
Below, uncover gripping true stories of survival – whether by plane, boat, or foot; through forests, snowy landscapes, oceans, and mountains.
Find nonfiction survival books about hiking and mountaineering along with camping trips and world record-setting gone dangerously awry.
Watch as adventurous fun turns deadly. The weather can change in a split second. What happens when we are at Mother Nature's mercy?
From shipwrecks and plane crashes to bear attacks and getting lost, explore the best survival nonfiction books that will take you around the world.
Some of these books will teach you more about life and living as well as offer inspiration when you need it the most.
Others will break your heart and examine grief and loss.
Don't forget to share your favorite survival books in the comments. Let's get started!
Grab the best books about survival here:
14 Best Survival Books
By Dagney McKinney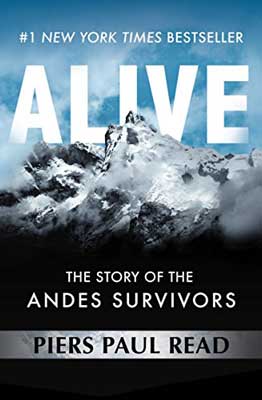 Alive: The Story of the Andes Survivors by Piers Paul Read
Alive is one of the most notorious survival stories of the modern age.
On October 12, 1972, Uruguayan Air Force Flight 571 was transporting 45 passengers over the Andes mountains when it encountered difficult weather.
In the poor visibility, the plane descended too early and hit a mountain, causing it to crash violently into the icy conditions of the other mountains.
The passengers consisted of the Stella Maris College rugby team and a collection of their family members, friends, and supporters. Of the 45, only 16 survived the event.
In the freezing temperatures, the survivors had- for 10 weeks – to rely on the meager supplies of food carried on the plane.
When those ran out, they had to resort to cannibalism of the bodies of those who had died in the crash, who had been preserved in the cold.
Author Piers Paul Read wrote this book as factually as possible, with no eye toward embellishment or fictionalization.
It is still, to this day, one of the bleakest, most emotional, and most powerful nonfiction survival books ever written.

Read Alive: Amazon | Goodreads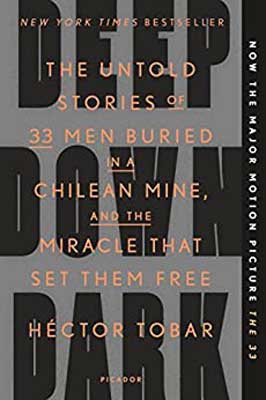 Deep Down Dark: The Untold Stories of 33 Men Buried in a Chilean Mine, and the Miracle That Set Them Free by Héctor Tobar
While working at the San José copper-gold mine in northern Chile on August 5th, 2010, a collapse trapped 33 Chilean miners underground for what would be 69 days.
During the ordeal, the miners retreated to the "safety" of an emergency shelter, just 50 square meters of space containing two long wooden benches.
Those on the surface immediately began a search for those unaccounted for, but for the first 17 days of the search, it was not known for sure that anyone had survived the collapse.
When the trapped miners were eventually discovered, the race was on to ensure their safe return to the surface and to make sure they stayed fit and healthy with limited resources and only narrow access down to their location.
Pulitzer Prize-winning journalist author Héctor Tobar creates an intense atmosphere with well-timed pacing and a present-tense approach to the narrative.
Deep Down Dark will be enjoyed by anyone who loves nail-biting true stories of survival.

Read Deep Down Dark: Amazon | Goodreads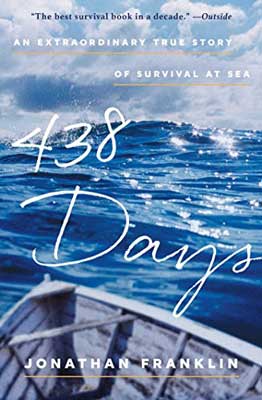 438 Days: An Extraordinary True Story of Survival at Sea by Jonathan Franklin
In November 2012, José Salvador Alvarenga set off on a fishing expedition off the coast of Mexico with an inexperienced sailing mate believed to be Ezequiel Córdoba.
Not long after they set off, a storm lasting for five days set them off course.
Although most of their fishing equipment was lost in the storm, they managed to survive by eating raw fish and drinking their own urine and turtle's blood.
However, after four months lost at sea, Córdoba became ill and died of starvation, having given up hope of rescue and refusing to eat. This left Alvarenga alone with his body.
438 Days is one of the best nonfiction survival books about being lost at sea. It is riveting, and author Jonathan Franklin clearly cares about his subject.
Throughout the book, Alvarenga's love of his home country, El Salvador, shines through.
And, so do his mouthwatering descriptions of his favorite El Salvadoran foods, which he dreams about frequently during his journey.

Read 438 Days: Amazon | Goodreads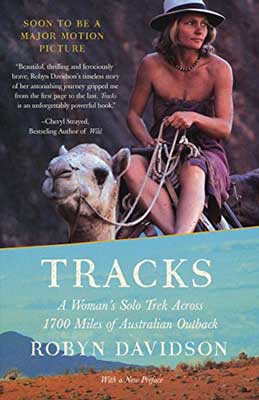 Tracks: A Woman's Solo Trek Across 1700 Miles of Australian Outback by Robyn Davidson
Like many young people in the world, Robyn Davidson wants to travel across the untamed wildernesses of Australia.
Unlike many of these young people, though, Davidson decides to do so by using camels for transport.
Having trained and taken care of camels for two years prior to her planned trip, Davidson sets off from Alice Springs in 1977 toward the Indian Ocean.
Her companions are four dromedary camels and her pet dog, and the journey will end up covering 1700 miles.
In her memoir, Davidson tells of her desert escapades, from the perils of poisonous snakes and runaway camels to the draining frustration that comes from relentless heat and lecherous men.
At three points in her journey, she is met by photographer and on-and-off partner Rick Smolan, who documents her journey for a National Geographic article she is asked to write.
As with many survival books, Davidson's love of the landscape and bravery in adversity comes through very strongly as she makes her long pilgrimage across Australia.
Enjoy even more books about, from, set in Australia.

Read Tracks: Amazon | Goodreads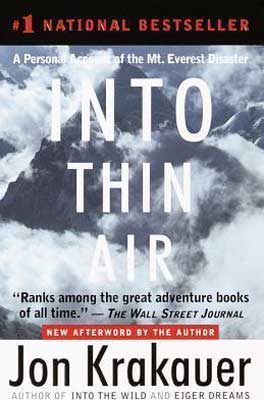 Into Thin Air: A Personal Account of the Mt. Everest Disaster by Jon Krakauer
This account of the events of the 1996 Mount Everest Disaster comes from Jon Krakauer, one of the survivors of the incident in which 8 people die on the mountain in one day.
As a journalist working for Outsider magazine, Krakauer originally plans on going as far as base camp on Mount Everest but later decides to train and ascend to the summit instead.
Krakauer is part of one of two teams that attempt to summit Everest on May 10th, 1996.
But, even though both teams have experienced and seasoned Everest climbers among them, weather conditions force them all into serious trouble.
Krakauer describes the deteriorating situation vividly in his account, which is one of the most dramatic books about survival on Everest ever written.
Author's note: The 1996 Everest Disaster is a special interest of mine, and I've read nearly every book there is about it.
Krakauer's is not necessarily my favorite, but there is no denying that Krakauer can write well and that Into Thin Air is one of the most engaging Everest survival books.
But it doesn't give the full story, and, in my opinion, paints Anatoli Boukreev in a rather unfair light.
If you want both sides, I highly recommend picking up Boukreev's own account, The Climb: Tragic Ambitions on Everest.

Read Into Thin Air: Amazon | Goodreads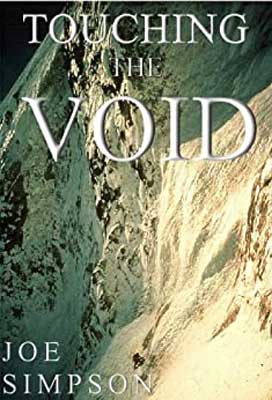 Touching the Void: The True Story of One Man's Miraculous Survival by Joe Simpson
It's 1985 and experienced climbing buddies Joe Simpson and Simon Yates have just completed a treacherous summit of the West Face of Siula Grande.
Before now, this climb has never been completed; but these men have just become the first to achieve the feat.
Sadly, the climber's high doesn't last long because during the descent, Simpson slips on an ice cliff and breaks his right leg.
Unable to climb, Yates has to lower him down on a rope.
However, due to a series of unfortunate events, including inclement weather and Simpson's frostbitten hands, part of the rope slips, sending Simpson over a cliff.
Because their ropes are tied together, Yates cannot proceed without Simpson. However, the fate of his friend is unknown.
Yates makes the impossible decision to cut the rope and save his own life. However, Joe Simpson has indeed survived the 150-foot fall.
With the atmosphere of a tense thriller, Simpson must find a way to drag his crippled and frostbitten body back to base camp.
This is one of the most incredible stories of survival and a must-read for anyone interested in mountain climbing survival books.

Read Touching the Void: Amazon | Goodreads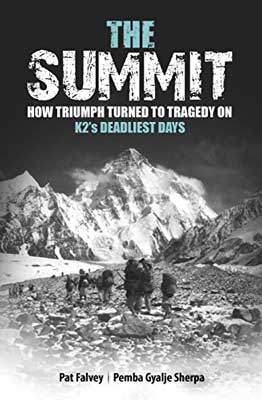 The Summit: How Triumph Turned To Tragedy On K2's Deadliest Days by Pat Falvey and Pemba Gyalje Sherpa
August 1st, 2008: 18 climbers wait for a gap in the weather in order to climb K2 – Everest's smaller yet far more dangerous cousin, and the world's second tallest mountain.
When the miraculous chance arises, the 7 different expeditions agree to join forces and attempt to conquer the immense technical climbing challenges of a K2 summit.
But the weather around K2 is always volatile, and soon the group members are in a fight for survival against the elements.
At the center of their best path to success in making it back down K2 is a group of 6 Nepalese Sherpas, who began a series of attempts to rescue the climbers from the Death Zone in which they have become trapped.
Author Pemba Gyalje Sherpa is one of those rescuers, and his version of events is the most comprehensive account of the incident.
Combining his eyewitness testimony and interviews with the survivors, The Summit is one of the most gripping books about survival ever written about K2.

Read The Summit: Amazon | Goodreads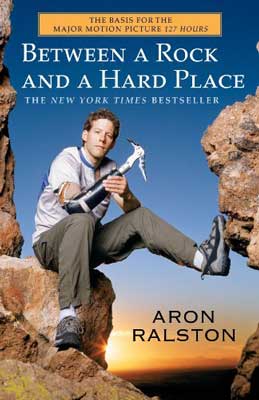 Between a Rock and a Hard Place by Aron Ralston
What starts as a fun hike through the Utah canyonlands suddenly flips into a nightmare for young outdoorsman Aron Ralston.
Having set out on his own into Blue John Canyon on a weekend vacation, and while climbing into a narrow canyon, a boulder he is climbing suddenly shifts and falls, with Aron underneath it.
The boulder traps Aron's arm against the side of the canyon, and he can't move or lift it because it's so heavy. Little does he know, this is the start of a 6-day ordeal.
With very little food and water and no warm clothing for the freezing nighttime temperatures, Aron begins to think that he's going to die in the canyon.
However, there is one way he can escape, but it involves having to use his very blunt pocket knife … and leaving his arm behind.
This almost unbelievable story of determination against the odds is one of the best nonfiction survival books ever written.
Find even more books about hiking and backpacking.

Read Between a Rock and a Hard Place: Amazon | Goodreads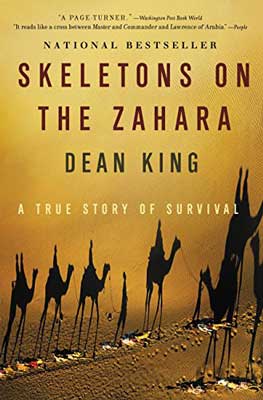 Skeletons on the Zahara: A True Story of Survival by Dean King
In 1815, the US brig Commerce crashes into Cape Bojador (today in modern-day Western Sahara). The ship is destroyed, but Captain James Riley manages to save all of his men onboard.
They make it ashore, happy to be alive. However, they find themselves stranded in a vast desert (the Sahara), without any knowledge of the local language or culture.
To add to their misfortune, they are soon captured by nomads and sold into slavery.
Forced to walk through the inhospitable desert under the harsh sun without food or water, the crew survives through creative yet desperate means; by drinking their own urine (and sometimes camels').
As the group travels seemingly further and further from hope, it falls to Captain Riley to form a plan of escape.
King's book is based on Riley's own survival memoir. If you like shipwreck survival books, or nonfiction historical books, Skeletons on the Zahara will be right up your street.
Uncover more fiction and nonfiction books about ships.

Read Skeletons on the Zahara: Amazon | Goodreads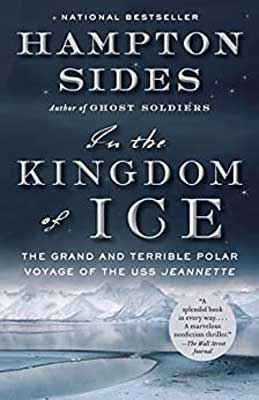 In the Kingdom of Ice: The Grand and Terrible Polar Voyage of the USS Jeannette by Hampton Sides
The Jeanette Expedition sets out in July 1879, captained by a man named George W. De Long.
De Long's mission is to pioneer a route from the Pacific Ocean through the Bering Strait to the North Pole, before sailing the ship to James Gordon Bennett Jr., the owner of the New York Herald.
Unfortunately, things don't go smoothly, and by September 1879, the ship has become stuck in the ice.
It continues to drift through the ice banks for nearly 2 more years (21 months), until June 1881, when the pressure of the ice finally breaches the Jeanette's hull.
Forced to abandon ship with their equipment, the crew has to trek on foot across the Siberian arctic.
This is an incredible shipwreck story and a reminder that there are so many untold true stories of survival out there. We were captivated from start to finish!

Read In the Kingdom of Ice: Amazon | Goodreads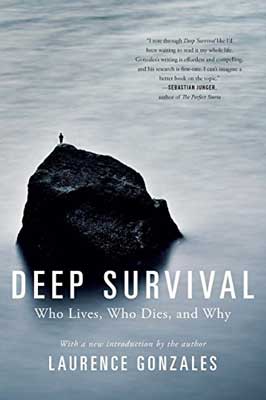 Deep Survival: Who Lives, Who Dies, and Why by Laurence Gonzales
Gonzales has spent his entire life fascinated by the unbelievable true survival stories he hears as a child.
Now an adult, he wishes to understand how these kinds of stories came to be. Or, how it is that some people survived impossible odds, while others did not.
He researches, he interviews survivors, and he asks the questions no one else is asking. Or at least, not the ones they want to.
He revisits many of the stories listed above. Gonzales is driven by one question: Why?
Why does Steven Callahan and Deborah Scaling Kiley survive boating disasters, while the four other people with Kiley all died?
Why is Joe Simpson able to walk away from a 150-foot fall with a broken leg?
Why does Ari Afrizal survive the 2005 tsunami by clinging to a raft stranded in the Indian Ocean for two weeks when so many others in less precarious situations perish?
If this topic fascinates you as much as it does us, then this book needs to be on your reading list.
It will make you look at yourself, and your own reactions to situations – whether you're reading about them in survival books or in a dangerous, real-life emergency.
It might also prepare you for the kind of situation you never want to be in since this book is packed full of survival tips and tricks!

Read Deep Survival: Amazon | Goodreads
Take The Uncorked Reading Challenge!
Travel around the world with our Uncorked Reading Challenge. Never be late to the party with unique new book releases. Get the latest movie and book lists straight to your inbox.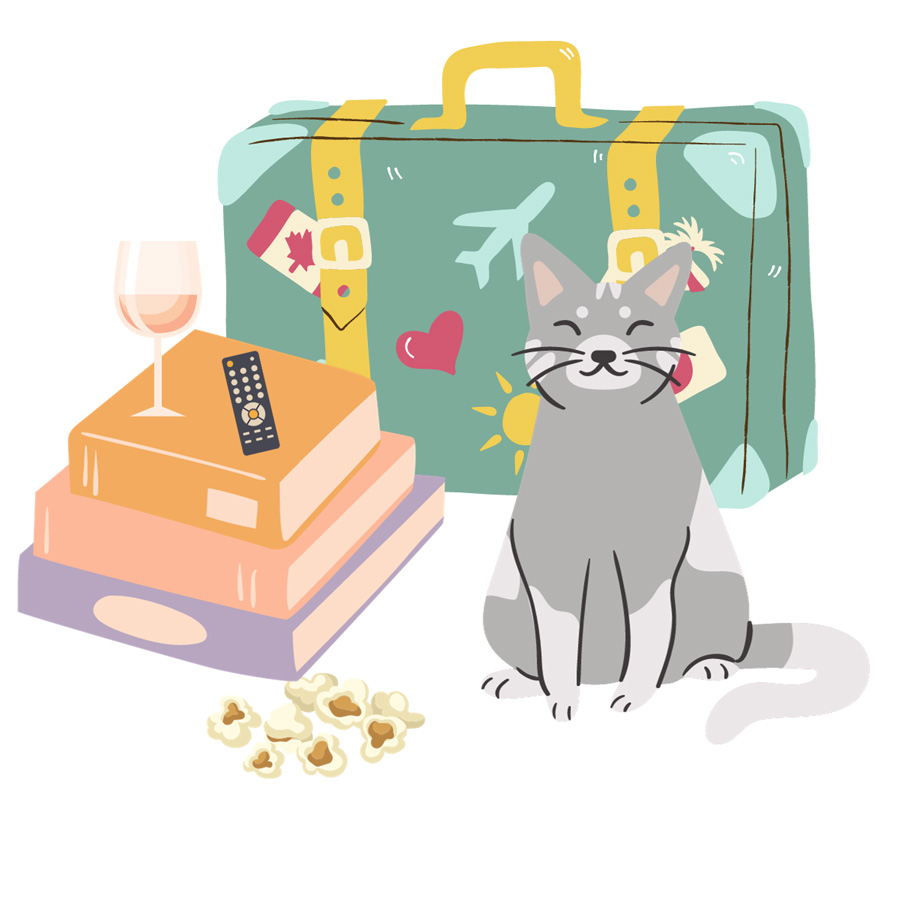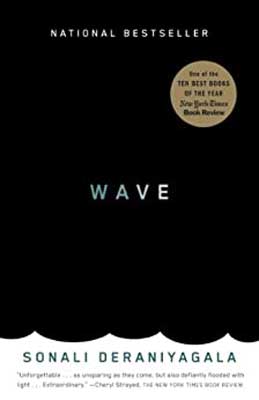 Wave by Sonali Deraniyagala
In one devastating wave, everything can be lost.
While vacationing at a coastal Sri Lankan resort in 2004, author Sonali Deraniyagala and her family are caught up in the deadly Indian Ocean earthquake and tsunami disaster.
When the tidal wave hits on the morning of December 26th, she manages to grab the branch of a nearby tree and holds on for dear life.
The rest of her family – her husband, her parents, and her two sons – are all swept away to their deaths.
In Wave, as well as covering her personal experience with the disaster, Deraniyagala does something that not many writers of survival books do: she also writes passionately about the aftermath.
As a way of learning to cope with her extreme loss, Deraniyagala devotes much time to the discussion of recovery after a time of such tragedy.
Her frank passages on grief, depression, and the emptiness of living without her closest loved ones make for powerfully emotional reading, showing the bravery it takes to carry on.
Discover more books about, from, and set in Sri Lanka.

Read Wave: Amazon | Goodreads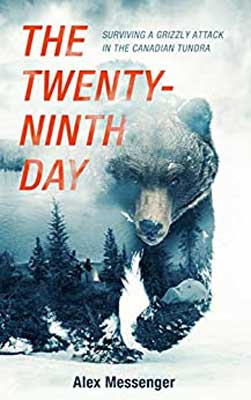 The Twenty-Ninth Day by Alex Messenger
When he was 17, Alex Messenger heads into the Canadian Taiga with five other boys as part of a wilderness youth survival expedition.
An avid adventurer, the Minnesota native is thrilled to embark on the most exciting outdoor trip of his life.
But what starts as an epic 600-mile canoe trip, takes a dark turn when on the evening of the 29th day of their journey, Alex is attacked by a grizzly bear.
When he arrives back at camp yelling about a bear, the other boys think he's joking until they see his injuries – including a swipe at the face and a bite on the thigh.
With just 10 days left until the end, they need to decide if Alex can make it, or if they will stay there – where the bear is nearby – while they wait for emergency assistance.
The book is split into three parts, with the first section focusing on their journey up to the 29th day as they learn to live in the inhospitable terrain and work together.
Even without the action of a bear attack, this is one of the best books about survival as they have several close scrapes and a rationing problem.
Although the events of the 29th day aren't disclosed until halfway through the book, knowing what is coming doesn't make it any less terrifying or suspenseful.
For those interested in coming-of-age survival books, The Twenty-Ninth Day is one of the best ones out there.

Read The Twenty-Ninth Day: Amazon | Goodreads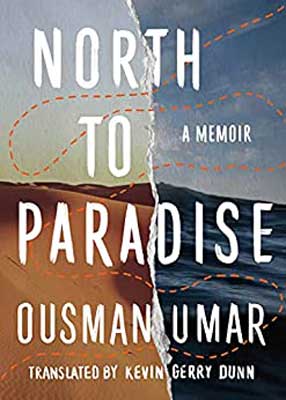 North to Paradise by Ousman Umar
Translated by Kevin Gerry Dunn
North to Paradise is one of the most unique survival books about a young Ghanaian who risks his life along the most dangerous migrant trail in Africa to get to Europe.
As a young boy growing up in a small Ghanaian village, Ousman is fascinated by imported technology from the Land of the Whites.
To make a living, Ousman begins apprenticing as a mechanic and starts to venture further and further from home, each time more awed by his new understanding of the world.
After making it to Accra, the capital, a city he does not love, he accepts an offer for a ride North to Libya where he hears there are more job opportunities.
And thus begins a 5-year journey across treacherous lands, including one of the most inhospitable deserts in the world.
Ousman, and many others, have no choice but to put their faith – and money – in the hands of men promising to help them, but who do not have their best interests at heart.
Through luck and resilience, Ousman survives, and he is one of the few that does.
This is one of the best survival nonfiction books for those more interested in social issues and politics, especially in regard to immigration.
Read more books that will take you to Ghana.

Read North to Paradise: Amazon | Goodreads
Save The Best Books About Survival For Later: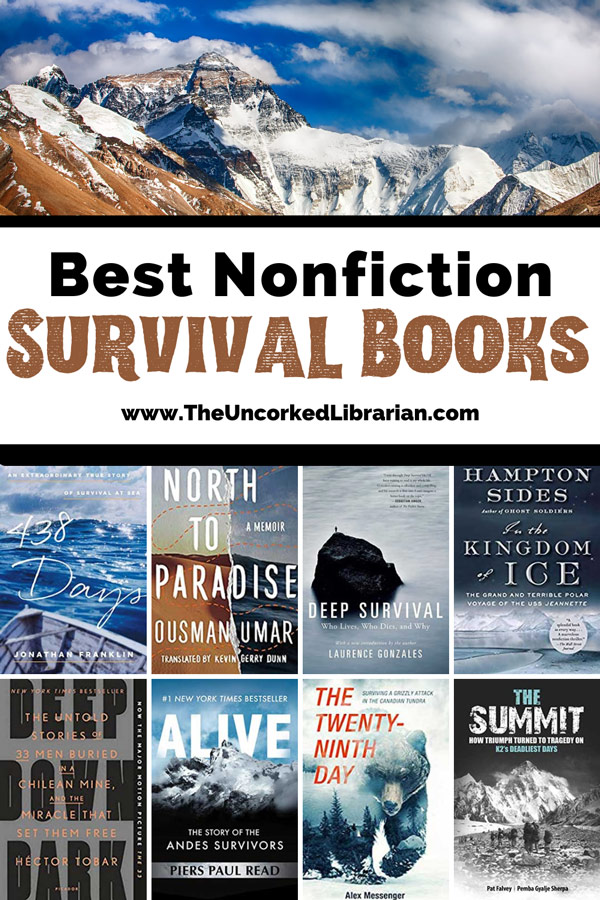 Grab these fiction and nonfiction survival books:
Thank you to TUL contributor, Dagney McKinney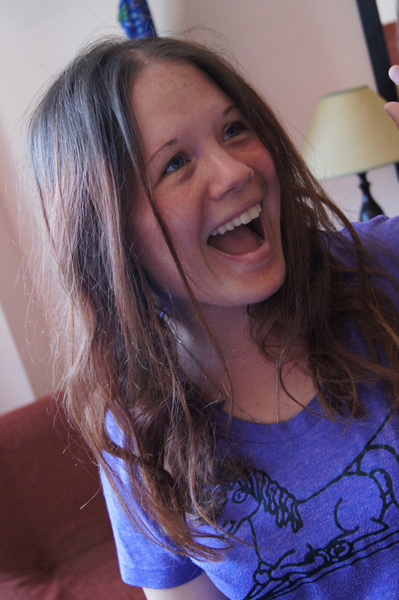 Dagney (pronouns: any) is a neurodivergent writer who loves all things macabre and weird. She likes outrageously spicy food, long walks through graveyards, and historical tangents. You'll most likely find her wandering around somewhere quiet or underground, buying salt, or whispering to camels.
What are your favorite true stories of survival?
What are the best nonfiction survival books that you've read? Which ones inspire you, and which ones have broken your heart?
What did they teach you? Let us know in the comments.
You May Also Enjoy:
Best Hiking Movies
Books That Make You Think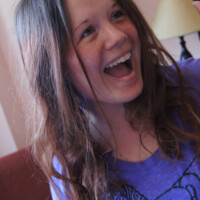 Dagney (pronouns: any) is a neurodivergent writer and book nerd who is drawn to all things weird and macabre. She also loves anything to do with fast cars, unhinged anti-heroes, and salt. When she isn't working or reading, you're likely to find her eating Indian food, playing board games, or hiding out somewhere dark and quiet, stuck down an internet rabbit hole. The easiest way to win her over is through cats and camels.