26 Best Books About Hiking & Backpacking
Read the best books about hiking, including backpacking books, sure to inspire your next great adventure.
Get ready to spend some time with Mother Earth. Whether you are an experienced hiker or an amateur, this hiking books reading list is for you.
These books for hikers are sure to teach you more and leave you craving that fresh mountain air. Hike across the Appalachian Trail, PCT, and some of America's greatest national parks.
Then, uncover the best books about backpacking from around the world, traveling to countries like Costa Rica, Spain, and Japan.
While exploring the globe, watch as hikers learn more about themselves and the true meaning of community.
Some — who have never hiked a day in their lives — will find new strength and grow exponentially.
Many of the best backpacking books will make your heart swell and have you cheering for our star hikers. Others will leave you on the edge of your seat as we pray for their survival and safe return.
So, what are the best books about hiking to inspire and spark your own hiking adventure?
While 'best' is truly subjective, these are the top fiction and nonfiction hiking books we and our contributing writers recommend.
We'd love to know your favorites in the comments. Let's get started!
If you enjoy hiking and backpacking books, don't miss these hiking movies.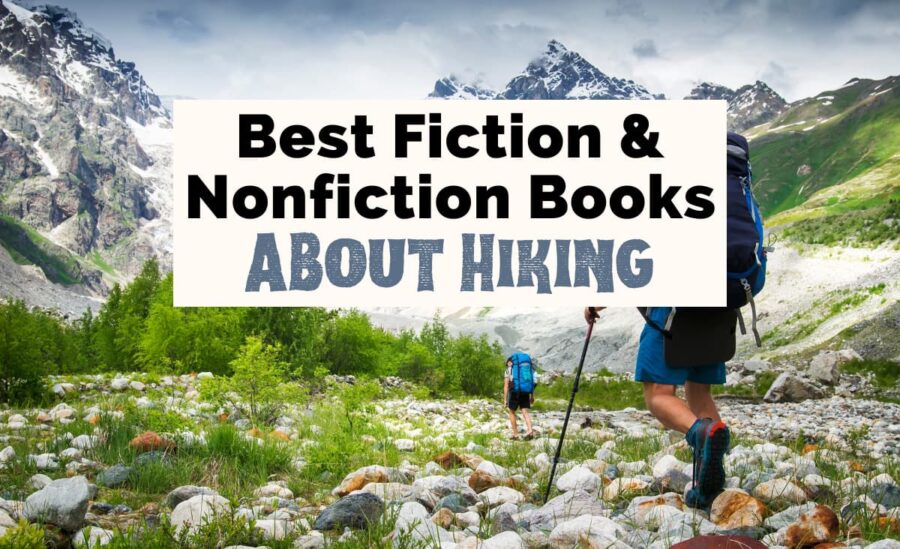 Grab these hiking books here:
Fiction Books About Hiking
By Tori Curran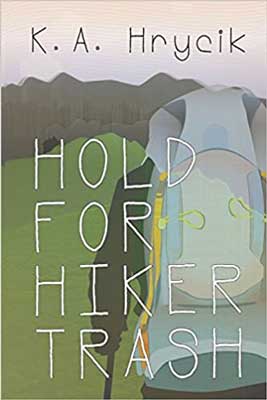 Hold For Hiker Trash by K.A. Hrycik
With so many of the best hiking books being nonfiction narratives, we wanted to start with a few fiction books for hikers.
In Hold for Hiker Trash, the author draws upon her own experiences on the trails to compose a tale that juxtaposes the physical outside with feelings of being an outsider.
Vika Carmichael, art history buff and recent college grad, finds herself stranded in Washington after a fiery car crash.
She ends up at an old Victorian house, owned by an eccentric artist whose goal is to restore the home for thru-hikers of the Pacific Crest Trail.
As Vika gets to know the artist, Dane, his mother, the lovable Grandma Peach, and the backpackers of the PCT who stop at the house, she often wonders if she's the outsider looking in.

Read Hold For Hiker Trash: Amazon | Goodreads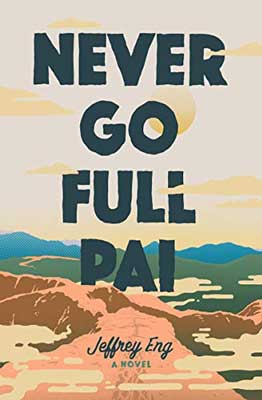 Never Go Full Pai by Jeffrey Eng
While the great outdoors is a break from reality for most, what happens when there's no life to return home to?
Follow the lives and adventures of two backpackers – Charlie with a rocky future, and Ace, a backpacking legend with a dark past.
As the two immerse themselves into the backpacking world of Europe and Asia, an unlikely friendship blooms.
Eng meticulously weaves in the cultures and history of his characters' destinations with a refreshing story of what travel and escape look like in the current world of social media.

Read Never Go Full Pai: Amazon | Goodreads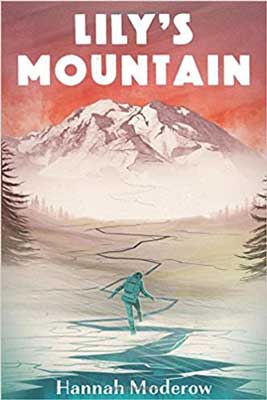 Lily's Mountain by Hannah Moderow
Though geared for middle-grade readers, Lily's Mountain is great if you're looking for short and easy fictional books for hikers.
Unconvinced that her father, an experienced hiker in the Alaskan wilderness, died hiking Denali for the sixth time, Lily and her sister embark on her own search and rescue mission to find him.
Moderow beautifully weaves in themes of grief and family. She showcases some of the, often humorous, complications the sisters face and how their survival knowledge aids their journey.

Read Lily's Mountain: Amazon | Goodreads
More of the best fictional books about hiking from Christine, TUL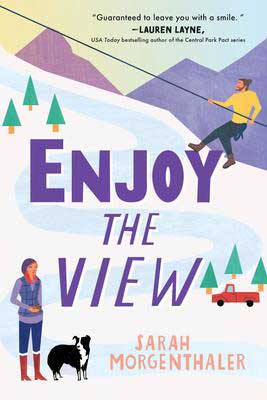 Enjoy The View by Sarah Morgenthaler
We adore Morgenthaler's Moose Springs series, including The Tourist Attraction and Mistletoe & Mr. Right.
While we highly recommend reading the entire series, you can also treat her rom-coms as standalones. Spoiler alert: These are all feel-good romances with happy endings.
The third in the series, Enjoy The View is also one of her best books for hikers.
River Lane is filming a documentary in Moose Springs, Alaska. However, Moose Springs is a town where locals and the (wealthy) tourists have always been at odds.
Since residents refuse to let River film in town, she decides to summit Old Man, or Mount Veil — an unforgiving and deadly mountain — with her slightly inexperienced but loyal crew.
When River starts falling for one of the very large locals (this is Easton's story if you read all of the series), there is even more at stake.
Enjoy The View is a hiking novel about finding yourself and the love of your life. We devoured the chemistry between River and Easton, and you'll get all of the Alaska vibes here.

Read Enjoy The View: Amazon | Goodreads | Book Information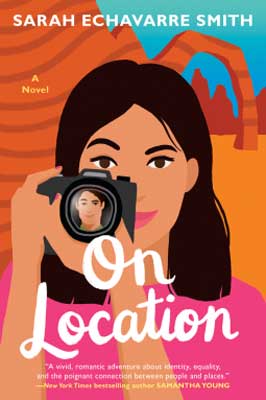 On Location by Sarah Echavarre Smith
For spectacular new fiction hiking books, On Location is an ode to the national parks. Get ready to head to Utah for a nature-themed multicultural romance.
Alia Dunn has worked her behind off to climb the TV production ladder — and it hasn't been easy. The TV world is full of sexism and bias.
Alia has always wanted her own show, and this is her one shot — if her assigned douche bag host doesn't blow it for her.
This docuseries also has special meaning for Alia since she's dedicating it to her Filipina grandmother.
Add in a gorgeous and gentlemanly hunk who stood her up back in NYC, and Alia has to work (and breath) extra hard to keep it together.
On Location isn't solely a book about hiking, though. Encounter a steamy romance, feminism, and a nod to family, culture, and healthy relationships — at work, home, and in love.
Our readers will especially enjoy traipsing across Utah for breathtaking sunrises, strenuous hikes, and small-town exploration, beer included. We always champion a feel-good, travel read.

Read On Location: Amazon | Goodreads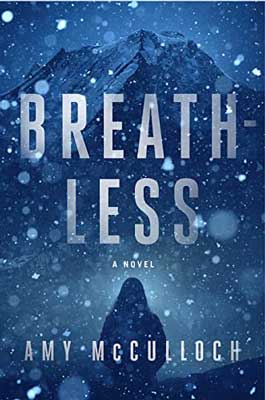 Breathless by Amy McCulloch
Brand new in 2022, Breathless is one of the most accurate and detailed fictional books about hiking and mountain climbing – from an author who actually summited Manaslu.
Travel to Nepal to climb the 8th highest peak in the world.
Journalist Cecily Wong is on a mission to summit the deadly and unpredictable mountain in order to interview the soon-to-be record-breaking, Charles McVeigh. It would make her career.
With a jealous ex-boyfriend and climbing failures behind her, Cecily is going to have to work hard for this one without jeopardizing the lives of her teammates.
Yet, Cecily cannot seem to focus on the journey as she learns more and more about multiple mysterious deaths in the mountains.
Plus, she has the sinking suspicion that someone is watching her, lurking outside her tent. The mountains are the perfect place to cover up a murder, after all.
Uncover even more of the top books released in 2022.

Read Breathless: Amazon | Goodreads
Nonfiction Hiking Books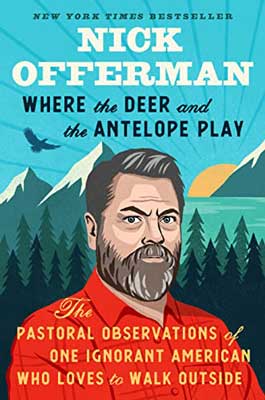 Where the Deer and the Antelope Play by Nick Offerman
If you've read Offerman before, you know his nature and hiking books express his great appreciation for the land, from its beauty to its functional capabilities.
In Where the Deer and the Antelope Play, he takes a few memorable journies through America's trails and farmlands to examine the relationships between land and its inhabitants, both past and present.
Offerman visits Glacier National Park with a friend, takes an extended trip to visit farmer and author James Rebanks, and, finally, traverses many of the US states in an Airstream with his wife, Megan Mullally.
His deep thoughts, humorous rants, and often heartwarming stories provide readers with a witty but enlightening take on the importance of nature and the meaning of conservation.
Fair warning, Offerman can be more than a little political. He discusses, without holding back, what our race and our corporate greed have done to indigenous people and their lands.
If you're looking for the good and the ugly side of man's relationship with nature, Offerman's memoir will deliver. Read more books set across America.

Read Where the Deer and the Antelope Play by Nick Offerman: Amazon | Goodreads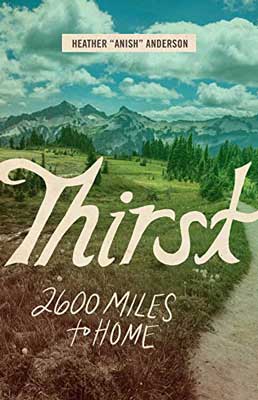 Thirst: 2600 Miles to Home by Heather Anderson
By 25, Heather Anderson, whose trail name is "Anish," had already completed the Triple Crown of Backpacking: the Appalachian Trail, the Pacific Crest Trail, and the Continental Divide Trail.
A few years later, she left her life and marriage behind and returned home to the mountains, becoming the second woman to complete the Double Triple Crown of Backpacking.
She repeated the combined distance of 7,900 miles and broke longstanding records, many of which were set by her male counterparts.
Anderson's unique memoir juxtaposes her bad-ass strength as a female ultra marathoner and thru-hiker with a more vulnerable side to life on the trails.
Alongside the pain, fear, and loneliness, she discovers the freedom that comes with living a non-traditional life and finds what truly brings her home.
One of the best backpacking books for women, Anderson will inspire us all to start shattering some ceilings.

Read Thirst: 2600 Miles to Home: Amazon | Goodreads
Take The Uncorked Reading Challenge!
Travel around the world with our Uncorked Reading Challenge. Never be late to the party with unique new book releases. Get the latest movie and book lists straight to your inbox.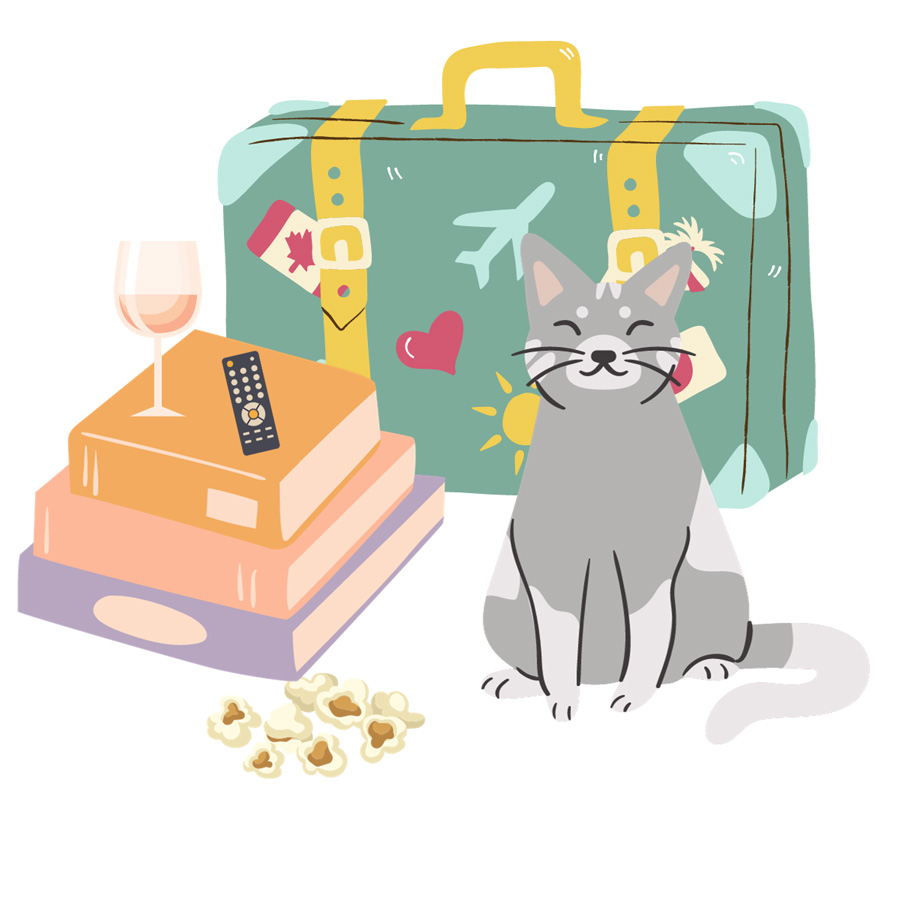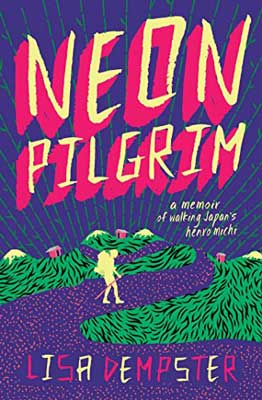 Neon Pilgrim by Lisa Dempster
For books about hiking pilgrimages, follow Dempster's Shikoku Pilgrimage across 88 temples associated with Buddhist Monk Kūkai.
Lisa Dempster, as a fifteen-year-old exchange student in Japan, becomes fascinated by the henro michi, a Buddhist pilgrimage through the mountains of Shikoku, Japan. She vows to complete it herself one day.
Thirteen years later, the pilgrimage resurfaces through a library book and Dempster takes it as a sign.
Depressed, alone, and overweight, she commits to walking herself into health and happiness on the henro michi, despite never having completed more than a day hike.
While an unlikely candidate for a 1200 kilometer trek, Neon Pilgrim shows us that courage and health aren't a one size fits all journey, especially if we can discover a little humor and mindfulness along the way.

Read Neon Pilgrim: Amazon | Goodreads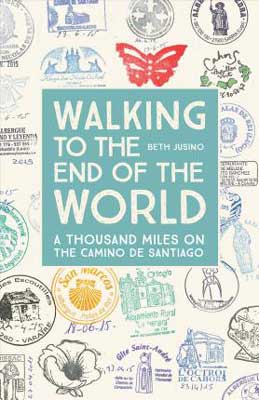 Walking to the End of the World: A Thousand Miles on the Camino de Santiago by Beth Jusino
Each year, 1000,000 people complete the Camino de Santiago, a pilgrimage walk from France to Spain. So why not Beth Jusino? How hard could fifteen miles a day and local wine each night really be?
Taking only their backpacks and courage, Beth and Eric Jusino exit a cathedral in France and start walking. A thousand miles later, they reach the Atlantic Ocean in Spain.
It turns out, that while the undertaking was more than they anticipated, adventure is out there for everyone.
While Beth Jusino was far from an athlete, she and her partner were certainly ready to get off their couches and see something more. Read even more books set in Spain.

Read Walking to the End of the World: Amazon | Goodreads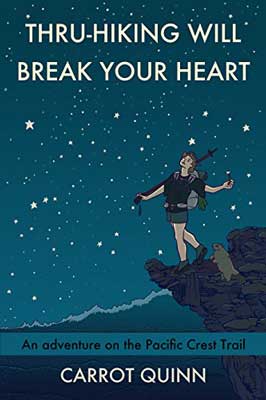 Thru-Hiking Will Break Your Heart by Carrot Quinn
Worried she's becoming numb and addicted to her screens, Carrot Quinn decides to leave it all behind and hike the 2,6600 Pacific Crest Trail from Mexico to Canada.
While she faces numerous challenges, emotional pain, and immense loneliness, Quinn meets people she never would have otherwise had the chance to know.
Out on the trail, they share the common goal of making it to Canada before the snow falls.
With so many other PCT hiking and backpacking books focusing on moral awakenings and self-discovery, it's refreshing to see Quinn focus on the people.

Read Thru-Hiking Will Break Your Heart: Amazon | Goodreads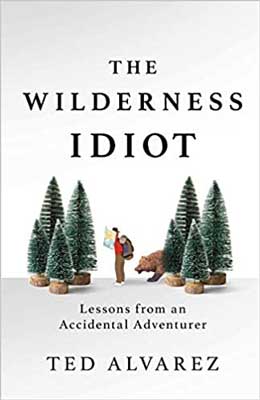 The Wilderness Idiot: Lessons from an Accidental Adventurer by Ted Alvarez
One of the best backpacking books for regular people, The Wilderness Idiot marries the beauty of nature with the grit and realness of adventure.
Follow Alvarez and his antics around the world from collapsed tents and hallucinations to almost killing your siblings.
He shows that being an adventurer isn't about being perfect at a sport or showcasing your escapades on social media but about pushing your own boundaries.
This hiking book will inspire anyone to gain the confidence to seek out their own adventures.

Read The Wilderness Idiot: Amazon | Goodreads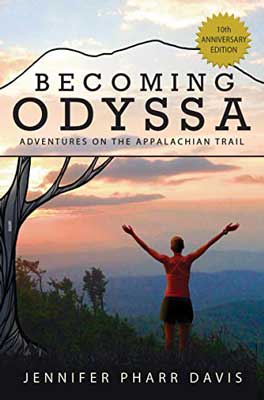 Becoming Odyssa: Adventures on the Appalachian Trail by Jennifer Pharr Davis
Like many others, Jennifer Pharr Davis graduates college with no idea what to do with her life.
Though everyone around her thinks she's crazy, she believes if she hikes the Appalachian Trail, a 2175 mile thru-hike from Georgia to Maine, she'll discover her path in life.
While the hike was more grueling than anticipated, Davis shifts her perspective from a self-centered one to relying on others and accepting community.
One of the more honest books for hikers thinking about completing the AT, Becoming Odyssa showcases how the author grew up on the trail.

Read Becoming Odyssa: Amazon | Goodreads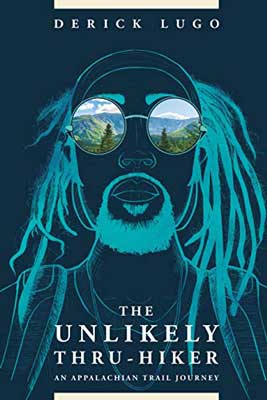 The Unlikely Thru-Hiker by Derick Lugo
What's a young man more familiar with New York City's comedy scene and meticulously grooming his goatee to do when he loses his gig?
Derick Lugo, a young black man from the city, finds himself contemplating hiking the Appalachian Trail in his free time. Setting off with an overweight pack and a good attitude, Lugo learns more than a few lessons on the trails.
As he completes his journey, though, Lugo never loses his sense of humor, or his commitment to his beard, proving that while we can grow and change on the trails, we very much can retain our individuality.

Read The Unlikely Thru-Hiker: Amazon | Goodreads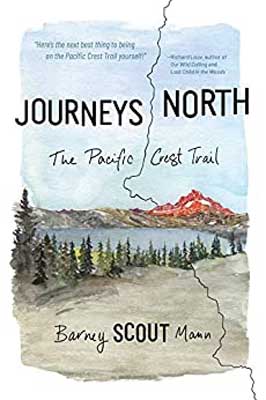 Journeys North by Barney Scout Mann
Well-known thru-hiker and trail angel, Barney "Scout" Mann, tells a story of six hikers on the Pacific Crest Trail.
Facing an unprecedented drought and severe winter storms, how will these six hikers, of varying ages and walks of life, complete their final sixty miles.
Under circumstances challenging for even one of the most revered hikers on the Pacific Crest Trail, relationships will be challenged and survival will be put to the test.
Along with impressive knowledge of the PCT, Mann delivers a true page-turner.

Read Journeys North: Amazon | Goodreads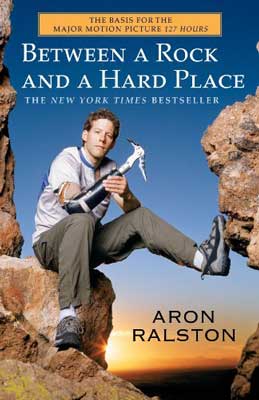 Between a Rock and a Hard Place by Aron Ralston
One of the most popular books about hiking and survival, you may know of Ralston's story from the movie 127 Hours.
A 27-year-old experienced hiker and climber, Aron Ralston heads into the remote Blue John Canyon, alone. As he climbs a boulder, the rocks in the slot canyon shift. Aron finds his right hand pinned between two rocks.
Aron survives with little water and freezing cold nights for six days before contemplating his only option to escape: amputating his own hand.
Here, in the author's own words, hear his harrowing journey and his fears of never making it out alive to see his family again.
Between a Rock and a Hard Place is a true story of survival and human courage when faced with incomprehensible danger.

Read Between a Rock and a Hard Place: Amazon | Goodreads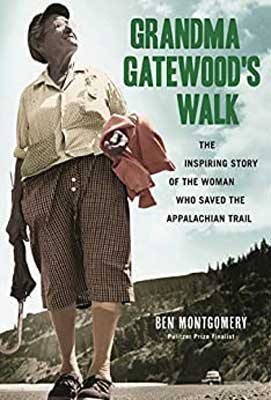 Grandma Gatewood's Walk: The Inspiring Story of the Woman who Saved the Appalachian Trail by Ben Montgomery
TW: domestic violence, sexual assault
Following an abusive marriage, Emma Gatewood leaves her hometown at sixty-seven years old with next to nothing and begins walking. A few months later, she proudly completes the Appalachian Trail.
Grandma Gatewood, as she's affectionately known, will go on to complete additional thru-hikes across the US and become the first person to walk the AT multiple times.
The advertising she brought to the AT was groundbreaking, and the attention, and often criticism of the maintenance, likely brought the trail back to life.
Ben Montgomery, after interviewing family members and reading Gatewood's own diaries, brings to life the story of the woman who saved the Appalachian Trail.

Read Grandma Gatewood's Walk: Amazon | Goodreads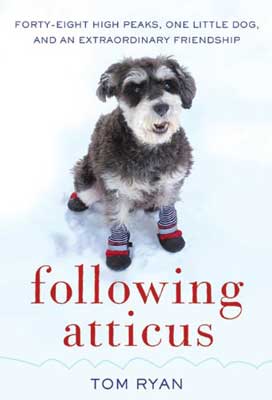 Following Atticus by Tom Ryan
Tom Ryan, with a difficult childhood and the grief of losing a good friend, adopts a dog who is no longer wanted.
To cope, Ryan, an overweight newspaperman, decides to embark on a charitable adventure: climb all of New Hampshire's four-thousand-footers twice in one winter.
Follow Ryan and his dog, Atticus, across hundreds of miles in the majestic New Hampshire wilderness, as an unlikely friendship grows.
Most heartwarming, read about how both the wilderness and a small dog can transform a cynical man into someone who sees the world for its beauty and possibilities.

Read Following Atticus: Amazon | Goodreads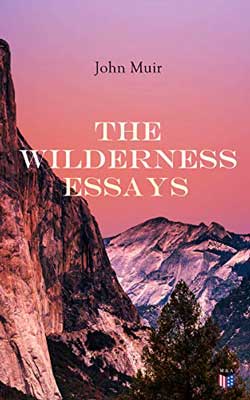 Wilderness Essays by John Muir
For some of the best books about hiking adventures and an appreciation for nature, John Muir is a classic.
Naturalist, philosopher, and adventurer, John Muir is known as "Father of the National Parks."
He not only explored the American West, providing valuable information on landscapes, wildlife, and trails, but he fought his entire life for their preservation.
Today, his books remind us not to take our landscapes for granted and to care for them for generations to come.
Among other titles, John Muir's Wilderness Essays celebrate the natural world and its ability to transform the human psyche while simultaneously advocating for conservation and respect for the wild.

Read Wilderness Essays: Amazon | Goodreads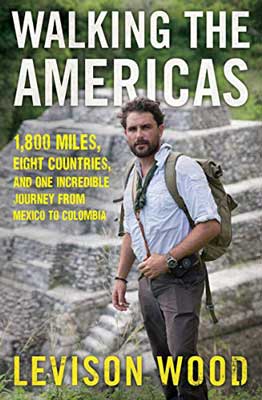 Walking the Americas by Levison Wood
Levinson Wood is a former British Army officer and adventurer who has made a name for himself with his overland journeys.
He chronicles his journeys in books, documentaries, and photographs, showcasing countries and landscapes he's walked entirely on foot.
In Walking the Americas, he walks from the Yucatán and through Mayan ruins, refugee camps in Nicaragua, and the waterfalls of Honduras. He attempts to pass the notorious Darién Gap.
But the people he meets and the relationships he forms are really at the heart of his stories. Wood negotiates with foreign police, dines with locals in their homes, and meets children who leave a lasting impression.
Part cultural awakening, part thru-hike, Wood's memoir inspires us all to think beyond our own borders.
Levinson Wood is also the author of Walking the Nile, Walking the Himalayas, An Arabian Journey, and more. Uncover book more books set in North America.

Read Walking the Americas: Amazon | Goodreads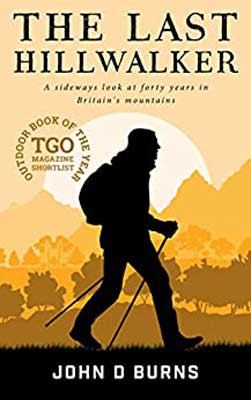 The Last Hillwalker by John Burns
One of the best-selling adventure books in the hiking and backpacking community, follow Burns across the mountains of the world and back to his beloved Scottish Highlands.
Having explored the Rockies of the US and Canada, the Alps, Pyrenees, and beyond, nothing speaks to Burns the way Scottland does.
His knowledge of the hills is clear, and his general appreciation for nature in all of its wild beauty is palpable.
Any adventurer will enjoy Burn's humor and passion. Those who aren't adventurers will certainly want to begin their own hill-walking journey.

Read The Last Hillwalker by John Burns: Amazon | Goodreads
More favorite books about hiking from Christine, TUL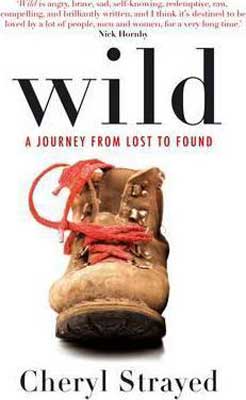 Wild By Cheryl Strayed
At 22-years-old and with the death of her mother as well as a failing marriage, Cheryl Strayed is lost and depressed.
These circumstances make Wild one of the most honest, vulnerable, and raw hiking books on this reading list.
In full Bill Bryson hiking-style, Strayed decides to conquer the Pacific Crest Trail (PCT) alone. She's not an experienced hiker.
The PCT is also no easy feat. Strayed faces an incredibly hard journey while reflecting on her deeply traumatic past. Of course, a shoe goes over the cliff too.
Strayed emphasizes love, compassion, growth, and forgiveness. She encapsulates the idea of making a comeback after hardship.
As true for other hikers, a walk in the woods is good for the soul. Fresh air and exercise heal. Strayed is also one of the famous travel writers we enjoy.
Explore even more books about California on this reading list.

Read Wild: Amazon | Goodreads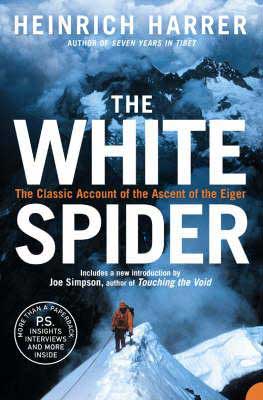 The White Spider by Heinrich Harrer
Deemed one of the best classic books for hikers, The White Spider transports readers to Switzerland, showcasing the first successful ascent of the North Face of Eiger Mountain.
You may recognize Harrer for Seven Years In Tibet, and this mountaineering biography follows his 1938 expedition that few have been able to replicate.
Prior to Harrer's ascent, two other teams, unfortunately, did not make it.
Professional climbers will not only appreciate the accuracy and technicalities of his story but will find inspiration in the journey.
Harrer and his team truly stretch the limits of human endurance.

Read The White Spider: Amazon | Goodreads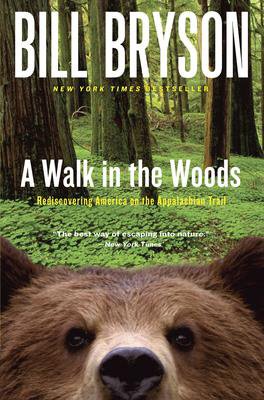 A Walk In The Woods by Bill Bryson
For hiking books that will make you think more deeply as well as let out a chuckle, don't miss Bill Bryson's A Walk In The Woods.
This memoir is all about inexperienced hiking. As one of our all-time favorite sarcastic and witty travel writers, Bryson takes on an unlikely challenge: he amateur hikes parts of the Appalachian Trail.
Bryson is not exactly a role model for physical fitness or being an outdoorsman. He and his boozy friend, Katz, traipse into the woods. You know this has the potential for disaster.
An adventure of a lifetime, Bryson and Katz learn more about their friendship, survival, and a different way of life. Perseverance is key.
Bryson smashes the hiker stereotype. A Walk In The Woods is also a great audiobook for road trips.

Read A Walk In The Woods: Amazon | Goodreads | Book Information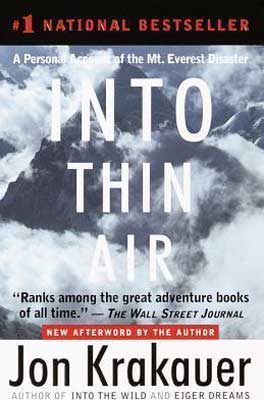 Into Thin Air by Jon Krakauer
If you are looking for survivalist and hiking books for dad, Into Thin Air is a popular 1990s classic.
A #1 National Bookseller, Into Thin Air transcends typical memoirs as expedition climber and journalist, Jon Krakauer, fights to stay alive on Everest.
In May of 1996, an unseen storm cascades over the already life-threatening and treacherous Everest. Five climbers die and others remain injured both mentally and physically for years to come.
This hiking memoir is an account of those events and will leave a heart-wrenching impression.
Uncover even more books on Mount Everest, fiction and nonfiction, to read.

Read Into Thin Air: Amazon | Goodreads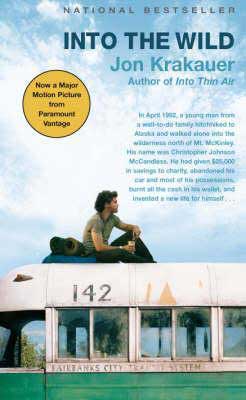 Into The Wild by Jon Krakauer
Into The Wild is one of the most famous (and controversial) books about hiking also by Jon Krakauer.
Krakauer shares the story of Chris McCandless, a famous and inexperienced young hitchhiker. McCandless had come from a well-off family, and he decides to give up his possessions and money.
McCandless leaves for Mount McKinley in Alaska, dumping his car. He forms a new community along his journey.
Four months later, though, McCandless is found dead.
Although a highly talked-about and debated story about what some call ignorance and naivety versus truth and living the best possible life, Into The Wild introduces readers to a young man that you can't help but appreciate.
Many revere McCandless and the attempt he made to live a free lifestyle. Explore even more road trip books.

Read Into The Wild: Amazon | Goodreads
Save Your Favorite Books For Hikers For Later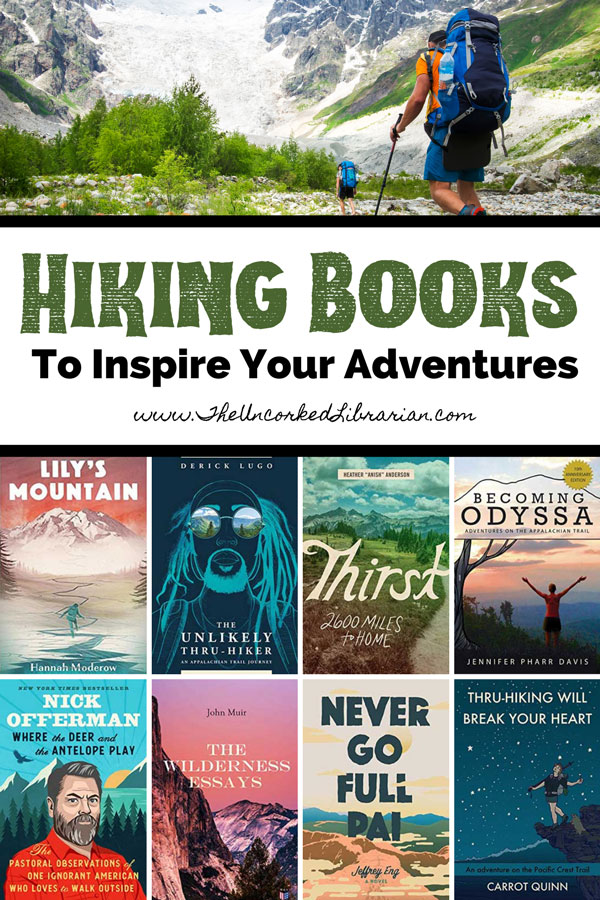 Grab your favorite backpacking books here:
Thank you to TUL contributor, Tori Curran from Explore With Tori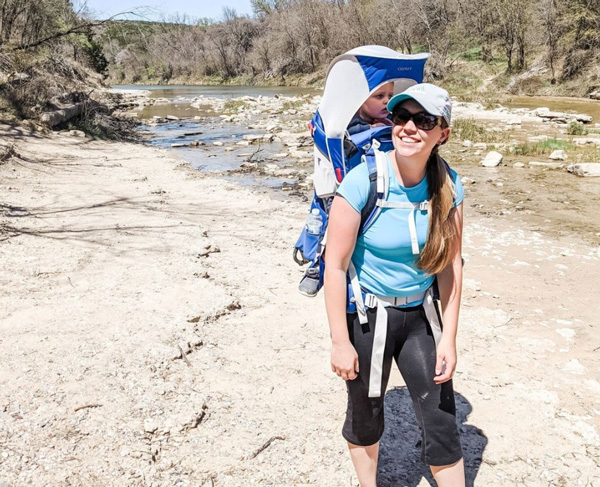 Tori (pronouns: she/her) is a children's librarian and mom to two boys living in New York. She's an avid traveler, nature enthusiast, and writer, encouraging families to get outside and start exploring the world. When she's not hiking or traveling, you can find her lost in a historical fiction book, watching Bravo reruns, or obsessively decluttering her home.
What are the best books about hiking that you read over and over again?
What are the best hiking books that inspire you? Are there books about backpacking that you recommend too? Let us know in the comments.
Head this way next:
Famous Travel Writers
Road Trip Novels & Memoirs
Books For Dad
Books That Make You Think
Books Across The U.S.
Books Around The World
These hiking books are originally part of Uncorked Reading 2022.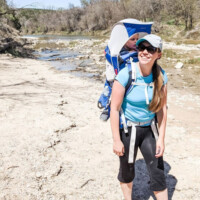 Tori (pronouns: she/her) is a mom to two boys, living in New York but adventuring everywhere, usually with a toddler on her back. She's an avid traveler, nature junkie, and writer, encouraging families to get outside and start exploring the world. When she's not hiking or traveling, you can find her lost in a book, watching Bravo reruns, or obsessively decluttering her home. Tori owns the family and adventure blog, Explore with Tori.