Looking for good books to listen to while driving? Explore the best audiobooks for road trips to have an inspiring and laughter-filled time.
Imagine having to drive 9 hours in a car with 3 yelping cats and a panda bear (black and white Maine Coon mix) when we moved to North Carolina. Tom drove the luggage in another car…
How did we stay calm? Xanax. And wine. Just kidding…maybe. The answer from above: Podcasts and audiobooks.
It's also no secret that road trips are increasing in popularity.
We don't know about you, but while we love traveling, we don't necessarily love the driving-in-the-car part. Our middle fingers get exhausted!
We've road-tripped all over, including other countries like Italy, Switzerland, Latvia, Ireland, Lithuania, Aruba, Estonia, and Iceland.
So, how do you pass hours upon hours in the car after you've counted all of the sheep and sung along to the radio in multiple languages?
We asked audiobook expert, Eline from Lovely Audiobooks, what she considers to be the absolute best audiobooks for road trips.
We've added in a few of our own, too, including nonfiction, fiction, romance, historical fiction, YA, and funny audiobook titles.
There is something on this road trip audiobook reading list for everyone; we promise! Unless you want to listen to Baby Shark on repeat…
Keep reading for our top picks for the absolute best audiobooks for road trips. Let's get started!
If you love hitting the road, don't miss these fantastic books featuring road trips.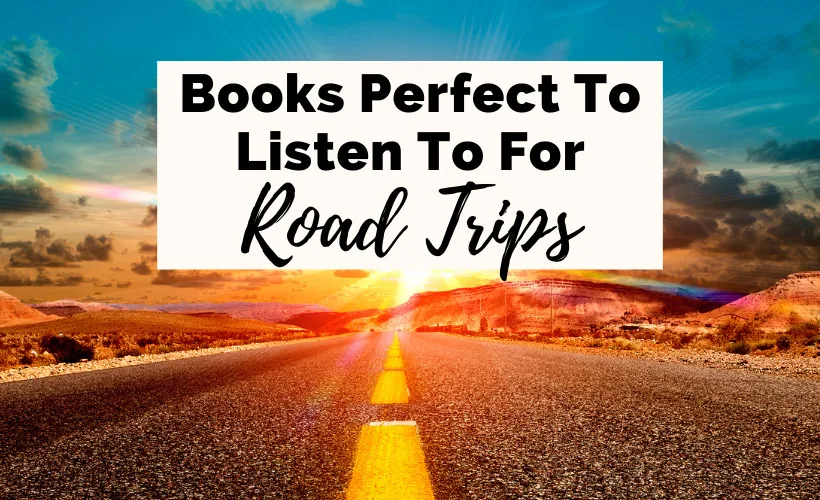 Grab the best road trip audiobooks here:
1. Book of the Month: Get the month's hottest new and upcoming titles from Book of the Month. You might snag an early release or debut author. Along with selecting a book a month, find terrific add-ons, both trendy and lesser-known titles.
2. Audible Plus: From Amazon, listen to Amazon Originals, podcasts, and audiobooks. They add new titles every week.
3. Amazon Prime: Don't miss Amazon First Reads – early access to Kindle books. Get fast delivery as well as movies, music, Originals, shows, and more.
4. Or, start your trial of Amazon Video for movies and tv series on demand.

Best Audiobooks For Road Trips
By Eline from Lovely Audiobooks
The first 9 road trip audiobook suggestions are from Eline of LovelyAudiobooks.info.
A little more about Eline: One of her favorite places to listen to books is the passenger seat of her RV, enjoying new places and new stories.
Eline loves everything about "aural reading." Find out the 5 Things you didn't know about Audiobooks and be sure to check out her favorite short audiobooks.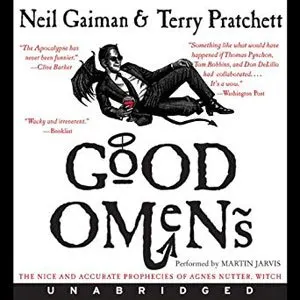 Good Omens is making an incredible comeback.
Whether you've already seen the Amazon show, read the book, or have yet to experience this awesome story about friendship and the apocalypse, this is one of the best audiobooks for road trips for Gaiman-lovers.
Good Omens is produced with a full cast of voice actors including Peter Serafinowicz for a BBC radio play. Plus, it's a great choice for a long drive. Read More→
Save These Road Trip Audiobooks For Later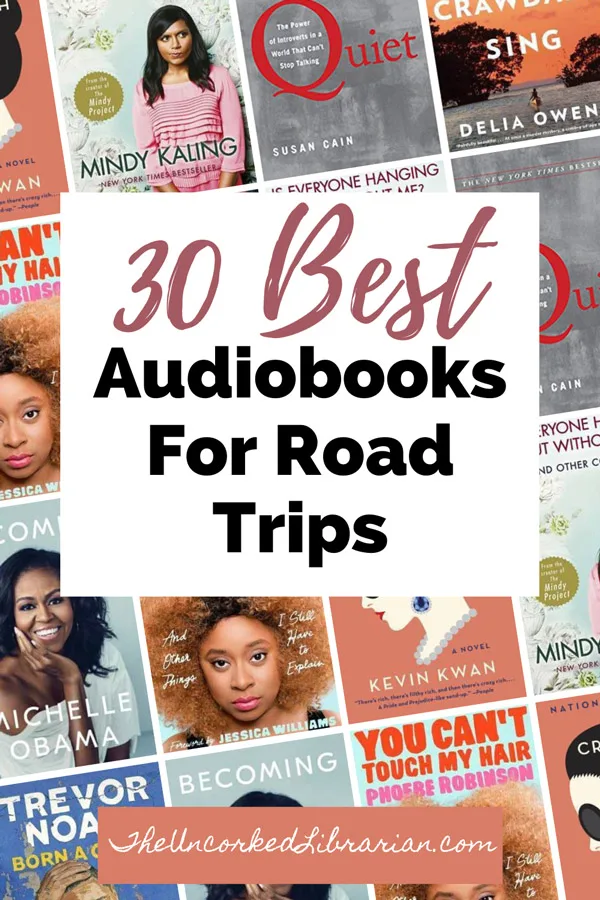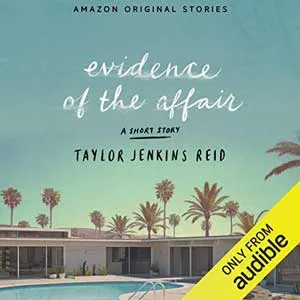 One of the best audiobooks for short road trips, Evidence Of The Affair is written in the epistolary form: Carrie sends a letter to the husband of the woman who she believes is having an affair with her own husband.

The ending is as devastating as it is beautiful. This audiobook is free with Kindle Unlimited, making it perfect for audiobook beginners.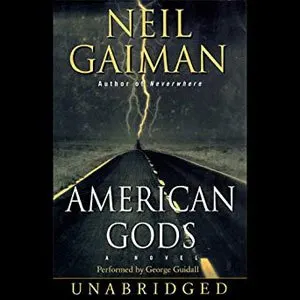 Neil Gaiman is everywhere these days. American Gods is my [Eline's] personal favorite. Shadow, this honestly good guy, finds himself utterly out of options after being released from prison.
He runs into a group of rather odd people. With them, he's going on a road trip through America.
Find another Neil Gaiman book on our fantasy audiobook reading list.
Join The Uncorked Reading Challenge Today
---
Travel around the world with the Uncorked Reading Challenge. Get the best book and movie recs straight to your inbox. Sign Up Now.
Best Romance Audiobooks For Road Trips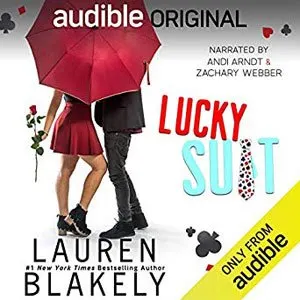 Lucky Suit is 2.5 hours long, which makes this one of the best audiobooks for road trips to a nearby state. And, it's safe to play on speakers for everyone.

Lucky Suit is a light-hearted romantic comedy by romance queen, Lauren Blakely, and is perfectly narrated by two of romance's most beloved narrators, Zachary Webber and Andi Arndt. These two will draw you in and make you wonder how Kristen and Cameron actually end up together.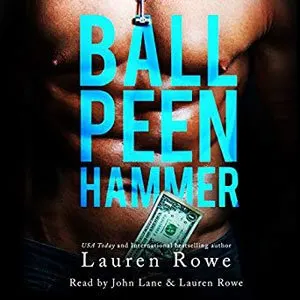 Ball Peen Hammer is absolutely NOT a speaker-safe audiobook to listen to while driving unless you are going on a road trip alone. But, this contemporary romance isn't only incredibly sexy, it's also absolutely hilarious and heart-warming.

Keane and Maddy find themselves on the road trip version of a blind date. They talk, get to know each other, and, of course, have to keep their hands off of one another. But that never quite works out, does it?! Ball Peen Hammer is one of the best audiobooks for road trips if you devour romance.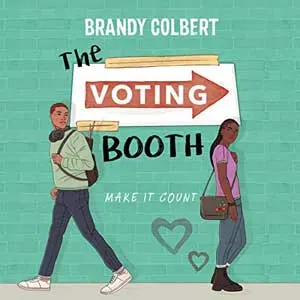 For long stretches in the car, The Voting Booth is a happy, cute, and funny YA romance audiobook. But, it's also a profound critique of voter suppression, especially in urban areas and communities with people of color.
The Voting Booth is such an important audiobook to listen to this summer.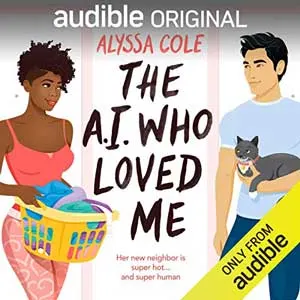 The A.I Who Loved Me was one of my [Eline's] favorite audiobooks of 2019.
Part science-fiction, part love story, Alyssa Cole comments on how current events could lead to a very bleak future and what happens if you accidentally fall in love with an artificial human.

The audiobook is an outstanding production with a full cast as well as Regina Hall reading the main character.
Nonfiction Audiobooks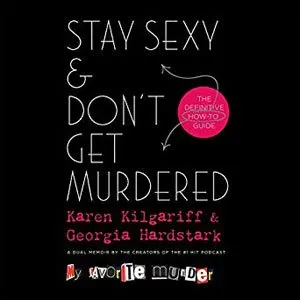 Stay Sexy & Don't Get Murdered is the story of the two women behind one of the most successful true-crime podcasts.
If you follow My Favorite Murder, this is a must-listen. But if you don't know the podcast, you can also start with the audiobook and discover My Favorite Murder afterward. Christine says YASSS to all of this. Book Information→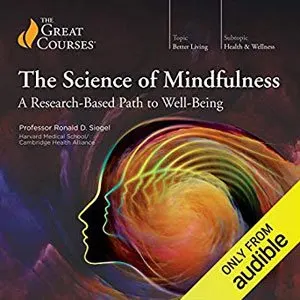 Mindfulness is a popular term, but there's actual science behind it, too. The Science Of Mindfulness gives a great overview of why mindfulness practice can improve your quality of life and even help significantly with depression and anxiety.

As someone who tends to overthink things, I [Eline] found it very helpful to understand what mindfulness changes in the brain before actually starting to practice.
The course is perfectly safe for drivers, but don't do the guided meditations at the end of the audiobook while you're still driving.
---
How can you listen to audiobooks? Try Audible and get two free audiobooks here.
---
The Uncorked Librarian's Best Audiobooks For Road Trips Selections
Along with Eline's book recs, these are the best books to listen to on a road trip that The Uncorked Librarian recommends. Please note that many of these suggestions are best for longer road trips.
And, if you are taking a trip across America, don't miss The Uncorked Librarian's 50 States Reading List. Find some of the best books set in every state.
Best Nonfiction Audiobooks For Road Trips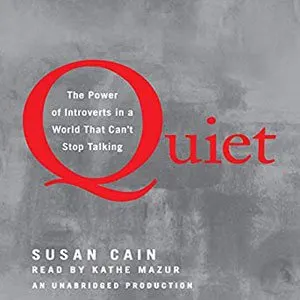 I love listening to nonfiction books in the car since I find myself slogging through them on the couch. Although I talk a lot and pretend to be an extrovert to survive, a large part of me is an introvert.
Susan Cain describes the dynamic of an extroverted society and its effects on introverts.

Cain is a champion of the quieter folk and discusses how in a world that cannot stop talking, introverts have merit too. Discover some secretly popular introverts and their societal contributions, too.

Quiet is truly one of my favorite introspective and best audiobooks for road trips suggestions. Book Information→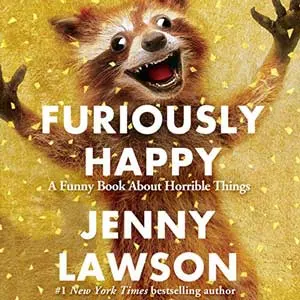 I follow Jenny Lawson on Facebook as The Bloggess–she speaks to my soul. Lawson is both honest and hilarious. One of the funniest and best audiobooks for road trips that is also inspiring includes Lawson's Furiously Happy.

Lawson shares her battle with mental health, suffering from both anxiety and depression. She advocates for loving and accepting yourself no matter what.
Best Audiobooks For Road Trips That Are Biographies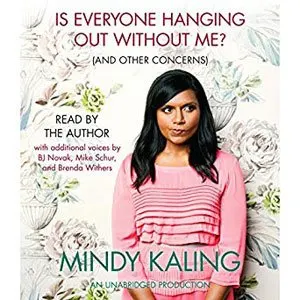 Mindy Kaling will forever crack me up, and for me, she always touches a heartstring. Is Everyone Hanging Out Without Me? is one of my favorite funny audiobooks for road trips. All of your passengers will laugh along too.

Join Mindy as she hilariously and embarrassingly discusses growing up. She talks about weight, fame, friendship, and romance in the most honest and open way. Read More→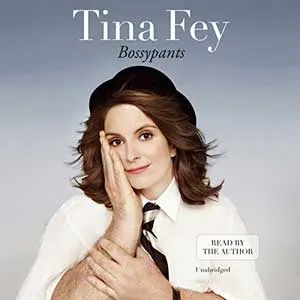 You most likely know Tina Fey from SNL and Unbreakable Kimmy Schmidt. If you are looking for one of the best nonfiction audiobooks for road trips with humor try Fey's Bossypants.

Tiny Fey shares her early life and dreams before becoming the famous actress that we all know and love.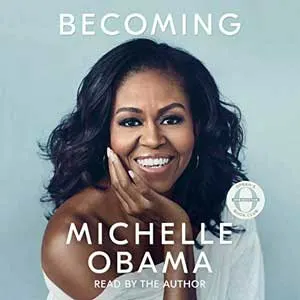 While I haven't listened to Becoming by Michelle Obama via audiobook, it's no secret that I read the book and watched the Netflix documentary.
I love listening to the former First Lady as she shares her experiences about growing up in Chicago and attending college.

Michelle Obama talks about dating Barack Obama, and the many challenges she faced and continues to face as a Black woman, career woman, and mother.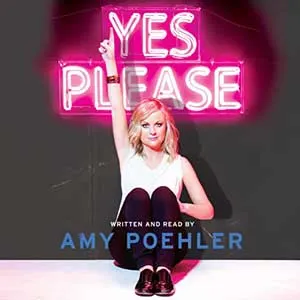 Yes Please by Amy Poehler
Narrated by Amy Poehler, Carol Burnett, Seth Meyers & More
If you love entertainers, don't miss Yes Please by Amy Poehler.
This is one of the best audiobooks for road trips for the cast alone: Seth Meyers, Carol Burnett, Patrick Steward, and even Poehler's parents.
Discover a collection of mismatched stories that take Poehler through her Boston childhood to Hollywood today.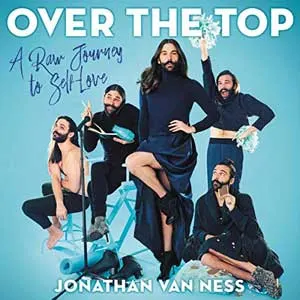 Named as one of NPR's favorite books of the year, I read JVN's Over The Top but wish I had listened to the audiobook version, especially since he narrates it.
Van Ness's voice radiates off of the pages in this beautiful, raw, and at times, hilarious biography about overcoming addiction and childhood molestation.

A perfect LGBTQ+ audiobook for your road trip, Over The Top is for maturer audiences looking for inspiration to reaffirm their amazing self-identity. Plus, I am Queer Eye obsessed. Read more→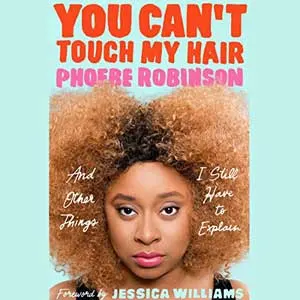 Another one of the best audiobooks for road trips that I've seen recommended over and over again but have yet to listen to is You Can't Touch My Hair by Phoebe Robinson.

With a discussion of pop culture, feminism, and race, Robinson shares her experiences working and living as a Black woman where, yup, people ask if they can touch her hair.
Glamour named You Can't Touch My Hair as one of the top books of 2016.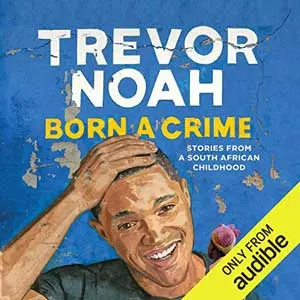 One of my favorite nonfiction books about growing up in South Africa, Born A Crime is also one of the best audiobooks for road trips. You might know Trevor Noah from The Daily Show.

In this memoir, Noah shares his journey growing up in Apartheid South Africa with a Black mother and white father, which was considered a crime during that time.
A coming-of-age story, learn more about the brilliant man behind one of our favorite nightly TV shows.

Noah is guaranteed to make you laugh with his childhood stories while talking about more serious issues including racism and racist policies. Book Information→
Best Audiobooks For Road Trips Related To Travel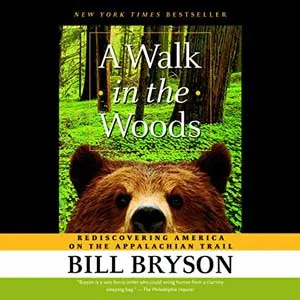 I wish that Bill Bryson would narrate his books. I picture his sarcasm and wit radiating out of my stereo. It's no secret that Bryson is also one of my all-time favorite travel writers, too.

If you are road tripping around the United States and headed to the Appalachian Trail, don't skip either reading, watching, or listening to A Walk In The Woods.

Bryson and his boozy buddy, Katz, have no business hiking the Appalachian Trail, but they do it anyway. You'll love them for it. Book Information→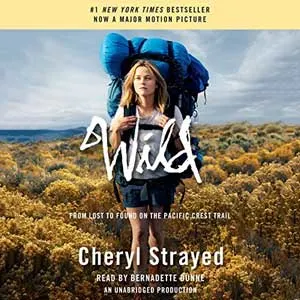 If you are looking for good books to listen to while driving (with Kleenex), don't pass up Wild by Cheryl Strayed. I listened to this travel audiobook on my way to work and felt every ounce of Strayed's pain.

Overcoming the loss of her mother and with a failed marriage, Strayed is both broken and lost. Even though she is not a hiker, she makes an unhinged and wild decision to hike the Pacific Crest Trail.

Watch Strayed's journey as she learns to forgive, grow, and rebuild her life. This is a great memoir for hikers.
Best Audiobooks Road Trips For Bestselling Fiction Lovers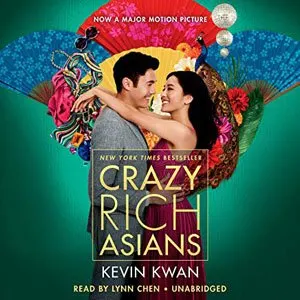 Crazy Rich Asians as a book and then a movie did not disappoint. The first in the series, we enter the lives of the rich and not so famous except in their wealth.

Rachel Chu falls in love with one of the wealthiest families' offspring, Nick Young, causing a tizzy of gossip and instant jealousy. Is she good enough for this family? In fact, who the hell is she?

Sit back with some popcorn for family scandals, love affairs, and a story about proving love conquers all. Crazy Rich Asians is definitely binge-worthy and one of the best audiobooks for road trips. Read More→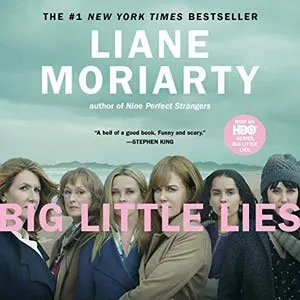 Big Little Lies remains one of my favorite books, and I equally love the HBO series. Someone is left dead and the suspect list is endless.

Behind closed doors, all of the players–especially the women–have deep, dark secrets. No one is as Stepford Wives as they seem. Watch the drama unfold as friendships are built and marriages crumble.

Big Little Lies is the perfect audiobook while driving since it takes your mind off of the traffic and into this mystery. Read More→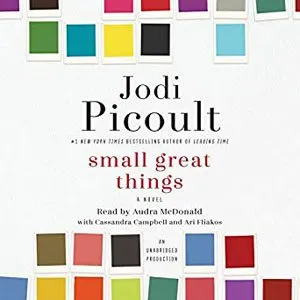 Small Great Things takes place in my home state of Connecticut where black nurse, Ruth Jefferson, attempts to save a baby's life. The problem is, the parents are white supremacists and had ordered the hospital to keep Ruth away from their child.

Ruth ultimately finds herself at a trial where no one wants to discuss race. Meanwhile, she is trying to live and fight for her life while raising her own family.

Picoult addresses issues at the core of racist America. Most of Picoult's novels make for binge-worthy audiobooks perfect for road trips; Picoult is a storyteller at heart. Read More→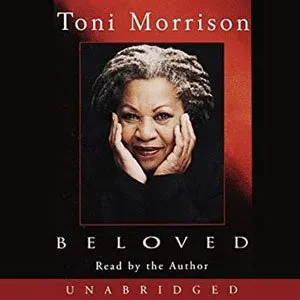 I always love listening to Toni Morrison's poetic and sage voice while driving.
Beloved is the world-famous story and one of the best books from the '80s about Sethe, a slave who escaped slavery.
However, Sethe is still enslaved by her past and the haunting death of her nameless child. One word sits on the baby's grave, Beloved. Read More →
Find Beloved on TUL's Books That Make You Think Differently About The World book list.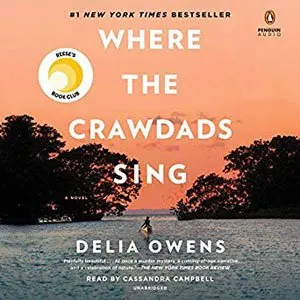 Where The Crawdads Sing is one of the most popular books of 2019, an intriguing movie adaptation, and one of the best audiobooks for road trips if you are headed to North Carolina.
Owens transports readers to the marshland around the Outer Banks.

Kya Clark, who has never fit in, is suspected of killing Chase Andrews. Isolated as a youth from society because her family is poor and neglectful, Kya has always been a naive and easy target.
Learn about love, death, and coming of age in the most tragic of circumstances.
Read more books set in North Carolina. Book Information
Best Historical Fiction Audiobooks For Road Trips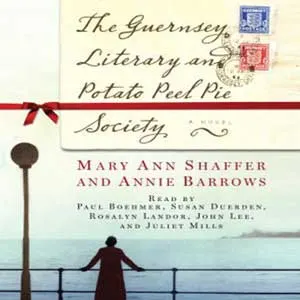 Looking for some of the best audiobooks for road trips for historical fiction lovers? Don't miss The Guernsey Literary and Potato Peel Pie Society.

I loved listening to this audiobook with its multitude of narrators that brought every character to life.
With the end of WW2, Juliet needs inspiration for her next book. She heads to Guernsey where she learns about the secret The Guernsey Literary and Potato Peel Pie Society.

Completely endearing, fall in love with this gaggle of islanders.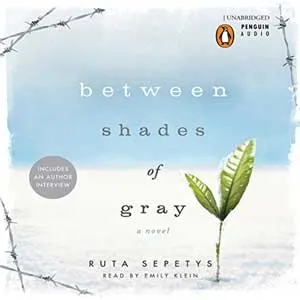 Another audiobook that I loved is Sepeys's Between Shades Of Gray. If you enjoy WW2 historical fiction about more obscured histories, Ruta Sepeys is for you.

Fifteen-year-old Lithuanian, Lina, is thrown into a crowded train headed for a Siberian work camp.
Separated from her father, Lina sends her drawings through secret channels hoping to locate her father's prison camp to let him know that she is alive.
Read more books with colors — like gray — the title.
Best Audiobooks For Road Trips For Teens & Middle Grade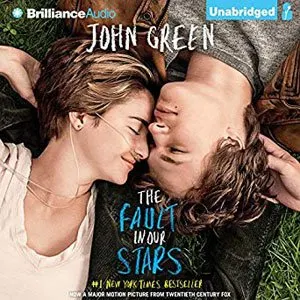 Imagine pulling into work and waiting for the building to open. You are sobbing hysterically in your car and your coworkers think you either hit a squirrel or your cat died. Nope. I was just listening to YA novel, The Fault In Our Stars.

The Fault In Our Stars is one of the best audiobooks for road trips or work commutes that I have listened to ever, hands down.

Cancer is a hard battle, and Hazel and Augustus meet at a cancer support group. Their story focuses on healing, living your life to the fullest, and love. Have the tissues ready. Read More→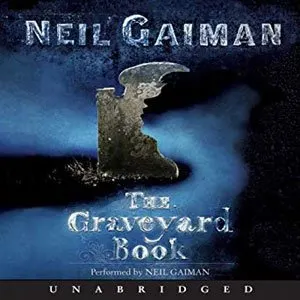 Eline inspired me with her love of Neil Gaiman, and it's part of the reason I adore her book suggestions.
One of Gaiman's most famous novels, The Graveyard Book is the perfect audiobook for family road trips, especially if you devour ghost story novels.

A middle grade and YA read, meet Bod. Bod has the only beating heart in his graveyard family, and we watch as he comes of age in the ghoulish world of magic. Read More→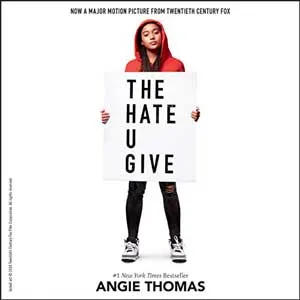 Full disclosure that I read the book as well as watched the movie for The Hate U Give. However, regardless of how you digest the title, I've also heard that it makes for one of the best audiobooks for road trips for the entire family, especially today.

Understand the Black Lives Matter movement even more as well as the murdering of innocent young Black men by the police as Starr Carter seeks justice for her best friend's death.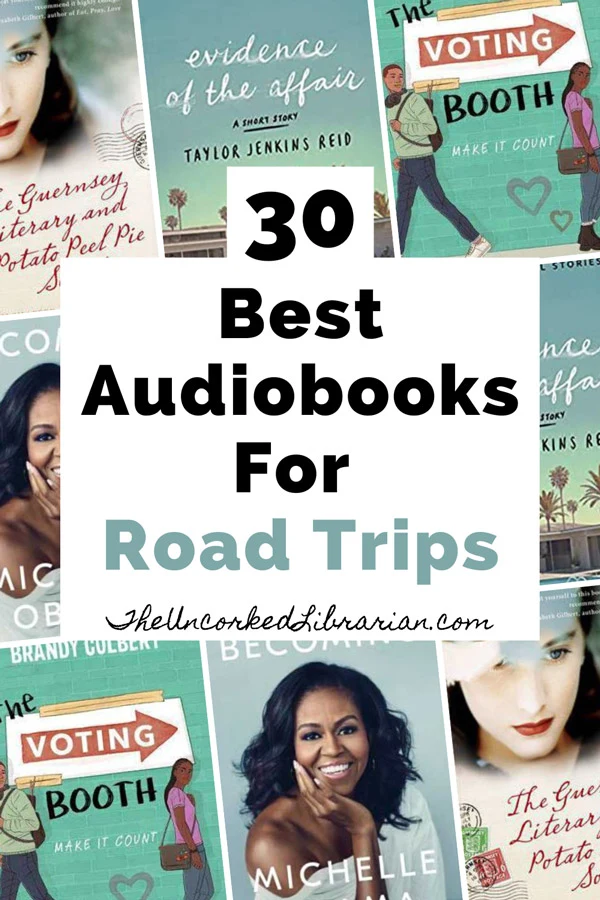 What are some of your favorite audiobooks for road trips?
What road trips have you taken that you loved? What are your favorite books to listen to while driving?

Have you read or listened to any of the audiobooks listed above? Which audiobooks do you recommend? Are there any that you didn't love? Do you like audiobooks or podcasts more?
P.S. While you are road tripping and stopping along the way, you definitely want to check out my blogging friend, Kathy of Tasty Itinerary's, top Airbnb tips for guests.
You May Also Enjoy:
Books About Finding Love That Won't Make You Gag
Travel Writers That Inspire Real Travel
Books That Make You Think Outside The Box
Travel Across America With This 50 States Reading List
Fabulous Books Set On Trains