This post may contain affiliate links for products and services I recommend. If you make a purchase through these links, at no additional cost to you, I will earn a small commission. Read the full disclosure here.
Are you looking for books to listen to while driving? Check out 15 of the best audiobooks for road trips in order to have an amazing start to your vacation.
---
Guys, imagine having to drive 9 hours in a car with 3 screaming cats and a panda bear (mutt Maine Coon) for our upcoming North Carolina move.  Shoot me now.
Are you wondering how I will drown it all out and keep my sanity?  Xanax.  And wine.  Just kidding…
The answer from above: Audiobooks, y'all.
So maybe you don't have 4 beastly children–or maybe you do–but after a while, tuning the radio station per state becomes tedious AF.
Did my upbeat pop music just go gospel?
Pandora starts playing the same songs over and over again.
You run out of things to talk about.
The scenery is getting on your nerves.
I feel you.
When you are ready to bang your head on the steering wheel, it's time to turn on an audiobook. Heck, I finished one to two books a week for my last job's commutes alone.  Why not start your vacation off on the right foot?
What books should you listen to on a road trip?
15 Of The Best Audiobooks For Road Trips
I asked my favorite audiobook expert, Eline of Lovely Audiobooks, what she recommends as the best audiobooks for road trips.  Check out her tips and favorites.  I promise to add a few uncorked extras at the end.  Don't miss them after Eline's helpful guest piece.
---
So What Does Eline, The Audible Expert, Recommend You Listen To While Driving?
Guest Submission from Eline of Lovely Audiobooks
Audiobooks and driving go together like PB&J! I never go on vacation without Audible and headphones.
So, when Christine asked me for the best audiobooks for road trips, my first answer was: "The one you're listening to right now! And then the one you want to listen to next."
But I'm an audiobook addict. I listen to them all day every day.
If you're not quite as crazy as me, here are a few tips you might find useful when listening to books while driving.
The Right Gear For Listening To Audiobooks For Road Trips
As a passenger, use noise-canceling headphones. At home, I prefer a small Bluetooth earpiece in one ear. But while they are very comfortable to wear, it's just too hard to understand the narration on the road.
If you're the driver, you don't have the luxury of headphones. But listening to a book with friends and loved ones can turn your road trip into a nice and companionable experience.
How Do You Choose The Best Audiobooks For Driving?
The best audiobooks for road trips are always the one you and everyone in the car likes.
Remember that awkward scene in How I Met Your Mother? On their drive, Lily and Marshall want to listen to "Goodbye Sparky," but Ted is really not feeling the story and is extremely bored.
Don't be that person who makes everyone else in the car feel like Ted!
Perfect Length Audiobooks For Road Trips
On Audible, you can choose audiobooks by length. You can pick a story that will end when you arrive at your destination.
For example: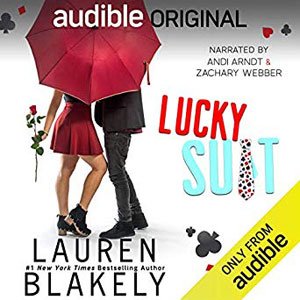 Lucky Suit is 2.5 hours long, which makes this audiobook perfect for a shorter drive. And, it's safe to play on speakers.
This is a light-hearted romantic comedy by romance queen, Lauren Blakely, and is perfectly narrated by two of romance's most beloved narrators, Zachary Webber and Andi Arndt. These two will draw you in and make you wonder how Kristen and Cameron actually end up together.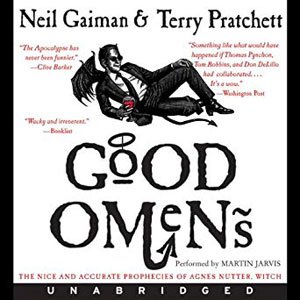 Good Omens is making an incredible comeback. Whether you've already seen the Amazon show, read the book, or are yet to experience this awesome story about friendship and the apocalypse, this audiobook is always a good selection for road trips.
This is the abridged version, produced with a full cast of voice actors including Peter Serafinowicz for a BBC radio play. 
With a length of 4:20h, it's a great choice for a long drive.  Read More→
Best Audiobooks For Road Trips About Road Trips
As regular TUL readers, I'm sure you already appreciate the connection of reading and traveling. And there are some great audiobooks about road trips that are really fun to listen to on a long drive.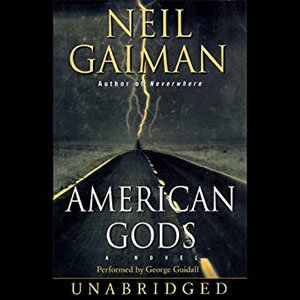 Neil Gaiman is everywhere these days.  American Gods is my personal favorite. Shadow, this honestly good guy who finds himself utterly out of options after being released from prison, runs into a group of rather odd people. With them, he's going on a road trip through America.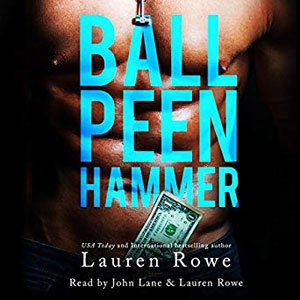 Ball Peen Hammer is absolutely NOT a speaker-safe audiobook to listen to while driving, unless you are going on a road trip alone. 
But, this contemporary romance isn't only incredibly sexy, it's also absolutely hilarious and still heart-warming. Keane and Maddy find themselves on the road trip version of a blind date. They talk, get to know each other, and, of course, have to keep their hands off of one another. But that never quite works out, does it?!
This is my favorite road trip audiobook romance!
Best Audiobooks For Road Trips To Learn Something New
If you're not so fond of fiction, you can use your road trip for a fascinating nonfiction listen.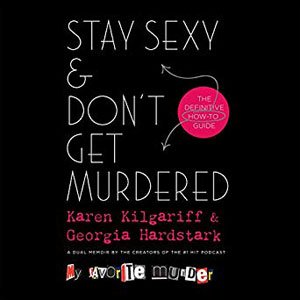 Stay Sexy & Don't Get Murdered is the story of the two women behind one of the most successful true-crime podcasts. If you follow My Favorite Murder, this is a must-listen. But if you don't know the podcast, you can also start with the audiobook and discover My Favorite Murder afterward.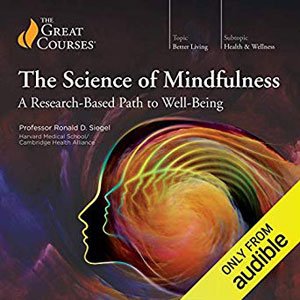 Mindfulness is a popular term. But, there's actual science behind it. This audiobook gives a great overview of why mindfulness practice can improve your quality of life and even help significantly with depression and anxiety.
As someone who tends to overthink things, I found it very helpful to understand what mindfulness changes in the brain before actually starting to practice.
The course is perfectly safe for drivers, but don't do the guided meditations at the end of the audiobook while you're still driving.
P.S. If you're a Kindle Unlimited subscriber, you can also try out the audiobooks that are free with your subscription.
**This excerpt guest post is from one of the best audiobook book bloggers, Eline from LovelyAudiobooks.info. One of her favorite places to listen to books is the passenger seat of her RV, enjoying new places and new stories. Eline loves everything about "aural reading". Find out the 5 Things you didn't know about Audiobooks, what you can do when you struggle to focus on an audiobook and check out her favorite short audiobooks.**
---
Eline clearly knows the best audiobooks for road trips, and I love her eclectic suggestions.  She also has a special love for romances that I appreciate when I'm wondering what to read while driving.  Let's just hope the car next to me has the windows closed.
Along with Eline's suggestions, these are the best books to listen to on a road trip that I (Christine) love.  Please note that many of these recommendations are the best audiobooks for longer road trips.
The Best Audiobooks For Long Road Trips (And Even Commutes) From TUL
Best Nonfiction Audiobooks For Road Trips

I love listening to nonfiction books in the car since I find myself chugging through them on the couch.
Although I talk a lot and pretend to be an extrovert to survive most days, a large part of me is an introvert.  Susan Cain describes exactly this dynamic of an extroverted society and its effects on introverts.
Cain is a champion of the quieter folk and discusses how in a world that cannot stop talking, introverts have merit too.  Discover some secretly popular introverts and their societal contributions, too.  Read More About Quiet→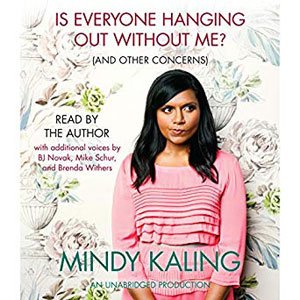 Mindy Kaling will forever crack me up, and for me, she always touches a heartstring.  Is Everyone Hanging Out Without Me? is one of my favorite funny audiobooks for road trips.  All of your passengers will laugh along too.
Join Mindy as she hilariously and embarrassingly discusses growing up.  She talks about weight, fame, friendship, and romance in the most honest and open way.  Read More→
Best Audiobooks For Road Trips: Young Adult & Middle Grade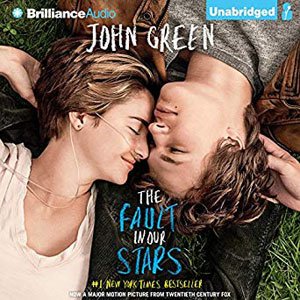 Imagine pulling into work and waiting for the building to open.  You are sobbing hysterically in your car and your coworkers think you either hit a squirrel or your cat died.  Nope.  I was just listening to young adult novel, The Fault In Our Stars.  The Fault In Our Stars is one of the best audiobooks for long drives that I have listened to ever, hands down.
Cancer is a hard battle, and Hazel and Augustus meet at a cancer support group.  Their story focuses on healing, living your life to the fullest, and love.  Have the tissues ready.  Read More→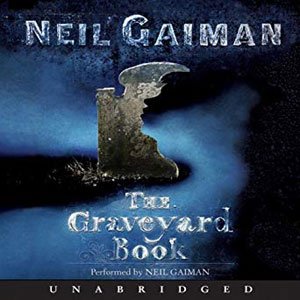 Eline inspired me with her love of Neil Gaiman, and it's part of the reason I adore her book suggestions.  One of Gaiman's most famous novels, The Graveyard Book is a perfect audiobook for family road trips.
A middle grade and YA read, meet Bod.  Bod has the only beating heart in his graveyard family, and we watch as he comes of age in the ghoulish world of magic.  Read More→
Best Audiobooks To Binge For Road Trips: Famous Fiction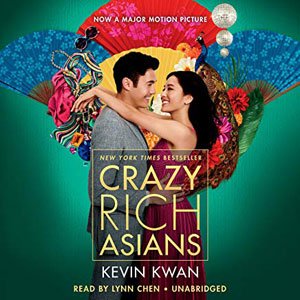 Crazy Rich Asians as a book and then a movie did not disappoint.  The first in the series, we enter the lives of the rich and not so famous except in their wealth.
Rachel Chu falls in love with one of the wealthiest families' offspring, Nick Young, causing a tizzy of gossip and instant jealousy.  Is she good enough for this family?  In fact, who the hell is she?
Sit back with some popcorn for family scandals, love affairs, and a story about proving love conquers all.  Crazy Rich Asians is definitely a top binge-worthy audiobook for road trips.  Read More→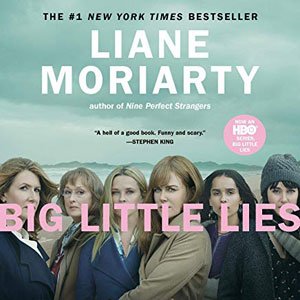 Big Little Lies remains one of my favorite books, and I equally love the HBO series.  Someone is left dead and the suspect list is endless. Behind closed doors, all of the players–especially the women–have deep, dark secrets.  No one is as Stepford Wives as they seem.
Watch the drama unfold as friendships are built and marriages crumble.  Big Little Lies is the perfect audiobook while driving since it takes your mind off of the traffic and into this mystery.  Read More→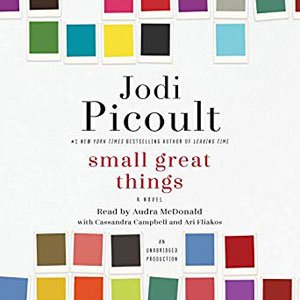 Small Great Things takes place in my home state of Connecticut where black nurse, Ruth Jefferson, attempts to save a baby's life.  The problem is, the parents are white supremacists and had ordered the hospital to keep Ruth away from their child.
Ruth ultimately finds herself at a trial where no one wants to discuss race.  Meanwhile, she is trying to live and now fight for her life while raising her own family.  Picoult addresses issues at the core of racist America.
Most of Picoult's novels make for binge-worthy audiobooks for road trips; Picoult is a storyteller at heart.  Read More→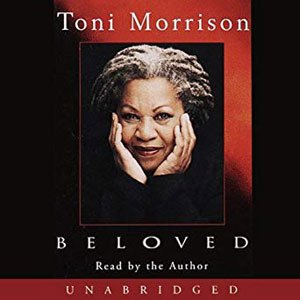 I always love listening to Toni Morrison's poetic and sage voice while driving.  Beloved is the world-famous story of Sethe, a slave who escaped slavery.  However, Sethe is still enslaved by her past and the haunting death of her nameless child.  One word sits on the baby's grave, Beloved.  Read More →
Find Beloved on TUL's Books That Make You Think Differently About The World book list.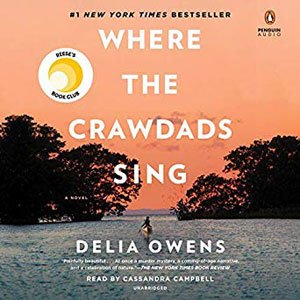 Where The Crawdads Sing has to be one of the most popular books of 2019 and has landed on multiple TUL book lists from guest contributors such as Love Stories Around The World.  Since I have yet to find a copy available at my library, I am hoping to listen to this one while road tripping to NC.
Set in North Carolina, Kya Clark is suspected of killing Chase Andrews.  Learn about love, death, and coming of age in the most tragic of circumstances. According to my fellow book bloggers, Where The Crawdads sing is easily one of the best audiobooks for road trips in 2019 (and top books in general).  Read More→
Loving These Best Audiobooks For Road Trips? Pin It For Later:
P.S. I have to thank my blogging bestie, Kathy of Tasty Itinerary for donating two of her sexy red car road tripping pictures from Hawaii for this book list.  Kathy is your go-to blogger for foodie tips and cruises.  While you are road tripping and stopping along the way, you definitely want to check out Kathy's Airbnb tips for guests.
What Can You Read Next?
Books About Finding Love That Won't Make You Gag
Travel Writers That Inspire Real Travel
Literary Home Decor Inspiration
Books For Writers
Books For Father's Day
Diverse WWII Books
Books That Make You Think Outside The Box