15 Courageous Holocaust & World War 2 Books For Teens
Discover the best World War 2 books for teens and tweens to teach you more – including must-read Holocaust books for high school students.
Growing up, most Americans read The Diary Of A Young Girl by Anne Frank, especially in middle school. Then in high school, the curriculum emphasizes A Separate Peace, Catch-22, and The Chosen.
While these are all essential WW2 books for high school students, there are many more powerful stories out there – with more and more publishing each year.
We especially appreciate the titles hitting graphic novel format.
Today, some of the best Holocaust books for high school students include The Book Thief, Night, Between Shades of Gray, and Maus.
For WW2 books for young adults, don't miss Displacement, Salt to the Sea, Girl in the Blue Coat, and The Librarian of Auschwitz.
So, in the endless array of WW2 books for teens out there, how do you choose?
Keep reading for our choices – including the classics – and be sure to let us know your favorite YA WW2 books in the comments. Let's get started.
* Please note that we originally published this article as a piece on "Holocaust books for high school and middle school students" but have since updated it to include all-encompassing World War 2 books for teens.
Read more of the best WW2 books for travelers.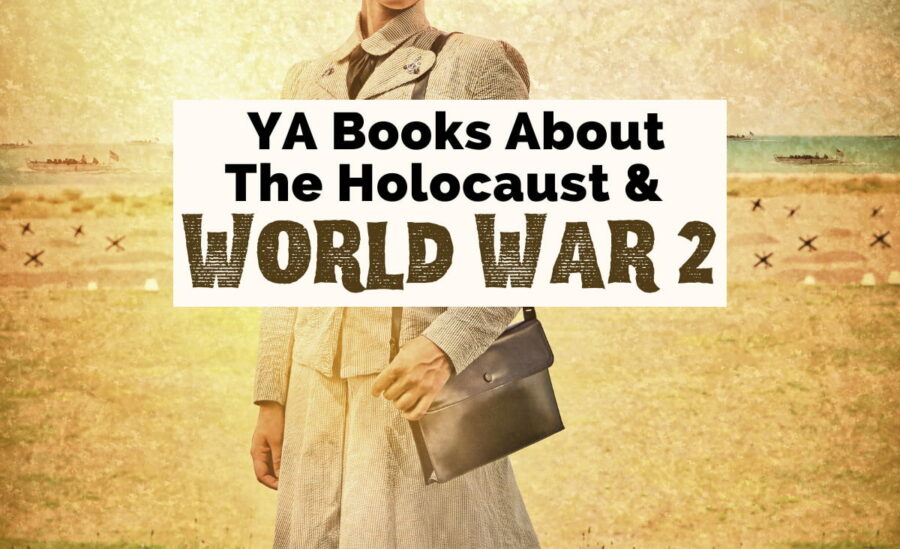 Fill up your WW2 books for teens reading list here:
15 Best World War 2 Books For Teens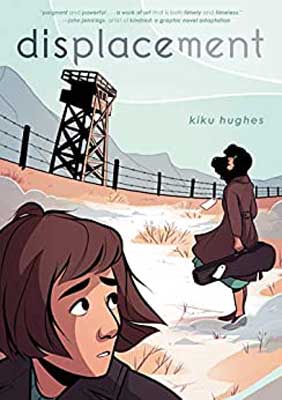 Displacement by Kiku Hughes
Displacement is one of the must-read and timely time travel books about WW2 that teaches middle and high school students about racism, war, generational trauma, and politics – both in the 1940s and present day.
While Kiku is visiting her deceased grandmother's old San Francisco, CA neighborhood, she finds herself displaced in time.
Headed to a United States Japanese incarceration [internment] camp with her grandmother as a neighbor, Kiku is scared and confused. How did she get here?
Although Kiku doesn't speak to her grandmother, she befriends other members of the camp – which in reality is a prison – and begins to understand the trauma that her grandmother suffered and internalized.
Not knowing much about her family history before this moment, Kiku witnesses firsthand the atrocities against Japanese Americans during WW2. She sees how this affects her family today.
Hughes juxtaposes these prisons with present-day times and – now former – President Donald Trump's racist actions as he placed children in cages at the US border.
How can Kiku learn from the past to prevent this from happening again as well as stand up for BIPOC and immigrants' rights today? More so, how can we?
Hughes utilizes a simplistic but poignant style of storytelling – with loads of white space – to create one of the most accessible and best World War 2 books for teens on this list.
Uncover even more graphic novels with strong LGBT+ characters.

Read Displacement: Amazon | Goodreads
The Book Thief by Markus Zusak
One of the most well-known WW2 books for teens, PBS's The Great American Read named The Book Thief as one of America's most beloved books. The movie is fantastic too.
Narrated by Death and taking place in 1939 Nazi Germany, meet foster child, Liesel. The Book Thief isn't your typical foster family story, though.
Liesel would have had a safe, supportive, and happy upbringing if she wasn't caught in the middle of a war.
Starting with a "stolen" copy of The Gravedigger's Handbook – just the beginning of the books that Liesel will find and take during Nazi book burnings and from others' collections – she learns to read.
Liesel's family is also hiding a Jewish man in her basement, and a heartfelt friendship begins.
Because Death is in charge of the story, though, you can imagine that Death stays pretty busy – making this one of the saddest stories to read.
Uncover even more books about budding friendships for adults and teens as well as books about reading and books.
Read The Book Thief: Amazon | Goodreads | Read More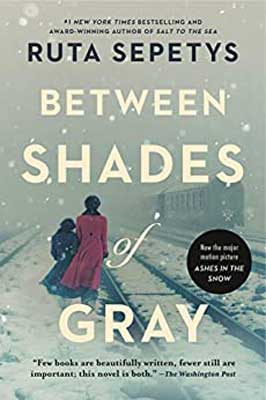 Between Shades Of Gray by Ruta Sepetys
Between Shades of Gray is a Carnegie Medal nominee, a William C. Morris Award finalist, a Golden Kite Award winner, and an NYT and international bestseller- just to name a few accolades – making it one of the most recognized World War 2 books for teens on this reading list.
Beginning in Lithuania, we meet 15-year-old Lina. Soviet officers invade her home, brutally splitting up her family.
While she, her mother, and her brother are on their way to a Siberian work camp – in deadly conditions – her father is sent to an even more dangerous concentration camp.
Through carefully crafted and coded drawings, Lina attempts to communicate with her dad.
This is a heartbreaking story about survival and family.
Know that Sepetys is the master of writing largely overshadowed stories in history as well as showing the effects of war on youth. Her stories are thrilling, relatable, and highly engaging.
Plus, Sepetys produces some of the best WW2 books for high school students that are both great to read as physical copies or to listen to as audiobooks for family trips.
Just be forewarned that you may find yourself in tears while driving and listening to Between Shades Of Gray.
Find more books with the color gray in the title, and don't miss our Baltics reading list.

Read Between Shades of Gray: Amazon | Goodreads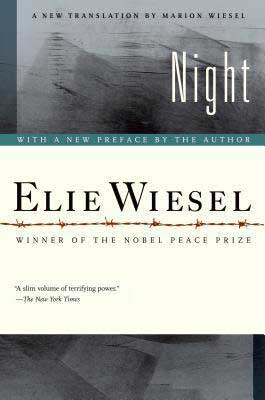 Night by Elie Wiesel
Translated by Marion Wiesel
One of the most famous Holocaust books for high school students, Night by Elie Wiesel is a terrifying and honest autobiographical account of barely surviving the Nazi concentration camps.
Wiesel, who recently passed away in 2016, grew up in what is now Romania. At the age of 15, the Nazis captured Wiesel's family – and less than half of them survived the Holocaust.
Through the narrator, Eliezer, we watch the Nazis invade Hungary in 1944.
While some Jewish families are immediately killed, others are sent to work camps where they will most likely perish in the sickening and inhumane conditions.
Readers learn more about the atrocities at death camps, including Auschwitz and Buchenwald.
However, Wiesel doesn't just recount his everyday hell. In a thought-provoking manner, Wiesel describes the Holocaust from a philosophical perspective and talks about its implications for humanity.
Read more books on Poland as well as Polish books.
Read Night: Amazon | Goodreads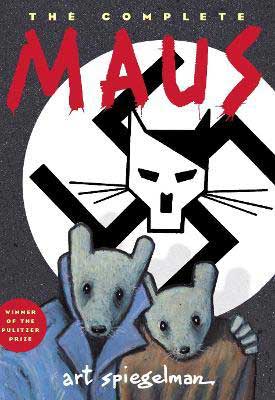 The Complete Maus by Art Spiegelman
One of the most brutal but affecting Holocaust books for high school students, Maus is a YA graphic novel and winner of the Pulitzer Prize.
Readers witness the story of Vladek Spiegelman, a Holocaust survivor, along with his cartoonist son.
In both stories, Spiegelman documents the landscape of Hitler's Europe, including his father's time spent in Auschwitz.
The illustrations portray the Nazis as cats and the mice as Jews – in a groundbreaking allegory of tenderness, destruction, and guilt.
As the publisher, Pantheon, notes, "Maus studies the bloody pawprints of history and tracks its meaning for all of us."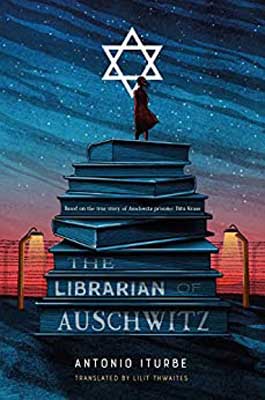 The Librarian of Auschwitz by Antonio Iturbe
Translated by Lilit Žekulin Thwaites
If you enjoy biographical historical fiction and books about librarians, The Librarian of Auschwitz recounts the real-life story of Dita Kraus, a prisoner of Auschwitz.
One living in the Terezín ghetto in Prague, 14-year-old Dita finds herself imprisoned in Auschwitz. Her secret role is now Librarian, and she must guard eight hidden books.
One of the Holocaust books for high school students that is an utter testament to bravery, find an astonishing story of strength.
Witness firsthand how many adults – in the worse of circumstances – worked so hard for normalcy for the children imprisoned.
Read The Librarian of Auschwitz: Amazon | Goodreads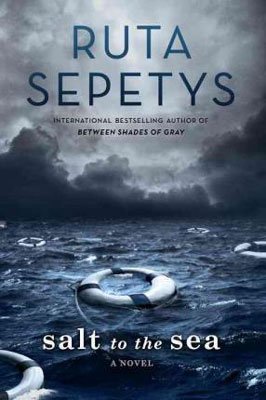 Salt To The Sea by Ruta Sepetys
TW: Rape & violence
One of the best World War 2 historical fiction books for teens, Sepetys's Salt To The Sea will keep you up late into the night.
Sepetys introduces us to four youth during WW2.
Emilia is a young Polish girl who impersonates a Latvian woman to stay alive. Joana is a young Lithuanian nurse.
Florian, a Prussian boy, finds himself on a secret and conflicting mission, and Alfred is a German "soldier" in Hitler's army.
Of course, you start Salt To The Sea hoping that all will survive but know they won't, especially as they seek passage on the doomed and real-life Wilheim Gustloff.
With over 10,000 refugees, mostly women and children, historical events tell us that the Soviets sink the Gustloff – one of the world's largest maritime disasters.
Salt To The Sea is one of the best WW2 books for young adults that's engaging, heartfelt, and accessible.

Read Salt To The Sea: Amazon | Goodreads | Book review | Discussion Questions
Take The Uncorked Reading Challenge!
Travel around the world with our Uncorked Reading Challenge. Never be late to the party with unique new book releases. Get the latest movie and book lists straight to your inbox.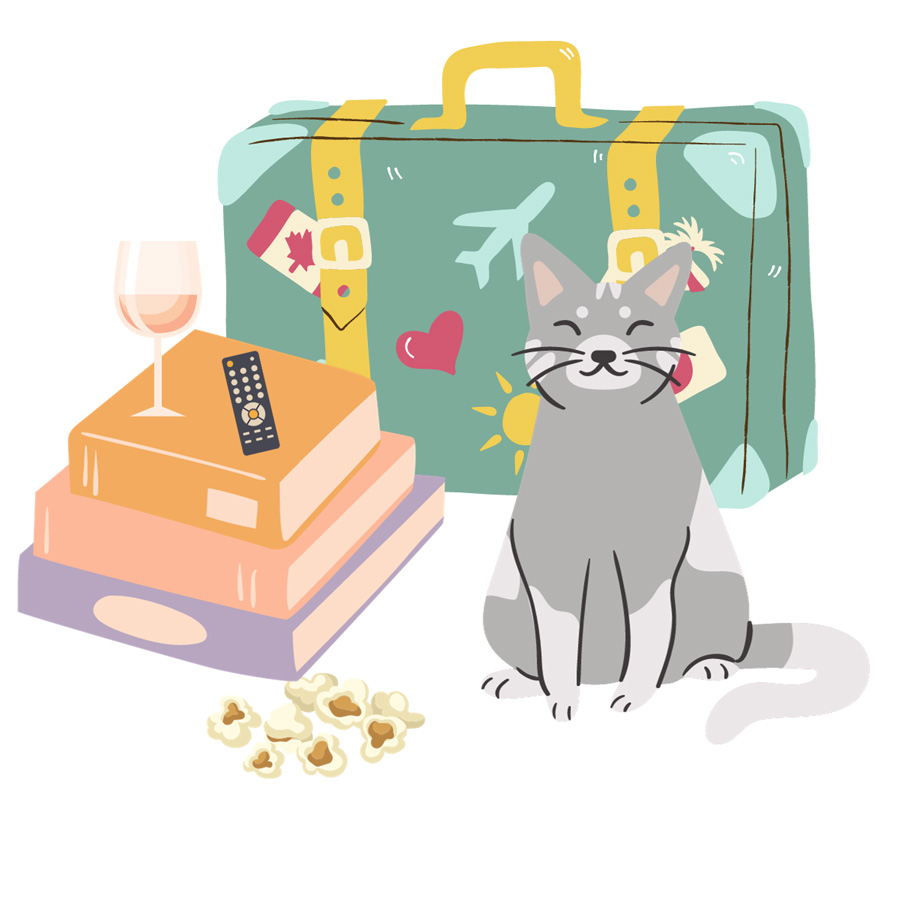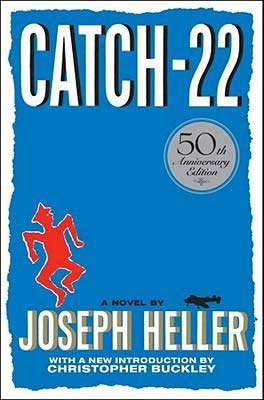 Catch-22 by Joseph Heller
Catch-22 is probably one of the most widely read WW2 books for teens, especially if you grew up in the 90s.
Published in the 1960s, this one is all about its namesake.
Set in Italy during WWII, bombardier Yossarian cannot believe that all of these people – that don't even know him – wish him dead.
Even worse, he is worried that his own army is going to kill him before the enemy does, especially with his missions steadily increasing.
Yossarian wants out but feels like that is pretty impossible.
Finding himself in a Catch-22, Yossarian can't claim that his mental health is poor enough to get out of the army because only a mentally healthy person can truly try to lie their way out of the Air Force.
Notably, Catch-22 is another one of the best WW2 books for young adults named PBS's The Great American Read.
Read more books about Italy.
Read Catch-22: Amazon | Goodreads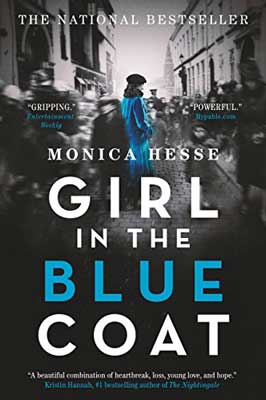 Girl In The Blue Coat by Monica Hesse
One of the newer (2017) World War 2 books for teens, Monica Hesse's Girl In The Blue Coat introduces us to Hanneke, a young girl living in the Netherlands in 1943.
Hanneke sells goods on the black market. She is faced with difficult decisions when a client asks her to help find a Jewish teenager who was hiding and may now be on the run.
Hanneke can't seem to resist rebellious and dangerous activities, and she becomes part of the Resistance.
Reviewers compare Monica Hesse to authors like Ruta Sepetys and Kristin Hannah. Girl In The Blue Coat won an Edgar Award for Best Young Adult Mystery.
If you champion Hanneke, meet other powerful women in historical fiction.
Read Girl In The Blue Coat: Amazon | Goodreads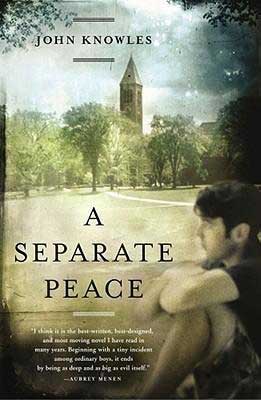 A Separate Peace by John Knowles
One of the classic WW2 books for young adults, A Separate Peace isn't our personal favorite but is usually a high school curriculum staple.
If you enjoy old-school dark academia books, A Separate Peace might still appeal to you.
On the brink of WWII, Gene and Finny attend Devon, a New Hampshire prep school.
Their friendship is somewhat of an assumed and relatable rivalry until Gene realizes that Finny really does want the best for him.
Unfortunately, one of their daredevil traditions leads to an accident that forever changes Finny's life.
As the young boys enlist, they witness more than they can understand, which takes a toll on their minds and friendships.
A National Book Award finalist, A Separate Peace is one of the best YA WW2 books about friendship, guilt, and growing up under forced circumstances.
Find even more books set across the United States.
Read A Separate Peace: Amazon | Goodreads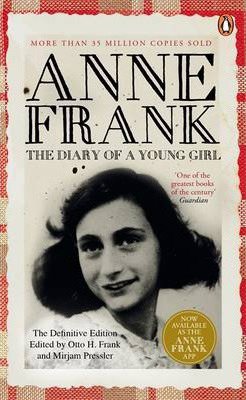 The Diary Of A Young Girl by Anne Frank
Translated by Susan Massotty
The Diary Of A Young Girl is one of the cannot-miss nonfiction Holocaust books for high school students. The book came to the U.S. in the 1950s.
Anne is a young Jewish girl living in Holland when the Nazis invade. She and her family hide above a shop where Anne pens her thoughts and daydreams like a typical 13-year-old girl.
Their new life is modest, and at times, absolutely silent and stifling.
Anne and her family live in constant fear of being detected; yet, Anne still exudes hope and love.
Unfortunately, we know how this devastating story ends: someone snitches on Anne's family, and they are found. Sent to concentration camps, Anne does not survive.
Anne's story brings innocence and a different type of triumph to WW2, even though her story is heartbreaking and unforgettable.
We visited the Anne Frank House in the Netherlands. If you find yourself near Amsterdam, consider making reservations to climb behind the bookshelf and up the stairs to Anne's hiding place.
You will leave haunted but also with a loving memory of courageous Anne.
Read The Diary Of A Young Girl: Amazon | Goodreads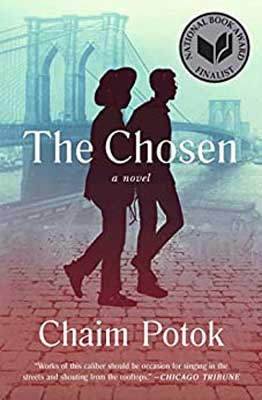 The Chosen by Chaim Potok
Another classic WW2 book for teens, The Chosen follows Reuven Malter, an Orthodox Jew, and his friend, Danny Saunders, a Hasidic Jew.
Although the two boys are friends, their fathers are extremely strong in their conflicting religious convictions. Can they find a middle ground and commonality?
Unlike the other YA World War 2 books on this list, The Chosen focuses the most on philosophical religious debates.
Read The Chosen: Amazon | Goodreads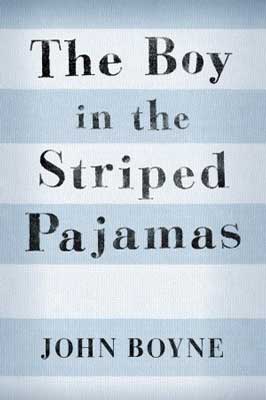 The Boy In The Striped Pajamas by John Boyne
The Boy In The Striped Pajamas is one of the shortest Holocaust books for high school students on this list – but it packs a huge punch.
Like Sepetys, Boyne shows how innocent children are affected by the war and the art of WW2 propaganda.
It's 1942 in Berlin, and Bruno's dad is now the Commandant of Hitler's army. Lonely, Bruno finds himself bored in a new house -courtesy of his dad's promotion – with little to keep him occupied.
Outside, there is a fence where he meets another young boy in blue and white striped "pajamas." Of course, this new friend is Jewish.
Their friendship turns into something far more dangerous than could ever be expected.
While the story is less than plausible, it offers a unique perspective from a young child. Just be wary of its historical representation as The Boy In The Striped Pajamas is heavily criticized for its inaccuracies.
Read The Boy In The Striped Pajamas: Amazon| Goodreads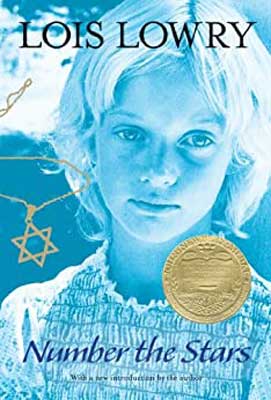 Number The Stars by Lois Lowry
Ten-year-old Annemarie Johansen lives in Copenhagen, Denmark around 1943. Denmark has been under Nazi occupation for the past three years.
Her best friend's family, who is Jewish, flees to escape the Nazis, leaving behind Annemarie's best friend, Ellen.
They take in Ellen, pretending that she is part of the family, and ultimately, fool the suspicious Nazis. Eventually, Ellen is reunited with her family as they attempt to flee together to Sweden.
Watch a dangerous and trying time for even the youngest family members who learn about the true meaning of courage during WWII.
Number The Stars is one of the best WW2 books for young adults, especially tweens.
Read Number The Stars: Amazon | Goodreads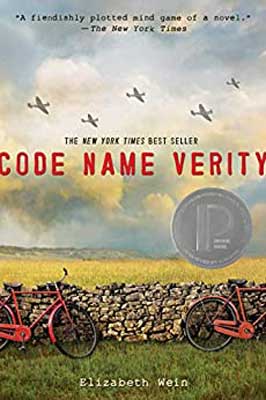 Code Name Verity by Elizabeth Wein
Code Name Verity is one of the award-winning WW2 books for high school students, including Michael L. Printz Award Honor recognition.
"Verity" is arrested by the Gestapo when her British spy plane crashes over German-occupied France.
In order to save her life, she must decide if she will confess her mission to the enemy. In the process of sharing her carefully crafted story, we learn more about Verity's past.
We also come to find out why Verity left her passenger and best friend Maddie in the wrecked plane. How far will friends go to save each other?
Travel to France with these books.
Read Code Name Verity: Amazon | Goodreads
Save Your Favorite WW2 Books For Teens For Later: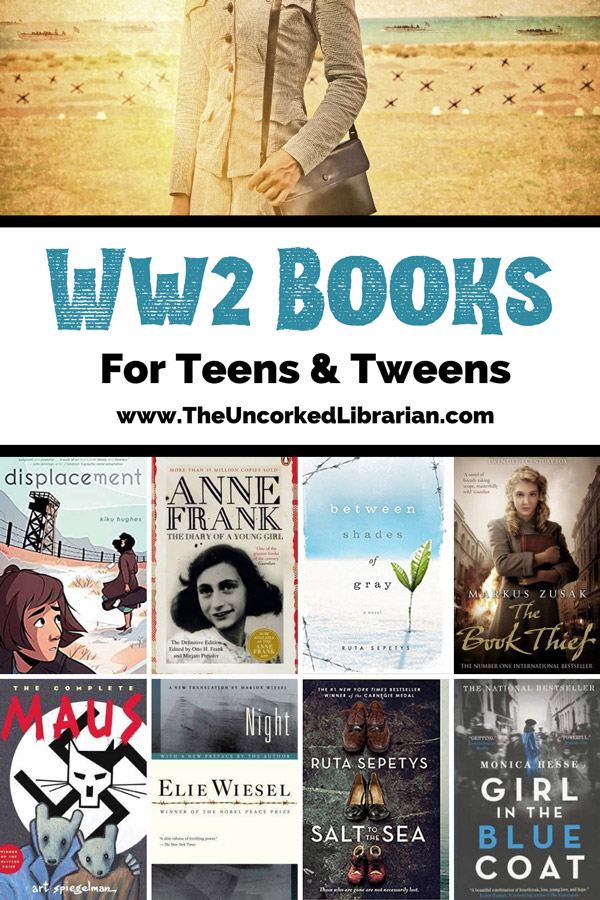 Grab the best WW2 books for young adults here:
What WW2 books for high school students do you suggest?
These are some of our top recommended Holocaust books for high school students and middle-graders along with the best overall WW2 books for teens.
Which YA WW2 books did you read in middle and high school? Which ones did you read as an adult?
Lastly, are there any WW2 books for teens and tweens that you'd recommend? Let us know in the comments.
More YA Reading Lists:
LGBT+ Books For Teens
Mulan Retellings
Teen Vampire Books & Series
Other Books Mature Teens May Enjoy:
Books That Make You Think Outside Of The Box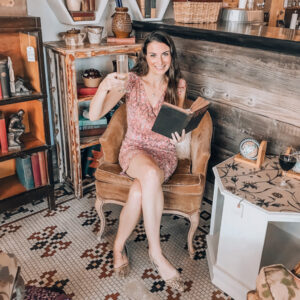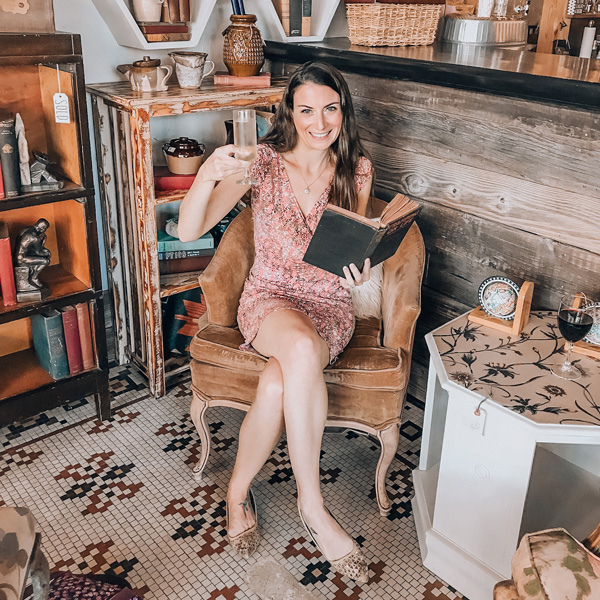 Christine (she/her) is the owner, lead editor, and tipsy book sommelier of The Uncorked Librarian LLC, an online literary publication showcasing books and movies to inspire travel and home to the famed Uncorked Reading Challenge.
With a BA in English & History from Smith College, an MLIS from USF-Tampa, and a U.S. Fulbright Fellowship in Christine's back pocket, there isn't a bookstore, library, or winery that can hide from her. Christine loves brewery yoga, adopting all of the kitties, and a glass of oaked Chardonnay. Charcuterie is her favorite food group.