Are you looking for some of the best YA LGBTQ+ books to make you smile and cheer? Discover heartfelt LGBTQ+ books for teens that inspire and will take you around the world.
In graduate school, we devoured all of the great LGBTQ+ books for teens.
More and more, amazing and intuitive authors are writing some of the best books — fiction and fantasy — for teens searching for strong and relatable YA LGBTQ+ novels.
Below, find some of the best LGBTQ+ YA books that will bring tears to your eyes, make your heart swell, and reinforce self-love and acceptance.
Some may also tick you off; the world can be chock full of bullies — until our main characters triumph.
Personally, we champion authors like David Levithan, Nina LaCour, Malindo Lo, and Jandy Nelson.
We always love recommending YA LGBTQ+ books including If I Was Your Girl, Aristotle And Dante Discover The Secrets Of The Universe, and Grasshopper Jungle.
Nimona is still one of our favorite YA LGBTQ+ graphic novels, and Ash is an LGBTQ+ Cinderella retelling.
Below, find a diverse list of YA LGBTQ+ books perfect for both teens and adults. Some of these titles are for mature teens.
You'll find a few LGBTQ+ books for tweens, too.
And don't worry, we have all genres of YA LGBTQ+ books, including science-fiction, graphic novels, fantasy, and so much more. Let's get started!
Don't miss these books that make you differently about the world.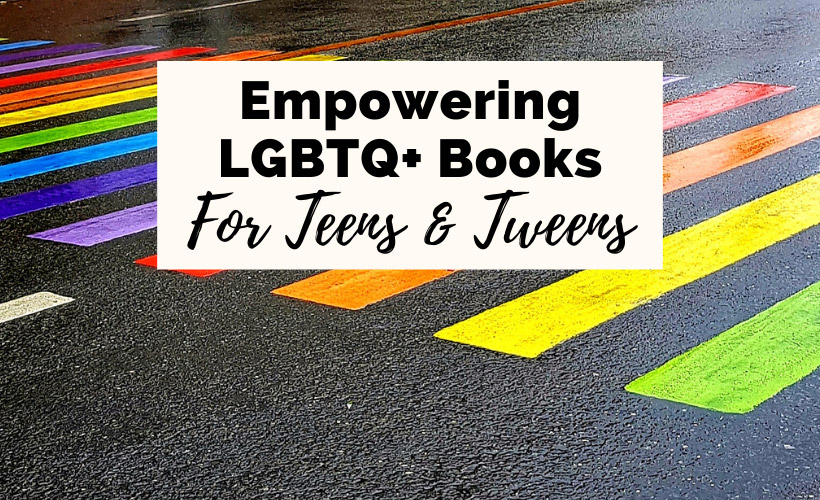 Heartwarming & Award-Winning YA LGBTQ+ Books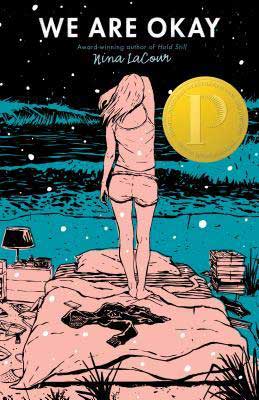 One of our favorite Printz awarding-winning LGBT books for teens, we sobbed our way through Nina LaCour's We Are Okay.
An absolutely beautiful novel set in New York and California, LaCour's emotional & poetic writing captivated us.
With poignant and well fleshed out themes of grief, mental health, and family, readers will appreciate the literary tie-ins as well as the complicated but heartfelt friendship between Marin and Mabel.
Who knew pottery could be so affecting?
Mabel and Marin are the closest of friends and an intimate night on the beach solidifies their love for each other.
When Marin's grandfather doesn't return from a walk on the beach, though, her life suddenly crumples.
Although not a surprise that her grandfather is gone, Marin flees to New York a month earlier than expected since she is about to start college.
Leaving without so much as a goodbye, Marin refuses to text back Mabel or clean up what she left behind in her grandfather's house. …And she left quite a few of her grandfather's secrets there.
Learning that her life was all a 'lie,' Marin is hurt, grieving, and orphaned.
When Mabel shows up for a three-day visit around Christmas to try to reach her, Marin has to reconcile her loneliness, love, and a broken heart.
We Are Okay will get at the core of your being. The dual timelines add to the suspense of Marin's future and provide insight into her healing process.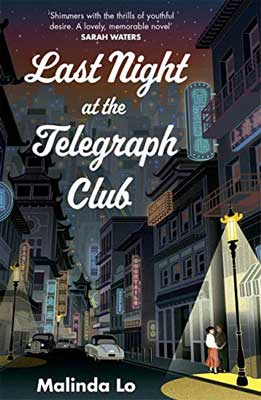 For award-winning YA LGBTQ+ books set in San Francisco, California, Last Night at the Telegraph Club will appeal to historical fiction lovers.
This National Book Award winner for YA literature is also a fantastic coming-of-age and LGBTQ+ novel for teens and new adults. Just keep in mind that it's a bit lengthy and slower-paced than some of the others on this list.
Head to San Francisco's Chinatown in the 1950s during the Red Scare.
Lily loves studying math and science. Although her family has terribly sexist ideas about women's careers, Lily wants nothing more than to work with rockets like her aunt.
Judgments and fear, however, are prevalent; Lily is Chinese-American during the Red Scare.
The government is deporting Chinese citizens on a whim and is paranoid about Communist activities.
When Lily's new friend, Kath, takes her to a performance at Telegraph Club — with a "male impersonator" — Lily realizes that she's found her community and identity as a young lesbian in California.
Watch as Lily comes out to her family in a time full of prejudice and panic. You'll certainly champion Lily.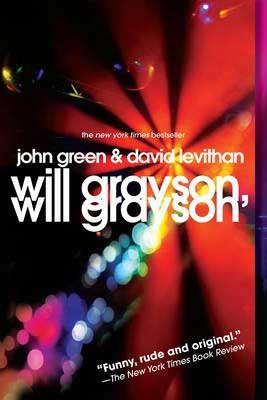 David Levithan writes some of our favorite YA LGBT books. Although some readers have had enough of John Green, we are unapologetically not quite sorry.
Green is brilliant at examining the core of what makes us human.
Kicked out of his circle of friends for defending the not-so-tiny and flamboyantly gay, Tiny Cooper, Will Grayson is struggling to survive high school.
While attempting to win over Jane, balance Tiny's dramatic relationship roller coaster, and avoid being sucked into the play Tiny Dancer, Will slams right into himself.
Well, not quite himself.
During a rather life-changing moment at a porn store, Will Grayson happens to meet another Will Grayson. What happens from that moment on changes the course of both of their lives.
Addressing depression, love, friendship, and coming out, Will Grayson, Will Grayson humorously but passionately portrays a modern-day coming-of-age story with mature issues in this beautifully fun LGBT YA novel.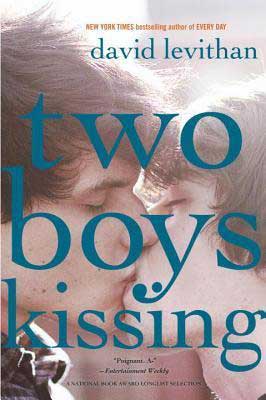 Levithan writes some of the most poignant and best YA LGBT books.
Honest and heart-wrenching, Two Boys Kissing focuses on two boys trying to break the world record for the longest kiss. This YA LGBT novel is based on a true story.
Hauntingly, the story is told by some of the boys who died from HIV. Personally, we loved the audiobook as read by Levithan himself.
Two Boys Kissing is the winner of the 2014 Lambda Literary Award and is a 2014 Stonewall Honor Book.
Fat Angie is an award-winning LGBT YA fiction novel about bullying and being overweight.
A winner of the 2014 Stonewall Book Award, Fat Angie introduces a strong and darkly comedic protagonist.
Weighing more than others and struggling with the usual high school crap, like mean girls and gym class, Fat Angie crushes on a new girl in town.
Fat Angie faces criticism about stereotyping overweight girls and the end goal of losing weight. Overall, the title adds personality to the YA LGBT books cannon. Like Angie, the language is rough, and this title won't be for everyone.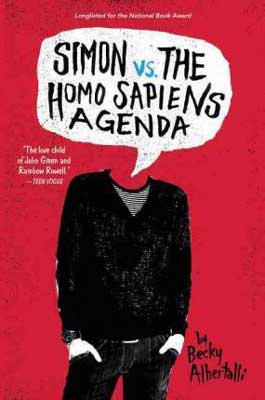 Follow along with Simon and his process of not-so-slowly coming out to the world in Simon vs. the Homo Sapiens Agenda.
An accidental email paired with blackmail threatens to send Simon's world into a tizzy. Simon is quite likable, and you'll love this coming-of-age and coming out story.
Simon is a contemporary and realistic fiction story about friendship and family. These characters are so relatable.
Simon vs. the Homo Sapiens Agenda is a National Book Award Longlist title and a William C. Morris Award Winner. This is one of the great YA LBGT books also made into an endearing movie.
Join The Uncorked Reading Challenge Today
---
Travel around the world with a book a month as part of our Uncorked Reading Challenge. Never be late to the party again with the best new book releases. Get book recs straight to your inbox. Sign Up Now.
What should you do when you live in Florida, want out, and decide that you need to get some quick cash to pay for college? Join a teen drag competition, of course. I feel for JT as a transplanted Floridian. Run, kiddo, run.
Although Drag Teen is not one of my all-time favorite books, the story is unique because unlike the other YA LGBT books, there is drag.
If you want to laugh along with JT, Heather, and Seth's friendship plus dip your toes into a very small part of the drag world, Drag Teen will make you smile. If nothing else, the title brings awareness.
I didn't have drag in my life until college, which is why I appreciate the high school exposure here. Look at the front of the book; how can a pink wig and bright yellow cover ever bum anyone out?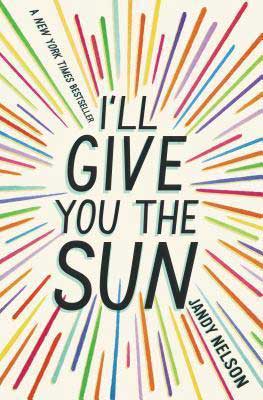 One of my favorite YA LGBT books of all time is I'll Give You The Sun by Jandy Nelson.
Delve into the lives of twins Jude and Noah. Once inseparable, something has caused a rift between them. We see each half of their stories in different parts of the book.
The main premise is that only together can Jude and Noah be complete. Readers watch as Noah falls in love with the boy next door, and Jude takes on an angsty relationship.
I'll Give You The Sun is another one of those LGBT YA books that shoots straight to the heart, too.
The list of accolades for this contemporary fiction title is truly endless but most notable, I'll Give You The Sun is a Printz Award Winner and a Stonewall Honor Book.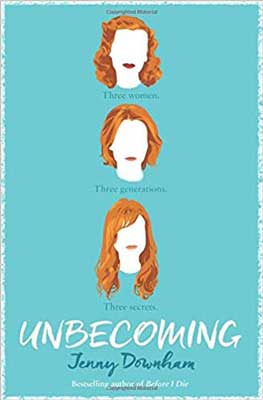 An intergenerational and funny LGBTQ+ YA book, follow along with the histories of three women: Katie, her mom Caroline, and her grandmother Mary.
After being diagnosed with Alzheimer's, Katie decides to become her grandmother's caretaker, slowly putting together the pieces of a scattered and chaotic past. Family drama and secrets are plentiful.
A Stonewall Honor Book, readers learn more about sexuality in a family dynamic. Find out what ties these seemingly different women together.
Unbecoming is more of an LGBT book for teens that examines relationships and dysfunctional families versus that of a gripping adventure.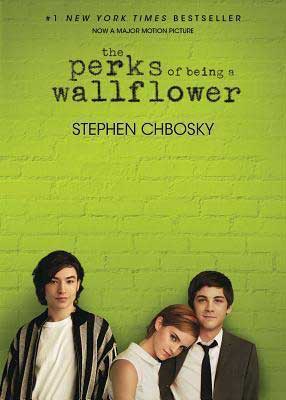 TW: Sexual abuse; mature YA content
Teenage Christine was probably a wallflower, too. And, one holding a book…
The Perks Of Being A Wallflower is an ALA most challenged book for its open discussion of sexuality and sexual abuse. There are characters who want to be openly gay and others who question their sexuality.
I read this one a while ago, but if I remember correctly, a few of the characters were sexually molested, which is addressed as well.
Ultimately, The Perks Of Being A Wallflower is a classic coming-of-age story about surviving high school, family drama, sex, and drugs. YA readers will appreciate and relate to this mature LGBTQ+-themed YA book.
A YALSA Pick For Reluctant Readers and named an ALA Best Fiction For Young Adults LGBTQ book, Symptoms Of Being Human is a debut novel for readers who also enjoyed The Perks Of Being A Wallflower.
Riley is gender fluid, identifying as a boy and a girl. With a father involved in politics and living in a conservative community, though, Riley is not yet out.
Instead, Riley takes to the internet to unleash feelings in the form of an anonymous blog. With the blog gaining momentum, one reader threatens to out Riley.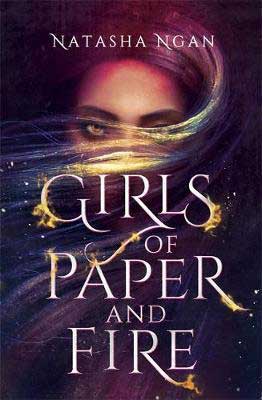 One of the most talked-about YA LGBT books of 2019 included Girls Of Paper And Fire. And a confession: I had an ARC of this one and barely got to read it due to time.
An LGBTQ+ YA fantasy, find romance and suspense under a brutal regime.
Every year, eight girls are chosen to serve the king. Beautiful Lei, a member of the lowest caste known as Paper, finds herself under the king's watchful eye.
While training in the oppressive palace, Lei finds herself entangled in forbidden love.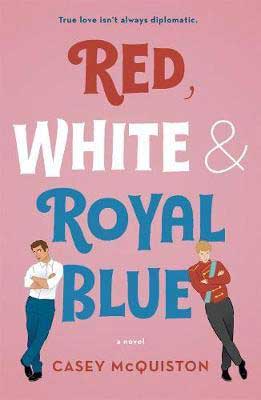 A Goodreads Choice Award Winner and named one of the best LGBT YA romance books of 2019, I loved Red, White & Royal Blue.
Full disclosure that because of the sex, drinking, and cursing, this title is mature YA or new adult — I think many categorized Red, White & Royal Blue as adult but ehhhh….
What begins as a tiff and rivalry for all of the world to see ends in an unexpected way. America's First Son falls in love with the Prince of Wales.
Modern and relevant, readers watch this budding relationship that also has the political potential to derail reelection.
As for one of the sexiest and escapist YA LGBT books, Red, White & Royal Blue is it! Read even more books with multiple colors in the title. Book Information→
Amanda is the new girl in school. Even worse, imagine having a secret that could change the way that everyone looks at you.
Against all odds, though, Amanda successfully integrates into the high school world. Falling for Grant, she knows that she will have to one day disclose her secret.
If I Was Your Girl had me cheering along, sobbing, and a little scared at one point.
With themes of growing up as a transgender student, relationships, and acceptance, Russo has created such a contemporary and needed masterpiece for the YA LGBT books fiction canon.
A Stonewall Book Award winner, among many other recognitions, If I Was Your Girl is another one of my all-time favorite YA LGBT books that focuses on transgender youth.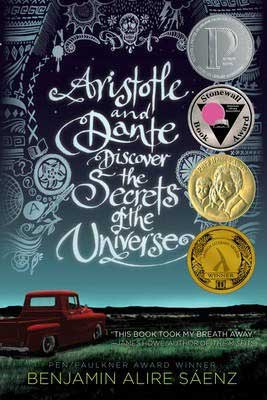 Aristotle and Dante are best friends but feelings can be a tricky topic in adolescence.
Portrayed as loners, watch Ari and Dante's friendship grow in a sweet, tentative, and confusing manner in Aristotle and Dante Discover The Secrets of The Universe.
A realistic fiction LGBT YA novel and quick read, a few have criticized the title for a lack of plot. Heads up: This is an endearing character development story about life and growing up.
While Aristotle and Dante is not an action-packed thriller, the novel is instead a beautiful LGBT book for teens about being and loving as human beings.
I fell for the innocence and pureness of Ari and Dante's friendship.
Aristotle and Dante is a Printz Honor Book and has won numerous awards such as the Lambda Literary Award and Stonewall Book Award.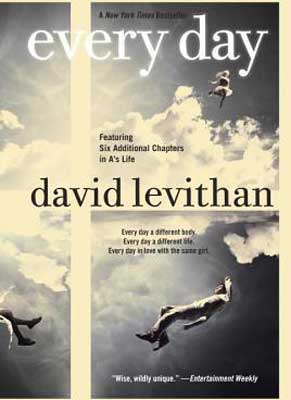 You didn't think I'd leave off Levithan's Every Day on this massive YA LGBT books list, did ya?
Every day, A wakes up in a different body: An obese teenager who can barely move, the most beautiful black girl in school, a pothead, a transgendered boyfriend, a suicidal daughter, and a girl who killed her brother while driving under the influence.
A has been everywhere and has borrowed just about every body type. Over the years, A has learned to live with never having the option or strong desire for a tomorrow until s/he meets Rhiannon.
A falls in love with Rhiannon, and every day, essentially kidnaps the body s/he finds herself/himself in to meet up with her.
Of course, their relationship is tested, and the ending is smart and a bit of a surprise.
While Every Day addresses Levithan's almost always present LGBTQ issues, Levithan goes one step further: What are we really made of?
Levithan also speaks to our basic human needs and adequately evaluates love, the soul, and the body.
He gives us hope that it truly is what is on the inside that counts—a cliché that teenagers hear all too often but do not always fully believe.
Every Day is an ALA Best Books for Young Adults Winner, an ALA Best Books for Young Adults Top 10 Winner, and a Lambda Literary Award Finalist.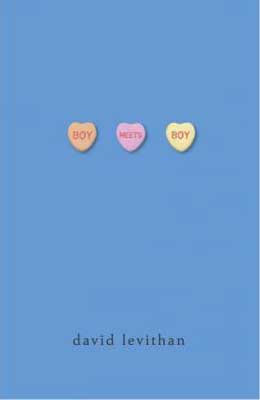 Are you sick of LGBT author David Levithan yet? I'm not.
For some reason, though, Boy Meets Boy is not most favorite LGBT book for teens, although it is a Lambda Literary Award winner.
Paul is a sophomore in a pretty liberal American town–although religion comes into play for one family. If you like romantic troupes, as apparent in the name, Boy Meets Boy is exactly that.
Boy meets a boy, falls in love, messes it up, and, well…we don't want spoilers.
Find an endearing LGBT romantic comedy as Paul works to get Noah back into his love life.
When I first picked up Ash, I had no idea what to expect. Published in 2010, Ash is one of the older LGBT books for teens on this list. Honestly, I had not heard any hype about it.
Marketed as a Cinderella story, we meet Ash–a now almost orphan left to a cruel stepmother. Enter some confusing faeries that act like the devil on one shoulder and angels on another. Sound familiar?
Then comes the seductive Huntress. Ash must choose who she wants to be and the life she so desires.
Something about the unique take on a classic story makes Ash one of the best LGBT YA fantasy books.
Darkness and loss tied in with feminine strength make for a powerful and almost magical storyline.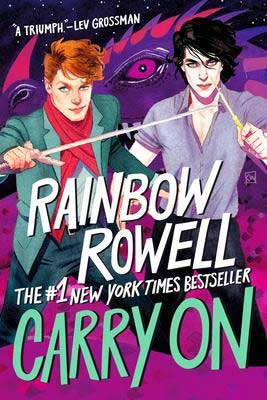 Carry On is a spinoff of fan fiction for Rainbow Rowell's Fangirl. Like many readers, I find Rowell to be hit or miss, but I equally enjoyed Eleanor and Park.
Carry On is an LGBT YA fantasy book with a vampire, ghosts, some magic, and of course, romance.
Simon Snow is an orphan, starting his 8th year at magic school. He is pretty terrible at magic, which isn't a good sign since he is also the Chosen One, meant to defeat the evil Humdrum in the UK.
Simon teams up with his roommate and nemesis, Baz–which is also a romantic relationship carried over from Fangirl–to try to defeat the Humdrum and kill the Mage.
Science Fiction LGBT Books For Teens
Noggin is unlike any other LGBT science fiction novel that I have read.
A coming-of-age story with a fantasy-like twist, sixteen-year-old Travis' body is dying of cancer. He decides to sign-up for an experimental procedure that may one day bring him back to life.
Travis' head is sawed off of his body and frozen for five years. Walt Disney, anyone?
When Travis wakes up, he has a different body but is still in love with his girlfriend, Cate. Cate, though, is now 21 and engaged to someone else. Damn it.
Much of the story is focused on Travis coming to terms with his rebirth and his determination to win Cate's heart. Persistence is a frustrating obsession to witness.
Even more notable is that Travis' best friend confesses that he is gay before the procedure. In this re-born life, however, Travis' best friend is dating women.
Noggin is a National Book Award Finalist.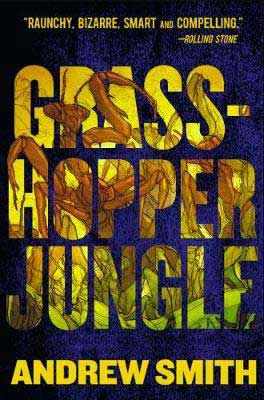 I am not going to lie. When Grasshopper Jungle first published in 2015 and received a Printz Honor, my librarian coworkers and fellow MLIS students went crazy.
This LGBT-themed book is a bit insane. In fact, you may give up on me after this recommendation or you will follow me for life.
We have some fornicating and nasty praying mantises–they are insatiably horny. I don't get it either, but somehow I hate-love it. These unleashed beasts might be the end of the world unless Austin and Robby can stop them.
No, the insects are not a part of the LGBT community, but the main character is bi. Austin is in love with both his male best friend and his girlfriend.
I laughed pretty hard with this one but also be forewarned of language and sexual crudeness.
You just have to read Grasshopper Jungle to understand it–but does anyone really get this book? I would have loved to be on the Printz committee for this one.
Seriously one of the best-worst LGBT books for teens of all time.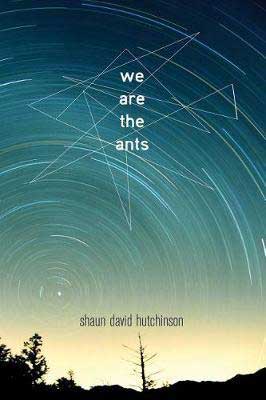 I met Hutchinson at an ALA Conference one year, scoring a copy of We Are The Ants.
Although I listed We Are The Ants under LGBT YA sci-fi, We Are The Ants is technically magical realism — but I always feel like magical realism is iffy…just me?!
There is the alleged threat of aliens…again iffy in many ways…
Henry Denton believes that for years, he has been abducted by aliens. These extraterrestrials are threatening to end the world unless he hits this big red button to stop them–but he doesn't want to. I don't blame ya, kid.
His grandmother has Alzheimer's, his boyfriend committed suicide last year, and his entire family is struggling. Henry has to make a decision if the world is worth saving.
LGBTQ+ YA Graphic Novels
If you are looking for one of the best graphic novel YA LGBT books, Nimona is where it is at. If this title does not convert you to a graphic novel fan, please troll me below in the comments. Wait: Please don't, but kindly tell me why.
A National Book Award Finalist and named best book from all of the heavy-hitting book reviewers, meet shape-shifting Nimona.
Nimona has a villainous side, which is a little troublesome at times. She is also eager to help and naively ambitious.
Teaming up with Lord Blackheart, the duo works to prove Sir Ambrosius Goldenloin's lack of heroism. I do not want to give away spoilers, but Lord Blackheart might actually have a sweet rainbow heart instead.
I am pretty sure that I read this heartfelt LGBT book at least three times.
As I read The Lumberjanes on the plane back to Florida, which happened to be filled with a cute, FL college soccer team, I was actually embarrassed to have this title out in the public eye (this statement ironically defeats the point of this amazing LGBT YA graphic novel).
Five best friends are the Lumberjanes, a wilderness version of the Girl Scouts. Unfortunately for these girls, the wilderness is full of horrific creatures.
Unlike the slightly more innocent and serene Girl Scouts, the Lumberjanes find themselves being chased by yetis, three-eyed wolves, and satanic Boy Scouts.
Lumberjanes reads like the Girl Scout Handbook with each chapter describing how to earn a specific badge. The girls are drawn a little punky with dyed hair, pearls, and braids.
This LGBT YA graphic novel is all about girl power.
I appreciate the feminist allusions: the head of the camp is Rosie the Riveter, and the girls always shout out these oddball expressions like "holy Julliete Gordon Low [or Joan Jett]," referring to famous women.
The Lumberjanes is reminiscent of the Powder Puff girls and has multiple characters in the LGBT community.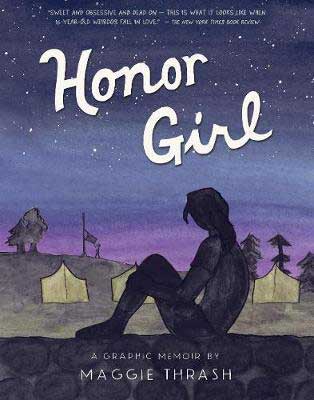 When our conservative library system categorized Honor Girl as an adult nonfiction graphic biography instead of YA, I had to read it. P.S. Honor Girl is totally for teens.
If you are looking for YA LGBT books that are graphic memoirs, Honor Girl is for you.
Thrash recalls back to her summer at an all-girls came in Appalachia–Kentucky–where she falls in love with one of the counselors.
Camp Bellflower isn't the epitome of acceptance and tolerance, though, as a Christain camp. As both girls begin to develop these new feelings, they find themselves navigating unchartered and 'forbidden' territory.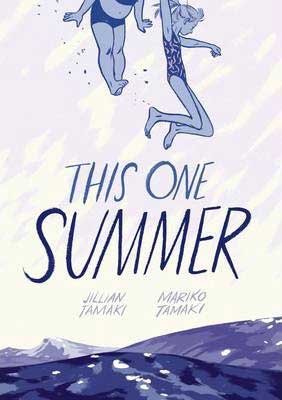 Working in the Florida public libraries always made life interesting.
When Mariko's The One Summer landed on a real 'banned books' list, effectively pulling it off the shelf in one county, I–of course–had to pick up the graphic novel. You should too.
Why did people challenge This One Summer? For its LGBT characters, mature themes, drug use…yadda yadda…meant for the 12+ age range.
This outraged conservative parents, especially as the awards and accolades kept pouring in.
A sweet and realistic coming-of-age story, two girls spend their summer at a cottage in Ontario. They face issues of family drama, teenage pressures, and sexuality.
Basically, you relive youth all over again if you are an adult reading this title.
Illustrated by Jillian Tamaki, This One Summer is a notable LGBT YA book as a 2015 Caldecott Honor Book and a 2015 Michael L. Printz Honor Book.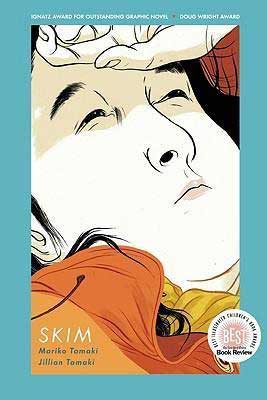 TW: Suicide ideation, depression, and mature YA content
Although I enjoyed This One Summer a bit more, Tamaki and her illustrator cousin, Jillian Tamaki, worked together on another LGBT graphic novel for teens, Skim.
I appreciate Skim for the relatability of having a crush on one of your teachers. You can totally LOL here… BUT YOU KNOW IT'S SO TRUE.
Kimberly, aka Skim, is a Wiccan goth who attends a private girls' school in the '90s. She falls for one of her female teachers, who soon after and without explanation, leaves the school.
Skim doesn't hold back and addresses all of the heavy-hitting issues that face teens growing, including sexuality and depression.
Younger YA LGBT Books Perfect For Tweens
Let's not forget about YA LGBT books for the younger guys: TWEENS! I love Gracefully Grayson. Similar to Will Grayson, Will Grayson, Grayson captures readers' hearts.
Grayson is your typical middle-school boy. Well, except that every morning he wakes up and pretends that his long shirts and baggy pants are flowing gowns and skirts. He finds himself trying on dresses at the thrift shop.
One day, Grayson receives an old letter from his mom to his grandmother with a picture of his younger self in a tutu.
Grayson's parents died when he was little, and he lives with his aunt and uncle, who are kind but not as understanding.
His uncle's support is endearing; he tries to understand but also shows the difficulty of accepting a transgender family member.
As Grayson starts to learn who he really wants to be, he is cast as Persephone, the female role in the school play. Similar to Will Grayson, Will Grayson, a lot of meaning comes from the theater.
Gracefully Grayson is all about what it means to express who we are on the inside and outside. Grayson's longing is the strongest emotion in the book.
The friends around him, who braid his hair and encourage him in the play, make me proud.
I almost expected this to be a story about bullying, but the overall support, acceptance, and love are so much more than a few acts of prejudice and confusion.
Gracefully Grayson is a fabulous LGBT book for tweens and younger teens.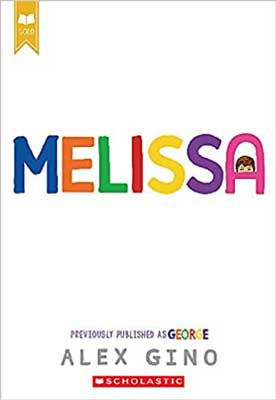 Back in my hobby book blogging days, I requested Melissa — originally published as George — as an ARC.
A perfect and sweet LGBT book for tweens, Melissa addresses identity and the importance of being who are and were meant to be.
When people look at Melissa, they assume she is a boy. However, Melissa knows that she is a girl on the inside — and would like the outside to reflect this as well.
However, Melissa is young and afraid to discuss these thoughts out loud.
A younger version of Will Grayson, Will Grayson and similar to Gracefully Grayson, Melissa really wants to play the female role in the upcoming play Charlotte's Web.
When the teacher says no because of 'gender,' Melissa has had enough.
Save This LGBTQ+ YA Book List For Later. Pin It:
What are some of your favorite YA LGBTQ+ books?
I'd love to know what YA LGBT books (for teens and adults) you recommend. Are there any LGBTQ+ books that you didn't like or that fell short? Let us know in the comments.
More YA Reading Lists To Love:
Popular YA Mulan Retellings
Young Adult Books With Vampires
Best WW2 Books For Teens & Tweens
What Can You Read Next?
Books About Finding Love In Unusual Places
Powerful Books That Make You Think Outside The Box