28 Spectacular Books About Paris
Travel to France with the best books about Paris to teach you more and take you there. Explore riveting fiction and nonfiction titles.
Discover a city filled with delicious food, sparkling lights, steamy romance, and intriguing (and devastating) history. Not to mention that Paris is a book lover's dream.
Sip tea at a cozy cafe, peruse the stacks of world-famous bookstores, dip in and out of iconic churches, and spy historical sites kept alive in the French classics.
Learn to cook with 100% heart and intuition.
Many of these Paris books promise to transport you there via armchair – throughout different time periods – while others will educate you about Parisian culture, history, and language.
Find novels about Paris set during times of war along with biographical fiction featuring famous people.
Some of these nonfiction books about Paris are tomes – while others offer briefer insight and more playful memoirs. Learn the art of French cooking while taking a journey of self-discovery.
Find love in life, relationships, travel, and food. Lastly, meet favorite French authors along with ex-pats, including a few top Paris travel books.
So, if you are traveling to France, which books about Paris should you read before you go? Let's get started!
If you love these books on Paris, be sure to peruse these books about and set in France.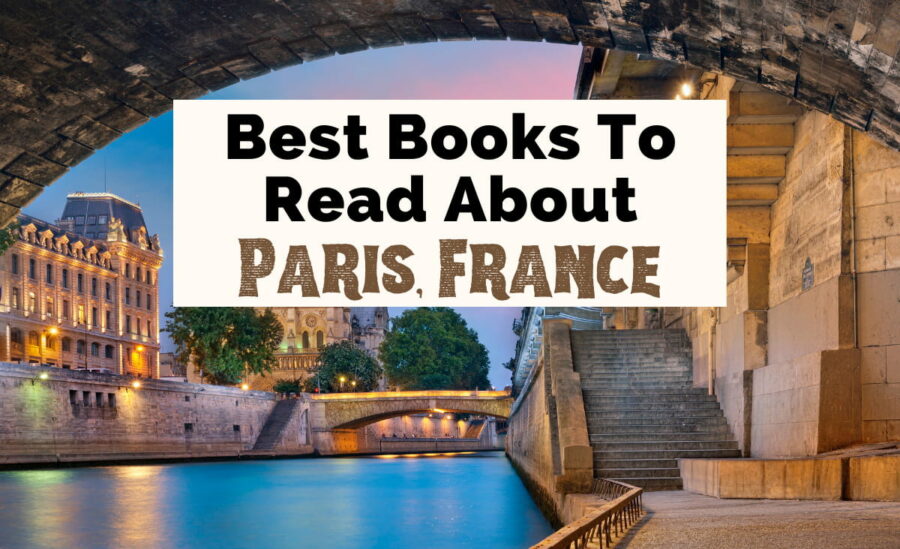 28 Best Books About Paris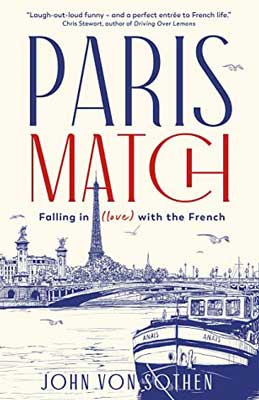 1. Paris Match by John Von Sothen
There's a long tradition of American-abroad memoirs, especially American-in-Paris books.
One of the most recent releases (and one of the funniest) is Paris Match, John Von Sothen's account of how he fell in love with a French waitress and found himself living with her in the 10th arrondissement.
He struggles to assimilate, but he turns those struggles into hilarious anecdotes for our enjoyment.
Even within his own household, he often finds himself baffled by his now-wife's uniquely Parisian attitude to life.
Von Sothen's fumbling attempts to communicate in French are a particular delight – anyone who has ever tried to conjugate French verbs will relate!

Read Paris Match: Amazon | Goodreads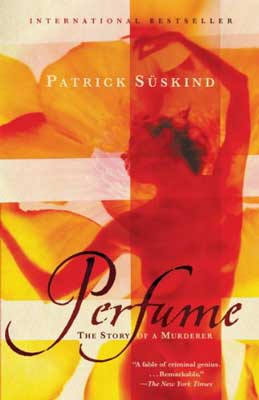 2. Perfume by Patrick Süskind
Translated into English by John E. Woods
One of the most iconic historical novels about Paris, Perfume is a must-read for true Francophiles. It is so good, it was even made into a fantastic French-based movie.
Even though Patrick Süskind is German, he perfectly captures the romance and mystique of Paris and other French locales.
His story follows Jean-Baptiste Grenouille (French for "frog"), an orphan born with a unique and exceptional sense of smell.
As a boy, he memorizes the scents of Paris, and as he ages, he becomes a perfumer… and a murderer.
It's a twisted story, but an intoxicating and haunting one that will have you dying to tour all of the Parisian perfumeries you can find.
Uncover even more spooky books set around the world.

Read Perfume: Amazon | Goodreads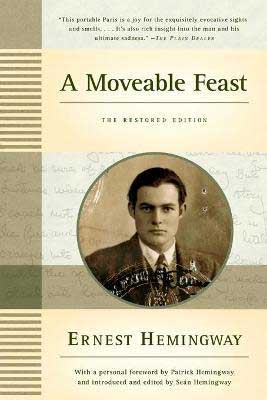 3. A Moveable Feast by Ernest Hemingway
Paris is famous for many things, but amongst readers, it's probably best known as a mid-20th century refuge for struggling writers – especially the ones who are household names today.
A Moveable Feast is Ernest Hemingway's memoir about his 1920s expat journalist era, and one of the best books about Paris for those who want to read about bohemian life in the city of love.
Not only does it offer insight into Hemingway's life, the book also features many of his now-famous friends, lovers, and acquaintances: Ezra Pound, Gertrude Stein, F. Scott and Zelda Fitzgerald, and more.
For the most honest account, pick up the original 1964 edition (as the later 2009 edit took out some unflattering passages).

Read A Moveable Feast: Amazon | Goodreads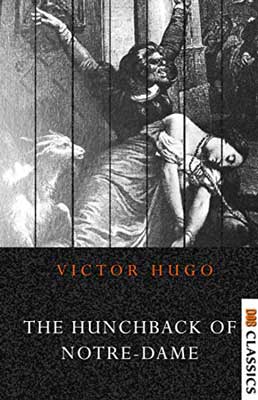 4. The Hunchback of Notre Dame by Victor Hugo
Translated into English by Isabel Florence Hapgood
If you want to know more about the history of Paris but don't enjoy dry non-fiction books, you must pick up The Hunchback Of Notre Dame.
The Disney version cut out a lot of Victor Hugo's original French Gothic tale, including the incredibly detailed chapters about all aspects of Parisian life (down to the layout of the sewer systems).
Hugo wrote this story in the hopes of preserving the French culture he so loved, during a period of rapid change.
He wrote other elaborate books about Paris, too – if you're ambitious, try reading Les Misérables!

Read The Hunchback of Notre Dame: Amazon | Goodreads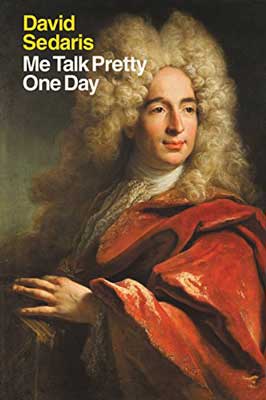 5. Me Talk Pretty One Day by David Sedaris
No one does a comedic essay like David Sedaris; he's a legendary memoirist for a reason.
He's talked in many of his essay collections about living in France with his partner, but the funniest and best without a doubt is Me Talk Pretty One Day.
Sedaris compares and contrasts his "cosmopolitan" Parisian life with his childhood growing up in North Carolina, with his difficulties communicating (with a lisp as a child, and in a new language as an adult) as a recurring motif.
If you want books about Paris that will also make you cry with laughter, look no further!
Discover more North Carolina books too.

Read Me Talk Pretty One Day: Amazon | Goodreads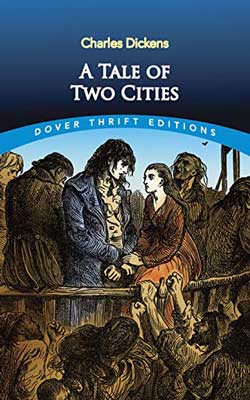 6. A Tale Of Two Cities by Charles Dickens
You've surely heard the opening line to this classic novel: "It was the best of times, it was the worst of times…".
But did you know that A Tale Of Two Cities is one of the most beloved novels about Paris in English literature? It's one of the titular cities! (The other being London.)
Dickens's epic tale oscillates between both sides of the Channel before and during the French Revolution of 1789.
This is the novel to read if you want to learn more about French history, the reign of terror, and the experiences of prisoners in the infamous Bastille fortress.

Read A Tale Of Two Cities: Amazon | Goodreads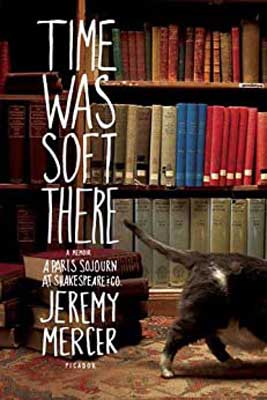 7. Time Was Soft There by Jeremy Mercer
Paris is for (book) lovers! Which makes Time Was Soft There one of the best Paris books for bibliophiles.
Canadian journalist Jeremy Mercer found himself nearly broke, wandering Paris's Left Bank, when he stumbled into a bookstore called Shakespeare & Co. (It wasn't always world-famous as a booksta-worthy destination.)
The impulse purchase of a book led Mercer to a long conversation with the proprietor, and then a job and a place to live in the apartment above the store.
This incredible memoir is "the story of a journey down a literary rabbit hole in the shadow of Notre Dame, to a place where a hidden bohemia still thrives."

Read Time Was Soft There: Amazon | Goodreads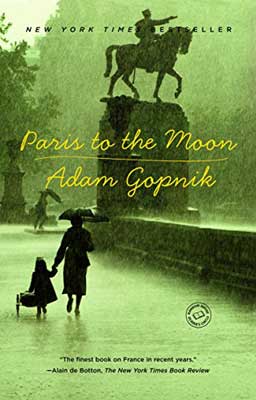 8. Paris To The Moon by Adam Gopnik
Readers of The New Yorker will recognize Adam Gopnik's name immediately (but if you only skim the viral articles that's okay, too).
You'll fall in love with his contribution to the canon of books about Paris, Paris To The Moon.
It's a collection of essays about his life in the city, what drew him there, and the truth of the city's romantic reputation.
Blending together the magic of Parisian life with the mundane realities of raising a young child anywhere, Gopnik offers a warts-and-all view of the 'let's move to Paris' dream.
Alain de Botton called it "the finest book on France in recent years".

Read Paris To The Moon: Amazon | Goodreads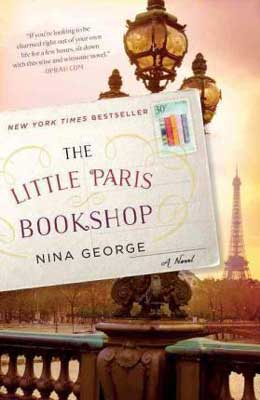 9. The Little Paris Bookshop by Nina George
Translated by Simon Pare
If you're looking for cozy Paris books that will make you feel as warm as a buttery croissant no matter where you are, The Little Paris Bookshop is for you.
Monsieur Perdu runs the uniquely Parisian bookshop on a floating barge on the River Seine.
He calls himself a "literary apothecary," prescribing books to mend the broken hearts and wounded souls of readers who come to him for guidance.
It's too bad that he's never been able to find the right book to heal his own heartbreak.
This is a sweet adventure novel that will take you into the heart of Paris and across the south of France. Plus, if you enjoy sad books, this story will touch your heart.

Read The Little Paris Bookshop: Amazon | Goodreads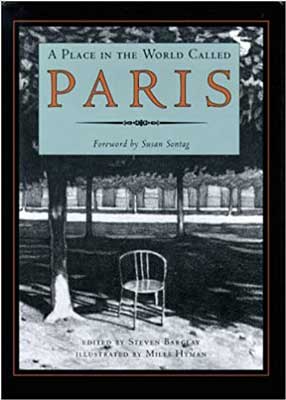 10. A Place In The World Called Paris by Steven Barclay (ed.)
If you want the best-of-the-best books about Paris, check out this anthology edited by Steven Barclay.
A Place In The World Called Paris is a collection of 170 different pieces by the most notable and distinguished authors of the 20th century, all about this magical city.
Maya Angelou describes Paris nightlife, E.B. White discusses the Liberation, Truman Capote visits Collette's apartment in the Palais-Royal, and Franz Kafka rides the Metro – it offers views on all aspects of Parisian life from all branches of literature.
The most recent edition also includes a brilliant foreword by Susan Sontag and beautiful charcoal illustrations by Miles Hyman.

Read A Place In The World Called Paris: Amazon | Goodreads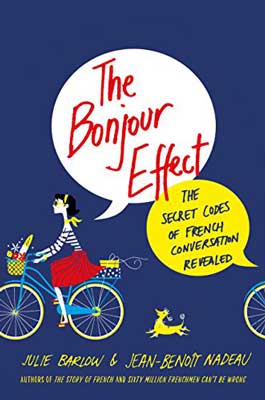 11. The Bonjour Effect by Julie Barlow and Jean-Benoît Nadeau
Canadians speak French (one of colonialism's many effects), so how much trouble could two Canadians really have communicating when they move?
It turns out, quite a bit!
Julie Barlow and Jean-Benoît Nadeau reveal the secret codes of French conversation in The Bonjour Effect.
Through conversations with old friends, new friends, service workers, and professionals, the two journalists learn that Parisians don't communicate, they converse.
It's not just the language that's different, but the means and ends of speaking with Parisians.
If you're planning a long trip and looking for books about Paris that will help you fit in, this is the book for you.

Read The Bonjour Effect: Amazon | Goodreads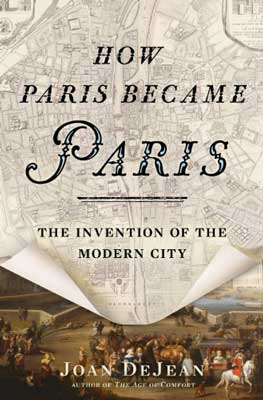 12. How Paris Became Paris by Joan DeJean
Joan DeJean has written a dozen books about Paris and French history, so she brings a wealth of knowledge to How Paris Became Paris, subtitled "the invention of a modern city."
Even though most of us associate Paris with the monuments and cultural artifacts of the 19th and 20th century, DeJean makes the case that modern Paris actually emerged two centuries earlier, as one of the first truly modern cities to shed the vestiges of its medieval past.
From the beginnings of the boulevard to the first public transport and street lights, this is a history of Paris's urban development bursting with little-known fun facts.

Read How Paris Became Paris: Amazon | Goodreads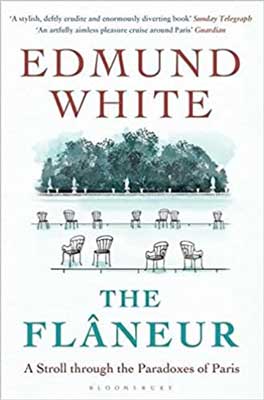 13. The Flaneur by Edmund White
"A flaneur is a stroller, a loiterer, someone who ambles through a city without apparent purpose but is secretly attuned to the history of the place and in covert search of adventure, esthetic or erotic."
Edmund White, writer and long-time resident of Paris, reveals the city's hidden secrets in The Flaneur.
As with all the best books on Paris, White's wanderings take us beyond the tourist traps and famous monuments to show us a side of the city that visitors rarely see.
For a feminist take, check out the Paris chapter in Flaneuse by Laruen Elkin, a take on White's flaneur with a focus on women who walk in famous cities.

Read The Flaneur: Amazon | Goodreads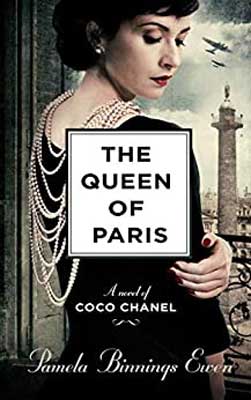 14. The Queen of Paris: A Novel of Coco Chanel by Pamela Binnings Ewen
Paris as a city is synonymous with high fashion, due in no small part to its part in the history of fashion icons like Coco Chanel.
The Queen Of Paris is ostensibly a novel about the life of the legendary fashion designer during the German occupation in WWII, but it's also one of the most stunning novels about Paris set during that era.
Few people know that, as the war waged on around her, Coco Chanel was fighting her own battle for control over her perfume company and the confidential formula of her most celebrated fragrance, Chanel No. 5.
This book will reveal a side of Coco Chanel (and of Paris) you've surely never seen before. Find more of the best WWII historical fiction novels.

Read The Queen of Paris: Amazon | Goodreads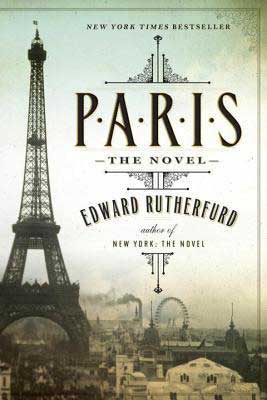 15. Paris: The Novel by Edward Rutherfurd
Edward Rutherfurd is renowned for his brilliant, meticulously researched historical fiction novels about the world's most recognizable cities.
Paris: The Novel is a dazzling portrait of the City of Light, a multi-generational saga that tells the story of the city through the lives of six Parisian families – rich, poor, noble, humble, loving, estranged, and everything in between – over the course of decades.
This is one of the best books on Paris that straddles the divide between fiction and non-fiction and a wonderful way to trace the history of this magical city.

Read Paris: Amazon | Goodreads
Take The Uncorked Reading Challenge!
Travel around the world with our Uncorked Reading Challenge. Never be late to the party with unique new book releases. Get the latest movie and book lists straight to your inbox.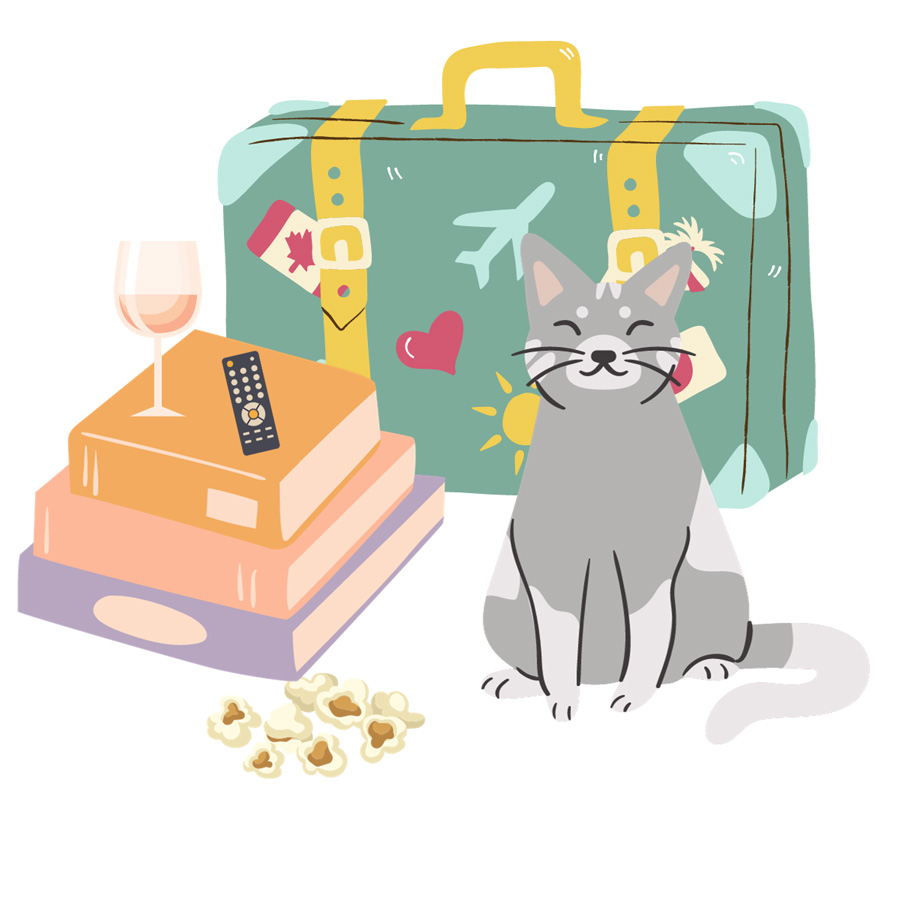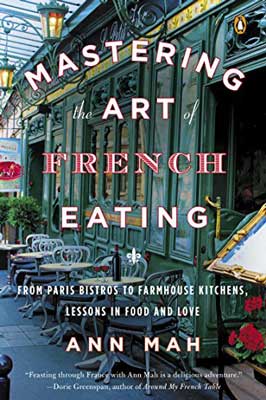 16. Mastering the Art of French Eating by Ann Mah
Marrying a diplomat and moving with him for his three-year assignment in Paris sounds like a dream come true, right?
It certainly was for journalist Ann Mah – but it didn't work out exactly the way she'd expected.
Instead of 1000+ nights of romantic French dinners for two, Mah must navigate the cultural and gastronomical delights of the City of Lights alone for a year when her husband is called away to a Middle Eastern mission instead.
She throws herself into the comfort of food: a search for the perfect pain au chocolat, the history of the boeuf Bourguignon, the truth of how the ​​andouillette sausage is really made.
This is a funny, intelligent memoir about making the best of things, and one of the must-read Paris books for foodies.
If you love books about food, try these foodie fiction selections.

Read Mastering the Art of French Eating: Amazon | Goodreads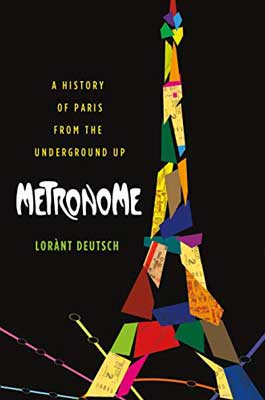 17. Metronome: A History of Paris from the Underground Up by Lorànt Deutsch
Historian and lifelong Francophile Lorànt Deutsch turns his attention to the little-known in Metronome: A History of Paris from the Underground Up.
This is one of those books about Paris that will give you enough fun facts to fuel small-talk conversations for years to come!
Deutsch uses the twenty-one stops of the Parisian subway system to organize his catalog of historical treasures and dives deep into the events that shaped the world's most romantic city.
You'll see a side of Paris you've never seen before – sometimes violent, sometimes scary, always passionate, and absolutely fascinating.

Read Metronome: Amazon | Goodreads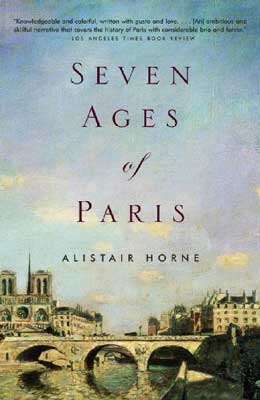 18. Seven Ages of Paris by Alistair Horne
Even non-Francophiles are somewhat familiar with major milestones in the history of Paris: the reign of Louis XIV, the Napoleonic era, the Occupation, and the Liberation.
In Seven Ages Of Paris, learn more about each and every one of them, all in one place.
This is one of the most comprehensive books about Paris that you'll ever read.
Alistaire Horne is a talented and insightful historian, and he brings the enduring beauty and brilliance of Paris – through the highs and the lows – to sparkling life on the page.

Read Seven Ages of Paris: Amazon | Goodreads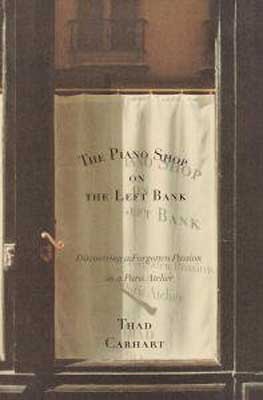 19. The Piano Shop on the Left Bank by Thad Carhart
If you love music and dream of wandering the arrondissements of Paris, The Piano Shop On The Left Bank is the perfect book for you.
While many Paris books focus on food or fashion, this beguiling portrait of the city takes a different approach.
Thad Carhart passed a quiet, unassuming shop-front every morning for a long time before he ever got the chance to enter.
When he finally did, he made the acquaintance of Luc, the atelier's master and a treasure trove of history, of both the piano and Paris.

Read The Piano Shop on the Left Bank: Amazon | Goodreads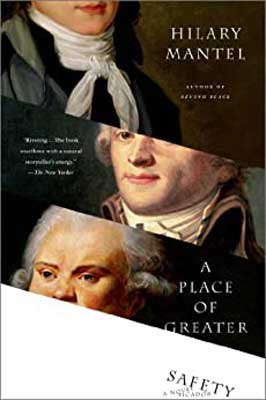 20. A Place of Greater Safety by Hilary Mantel
Long before Hilary Mantel established herself as the master of historical fiction with the Booker Prize-winning Wolf Hall trilogy, she wrote A Place Of Greater Safety – a novel about the romance and violence of the French Revolution.
Drawn directly from the writings of iconic figures like Georges Danton, Maximilien Robespierre, and Camille Desmoulins, she paints a terrifying but intriguing portrait of the most significant upheaval in (relatively) recent French history.
This is one of those novels about Paris that's heavy on historical detail, so it's one for the advanced class!

Read A Place of Greater Safety: Amazon | Goodreads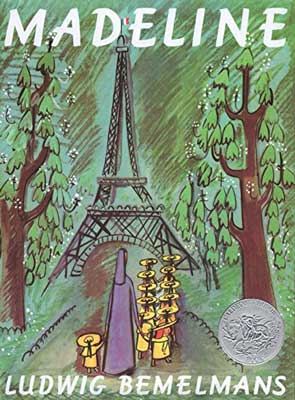 21. Madeline by Ludwig Bemelmans
This classic children's book is one of the most fun books about Paris (even for adults!), with stunning illustrations and a spunky young protagonist.
Madeline is based on Ludwig Bemelmans' own experience, being sent to a strict private school and spending time in the U.S. Army.
At first, he struggled to get it published.
Editors insisted that Madeline was "too sophisticated" for children and that his beautiful color paintings of the Parisian setting were "too expensive" to reproduce in book format.
Luckily, Bemelmans found a publisher willing to take the risk, and to this day, Madeline is a beloved feature of many childhoods in Paris and around the world.

Read Madeline: Amazon | Goodreads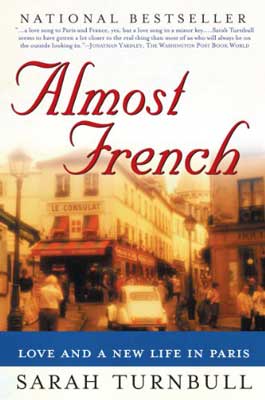 22. Almost French: Love and a New Life in Paris by Susan Turnbull
Sarah Turnbull is "not the sort of girl who crosses continents to meet up with a man she hardly knows…" and yet, that's exactly what she does in Almost French, her memoir about finding love and adventure in Paris.
Turnbull met Frédéric in Budapest by chance, and the feisty Australian journalist decided on a whim to visit him in his home city for a week.
That week turned into an epic love story, set across the backdrop of one of the romantic cities in the world.
This is one of the must-read books about Paris for romance fans – a real-life romantic comedy with meet-cutes and mistranslations.

Read Almost French: Amazon | Goodreads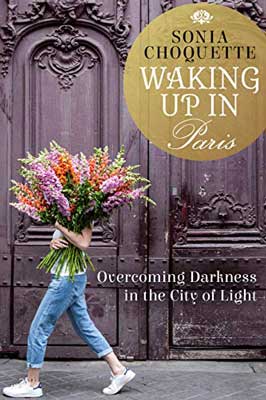 23. Waking Up In Paris by Sonia Choquette
When your decades-long marriage is breaking up, you'd think that the most romantic city in the world is the last place you'd want to be.
Sonia Choquette's move to Paris in the wake of her divorce was unexpected, to say the least, but it turns out it was exactly what she needed. It sure proved to be a good distraction, if nothing else!
Between freezing cold and haunted apartments, Parisian fashion-don'ts, and a serious misunderstanding with a French hairdresser, Choquette had barely a spare second to think about her life falling apart.
Waking Up In Paris is not only one of the best books about Paris, but it's also a guide to spiritual and emotional healing.

Read Waking Up In Paris: Amazon | Goodreads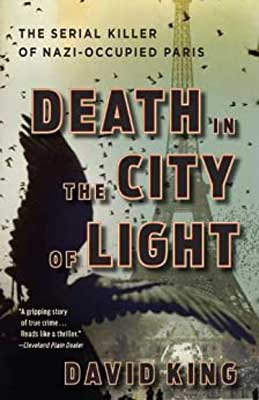 24. Death In The City Of Light by David King
Listen up, true crime fans! Books about Paris aren't all romance and baguettes!
Indulge your inner Murderino with Death In The City Of Light, the gripping true story of a serial killer who left a trail of victims across Nazi-occupied Paris.
Dr. Marcel Petiot was known as the 'People's Doctor,' a charming and charismatic man who provided free medical care to the city's most vulnerable…
So, of course, he was also a sexual sadist who killed as many as 150 innocent people and left their body parts strewn across the city.
This is the meticulously researched, deeply troubling story of his crimes and the court case that turned into a circus.

Read Death In The City Of Light: Amazon | Goodreads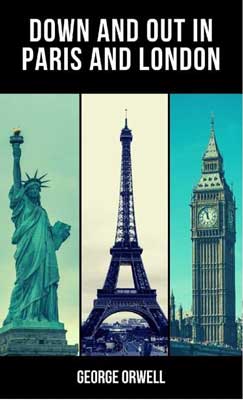 25. Down And Out In Paris And London by George Orwell
Before George Orwell was a household name for his vision of a dystopian future ruled over by an authoritarian tyrant, he was a penniless writer kicking around two major cities, just trying to figure himself out.
Down And Out In Paris And London is technically fiction, but it's so autobiographical that it's often shelved as a memoir.
It's Orwell's account of what it's really like to be a 'starving artist' in the cultural capitals of Europe.
This isn't one of those Paris books about bright lights and romance; the Parisian sections give an honest view of the city's gritty underside for people living in poverty.
Read this one to balance out the rose-colored nostalgia of other memoirs from this unique period in history and culture.

Explore more London books too.

Read Down And Out In Paris And London: Amazon | Goodreads
More books on Paris from Christine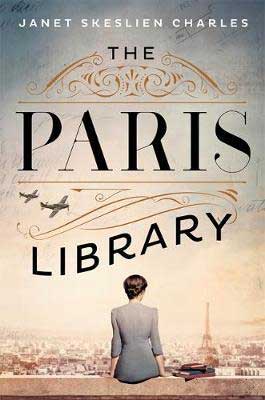 26. The Paris Library by Janet Skeslien Charles
If you enjoy kick-butt women in historical fiction and books about libraries, pick up The Paris Library immediately.
This is a 2021 release and one of the most unique fictional books about Paris and its history during WWII – specifically, The American Library In Paris.
Based on a true story, learn more about the librarians who joined the French Resistance – from the reference desk.
Through books – and by risking their own lives – the librarians never stop delivering titles and news to soldiers and Jewish patrons throughout the war.
Information is powerful, and what is more comforting than stories?
Uncover more WWII books to read, and find more top books about books and libraries.

Read The Paris Library: Amazon | Goodreads | Book Information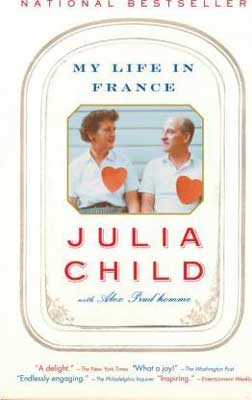 27. My Life In France by Julia Child and Alex Prud'homme
Julia Child arrived in France in 1948 with her husband Paul. She didn't speak the language, and she knew very little about the country itself.
Deciding to dive head first into French culture and cuisine, Julia signed up for classes at Le Cordon Bleu, which would inspire and forever change the course of her life.
Child grew into a top chef and teacher, responsible for the cookbook, Mastering the Art of French Cooking, as well as the TV show, The French Chef.
Initially not well-received, Child's methods (and personality) grew in popularity, offering a new and endearing way to approach the kitchen.
For the best books about Paris cooking and cuisine – from an outsider's perspective – My Life In France is a must-read story.
Read My Life In France: Amazon | Goodreads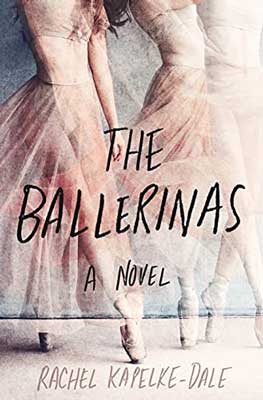 28. The Ballerinas by Rachel Kapelke-Dale
Who knew that novels about Paris could be so bold, racy, and deadly?
A book about best friends, Delphine, Margaux, and Lindsay train and compete at the Paris Opera Ballet School. This is one of the most iconic and all-consuming stages.
The ballerinas will do anything for that solo spot – friends or not…
Delphine escapes to St. Petersburg after she and Margaux commit a terrible act against Lindsay. Yet, is anyone completely innocent in this bold story?
Decades later, Delphine returns to the company as a choreographer and attempts to rekindle friendships as well as find her place in the world as a former ballerina and woman.
A dark academic novel – that may be triggering for some – encounter endless lies, sex taping without consent, infidelity, and leaders abusing their positions.
The streets of Paris and the beauty of ballet ooze off of the pages against the backdrop of violence and deceit within our institutions.
The Ballerinas is about loyalty to ourselves, our careers, our bodies, and to each other. Can we have all of things without sacrificing our integrity and selves? Is there ever balance?
Read The Ballerinas: Amazon | Goodreads
Save These Paris Books For Later: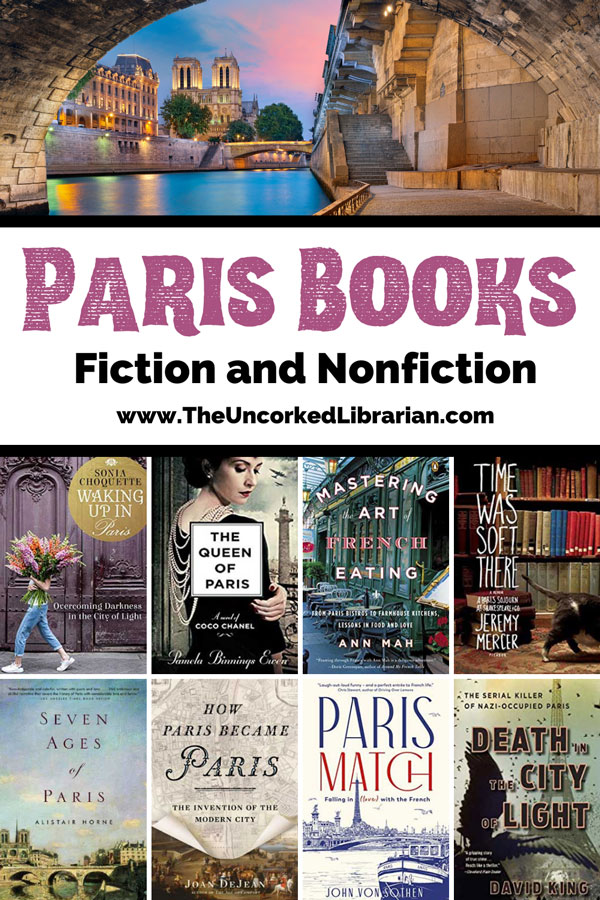 Grab the best books on Paris here:
Which nonfiction books and novels about Paris do you love?
What are the best books about Paris that you've read? Which ones should we add to our TBR pile? Are there any new Paris travel books that are musts? Let us know in the comments.
And, if you love all things France, be sure to check out these romantic French films.
You May Also Enjoy:
Books Across Europe
Rome Books
NYC Books
Croatia Books