If you are looking for a book about WW2 and libraries, don't miss The Paris Library by Janet Skeslien Charles. Find a The Paris Library summary, book information, and book reviews here.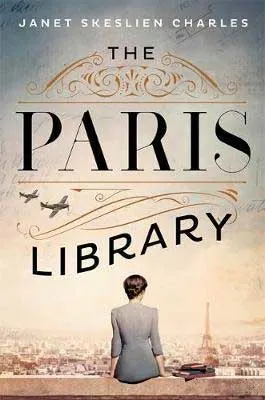 This post may contain affiliate links: If you purchase through my link, I will receive a small commission at no additional cost to you. I only recommend products/services that I approve of. See my full Disclosure Policy.
Author: Janet Skeslien Charles
Genre: Books Set In Paris | WWII Historical Fiction | Books About Libraries
Pages: 368
Publisher: Atria Books
Publication Date: February 9, 2021
Buy Now On Amazon
Find more great books like The Paris Library here:
The Paris Library by Janet Skeslien Charles Summary
Paris, 1939: Young and ambitious Odile Souchet has it all: her handsome police officer beau and a dream job at the American Library in Paris. When the Nazis march into Paris, Odile stands to lose everything she holds dear, including her beloved library. Together with her fellow librarians, Odile joins the Resistance with the best weapons she has: books. But when the war finally ends, instead of freedom, Odile tastes the bitter sting of unspeakable betrayal.

Montana, 1983: Lily is a lonely teenager looking for adventure in small-town Montana. Her interest is piqued by her solitary, elderly neighbor. As Lily uncovers more about her neighbor's mysterious past, she finds that they share a love of language, the same longings, and the same intense jealousy, never suspecting that a dark secret from the past connects them.

A powerful novel that explores the consequences of our choices and the relationships that make us who we are—family, friends, and favorite authors—The Paris Library shows that extraordinary heroism can sometimes be found in the quietest of places.

Atria Books
Join The Uncorked Reading Challenge Today
---
Travel around the world with the Uncorked Reading Challenge. Get the best book and movie recs straight to your inbox. Sign Up Now.
Sneak Peek Into TUL's Advanced Copy Review Of The Paris Library
If you love books about libraries and librarians, The Paris Library by Janet Skeslien Charles is for you. Set against the backdrop of WW2 in Paris, watch as the librarians at The American Library in Paris join the French Resistance in their own bookish way.
I always knew books had power, but The Paris Library brings a whole new meaning to the importance of words and novels.
While I didn't love Lily's sub-story — set in Montana — I fully devoured Odile's devotion to the library during WW2. Based on a true story, you'll champion these strong women, powerful gaggle of friends and co-workers, and feminist messaging.
Odile is the perfect example of trying to be the best version of yourself, too. Glennon Doyle would be proud.
More About The Author, Janet Skeslien Charles
Janet Skeslien Charles is an award-winning author and worked at The American Library in Paris as a program manager. She currently resides in both Paris and Montana. Read more about Janet Skeslien Charles.
More From Janet Skeslien Charles
Moonlight In Odessa
Montana Noir
Where You Can Find The Paris Library by Janet Skeslien Charles Book Reviews On TUL
Do you love reading about inspiring women in history?! Don't miss these inspirational women throughout history and across the world. Find books like The Paris Library next to The Rose Code, The Lost Apothecary, These Violent Delights, Mexican Gothic, The Socialite, Salt To The Sea, Code Name Helene, A Girl Like You, and so much more.
Uncover the most inspiring and best books about libraries and librarians to read set across the world and over the decades.
A topic near and dear to our hearts, enjoy the best books about books!
What are the best books set in every state? One of the largest book lists on TUL, don't miss our favorite books set in every state. Read around America, and find books like The Paris Library alongside classics, YA, indie, and so much more.
Travel to France via a good book. Find historical and contemporary fiction, WW2 books, nonfiction, indie, and YA.
Travel to Paris with these books – both fiction and nonfiction.
Find out what other new books set around the world are releasing with The Paris Library. A few special mentions include The Gilded Ones — YA fantasy set in West Africa — and The Removed about a Cherokee family in Oklahoma overcoming death, addiction, and dementia.
2021 is the year of WW2 books. Explore the year's most-anticipated WW2 books set to release including Kate Quinn's The Rose Code and The Paris Library by Janet Skeslien Charles.
Get all of 2021's hottest new book releases in historical fiction, inspirational nonfiction, indie, YA, and so much more here.