Travel around the world with fantastic movies about South Africa that are sure to teach you more and take you there.
Some of the best South African movies are those that make us laugh, cry, and think more deeply.
You'll meet legendary and inspiring leaders as well as characters who don't always make the best decisions but that you'll still cheer for.
Top South African movies on Netflix – and other favorite streaming networks – also promise a journey across the globe. Others push you forward, even when you've hit rock bottom.
Meet alien refugees and find love. Laugh with friends. Many of the movies set in South Africa will teach you more about Apartheid, race, and community.
So, let's travel across the African continent with the best movies about South Africa. Meet terrific directors, and see which movies received Oscar nominations (and more!).
Of course, "best" is subjective, and we'd love to know your favorites in the comments. Let's get started.
*Please know that since our readership is based largely in the U.S., we try to pick the best South African films that are accessible and available in America or that you can add to your watchlist. Some are harder to obtain, though.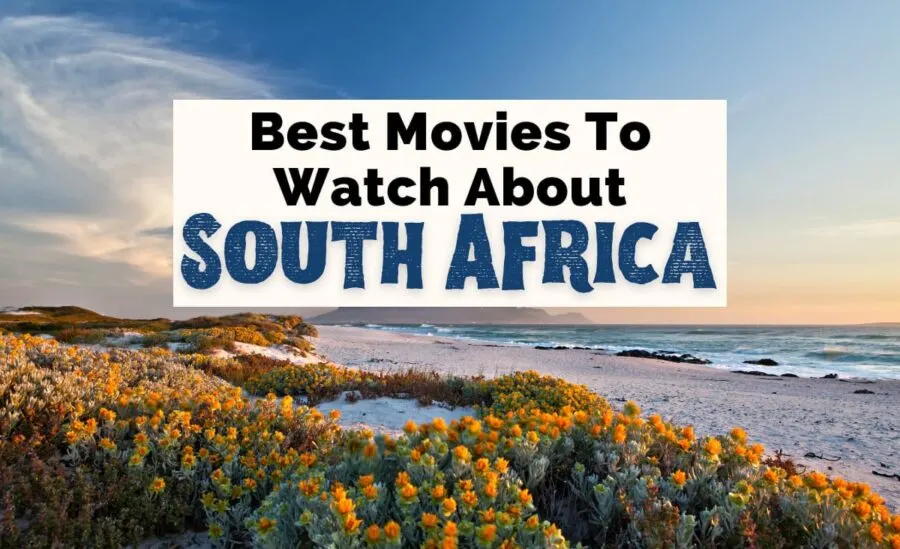 Watch your favorite South African movies and books here:
Express VPN – Using Virtual Private Networks (VPNs) allows you to view movies worldwide – and they help keep your information safe. Our writers couldn't have such diverse film reviews without a VPN.

Amazon Prime Video – Stream thousands of ad-free movies and TV series on demand with Prime Video.

Audible Plus: From Amazon, listen to Amazon Originals, podcasts, and audiobooks. They add new titles every week.
16 Best Movies About South Africa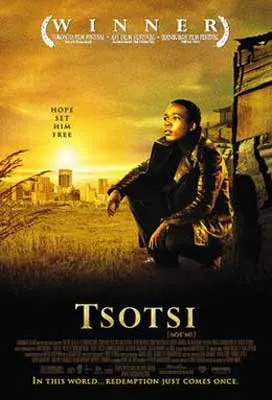 1. Tsotsi (2005)
To escape an abusive home life, David – a young boy – runs away to live on the streets of Johannesburg.
Fast forward a few years and David, now going by Tsotsi, is the leader of a small street gang of three other boys: Aap, Boston, and Butcher.
One day, a mugging goes badly and results in a murder, causing their friendships to further spiral. To make a break for it, Tsotsi steals a car… only to discover a baby in the backseat.
He takes the baby, but as tensions mount, Tsotsi must make some hard decisions. Despite some of his seriously questionable actions, you can't help but root for Tsotsi.
This heart-wrenching crime drama is one of the most popular South African movies around the world – and for good reason.
Tsotsi won the 2006 Academy Award for Best Foreign Language Film and was also nominated for the Golden Globe for Best Foreign Language Film.
On Rotten Tomatoes, Tsotsi received an 86% audience score.
So, if you are looking for hard-hitting movies about South Africa, Tsotsi is a great place to start – and probably one of the easiest to access and further discuss!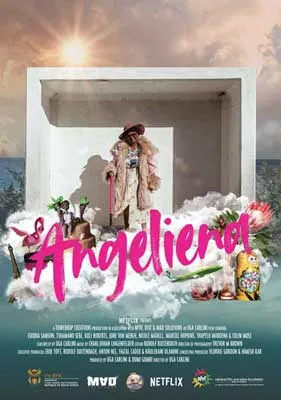 2. Angeliena (2021)
Angeliena is a formerly homeless car park attendant who wants nothing more than to travel the world. But that's much easier said than done.
That is until Angeliena is told she's dying. With a little assistance from her friends, Angeliena decides she isn't going to wait any longer to achieve her dreams.
This feel-good South African comedy is the perfect way to travel around South Africa – and maybe more of the world – when you're unable to do so yourself.
Angeliena is so much fun to follow as she goes on this journey, and it's impossible not to root for her.
The next time you're looking for South African movies on Netflix, check out this Netflix Original. You'll laugh, you'll cry, and then you'll want to book your own one-way ticket.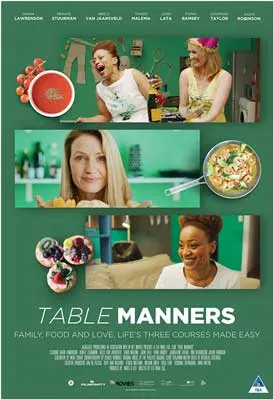 3. Table Manners (2018)
Suburban housewife Megan is happy and content in her life, so it comes as quite a shock when she finds out her husband is about to go to jail for a long, long time for tax evasion.
But she's not only losing her husband; in a domino effect, she is also going to lose her house, and effectively her entire life in the cozy community she lives in.
Down and out, seemingly at rock bottom, it's going to take the help of her son, her best friend, and her passion for cooking to get her on her feet again.
Who knows? She might just learn a valuable lesson about purpose and self-love along the way.
If you're looking for some happier South African movies, this is definitely on the marshmallow/comfort food end of the emotional spectrum.
With warm performances and likable characters, Table Manners is almost guaranteed to make you smile.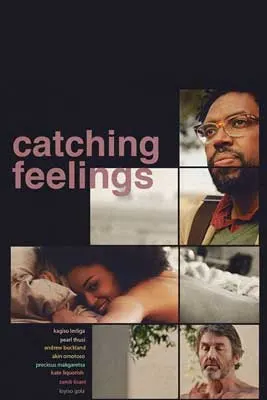 4. Catching Feelings (2017)
On the surface, Catching Feelings looks like a fairly innocent romantic drama.
But when you actually sit down to watch it, it quickly becomes clear that it is more serious than its promotional material led us to believe.
This is actually less of a rom-com and more of a domestic drama that highlights social issues.
Kagiso Lediga, who also wrote, produced, and directed the movie, stars as Max, an English professor married to his journalist wife Sam.
Over the course of the film, their relationship is tested by many things, such as money problems and infidelity, but mostly by the arrival of Heiner – an older, hard-partying white writer, who moves into their home.
Fortunately, with the social commentary, we also get plenty of good one-liners and cutting observations from Max. The supporting characters also provide plenty of entertainment.
Catching Feelings should be very enjoyable for anyone looking for the best South African movies on Netflix.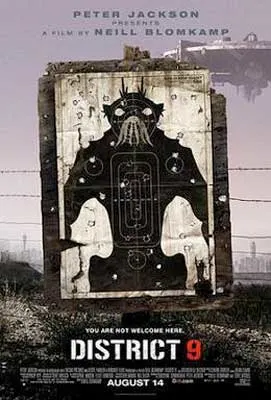 5. District 9 (2009)
In an alternate version of history, a spaceship carrying alien refugees landed in Johannesburg in the 1980s.
Twenty years later, the aliens are being held in an area called District 9 – separated from humans – and kept in squalid slum-like conditions.
A decision is made to relocate the aliens to a new area. During the operation, a camera crew follows relocation leader Wikus van de Merwe as he oversees the activities.
As he moves through the area handing out relocation notices, he comes into contact with a small group of aliens who have been attempting to leave Earth. His life is accidentally changed forever.
District 9 was something of a breath of fresh air into the cinematic sci-fi genre upon its release.
Its found footage/documentary style – complete with interviews to the camera and plenty of shaky-cam – helped to ground the film and sell the "reality" of the fantastical events it depicts.
District 9 also put South African and Canadian film director, Neill Blomkamp, on the map, earning him a nomination for the Academy Award for Best Adapted Screenplay.
With strong themes and social allegory, this is a great pick for anyone looking to get more than just action from their sci-fi movies about South Africa.
Discover even more great movies set across and from Africa.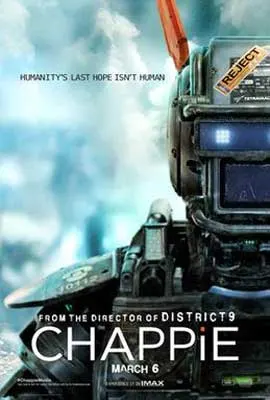 6. CHAPPiE (2015)
What happens when you manage to create the world's first artificially intelligent being, but it somehow ends up being taught everything it knows by low-level South African criminals?
Apparently, a lot of violence and anarchy.
Having designed a successful legion of robot police to help fight against the rising crime rates of Johannesburg, engineer Deon Wilson is unhappy when his next project – artificial intelligence – is ordered to be scrapped by his boss.
Undeterred, he continues his efforts on a stolen unit at his home. However, when he is kidnapped by a pair of criminals, the unit is forced to help them with their robberies.
Now nicknamed "CHAPPiE" by the gang, the unit begins to develop feelings and a personality, which makes its new life of crime very difficult.
Featuring acting performances from alternative hip hop musicians Die Antwoord and one of the worst crimes ever committed to Hugh Jackman's hair, CHAPPiE is one of the most anarchic and unusual South African films you can find.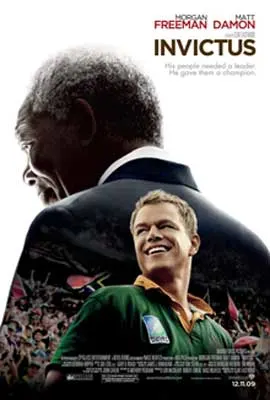 7. Invictus (2009)
Following his election as President of South Africa, Nelson Mandela must now reunite a country struggling with the recent memory of decades of racial oppression.
While at a rugby game featuring the South African national team – the Springboks – he has an idea of how to solve this problem.
Mandela approaches François Pienaar, the captain of the Springboks. He enlists his help in bringing people together through the universal language of sport.
The plan is simple: all they have to do is get the Springboks to win the Rugby World Cup when South Africa hosts it next year.
Unfortunately, the Springboks do not have a strong reputation. Many believed they were only allowed to take part because they got a default entry into the tournament as hosts.
Can the underdogs beat all the opposition and unite a nation?
With Oscar-nominated performances from Morgan Freeman and Matt Damon – and directed by Clint Eastwood – movies about South Africa don't often get much more of an inspirational atmosphere than this.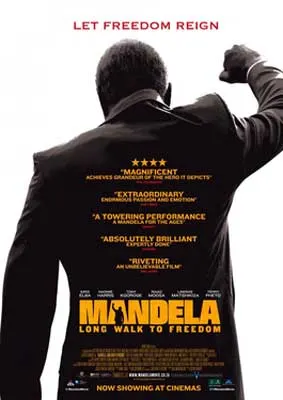 8. Mandela: Long Walk to Freedom (2013)
This historical biopic – with its world premiere at the Toronto International Film Festival – chronicles the life of former South African President Nelson Mandela.
Based on Mandela's autobiography of the same name, we follow through his early life, education, and career as a lawyer.
Then, the film continues on into his activism, imprisonment, and eventual release after 27 years.
Actor Idris Elba gives a strong performance as Mandela, as we see him change over the decades from a young pillar of the community to a calm, stoic leader.
Inspirational and uplifting, Mandela: Long Walk to Freedom is an excellent showcase of the strength of the human spirit against unjust adversity.
Nelson Mandela was arguably one of the twentieth century's most prominent cultural figures; this is one of the best South African movies for those who want to know more about him.
The film is based on the book of the same name, which is one of the most famous books about South Africa.
Discover even more books that will make you think differently about the world.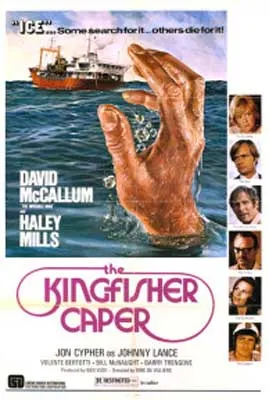 9. The Kingfisher Caper (1975)
Family drama and underhanded business deeds are at the forefront of this 1970s South African movie.
Based on the novel The Diamond Hunters by Wilbur Smith, our main characters Benedict, Tracey, and Johnny are the children of the owner of the Van Der Byl Diamond Mines – the wealthy Hendrich Van Der Byl.
Hendrich's son Benedict is a womanizing lost cause, spending money frivolously and stealing diamonds to give to women he wishes to court.
On the other hand, Hendrich's adopted son Johnny is highly respected in the diamond business and thoroughly schooled in the profession.
But when Hendrich has to divide his empire amongst the three of them, Benedict tries every trick in the book to try and cut Johnny out of the business for good – and even his sister Tracey, if need be.
The Kingfisher Caper is one of the best movies about South Africa for anyone looking for a classic seventies upper-class domestic drama.
And, if you are looking for movies set in Africa about diamonds, Blood Diamond – featuring Leonardo DiCaprio – is one of the most famous, taking place during the Sierra Leone Civil War.
Parts of the movie were filmed in Cape Town.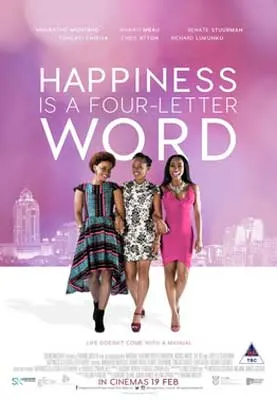 10. Happiness is a Four-Letter Word (2016)
Nandi, Zaza, and Princess are three friends living the high life in South Africa.
Princess runs a chic art gallery. Zaza is enjoying her wealthy life as a trophy wife, and Nandi's career as a lawyer is in full swing. Plus, she is soon to be married.
However, what looks like perfection on the surface might actually be a lot more chaotic underneath.
A fling with a married man brings Zaza close to scandal, and Princess can't help falling for a devilish newcomer. Nandi's marriage might not be happening at all.
Soon, they're going to find out that there's no instruction manual for love. However, together they might just be able to find a happily-ever-after for all three of them.
If you enjoy dramas with plenty of romance, this may be one of your new favorite movies set in South Africa.
Based on the book of the same name by Nozizwe Cynthia Jele, Happiness is a Four-Letter Word also has a sequel – Happiness Ever After – on Netflix.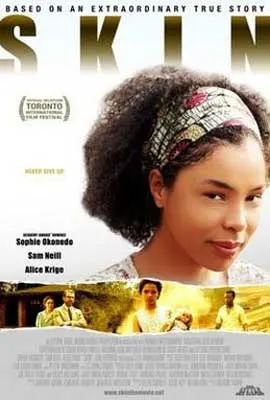 11. Skin (2008)
This biographical drama is a powerful depiction of racial inequality in Apartheid South Africa.
Sandra Laing, a young girl, lives with her white Afrikaner parents and brother in Apartheid-era Eastern Transvaal, South Africa.
Despite coming from three generations of white-classified ancestors, Sandra's skin color and hair cause her to be reclassified as "colored" by state officials.
She is expelled from her all-white school and shunned by the community.
Despite being reclassified as officially white following the efforts of her parents, Sandra becomes disillusioned about her place in the white community.
When she begins a relationship with Petrus – a young black man – it causes a rift in Sandra's family. Will she ever be able to reconcile with her parents?
Like many movies about South Africa, Skin dives deep into the racial tensions of the period.
Intimate, personal stories such as Sandra's do much to help highlight the smaller – but no less important – effects of racial segregation on society.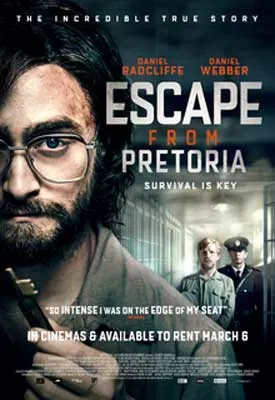 12. Escape from Pretoria (2020)
In 1979, Tim Jenkin and Stephen Lee are two white South Africans who carry out missions against the Apartheid regime.
When both are caught and arrested, they are each sentenced to long periods of jail time in Pretoria Prison.
While inside, they are shown the ropes and advised to keep their heads down and not to attract attention.
But Jenkin begins to study the prison and learn its routines. With the help of another inmate, the three begin to work out a way to escape before it's too late.
Adapted from Tim Jenkin's book Inside Out: Escape from Pretoria Prison, this tense thriller – which is based on real events – includes more details that turn out to be true than you might first think.
Escape from Pretoria is definitely one of the most nail-biting movies set in South Africa to come out in recent years.
More films about South Africa from Christine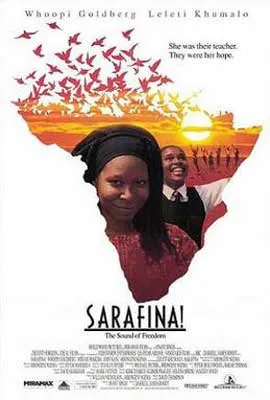 13. Sarafina! (1992)
Sarafina is a powerful musical drama set during the 1976 Soweto uprising in South Africa.
The film revolves around the titular character, Sarafina, a young black student portrayed by Leleti Khumalo. She is inspired to rise up after witnessing her mom's servitude in a white household.
Sarafina becomes deeply involved in the anti-Apartheid protests led by her inspirational teacher, Mary Masombuka, played by Whoopi Goldberg.
As the students face oppression and brutality from the authorities, Sarafina finds her voice.
She courageously fights for freedom and justice using the power of music and dance as a form of resistance.
The powerful dynamic between the two actresses cements Sarafina as one of the best South African movies if you are looking for a fictionalized story based on true events.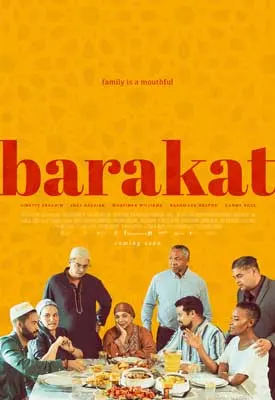 14. Barakat (2020)
Barkat is one of the most notable movies about South Africa because it is the first Afrikaans-language Muslim feature film produced there.
Rarely do we see a film showcasing the Cape Muslim community.
This South African comedy follows four brothers as they meet their widowed mother's new fiancé – who is not Muslim – during Eid-al-Fitr celebrations.
Although the drama is a bit cliché – and things go as one might expect in these situations – Barakat adds much-needed representation to South African cinema.
Filmed in Cape Town, expect many laughs, especially if you can relate to family drama.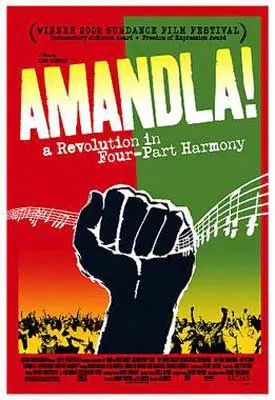 15. Amandla! A Revolution in Four-Part Harmony (2002)
Music is a common theme for great movies set in South Africa, especially since many used music as a tool to protest and unite against racial oppression.
Winner of the Audience Award and the Freedom of Expression Award at the 2002 Sundance Film Festival, Lee Hirsch's documentary Amandla! A Revolution in Four-Part Harmony does just this.
We meet a community of black South Africans, including activists, poets, playwrights, and musicians.
From songs sung during the darkest times of Apartheid to the joyous celebrations of freedom, this documentary showcases the profound impact of music in mobilizing a nation towards change.
Watch archival footage, interviews, and musical performances.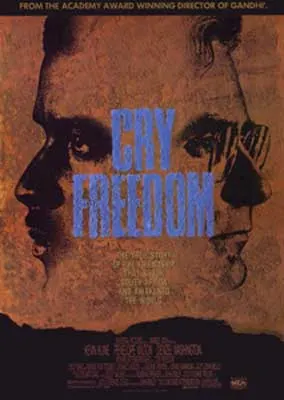 16. Cry Freedom (1987)
Cry Freedom is an award-winning and thought-provoking film with outstanding performances from Denzel Washington and Kevin Kline.
One of the best South African movies based on a true story, the film follows Steve Biko, a charismatic anti-Apartheid activist played by Washington.
Donald Woods, a liberal white journalist played by Kline, witnesses firsthand the brutal realities of Apartheid.
Although from different backgrounds, Donald's budding friendship with Biko deepens, leading him to become an ardent advocate for change as they fight for freedom.
Cry Freedom is emotionally charged and politically relevant, leaving a lasting impact.
This popular South African drama film received Academy Award nominations for Best Original Score, Best Actor in a Supporting Role, and Best Original Song.
Not to mention Best Motion Picture, Best Director, Best Actor in a Motion Picture, and Best Original Score (Motion Picture) nominations at the Golden Globe Awards.
More Of The Best South African Movies To Watch:
I Am All Girls (2021)
Hole in the Wall (2016)
Rage (2020)
8 (2019)
The Bang Bang Club (2010)
Four Corners (2013)
Watch these South African films (and books) here:
Express VPN – Using Virtual Private Networks (VPNs) allows you to view movies worldwide – and they help keep your information safe. Our writers couldn't have such diverse film reviews without a VPN.

Amazon Prime Video – Stream thousands of ad-free movies and TV series on demand with Prime Video.

Audible Plus: From Amazon, listen to Amazon Originals, podcasts, and audiobooks. They add new titles every week.
Amazon Prime Video | Netflix | IMDb | Hulu | Max
What are your favorite movies set in South Africa?
Which movies about South Africa do you love? What are the best South African movies on Netflix, Hulu, and more right now? Let us know in the comments.
Save Your Favorite South African Movies For Later: