23 Best Graphic Novels For Teens & Tweens
From LGBTQ+ stories and romance to foodie fiction and witches, uncover the best graphic novels for teens.
Even as adults, we cannot help but seek out beautiful and poignant teen graphic novels – they teach us about love, life, family, and friendship.
Some of our all-time favorite YA graphic novels include the Heartstopper series, Pumpkinheads, and Nimona.
Then you have great sports-related young adult graphic novels like Spinning and the Fence series.
Isla To Island, Displacement, and When Stars Are Scattered intuitively cover heavier topics like immigration, war, and generational trauma.
Not to mention that some of the best graphic novels for tweens address mental health, identity, and coming of age like Garlic and the Vampire, The Girl from the Sea, and Salt Magic.
With so many graphic novels for young adults out there, how do you choose the best ones?
Below, find popular and great teen comics and graphic novels in all genres – fantasy, historical fiction, memoir, horror, and more.
Devour food fiction GBBO-style, meet werewolves, ghosts, and vampires, and eat all of your favorite fall treats as you romp through a corn maze with your best friend.
Don't forget to let us know your favorite teen graphic novels in the comments. There are just too many to name here. Let's get started!
You may also enjoy these LGBTQ+ YA Books.
23 Best Graphic Novels For Teens & Tweens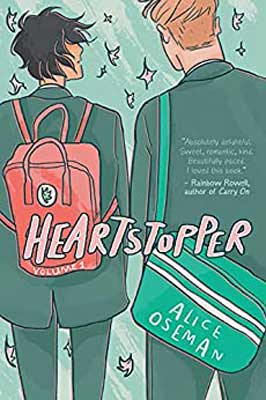 Heartstopper by Alice Oseman
Oseman's Heartstopper, by far, consists of the best graphic novels for teens that cover tough issues like mental health and bullying but will also leave your heart swelling with love.
Plus, you cannot skip the Netflix adaptation, which makes the series come to life.
In the first novel, we meet Charlie and Nick. Charlie is one of the only openly gay boys at school, and he starts falling for Nick, who he assumes is straight.
Nick, however, begins to recognize and better understand his bisexuality. Both fear and are subject to bullying. Plus, Nick wants to tell his mom, unsure of what she will say.
By the second and third novels – this isn't much of a spoiler – we watch as Charlie and Nick turn their friendship into something more – and potentially more publicly. There's even a trip to Paris.
By the fourth book, we realize that Charlie is struggling with his mental health, and Nick learns his limitations as a partner as well as how to best support Charlie.
YA LGBTQ+ graphic novels truly don't get any better than this, and you'll really want to have the entire series ready to go in your hand. You will devour them all immediately.
Charlie and Nick's friend group is the best. Uncover even more fantastic books about best friends.
Read Heartstopper: Amazon | Goodreads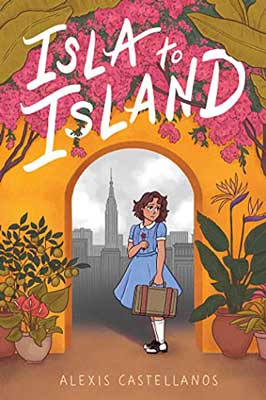 Isla To Island by Alexis Castellanos
One of the newer tween and teen graphic novels published in 2022 and for ages 10+, Castellanos takes a unique approach to this 1960s story about a young girl growing up during the Cuban Revolution.
In fact, this beautiful graphic novel is largely wordless, especially as young Marisol moves from Cuba to New York.
At the time, Marisol only speaks and understands Spanish – and the novel is through her eyes and ears. The story begins in Spanish.
Marisol doesn't want to leave behind her Cuban home or family, but after so much violence, her parents decide that it is best to send her to the United States as part of Operation Peter Pan.
A Catholic family takes in Marisol, and all try to navigate this new situation. Marisol's host family is kind, understanding, and patient during such a difficult transition.
Still, Marisol's once colorful world of flowers and community turns completely gray and silent – until she discovers the library, books, and New York's botanical gardens.
Slowly adapting to this once-foreign place, Marisol once again finds joy in the things she loves until she is reunited with her family.
From the illustrations' coloring – and lack thereof – to the messaging, Isla To Island is a stunningly poignant historical YA graphic novel. It is also a great selection if you are looking for more books to read to learn about Cuba.
Travel across islands with these books.
Read Isla To Island: Amazon | Goodreads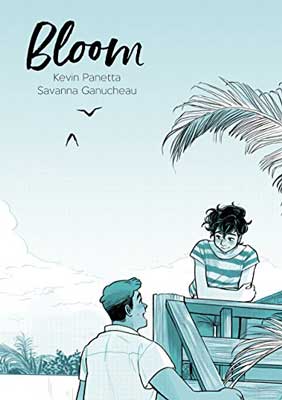 Bloom by Kevin Panetta and Savanna Ganucheau
LGBTQ+ YA graphic novels meets the best of foodie fiction in Bloom.
This novel may just leave you nostalgic for Paul Hollywood, Mary Berry, and The Great British Bake Off, especially with all of that twisted bread and lamentation.
Having graduated from high school, Ari wants nothing more than to set off on his own and grow his band's fame.
However, Ari's family cannot afford college or lose him at their bakery, which is barely staying afloat. As Ari tries to find his own replacement, Hector applies and instantly takes to bakery life and Ari's family.
Ok, and maybe Ari too…
Is Hector's passion for baking infectious, and what will Ari do with his life?
After a major accident at the bakery, can everyone recover, including Hector and Ari's already tumultuous relationship?
Read Bloom: Amazon | Goodreads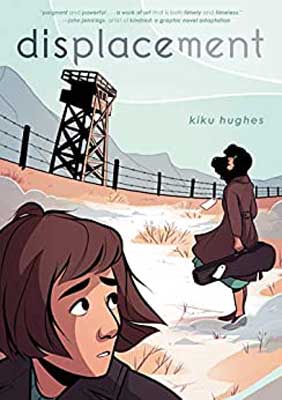 Displacement by Kiku Hughes
In Displacement, travel back in time to the U.S. Japanese incarceration [internment] camps during WWII.
Kiku doesn't know much about her family's history, including her deceased grandmother who was a famous violinist.
However, when Kiku finds herself displaced in time during a real-life visit to her grandmother's San Francisco neighborhood, she witnesses firsthand how the U.S. forcibly relocated Japanese-Americans to barebones camps – which were essentially glorified prisons.
With a more simplistic style of storytelling – including an abundance of white space across pages – Hughes drives home the importance of understanding and acknowledging generational trauma.
With now former President Trump in the backdrop, Displacement is also a stark reminder of how close we came and are to repeating the past.
As Hughes suggests, we must protest to stop this from happening again, especially after witnessing children being separated from their parents and forced into cages.
For WWII YA books, Displacement provides an accessible way for youth to understand politics, trauma, war, and racism.
This is also one of the best historical graphic novels for teens who enjoy time travel books.

Read Displacement: Amazon | Goodreads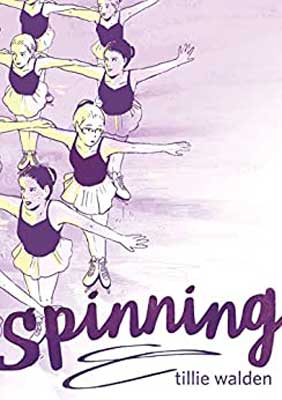 Spinning by Tillie Walden
One of the rawest and most gutwrenching nonfiction LGBT graphic novels for young adults, Tillie Walden's Spinning is a biography of her childhood growing up in the ice skating rink.
There are content warnings for homophobia, bullying, depression, and sexual assault – to name a few.
Tillie is a talented competitive skater but she absolutely hates it along with those grueling early morning wakeups.
It doesn't help that her parents never attend her competitions or practices and that she's struggling in life outside of the sport.
Having moved to Austin, Texas as a young gay woman, Tillie is also hiding her sexuality from everyone. She is bullied at school, and it's been hard enough to make friends as a newbie.
Will Tillie be able to come out to her friends and family and decide what she really wants for herself?
Spinning reminded us so much of the hardships (and horrors) of adolescence.
This is an Eisner Award-winning YA graphic novel that will leave you thinking long after you finish the final chapter.
Spinning is also one of the longer graphic novels for teens on this list, is for sports fiction lovers, especially, and is one of the more solemn stories in graphic novel format.

Read Spinning: Amazon | Goodreads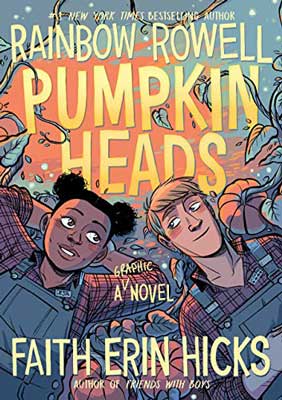 Pumpkinheads by Rainbow Rowell & Faith Erin Hicks
One of the most talked about teen graphic novels, we were worried that Rowell's Pumpkinheads wouldn't live up to the hype. It did!
Deja and Josie spend every fall working in the Succotash Hut in the best pumpkin patch in Omaha, Nebraska. They are the best of seasonal friends.
It's their last fall in the patch before heading off to school, and Deja is determined to enjoy it – including eating all of the things.
Plus, she wants Josie to finally gain the courage to talk to his crush, Fudge Girl. As they adventure through the patch, Josie and Deja start truly examining their friendship.
Why are they only seasonal friends? And is Fudge Girl more impressive in Josie's dreams than in reality?
If you crave the fall, including all of the best autumn activities like pumpkin patches, candy apples, corn mazes, and hay rides, Rowell and Hicks certainly set the mood.
The warm pumpkin spice fall-colored illustrations are everything in Pumpkinheads, and you'll find yourself having a new fall tradition read.

Read Pumpkinheads: Amazon | Goodreads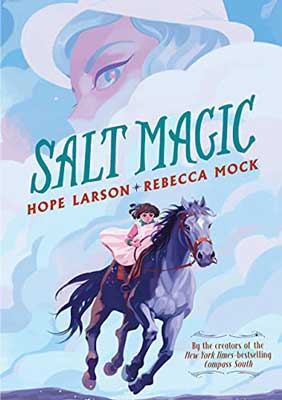 Salt Magic by Hope Larson and Rebecca Mock
Winner of the Eisner Award and one of the best graphic novels for tweens, Salt Magic will most appeal to fantasy and witchy book lovers – with a few spooky elements.
Vonceil craves a more extraordinary life than helping out on her family's Oklahoman farm.
When her brother, Ebner, returns from WW1 and settles down, she is saddened by the change in him; Ebner grew up so quickly from the war and has both physical and mental scars.
When a witch in white shows up to get Ebner back and realizes he's married, she places a curse on the farm's only water source. Vonceil heads out to a magical land to save her family.
What will she sacrifice – and gain – along the way?
Salt Magic is one of those tween and young adult graphic novels that starts off iffy but grows stronger and deliciously bizarre, especially with a salt and sugar witch on the loose.
For those who keep reading, Larson and Mock reward us with a story about curses, binding promises, jealousy, love, and loneliness.
Explore even more Asheville authors like Larson on our sister site, Uncorked Asheville.
Read Salt Magic: Amazon | Goodreads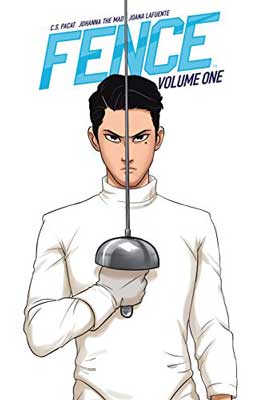 Fence Volume 1 by C.S. Pacat and Johanna the Mad
There are a lot of great sports fiction YA graphic novels out there, and Fence is all of the rage. The first in the series is especially perfect for a quick read – plan for under an hour.
Plus, if you enjoy stories with unlikable characters – the fencing guys are arrogant, sleep around, and are mostly wealthy pricks – you'll eat up this YA graphic novel.
Nicholas Cox's dad is a former fencing champion – and has abandoned him for his golden boy "legitimate" son and strong fencer.
This hurt and envy make Nick want to become the fencing champion.
Nick heads to a prestigious school on a fencing scholarship where he instantly feels out of place. The coach judges him for his poor fencing technique, especially since he wasn't formally trained like the others.
Yet, Nick is quick and left-handed, which makes him unique and pretty solid. Plus, Nick has his eyes set on beating the unstoppable Seiji Katayama, who just happens to be his roommate.
The first volume in the series leaves you with a cliffhanger; make sure you have the other books ready to go to see how this all plays out.
Plus, get a sneak peek into fencing as a sport.

Read Fence: Amazon | Goodreads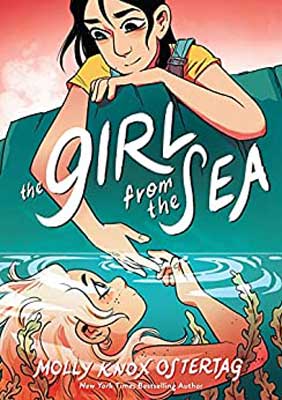 The Girl from the Sea by Molly Knox Ostertag
For mermaid book lovers, you cannot skip The Girl from the Sea – this is one of the sweetest and best graphic novels for tweens and teens on this list.
Fifteen-year-old Morgan is keeping a secret from her friends and family; she is gay. She's also navigating an angsty household with her parents recently separated and a sullen brother.
When Morgan slides off the cliffs and almost drowns, a young woman named Keltie saves her. Can you guess what magical being Keltie really is?
As the two young women become more than just friends, Morgan has to decide how to tell her family and friends.
Unfortunately, her friends are also doing more harm than good. Her bestie's parents are starting tours around their Canadian island, which will destroy Keltie's seal family.
We just love inspiring YA LGBT books, although The Girl from the Sea might require a Kleenex or three.
For teen graphic novels, soak in Ostertag's gorgeously illustrated Canadian sea and landscapes and Keltie's fun dolphin t-shirt.
Read The Girl from the Sea: Amazon | Goodreads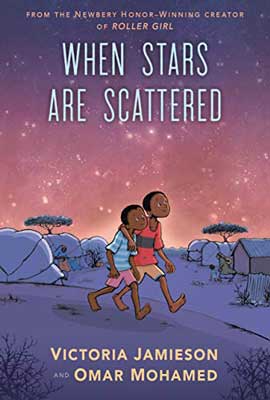 When Stars Are Scattered by Victoria Jamieson and Omar Mohamed
Travel to Kenya and learn more about African refugees and the meaning of family in When Stars Are Scattered.
Dadaab is the largest refugee camp in Africa, and Omar and his brother Hassan, who are Somalian, live there now.
Their father is dead, and they do not know where their mother is.
Omar always thought this was a temporary situation; yet, it's been close to a decade of calling their basic shelter with no water or electricity in the desert home.
Determined to take care of his non-verbal brother, Omar is starving, bored, and losing hope.
However, when the community encourages him to take advantage of the opportunities given to him – including going to school – he begins to hope for a different future.
Omar is, in fact, one brightly shining star in the sky after all.
When Stars Are Scattered is an intimate, inspiring, and important story – it's based on Omar's real childhood in the camp.
You might recognize Jamieson from Roller Girl – another one of our favorite graphic novels for young adults and tweens.

Read When Stars Are Scattered: Amazon | Goodreads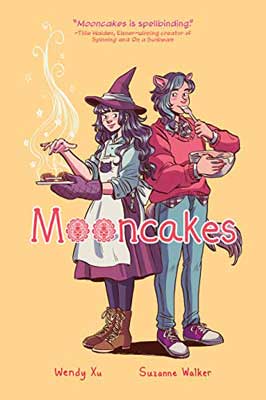 Mooncakes by Suzanne Walker and Wendy Xu
If you are looking for teen graphic novels and adore books with werewolves and witches, Mooncakes will check off all of the boxes. Heck, there's even a bookstore.
Travel to New England where Nova Huang – a deaf and queer witch – investigates supernatural occurrences while working in her family's bookshop.
As Nova heads into the woods, she reconnects with her childhood sweetheart and friend, Tam.
Tam is a non-binary werewolf, and someone is after their werewolf powers. Can Nova help?
For LGBT fantasy books for adults and teens, Mooncakes brings a bit of magic to friendship and love. Who can resist those enchanting forest creatures?

Read Mooncakes: Amazon | Goodreads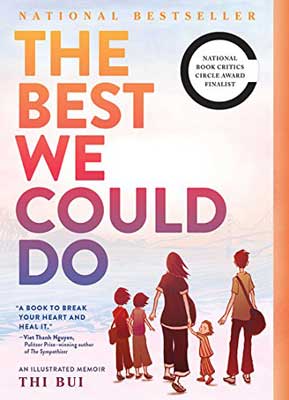 The Best We Could Do by Thi Bui
In this mature memoir, Bui shares what it is like growing up as an immigrant in California after her family escapes South Vietnam in the 1970s.
As Bui becomes a mother herself – and falls into this new identity – she reflects back on her past, including the way her family raises her, her relationship with Vietnam, and the family's relationships with each other
Although Bui's family safely arrives in America, Bui stresses the trauma carried down across generations along with the hardships and discrimination they face as new immigrants.
Today, along with a new baby, Bui must also take care of her aging parents – whose backgrounds are revealed throughout the story.
For YA graphic novels, this is a gut-wrenching tale that's also not always told or taught in American schools.
Learn more about the Vietnam War, and take a journey with Bui through pain, reconciliation, and understanding.
Just know that this story might suit older readers better – people either loved it or felt a bit lukewarm here.
Read The Best We Could Do: Amazon | Goodreads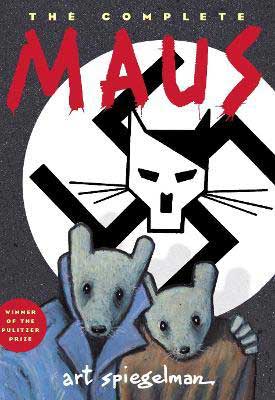 Maus by Art Spiegelman
One of the most internationally renowned books about Poland and the winner of the Pulitzer Prize, Maus is one of those young adult graphic novels that you cannot skip.
Readers follow the story of Vladek Spiegelman, a Polish Jew and Holocaust survivor, along with his cartoonist son.
Spiegelman interviews his father and documents the landscape of Hitler's Europe, including his father's time spent in Auschwitz.
With brilliant execution, the illustrations portray the Jews as mice and the Nazis as cats.
Like other books about war, we learn more about familial relationships and the legacy trauma leaves behind. This is a story of survival filled with guilt as well as tenderness.
As Pantheon, the publisher, best says, "Maus studies the bloody pawprints of history and tracks its meaning for all of us."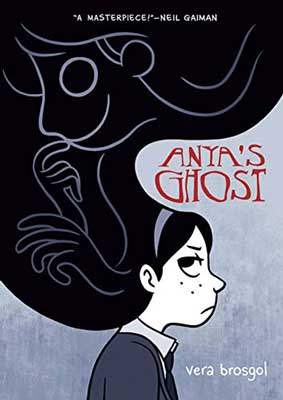 Anya's Ghost by Vera Brosgol
Nothing beats a good ghost story, especially one about friends and surviving high school.
Having moved from Russia, Anya doesn't fit in at school. When she befriends Emily, a ghost at the bottom of a well, Emily helps her become one of the "cool kids."
Of course, this also means catching the attention of Anya's crush and maybe cheating on tests.
As we all know, being popular isn't as great as it appears. Not to mention that Anya also begins to question Emily's history.
If you are looking for graphic novels for teens who are hesitant readers or are looking for a relatable high school experience, Anya's Ghost is a great pick.
Just keep in mind that like many of the graphic novels for young adults on this list, the content is mature. Anya smokes, and the teens say some gross things about each other.
Read Anya's Ghost: Amazon | Goodreads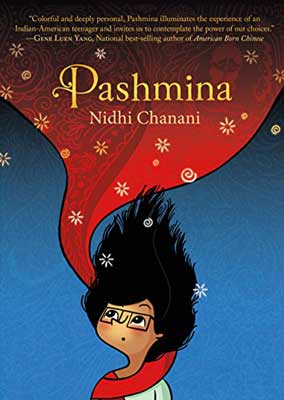 Pashmina by Nidhi Chanani
Pri's mom left India under mysterious circumstances and hasn't spoken to their Indian family in over a decade. Whenever Pri asks about her Indian father, her mom changes the subject.
Needless to say, their relationship is a bit rough.
Pri is struggling with her family and identity but finds solace in her father-like figure, Uncle Jatin. He takes her on special Indian foodie adventures and picks her up from school.
However, with a baby of his own on the way, their relationship is about to change.
Pri prays to the goddess Shakti, a wish that changes her outlook on life. Along with magical pashmina made from Indian golden thread, Pri witnesses a tourist version of India as well as a more authentic homeland.
For those looking for teen graphic novels about South Asian diaspora, racism, and classism, Pashmina is perceptive and a story about heritage and family. This is truly a story about understanding home.

Read Pashmina: Amazon | Goodreads
Take The Uncorked Reading Challenge!
Travel around the world with our Uncorked Reading Challenge. Never be late to the party with unique new book releases. Get the latest movie and book lists straight to your inbox.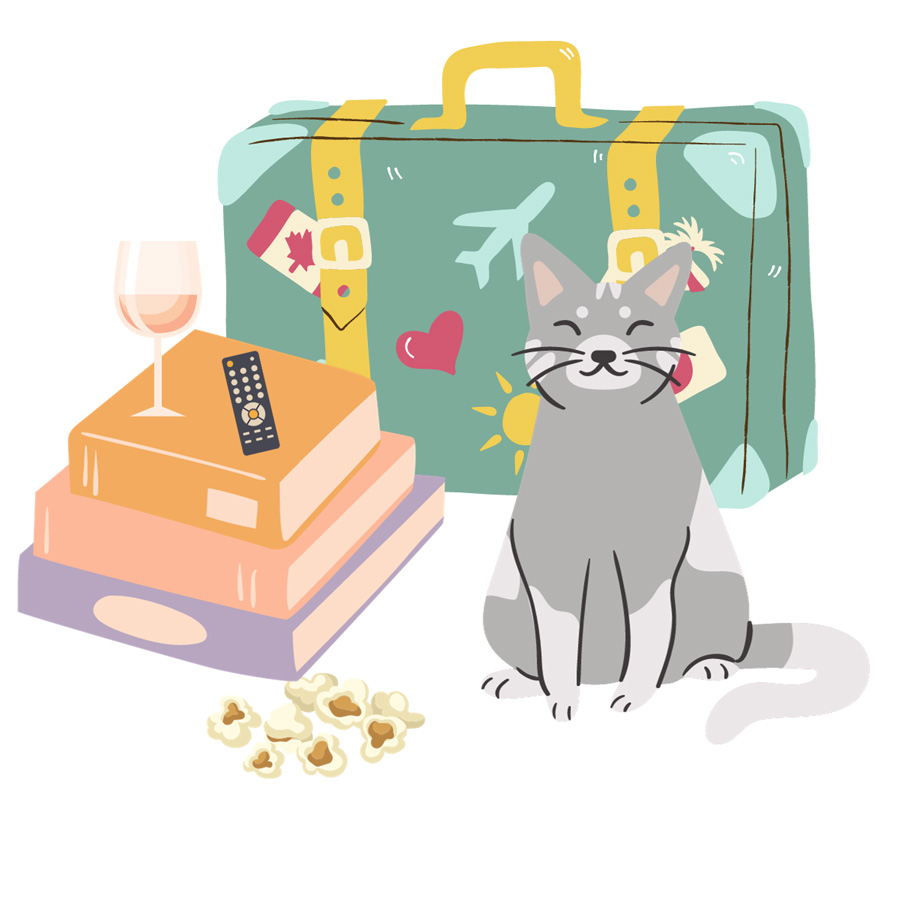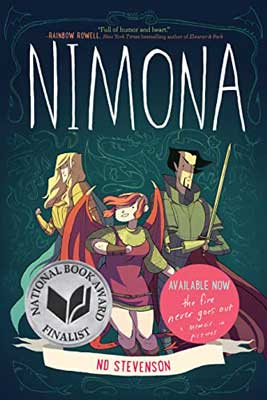 Nimona by ND Stevenson
Nimona is one of those YA graphic novels that might just get you hooked on the genre. We've read this one multiple times. Plus, Nimona is also becoming a movie.
Meet Nimona – she is an overly ambitious, impulsive, and unpredictable shapeshifter with a penchant for trouble.
A sidekick for Lord Blackheart, they work together to prove that the Institution of Law Enforcement and Heroics as well as Sir Ambrosius Goldenloin aren't the heroes that they present to the public.
However, Lord Blackheart also isn't living up to his namesake, and he's full of playful antics. Without giving away too many spoilers, let's just say that he might have a big rainbow heart instead.
If you love monster books that aren't all scary, pick up Nimona ASAP.

Read Nimona: Amazon | Goodreads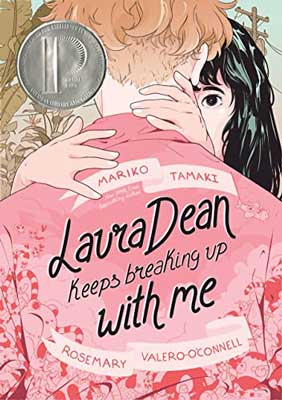 Laura Dean Keeps Breaking Up With Me by Mariko Tamaki and Rosemary Valero-O'Connell
Are you looking for angsty graphic novels for teens about toxic relationships? Laura Dean Keeps Breaking Up With Me is most definitely it.
Sometimes Frederica Riley, or Freddy, cannot believe that she's with Laura Dean – one of the coolest and most popular girls in school.
The problem is that Laura Dean is an incredibly shitty girlfriend – and sometimes even person. Yet, Freddy cannot seem to drop her.
As stories tend to go with young love, Freddy sacrifices a lot for Laura Dean, including her friendships and happiness.
Watching Laura Dean walk all over her is exhausting and infuriating, especially for readers. But, if you were a teen, you most likely get it.
When Freddy receives advice that maybe she should break up with Laura Dean this time and obliterate the vicious cycle, she's not so certain she can do it.
Author Mariko Tamaki appears on many of our uncorked reading lists, and you may enjoy Skim and This One Summer.
Read Laura Dean Keeps Breaking Up With Me: Amazon | Goodreads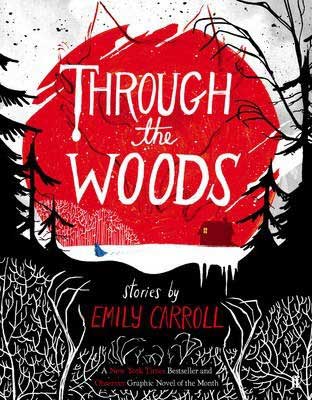 Through the Woods by Emily Carroll
Enter a world where bad dreams have the potential to kill you and skin becomes a vessel for worm-like babies.
Then, add in murderers, ghosts, and body parts in one of the spookiest books for teens.
Carroll's Through the Woods is a compilation of five short stories about a not-so-benign jaunt into the woods – and the abyss.
For fantastic teen graphic novels, the appeal lies in the gothic, macabre illustrations. They are a bit creepy as well as…enchanting.
Find eerie eyes grayed out or missing as claws tear through the pages, smearing blood across all five stories. It's not too gory and just the right amount of unsettling.
Let's just say that for a Halloween teen read, Through the Woods one really sets the mood. Adults looking for scary graphic novels will find something satisfying here too.
Read Through the Woods: Amazon | Goodreads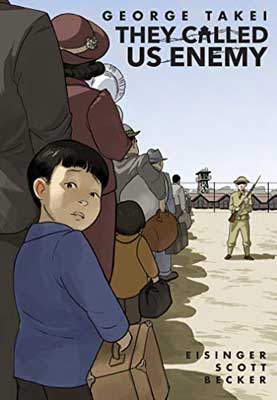 They Called Us Enemy by George Takei, Justin Eisinger, Steven Scott, & Harmony Becker
Did you know that George Takei wrote one of the best graphic novels for teens and tweens?
In fact, he has an extraordinary and heartbreaking graphic memoir about being imprisoned in America's WW2 concentration camps.
Before he became famous for Star Trek, Takei was just a young boy when the U.S. forced his family from their home and into one of ten "relocation centers," as dictated by President Franklin D. Roosevelt in 1942.
For years, America held people of Japanese descent in these armed prisons, and Takei discusses what this looked like for his family as well as society and America.
A story about institutional and legalized racism, democracy, and nationalism (and lack thereof for the latter two), Takei begs the question of what it means to be an American – and who gets to decide this.
For award-winning YA graphic novels, readers will find Takei's intuitive commentary still relevant and essential today, especially in the political climate of the last decade.
Read They Called Us Enemy: Amazon | Goodreads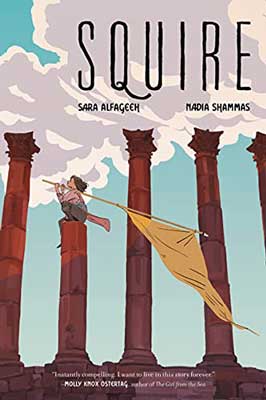 Squire by Nadia Shammas and Sara Alfageeh
Becoming a Knight is Aiza's only chance at becoming a full citizen in the Bayt-Sajji Empire. With the empire facing famine and discontent, she is able to enlist in the Squire training program.
However, training under General Hende is not quite how she imagined, and she must not only survive making new friends as well as enemies but also vigorous training.
Aiza's also a member of the Ornu people – a subjugated community in the Bayt-Sajji Empire. And as she is about to realize, Bayt-Sajji's military doesn't have her community's best interests at heart.
In fact, their lives might be in danger.
Aiza must decide where her loyalty lies in one of the best fantasy graphic novels for young adults about courage, imperialism, and prejudice.
This is a high-stakes and adventurous new 2022 tale from Palestinian American writer, Nadia Shammas, and Jordanian American illustrator, Sara Alfageeh.
Read Squire: Amazon | Goodreads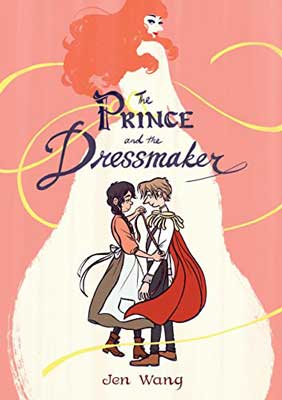 The Prince and the Dressmaker by Jen Wang
Travel to Paris where Frances is a local and talented dressmaker working hard at getting her designs in front of the public.
When she creates a non-traditional, and dare we say risqué dress, for one young woman exhausted with being set up, Prince Sebastian hires Frances to make his clothing.
However, the prince has a secret: he loves fashion and wearing dresses, which has the potential to destroy his marriage prospects and family's reputation.
Beautiful, bold, and daring, this doesn't stop Sebastian from sneaking out to late-night fashion shows as Lady Crystallia, donning Frances's hot new designs.
Now, everyone wants to look like Lady Crystallia and meet this new designer. Can Frances get her own fashion show, and will Sebastian tell his family his secret? How will they react?
The Prince and the Dressmaker is one of the best teen graphic novels for fashion lovers with a little romance.
With emotional and vulnerable illustrations and heartwarming twists, this LGBT graphic novel is sure to leave you smiling, especially the King's final actions.
Discover more books about France.
Read The Prince and the Dressmaker: Amazon | Goodreads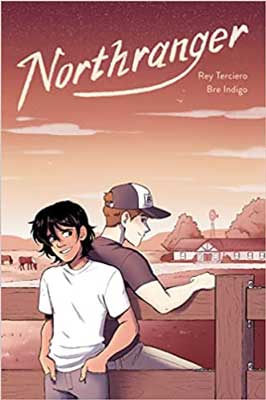 Northranger by Rey Terciero & Bre Indigo
TWs for misogyny, homophobia, racism, and domestic violence
2023 graphic novels for teens don't get any better than Northranger, perfect for fans of Jane Austen retellings, the Heartstopper series, and gothic horror romance novels.
Cade devours horror movies, which fire up his already overactive imagination but also offer an escape from the daily racism and homophobia he faces as a queer and Latino young man growing up in rural Texas.
With his family struggling financially, he heads to a farm in Texas with his stepdad to shovel horse poop for the summer. Everything stinks – literally and physically – until he meets Henry.
The two start falling for each other but largely keep their romance a secret from their parents and the homophobic Southern public eye.
However, Cade is weary of the relationship; Henry has multiple secrets, and we soon learn that both Henry's wealthy mother and grandmother died in the estate home. Is his sister next?
From the gorgeous brown and maroon-hued illustrations to the boys' obsession with horror flicks, find a captivating tale about young love and flourishing in a world filled with prejudice.
You'll champion the friendships, representation, acceptance, and tenderness in one of the best YA graphic novels full of raw emotion.
See what other books came out in 2023.
Read Northranger: Amazon | Goodreads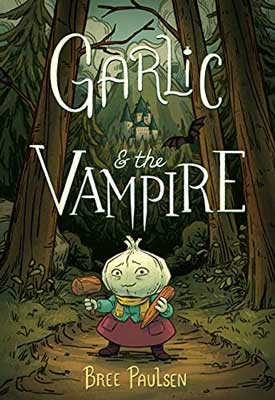 Garlic and the Vampire by Bree Paulsen
We just love vampire comics, and one of the best graphic novels for tweens struggling with anxiety, Garlic and the Vampire is sure to make your heart soar.
Witch Agnes's gardeners – consisting of sentient fruits and vegetables – pressure anxiety-ridden Garlic into seeing if their new vampire neighbor is harmless or… hungry.
But Garlic has enough on her plate and mind; she's worried about always doing a bad job.
However, in a selfless and courageous act, Garlic decides to confront the vampire. Her friends, like Carrot, mean too much to her.
See what Garlic learns along the way, and crack a few smiles at the little jokes, fun details, and terrific characters. Celery most definitely has a stick up his butt (haha!).
Discover even more of our favorite YA vampire books and series.
Read Garlic and the Vampire: Amazon | Goodreads
Grab the best young adult graphic novels here:
Save the best teen graphic novels for later: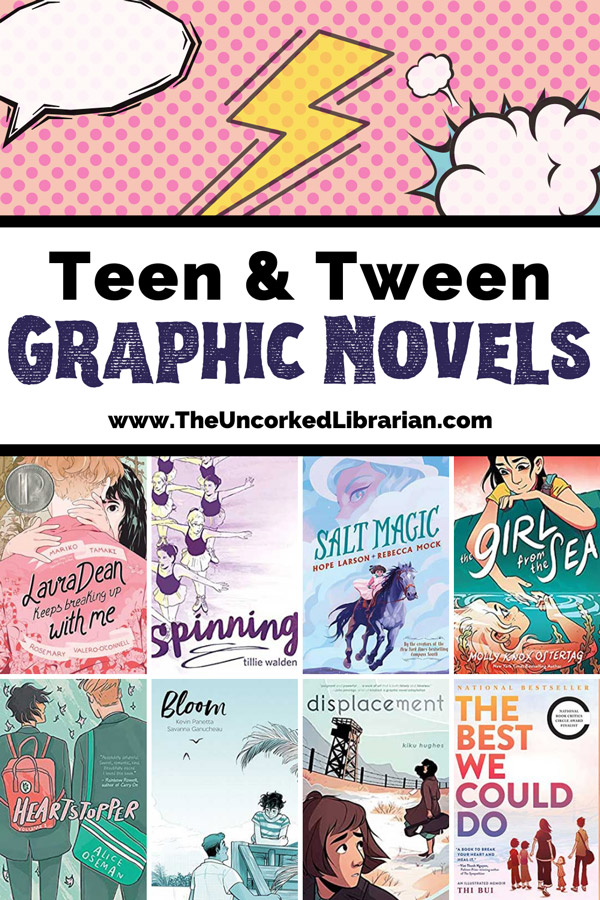 Before you go…
If you are looking for more graphic novels for tweens and teens, you might enjoy these witch comic books. Along with titles like Salt Magic and Garlic & the Vampire, meet witches who love to cook, garden, spook, and help others.
What are your favorite teen and tween graphic novels?
There are so many fantastic graphic novels for teens out there. We could not possibly name them all – and we are always adding to our reading lists with new finds and releases.
Heartstopper and Pumpkinheads are our go-to YA graphic novels when we need a good pick-me-up. Have you started the Heartstopper series on Netflix too? It's amazing.
Of course, we also appreciate young adult graphic novels that teach us more in a highly accessible and engaging way, especially in regard to war, lesser-known histories, mental health, racism, and immigration.
What are your favorite teen graphic novels and why? Which ones have taught you the most? Are there any that we should add to our TBR list? Let us know in the comments.
Related Teen Articles: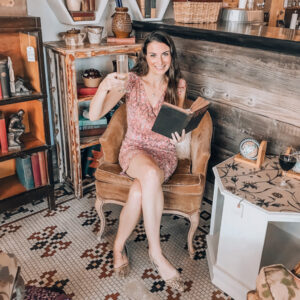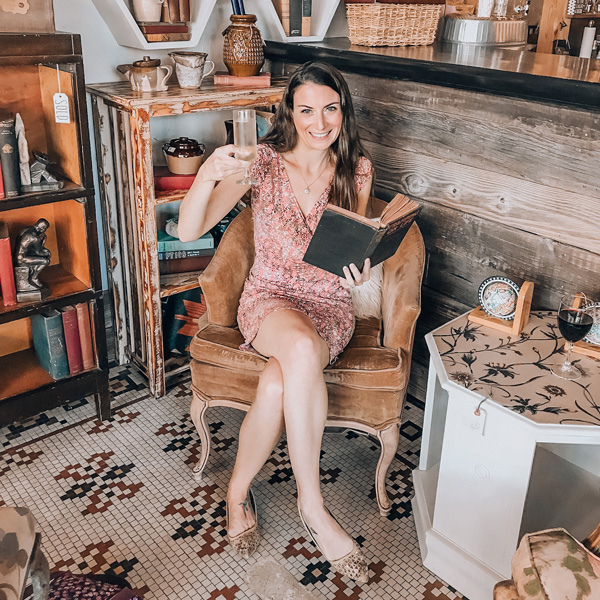 Christine (she/her) is the owner, lead editor, and tipsy book sommelier of The Uncorked Librarian LLC, an online literary publication showcasing books and movies to inspire travel and home to the famed Uncorked Reading Challenge.
With a BA in English & History from Smith College, an MLIS from USF-Tampa, and a U.S. Fulbright Fellowship in Christine's back pocket, there isn't a bookstore, library, or winery that can hide from her. Christine loves brewery yoga, adopting all of the kitties, and a glass of oaked Chardonnay. Charcuterie is her favorite food group.