Explore the best books about Vietnam to learn more about its history, culture, and the Vietnam War, fiction and nonfiction.
Whether you are interested in reading more about the Vietnam War – from both American and Vietnamese perspectives – or are hoping to explore Vietnamese identity and culture, this reading list covers a wide variety of fiction and nonfiction books on Vietnam across genres.
Meet famous Vietnamese authors along with a few iconic American authors writing about the disillusionment of war.
Begin with nonfiction books about the war and Vietnam over the decades, including memoirs, biographies, and comprehensive history books.
Then, dive into Vietnamese classics and historical fiction, followed by novels about Vietnam, covering themes of famine, war, colonialism, generational trauma, and what it means to become a refugee.
While many of these books are solemn and filled with overcoming hardship and lessons learned, others are uplighting and full of hope.
Find books for adults as well as teens and tweens. Short stories, graphic novels, and literary fiction included.
Travel via armchair to a beautiful country. Let's get started.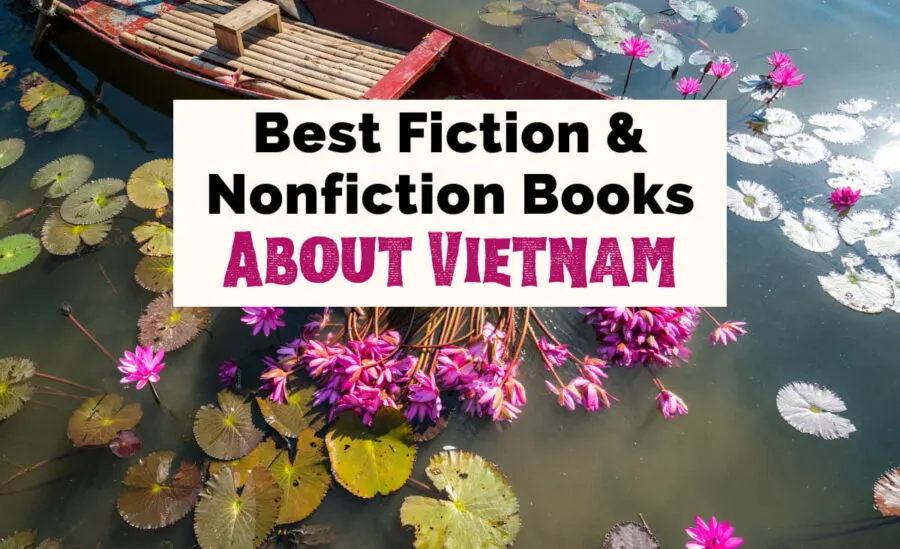 Grab your favorite books and movies here:
Best Nonfiction Books about the Vietnam War
When Heaven and Earth Changed Places by Le Ly Hayslip with Jay Wurts
This memoir from Vietnamese author Le Ly Hayslip is one of the best books on Vietnam refugees and the struggles of having to flee your native country in the face of war.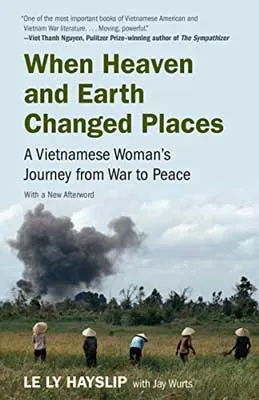 Film director Oliver Stone, who felt that the story of the Vietnam War was not complete without taking into account the Vietnamese perspective, made this book into a feature film in 1993.
When Heaven and Earth Changed Places remains one of the best Vietnam War books and one of the most poignant.
In her Buddhist family, Le Ly was the youngest of six children and only 12 years old when American helicopters first landed in her small village in central Vietnam.
Both sides of the conflict were recruiting children to help their cause; so, despite her young age, she was swept up into the war. Hayslip suffered starvation, rape, and the deaths of loved ones.
20 years after her traumatic experiences forced her to flee to the United States, Le Ly Hayslip returned to her native land, where devastation – and reunions – awaited.
Read When Heaven and Earth Changed Places: Amazon | Goodreads
A Bright Shining Lie: John Paul Vann and America in Vietnam by Neil Sheehan
Having won the 1989 Pulitzer Prize for General Nonfiction, A Bright Shining Lie cemented itself as one of the best books about Vietnam history from an American perspective.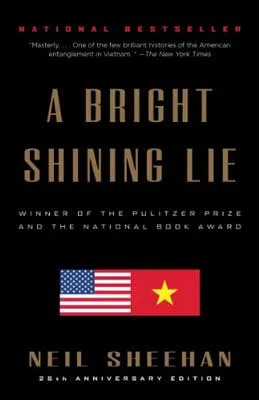 Author Neil Sheehan was on the ground during the conflict. He provides a well-organized account of the whole development, execution, and legacy of the Vietnam War.
Of all the voices that proclaimed the American War in Vietnam to be being fought properly and justly, Lt Col John Paul Vann was one of a few who declared the opposite.
As a field advisor to the army as American involvement was just beginning, Vann saw how his superiors were being manipulated by political intrigues and attempted to inform the press of the real facts.
By doing so, Vann became a hugely important figure in the conflict. He attempted to change how the American troops were being deployed, and how many lives could be spared.
Read A Bright Shining Lie: Amazon | Goodreads
A Rumor of War by Philip Caputo
In the years since its first publication in 1977, A Rumor of War has become one of the main texts on the Vietnam War and is recognized as one of the best books about Vietnam from a soldier's perspective.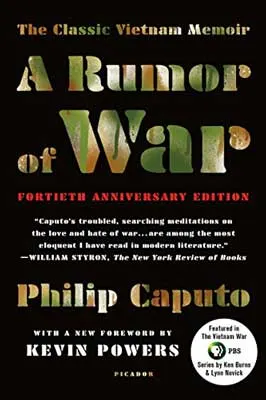 Author Philip Caputo frankly tells his readers upfront that this memoir is not a history book, but simply an account of what happened to him and the men under his command.
Over the course of 3 main sections, Caputo is deployed in a rifle company in Danang, removed to a desk job with emotional exhaustion, and then returned to active duty in the field.
As he gains more and more experience of life as a soldier in this deadly war, he and his men turn from boys eager to recreate "glorious" World War II battles to veterans all too familiar with booby traps and dirty tactics.
Read A Rumor of War: Amazon | Goodreads
The Pentagon Papers: The Secret History of the Vietnam War by Neil Sheehan, Hedrick Smith, E.W. Kenworthy & Fox Butterfield
The Pentagon Papers stands as a flagship example of the importance of free speech and First Amendment rights. It remains one of the best books about the Vietnam War and the politics surrounding it.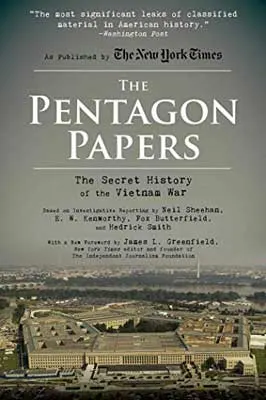 This explosive exposé book, originally published by the New York Times back in 1971, brought to light the extent to which the Johnson Administration had been lying to the American public.
Contained within are damning reports on the disparity between what was being told to the people of the United States about the Vietnam War and what was actually happening on the ground.
It became clear that the government was lying extensively to Congress, and to the people, who found themselves shocked and angered by the extent to which things had been covered up.
Read The Pentagon Papers: Amazon | Goodreads
Born on the Fourth of July by Ron Kovic
This autobiography from Vietnam veteran and anti-war activist Ron Kovic is one of the most passionate and powerful books about Vietnam and the futility of violence.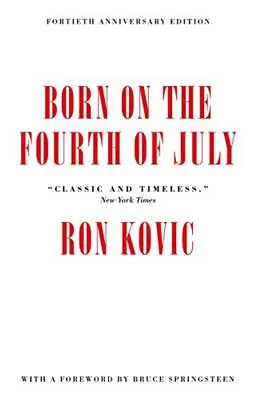 Born on the Fourth of July was made into an Academy Award-winning movie in 1989 starring Tom Cruise and directed by Oliver Stone.
Kovic's life was shaped by the Vietnam War from an early age, as he went straight from high school to joining the United States Marine Corps, with which he went on two tours in Vietnam.
During his second tour, Kovic was shot by enemy fire and paralyzed from the waist down at just 21 years of age.
Following this incident, having been returned to the US, Kovic became one of the most vocal activists opposing the Vietnam War.
Read Born on the Fourth of July: Amazon | Goodreads
A Vietcong Memoir: An Inside Account of the Vietnam War and its Aftermath by Truong Nhu Tang
Truong Nhu Tang's memoir is one of the best books about the disillusionment of war. Tang was educated in France where he learned about the Vietnamese Independence movement and met Ho Chi Minh.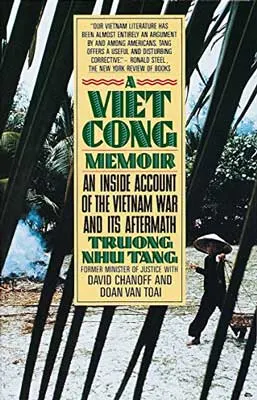 During this time, Tang would go on to become an anti-government activist. When he returned home, he was eventually arrested for anti-government activism in South Vietnam.
After being arrested, tortured, and released into the jungle, Tang became a communist party member and one of the leaders of the Viet Cong, or National Liberation Front (NFL).
Despite his allegiance throughout the war, after the Fall of Saigon, Tang eventually became disillusioned with the new government.
A Vietcong Memoir is one of the best books on Vietnam history, detailing Tang's pathway into activism, his activities during the war, and his sense of betrayal when the war ended.
Read A Vietcong Memoir: Amazon | Goodreads
Where the Ashes Are: The Odyssey of a Vietnamese Family by Nguyen Qui Duc
3 stories surrounding the fates of 3 different members of a Vietnamese family are the main focus of one of the most insightful and well-written Vietnam books.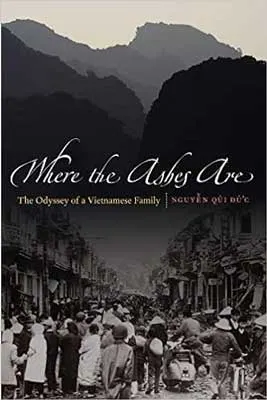 Author Nguyen Qui Duc tells of the breaking of his family during the Vietnam War, and how he and his father, mother, and sister all suffered under different torturous circumstances.
As a high-ranking civil servant, Nguyen's father was taken prisoner and held for 12 years, during which he composed poems in his head to stay sane.
Nguyen himself was forced to flee Vietnam at 9 years old, growing up in the United States before returning as an American reporter to a land he no longer knew.
Nguyen's mother stayed behind in order to look after her daughter's ailing mental health, suffering poverty and "reeducation" in the process – hoping that one day the family would be reunited.
Read Where the Ashes Are: Amazon | Goodreads
The Best and the Brightest by David Halberstam
If you're a reader who always looks for the reasons behind the bigger events in history, The Best and the Brightest is one of the best books about the Vietnam War for you.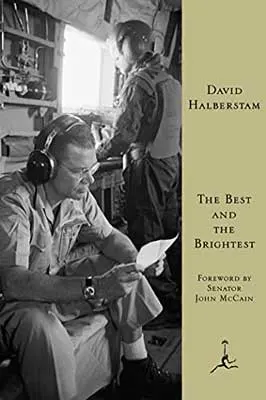 During his extensive political analysis of the American involvement in the Vietnam War, author David Halberstam attempts to answer two very important questions.
Why did America become entrenched in the Vietnam War, and why did it lose?
To provide answers to these questions, and in an attempt to get to the bottom of such a horrific ordeal, Halberstam tears into both the Kennedy and Johnson administrations.
Analyzing the period of 1960-1965 and some key years beforehand, Halberstam has some damning conclusions to share about the murky beginnings of the conflict.
Read The Best and the Brightest: Amazon | Goodreads
The Best We Could Do by Thi Bui
Inspired by the autobiographical works of Art Spiegelman's Maus and Marjane Satrapi's Persepolis, author and illustrator Thi Bui's graphic novel is both personal and profound.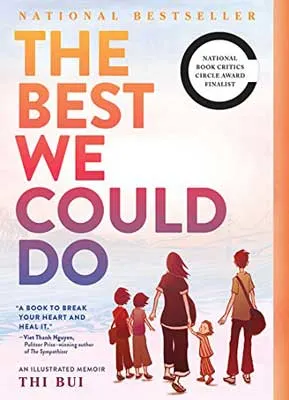 The Best We Could Do is one of the best books about Vietnam for teens and tweens, based on the research Bui conducted for her Master's thesis.
This research involved oral interviews with her parents about difficult subjects, including her family's daring escape from South Vietnam in the 1970s.
We learn about their long and arduous journey towards the United States and a new life.
In order to share this important story with the world, Bui had to train for 10 years to obtain the artistic skill with which to depict her parents' account of their family's struggles.
The result is an emotional, poetic, and haunting graphic novel for middle-grade and high-school readers that stands as one of the best books on Vietnam culture.
Read The Best We Could Do: Amazon | Goodreads
Nonfiction Books On Vietnam's History & Culture
Vietnam: A History by Stanley Karnow
Considered one of the most definitive accounts of the Vietnam War, this Pulitzer Prize winner is one of the best books about Vietnam for history buffs.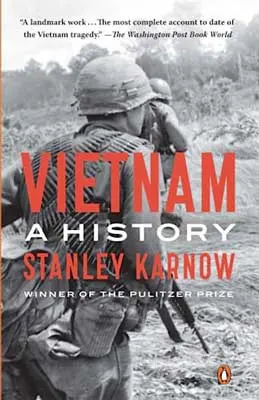 This 750+ page book spans the history of Vietnam through the 19th century, particularly the events that led to the Vietnam War, and the war itself.
Karnow's comprehensive history tries to cover every angle of the Vietnam War without bias.
Despite its attempts, though, the book certainly isn't without bias. However, it is a great place to start if you want a thorough history of Vietnam – and prefer history books to memoirs or novels.
Read Vietnam: Amazon | Goodreads
The Land I Lost: Adventures of a Boy in Vietnam by Quang Nhuong Huynh, Illustrated by Vo-Dinh Mai
If you're looking for the best Vietnam books for middle-grade readers, The Land I Lost is an excellent choice.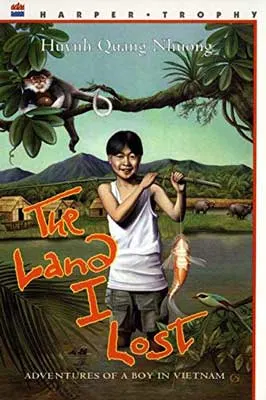 Over the course of fifteen separate stories, author Quang Nhuong Huynh recounts his memories as a young boy growing up in the highlands of Vietnam.
It is clear that simply surviving until the next morning is a regular challenge for the people of the village, with plenty of problems and all sorts of animals causing unexpected shifts in the narrative.
Readers should be aware that there are a couple of stories that may be too intense for younger audiences; some vetting may be in order before diving straight in.
Read The Land I Lost: Amazon | Goodreads
The Sacred Willow: Four Generations in the Live of a Vietnamese Family by Duong Van Mai Elliott
Having lived much of her life outside of Vietnam, author Duong Van Mai Elliott was inspired to write this study of her family by a desire to return to her roots.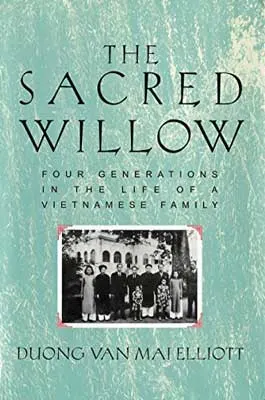 With family members scattered around the world, Mai Elliott wanted to provide them with a written account of their family history, and so embarked on this personal project.
By creating a detailed documentation of life in her family across four generations, Mai Elliott has created one of the best showcases of Vietnamese history for modern readers.
Featuring content derived from extensive interviews, governmental paperwork, personal recollection, and other research, this is one of the most comprehensive books about Vietnam.
Read The Sacred Willow: Amazon | Goodreads
Classic Fiction Books About Vietnam
Dumb Luck by Vu Trong Phung, translated by Nguyen Nguyet Cam & Peter Zinoman
Written by one of the most famous and influential Vietnamese writers of the 20th century, Dumb Luck was originally banned in Vietnam for 50 years due to its adult content.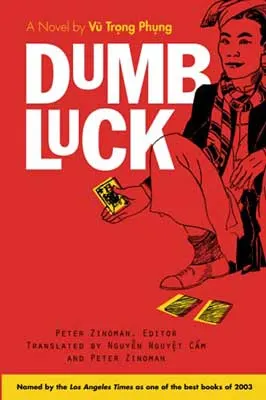 Not only is it one of the best novels about Vietnam, but it is also one of the most biting satires of the late colonial urban social order of the day.
Dumb Luck is the story of "Red-haired" Xuan, a street-smart rogue who manages an unexpected and meteoric rise through the ranks of the social classes.
Along the way, there are plenty of comedic moments amongst the rich cast of well-developed characters.
There are frequent comments on fashion and capitalism, and more than one occasion of realistically depicted sexual encounters – quite radical for the readers of 1936.
Read Dumb Luck: Amazon | Goodreads
The Quiet American by Graham Greene
From celebrated novelist Graham Greene comes a tale of love, loss, and subterfuge, set in the midst of the First Indochina War.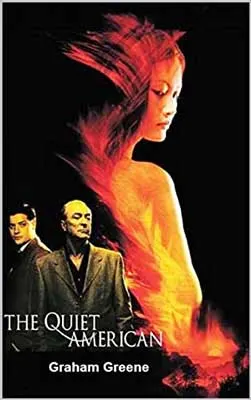 The events covered in this novel – one of the best fiction books about Vietnam from a foreign perspective – laid the groundwork for the Second Indochina War: the Vietnam War.
In The Quiet American, we follow the British journalist Thomas Fowler, who has been covering the conflict with the French army in Vietnam in the early to mid-1950s.
Into this environment comes a young American named Alden Pyle, a brash young idealist sent from Washington on a clandestine mission that raises Fowler's suspicions.
Before long, Fowler finds himself getting involved in Pyle's affairs, especially when it appears that Pyle may have taken the heart of Phuong, Fowler's beautiful Vietnamese lover.
Read The Quiet American: Amazon | Goodreads
The Things They Carried by Tim O'Brien
Tim O'Brien's semi-autobiographical collection of interlinked short stories is one of the best books about the Vietnam War and morality. It's also a sad, guilt-ridden, and difficult read.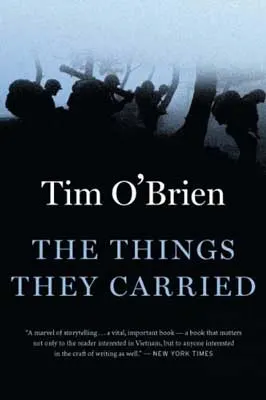 These stories follow a platoon of American soldiers fighting in Vietnam during the war. Most of these young men have been drafted and struggle with their role in this war.
Through the stories, we get to know the men as they share close quarters and stories – and learn things about themselves.
While some find a sense of place and purpose in the war, many are left grappling with the reality and morality of it, especially as fellow soldiers and friends are lost.
Himself drafted into the Vietnam War, O'Brien drew on his own experiences in the combat zone when writing The Things They Carried.
In fact, the protagonist and narrator throughout is named Tim O'Brien, giving the book a meta-quality and further blurring the line between fact and fiction.
A finalist for the Pulitzer, and frequently still taught in schools, this remains one of the best books about Vietnam decades after its first publication.
Read The Things They Carried: Amazon | Goodreads
Paradise of the Blind by Duong Thu Huong, translated by Nina McPherson and Phan Huy Duong
As one of the most emotional books on Vietnam and identity, Paradise of the Blind is a striking statement against the patriarchal Vietnamese culture of the day. It also holds the distinction of being the first Vietnamese novel published in English in the US.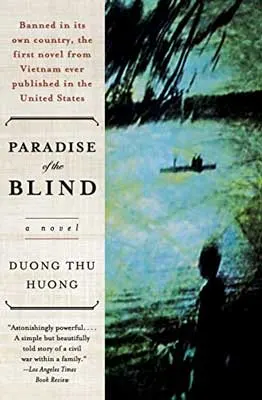 Written as part of a trilogy by author Duong Thu Huong, it was banned in its native land for its outspoken political views.
The story follows a nonlinear format, as our main protagonist and narrator, Hang, travels to Moscow to visit her ailing Uncle Chinh. She reflects on the seminal moments of her life.
Her family – and her village – were torn apart both by land reform and the actions of Uncle Chinh, who put his political leanings before the welfare of his family.
As she finds herself yearning for a life that is her own, will Hang find a way to break the cycle and find happiness for herself?
Read Paradise of the Blind: Amazon | Goodreads
Historical Fiction About Vietnam
The Sympathizer by Viet Thanh Nguyen
Author Viet Thanh Nguyen had possibly the best introduction to writing novels, seeing as his debut novel The Sympathizer won the 2016 Pulitzer Prize for Fiction.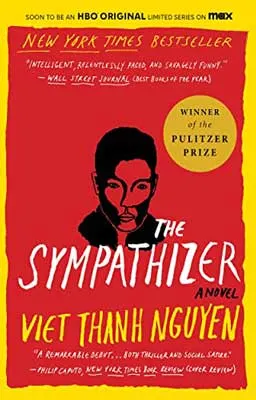 In fact, he followed that up with more success when his next book, Nothing Ever Dies: Vietnam and the Memory of War was a finalist for the National Book Award for Nonfiction.
But it is this gripping spy story that is his most popular work, in which a Captain in the South Vietnamese Army plays a double agent when he and his superiors relocate to the US.
Whilst the rest of Saigon falls into disorder, a whiskey-drinking General casually draws up a list of those who will be on the last flight out of the country.
One name on that list is of his "trusted" Captain – his right-hand man – who may, in fact, be collecting information on him to send back to his superiors in the Viet Cong…
Often considered one of the best books about Vietnam, The Sympathizer is an engaging introduction to the country's fraught history and politics.
Read The Sympathizer: Amazon | Goodreads
The Mountains Sing by Nguyễn Phan Quế Mai
While most books about Vietnam history are told through the lens of South Vietnam, The Mountains Sing instead offers a perspective Westerners rarely see of the war: North Vietnam.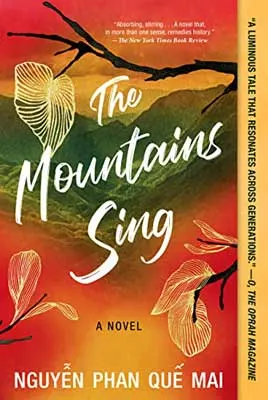 In this sweeping, multigenerational story, we are introduced to the Tran family. Tran Dieu Lan is a landowner in North Vietnam, where she lives and works with her family.
But during the Land Reform of the 1950s, she is forced to flee with her six children to escape certain death.
Twenty years later, Dieu Lan lives in Hanoi with her young granddaughter, Huong, while Huong's parents and uncles are off at war.
Through these two perspectives and timelines, we see some of the biggest events in the history of Vietnam and their lasting effect on both families and the country as a whole.
With lyrical prose and haunting tales of survival, this is undoubtedly one of the best books set in Vietnam.
Discover more amazing women in historical fiction.
Read The Mountains Sing: Amazon | Goodreads
The Sorrow of War by Bao Ninh, translated by Phan Thanh Hao
Originally published in 1991 and translated into English 3 years later, The Sorrow of War has become an international bestseller, despite being published against the wishes of the then government.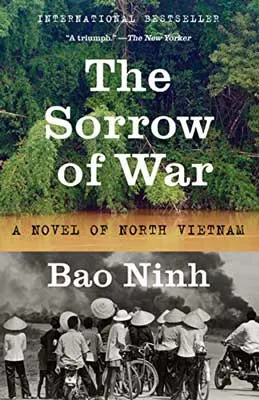 Author Bao Ninh's novel is an emotional rollercoaster and one of the best books about Vietnam for anyone looking for stream-of-consciousness storytelling.
Our main protagonist is Kien, one of the former North Vietnamese soldiers working on an operation to collect the remains of fallen comrades for reburial.
This grim activity causes him to reflect on his memories. We are taken backward and forwards in time to different periods and events of Kien's life.
From moments with his family, neighbors, former lovers, and fellow soldiers to scenes before, during, and after the war, we piece together a picture of a man disillusioned by conflict.
Read The Sorrow of War: Amazon | Goodreads
Matterhorn: A Novel of the Vietnam War by Karl Marlantes
It goes without saying that the overall American experience of war in Vietnam was traumatic and visceral. Author Karl Marlantes puts the reader right in the heat of battle in this epic war novel.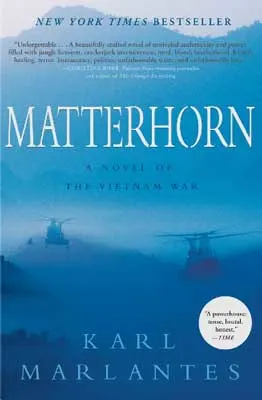 Himself a highly decorated Vietnam veteran, Marlantes drew from his own experiences over 30 years to write one of the best books about the Vietnam War.
Matterhorn focuses on the timeless story of a young Marine Lieutenant named Waino Malles, who along with Bravo Company, is dropped into the mountainous jungle terrain of Vietnam.
Their mission concerns "Matterhorn," a fire-support base in Quang Tri Province. The first time they arrive there, they are to build the base but are later ordered to abandon it.
The second time they enter the region, their mission is to retake it from enemy hands. Afterward, none of them will ever be the same again.
Read Matterhorn: Amazon | Goodreads
Novel Without a Name by Duong Thu Huong, translated by Phan Huy Duong & Nina McPherson
From acclaimed Vietnamese author Duong Thu Huong comes one of the best novels about Vietnam, with the story of one soldier coming to terms with his loss of innocence in the face of war.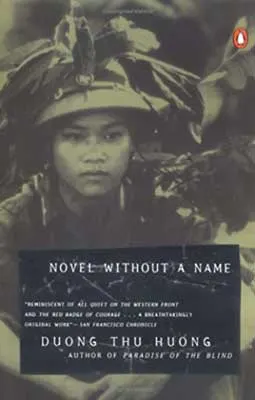 At the beginning of Novel Without a Name, we meet 28-year-old Quan, who has been a member of the North Vietnamese Army for 10 years.
Originally, when he left his village at the tender age of 18, he was full of hopes, ideals, and optimism about the conflict.
Now, however, he has become disillusioned, spending his days trying to dodge bullets long enough to find scraps of food to feed himself and his men.
When a chance to return home presents itself, Quan seizes it, despite the psychological ordeal he knows he must endure to achieve his goal.
Read Novel Without a Name: Amazon | Goodreads
Join The Uncorked Reading Challenge Today
---
Travel around the world with the Uncorked Reading Challenge. Get the best book and movie recs straight to your inbox. Sign Up Now.
The Lotus Eaters by Tatjana Soli
High drama and tension combine against a backdrop of war-torn Vietnam in one of the most sweeping love stories from author Tatjana Soli, The Lotus Eaters.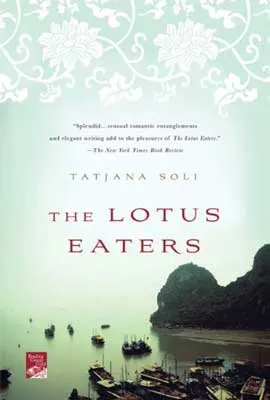 If you're a lover of wartime romance and historical fiction, this could be one of the best books about Vietnam for you.
Our protagonist is Helen Adams, a combat photographer drawn to the conflict in Vietnam following the death of her brother.
There, she meets a charismatic new mentor in the form of Samuel Darrow, an award-winning photographer who steals her heart.
However, Darrow's closest confidante – his Vietnamese ex-soldier assistant Linh – is also in the picture, and soon a tragic love triangle is formed.
With the North Vietnamese army poised to enter Saigon, will Helen manage to survive the struggle and be healed by the redemptive power of love?
Read The Lotus Eaters: Amazon | Goodreads
Modern Fiction Books Set in Vietnam
Ticket to Childhood by Nguyen Nhat Anh, translated by Will Naythons
Ticket to Childhood will bring you back to the innocence of being a kid. Wildly popular upon its original release, this translation into English is a first for author Nguyen Nhat Anh, who has been writing Vietnamese literature since the 1980s.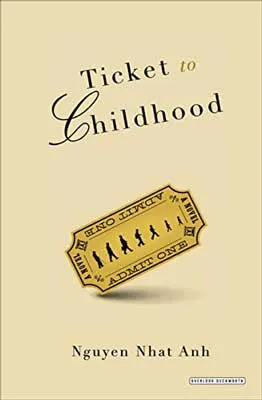 Narrated by the protagonist as an adult, we are shown glimpses into his childhood as he tells of his and his friends' misadventures as 8-year-olds.
These activities range from inventing a new language to communicate in secret in the classroom, to discussing (and judging) the neighborhood's elders without them noticing.
Stripping away the weight and complexity of an adult perspective, we are shown the world full of everyday tragedies and little miracles that make childhood so invigorating.
While it's one of the shorter novels about Vietnam, Ticket to Childhood is a treat not to be missed.
Read Ticket to Childhood: Amazon | Goodreads
She Is a Haunting by Trang Thanh Tran
She is a Haunting is one of the best social and folk horror novels about Vietnam as it weaves Vietnamese culture with the effects of war and colonialism.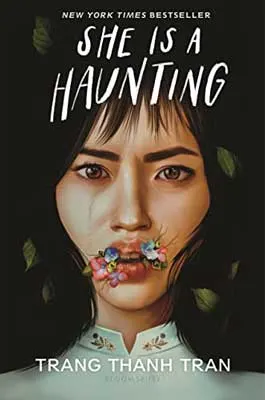 Jade Nguyen and her sister Lily are spending the summer in Vietnam with their estranged dad, helping him fix up an old colonial home.
He hopes to turn the building into a successful B&B. However, Jade just wants to get through the summer with the promised funding for college.
However, not long after she arrives, strange and terrifying things keep happening around the house. Except, only Jade seems to notice the bugs and the ghostly presences.
It isn't enough that Jade is dealing with her cultural identity, her bisexuality, and her strained relationship with her dad, but no one else seems to believe the house is haunted.
For anyone who loves reading about complicated family dynamics or coming-of-age tales, this is one of the best YA LGBT+ novels set in Vietnam.
Read She Is a Haunting: Amazon | Goodreads
Build Your House Around My Body by Violet Kupersmith
Part body horror, part revenge crime thriller, part social commentary and critique of colonialism, Build Your House Around My Body is one of the hardest Vietnam books to pin down.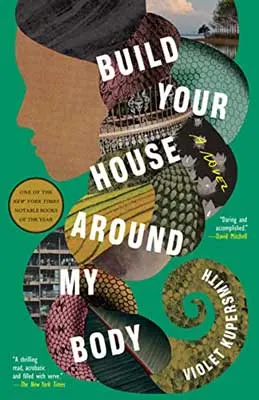 In 2011, Winnie, a half-Vietnamese-half-White American EFL teacher living in Saigon, goes missing.
The book is told in chapters both before and after Winnie's disappearance as we unravel not only what has happened to Winnie, but Vietnam's own dark history.
Interspersed throughout is the story of three friends from the Vietnamese highlands: Tan, Long, and Binh.
Binh is a wealthy teenage girl who, twenty-five years earlier, while fleeing her father's wrath, becomes lost and has a life-altering encounter.
Invoking Vietnamese folklore and feminist rage, Build Your House Around My Body is one of the most unique books about Vietnam.
Read Build Your House Around My Body: Amazon | Goodreads
Best Novels about Vietnam Culture & Identity
The Book of Salt by Monique Truong
From Vietnamese-American author Monique Truong comes an award-winning, stream-of-consciousness story with deep, strong themes of colonialism and identity.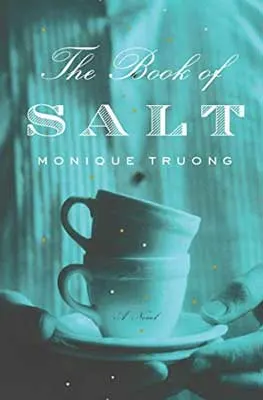 Binh is a gay Vietnamese cook, working as a personal chef to Gertrude Stein and Alice B. Toklas in their apartment in Paris.
Years previously, he fled his native land in disgrace and has not returned since.
He didn't leave on the best of terms either, with his father having openly criticized and denounced his son's homosexuality.
As Binh reflects on the memories of his childhood in French-colonial Vietnam, he hopes that he can find a sense of identity either through romantic relationships or through his place in the Stein/Toklas household.
However, his attempts to find love in Paris as a gay Vietnamese man in the early 20th century are not going entirely according to plan.
All through this self-reflection, Binh ponders the idea of salt; of how it can mean many different things to different people, such as tears, food, sweat, and even the freedom of the sea.
With eloquence, imagination, and top-quality writing, The Book of Salt is one of the best books on Vietnam identity and culture.
Read The Book of Salt: Amazon | Goodreads
Things We Lost to the Water by Eric Nguyen
A tale of cultural identity and displacement, Things We Lost to the Water is one of the best books about Vietnam refugees and their culture while living abroad.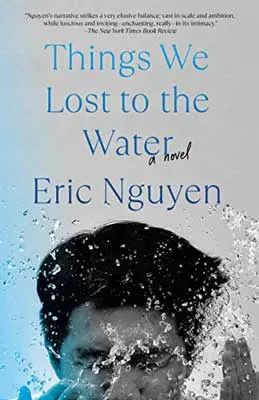 Vietnamese refugee, Huong, arrives in New Orleans from a Singaporean refugee camp with her sons Tuan and Binh.
She has left behind her husband, Cong, who chose to stay and fight. Though initially, Huong believes the family will be reunited, she comes to realize they will never see Cong again.
Regardless, his memory haunts her and her sons as they grow up. Tuan and Binh struggle to connect with their heritage and a homeland they don't remember.
The book is told through multiple POVs and spans the time between 1978 to 2005 as the family adjusts to their new lives and grows older.
Read Things We Lost to the Water: Amazon | Goodreads
Travel Across Asia With Even More Reading Lists
We have endless books perfect for travelers headed to and from Asia. Just a few more to enhance your trip or transport you there via armchair:
Grab your favorite books and movies here:
What are your favorite books on Vietnam, including its history, culture, war, and more?
What books have taught you more about Vietnam? Are there any more you recommend? Have you traveled to Vietnam? Let us know in the comments!
Save this Vietnam Reading List For Later: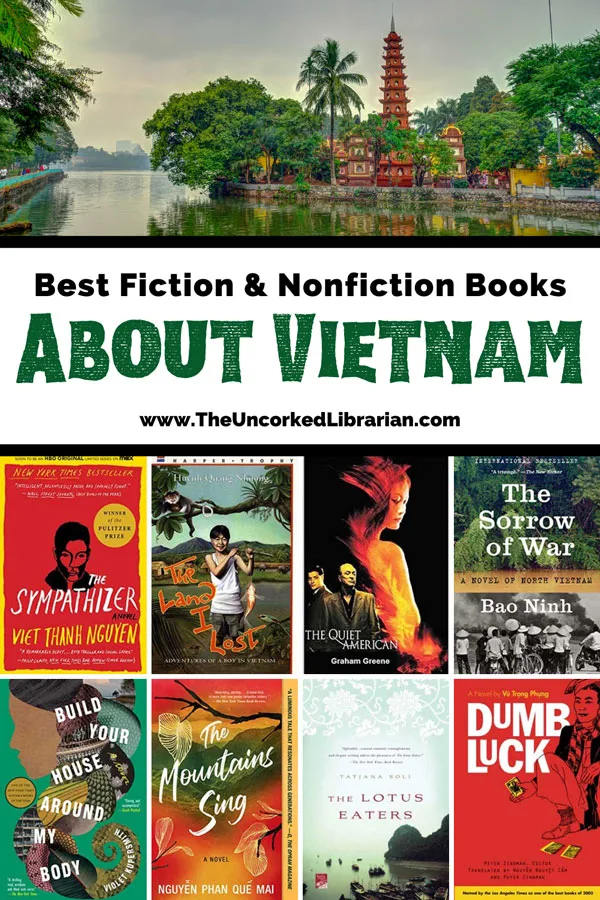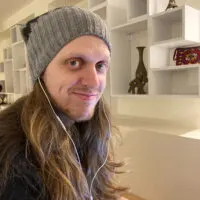 Jeremy (pronouns: any) is an autistic writer, hobbyist, and movie buff, as long as that movie is Labyrinth. Since leaving the corporate world behind in 2018, he has read more books than he thought possible. True to his British upbringing, his first instinct in any given situation is to put the kettle on.