Explore the best LGBT graphic novels for memoir, fantasy, romance, historical fiction, horror, and paranormal lovers.
Do you devour LGBTQIA+ graphic novels about bands, witches, and werewolves? How about fairy tale retellings and the countless stories of surviving high school?
Because identifying as queer and being a part of the LGBT community is personal with different meanings for everyone, we tried to capture a diversity of queer graphic novels.
Explore sweet coming-of-age gay graphic novels. Fall in love with lesbian graphic novels that evoke endless summers and camp nostalgia.
Get inspired by trans graphic novels for memoir seekers, and gain the courage to speak with family members about what it means to be non-binary and asexual or pansexual.
While many of these stories are uplifting and deeply satisfying, you'll also find an LGBT graphic novel or two that will make you tear up.
So, what are the best LGBTQ graphic novels for adults and teens? Keep reading, and let us know your favorites in the comments. Let's get started.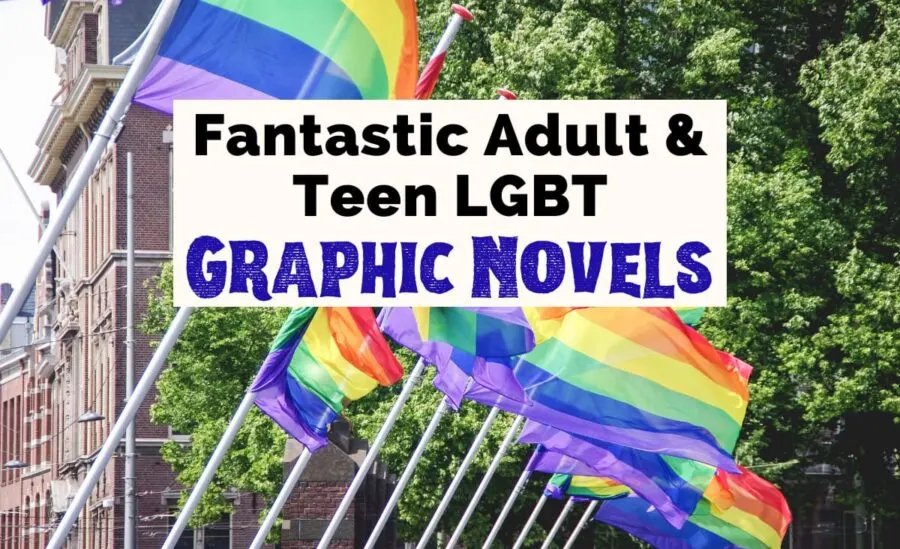 Grab your favorite LGBT graphic novels here:
25 Best LGBT Graphic Novels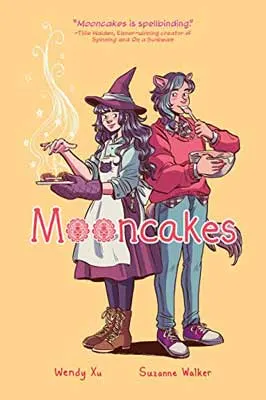 Mooncakes by Suzanne Walker and Wendy Xu
We just adore bookish witches in comics and graphic novels.
Mooncakes is a wholesome LGBT graphic novel about Nova, a deaf queer witch, and Tam, a non-binary werewolf.
Nova was raised by her grandmothers – all witches – and works in their bookshop where the local witches and sorcerers come for "reading materials."
Growing up, Tam's family moved a lot, and they've never felt at home anywhere. The closest they've come is the small New England town where Nova lives. But, alas, they left there too.
Then one night Nova hears about a wolf fighting a demonic horse in the local woods. But when she goes to investigate she unexpectedly runs into Tam … the one who got away.
Tam, it turns out, is in trouble, contending with sorcerers that want their wolf powers. Despite Tam's reluctance to drag Nova into their problems, Nova won't take no for an answer.
Soon they're both in way over their heads – not that that will stop them from trying!
In addition to the two root-for-able leads, Nova's badass grandmothers and their many adorable cats also make this one of the cutest LGBTQ graphic novels.
Read more books with witches and werewolf books.

Read Mooncakes: Amazon | Goodreads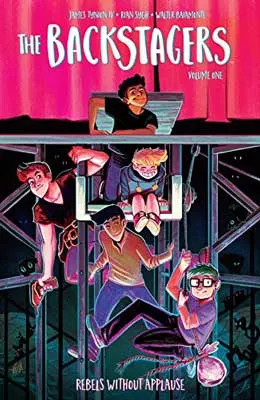 The Backstagers by James Tynion IV, Rian Sygh, and Walter Baiamonte
Jory has moved to a new school in a new city, and that means (shudder) having to meet new people.
With his mom working late most of the time, he needs to pick an after-school activity while he's waiting for her.
The only one that looks at least a little bit appealing is the drama club. But the actors are all pretentious, demanding, and mean!
Sent to get a vital prop from "those backstage weirdos," Jory suddenly finds himself in a life-or-death situation fighting a horde of monsters.
Backstage there appears to be a strange door that leads to another world, full of corridors, other doors, and plenty of dangerous things.
The only line of defense is the Backstagers – and Jory's just become their newest member!
Like many LGBT graphic novels, there's a lot of creativity on display here. The Backstagers is a fun, colorful riot for anyone who's a fan of the found family trope.

Read The Backstagers: Amazon | Goodreads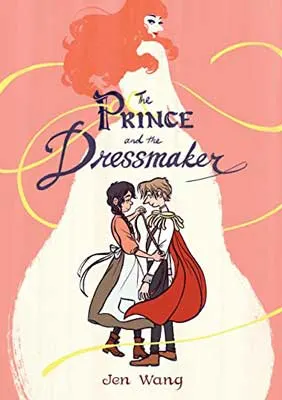 The Prince and the Dressmaker by Jen Wang
Having just caused a stir in her Parisian fashion boutique by making a dress deemed too salacious to be seen in public, Frances is about to be fired when she is offered an intriguing new position.
A wealthy and powerful person saw Frances' new dress on its debut outing, and now they want her to work for them.
When Frances arrives at the royal palace, she finds out that her new patron is none other than Prince Sebastian, heir to the kingdom!
But Sebastian has a secret: whenever he can, he leads a double life as Lady Crystallia – Paris' fashion prima donna. And he wants Frances to design a whole new wardrobe for him.
As the two begin to bond, and Sebastian's royal parents work increasingly hard to arrange his marriage to a princess from another royal family, it seems his two lives are about to collide.
Anyone who has struggled with their identity and worried about acceptance should read this poignant and charming book.
While no mention is made of a true desire to transition (and given that this LGBT graphic novel has a period setting, it's not like that would have necessarily been an option), it's widely considered that The Prince and the Dressmaker is one of the best trans graphic novels.

Read The Prince and the Dressmaker: Amazon | Goodreads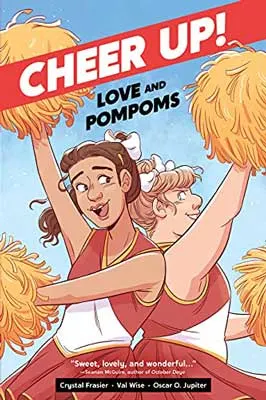 Cheer Up! Love and Pompoms by Crystal Frasier and Val Wise
Oscar O. Jupiter – Letter
The world is against Annie Ginter.
It must be – why else would her mom AND the principal be trying to get her to join the cheerleading team? She's the smartest kid in school, with an attitude to match.
Just because she doesn't get on with others (read: bit someone once) doesn't mean she won't get into college.
But, apparently, no extra-curricular activities is a no-no, so she's going to have to at least try to show some team spirit.
Meanwhile, Beatrice has problems of her own.
Having convinced the rest of the cheer team to give Annie a chance, she now has to juggle keeping her grades up, overbearing parents, and other peoples' opinions about her as a trans student.
But when they team up, nothing can stop them!
There are plenty of triggering moments in Cheer Up! Love and Pompoms, but there's also a lot of heart and some very cute moments of love, acceptance, and growth.
This is definitely one of the most relatable trans graphic novels you can find.

Read Cheer Up! Love and Pompoms: Amazon | Goodreads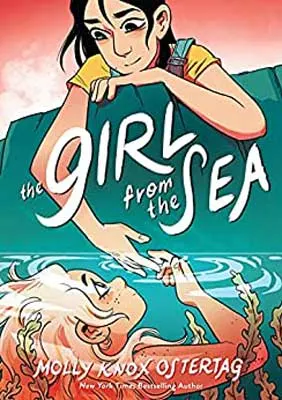 The Girl from the Sea by Molly Knox Ostertag
Life in a small island community can be suffocating. That's certainly how fifteen-year-old Morgan feels, anyhow.
Her dad's not in the picture, her mom is sad all of the time, and her little brother – who used to be so happy – has become sullen and distant.
It's time to leave; she just hasn't told anyone yet.
One upset to Morgan's plans is that she's just made a new friend: Keltie, who happened to save her from drowning.
Keltie is mysterious and not entirely human – and Morgan's met her before.
Keltie is making Morgan think about her other big secret. As well as wanting to escape the island, she really wants to kiss a girl.
This LGBT graphic novel's depiction of life in a small-town community is pretty accurate, and watching the earnest relationship between Morgan and Keltie bloom is a joy.
If you enjoy mermaid books for adults and teens, there's a lot to love in The Girl from the Sea.
Explore more island-based reads.

Read The Girl from the Sea: Amazon | Goodreads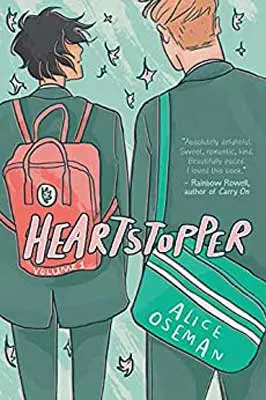 Heartstopper by Alice Oseman
If you want to feel your insides go all gooey, read Heartstopper. It's one of the most genuinely wholesome LGBT graphic novels for teens out there, and you'll want to read it over and over.
Heartstopper is the story of two British schoolboys: Nick and Charlie.
The previous year, Charlie was accidentally outed as gay to his school and has since suffered severe bullying. Luckily his family and friends are very supportive.
Nick is a year above Charlie and on the rugby team. He's very popular, but also very friendly to everyone.
After being placed in mixed registration (kind of like homeroom) together, the two quickly become friends, and Nick even encourages Charlie to try out for rugby when he sees how fast Charlie can run.
Soon Charlie starts to have feelings for Nick. Feelings he absolutely needs to get over because Nick is totally straight … right?
Already one of the most beloved gay graphic novels, Heartstopper has recently gained an even wider following after its successful Netflix adaptation (which is excellent, by the way).
Uncover even more heart-swelling friendship books – with many that turn into epic romances.

Read Heartstopper: Amazon | Goodreads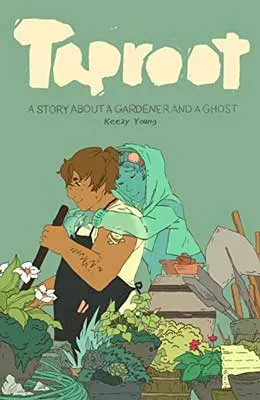 Taproot by Keezy Young
The only thing stopping Blue from being with his true love Hamal is that he's dead.
Ok, not the only thing. But it might be the biggest obstacle.
Fortunately, Hamal can see ghosts, so at least Blue can talk to him instead of just AT him.
Hamal just has to watch what he says while he works at Takashi's Flowers – talking to "himself" creeps the customers out.
But something is happening that's causing weird problems in the town's ghost population, and Blue realizes that Hamal's gift might be the cause. The solution is simple, but it would break Blue's heart.
Taproot is for anyone looking for gay graphic novels with a macabre yet wholesome feel.

Read Taproot: Amazon | Goodreads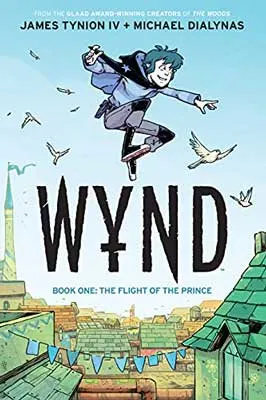 Wynd by James Tynion IV and Michael Dialynas
Book One: The Flight Of The Prince
When he's not toiling away in the galley of the local tavern, Wynd likes to spend his spare time hiding up on the rooftops of Pipetown, spying down on the son of the royal gardener while he works at the palace.
Life for Wynd is simple and quiet, and he'd like to keep it that way. Because if anyone took his hat off and found his pointy ears, his magical nature would be exposed, and he'd be mercilessly killed.
The king has outlawed all magical beings within the city limits, and to help keep the streets "clean," he has brought back the Bandaged Man – a ruthless bounty hunter and mass murderer of magical beings.
When Wynd gets caught up in a secret plot to help the crown prince escape his royal responsibilities, his life is turned upside down.
Author James Tynion IV has a reputation for putting his characters through the wringer, and Wynd is no exception.
Expect lots of heart-wrenching moments in this particular LGBT graphic novel. Gay fantasy novel seekers will covet Wynd too.

Read Wynd: Amazon | Goodreads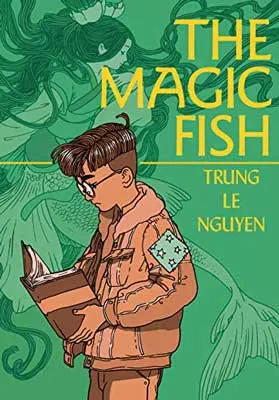 The Magic Fish by Trung Le Nguyen
Even though Tiến enjoys reading the stories in his library books with his parents, there's a divide between them.
Having left their native Vietnam and relocated to the west, Tiến speaks mostly English, while his parents struggle with the new language.
The library books were a way to get Tiến assimilated into the new culture more quickly. But now that it has worked, he can't communicate with his parents very well.
This is a problem because he wants to tell them he's gay, but he doesn't know how.
The Magic Fish is a beautiful book with a colorful motif that explores the difficulties of coming out when there's also a language barrier involved.
This delicate story is one of the most touching gay graphic novels on this list.

Read The Magic Fish: Amazon | Goodreads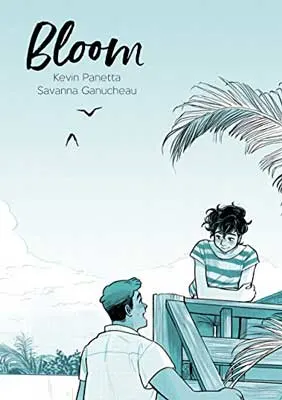 Bloom by Kevin Panetta and Savanna Ganucheau
Having finally graduated from high school, Ari can't wait to move to the big city and become a famous musician. He has big dreams for his friends and bandmates.
But his parents have other plans for Ari; they hoped he would stay and help out at their family bakery, which currently needs a few extra hands.
To demonstrate he isn't needed, Ari decides to interview for replacements. This is how he meets the friendly, mild-mannered Hector – a hottie and a natural baker.
While training Hector, the two become close, and sparks begin to fly. Now if only Ari's stubbornness doesn't ruin everything …
Bloom is one of the best coming-of-age LGBT graphic novels. It's also a great book for foodies as the descriptions (and illustrations) of food will have your mouth watering!

Read Bloom: Amazon | Goodreads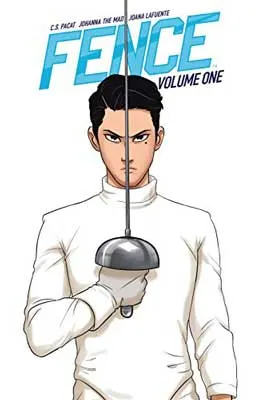 Fence by C.S. Pacat and Johanna the Mad
What happens when you get a group of highly competitive alpha males together in a boarding school, throw in some sexual tension, and then make them fight each other with swords?
The answer, in my opinion, is one of the most compelling LGBT graphic novels of recent years.
Nicholas has many things: speed, agility, confidence, a huge chip on his shoulder, and a scholarship to one of the most prestigious fencing schools. That is if he can win it.
Now he also has something new – a rival!
When Nicholas comes up against the cold and arch Seiji Katayama, he gets utterly destroyed. But that merely stokes the fire inside this illegitimate son of one of the most renowned former fencing champions.
If only Seiji wasn't also his roommate.

Read Fence: Amazon | Goodreads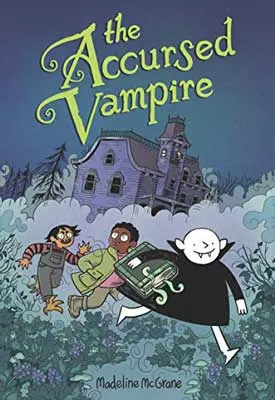 The Accursed Vampire by Madeline McGrane
If you're after some anarchic yet engaging fun, this middle-grade LGBT graphic novel makes for some hugely enjoyable reading time.
Dragoslava is over 500 years old. They have a really cool cape, and two vampire friends in Eztli and Quintus.
Together, the gang enjoys playing games and the special taste of blood in October.
Unfortunately, Dragoslava has a problem – they've been cursed!
Thanks to a witch from several centuries ago, Dragoslava has to complete every task she sets them, or they'll be turned into worms – and no one wants that.
Little do they know that when they're tasked with retrieving a spellbook from a sleepy midwestern town, it will lead to unlife-changing consequences.
LGBTQ graphic novels like this one are a great way to introduce younger readers to queer literature. It's not just fun for middle-schoolers; it's great for adults too!
Discover even more great YA vampire books.

Read The Accursed Vampire: Amazon | Goodreads
Join The Uncorked Reading Challenge Today
---
Travel around the world with the Uncorked Reading Challenge. Get the best book and movie recs straight to your inbox. Sign Up Now.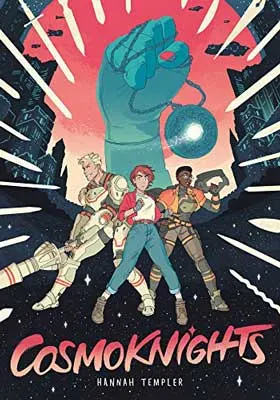 Cosmoknights by Hannah Templer
Young Pan used to hang out with her Princess friend Tara and complain about how her dad won't let her do any "proper" work on the expensive cars in his garage.
Now she's on the run from the law with a ragtag group of fighting liberators. How did that happen?
Well, Pan didn't want her friend to have to be a prize in the intergalactic gladiatorial tournament, where all Princesses go to be won by macho men.
She helped her escape to who knows where, thus, becoming a fugitive pariah in the process.
Fortunately, Pan runs into a secretive group who are working on winning the Princesses of the tournaments one by one, so that they can be freed, not married off. It's time to destroy the patriarchy!
Cosmoknights has likable characters with good motivations in an engaging and creative space setting, all wrapped up in colorful and dynamic panels.
This is one of the gay graphic novels with little to no downside that I can see, although be warned: as this is the first in s series, don't expect everything to be completely wrapped up by the end.

Read Cosmoknights: Amazon | Goodreads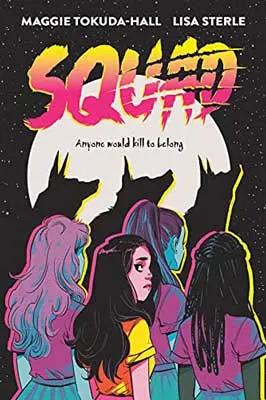 Squad by Maggie Tokuda-Hall and Lisa Sterle
We just love YA books with werewolves…
Becca and her mom have just moved to an affluent San Francisco suburb and like any teenager, she's worried about fitting in at her new school.
But Becca needn't have worried as she is immediately taken under the wing of the most popular girls at school: Marley, Arianna, and Mandy, who are definitely squad goals as far as Becca is concerned.
At first, the three seem like totally normal teenage girls. However, Becca soon learns they're hiding a huge secret: they're actually werewolves!
And to survive, they hunt guys who behave inappropriately toward girls. To really be one of them, Becca will also have to hunt – and kill.
Oh, and did I mention she might just be falling for one of her friends?
If you love teen movies like Heathers or Mean Girls, but wish they were queer and paranormal, this is the LGBT graphic novel for you!
Seekers of dark graphic novels or those who love California-set books will find something here.
Enjoy even more queer horror books; some are scarier than others.

Read Squad: Amazon | Goodreads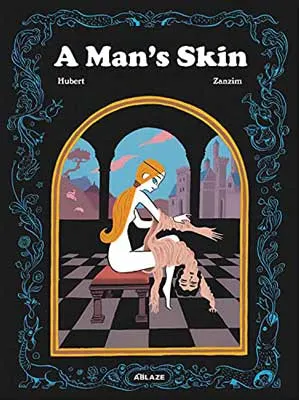 A Man's Skin by Hubert and Zanzim
Despite being a little creeped out by the cover, I decided to give A Man's Skin a go anyway.
Turns out it's not a weird body horror story, but a rather unique LGBT graphic novel.
Set in Renaissance Italy, we follow Bianca, a young woman who has just been promised in marriage to Giovanni, a man she knows nothing about.
Bianca is excited to marry but wishes she knew more about Giovanni.
That's when her aunt introduces her to their family secret: a man's skin. Literally.
It's a suit the women in their family wear that allows them to pass as a man named Lorenzo – and a very attractive man, at that.
Bianca is delighted at this transformation and eager to learn more about her fiancé. However, she also uses Lorenzo to explore parts of society completely closed off to women.
If you love historical setting LGBT graphic novels or are interested in ones that examine important social issues – including religious fanaticism and gender roles – then this one is for you.
Read about more badass leading ladies in historical fiction.

Read A Man's Skin: Amazon | Goodreads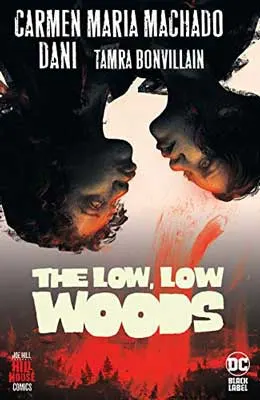 The Low, Low Woods by Carmen Maria Machado, Dani, and Tamra Bonvillain
For generations, the women in Shudder-to-Think, Pennsylvania have been inexplicably losing their memories.
So when best friends El and Vee go to the cinema and wake up without knowledge of watching the movie, they know the unknown illness has spread to them.
But rather than sitting back and letting it happen, the two friends decide to figure out what is happening to them – and to all of the women of Shudder-to-Think.
To do this, they must go into the woods that surround the town to seek the help of the old medicine woman. But the woods seem to house terrifying magical beings.
The Low, Low Woods is an immensely unsettling queer horror graphic novel that will stay with you long after you finish.

Read The Low, Low Woods: Amazon | Goodreads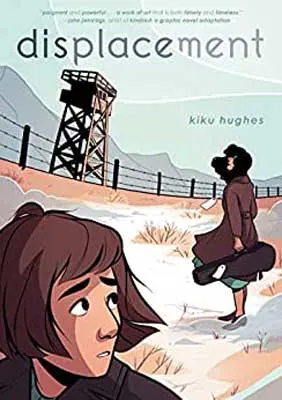 Displacement by Kiku Hughes
While walking around San Francisco's Japantown with her mom, Kiku Hughes becomes unexpectedly "displaced" in time and transported to the 1940s.
She realizes, to her horror, that this is when the Japanese-Americans were being rounded up and placed into US internment camps – including her grandmother and great-grandparents.
Through these displacements, Kiku learns she knows shockingly little about her own family's history.
Through her mom, she learns about generational trauma, the myth of the model minority, and the shame that still haunts so many Japanese-Americans.
For those interested in queer WWII books for teens, Displacement is fantastic. This beautifully written and illustrated LGBT graphic novel will both educate and pull at your heartstrings.
If this sounds familiar, it is a similar setup to Octavia Butler's Kindred.
However, aside from the time travel device, the books are extremely distinct, and they discuss different – though equally important – historical US events.

Read Displacement: Amazon | Goodreads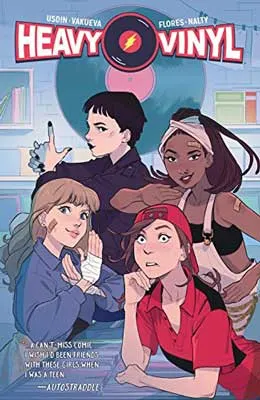 Heavy Vinyl by Carly Usdin and Nina Vakueva
Volume 1: Riot On The Radio
Working in a vinyl record store is a dream come true for Chris.
Her co-workers are so cool (even if, sometimes, they can be intimidating), and defending good music from stupid opinions is actually part of the job.
But what Chris is about to find out is that her new colleagues don't just sell records; unbeknownst to the world at large, they're also an all-female fight club that tackles crime and the patriarchy!
When the store's favorite singer goes missing the night before a gig, it's up to these vigilantes to find her.
With cool fight scenes, great music store banter, and a likable protagonist to follow, Heavy Vinyl is any music-loving LGBT graphic novel reader's dream come true.
Find even more great music reads for adults and teens.

Read Heavy Vinyl: Amazon | Goodreads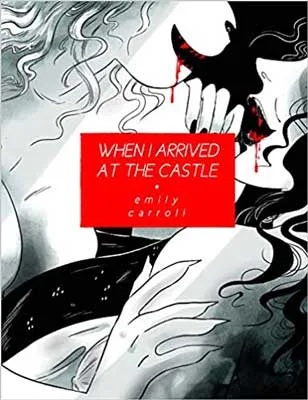 When I Arrived at the Castle by Emily Carroll
Definitely on the adult, surreal end of the LGBT graphic novels on this list, When I Arrived at the Castle is quite the cocktail of concepts.
When a cat-eared human enters the Countess' castle, she intends to kill her.
Instead, she finds the Countess waiting for her, and so begins a tale of Gothic horror, lesbian romance, and fairytale twists.
Just looking at this book will give your brain a bit of a workout.
Canadian writer Emily Carroll's blood-splattered visual opera is highly creative, but also unsettling and not necessarily for everyone. However, if you like vampire graphic novels, give it a try!
Explore more creepy vampire books.

Read When I Arrived at the Castle: Amazon | Goodreads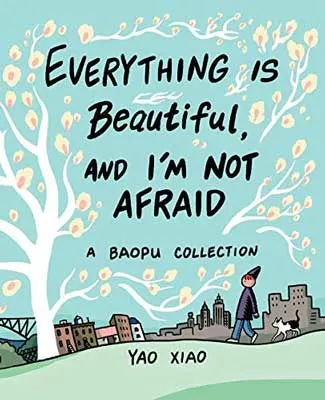 Everything is Beautiful, and I'm Not Afraid by Yao Xiao
In a tale of fiction that's based heavily in personal memoir, author Yao Xiao has created one of the most visually arresting and poignant LGBT graphic novels to cover the queer immigrant experience.
With a creative metaphorical flair, Xiao evocatively represents the troubles, joys, highs, and lows that many queer people experience at least at some point in their lives, sometimes even daily.
The art style might appear simple to begin with, but allowing the pages to flow through you will take you on a journey that's both emotional and cathartic. Definitely check this one out.

Read Everything is Beautiful, and I'm Not Afraid: Amazon | Goodreads
More LGBTQ Graphic Novels From Christine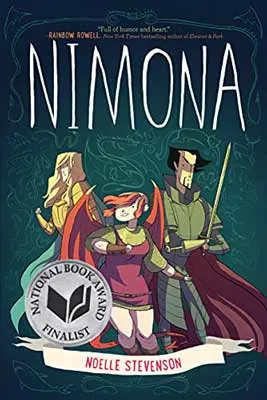 Nimona by ND Stevenson
Nimona might just be one of the best YA LGBTQ graphic novels that turned us onto the genre. The book is also becoming a film.
Nimona is a shapeshifter who is overly ambitious and always eager to help. However, she also has a villainous side, which is a bit unpredictable and problematic.
As Lord Blackheart's sidekick, they work together to prove that Sir Ambrosius Goldenloin and the Institution of Law Enforcement and Heroics aren't living up to their namesake.
However, we soon learn through his somewhat playful and mischievous antics that Lord Blackheart isn't so evil after all. He has quite a big heart.
A National Book Award Finalist, you might just read this one three times over like us. Uncover even more stellar LGBT books for teens.

Read Nimona: Amazon | Goodreads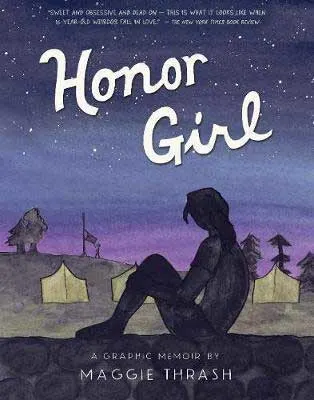 Honor Girl by Maggie Thrash
For memoir lovers, Honor Girl is a YA LGBT graphic novel set at an all-girls, Christian camp in Appalachia.
Thrash looks back to her summer as she falls in love with one of her camp counselors. Previously, she had never even kissed someone.
Situated in rural Kentucky, though, Camp Bellflower is not a welcoming place for two young women to fall in love.
As both navigate through these new feelings, they find themselves in unchartered and "unsanctioned" territory by the camp.

Read Honor Girl: Amazon | Goodreads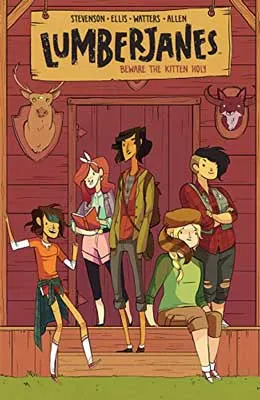 Lumberjanes by ND Stevenson, Shannon Watters, Grace Ellis, & Brooke Allen
Volume 1: Beware The Kitten Holy
Welcome to a more modern-day version of Girl Scouts with strong LGBTQ characters, fantasy elements, and loads of feminism.
Meet the Lumberjanes, five best friends enjoying the wilderness – even if it is full of terrifying and seemingly unreal creatures, including three-eyed wolves, demonic unicorns, yetis, and satanic Boy Scouts.
Similar to the old school Girl Scout Handbook, each chapter is a lesson in earning a badge.
Watch as they solve mysteries, save each other from danger, complete their tasks, and have a fun summer in the woods.
P.S. The head of the camp is Rosie the Riveter, and the characters shout out comical phrases like "holy Juliette Gordon Low [or Joan Jett]."
LGBT graphic novels aren't much more feel-good fun and nostalgic than this.

Read The Lumberjanes: Amazon | Goodreads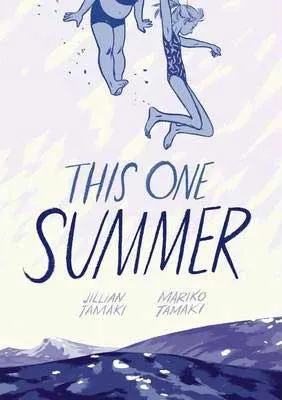 This One Summer by Mariko Tamaki & Jillian Tamaki
One of the top award-winning YA LGBT graphic novels, This One Summer landed on many "banned books" lists upon its release – which means you must, of course, read it.
A sincere and realistic story about coming of age, Rose and Windy spend their summer at a beach cottage in Ontario.
They are dealing with family drama, typical as well as serious teenage pressures, and learning more about their sexuality.
This One Summer is a 2015 Caldecott Honor Book and a 2015 Michael L. Printz Honor Book. The graphic novel is sure to evoke those summer feels.
Know that the content is mature – but also realistic and well-done on issues teens and tweens face today.
You may also enjoy Mariko Tamaki's Skim and Laura Dean Keeps Breaking Up With Me.

Read This One Summer: Amazon | Goodreads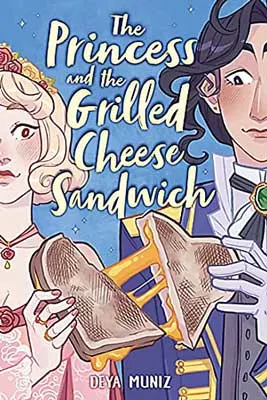 The Princess and the Grilled Cheese Sandwich by Deya Muniz
Sapphic graphic novels don't get any cheesier than 2023 release, The Princess and the Grilled Cheese Sandwich. We absolutely adored this LGBT graphic novel perfect for tweens and teens.
When Lady Camembert's father dies, she must pretend she is a boy, especially since she has no interest in marrying a man. Inheritance laws are in much need of revision.
Count Camembert tries (and fails) to lay low until she attends one of Princess Brie's balls. Catching the princess's attention with her sustainable fashion, the two start falling in love.
But what happens if the Count's real identity is revealed?
With gorgeous pink and purple illustrations, we embraced this endearing and well-crafted love story. The characters are named after cheeses, and Cam wears shirts with bread and cheddar. It's f'ing adorable.
Plus, you'll love the friendships made paired with gorgeous fashion. Emotion shines off of the pages.
Brazilian author, Deya Muniz, based the story on her own life. You'll certainly find yourself craving grilled cheese.
Read The Princess and the Grilled Cheese Sandwich: Amazon | Goodreads
More Queer Graphic Novels To Read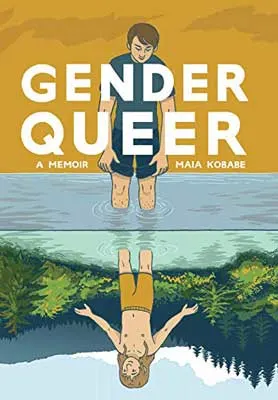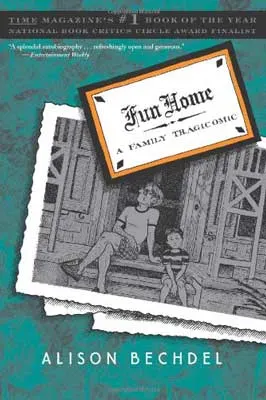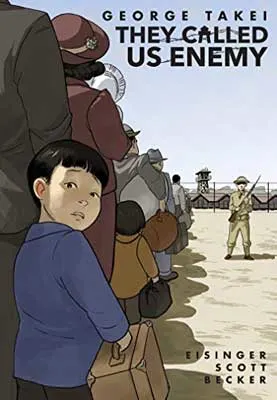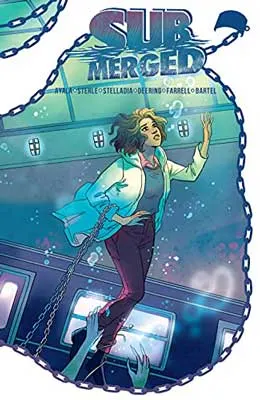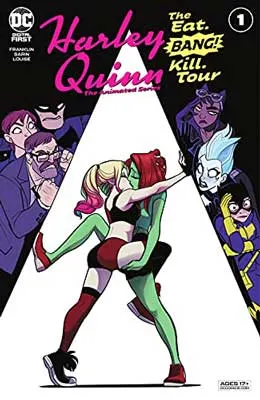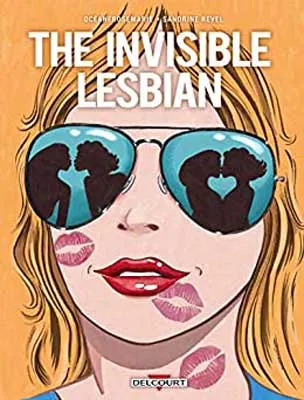 Grab your favorite LGBT graphic novels here:
What is your favorite LGBT graphic novel?
What queer graphic novels do you love? Let us know in the comments.
These LGBTQ graphic novels are part of our 2023 Uncorked Bingo Card Reading Challenge.
Save These LGBTQ Graphic Novels For Later: