Meet some of the sweetest and wickedest witches in comics and graphic novels perfect for tweens, teens, and adults.
Whether you enjoy foodie fiction, LGBT+ fantasy stories, or dragon, werewolf, vampire, and witch comic books, there is something for everyone on this reading list.
Watch as young witches come of age and find their powers. Others solve mysteries with their cute familiars.
There are comic book witches who gently nudge others to overcome their fears and those who battle stereotypes and gender norms.
Below, find just a few of our favorite witch comics sure to enchant, inspire, and maybe even make you cackle.
Be sure to let us know your favorite witch graphic novels for all ages in the comments. Let's get started!
Afterward, check out the best novels about witches.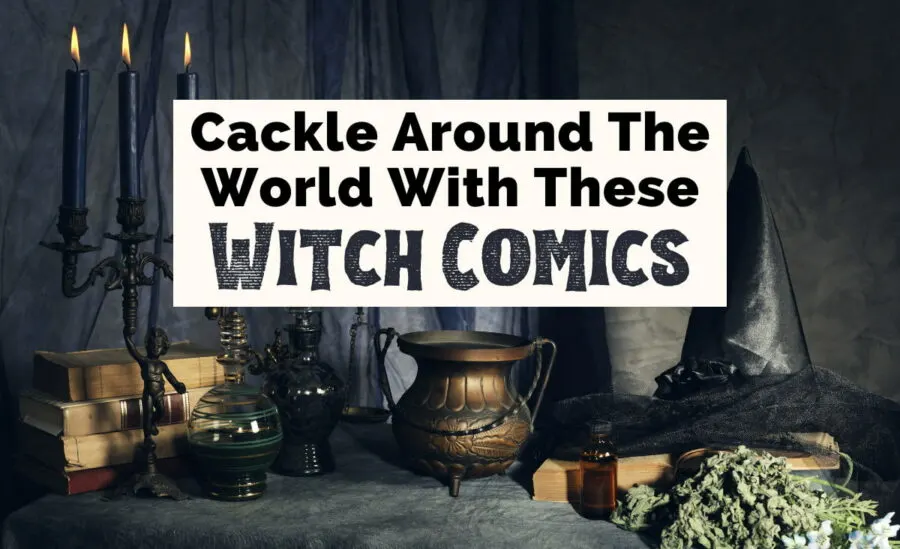 Grab your top movies and graphic novels with witches here:
17 Best Witches in Comics
Basil and Oregano by Melissa Capriglione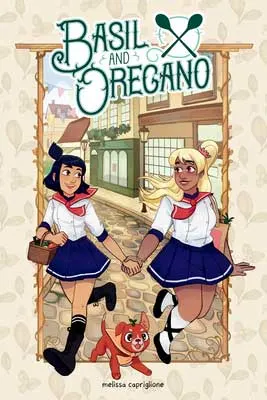 Do you love fiction books about cooking?
At the prestigious Porta Bella Magiculinary Academy, cooking prowess and magical ability go hand in hand.
Now attending her senior year, Basil Eyres is determined to be the top student. In fact, she needs to secure the top spot or she'll lose her scholarship and be in a huge amount of debt.
Her focus is about to be thrown, however, thanks to the arrival of Arabella Oregano – daughter of the world-famous chef Ametrine Oregano.
Arabella also needs to be number one in order to meet her mother's high standards, so Basil has to get over the pesky crush she has on Arabella and beat her in every competition.
The cuteness of these queer comic book witches is off the charts. Anyone who has ever felt the pressure to succeed in high school will have a lot to relate to here.
Each colorful character jumps off the page, and the world they live in is vibrant and creative. All of the food they prepare will have you ravenous by the end.
When it comes to witches in comics with LGBTQ+ characters, Basil and Oregano is truly a recipe for success!
Read Basil and Oregano: Amazon | Goodreads
Tidesong by Wendy Xu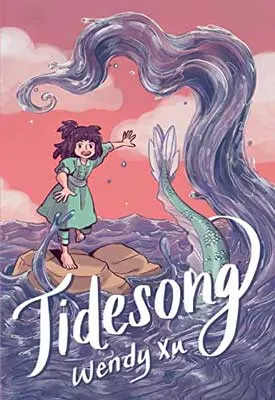 If you've ever wanted to disappear into a fantastical world similar to the ones in Studio Ghibli movies, then Tidesong might be one of your new favorite graphic novels about witches!
Sent to live with her Cousin Sage and Great-Aunt Lam in order to improve her magic, young witch Sophie is going to need some serious help in order to get into the Royal Magic Academy.
Unfortunately, all her relatives seem to want her to do is chores, so she takes matters into her own hands and attempts some magic without them – with unexpected results.
Sophie has accidentally entangled her magic with the magic of Lir, a water dragon who is now trapped on land and has no memory of his origins.
He's really good at magic though, which is perfect for Sophie and her chances of passing her exams. But can she really use Lir like that, even if she can't do it without him?
This charming, cozy story will have you falling in love with witches in comics as Sophie learns some valuable lessons along her journey.
Plus, it's a great selection if you are looking for fantasy books with dragons.
Read Tidesong: Amazon | Goodreads
Witch Hat Atelier by Kamome Shirahama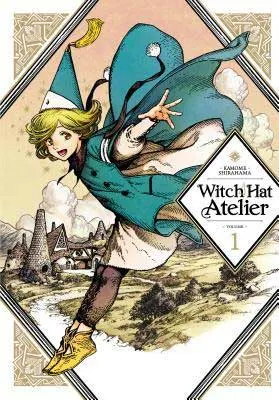 Translated by Stephen Kohler
Sometimes witches in comics have a difficult road to success, and that's the case for young Coco.
Having grown up in a world filled with magic and fantastical creatures, Coco has a single dream: to become a witch.
There's just one problem – only those who are born with magical abilities are allowed to become magic users, and Coco isn't one of them.
It seems like she'll have to spend her days working as a regular dressmaker, until the traveling magician Qifrey enters her life.
Qifrey knows how to perform magic in a way Coco's never seen before, and soon she's on an unexpected adventure into a world she could only dream of before.
With multiple volumes available in this series, Witch Hat Atelier is a treasure trove of witch comics just waiting for you to discover them.
Read Witch Hat Atelier: Amazon | Goodreads
Over My Dead Body by Sweeney Boo
There is a night when the boundary between the living and the dead is at its thinnest; that night is Samhain, and it's around that fateful time that Abby's sister, Noreen, disappeared.
However, everyone at the Younwity Hidden Institute of Witchcraft seems to be too distracted with preparations for the Samhain Festival celebrations to notice.
They're sure the Coven will find Noreen, so there's no need to worry. But Abby does worry, and she will take matters into her own hands to solve this mystery.
Things get even more serious when Abby finds out that Noreen might not be the first young witch to disappear in this way.
With a delightful mix of dark academia, cute familiars, and supernatural intrigue, Over My Dead Body is one of the best witch graphic novels for young adults.
Abby is one of the most relatable comic book witches, and she and her investigative friends make for an engaging team of protagonists.
Let's also not forget the gorgeous and highly detailed panels from author/illustrator Sweeney Boo.
Discover even more great teen and tween graphic novels.
Read Over My Dead Body: Amazon | Goodreads
W.I.T.C.H. by Elisabetta Gnone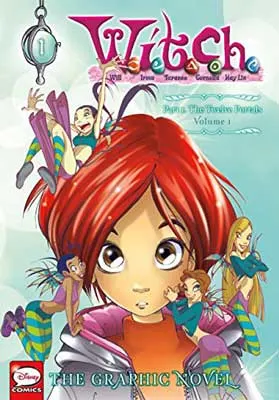 These incredibly popular witch comics have all the energy of Disney mixed with the drama of adolescence in a pseudo-manga style.
Earth is under threat from the evil that lurks in the dark world of Metamoor. Now that twelve portals have been opened, it's up to a special group of young girls to band together and stop them.
Will, Irma, Taranee, Cornelia, and Hay Lin have been given the powers of the elements – they are the new Guardians. Together they are … W.I.T.C.H.!
Beginning with Part 1: The Twelve Portals, Volume 1, this is one of the longest-running witch comic book series, starting in April 2001 and concluding in October 2012.
For many young readers, this was the beginning of their witches in comics journey. Let yourself get carried along for the ride!
Read W.I.T.C.H.: Amazon | Goodreads
The Accursed Vampire by Madeline McGrane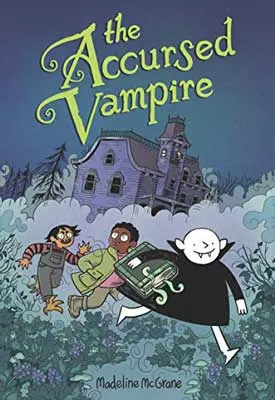 Dragoslav, or Drago, is a 500+ years old non-binary vampire in the body of a child. Many, many years ago, they were cursed by a witch.
Drago must do whatever the witch asks or risk her wrath and be turned into a worm for eternity.
Fortunately, Drago hasn't heard from the witch in decades and currently spends their days hanging out and being mischievous with their fellow vampire buddies, Eztli and Quintus.
That is until the witch's familiar shows up with instructions. Drago must retrieve her grimoire and bring it back to her.
The catch? The grimoire is being guarded by Ayesha, a seemingly friendly witch, and her partner Sara, who is a vampire.
But is Ayesha really their friend? If so, Drago, Eztli, and Quintus don't want to betray her and Sara's trust.
Or, like so many witch comic books, is she tricking the three young vampires for her own nefarious reasons?
Read more fangtastic comics featuring vampires!
Read The Accursed Vampire: Amazon | Goodreads
Chilling Adventures of Sabrina by Roberto Aguirre-Sacasa, art by Robert Hack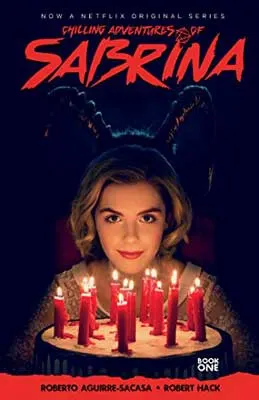 If you're looking for some of the creepiest witch comics, this satanic take on the iconic Sabrina the Teenage Witch is a great place to start.
Edward Spellman broke Witch Law when he married Diana, a mortal woman. But Edward has always done what he wants.
On their daughter, Sabrina's first birthday, she is promised to Satan – a promise that will come to fruition on her 16th birthday.
Sabrina has always known she is destined for great service to the dark lord, but as her 16th birthday approaches, she is torn in her devotion to him and to her human boyfriend, Harvey.
Now unknown dark forces have arrived in Greendale to wreak havoc on Sabrina's life and those closest to her.
Will Sabrina fight back and leave her mark as one of the most iconic witches in comics, or will she give up everything she's ever known to be with the mortal she loves?
Read Chilling Adventures of Sabrina: Amazon | Goodreads
Snapdragon by Kat Leyh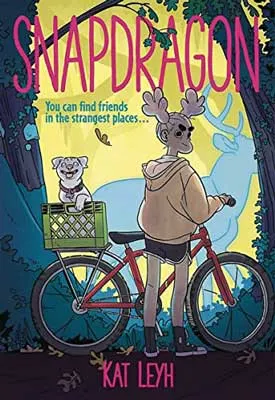 Everyone in town knows that the old lady who collects roadkill is a witch. They say she eats them and performs spells with the bones.
Snap knows that's all nonsense, but she needs to find out what happened to her dog, Good Boy.
Fortunately, Good Boy is alive and well, albeit missing a leg from a nasty traffic accident. And it turns out the old lady, whose name is Jacks, wears Crocs and just sells bone sculptures online.
But maybe Jacks does have a little magic up her sleeve; the kind that might help a misfit like Snap find her place in the world.
Jacks is undoubtedly one of the cooler witches in comics, and the partnership between her and Snap leads to some delightful and charming lessons about life.
Read Snapdragon: Amazon | Goodreads
The Witch Boy by Molly Ostertag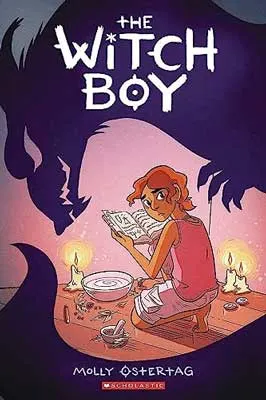 It is a fact that, in Aster's family, the girls are raised as witches and the boys grow up to be shapeshifters. This is how it is, and this is how it shall be – the only other choice is exile.
Unfortunately, Aster is now 13 years old, and he still hasn't shifted. He's much more at home with witchcraft, despite the consequences that would come with him being found out.
When disaster strikes, Aster knows he has the power to help, but only as a witch.
Will he be able to show his family that being a witch is not just possible, but also who he really is?
Challenging gender norms in a creative and engaging way, The Witch Boy is an excellent and diverse queer middle-grade gem as well as an original take on witch comic books.
Read The Witch Boy: Amazon | Goodreads
Baba Yaga's Assistant by Marika McCoola, art by Emily Carroll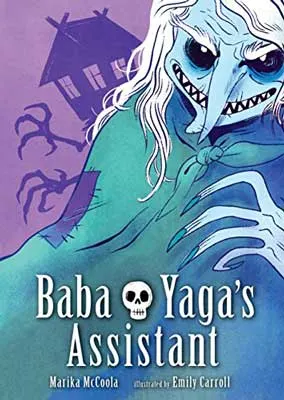 Everyone knows that Baba Yaga is a cruel old witch who lives in the woods in a house on chicken legs and eats children.
But Masha doesn't believe that. She grew up hearing magical tales from her grandmother who insisted she always keep an open mind and remember that there are two sides to every story.
Then, Masha's dad announces his engagement to a new woman. Masha, still grieving the death of her mom, is devastated – especially as her new step-sister is an absolute terror.
So armed with a newspaper ad from Baba Yaga seeking an assistant, Masha heads into the woods.
Once she meets Baba Yaga, Masha is tasked with several daunting tasks to prove herself. Is Masha up to the task?
In Baba Yaga's Assistant, you'll meet one of the most formidable comic book witches. But is Baba Yaga really as cruel as she seems, or is there more to her than meets the eye?
Read Baba Yaga's Assistant: Amazon | Goodreads
The Okay Witch by Emma Steinkellner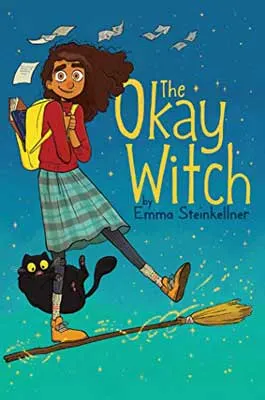 Young Moth has always loved witches, which is why she's decided to dress up as one for Halloween. But this Halloween Moth gets a lot more than she bargained for.
Not only are they learning about the witchy history of her town, Flounder's Bluff, but Moth's just made a great new friend named Charlie after being bullied.
Oh, right, and she seems to be developing witch powers. At least, that's the only explanation for the weird things happening to her.
But Moth's powers quickly get out of hand and increasingly weird stuff is happening. I mean, did anyone else hear that talking cat?
Can Moth get her powers under control, or is she destined to be one of the unluckiest witches?
For beautifully illustrated witch graphic novels, The Okay Witch is perfect for the fall and will delight anyone who loves witches full of heart.
Read The Okay Witch: Amazon | Goodreads
Witchlight by Jessi Zabarsky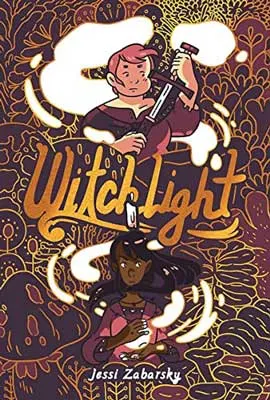 Do you like blossoming friendship books? Then Witchlight was written for you.
After a frantic first encounter in the local market, peasant girl Sanja finds herself the unlikely captive of Lelek, a traveling witch. Or rather, a witch seemingly on the run.
Lelek has been moving from town to town, ripping people off and scheming her way into whatever she needs. Right now, she needs Sanja to teach her how to fight.
And Sanja will help… provided Lelek stops her unlawful methods and learns to make an honest living. Even if that living means challenging other witches to single magical combat.
Witchlight has a bold visual style to match its fast-paced plot and profound character development. The result is one of the best comics about witches learning to find themselves.
Read Witchlight: Amazon | Goodreads
Coven by Jennifer Dugan, art by Kit Seaton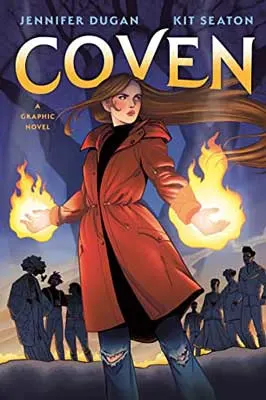 No one likes being uprooted from their life and forced to relocate to another state on the other side of the country.
It's especially bad when you're a sun 'n' surf-loving teenager leaving behind both your girlfriend and the waves of California and being dropped into the much-less-glamorous upstate New York.
To top it off, all this is because members of your family's coven have been killed with what must have been magic, and you need to relearn your powerful fire elemental skills.
Hopefully, the killer won't strike again too soon!
With characters and art both well-drawn, Coven is a rollercoaster of weirdness, full of some of the most entertaining witches in comics from recent years.
Read Coven: Amazon | Goodreads
Spellchecked by Quinton Miles and Mauricio Campetella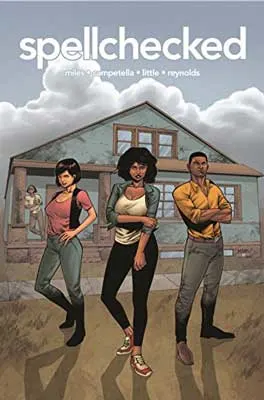 You might think it would be great to be the child of one of the most powerful mages in the world, but then you don't know what life is like in the Davenport family.
While their father Dwayne is off saving the world, his children Dawn and Dwayne Jr. are pretty much left to their own devices.
Not that it would be nice to have a healthy relationship with their dad or anything.
Dawn and Dwayne Jr. do have magic of their own, so they have that going for them, and they use it to keep their own small neighborhood relatively crime-free.
But something's coming that will put them to the test, and may finally help them carve their own places in the world outside of their father's absent shadow.
Written and drawn with a punchy style, you'll fall in love with witch comic books like these.
Read Spellchecked: Amazon | Goodreads
More comic book witches from Christine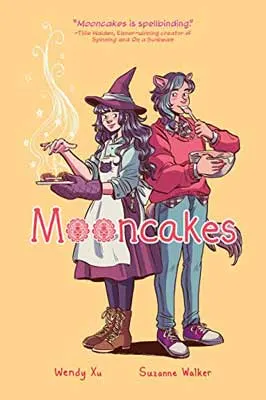 Mooncakes by Suzanne Walker and Wendy Xu
If you enjoy queer graphic novels about witches and werewolves, you'll definitely want to pick up Mooncakes.
Nova is a queer and deaf witch, working at her family's bookstore, with a penchant for fighting supernatural occurrences.
As she heads into the woods to fight a demon, she reconnects with her non-binary, childhood werewolf crush, Tam.
It's hard to rekindle a relationship, though, when a coven of witches is trying to steal your crush's werewolf magic.
With Snow White-like forest critters, enjoy one of the most enchanting stories about love and family perfect for LGBT fantasy lovers.
Discover even more good books with werewolves.
Read Mooncakes: Amazon | Goodreads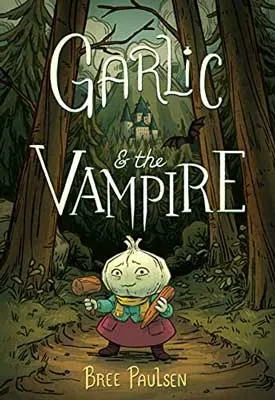 Garlic and the Vampire by Bree Paulsen
Although the second book in the Garlic series, Garlic & the Witch, is probably just a bit more fitting for our witch comics list, readers first meet Witch Agnes in Garlic & the Vampire – a terrific tween vampire book about anxiety and farming.
Witch Agnes has created sentient fruits and vegetables to help in her garden. (They are allowed to grow and leave to follow their own passions, if they so choose – phew).
When they see smoke coming from the once-empty castle on the hill, they believe a vampire is back in town.
Pressured to confront the bloodsucker, anxious Garlic heads to the castle with Celery, who promptly abandons her.
Can Garlic overcome her fears to see if this vampire is indeed dangerous and save her friends?
Witch Agnes is one of the sweetest and most considerate and empowering witches in comics, and she's back at her kind ways and life lessons in the second book.
Discover even more books about vampires for adults.
Read Garlic & The Vampire: Amazon | Goodreads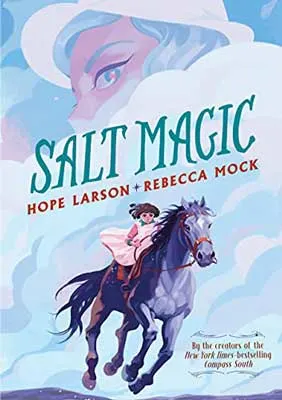 Salt Magic by Hope Larson and Rebecca Mock
Get ready for fever dream comic book witches…
Vonceil wants more for her life than just working on her family's Oklahoman farm. Not to mention that her brother, Ebner, has returned from WW1 a changed person, suffering what we know today as PTSD.
When a witch seeks out the newly married Ebner, she places a curse on the farm's sole water source, forcing Vonceil to head out to a dangerous and magical land – complete with more witches – to save her family.
Delightfully eccentric – but not for everyone – find a story about binding promises, curses, jealousy, loneliness, and love, perfect for tween and teen readers.
Larson is just one of the many great authors from Asheville, NC.
Read Salt Magic: Amazon | Goodreads
Grab your favorite graphic novels and comics about witches here:
Save your favorite witch comics for later: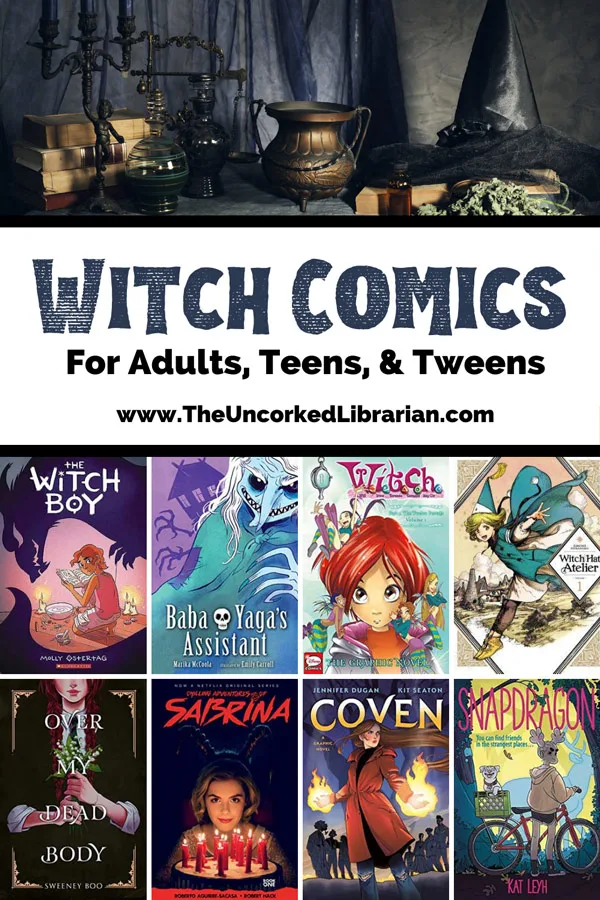 Before you go…
If you love witch graphic novels, you might also enjoy these books on the Salem Witch Trials, including fiction and nonfiction titles for adults and teens. Plus, travel to Salem to encounter a few magical and fun fictional witches.
What are your favorite witch comics?
With so many great comics with witches out there, it's hard to choose! Who are your favorite witches in comics? Let us know in the comments.
You Might Also Enjoy: