Uncover the best LGBT fantasy books for adults and teens that are sure to take you around the world and add a touch of magic to your heart.
Travel across the universe – both real and imagined – with some of the best gay fantasy books, heading to remote islands with seal friends and navigating famous cities reimagined.
Watch friendships ignite into something more powerful as characters transform and discover who they wish to be.
While many of these gay fantasy novels are for adults, find popular and lesser-known LGBT YA fantasy books, meeting your next favorite vampire or wizard.
Of course, we'll include a little sci-fi, everything paranormal, and devour-worthy graphic novels.
So, what are the best LGBT fantasy books to read right now? Keep reading for just a few of our top queer fantasy book recommendations.
Since "best" is subjective, don't forget to let us know your personal favorite LGBT fantasy book in the comments. Let's get started.
Peruse all of our LGBT+ reading lists.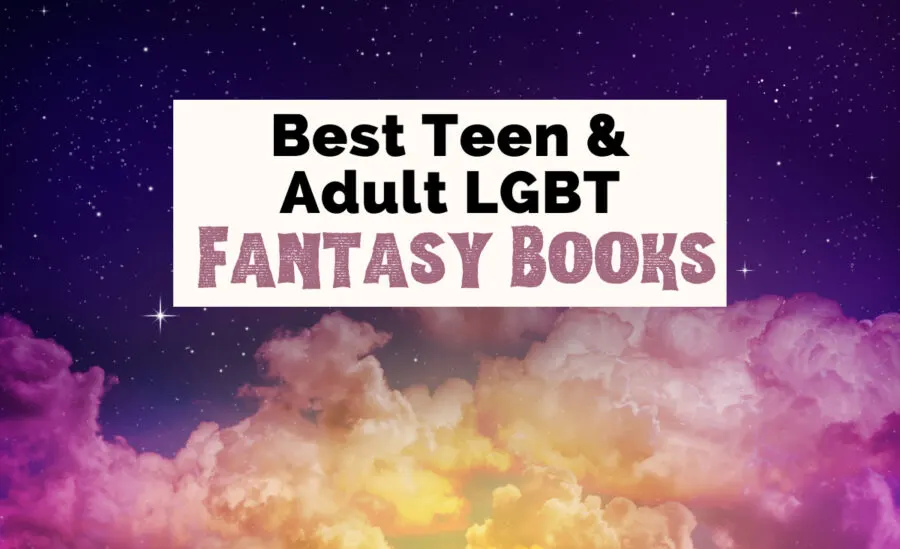 Grab your favorite gay fantasy books here:
26 Best LGBT Fantasy Books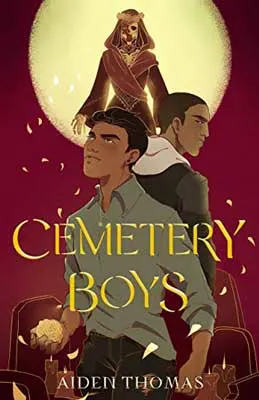 Cemetery Boys by Aiden Thomas
Are you looking for queer fantasy books with spirits, love, and mystery?
In the world of Yadriel's Latinx household, gender roles are very clearly and rigidly defined: the male Brujos learn to summon ghosts and take care of their needs, and the female Brujas use their magic to heal.
That's the way it has been for hundreds of years, and that's the way it is now.
Unfortunately for Yadriel, coming out as trans means that those binary traditional viewpoints are having a strong negative effect on him.
He is determined to prove that he is indeed a Brujo, even if that means roping in his best friend Maritza to help him perform a secret ghost summoning.
Then, everyone will have to acknowledge him as a Brujo at the upcoming Festival of the Dead.
When he manages to summon forth the ghost of Julian, a recently deceased teenage boy, he's initially ecstatic!
But it turns out that Julian was murdered; he doesn't remember how, and he certainly isn't going to quietly move on as Yadriel planned.
Cemetery Boys is full of diverse, fleshed-out characters with good motivations.
Yadriel's struggles with getting others to accept his identity are very relatable, and this combined with the murder-mystery element, makes for one of the most engaging LGBT YA fantasy books and stories with ghosts on this list.

Read Cemetery Boys: Amazon | Goodreads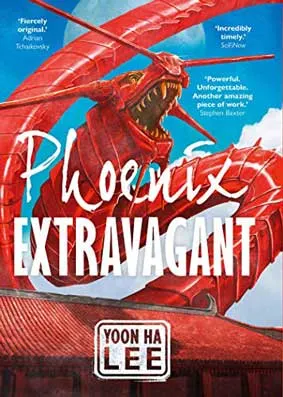 Phoenix Extravagant by Yoon Ha Lee
Politics is not usually far away in LGBT fantasy books, and Phoenix Extravagant is no exception.
Set in a world where the protagonist lives in a country conquered by another nation (the Razanei), we follow the moderately talented artist Gyen Jebi.
Having just spent their last prover savings on an artistic entrance exam (without telling their sister) and failing, they find themselves wandering the province and into a job that they absolutely did not expect to get: working for the Razanei at the Ministry of Armour.
This military organization is responsible for the armored automatons that patrol the city and keep order.
Yet, they are seen as a symbol of oppression by Jebi's people, especially Jebi's sister, whose partner was killed by the Razanei.
Taking the job is an offer they can't refuse, especially as they'll get to find out just what the Razanei are doing deep down in their underground facilities …
One of the more politically-charged gay fantasy books on this list, Phoenix Extravagant contains a very well-imagined society and some very pleasing fantastical creativity.
Dragon book lovers will especially find something great here.

Read Phoenix Extravagant: Amazon | Goodreads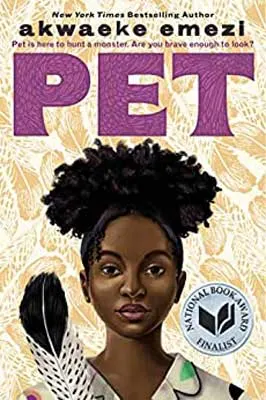 Pet by Akwaeke Emezi
If you are looking for queer fantasy books for tweens and teens and love monster-themed novels, be sure to pick up Pet.
What if angels and monsters were real but the angels defeated the monsters years ago and now everyone can live without fear?
That's the utopian setting for Pet, Nigerian non-binary author Akwaeke Emezi's excellent LGBT fantasy book that's both heavy on metaphor and dangerously literal.
Jam, a Black, trans high-schooler, lives in the city of Lucille in an alternate modern-day United States.
She doesn't talk much; in fact, she prefers to sign most of the time, something her mother Bitter and her best friend Redemption understand and respect.
Bitter is an artist, and she's nearly completed her latest painting: a raw, visceral work with harsh brushstrokes and sharp objects embedded in it.
But when Jam accidentally trips and gets blood on her mother's painting late one night, a being emerges – a being with horns, claws, and teeth, which she names Pet.
Unexpectedly, Pet has a mission: to hunt a monster. Suddenly, Jam is questioning everything she's been taught about her "safe" city, and hopefully, her parents don't find out about Pet!
For our audiobook listeners, Pet also makes for one of the best fantasy audiobooks.

Read Pet: Amazon | Goodreads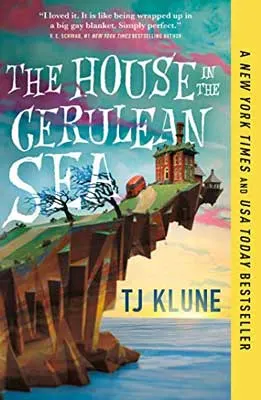 The House in the Cerulean Sea by T.J. Klune
All across the country, orphanages are taking care of children who are anything but ordinary.
These establishments are under the care and jurisdiction of the Department in Charge of Magical Youth, and Linus Baker is one of the inspectors who makes sure that everything is up to code.
Linus' life is, unlike the children he works with, exceedingly ordinary. Dull, even. His nosy neighbor certainly thinks so.
But all of that changes when he is alarmingly given a new assignment by Extremely Upper Management: head to Marsyas Island and assess both the conditions of the orphanage there as well as the man running it.
Linus has never had to assess a master of an orphanage before, and what is even more unusual is that he's not allowed to discuss this assignment with anyone.
But, with luggage and an angry pet cat in hand, he dutifully heads out to the island at the end of the train line and into a whole new world.
Charming, romantic, creative, and well-told, T.J. Klune's gay fantasy novels have yet to disappoint me.
Once you've enjoyed this, I recommend trying his other LGBT fantasy books, especially Under the Whispering Door.
Check out other books with colors in the title here.

Read The House in the Cerulean Sea: Amazon | Goodreads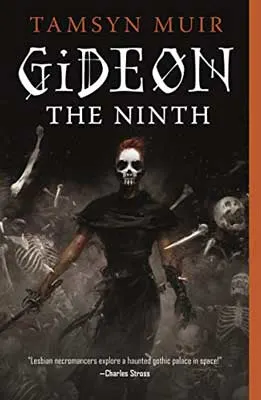 Gideon the Ninth by Tamsyn Muir
Gideon has worked for the Ninth House for her entire life.
Seemingly condemned into indentured servitude ever since her dying mother managed to land her on the Ninth House's planet, she has had to suffer indignity after indignity, mostly at the hands of Harrow, a sadistic and calculating necromancer and Daughter of the Ninth House.
Having had yet another escape attempt thwarted, Gideon finds out that Harrow has other plans for her; namely, she is to put her only skill – swordplay – to use as Harrow attends a competition involving all nine Houses.
Now stuck as Harrow's strictly silent bodyguard, Gideon must learn to adapt to high society etiquette (which will be hard, because she has a filthy mind).
Fortunately for Gideon, the competition turns interesting (read: deadly) very quickly.
Gideon the Ninth reads a little like a cross between And Then There Were None and Pride and Prejudice and Zombies, but in a good way.
Just be aware that while it does have a satisfying conclusion, this is the first in a series of four LGBT fantasy books.

Read Gideon the Ninth: Amazon | Goodreads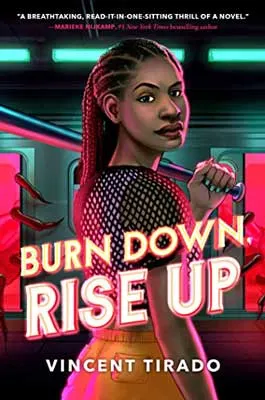 Burn Down, Rise Up by Vincent Tirado
For over a year, the residents of the Bronx have become all too accustomed to hearing about the random disappearances of local kids.
No one knows what happens to the kids, and the police aren't looking.
When her childhood friend, Charlize's cousin, goes missing and her mom is infected with an inexplicable mold, Raquel is suddenly pulled into the mystery behind the disappearances.
Both Raquel and Charlize find themselves suddenly involved in a bizarre worldwide urban legend.
And to make matters more complicated, Raquel's best friend Aaron has a crush on Charlize. But Raquel can't stop thinking about Charlize either …
If you like a good dose of horror in your LGBT fantasy books, then Burn Down, Rise Up is the book for you.
Explore even more novels based in NYC.

Read Burn Down, Rise Up: Amazon | Goodreads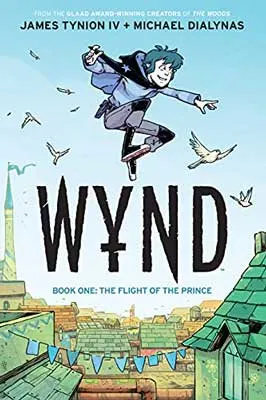 Wynd by James Tynion IV and Michael Dialynas
In the city of Pipetown, magic will not be tolerated. Any magical being that is discovered will be immediately disposed of – usually quite brutally – by order of the king.
This is bad news for Wynd, for while he means absolutely no harm to anyone – working in the kitchen of a local pub – he still needs to keep his hat over his pointy ears at all times if he wants to avoid a grizzly death.
The only place where he can be himself is when he hangs out high up on the Pipetown rooftops, where not only can he take off his hat, but he can also secretly spy on the king's gardener's muscly son.
However, trouble comes in the form of the "bandaged man," a fanatical henchman of the king who leads witch-hunts through the land in search of magical creatures to dispatch.
Wynd needs to leave town – and everything he's ever really known – to survive.
If only he hadn't accidentally stumbled upon the king's son as he too tries to secretly escape Pipetown, albeit for different reasons. Now, they will need to work together to survive.
Written and drawn with intense energy, Wynd is perfect for those looking for gay fantasy books that have a genuine element of lethal danger for its protagonists.
Uncover more LGBTQ+ books for teens and tweens, and read about even more vampires in comics.

Read Wynd: Amazon | Goodreads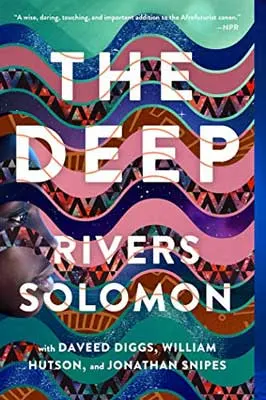 The Deep by Rivers Solomon
With Daveed Diggs, William Hutson, and Jonathan Snipes
Deep in the waters of the sea, a society of water-dwelling beings has developed.
Directly descended from the pregnant women thrown overboard by slave owners, these peaceful wajinru are spared the knowledge of their traumatic past by the historian – the one member of the community permitted to remember their history.
Yetu, the current historian, lives constantly with the memories of her people, only sharing them once a year. She must suppress her own personality and desire to do so.
With the weight of this burden taking a heavy toll, Yetu can only bear it for so long. And so, in order to escape, she eventually flees towards the surface.
But, what she finds there will alter what she knows about her people – and herself – forever.
Interestingly, a song of the same name by hip-hop group Clipping inspired this LGBT fantasy book, which was originally written for the TV show This American Life.
While it reads very well, The Deep also makes for one of the better LGBT fantasy audiobooks. Mermaid lovers will appreciate this one too.

Read The Deep: Amazon | Goodreads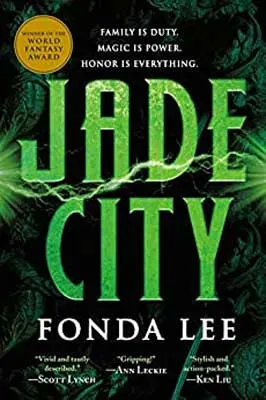 Jade City by Fonda Lee
On the island of Kekon, one substance is valued above all others: jade. With jade, a person can enhance their magical abilities.
For generations, the Green Bone warriors have been using it to defend their island from outside invaders.
As the years have passed, the conflict has changed from war to control of Kekon's capital city.
Now, rival families intent on protecting their own at all costs fight to keep territory and maintain a semblance of balance in this precarious society.
However, the emergence of a new drug has enabled more people to use jade magic – even foreigners.
With threats appearing faster than ever, two rival families will determine the fate of the island and everyone on it.
Jade City is the first in the Green Bone Saga series, which has been described by author Fonda Lee as "The Godfather with magic and kung fu."
Not many LGBT fantasy books come with that kind of premise!

Read Jade City: Amazon | Goodreads
Join The Uncorked Reading Challenge Today
---
Travel around the world with the Uncorked Reading Challenge. Get the best book and movie recs straight to your inbox. Sign Up Now.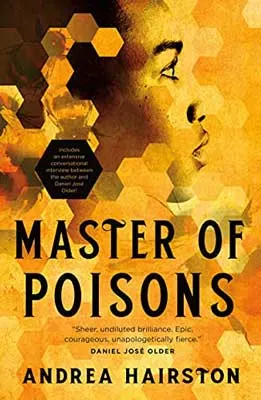 Master of Poisons by Andrea Hairston
In a world where an apocalyptic desert is blowing across the land, turning crops and rivers to lifeless dust, two people are drawn together by their desire to save the land they love.
Djola, the eponymous Master of Poisons, has chosen long exile from his adopted homeland of the Arkhysian Empire, as he attempts to learn all the magic he can in order to stop the spread of the all-consuming storm.
Meanwhile, the young storyteller Awa has a strong connection with animals, especially dogs, warhorses, and bees, and finds she has the ability to survive more easily than most in the natural world.
When these two characters meet, perhaps they will find a way to stop the poison desert and save the world.
With loads of world-building, Master of Poisons might be a tough challenge for those not used to this level of high fantasy.
But persevere, and you'll get to enjoy one of the most ambitious LGBT fantasy books on this list.

Read Master of Poisons: Amazon | Goodreads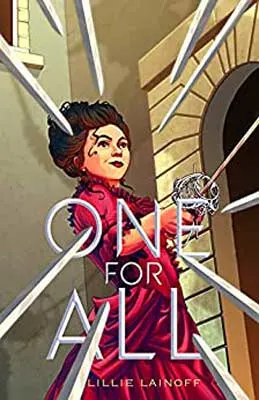 One for All by Lillie Lainoff
All that Tania de Batz wants is to be strong like her musketeer father. She's no stranger to a sword, but she also has a reputation as a sickly girl due to her near-constant dizziness.
When her father is murdered, his dying wish is that she attends L'Académie des Mariées, a finishing school.
But upon her arrival, Tania finds out that this learned institution teaches more than just the right way to lay on a fainting couch; it's also a secret academy for training girls to fight!
Soon, she's learning how to conceal weapons and steal secrets, all the while maintaining the appropriate ladylike poise.
Eventually, she'll have the skills to be able to find out exactly what happened to her father; hopefully, her health issues won't get in the way too much.
Author Lillie Lainoff has created one of the most enjoyable and adventurous queer fantasy books with her gender-bent retelling of The Three Musketeers.
There really is nothing like a good bit of swashbuckling.

Read One for All: Amazon | Goodreads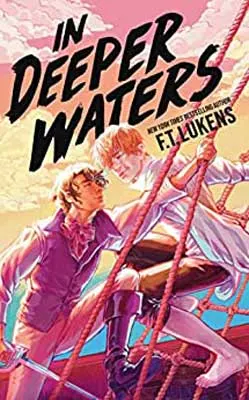 In Deeper Waters by F.T. Lukens
Prince Tal is the second youngest of five siblings, which means he hasn't seen much of the world outside of the palace.
But soon he will come of age, and that means it's time for a coming-of-age tour of the kingdom!
The excitement only intensifies when, on the second day of said tour, his crew discovers a mysterious boy named Athlen chained to a sinking ship. Tal feels an immediate strong connection to him.
Unfortunately, the wind is taken out of his sails when Athlen flees overboard, presumably to his death.
But when he turns up later on dry land and very much alive, Tal has questions. Questions remain unanswered as Tal is kidnapped by pirates.
If only there was a roguish and handsome mystery person who could come to his aid. Otherwise, Tal might have to reveal his hidden magical abilities …
In Deeper Waters has everything you could want from the best gay fantasy novels. Think of it like the literary equivalent of an extravagant dessert.
Plus, we just love a good book set on a boat.

Read In Deeper Waters: Amazon | Goodreads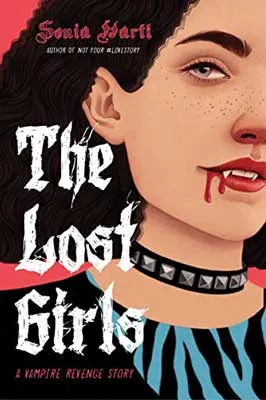 The Lost Girls by Sonia Hartl
Holly Liddell died in 1987. Unfortunately, that might have been the beginning of her problems.
Now stuck as a permanently-16-year-old-presenting vampire, her only career options are late-night Taco Bell shifts.
It wasn't supposed to be like this; she was supposed to spend eternity with her vampiric (now ex) boyfriend Elton Irving. But he ditched her.
Turns out, she wasn't the only girl Elton turned and then discarded, and Elton's other exes are looking to Holly for help in getting even.
At first, Holly is a little conflicted. But when she meets Elton's new intended partner Parker Kerr, she finds herself unexpectedly and uncontrollably drawn to her.
The Lost Girls is one of your classic feminist vampiric revenge LGBT fantasy books. Hopefully, that's as much your cup of tea as it is mine.
Uncover even more vampire novels for teens.

Read The Lost Girls: Amazon | Goodreads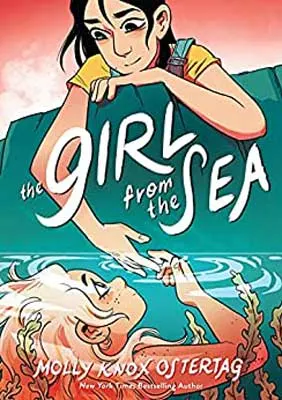 The Girl from the Sea by Molly Knox Ostertag
For someone with seemingly little to stress about, fifteen-year-old Morgan is sure feeling the pressure.
Her tiny hometown is suffocating, and ever since her dad left, her little brother has turned from a friendly companion to a surly miscreant.
On top of this, Morgan's friends feel like they're on a different wavelength to her right now.
Morgan wants to leave, but she doesn't want anyone to know about that either.
Then into her life comes Keltie, in quite a timely manner as it turns out, seeing as she saved Morgan from drowning.
Keltie is not your usual girl. In fact, she's not a girl at all: she's a selkie! And she'd like Morgan to show her around her quaint little island town.
As their friendship blossoms, so too do Morgan's feelings. As well as getting the hell out of town, is it time to start embracing who she truly is?
The Girl from the Sea is one of the cutest LGBT graphic novels to come out (haha) in recent years.
Enjoy even more of the best young adult graphic novels.

Read The Girl from the Sea: Amazon | Goodreads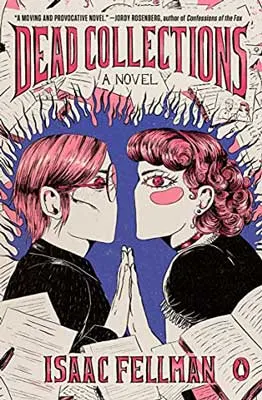 Dead Collections by Isaac Fellman
When he was alive, Solomon Katz was a concert pianist, but these days he puts his meticulous patience to good use in the Historical Society of Northern California archive.
Sol has an unfortunate case of vampirism, a condition made slightly more complicated by the fact that he had only just come out as a trans man when he was turned.
Stuck permanently in the early stages of his transition, he has managed to keep his undead status under wraps.
Then one day into Sol's life comes the exuberant widow Elsie, and the two share a spark.
Elsie came to the archive to donate her wife's papers, but it just so happens that Elsie's wife was none other than Tracy Britton, creator of a 1990s sci-fi show that had a profound effect on Sol's journey towards his own sexual and gender discovery.
As they gradually fall in love, Sol comes to believe that he might find an unlife outside of his musty basement archive after all.
With poignant commentary and allegory for what it's like to be trans, this LGBT fantasy book has big ideas and plenty of wit and humor.
Enjoy even more books with vampires.

Read Dead Collections: Amazon | Goodreads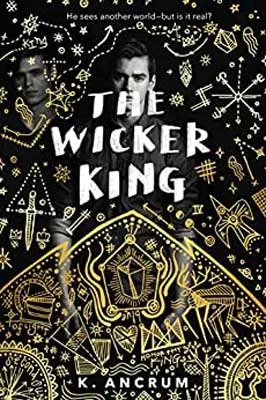 The Wicker King by K. Ancrum
When one person is the golden boy of the varsity rugby team and the other is a misanthropic semi-pyromaniac, you might not immediately think they would be friends. Yet friends they are.
In fact, August Bateman and Jack Rossi have a bond that goes back years, having grown up together and developed a friendship brought about through mutually absent parents.
But Jack is beginning to have hallucinations that are a sign of an increasingly degenerative disorder.
He believes that his reality is being encroached upon by another – an elaborate fantasy world ruled by the Wicker King.
In order to help his friend, August buys into this story, treating it as though it is as real as Jack believes.
And when Jack asks his friend to accompany him on a quest, August accepts, even though he is beginning to lose his grip on what's real and what's not as well.
The Wicker King is undeniably one of the most creative LGBT YA fantasy books on this list.
Explore even more books about the power of friendship.

Read The Wicker King: Amazon | Goodreads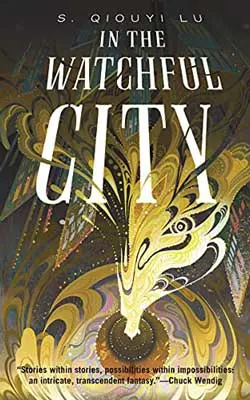 In the Watchful City by S. Qiouyi Lu
The city of Ora is a safe place. It is constantly watched and maintained by a complex living network, which keeps its citizens protected from harm.
This network, called the Gleaming, is made up of extrasensory humans whose perceptions are limited to only the city of Ora and its people.
Anima is one of those humans, and æ take pride in æ work.
But this perfect yet delicate environment is thrown into disarray upon the arrival of a mysterious stranger carrying a cabinet of objects.
These objects are from all over the world, from places the members of the Gleaming are prevented from knowing about.
Anima is conflicted by this man and his trinkets; as ær perceptions begin to take in more than just Ora, æ can't help but begin to also question everything æ know.
This is an intriguing LGBT fantasy book that explores themes of borders, control, and transformation.

Read In the Watchful City: Amazon | Goodreads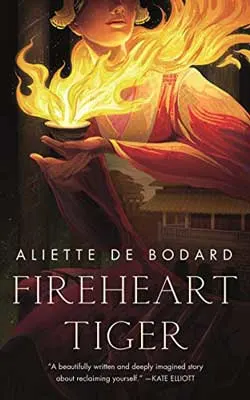 Fireheart Tiger by Aliette de Bodard
Having grown up as a hostage sent to mollify the aggressive and domineering country of Ephteria, Princess Thanh is now returning to her homeland.
But the child who left has now become both a diplomat and the object of romantic desire for the powerful Eldris of Ephteria.
Eldris wants a lot from both Thanh and from Thanh's country, stopping at nothing to get it.
Thanh, however, is distracted by the magical echoes of the fire that gutted Ephteria's royal palace. Could that disaster spur her on to do something she would never before have dared attempt?
Fireheart Tiger is quite a short novella, coming in at barely over 100 pages.
But author Aliette de Bodard manages to pack a lot into this slender tome, and it's (sadly) refreshing to read something with an almost exclusively female cast of characters.

Read Fireheart Tiger: Amazon | Goodreads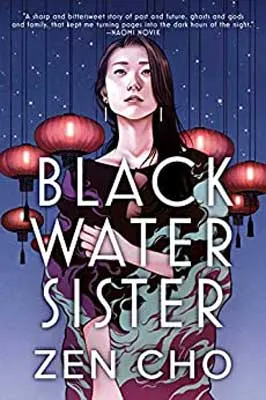 Black Water Sister by Zen Cho
Jessamyn Teoh does not want to move back to Malaysia. She hasn't been there since she was a toddler. But when you're broke, sometimes you gotta do what you gotta do.
It doesn't help that she's very much in the closet and that the stress of her current situation is making her hear voices.
Although, it's really just one voice: the voice of her deceased and estranged grandmother, Ah Ma.
The voice of Ah Ma informs Jess that, while alive, she used to be the vessel for a deity called the Black Water Sister.
The Black Water Sister has a score to settle with a gang boss who offended it, and Ah Ma is recruiting Jess to help them out.
To do this, Ah Ma is threatening to take over Jess' body, spy on her personal life, and spill her secrets. But surely the last thing Jess needs is to be drawn into a fight between a criminal gang and a god?
The number of things going on in this book might be a little overwhelming for some, but that doesn't stop it from being one of the best gay fantasy novels for you to try!

Read Black Water Sister: Amazon | Goodreads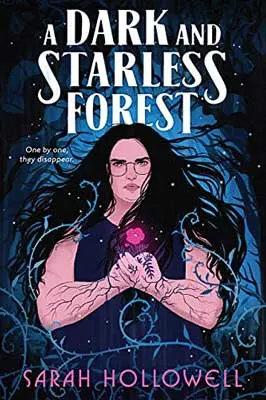 A Dark and Starless Forest by Sarah Hollowell
Like the rest of her eight siblings, Derry was abandoned by her original family. Now she lives in a house by the lake, having been raised by Frank, the man who gathered them all together for their own protection.
Because the children are magical people, Frank has told them the world is not kind to those with magic. Safety for them means staying in the house, away from the eyes of the world.
Fortunately for everyone's state of mind, the house is isolated, albeit surrounded by a disturbing and intimidating forest – a forest that Derry swore never to re-enter.
When the siblings begin to go missing one by one, Derry is forced to take action, even if it means breaking her oath and going back into the forest.
But was she ever really safe at the house, with Frank?
Author Sarah Hollowell's LGBT YA fantasy horror book is almost guaranteed to have your paranoia levels creeping up as you read it.

Read A Dark and Starless Forest: Amazon | Goodreads
More LGBT fantasy books from Christine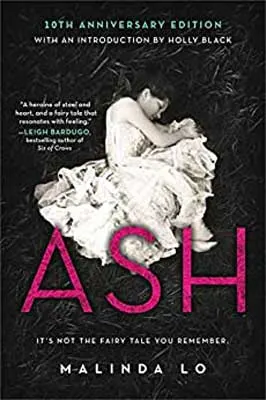 Ash by Malindo Lo
For lovers of LGBT YA fantasy books that are also retellings, Lo's Ash will evoke all of those Cinderella vibes with a much more kick-butt and magical story.
Upon the death of her father, Ash is left to live with a cruel stepmother. She finds herself listening to dangerous faeries on one shoulder and angels on the other.
When Ash meets Kaisa, the King's Huntress – who teaches her how to hunt – Ash must decide the type of life she wants to live and who she truly wishes to be.
Ash is a deeply fulfilling take on a classic, meshing the darkness of loss and grief with the light found in feminine strength and love.
If you enjoy fairytale retellings, explore these YA Mulan books.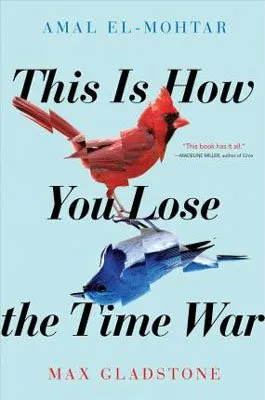 This Is How You Lose The Time War by Amal El-Mohtar and Max Gladstone
Nothing beats a time travel book here at TUL, and This Is How You Lose The Time War is by far one of the most obscure LGBT fantasy books on this reading list.
This short sci-fi novel won't be for everyone, though, but we suggest giving it a chance – even if you find yourself completely lost in the beginning. Maybe have a dictionary handy too.
Red and Blue are two warring time travel agents with nothing in common except that they are mostly traveling through time and space alone.
Leaving little notes and clues for each other, we watch as the two enemies fall in love – which if caught, is punishable by death. And of course, their agencies are onto them.
Just like The Little Prince, every shade of red and blue reminds them of the other, and you'll find yourself wondering if their relationship (and lives) will hold up in times of war.
Wordplay lovers might also get a kick out of this LGBT fantasy book.

Read This Is How You Lose The Time War: Amazon | Goodreads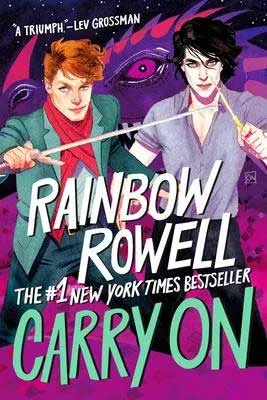 Carry On by Rainbow Rowell
Gay fantasy novels don't get any headier than Rowell's Carry On, which also promises an enjoyable dose of magic, wizards, ghosts, and vampires.
Even more unique and fun, Carry On is a fan fiction spinoff for Rainbow Rowell's Fangirl – also a fabulous read.
As an orphan, Simon Snow is starting his 8th year at magic school, Watford School of Magicks, which he desperately needs since he is terrible at magic.
This proves even more problematic because as the Chosen One, Simon must defeat the evil Humdrum in the UK.
Simon and his roommate/nemesis Baz team up to kill the Mage, and if you read Fangirl, you also know that these enemies have a little spark of romance too.

Read Carry On: Amazon | Goodreads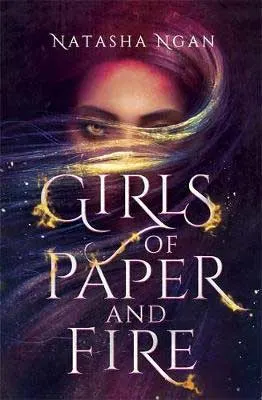 Girls Of Paper And Fire by Natasha Ngan
Girls Of Paper And Fire is one of the best LGBT YA fantasy books for romance seekers and those looking for a rich and suspenseful story about women resisting oppression.
Lei is a member of Paper, the lowest caste, which has suffered the persecution of the kingdom for decades – including her mother who was taken by royal guards to an unknown fate.
Every year, eight girls are chosen to serve the king, and this year, Lei – with her golden eyes – has caught the king's interest.
While training in the royal palace, Lei finds forbidden love as well as takes an interest in justice and revenge.

Read Girls Of Paper And Fire: Amazon | Goodreads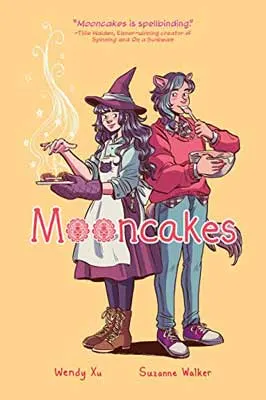 Mooncakes by Suzanne Walker and Wendy Xu
Mooncakes is one of the most enchanting YA LGBT fantasy books with werewolves and witches.
Travel to spooky New England where Nova – a deaf and queer witch – works at her grandmothers' bookstore.
As Nova searches the woods for a demon horse, she runs into her childhood crush and non-binary werewolf, Tam. Evil witches are trying to steal Tam's werewolf magic.
Watch a little romance unfold too.
Mooncakes is a gorgeously illustrated LGBT fantasy book with themes of family and growing up. Snow White forest creatures are an added bonus.
Explore even more books with magic and witches.
Read Mooncakes: Amazon | Goodreads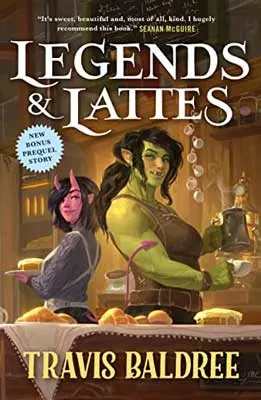 Legends & Lattes by Travis Baldree
Queer fantasy books meet foodie fiction in one of the best underdogs of 2022.
Thanks to social media, the originally indie-published title, Legends & Lattes, became an overnight success – and you know how we feel about hyped books over here…
However, this title is absolutely devour-worthy in its romance, friendships, and ambiance. Viv loves coffee more than the Gilmore Girls.
Giving up a life of violence, Robin Hood-style, Viv opens a small coffee shop in the village of Thune. Yet, no one knows what coffee is, and Viv's never run her own business.
However, with the luck of a legendary Scalvert Stone, Viv's doing pretty OK, including hiring help and new friends who are equally invested in her as well as her dream.
However, once word gets out about the stone and Viv's shop's success, a few people start threatening her business and life. Can Viv keep her business going, with or without the stone?
For LGBT fantasy books that you can finish in a day or two and will leave you with a swelling heart, Legends & Lattes is truly a must-read novel.
Even if you don't like fantasy and monsters, it's hard to dislike this story. From Thimble's baked treats to Tandry's coy attempts at courtship, everything is utterly sweet AF.
Read Legends and Lattes: Amazon | Goodreads
More LGBT Fantasy Books: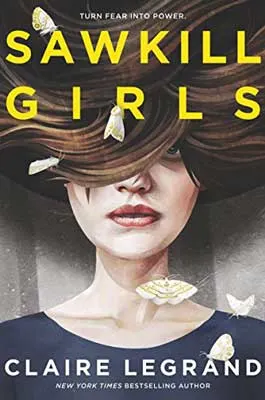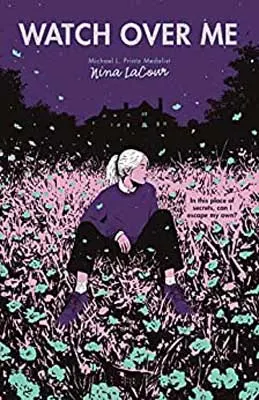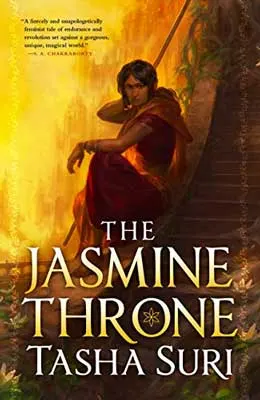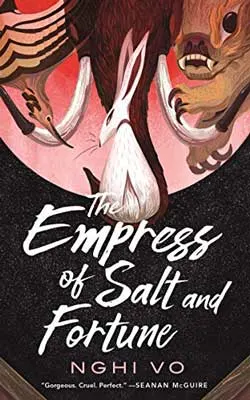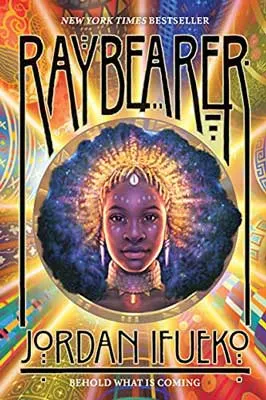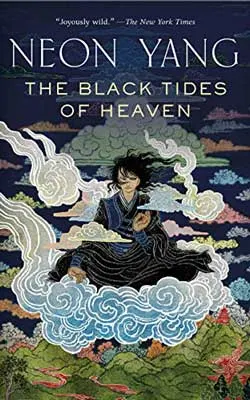 Grab these LGBT fantasy books here:
Save This LGBT Fantasy Book List For Later: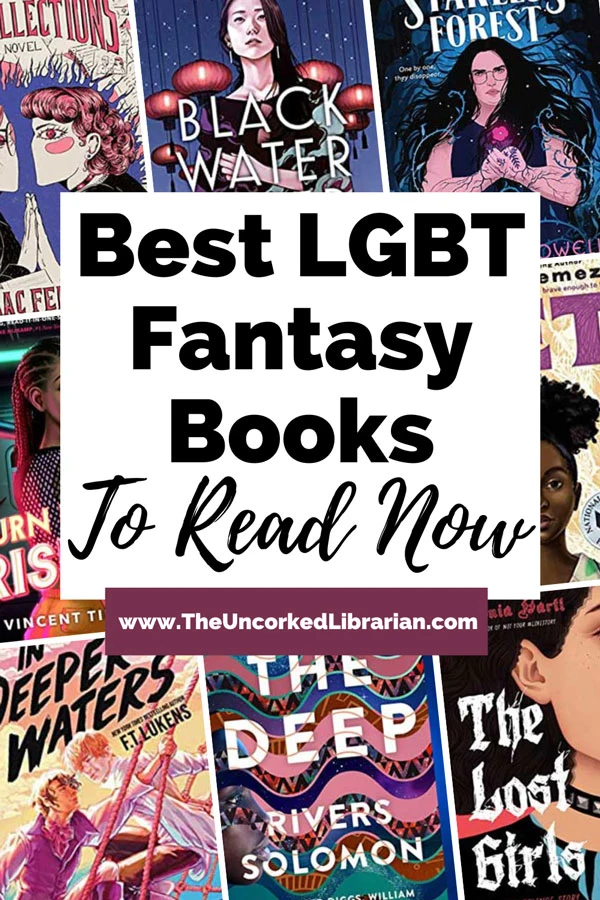 What are your favorite gay fantasy books?
Which LGBT fantasy books do you love and recommend? Let us know in the comments.
Related Articles: