With so many riveting New York novels published each year, how do you choose? Uncover the best contemporary books set in New York City and State to devour right now.
Growing up in CT, we spent quite a bit of time in New York. For us suburban folk, New York City can be a bit overwhelming.
However, we love all of the culture, museums, life, lights, theater, and food that NYC has to offer. Plus, cupcakes!
We also cannot get enough of the New York City books that publish every year. Like WW2 novels, New York books are quite plentiful.
So, what are some of the best books set in New York? Which New York novels should you read before you go?
Below, we are sharing favorite books set in New York City and State to take you there. Unearth books that will tour you through the New York Public Library and tell you where to grab a delicious fish sandwich.
We have NY train thrillers and a plethora of classic retellings.
Some of these New York City novels will invite you to lavish parties while others will send you into the dark underbelly of…InstaMoms. Let's get started!
Road trip around the U.S. with the best books set in every state.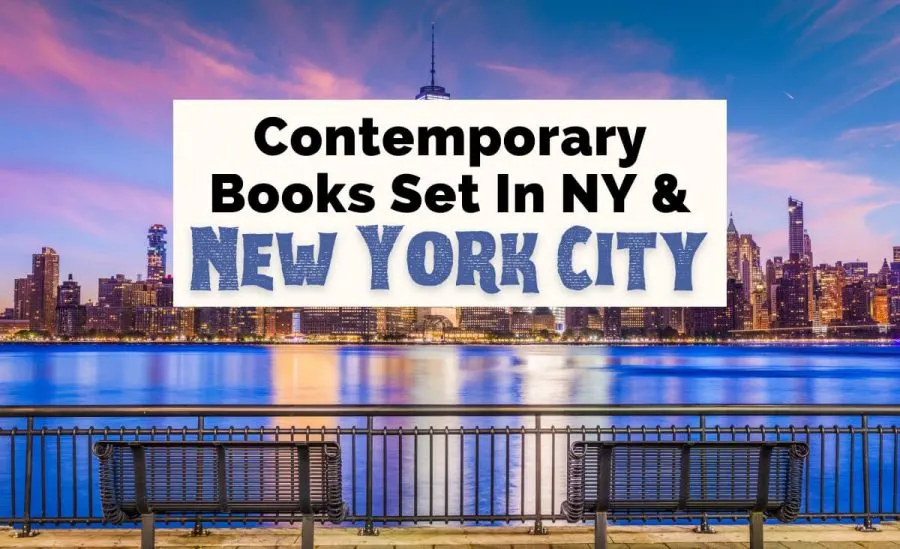 Grab your favorite New York novels here:
Best New York Novels
Books Set In New York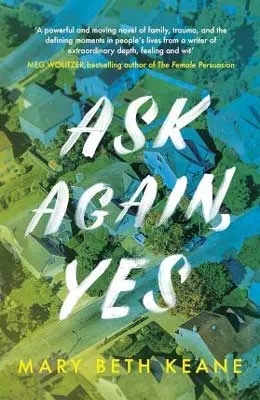 Ask Again, Yes by Mary Beth Keane
When we first read the summary for Ask Again, Yes by Mary Beth Keane, we weren't sure what all of the hype was about.
But then, we began reading this story and felt strong reverberations for humanity in our hearts. The first 100 pages emotionally wrecked us.
We were invested, and yes, Keane is brilliant, making Ask Again, Yes one of our top New York novels of all time.
Just like the relationships among its characters, Ask Again, Yes will put you back together, piece by piece. You may never be the same, though.
Peter and Kate grew up together. Their parents immigrated from England and Ireland. Both of their fathers worked together on the police force.
Peter's mother non-fatally shoots Kate's dad, halting their friendship and budding young love.
Over the course of 40 years, we watch both families evolve, fall apart, love others, disappear, and try to grow and move on from inescapable and intertwined pasts.
How do we overcome the worst in us, including forces we cannot always control? Are we the products of our childhoods? How healing and powerful is the act of forgiveness?
A brilliant book club book filled with emotion, real-life problems, and undying love, we almost don't have words for how the pages of Ask Again, Yes will personally affect you – but we know they will.
This is one of those stories that changes you after reading it. We also think Ask Again, Yes is one of the absolute best books set in New York and NYC. Buy a copy of Ask Again, Yes.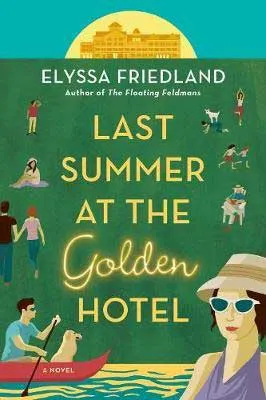 Last Summer At The Golden Hotel by Elyssa Friedland
If you are looking for books set in New York perfect for summer reading, we highly suggest taking a family vacation at The Golden Hotel in the Catskills.
Plus, if you gobbled up all of Schitt's Creek in under a month like we did, we think you'll appreciate Friedland's plot and characters.
Back in the day, all the wealthy New England families would flock to The Golden Hotel for contests, reunions, and elite debauchery.
Unfortunately, The Golden Hotel's two proprietary families, the Goldmans and Weingolds, have failed to enter the 21st century.
With the state of the hotel in rapid decline, the owners must decide if they will sell this iconic Catskill getaway to casino planners.
As the families reunite for one final weekend and vote, their secrets and strongest desires unfold.
Most importantly, we meet their 'new adult' and cutting-edge children. How can these Millenials preserve the legacy of their youth?
A slow burn, dive deeper into dysfunctional family relationships, new romances, and age-old friendships.
We love a story with a tidy ending that isn't predictable or always what you hoped for. The alternative solutions will hopefully make your heart sing.
For New York books, Last Summer At The Golden Hotel will appeal to readers who seek out generational family stories, books set at hotels, and endless nostalgia. Buy a copy of Last Summer At The Golden Hotel.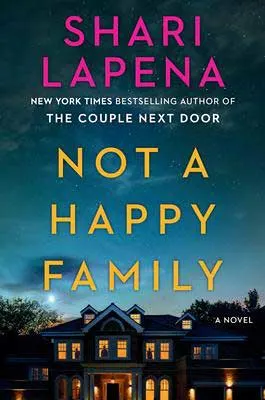 Not A Happy Family by Shari Lapena
Imagine a family where everyone is waiting for their vindictive and viciously cruel father to drop dead. Not only would they gain back their sanity and sense of self-worth, but they'd also inherit boatloads.
This is exactly the scenario that greets murder mystery lovers in Lapena's Not A Happy Family.
One of the most gripping suspense books set in New York, this whodunnit has far too many perfect suspects. In fact, everyone appears guilty.
Upstate New York's Brecken Hill is where want-to-be rich people dream of living. Fred and Sheila Merton are worth millions, but as we know, money can't buy happiness…or love, tact, and decency.
Fred is hideous to his children, and at their annual Easter dinner, he shreds apart all three of them in front of their significant others.
The children may be different in their careers and attitudes, but they share one huge similarity: Their disgust for their father.
That night, both Mertons are brutally murdered, leaving the kids as suspects. Of course, they all lie to the police about that night and their whereabouts.
Their spouses are torn but equally troubled. Doubt exudes from every person.
We aren't sure there is a character you'll trust or actually like, but that's the brilliance of Not A Happy Family.
For fast-paced, devour-worthy New York novels, start guessing the murderer from page one. Buy a copy of Not A Happy Family by Shari Lapena.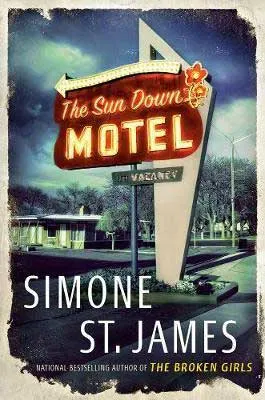 The Sun Down Motel by Simone St. James
In 1982, Carly Kirk's Aunt Viv mysteriously disappears from the Sun Down Motel in upstate New York.
With her mother's recent death and a love for true crime, Carly heads off to the little cursed town of Fell to investigate her aunt's disappearance 30 years ago.
In a chilling timeline that jumps back and forth between Carly's story in 2017 and her Aunt Viv's in 1982, meet the unhappy ghosts at the Sun Down Motel.
Smell the endless cigarette smoke, get locked in with the candy machine, and watch the drug deals and affairs go down while a young boy runs for the pool.
Will Carly uncover the mystery of her aunt's disappearance before getting caught up in a deadly tragedy of her own?
The Sun Down Motel is one of our favorite paranormal New York novels, and one that you will devour into the night…with all of the lights on and doors tightly shut.
If you like the My Favorite Murder podcast, the Ted Bundy Netflix series, or Stay Sexy and Don't Get Murdered, you'll love The Sun Down Motel. Grab a copy of The Sun Down Motel by Simone St. James.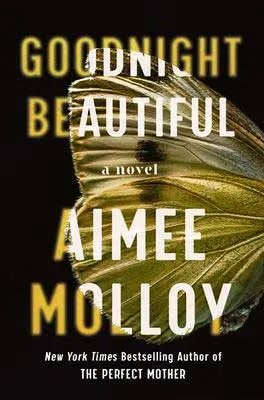 Goodnight Beautiful by Amiee Molloy
One of the creepiest books set in New York, Goodnight Beautiful will make you want to go back and re-read the entire first half…
We got so tripped up on the twist, we kept re-reading the same few pages. That's all we'll say.
Kirkus Reviews named Molloy the "master of clever misdirection," and you know from the start that something is about to go wrong. Will it be deadly?
Sexy playboy Sam Statler and his newlywed wife have just moved from fast-paced NYC to his small hometown in Chestnut Hill, NY to care for Sam's ailing mother.
Sam is a pretty good therapist, and he and his wife love a little role-playing in and out of the bedroom.
We can't say much more, but when Sam goes missing, everyone can't help but wonder if he took his mother's inheritance and ran. Or, is Sam lying hurt or even dead somewhere?
If unreliable narrators are your favorite, this heavily-set New York novel is for you. Goodnight Beautiful is full of shocking twists and turns.
You can also finish this one fairly quickly. Buy a copy of Goodnight Beautiful.
Vladimir by Julia May Jonas
Are you craving an engrossing and provocative dark academia novel set in Upstate New York? Vladimir is a 2022 book release that will have your boozy book club talking for days.
It's an age-old story: Our unnamed narrator's husband sleeps with his younger students.
He is under investigation as the college hires a new but angsty power couple, one of whom is Vladimir.
With a keen sexual interest in Vladimir, the narrator plans one bizarre date at a secluded cabin that takes an even more unusual twist.
The slow-paced narrative promises to suspenseful propel readers forward in one of the best New York novels about sex and power set against age and academia.
Books set in New York don't get any more deeply messed up and, dare we say, disgusting than this. John and his wife are truly detestable; yet, you cannot stop watching…or reading. Buy a copy of Vladimir.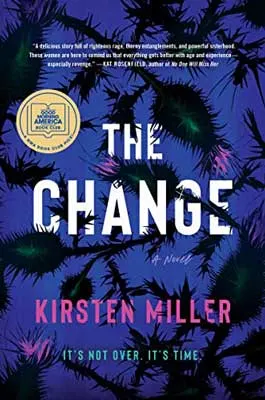 The Change by Kirsten Miller
Craving New York novels with middle-aged, female protagonists? We most definitely were.
The Change is filled with strong and powerful women who aren't afraid to talk about periods, sex, and menopause.
Laugh out loud with Nessa, Jo, and Harriet – all of whom have supernatural powers. Nessa can see the dead. Harriet is a witch, and Jo has fiery strength.
While on the beach in the rich, gated part of town, female teenage ghosts approach Nessa.
One of the young ghosts leads Nessa to her dead body, which is wrapped in a trash bag with a disturbingly neat bow.
The women work together to find the killer(s) and avenge these young women. Will the police take them seriously or are they in on it? Who can they lean on and trust?
And, can you get away with murder when you are rich? What does this say about the institutions that are supposed to protect us?
A novel that takes place in Long Island, New York, The Change will most appeal to witchy book lovers.
Find feminist themes of friendship, love, class, and careers. You'll miss these ladies when the book is over.
We named The Change as one of the best novels of 2022. Buy a copy of The Change.
Dava Shastri's Last Day by Kirthana Ramisetti
One of the most thought-provoking and slow-burn books set in New York, Dava Shastri's Last Day will have you thinking about the life you've led, the legacy you leave behind, and the sacrifices you've made to achieve that legacy.
Dava Shastri is indeed dying. Yet, she's not dead yet as the news is reporting.
As her family sits in front of her on secluded Beatrix Island wondering why this is so, they quickly learn that Dava wants to see what the world is saying about her.
Rich, famous, and self-made, Dava has contributed so many wonderful things to the world and helped numerous people succeed.
Yet, as she reads her tributes, she's shocked that the focus is on the bad. The news is filled with gossip and secrets, including an alleged love affair and a possible secret daughter.
Dava is complicated, imperfect, and utterly amazing, but will she and her children be able to recognize both the good and bad of her impact to reconcile their relationships before she passes away? Grab a copy of Dava Shastri's Last Day.
YA Novels Set In New York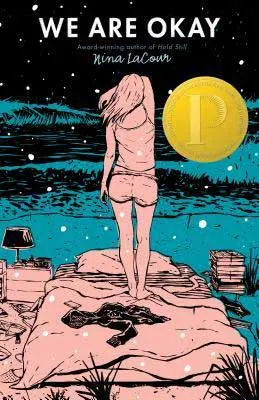 We Are Okay by Nina LaCour
Imagine crying your way through a novel on a Friday night. One of the best YA LGBTQ+ books set in New York (and also California), don't miss 2018 Printz award-winning novel, We Are Okay.
Perfect for new adults, LaCour's emotional & poetic narrative will grab at your heart and never let go.
With poignant and finely examined themes of grief, mental health, and family, readers will appreciate the literary tie-ins as well as the complicated but heartfelt friendship between Marin and Mabel.
Who knew cereal bowls and paper snowflakes could be so affecting?
Mabel and Marin are best friends. An intimate night on the beach solidifies their love for each other, making them more than just friends.
When Marin's grandfather doesn't return from a walk on the beach, though, her life suddenly crumples. He was Marin's only remaining family.
Marin flees to New York a month earlier than expected for college. Leaving without so much as a goodbye, Marin refuses to text back Mabel or clean up her grandfather's messy secrets and mental illness.
Learning that her grandfather lied, Marin is hurt and orphaned. When Mabel shows up for a three-day visit around Christmas to try to reach her, Marin has to reconcile her loneliness, love, and a broken heart.
Those three days are incredibly powerful and will stay with us long after this book is closed.
For raw New York novels, We Are Okay will touch something in your soul.
The dual timelines add to the suspense of Marin's future and provide insight into her healing process. Buy a copy of We Are Okay.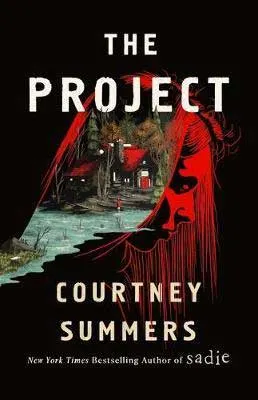 The Project by Courtney Summers
We devoured The Project as readers who are fascinated by shows like Kumare, Wild, Wild, Country, Bikram, and Waco. This is one of the best creepy YA New York novels about cults.
When their parents die in a horrific car accident, Lo's sister Bea joins The Unity Project, a charitable organization that isn't quite what it seems. Let's be real. The Unity Project is a cult.
Can Lo expose the group for what they really are? Or, will she fall under its leader's charm? Can she rescue her sister?
The ending threw us for a loop, and you'll feel for both of the sisters and their ill-fated decisions.
The Project has strong themes of pain, loss, and community. Grab a copy of The Project.
New York City Novels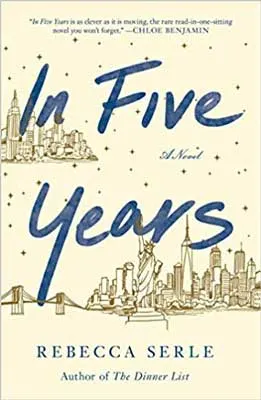 In Five Years by Rebecca Serle
Would you change your life's course if you had one seemingly real dream or premonition about the future? Could you prevent what you saw or was that outcome always inevitable?
This other-worldly scenario greets Dannie Kohan, a lawyer who has planned out the perfect life ever since her brother died in a drunk driving accident.
On the night of Dannie's calculated engagement, she falls asleep only to 'see' herself, 5 years in the future, in the arms of another man.
Oftentimes we can all appreciate a short novel that you can finish in half a day. We devoured In Five Years by Rebecca Serle in under four hours. This is by far one of our all-time favorite books set in New York City, too.
Plus, if you are looking for a friendship and love story, In Five Years will leave you in tears while having all of the feels.
This is not your average love story, either, making the relationships all the more precious and powerful. The ending of the book completely threw us off balance.
TUL named In Five Years as one of the best books of 2020. This NYC book would be awesome for book clubs. Grab a copy of In Five Years.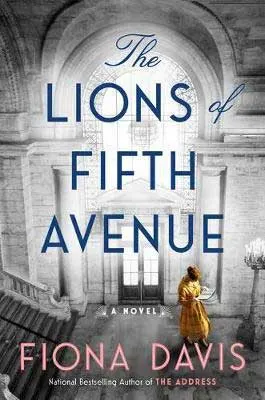 The Lions Of Fifth Avenue by Fiona Davis
If you love libraries, literature, and feminism, don't miss The Lions Of Fifth Avenue, one of our favorite historical fiction books about New York City and its gorgeous library.
In 1913, Laura Lyons and her husband are residing in the New York Public Library superintendent's apartment. We are jealous.
Although Laura has a lovely family, she wants more for her life, including a career and higher education. She joins a radical women's rights club and begins studying for a journalism degree.
Laura is knocked off her current course (and feet) when she meets another strong woman. At the same time, the NYPL's most valuable books start disappearing. Is her family responsible?
With intricate and alternating timelines, in 1993, readers meet Laura's granddaughter, Sadie. As rare materials once again go missing from the NYPL, Sadie must explore her family's mysterious past.
Can Sadie save her job while overcoming her own self-imposed spinsterhood? Will Sadie learn from the past?
The Lions Of Fifth Avenue is an evocative historical NYC novel and book about books filled with brilliant women. We loved being transported to New York in both the early and late 1900s.
Thrilling, enraging, and full of passion, you'll cheer for these women who desire independence and want to leave their mark on the world. Buy a copy of The Lions of Fifth Avenue.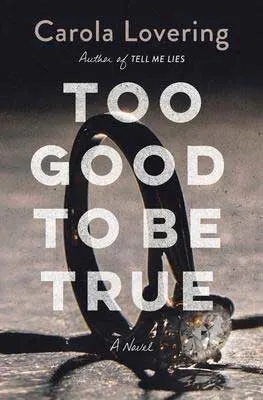 Too Good To Be True By Carola Lovering
A thriller set across New England — CT and MA — as well as NYC, and one of our BOTM selections, we enjoyed Too Good To Be True far more than expected. This NYC book recommendation is especially fitting for Lisa Jewell fans.
Skye Starling has OCD and is worried that she will never meet the perfect husband. Then, Burke Michaels enters the scene and gives her everything she could ever want. It all happens so fast. Is it…too good to be true?
Unfortunately, Burke is…well…married to someone else and something truly sinister is lurking behind the scenes. We also get to know more about Burke and his wife, Heather, through journal entries.
Heather has been with Burke since they were teenagers, and let's just say that her youth greatly influenced her present situation.
We loved the multiple plot twists throughout Too Good To Be True, and we certainly didn't see all of the jaw-dropping surprises coming our way.
We also appreciated that the ending wasn't as neat or as predictable as it could have been. Heather's obsessions added extra dimension and edge to the story.
Lastly, the plethora of gray areas promise to engage readers. Too Good To Be True would make for a great book club book. Buy a copy of Too Good To Be True By Carola Lovering.
Join The Uncorked Reading Challenge Today
---
Travel around the world with the Uncorked Reading Challenge. Get the best book and movie recs straight to your inbox. Sign Up Now.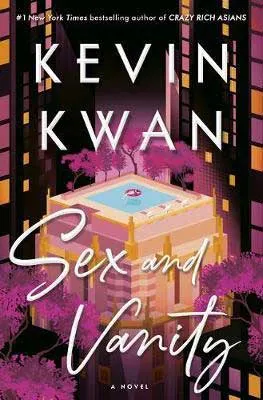 Sex And Vanity By Kevin Kwan
For Crazy Rich Asian fans, Kwan is back at it with a standalone and A Room With A View retelling, Sex And Vanity.
Travel to the fancy and elitist Amalfi Coast as well as NYC.
Although not quite as character and family-building as his first series, Sex and Vanity promises excessive wealth, a couture rom-com, and quite a few laughs.
Lucie first meets George Zao during a wild wedding weekend in Capri. Chinese-born but raised in Australia, George's mom is both envied for her wealth but also ostracized for her gaudy taste.
Lucie is a Churchill with pilgrim blood from her father and Chinese-American roots from her mother.
Although Lucie doesn't like George, they are caught via drone in a comprising situation. She desperately wants and needs him.
Fast forward years later when Lucie is now engaged to new wealth and chump, Cecil. Cecil is a bit of a pompous, racist slug.
With their engagement on the fritz, it's timely that George has moved to New York City to work on eco-friendly architecture.
Lucie must learn to love herself before she can pick her man.
Kwan immerses readers in pop culture references like Mary Berry and Moira Rose. The excessive imagery paired with themes of racism, ethnicity, and culture, make for a strong New York City novel.

Lucie may be no Rachel, but her story is more about self-awareness and love.
Along with being a lascivious and lavish book set in NYC, you'll also find this title on our favorite island books and Italy books reading lists. Buy a copy of Sex And Vanity.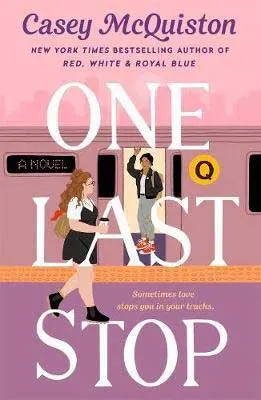 One Last Stop by Casey McQuiston
You might recognize bestselling author Casey McQuiston from Red, White, & Royal Blue — one of our favorite LGBTQ+ books perfect for new adults.
Now, One Last Stop is one of the most talked-about New York City books of 2021.
Meet twenty-three-year-old August. August has jumped from school to school all over the U.S.
Not quite lost but not yet found, August is intelligent and way cooler than she thinks — but she's also never been seriously romantically involved.
When August meets a beautiful and mysterious woman on the train, her entire life's outlook changes. However, Jane looks a little punk-style old-fashioned and is always on the same train as August.
Come to find out, Jane's from the 1970s and displaced in time. Can August help release Jane from the train's energy? And if she does, is she losing the love of her life forever?
A feel-good, older coming-of-age story, laugh out loud and be utterly dazzled with this popular time travel romance. You'll love the friendships and community August builds in New York City.
If the Su Special sounds absolutely delicious and you love books with restaurants, don't miss our foodie fiction reading list. Grab a copy of One Last Stop.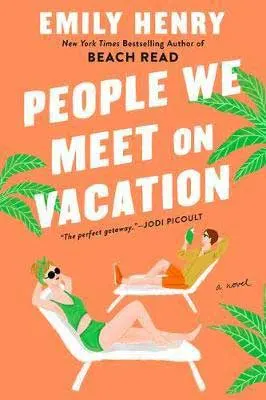 People We Meet On Vacation by Emily Henry
We debated putting People We Meet On Vacation on our New York books reading list, but parts of the novel do indeed take place in New York City.
In fact, working in NYC is part of the motivation behind Poppy's career and life crisis. This title is also heavily set in Palm Springs, CA, and will transport you around the world for those tropical luxury vacations.
Travel bloggers can also appreciate that Poppy works for a travel magazine. While she has everything that she could ever want — paid for travel to beautiful and coveted destinations — Poppy isn't happy.
Uninspired and heartbroken, Poppy's struggling to write about exhilarating vacations. The fallout with her best friend and vacation buddy, Alex, does not help.
Find laugh-out-loud moments but also a somewhat tedious countdown over the years. Don't say we didn't warn you.
The terrible AC in Palm Springs and meeting different people from around the world will engage you. Poppy's boss is our hero.
One of the most talked-about summer NYC books of 2021, we didn't absolutely love People We Meet On Vacation as much as others. We are grumpy readers sometimes.

However, we can appreciate that our readers adored this novel. We also loved Henry's Beach Read — maybe we set the bar high. For a fun read about travel, why not, though. Grab your copy of People We Meet On Vacation.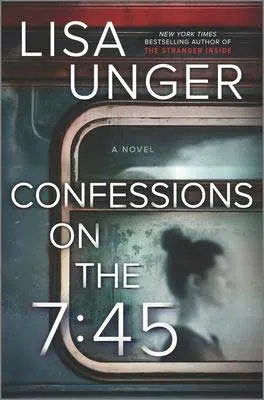 Confessions On The 7:45 by Lisa Unger
Imagine meeting a stranger on a train who could forever change your life — and not in a good way.
Maybe sharing that nip started as an innocent gesture but the next thing you know, someone ends up missing…or dead. Clearly, Selena never read Highsmith.
If you enjoy surface-level train thrillers and fast-paced mysteries, Unger's Confessions On The 7:45 will have you on edge wondering who is in charge here.
Similar to Pretty Little Wife by Darby Kane and inspired by Highsmith's Strangers On A Train, Selena catches her husband sleeping with the nanny. She confesses this to a random train commuter. With the nanny now missing, who is responsible?
Something darker is at play. In the end, you'll doubt your own ethics. This is one of the most chilling New York novels on this reading list. Buy a copy of Confessions On The 7:45.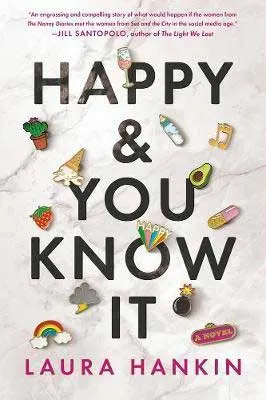 Happy & You Know It by Laura Hankin
Another Book Of The Month selection, Happy & You Know It is not our usual type of reading.
However, one of the most hilarious and relevant Instagram books set in New York City, watch as a rich mommy playgroup falls apart over affairs, Instagram, and…vitamins!?
Kicked out of her now-infamous band, Claire is broke and in desperate need of a job. Any job.
When the beautiful and seemingly perfect mom Instagrammer, Whitney, offers Claire a generous salary to play children's songs for a tight playgroup, Claire immediately says yes.
Despite feeling like the hired help, Claire adores the playgroup and their children, even though she has nothing in common with them.
The closer they get, though, the more Claire realizes that their worlds are not so picture-perfect…
We appreciate the women's relationships, worries, and growth as a light and humorous New York book. Plus, for fictional books about musicians, you cannot go wrong.
Happy & You Know It is captivating and fun, especially if you enjoy friendship novels. Grab a copy of Happy & You Know It.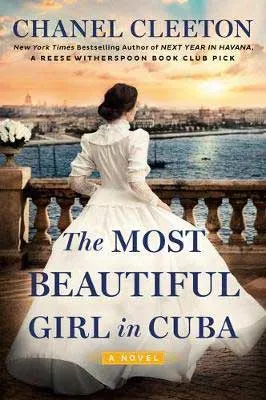 The Most Beautiful Girl In Cuba by Chanel Cleeton
Chanel Cleeton is a goddess of historical fiction. Here at TUL, we gobbled up Cleeton's The Last Train To Key West.
One of the most-anticipated 2021 books set in NYC and Cuba, The Most Beautiful Girl In Cuba is based on the true events and life of Evangelina Cisneros, a falsely accused Cuban prisoner.
Cisneros became a political symbol of the Cuban War of Independence. The story follows three women fighting for liberation in the late 1800s.
The competition between the newspapers, their values, women's roles, and the importance of the media, especially relevant today, added depth to the plot.
Readers will witness the contradictions of the Gilded Age set against revolution. We championed the feminist tones and romances.
You'll also learn much more about Cuban independence from the Spanish. Buy a copy of The Most Beautiful Girl In Cuba by Chanel Cleeton.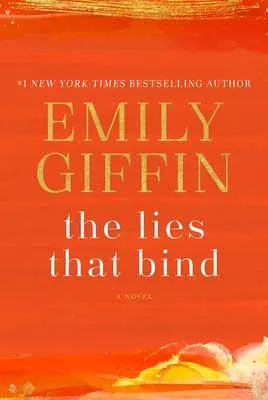 The Lies That Bind by Emily Giffin
For books about New York City and 9/11, Giffin was one of the first authors to create a fictional story capturing this horrific day and its aftermath.
In The Lies That Bind, Cecily Gardner wants to call her ex-boyfriend, Matthew. A mysterious and handsome man at the bar intervenes and tells her not to.
Over the course of drinks and meaningful conversation, they snuggle in under the sheets together. However, Cecily doesn't even know his name.
Grant is a trader with a twin brother suffering from ALS. As Cecily falls for Grant, he tragically goes missing during 9/11, having worked in one of the Towers.
When Cecily sees Grant's face on a missing person poster, a phone call changes Cecily's current reality.
Encounter a spiderweb of lies and emotions. Giffin questions how we untangle deception and if the truth will really set us free.
Can we forgive and see our own imperfections? Is love still love even if it is grounded in lies? Is love ever pure? Grab a copy of The Lies That Bind.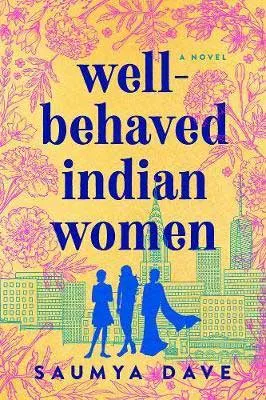 Well-Behaved Indian Women by Saumya Dave
Simran is studying for a Master's degree in psychology even though she dreams of pursuing journalism. Engaged to her high school sweetheart, she is also gearing up for a gossipy and large Indian wedding.
Filled with self-doubt, Simran meets her favorite writing idol. When she ends up kissing him, she realizes that she isn't being true to herself.
Plus, her own mother, Nandini, is struggling within the confines of an arranged marriage and discriminatory career.
In India, Simran's grandmother is working to change the oppressive and sexist educational system in an impoverished community.
All three women fight hard for their families, communities, and professions while trying to maintain a strong sense of selfhood. Not to mention they are battling sexism, racism, and prejudices.
Well-Behaved Indian Women is one of the most inspiring and beautiful slow-burn, multigenerational family books set in New York City. Find strong messaging and characters that resonate deeply within you.
The commendable ending truly emphasizes the women. Even more relevant today, Nandini's struggles exemplify institutional white privilege. Grab a copy of Well-Behaved Indian Women.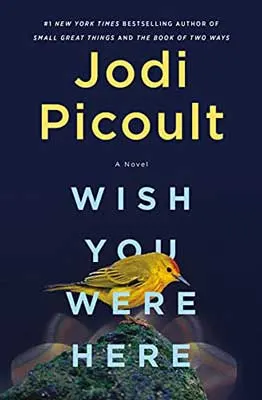 Wish You Were Here by Jodi Picoult
Find one of the first mainstream books set in NYC to address the recent global pandemic. Please know that this may be triggering for some.
On a lighter note, if you enjoy island-set books, you will also travel to the Galápagos.
Diana's surgical resident partner, Finn, convinces Diana to take their vacation to Ecuador while he stays behind to battle the virus. No one realizes how serious things are about to get.
Diana arrives just as Isabela Island shuts down, and thankfully, a local grandmother adopts her. Diana doesn't speak the language and nothing is open.
Falling into relaxing island life and getting to know the locals, including a young woman who self-harms, Diana reevaluates her current Type A life plan. She stops being a tourista too.
Diana will never leave the island as the same person — although beware of the enormous plot twist.
True to Picoult, find an edgy discussion about pandemic 'politics' and its devastating effects on hospitals and staff. Picoult also addresses themes of mental health, family, and the role of science.
Lastly, Picoult promises a book that will transport you to the Galápagos Islands. Swim with the sea lions and spy flamingos in pink lagoons. Read Wish You Were Here.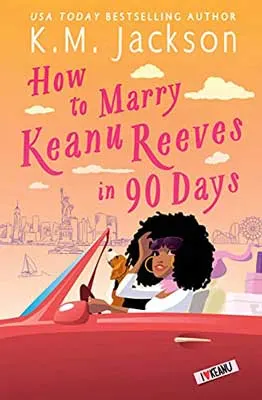 How To Marry Keanu Reeves In 90 Days by K.M. Jackson
For newer and hilarious rom-com books set in New York City, Bethany Lu Carlisle will have you chasing Keanu Reeves and his look-alikes all over NYC and LA. This is a feel-good, laugh-out-loud novel.
When Lu discovers that her lifelong crush, Keanu Reeves, is getting married in 90 days, her world implodes. He's supposed to stay sexy, single, and gainfully employed forever.
On top of this heartbreaking news, as a talented artist, Lu is letting a lucrative and much-needed job offer sit on the table. The company isn't quite letting Lu be herself, and she questions their approach.
Determined to stop Keanu Reeves from the biggest mistake of his life, Lu and her best guy friend non-creepily stalk Reeves. Tru has the hookups, but he also has another agenda.
Both Tru and Lu have unspoken fears as well as longtime crushes on each other. Can Lu prevent the future while letting go of the past? Grab your copy of How To Marry Keanu Reeves In 90 Days.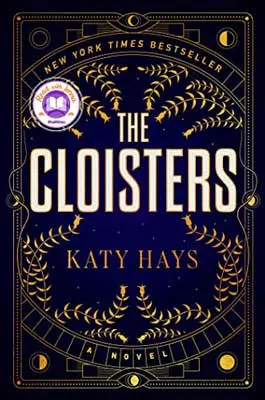 The Cloisters by Katy Hays
Fans of atmospheric dark academia novels will feel the heat of the summer – and the pressure of the academic world – in The Cloisters.
Ann heads to New York City's Metropolitan Museum of Art in hopes that her summer job will prove her worthiness in the elite academic world.
However, when the position is no longer available, The Cloisters' suspicious staff eagerly adopt her. We soon learn that everyone is out for themselves and will do anything to shine in the spotlight.
What will Ann sacrifice, and will she survive?
Is her fate already written in the tarot cards she's researching?
New York City novels don't get any more deadly or gripping than this. Grab your copy of The Cloisters.
YA Books Set In New York City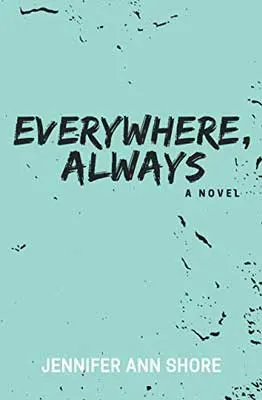 Everywhere, Always by Jennifer Ann Shore
If you are looking for feel-good YA indie books set in NYC that will make your eyes misty, pick up Everywhere, Always.
You know that we love Jennifer Ann Shore for New Wave, In The Now, The Extended Summer of Anna and Jeremy, and Metallic Red.
As Avery overcomes the tragic loss of her mother, she finds herself suddenly gaining an entirely new family and life. You may think that you already know this story — where fitting in is hard and her stepmother and siblings are evil.
However, Shore shakes this old narrative into something much more fulfilling and kind. What a beautiful surprise.
Watch as Avery navigates the streets of NYC while her new world both adopts and fully embraces her. You'll want to hug each and every character as they guide Avery to find herself, peace, and love.
Funny yet deeply touching, this is our favorite YA book and coming-of-age story by Shore so far. Buy a copy of Everywhere Always by Jennifer Ann Shore.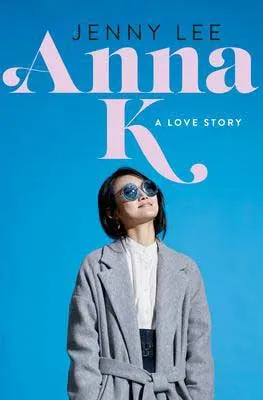 Anna K by Jenny Lee
If you are looking for the YA version of Kevin Kwan (with more drinking and drugs), you'll love this over-the-top romance written in honor of Tolstoy's Anna Karenina, Anna K. Can you tell that we love New York City novels that are classic retellings, too?
Add in a little Gossip Girl, and I am sure that conservative parents are going to be a little less than pleased with this one. Plus, if you watch Riverdale, this New York City book is for you.
Like Anna Karenina, Anna K. is long, alludes to many of Tolstoy's characters and their tragedies, and references Tolstoy himself.
How you tie Tolstoy into a Kim Kardashian-like sex tape is beyond us, but we are here for it. Plus, Lee addresses drug addiction, mental illness, and dysfunctional families.
Lee also tours readers through high society NYC teenage life. Explore love triangles, bad and good parenting, and teenage romance.
Anna K is your everywoman, and we hope that you fall for her story as much as we did. Grab your copy of Anna K.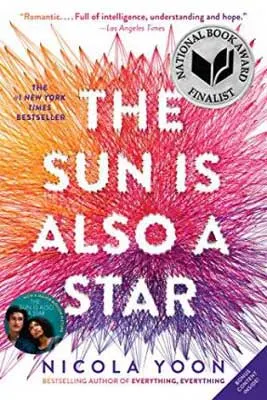 The Sun Is Also a Star by Nicola Yoon
Back in our public library days, we read The Sun Is Also A Star with our teen book club. Everyone was instantly hooked on Yoon, who you might remember from Everything, Everything.
Both a National Book Award Finalist and Michael L. Printz Honor Book, this is one of our top YA New York novels for teens because it is heartwarming yet addresses harder and real immigration issues.
Over the course of one day in New York City, Natasha and Daniel get to know and fall for each other. Daniel is heading to a college interview that he promised his family.
Meanwhile, Natasha's family is about to be immediately deported to Jamaica. Told in alternating storylines, we watch as their lives keep coming together. Buy a copy of The Sun Is Also A Star.
Follow a blogger who takes literary dates across NYC:
One of our favorite and beloved bloggers, Lauren, has an entire blog with NYC books and literary dates that follow the plots of their stories. Check out Lauren's website, Literary Dates, to travel "from page to place" with books set in New York City. We know you'll love her hilarious voice and creative bookish dates.
More Most-Talked-About New York Novels In Our TBR Pile:
The Personal Librarian by Marie Benedict and Victoria Christopher Murray
Harlem Shuffle by Colson Whitehead
Dash & Lily's Book of Dares by Rachel Cohn and David Levithan (we watched the TV series)
City Of Girls by Elizabeth Gilbert
The Starless Sea by Erin Morgenstern – also on our Dark Academia Book List
Homegoing by Yaa Gyasi – also on our sisters reading list
Save Your Favorite New York Novels For Later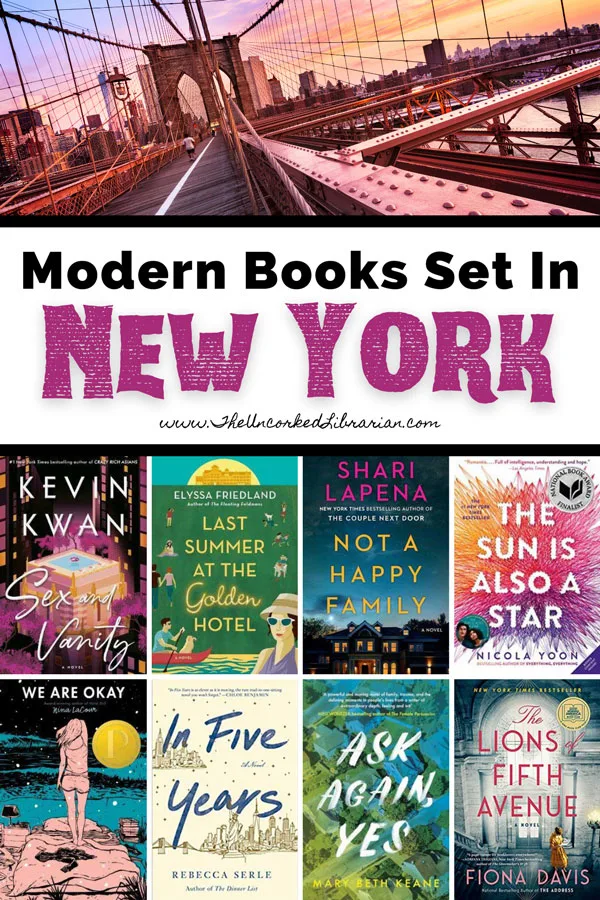 Snag your favorite New York novels here:
What New York City books do you love? What are your favorite books set in New York?
While there are tons of classic books set in New York City, what are your favorite contemporary books? Which books set in New York have transported you there?
Lastly, have you read any of the New York novels above? Which ones did you love? Not love? Let us know in the comments.
P.S. If you love books set in big cities, don't miss these books set in Los Angeles, CA (and more).
Big City Book Lists
Rome – Ancient & Modern Day
Books About London
Paris Books
More Books Across America Reading Lists To Love:
Best Books In Every State
Books Set In MA
Books About Salem, MA & The Witch Trials
North American Reading Guide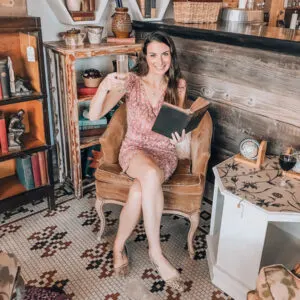 Christine (she/her) is the owner, lead editor, and tipsy book sommelier of The Uncorked Librarian LLC, an online literary publication showcasing books and movies to inspire travel and home to the famed Uncorked Reading Challenge.
With a BA in English & History from Smith College, an MLIS from USF-Tampa, and a U.S. Fulbright Fellowship in Christine's back pocket, there isn't a bookstore, library, or winery that can hide from her. Christine loves brewery yoga, adopting all of the kitties, and a glass of oaked Chardonnay. Charcuterie is her favorite food group.