12 Best Books About London To Read Now
Travel across Europe with the best books about London to take you there and teach you more, fiction and nonfiction included.
From Westminster Abbey and The Globe to beautiful bookstores and cozy pubs, London is a book and history lover's dream.
Of course, there is so much more to the city, which is why we cannot read enough London books to transport us there and teach us more about London's incredible and rich history — full of triumph and conflict.
Below, find intriguing and heart-rendering nonfiction books about London filled with tales of murder as well as history filled with people, literature, immigration, and times of transformation.
Some of the best books on London are also fiction, showcasing love, friendships, the power of community, prejudices, and racism.
We'll even include a few fun books set in London – mysteries, LGBTQ+ romances, and contemporary fiction. Let's get started!
Read across the continent with all of our European book lists.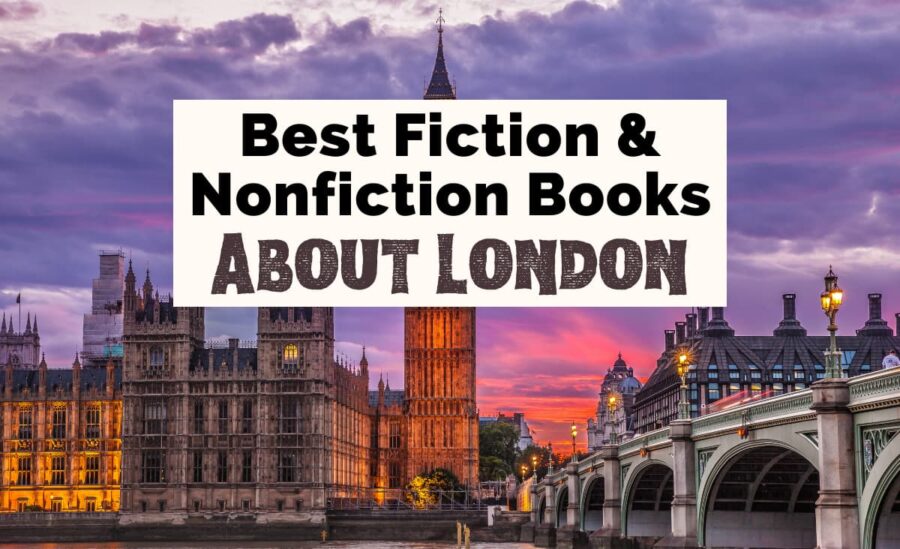 Grab the best books on London here:
12 Best Books About London To Read Before You Go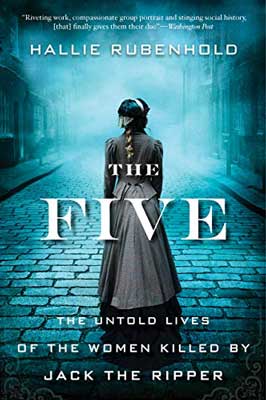 1. The Five: The Untold Lives of the Women Killed by Jack the Ripper by Hallie Rubenhold
There are more books, essays, and articles written about Jack the Ripper than there are about any other serial killer. Well, it feels like there are; don't quote me on that, though.
Because of the mystery of his identity, and the extreme nature of his killings, both professionals and amateurs from many fields of criminology have spent long hours discussing their theories about the case.
And in obsessing over just who Jack was, we often forget about his victims completely. But they matter, too. In fact, they matter a lot more than Jack does.
Hallie Rubenhold has produced a well-researched and compelling book that covers the histories of each of the five* women murdered by Jack the Ripper.
Her book delves into why each of their individual circumstances led them to be alone and destitute on the streets of Whitechapel in that treacherous fall of 1888.
Looking to right the wrongs caused by the misogyny that led to these women's stories being overlooked and sidelined, The Five stands as one of the most important books about London's infamous criminal history.
*Exact numbers vary, but there are five deaths that have been definitively linked to Jack the Ripper.
Discover even more fiction and nonfiction books about serial killers and their victims.

Read The Five: Amazon | Goodreads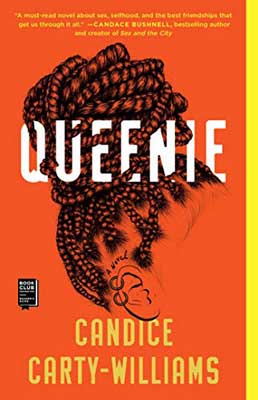 2. Queenie by Candice Carty-Williams
This is a messy book about messy people and messy relationships – in a good way.
Queenie is a young, 20-something Jamaican-British Londoner who has just (unwillingly) split up with her long-term White boyfriend, Tom.
Queenie feels lost and discarded, although really she's much better off without Tom.
Following the break-up, Queenie engages in increasingly self-destructive and promiscuous behavior. She continually pushes away those closest to her, while also struggling to stay afloat.
Queenie is an all too real portrait of depression, anxiety, and what it means to spiral out, as well as the effects of generational trauma.
The book also examines how mental health struggles can be compounded in communities where asking for help can be seen as a weakness.
The book is often pitched as a Black Bridget Jones, but if you're looking for lighthearted London books, Queenie isn't it.
Instead, this is a much darker book, and the humor is a little less transcontinental.

Read Queenie: Amazon | Goodreads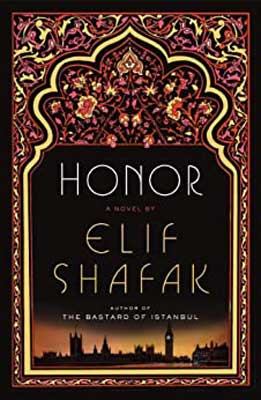 3. Honor by Elif Shafak
Honor opens in 1992 with Esma, a woman conflicted about having to pick up her brother who is getting out of a nearby prison.
From here we return to a small Kurdish village in 1945 where two twin sisters, Jamila and Pembe, are born, much to the dismay of their mother.
As the girls grow up, they couldn't possibly be more different from each other.
And as adults, Pembe leaves with her husband Adem to London, while Jamila stays behind to take care of their parents and become a midwife.
Both sisters face their own difficulties; however; the bulk of the book focuses on Pembe's life in London.
After Pembe's husband leaves the family, her son Iskender becomes the de facto man-of-the-household, thrusting him into a responsibility he's not yet ready for.
Honor is a heartbreaking book about family, betrayal, immigration, and forgiveness.
It is also one of the best books about London, as we get to see the city through the eyes of various characters, and their relationship to it.

Read Honor: Amazon | Goodreads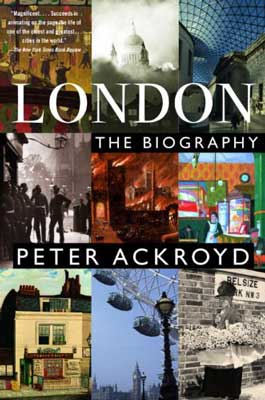 4. London: The Biography by Peter Ackroyd
Beginning in the late Jurassic Period, moving through the time of the druids and then right up until the 21st century, author Peter Ackroyd's take on London, its history, and its culture is expansive.
This is also not quite what you might expect to read when you pick it up.
With plenty of quotations both literary and from the locals of the time, London: The Biography is an almost conversational series of period examinations that focus on tiny details that collectively paint a unique and vivid picture of the United Kingdom's capital city.
If that makes it sound boring, it isn't.
By avoiding a steady chronological pace, and instead, zoning in on one particular mini-period at a time, Ackroyd keeps things much more entertaining and engaging than if he had made a list of events and notable figures.
Ackroyd has also written many other books about London, both fiction and nonfiction, covering topics such as the Thames River, London's queer history, and several books on Charles Dickens.

Read London: Amazon | Goodreads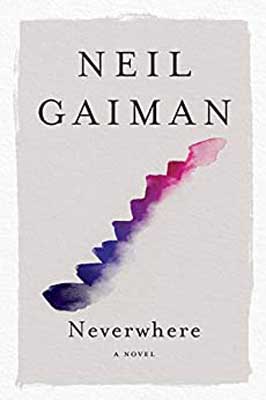 5. Neverwhere by Neil Gaiman
In an instant, Richard Mayhew's life has been changed forever.
One moment he's living an ordinary businessman's life in London, the next a strange girl literally falls at his feet.
Seeing that she's injured, Richard decides to help her, and by doing so becomes entangled in her world, and her destiny.
This girl is from London Below – a place unseen by those on the surface but that has nevertheless always been there.
Unfortunately for Richard, London Below is infinitely more dangerous than the business world of regular London. Hopefully, he can survive long enough to find his way back.
Author Neil Gaiman's modern urban fantasy is one of the best books set in London to take the city and reexamine it in ways you wouldn't have thought of before.
By changing the reader's perceptions of things they take for granted – such as the public transport system, or the names of London's districts – Gaiman breathes new life into a city that many consider themselves to be experts on.
This is essential reading for anyone interested in fantasy books about London. Neverwhere also makes for a great fantasy book to listen to.

Read Neverwhere: Amazon | Goodreads
Take The Uncorked Reading Challenge!
Travel around the world with our Uncorked Reading Challenge. Never be late to the party with unique new book releases. Get the latest movie and book lists straight to your inbox.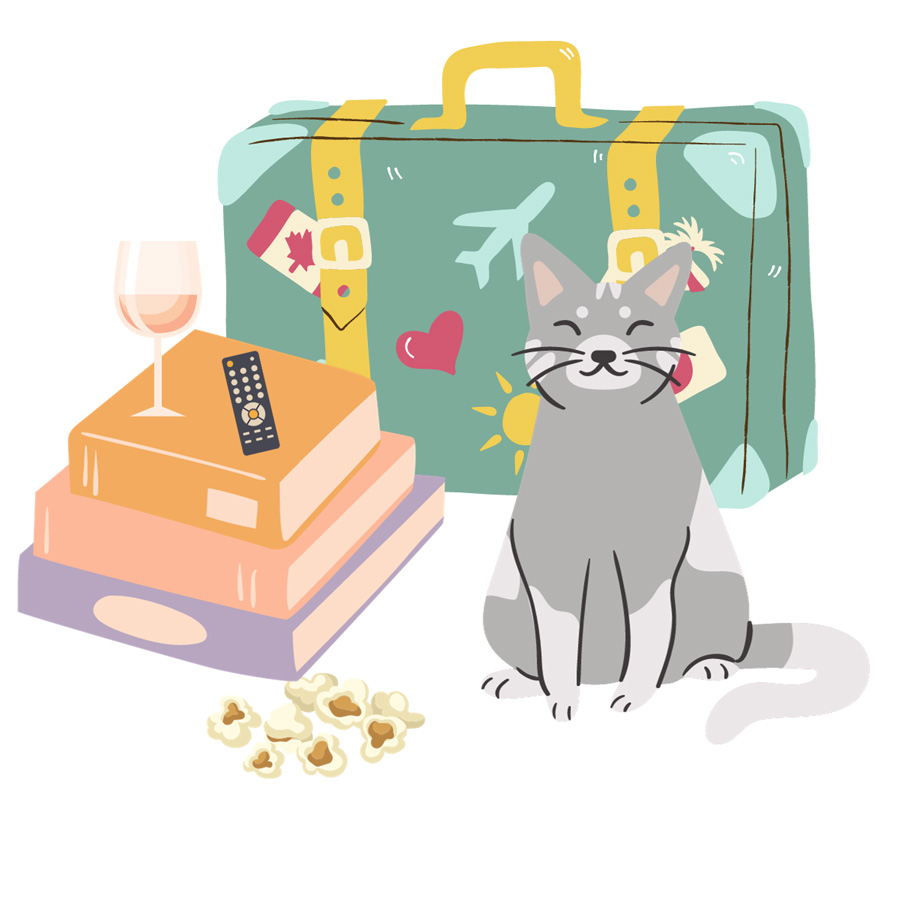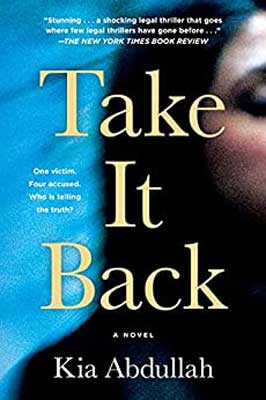 6. Take It Back by Kia Abdullah
Despite having a high-profile career – against the expectations of her family – brilliant London lawyer Zara Kaleel has traded everything to help those who need her most – the victims who come to the sexual assault center.
One of those victims is Jodie Wolfe, a girl with facial deformities who has accused four teenage boys from her class at school.
Unfortunately, no one believes her because these boys all have corroborating stories and alibis and come from hard-working immigrant families.
But Zara believes Jodie, and even with the community tearing itself apart, she's going to use all her legal skills to bring the truth to light.
As courtroom thrillers go, this is certainly a page-turner. Many readers will have strong opinions on what they think really did happen, and also suspicions about whether or not each character is telling the truth.
No matter how much experience you have as an armchair detective, London books like Take It Back will have you guessing right to the very end.

Read Take It Back: Amazon | Goodreads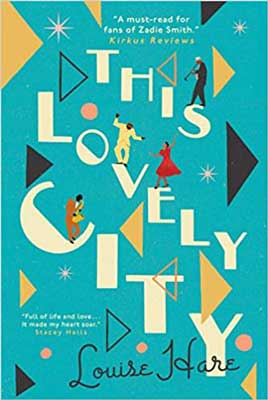 7. This Lovely City by Louise Hare
In early 1950s London, jazz clarinetist Lawrie Matthews earns a living for himself walking the streets of Brixton by day as a postman and playing in Soho's jazz clubs by night.
Lawrie was one of many who came over from Jamaica as part of the Windrush generation. He's been here for a couple of years, and he's even fallen in love with Evie, the girl next door.
But tragedy strikes in the form of a horrifying discovery in Clapham Common.
When fingers start to point, prejudice leads some members of the community to point them at those who recently arrived in the country.
Soon, the neighborhood becomes a battleground, with some residents starting what amounts to a witch hunt.
In the face of hateful xenophobia, Lawrie and Evie must now find a way to stay safe in the city they call home.
Like many books on London that deal with the struggles of the Windrush immigrants, This Lovely City is a poignant snapshot of a shameful period in British history that is still seen reflected in society today.

Read This Lovely City: Amazon | Goodreads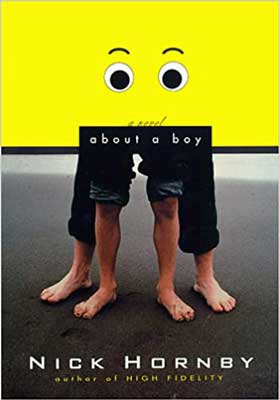 8. About a Boy by Nick Hornby
About a Boy is one of my ultimate guilty pleasure London books. I love this book, okay, but I'm not sure why because everyone in it is kind of awful!
Will is a 36-year-old perpetual bachelor with the perfect London bachelor pad, but absolutely no substance.
After an easy breakup with a single mother, Will thinks that dating single mothers is the way forward. So, he makes up a child and joins a single parents support group.
Through the group, he meets Marcus, an incredibly nerdy 12-year-old whose only real friend is his weird hippie mom, Fiona.
When Marcus discovers that Will doesn't really have a kid, he blackmails Will into spending time with him and teaching him how to be cool.
Soon their bizarre friendship begins to transform both of them in ways neither of them ever expected. About a Boy is full of 90s nostalgia and British humor, and, of course, it's so much better than the movie!
Hornby, himself a Londoner, has several other books set in London, including High Fidelity and Juliet, Naked.

Read About a Boy: Amazon | Goodreads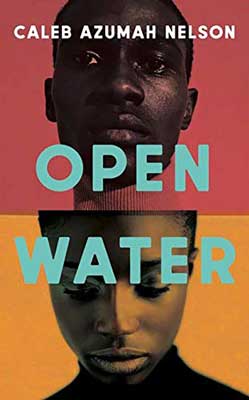 9. Open Water by Caleb Azumah Nelson
A young man meets a young woman in a pub in London. They have a lot in common at first glance; both are scholarship students, both are Black British, and both are artists – a photographer and a dancer.
Over time their attraction to each other blossoms into love. However, the stresses that arise from racial inequities that they experience in their southeast London neighborhood threaten to keep them apart.
There are a number of techniques that prevent this slim novel from falling into predictability.
First is the perspective; the novel is told in second person, giving the reader an angle on the narrative that is less frequently used.
Second is the way it is written.
Author Caleb Azumah Nelson uses an elegant and measured writing style, weighing each sentence carefully so that the reader feels as in the moment as possible.
It's intimate and tender, and emotionally very intense at times.
Anyone looking for books about London that offer a strong emotional connection will enjoy this story.

Read Open Water: Amazon | Goodreads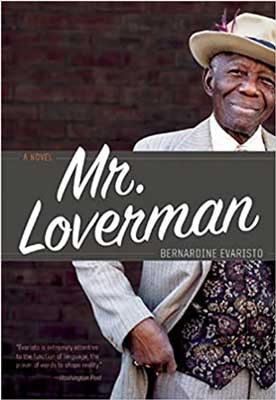 10. Mr. Loverman by Bernardine Evaristo
For the past sixty years, Barrington Jedidiah Walker has been leading a double life.
He is mostly the same man in both of them – a flamboyant, wisecracking man-about-town, born in Antigua yet very much a Londoner, and with an impeccable taste in clothes.
In one life, his partner is his deeply religious wife Carmel. In the other, it's his childhood friend, Morris – his soulmate.
Barry, as he is known to his friends, has been in the closet for decades. Unfortunately, Carmel knows Barry has been cheating on her, and their marriage is about to hit an extremely rocky patch.
Author Bernardine Evaristo's book is a story of love and of one man's struggle to be himself.
At times tragic, painful, hilarious, and life-affirming, Mr. Loverman is one of the best books on London to explore the complexities and intricacies of the older Caribbean communities of Britain.

Read Mr. Loverman: Amazon | Goodreads
11. Tipping the Velvet by Sarah Waters
This queer coming-of-age romantic drama takes place in the 1890s and focuses on 18-year-old Nan, a sheltered working-class girl living with her family in Kent.
Nan becomes infatuated with a performer named Kitty Butler, who performs at the local theater as a "masher" – a woman dressed as a man.
After watching Kitty perform, she eventually becomes her dresser, and the two embark on a journey to London to seek out fame and fortune.
After Kitty's manager suggests that Nan dress up and join her onstage, a successful double act is born.
While they become famous as two men, the two women also begin to take their formerly platonic relationship to a new level.
Author Sarah Waters skilfully juggles themes of identity and sexuality in this period setting, and potential readers should know that this is one of the more explicit novels set in London on this list.

Read Tipping the Velvet: Amazon | Goodreads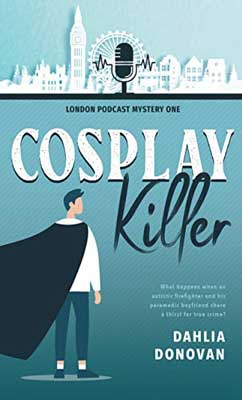 12. Cosplay Killer by Dahlia Donovan
When it comes to crime books about London, you'll generally find bleak, gritty portraits of the city and its inhabitants. But that isn't the case with this cute cozy mystery book!
Dannel and his boyfriend Osian are both first responders (a firefighter and a paramedic, respectively).
They're also both obsessed with true crime, and in their free time, they host their own true crime podcast.
So when Osian becomes indirectly involved in a murder (and the number one suspect!), the two decide to solve the mystery themselves.
It's hard not to root for Danny and Oz as they find themselves in over their heads.
I also appreciate how the book addresses trauma and burnout, as well as things like sensory overload as Dannel is autistic (as is the author, so the rep is great).
Cosplay Killer is a fun and simple murder mystery set in London and the first in a series!

Read Cosplay Killer: Amazon | Goodreads
More London Books To Read
Save Your Favorite Books On London For Later: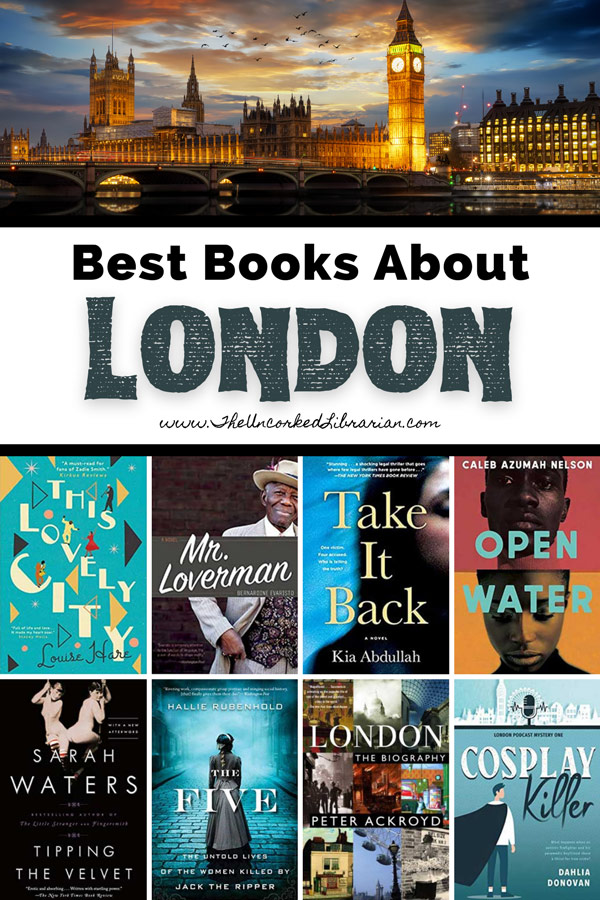 Grab the best books about London here:
What books about London do you love?
What are your favorite history books about London? Which London books sparked your European wanderlust?
Have you been to London? What did you think, and what were your top literary sites to visit? Let us know in the comments!
More Books About Cities:
New York City Novels
Books About Rome
Paris Travel, History, & Fiction Books
You May Also Enjoy:
France Books
Italy Books
Ireland Books
Spain Books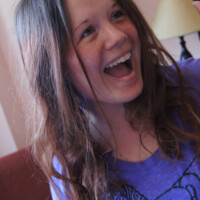 Dagney (pronouns: any) is a neurodivergent writer and book nerd who is drawn to all things weird and macabre. She also loves anything to do with fast cars, unhinged anti-heroes, and salt. When she isn't working or reading, you're likely to find her eating Indian food, playing board games, or hiding out somewhere dark and quiet, stuck down an internet rabbit hole. The easiest way to win her over is through cats and camels.