For readers interested in true crime, uncover some of the best fiction and nonfiction books about serial killers.
Serial killer books have long fascinated readers, podcasters, and moviegoers, examining criminal psychology as well as the darkest corners of the human psyche.
These disturbing narratives provide a unique window into the minds of some of history's most notorious murderers.
How did they come to be? Did they get caught, and how? And most importantly, who were their victims, and what are their stories?
There is also something to be noted about shedding light on the complexities of these horrific and unimaginable crimes that also captivate our morbid curiosity.
Many fictional books on serial killers, especially, critique society's fascination with crime stories while diving deeper into important issues of the justice system.
So, keep reading to discover thought-provoking books across genres – true crime, thrillers, and graphic novels – that examine the world of serial killers. Let's get started.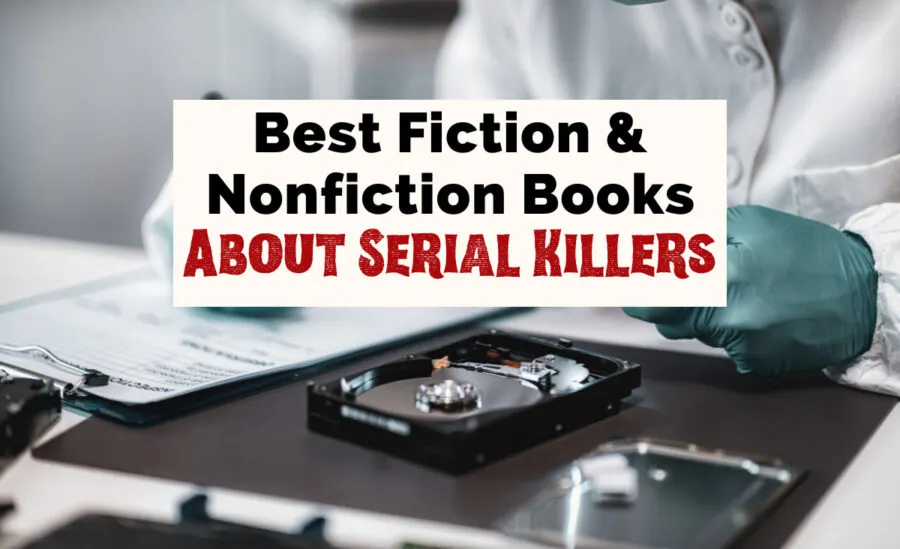 Grab the best books and movies here:
Best Nonfiction Books About Serial Killers
For true crime readers, uncover famous serial killers across the decades and the world – and the people who knew them – along with books dedicated to their victims.
The Devil in the White City by Erik Larson
The details of the events in author Erik Larson's account of two men involved in the 1893 World's Columbian Exposition are outlandish enough to make this book almost read like a thriller.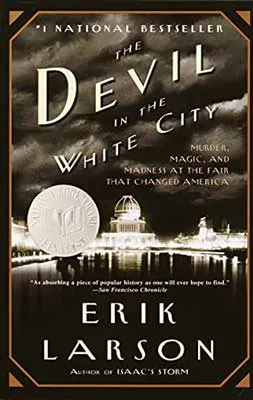 Presented in a novelistic style, what makes this one of the best books about serial killers is Larson's gift for storytelling, with which he brings these sensational events to life.
The "White City" in question is the World's Fair complex, built in Chicago for the Exposition by architect Daniel Burnham.
The "Devil" of the title is the notorious serial killer H. H. Holmes, who commissioned an elaborate 3-story hotel next to the Fair that served as his nightmarish "murder house."
Whilst prowling the Fair, Holmes would invariably lure unsuspecting victims to his hotel, where they would be cornered by false walls and staircases that led to nowhere before he killed them.
Or so said the local press at the time.
With plenty of misdirection and manipulation surrounding its subjects, The Devil in the White City is a dual story of two men's obsessions. It is one of the most compelling serial killer true crime books.
Read The Devil in the White City: Amazon | Goodreads
The Five: The Untold Lives of the Women Killed by Jack the Ripper by Hallie Rubenhold
Because of the sensational nature of the Whitechapel murders of 1888, many people today believe that Jack the Ripper was fictional.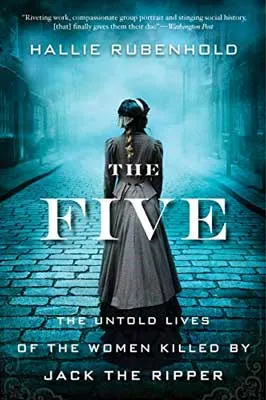 Sadly, this night stalker was very real, and also never caught, sealing his legacy as one of the most notorious serial killers of all time.
While Jack the Ripper has been the subject of many of the best serial killer books, the young women that he murdered get far less attention.
Righting that wrong is historian and author Hallie Rubenhold, whose book The Five goes into detail about the victims, their circumstances, and their backstories.
With compassion and attention to detail, Rubenhold provides an insight into five unfortunate women who have many times had their historical status relegated to that of an afterthought.
As you can imagine, The Five goes to dark places, which might deter some readers. But, it is also just as important as the best books about serial killers.
Discover even more books on London's history, culture, and everyday life.
Read The Five: Amazon | Goodreads
My Friend Dahmer by Derf Backderf
In one of the best books on serial killers to be presented graphically, we get a chilling insight into the early life of possibly the most infamous serial killer in the USA: Jeffrey Dahmer.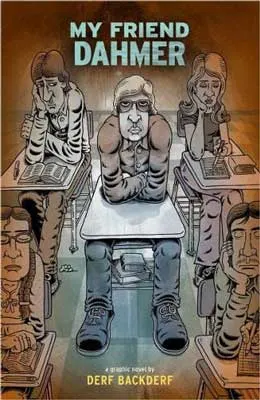 Author and illustrator Derf Backderf actually knew and socialized with Dahmer throughout his small town high school years.
He paints a portrait of Dahmer as a young man; neglected by adults, coping with alcoholic self-medication, and plagued by intrusive thoughts about roadkill and dead bodies.
All the while wondering, how did this seemingly quiet yet unusual kid become one of the world's most famous and ghoulish murderers?
The art style of this graphic novel is also striking, lending a surreal layer to the already creepy proceedings.
Read My Friend Dahmer: Amazon | Goodreads
I'll Be Gone in the Dark: One Woman's Obsessive Search for the Golden State Killer by Michelle McNamara
The title of this award-winning investigative masterpiece comes from a quote taken directly from the Golden State Killer himself: "You'll be silent forever, and I'll be gone in the dark."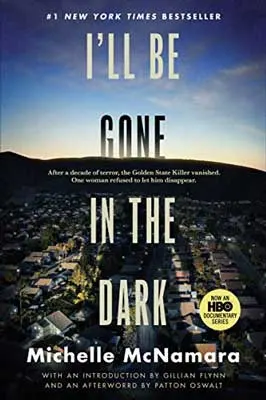 As one of the most prolific serial killers in the United States, this American predator began as a serial rapist and burglar, committing hundreds of heinous crimes between 1974 – 1986.
Los Angeles Magazine originally commissioned author Michelle McNamara to write an article about the murders. However, her interest and thorough research eventually turned into this book.
Sadly, McNamara passed away accidentally before the book could be completed.
However, on its release two years after McNamara's death, it topped the New York Times bestseller list for non-fiction.
I'll Be Gone in the Dark remains one of the best books about serial killers written by someone whose passion for the truth ultimately helped in the killer's capture and conviction.
Read I'll Be Gone in the Dark: Amazon | Goodreads
Did You Hear What Eddie Gein Done? by Harold Schechter and Eric Powell
There is almost nothing that is not depressing or depraved about the life of Ed Gein.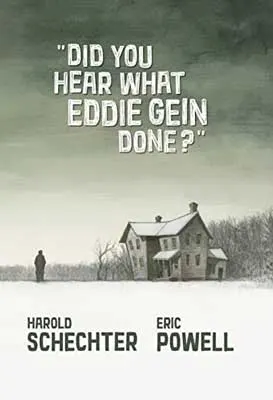 This graphic novel from authors Harold Schechter and Eric Powell renders the events of his upbringing and subsequent killings in stark pencil grays, with plenty of graphic imagery.
Famous serial killer books are rarely as heavy as this.
What makes Ed Gein one of the most shocking serial killers in American history is not just the murders, but the events surrounding them.
When investigators eventually raided his family farm, they were not prepared for what they found there, and if you don't know anything about Ed Gein yet, you won't be either.
True stories like Did You Hear What Eddie Gein Done? often influence contemporary media.
Ed Gein has the distinction of "inspiring" several pop culture touchstones, including Psycho, The Texas Chainsaw Massacre, and The Silence of the Lambs.
Read Did You Hear What Eddie Gein Done?: Amazon | Goodreads
The Stranger Beside Me by Ann Rule
Fans of true crime will have much to explore in this candid and personal account of one woman's close relationship with one of the most monstrous murderers of all time.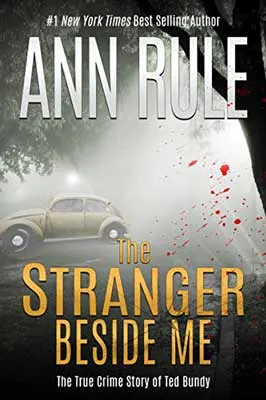 For the longest time, author Ann Rule had no idea that her friend of many years, the charismatic future lawyer Ted Bundy, was a prolific serial killer.
Even after his initial capture and time spent on the run, she was dubious that he was capable of committing the brutal killings she saw on the news.
However, once the evidence became irrefutable, she realized that she, like so many others, had been deceived – that she did not know "the stranger beside me" with whom she had shared meals.
The Stranger Beside Me is one of the best serial killer true crime books to come from someone who had frequent close contact with its subject.
Read The Stranger Beside Me: Amazon | Goodreads
In Cold Blood by Truman Capote
This true crime classic isn't strictly a book about serial killers, but rather a robbery gone wrong that resulted in a series of brutal murders.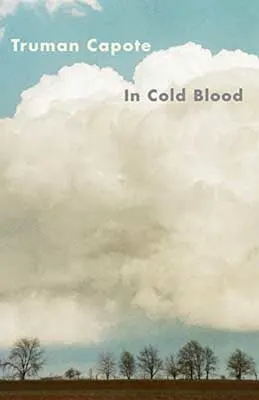 Given its important role in the true crime genre, we wanted to highlight In Cold Blood anyway to show the evolution of serial killer literature and the very definition of what a serial killer is.
On November 15, 1959, in the quiet Kansas town of Holcomb, four members of the Clutter family were brutally murdered in cold blood.
Fascinated by the killings, Truman Capote and his childhood friend and fellow author, Harper Lee, traveled to Holcomb to investigate.
Written after 6 years of intensive on-the-ground research, In Cold Blood reads more like a true crime novel, which has helped make it one of the bestselling true crime books of all time.
Discover even more of the most iconic 1960s books to read.
Read In Cold Blood: Amazon | Goodreads | Book Information
Killer Clown: The John Wayne Gacy Murders by Terry Sullivan and Peter T. Maiken
For serial killers who are caught and convicted, the two most important parts of their criminal career are their crimes and the trial.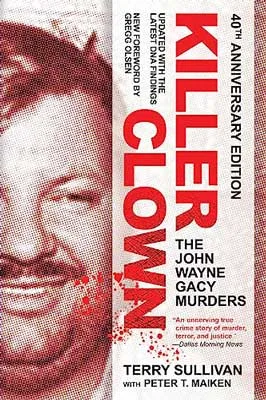 In the case of Killer Clown, co-author Terry Sullivan has a close connection to both, as he was the prosecuting attorney in the courtroom.
When not posing as Pogo the Clown, charity fundraiser and children's entertainer John Wayne Gacy was prowling the streets for young men and boys to capture, abuse, and kill.
Over the course of almost 7 years, Gacy managed to kill at least 33 victims, all the while evading law enforcement and disposing of the bodies in the crawl space under his apartment.
With an author so close to the heart of the Gacy trial, this is one of the best books about serial killers to cover the whole conviction process.
Read Killer Clown: Amazon | Goodreads
Helter Skelter by Vincent Bugliosi and Curt Gentry
In 1969, the murders of actress Sharon Tate and Leno and Rosemary LaBianca shocked the nation, and exploded the notoriety of the so-called "Manson Family."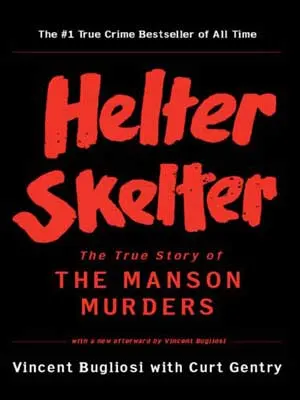 Headed by the group's leader, Charles Manson, he and several of his followers committed these crimes partly under the delusion of a supposedly oncoming apocalyptic race war.
Bizarrely, this war was referred to by Manson as Helter Skelter, after the famous Beatles song from their White Album, which Manson was obsessed with.
Co-author Vincent Bugliosi was the prosecutor in the trial of Charles Manson.
His insight led to the publication of the incredibly popular Helter Skelter: The True Story of the Manson Murders.
This bestselling book eventually became one of the best serial killer true crime books in history.
Read Helter Skelter: Amazon | Goodreads
The Monster of Florence by Douglas Preston and Mario Spezi
Having fulfilled a lifelong dream by moving into a 14th-century farmhouse in beautiful Florence, Italy, author Douglas Preston was about to discover that this idyllic place was not always so.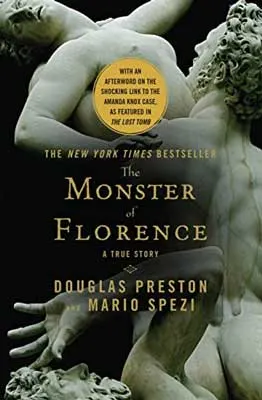 For three decades previously, the olive grove in front of the house had been the scene of a series of double murders that had shocked the nation – the work of the "Monster of Florence."
Between 1968 and 1985, couples looking for alone time were regularly targeted and murdered, always under the low light of a new moon.
Having learned this, Preston and investigative journalist Mario Spezi began researching the killings.
What makes The Monster of Florence one of the best serial killer books is that, not unlike a thriller, the investigation itself became fraught with danger.
Whilst conducting their research, Preston and Spezi inadvertently became suspects in the unsolved case themselves.
Discover even more fiction and nonfiction books to read about Italy.
Read The Monster of Florence: Amazon | Goodreads
Zodiac by Robert Graysmith
The series of unsolved murders attributed to the mysterious "Zodiac killer" (as he called himself) is one of the most high-profile criminal investigations in American history.
During the late 1960s and early 1970s, the Zodiac murdered at least 5 known victims, and sent numerous letters to local newspapers with demands that they publish them.
Author Robert Graysmith was a cartoonist working at the San Francisco Chronicle during this time. He began to research and record the killings and the events surrounding them.
In his first of two books on the subject, Zodiac has become one of the most successful books about serial killers ever printed; we are able to read the Zodiac's letters in full.
By his own admission, Graysmith's interest in unmasking the Zodiac is obsessive and has led to the end of two of his marriages, such is his dedication to the topic.
Read Zodiac: Amazon | Goodreads
Best Fictional Serial Killer Books
If you enjoy thrillers, murder mysteries, and suspense novels, find fast-paced and slow-burn novels about serial killers from around the globe.
American Psycho by Bret Easton Ellis
As one of the most banned and restricted books on serial killers, American Psycho has a strong reputation attached to it, and for good reason.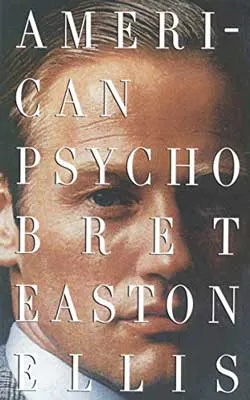 Written in a dense, stream-of-consciousness style with plenty of graphic and violent scenes, this is not a book to be taken lightly.
However, its influence can't be denied. For some, it is one of the best serial killer novels of the 20th century.
By day, Wall Street banker Patrick Bateman spends his time critiquing pop music, criticizing his coworkers' fashion sense, and eating at exclusive restaurants.
When night falls, however, he prowls the streets of New York City, looking for more victims to add to his increasing collection of dead bodies.
But no one would know from his cool, seemingly friendly exterior that he's capable of multiple murders, thanks to the "mask of sanity" he's spent so much time crafting.
But unfortunately, that mask is starting to slip…
Discover even more iconic and popular books published in the 1990s.
Read American Psycho: Amazon | Goodreads
My Sister the Serial Killer by Oyinkan Braithwaite
Travel to Nigeria with one of the best books about serial killers and the bonds of sisterhood.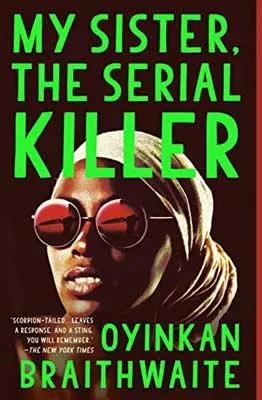 This incredible dark satire, set in Lagos, follows Korede, a young woman who is willing to do whatever it takes to protect her younger sister, Ayoola.
For Korede, this has meant cleaning up the bodies of multiple boyfriends that Ayoola has killed in supposed self-defense.
Of course, Korede suspects there is more to it. However, she doesn't question Ayoola; she just shows up with cleaning supplies and her support.
Except, now, Ayoola has set her sights on a cute doctor at Korede's work, a doctor Korede might have her own crush on.
Is she willing to stand by and allow her sister to keep killing in the name of love? Or, might her own heart get in the way of her murderous sister?
My Sister the Serial Killer is easily one of the most fun serial killer books you'll ever read!
Read My Sister the Serial Killer: Amazon | Goodreads
Red Dragon by Thomas Harris
With Red Dragon, author Thomas Harris gave the world Hannibal Lecter – one of the most iconic fictional serial killers – and created one of the best books about serial killers in the process.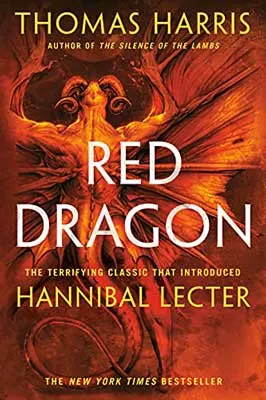 Many readers will be more familiar with this serial killer book's sequel, The Silence of the Lambs, in which FBI trainee Clarice Starling battles wits with the manipulative Lecter.
However, this 1981 novel also uses Hannibal "the cannibal" as an unlikely aid for our protagonist, rather than the main villain.
In this story, we are introduced to FBI agent and profiler Will Graham, the man who managed to successfully capture Hannibal Lecter five years ago – but not without great physical and mental cost.
Now Graham is on the trail of a killer known as "The Tooth Fairy," who has been killing seemingly random families whenever there is a full moon.
In order to catch him, Graham must turn to the one person who might be able to get inside the mind of a deranged killer and open up painful memories in the process.
Read Red Dragon: Amazon | Goodreads
Death Note by Tsugumi Ohba
Illustrated by Takeshi Obata and translated by Pookie Rolf | Death Note isn't just one of the best books about serial killers; Tsugumi Ohba's meticulously plotted manga series also provides readers with one of the most tense cat-and-mouse games. It's perfect for readers looking to pick up more Japanese books in English.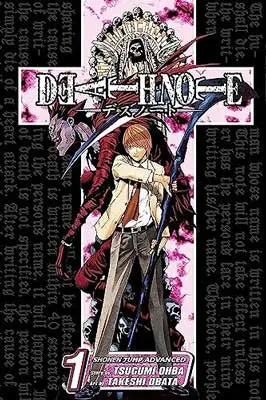 A star student destined to follow in his father's footsteps and join the police, Light Yagami is just bored. That is until a Death Note falls from the sky into his possession.
Dropped by a Shinigami (a Japanese death god), the book can kill any human in the world so long as their real name is written within.
Light decides to use the book to rid the world of evil.
He soon goes on a bit of a killing spree as he writes down the names of more and more criminals, testing the parameters of the book.
Soon, the legendary detective L, known for tracking down the worst criminal minds, is brought in to find this new and cunning serial killer who is baffling authorities.
With both L and the entire police force bearing down on Light, how will he manage to stay a step ahead?
If you enjoy the Death Note series, discover even more books set in your favorite Japanese cities.
Read Death Note: Amazon | Goodreads
How I'll Kill You by Ren DeStefano
For the best fictional serial killer books with a bit more heart, this romantic suspense about three sisters who kill the men who love them is fun and unpredictable.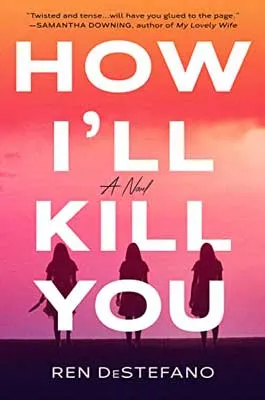 Sissy and her sisters are triplets and inseparable; they are also female serial killers. At least, her sisters are. Now it's Sissy's turn for her first kill.
Their rules are simple: make a guy fall hopelessly in love with you, have your fun, and then kill him.
Sissy has always been responsible for the cleanup, at which she excels. However, she's excited to finally have her first kill.
She's set her sights on widower Edison, and their connection is instant. But is Sissy starting to fall for her target, too?
How I'll Kill You is one of the best books on serial killers for anyone who loves stories about sisters or small town romances.
Read How I'll Kill You: Amazon | Goodreads
A Certain Hunger by Chelsea G. Summers
This bizarre and gory satire is a critique of gender roles, food culture, and our obsession with murder. It's also one of the best books about serial killers if you love an unlikable, unhinged female psychopath.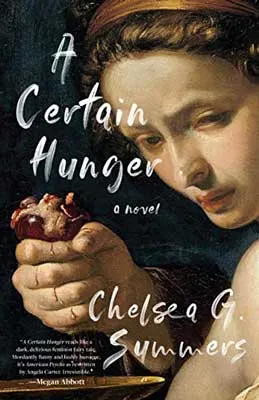 Once a prominent and well-respected food critic, Dorothy Daniels is now imprisoned, known now as one of the century's most infamous female serial killers.
Accused of having killed and eaten several of her former lovers, Dorothy wants to set a few things straight, for the record.
After all, she's just a modern woman who loves sex and food and, okay, maybe she started to get a taste for both of those things together.
A Certain Hunger won't be for everyone with its narcissistic and pretentious narrator. But if you don't mind an unlikeable main character, you'll love the ride this takes you on.
Read A Certain Hunger: Amazon | Goodreads
Children of the Street by Kwei Quartey
Ghanaian-American crime writer, Kwei Quartey, takes us to the slums of Accra in one of the best serial killer books for crime fiction readers.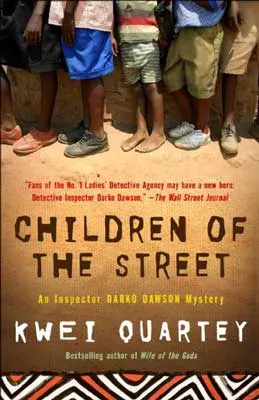 Inspector Darko Dawson is called to help investigate a series of grisly murders involving young street kids.
At the crime scene involving the body of a teenage boy, we learn that this is the most recent victim to have been mutilated and dropped in an unsavory location.
But is it a serial killer, or a coincidence?
Thus begins Dawson's most unsettling case of his career, driving him further into Accra's poverty-stricken underbelly.
Although Children of the Street is the second in a series, you do not need to have read the first book to pick this one up (though you should!).
Discover even more great Ghanaian books, from, about, and set there.
Read Children of the Street: Amazon | Goodreads
Join The Uncorked Reading Challenge Today
---
Travel around the world with the Uncorked Reading Challenge. Get the best book and movie recs straight to your inbox. Sign Up Now.
Notes on an Execution by Danya Kukafka
One of the best books about serial killers, Notes on an Execution is a critique of our culture's obsession with true crime and serial killers.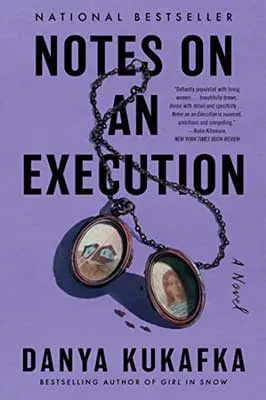 In 12 hours, Ansel Packer will be executed. Ansel Packer is a serial killer. But what made Ansel this way?
This literary thriller is told through the POVs of several women impacted by Ansel: Lavender, his mother; Hazel, the identical twin of his wife; and Saffy, a homicide detective chasing him.
Notes on an Execution is a haunting book that examines the death penalty, second chances, and what it means to live in a broken justice system.
If you are looking for the best books on serial killers with social commentary, this is the book for you.
Read Notes on an Execution: Amazon | Goodreads
The Nothing Man by Catherine Ryan Howard
This gripping Irish novel is one of the best fictional serial killer books for those who love a tense cat-and-mouse thriller.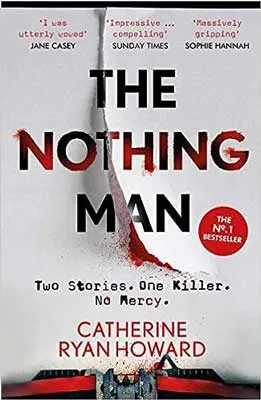 Like everyone, Jim Doyle can't help but pick up Eve Black's true crime memoir when he sees it displayed at the supermarket where he works.
Eve was 12 when the Irish serial killer dubbed, The Nothing Man, brutally murdered her entire family – except her; she is his only survivor.
Now, 20 years later, Eve is determined to find the killer responsible for her parents and sister's murders.
Jim is The Nothing Man, and he reads the book with the solace that it's impossible he'll be caught. After all, he meticulously covered his tracks.
But as he reads Eve's account of that night, both his anger and paranoia grow because maybe he's not as safe as he thinks.
Read The Nothing Man: Amazon | Goodreads
Darkly Dreaming Dexter by Jeff Lindsay
If you want to root for the villain and enjoy Florida-set books, then Darkly Dreaming Dexter is for you.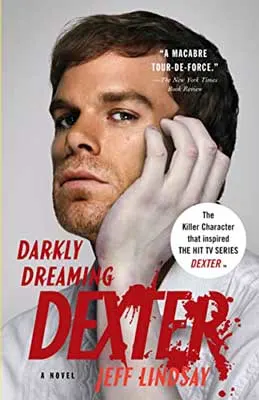 The inspiration behind the popular TV show, Dexter, Jeff Lindsay's Dexter series is about a serial killer with a moral compass.
From a young age, Dexter Morgan's foster father, Harry, recognized a darkness in him. Using his knowledge as a police detective, Harry taught Dexter how to kill without being caught.
He also instilled a code in Dexter: only kill bad people – people whom the justice system has failed to take down.
Now as an adult, Dexter is a vigilante serial killer, using the code Harry taught him – and the skills he's picked up working as a forensic blood spatter analyst for the police.
But when bodies start to surface showing signs of Dexter's MO, he starts to worry that someone else might know the truth about him.
Read Darkly Dreaming Dexter: Amazon | Goodreads
Don't Forget the Girl by Rebecca McKanna
Another powerful examination of our culture's fascination with true crime, Don't Forget the Girl doesn't center on the killer, like many serial killer books, and tries to give a voice to the victims.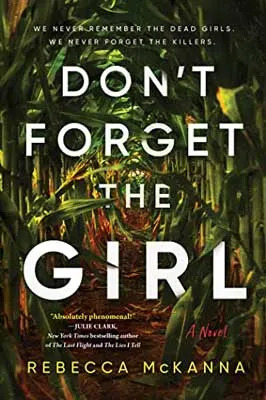 Bree and Chelsea's lives were altered forever the Halloween night when their best friend, 18-year-old Abby Hartmann went missing.
Abby's body was never found, but it is believed she was murdered by serial killer, Jon Allan Blue.
And now, 12 years after Abby disappeared, Blue is about to be executed. Bree and Chelsea are estranged, both too consumed by resentment and grief.
So when a popular podcaster shows up to do a season on Blue, the two reunite to discover the truth – no matter how painful.
Told in dual timelines between the present and what happened in the past when Abby disappeared, Don't Forget the Girl is one of the most unique fiction books about serial killers.
Read Don't Forget the Girl: Amazon | Goodreads
Grab your favorite books and movies here:
What serial killer books have you read and recommend?
Are there any books you'd add to the list? And, what TV shows and movies have you watched? Let us know in the comments.
Save this reading list for later: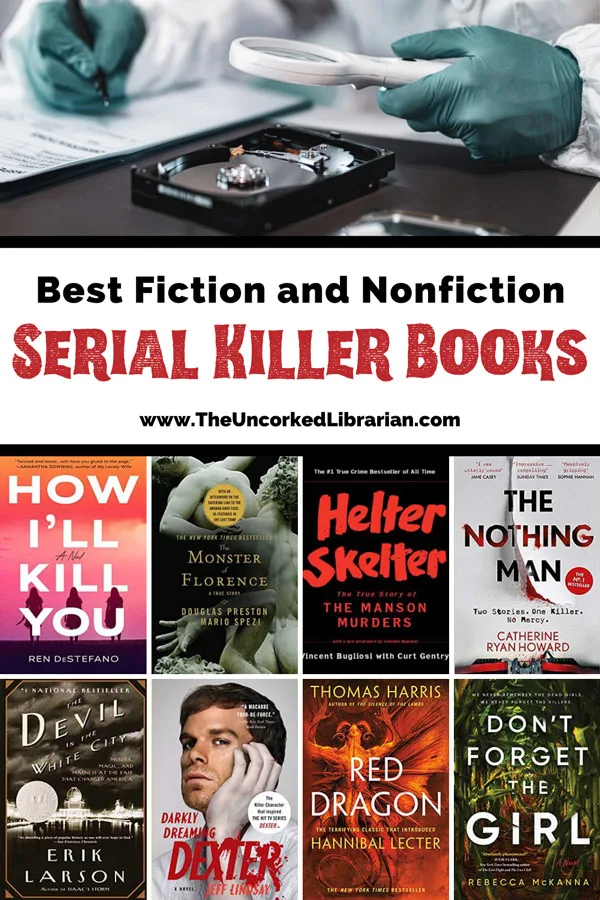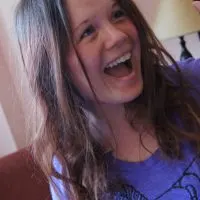 Dagney (pronouns: any) is a neurodivergent writer and book nerd who is drawn to all things weird and macabre. She also loves anything to do with fast cars, unhinged anti-heroes, and salt. When she isn't working or reading, you're likely to find her eating Indian food, playing board games, or hiding out somewhere dark and quiet, stuck down an internet rabbit hole. The easiest way to win her over is through cats and camels.