If you are looking for captivating YA cult fiction, don't miss The Project by Courtney Summers. Find a The Project summary, book information, and book reviews here.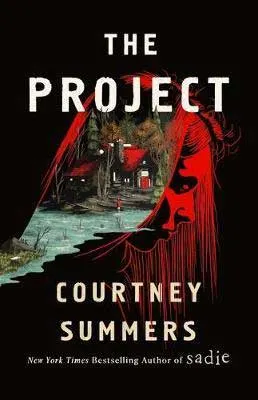 This post may contain affiliate links: If you purchase through my link, I will receive a small commission at no additional cost to you. I only recommend products/services that I approve of. See my full Disclosure Policy.
Author: Courtney Summer
Genre: YA Family Fiction | Thrillers & Suspense
Pages: 339
Publisher: Wednesday Books
Publication Date: February 2, 2021
Buy on Amazon
Find more great books here:
The Project by Courtney Summers Summary
"The Unity Project saved my life."

Lo Denham is used to being on her own. After her parents died, Lo's sister, Bea, joined The Unity Project, leaving Lo in the care of their great aunt. Thanks to its extensive charitable work and community outreach, The Unity Project has won the hearts and minds of most in the Upstate New York region, but Lo knows there's more to the group than meets the eye. She's spent the last six years of her life trying—and failing—to prove it.

"The Unity Project murdered my son."

When a man shows up at the magazine Lo works for claiming The Unity Project killed his son, Lo sees the perfect opportunity to expose the group and reunite with Bea once and for all. When her investigation puts her in the direct path of its charismatic and mysterious leader, Lev Warren, he proposes a deal: if she can prove the worst of her suspicions about The Unity Project, she may expose them. If she can't, she must finally leave them alone.

But as Lo delves deeper into The Project, the lives of its members, and spends more time with Lev, it upends everything she thought she knew about her sister, herself, cults, and the world around her—to the point she can no longer tell what's real or true. Lo never thought she could afford to believe in Lev Warren . . . but now she doesn't know if she can afford not to.

Welcome to The Unity Project.

Wednesday Books
Join The Uncorked Reading Challenge Today
---
Travel around the world with the Uncorked Reading Challenge. Get the best book and movie recs straight to your inbox. Sign Up Now.
A Sneak Peak At Our Advanced Copy Review Of The Project
For cult fiction lovers, this YA book set in NY is a must. After their parents' death, watch as two sisters grow apart as a cult and their seductive leader steps in. When one sister attempts to find and save the other, though, she suddenly can't seem to resist the power of this terrifying community.
Full of secrets, twists, and turns, this is a quick and somewhat heartbreaking read that will invoke intense emotions. Although the ending shouldn't be that surprising — like Where the Crawdads Sing — I still felt the reverberations from the shock.
About The Author, Courtney Summers
Courtney Summers is an award-winning and bestselling author. You may also know her for Sadie, This Is Not A Test, and All The Rage. She lives in Canada. Read more about Courtney Summers.
Where You Can Find The Project Reviews On TUL
Head to New York with our favorite NYC-based reading list. Find New York novels for both adults and teens in a variety of genres including thrillers, mysteries, and literary fiction.
What are the best new books releasing in 2021? Along with The Project, see what books we cannot wait for. Find more YA books like The Gilded Ones, Lore, and Concrete Rose along with the most-anticipated books in historical fiction, fantasy, indie, and mysteries. TUL focuses on diverse books to inspire travel and inspirational nonfiction — plus a few fun reads.
What books should you look out for in February 2021? We loved reading The Project, and our February book releases reading list is huge. A few more books to check out this month include: The Paris Library (WW2 historical fiction), The Gilded Ones (YA Fantasy), The Removed (inspired by Cherokee folklore), and The Ardent Swarm (translated literature set in North Africa).