Looking for the best novels about food? This foodie fiction reading list is sure to satiate your cravings, tacos included.
Did you ever notice how some of the best food fiction books are all-out foodie wars between lovers, friends, and family – whether at a restaurant or among a city's hottest food truck scene?
And, do you feel like some of the greatest love stories happen with the help of delicious and homecooked food? Plus, are you a lover of all of the cooking shows?
Here at The Uncorked Librarian, we love novels about food – romance, murder mysteries, historical fiction, indie, LGBTQ+, fantasy, and so much more.
Combine food with our love of travel, and we've selected some of the best fiction books about food that will transport you across the globe.
Savor gelato in Italy, rusks in South Africa, and lumpia from a Filipino food truck in Maui.
A few of our favorite food novels include Recipes For Love And Murder, Simmer Down, Legends & Lattes, and Love & Other Disasters.
Of course, "best" is subjective, and we'd love to know your favorite food fiction and even fantastic novels about restaurants and cooking in the comments.
There are so many foodie fiction books, we clearly struggled to narrow down this list. Let's get started!
Read around the world with all of our unique book lists.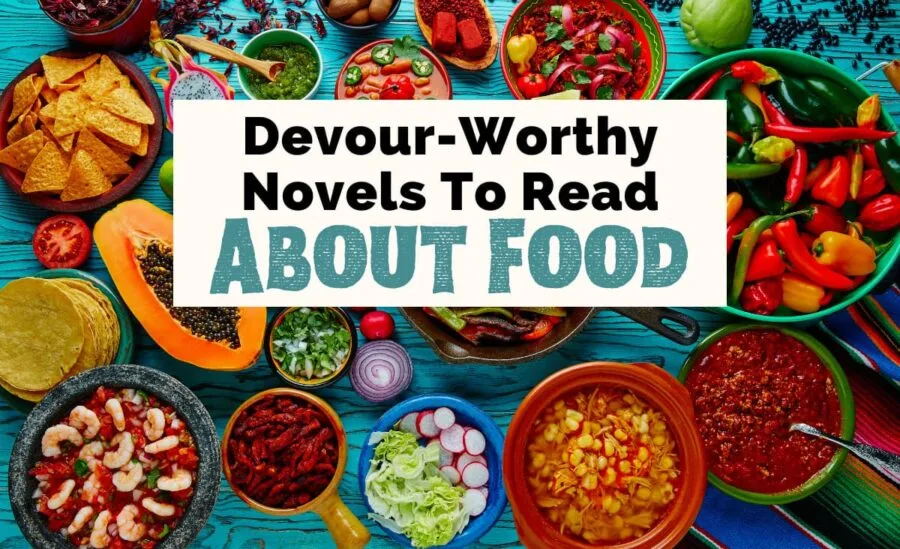 Grab your favorite food fiction books here:
35 Best Novels About Food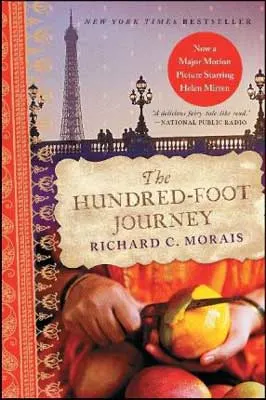 1. The Hundred-Foot Journey by Richard C. Morais
Popularized by the film adaptation, The Hundred-Foot Journey, was first one of the most poignant novels about food and culture.
After a family tragedy forces the Haji family out of India, they settle in the French Alps and open an inexpensive Indian restaurant.
One hundred feet across the street sits an esteemed French restaurant, run by Madame Mallory.
What starts as a feud between the two, blossoms into a beautiful apprenticeship between Hassan Haji and Madame Mallory.
Mallory agrees to mentor Hassan in French cuisine, sparking an adventure to Paris and beyond. Mallory is sure to learn a thing or two from Hassan and the glaring differences in their two cultures.
Discover even more books about India.
Read The Hundred-Foot Journey: Amazon | Goodreads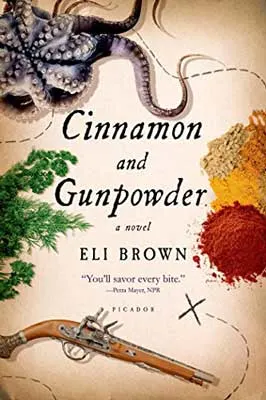 2. Cinnamon and Gunpowder by Eli Brown
Cinnamon and Gunpowder is a culinary, sea-born take on the classic tale of Scheherazade.
Chef Owen Wedgwood is kidnapped by pirate Mad Hannah Mabbot.
His life will be spared as long as he delivers epic culinary creations to his captor each Sunday. Using minimal supplies on board, Owen cooks to save his life.
As Mabbot pushes the crew, and a pirate feud comes to a head, Owen begins to see the calculations behind his captor's actions.
As everyone onboard reaches a near breaking point, the most unlikely relationships form. A tad romantic and utterly unique, Cinnamon and Gunpowder is a literary feast for the senses.

Read Cinnamon and Gunpowder: Amazon | Goodreads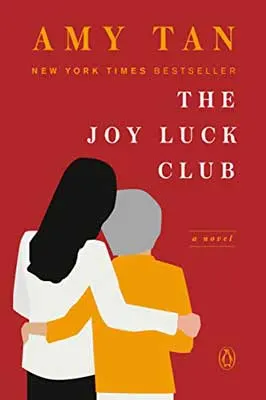 3. The Joy Luck Club by Amy Tan
In 1949, four immigrant Chinese women form The Joy Luck Club where they eat dim sum, play mah-jong, and invest in stocks. Forty years later, the tradition continues.
Connection sits at the heart of the meetings and in Tan's thought-provoking novel.
Highlighting the matriarchal ties, we learn the deepest secrets of four mothers, and four daughters, through the stories they "say" at the club meetings.
While The Joy Luck Club is more than just a tantalizing foodie fiction story, Tan utilizes food imagery to convey ideas of cultural identity and the generational bond made through memories of cooking and eating familial recipes.
If you love San Francisco-based stories, don't miss more books set in CA. Then, explore even more widely-read books from the '80s.

Read The Joy Luck Club: Amazon | Goodreads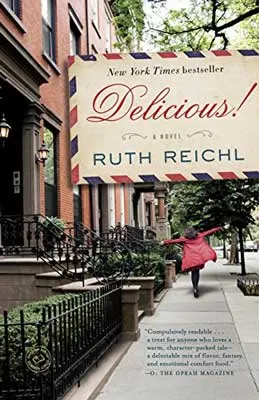 4. Delicious! By Ruth Reichl
Ruth Reichl, food writer and critic, chef, and television producer, lives and breathes all things culinary.
In her debut food fiction novel, Reichl presents a tantalizing, and somewhat mysterious, journey through both the present and the past.
Head to New York's food scene, as Billie Breslin accepts a job at Delicious!, one of the city's premier food magazines, maintaining call lines.
The solitary job becomes an epic adventure when Billie discovers a hidden room in the magazine's library containing letters written by a twelve-year-old girl to the legendary chef, James Beard.
When the building owner decides to sell, it's a race against time to uncover the clues leading to the rest of the letters. For devour-worthy New York novels, this one will leave you salivating.

Read Delicious!: Amazon | Goodreads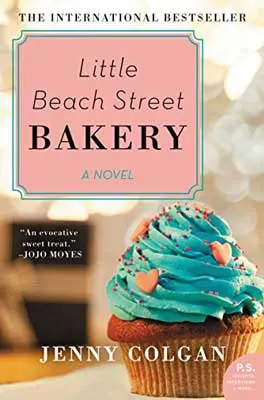 5. Little Beach Street Bakery By Jenny Colgan
Jenny Colgan, a romantic comedy genius, delivers with her heartwarming foodie fiction series, Little Beach Street Bakery.
32-year-old Polly splits with her boyfriend amidst a financial crisis and heads to England's Cornish coast to start anew.
Amidst the quietness of a seaside town, Polly begins to lose herself in one of her favorite hobbies: baking bread. But when her distraction becomes a labor of love, a new business is born.
She begins to experiment with new, local ingredients – including honey from the handsome beekeeper.
Unpack a heartwarming bestseller about starting fresh and finding yourself – and love – when and where you least expect it. For fans of the initial novel, three additional volumes follow.

Read Little Beach Street Bakery: Amazon | Goodreads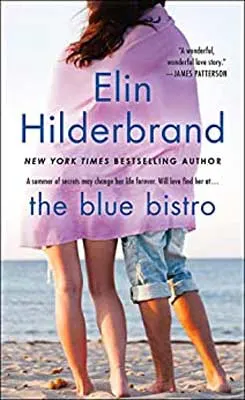 6. The Blue Bistro by Elin Hilderbrand
Broke, single, and heartbroken, Adrienne Dealey decides to leave her career in resorts and hotels and head for Nantucket.
Thatcher Smith, the owner of the Blue Bistro – the hottest restaurant in town – offers her a job. His restaurant isn't the only thing catching her eye, and the attraction seems mutual.
But something is amiss.
Why does the restaurant seem like it's on the brink of closing? And what is going on with Fiona, Blue Bistro's mysterious chef, and Thatcher?
Will Adrienne have a chance to play out her new beginning and take a chance on love again, or will she be forced to start over, yet again?
For food fiction books set in Massachusetts, this island-read promises a sea breeze filled with romance and a look into the world of high-end restaurants.

Read The Blue Bistro: Amazon | Goodreads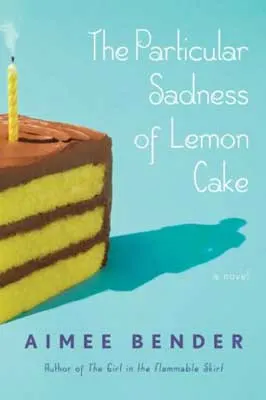 7. The Particular Sadness of Lemon Cake by Aimee Bender
Ever since the eve of her ninth birthday – when Rose Edelstein bit into her mother's lemon chocolate cake – she's been able to taste the emotions of the food she's eating.
To her surprise, she tastes a particular sadness in her cheerful mother's cake. Her newfound ability turns into a curse, as Rose unwittingly discovers family secrets.
She avoids family meals, including her mother's cooking, and grows withdrawn until she discovers food she can taste normally: that of a chef merely focused on ingredients.
What follows is one of the most evocative fiction books about food, love, and understanding.

Read The Particular Sadness of Lemon Cake: Amazon | Goodreads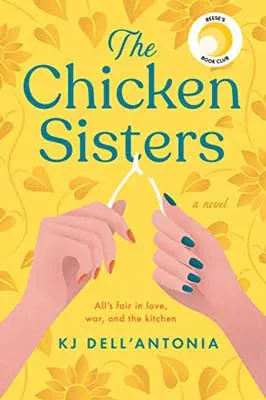 8. The Chicken Sisters by KJ Dell'Antonia
Set in the small town of Merinac, Kansas, a century's old fried chicken feud comes to a head in one of the most fun and hilarious Southern novels about food.
Amanda Moore, who grew up working for her mother at Chicken Mimi's, is forced by marriage and scandal to switch sides and work for a rival family at Chicken Frannie's.
Fed up with being caught in the middle, she reaches out to a reality cooking competition, Food Wars.
When Amanda's sister heads back to Kansas for the competition, siding with her family at Chicken Mimi's, the rift between families grows larger.
What will the sisters do, though, when family secrets are thrown into the public spotlight?

Read The Chicken Sisters: Amazon | Goodreads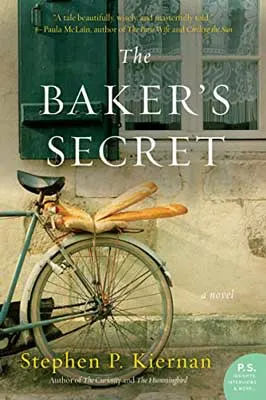 9. The Baker's Secret by Stephen P. Kiernan
The Baker's Secret is where tantalizing food fiction meets a captivating and courageous World War 2 historical fiction tale.
Emma has been baking alongside master baker Ezra Kuchen since she was thirteen. She watches with horror as he's pulled away from his shop for being Jewish.
Tasked now with baking a dozen daily loaves of bread for the German troops, she finds a way to use her extra flour rations to sneak in a couple of extra loaves for her neighbors.
Not only does Emma nourish their hungry stomachs, but she finds a way to feed hope.
Emma soon finds herself at the forefront of an underground trading network, aimed at providing necessities for the villagers. Will her luck soon run out, or will the Allies arrive in time to liberate the town?

Read The Baker's Secret: Amazon | Goodreads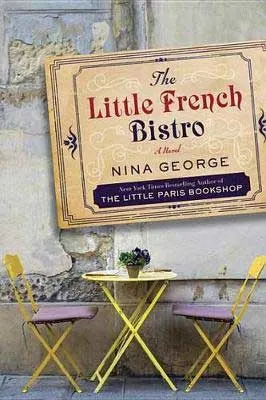 10. The Little French Bistro by Nina George
A heartwarming story of second chances, set against the backdrop of charming coastal France, Nina George delivers more of what her readers came to love in The Little Paris Bookshop.
After a dramatic moment on the banks of the Seine, Marianne, who speaks no French and is stuck in a loveless marriage, heads to Brittany.
She accepts a job in a small French Bistro, hoping for a quaint but fresh start.
There, and around town, she meets and is charmed by welcoming locals, each with their own stories to tell.
Ultimately, Marianne begins to rediscover all of life's little joys and learns that it's truly never too late to live the life you've always wanted.
For novels about food, France is the perfect setting. Or, head to culinary Paris via a good book.

Read The Little French Bistro: Amazon | Goodreads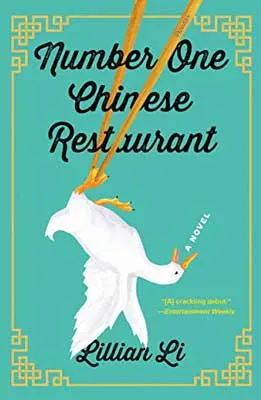 11. Number One Chinese Restaurant by Lillian Li
For multigenerational food fiction, encounter a dark and comedic tale about family dynamics set alongside the inner workings and relationships of a popular Chinese restaurant.
Owner Jimmy Han desires to scale the homey and lovable Beijing Duckhouse to something more high-end.
His brother, Johnny, is preoccupied with their aging father, while his relationship with his own daughter, Annie, grows more difficult.
Two long-term Duckhouse employees, Nan and Ah-Jack, decide to take their friendship in a new direction, while Nan's son Pat finds himself, along with Annie, in a messy situation.
Families and loyalties will be tested as the Duckhouse falls victim to tragedy, and chaos is unearthed.

Read Number One Chinese Restaurant: Amazon | Goodreads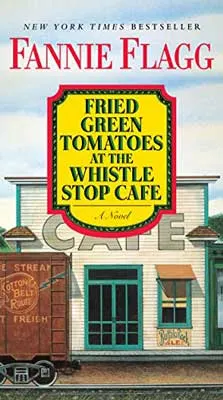 12. Fried Green Tomatoes at the Whistle Stop Cafe by Fannie Flagg
One of the original novels about restaurants, Flagg's beloved 80s novel deserves a place on any foodie list, as it paved the way for so many others.
Alternating between past and present, the novel surrounds the growing friendship between middle-aged housewife, Evelyn Couch, and Ninny Threadgoode, a nursing home resident.
Evelyn visits Ninny weekly, listening to her stories about growing up in Whistle Stop, Alabama, and the cafe run by family and friends.
Ninny's stories largely focus on Idge Threadgoode and often deal with food imagery, LGBTQ+ themes, domestic violence, racism, and aging.
The stories, which are given new life in their retellings, inspire Evelyn to reclaim happiness and make a fresh start.

Read Fried Green Tomatoes at the Whistle Stop Cafe: Amazon | Goodreads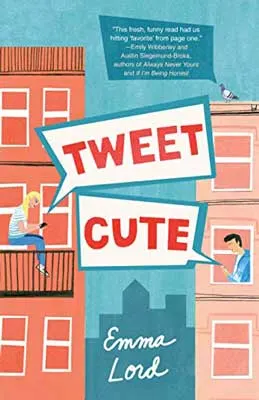 13. Tweet Cute by Emma Lord
Yummy food fiction meets a modern take on the enemies to lovers trope in Tweet Cute.
Pepper and Jack have absolutely nothing in common, but their paths will cross in an all-out Twitter war.
A self-proclaimed overachiever, Pepper is secretly running the Twitter account for her family's burger chain, Big League Burger.
Jack, who works at his family's small New York deli, takes to Twitter himself when he learns Big League Burger stole his family's famous grilled cheese recipe. The rivalry goes viral.
But amidst their very public Twitter war, and not to their knowledge, Pepper and Jack have connected elsewhere on a chat app Jack built. And this time, the conversations have taken a different turn.
You can't help but cheer them on!

Read Tweet Cute: Amazon | Goodreads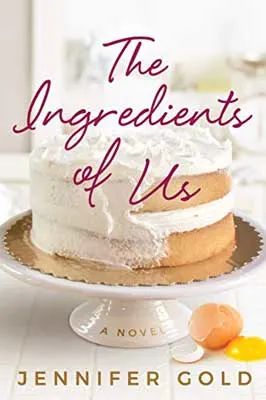 14. The Ingredients of Us by Jennifer Gold
What's an accomplished baker to do when she discovers her husband's infidelity?
Elle starts by making jam. Then, she begins to revisit old recipes, and the not-so-sweet memories alongside. Readers will enjoy the recipes peppered throughout this mouthwatering novel about food.
But Elle starts to cope in other ways, too, including a rebound romance. She struggles to keep her baking business afloat or to maintain important relationships close to her.
Tensions arise between friends, and past secrets collide with the present. Will life ever be sweet again for Elle?

Read The Ingredients of Us: Amazon | Goodreads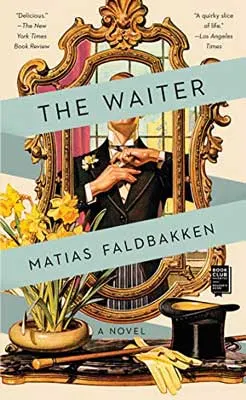 15. The Waiter by Matias Faldbakken
Translated into English by Alice Menzies: Sophisticated and eccentric, The Waiter, is perfect for anyone with a penchant for fine food, wine, and European ambiance.
The Hills Restaurant in Oslo, Norway, despite its run-down conditions, is riddled with Old World flair. For more than a decade, a middle-aged waiter has routinely made everything at The Hills just right.
His uniform, the tablecloths, and even the guests all have a predictability about them until a beautiful new guest arrives and disrupts the delicate silent balance of the restaurant.
And the waiter, this time, cannot keep his poker face. The unexpected happens when we've learned to only cope with what's expected.
For food fiction books set in Norway, The Waiter is clever but may also not be for everyone.

Read The Waiter: Amazon | Goodreads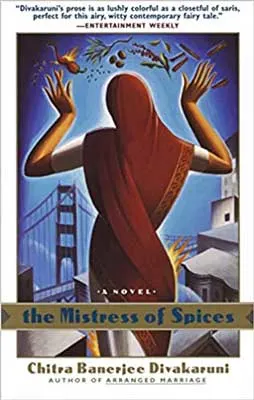 16. The Mistress of Spices by Chitra Banerjee Divakaruni
Tilo is an immortal spice shopkeeper from India who is also trained in magic. She uses the properties of her spices to help customers with their ailments, wants, and desires.
When she meets and falls for Raven, she breaks the rules of her training and seeks out a customer outside of the shop. Her spices retaliate with punishment inflicted on her and her loved ones.
Tilo must decide between accepting punishment for her decision and immortal life. And will either of those choices leave room for Raven?
Discover the mystifying foodie fiction novel that was brought to the big screen.

Read The Mistress of Spices: Amazon | Goodreads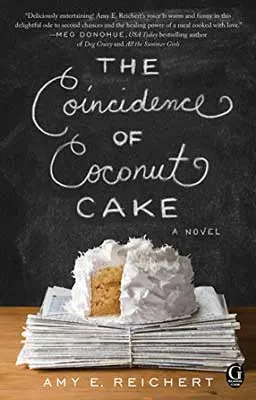 17. The Coincidence of Coconut Cake by Amy E. Reichert
Lou is already struggling to get her French restaurant, Luella's, off of the ground when she discovers her fiancé with an intern. It can't get much worse…until it does.
Al, who keeps himself afloat by writing scathing restaurant reviews – under a pseudonym, of course – for a Milwaukee newspaper, walks into Luella's on the worst day possible.
On the day that Al's review runs, he meets Lou in a local pub. Conjuring up a conversation, Al challenges Lou to show him the best spots around town.
There's only one rule: they can't talk about their work. But as they galavant around town, sampling the best local delicacies, will their true identities surface?
One of our favorite novels about food, The Coincidence of Coconut Cake is a story of a chance meeting and what happens when things aren't as they seem. Read across the U.S. with these books.

Read The Coincidence of Coconut Cake: Amazon | Goodreads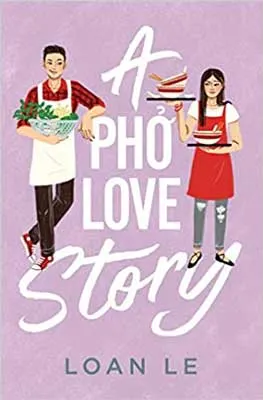 18. A Pho Love Story by Loan Le
For more rom-com fiction books about food, Le juxtaposes Vietnamese culture and a family rivalry with a heartwarming and unexpected love story.
Bao Nguyen and Linh Mai strike up a romance after avoiding each other for years. They are each employed at their families competing pho restaurants and suspect that the feud is far greater than a neighborhood restaurant rivalry.
As they grow closer, Bao and Linh discover that the roots of the family conflict trace back to their history in Vietnam.
Amidst career concerns, pressure from their parents, and family conflict, Bao and Linh become exactly what the other needs.
Can love triumph against all odds?

Read A Pho Love Story: Amazon | Goodreads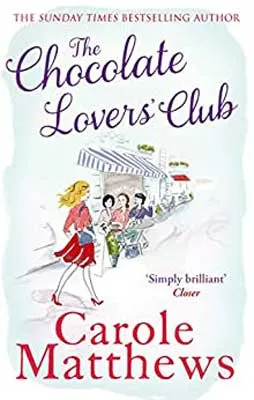 19. The Chocolate Lovers' Club by Carole Matthews
We all turn to chocolate to cope…
At least Lucy Lombard does. She and fellow chocolate lovers, Autumn, Nadia, and Chantal, create an intimate group – The Chocolate Lovers' Club – to discuss life's trials and tribulations at a chocolate café.
From a cheating boyfriend to a loveless marriage, there's plenty of reason to meet.
Funny, witty, and at times heartbreaking, read along as four women discover that they've bonded with more than just their favorite snack.

Read The Chocolate Lovers' Club: Amazon | Goodreads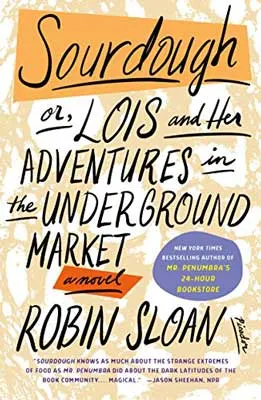 20. Sourdough: or, Lois and Her Adventures in the Underground Market by Robin Sloan
San Fransisco-based software engineer Lois codes during the day and limits human contact by night, with the exception of the brothers who own a local hole-in-the-wall restaurant. She orders takeout from them nightly.
When the restaurant is forced to close, Lois receives an unexpected delivery: the brothers' sourdough starter. They want her to keep it alive and bake with it.
Lois soon finds herself enjoying her own bread and sharing it with coworkers. In true techie start-up-esque fashion, they encourage her to take her bread to the farmer's market, where a whole new world of opportunities awaits.
If only Sloan could've guessed how popular making homemade sourdough would become.

Read Sourdough: Amazon | Goodreads
More Food Fiction Books To Read
Recommendations from your tipsy host, Christine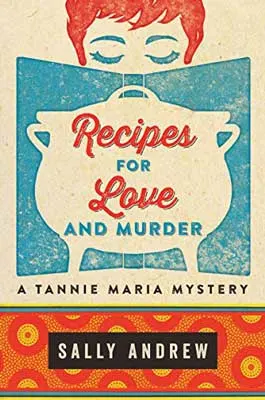 21. Recipes For Love And Murder by Sally Andrew
Our new favorite cozy mystery series and one of the best South African novels about food, we devoured Recipes For Love And Murder.
The Tannie Marie Mystery series is perfect for fans of Alexander McCall Smith's The No. 1 Ladies' Detective Agency. A largely feel-good mystery awaits you – minus the murder aspect.
Tannie Maria is a passionate recipe columnist when her boss asks her to switch to love advice. Cleverly, Tannie Maria combines the two subjects for one hit of an advice column.
The lightheartedness of her job takes a turn when Tannie Maria receives a letter from a victim of domestic violence asking for help.
When the letter's author is soon found murdered, Tannie Maria is determined to catch her killer.
Is the murderer her abusive husband or the woman who was crushing on her? This recipe for murder involves ducks, a fireplace poker, biscuits, milk tarts, and pomegranate juice.
Along with her journalistic friends and colleagues, the women investigate, putting their lives on the line while also finding love.
Food fiction lovers will especially enjoy the South African recipes written out at the back of the book. After reading Recipes For Love And Murder, we can only fuel our book lists with tea and biscuits.

Read Recipes For Love And Murder: Amazon| Goodreads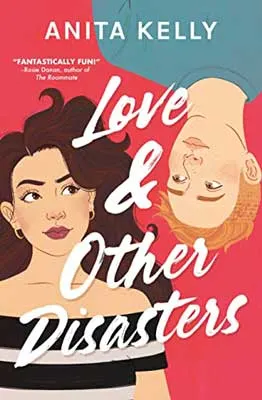 22. Love & Other Disasters by Anita Kelly
One of our favorite new 2022 LGBTQ+ books set in Los Angeles, California, Love & Other Disasters is the ultimate romance for foodie fiction lovers.
Plus, if you watch Top Chef and The Great British Bake Off, we promise, this one is for you.
Dahlia Woodson is recently divorced and heading to L.A. to participate in a competitive cooking show, Chef's Special.
Not wanting kids of her own, she feels as though she has let everyone down, including her ex-husband and parents.
While on Chef's Special, Dahlia finds herself falling for London, a pansexual, nonbinary contestant — who is hot AF. It doesn't matter that they are competitors.
Unfortunately, Dahlia and London never discuss what will happen when one of them is kicked off the show; they live in different states, and someone will eventually have to go.
Will they stay together? Will their families love them for who they are? Will they learn to love themselves?
This is a sizzling hot novel with food featuring dynamic characters and strong representation. See what other books we devoured in 2022.

CWs: Misgendering, homophobia, nonbinary-phobia, transphobia, sexism, sexual content

Read Love & Other Disasters: Amazon | Goodreads | Book Information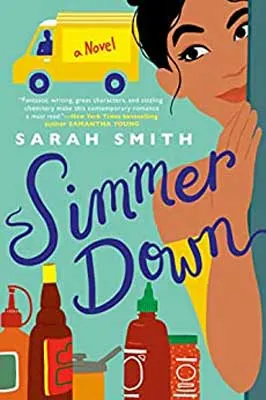 23. Simmer Down by Sarah Smith
Escape to the shores of Maui in Sarah Smith's steamy multicultural romance Simmer Down. Foodies will love watching Nikki and Callum compete in the Maui Food Truck Festival.
Plus, Simmer Down has our favorite things: cursing, cats, abs, and pink champagne. No kitties are hurt, either.
Hottie Callum and his brother Finn park their food truck next to Nikki and her mom, ignoring all proper etiquette. This could mean the end of their business.
While Nikki plans to bring it, she doesn't expect to start falling for Callum, who throws her stubborn and cautious life's plan into utter chaos.
Will Niki realize that there is more to life than work? Can she learn to love again after losing her father?
For fiction books about food, Callum and Nikki's relationship will make your heart smile and your tummy growl for delicious eats.
Simmer Down was one of our favorite romances of 2020 and is a fantastic selection if you are hoping to travel to Hawaii via your armchair.
Read Simmer Down: Amazon | Goodreads | Book Information→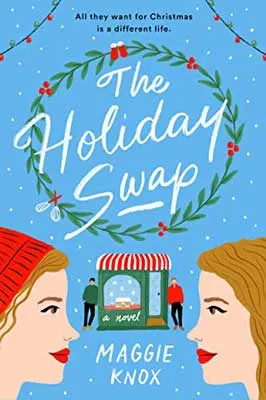 24. The Holiday Swap by Maggie Knox
Charlie's one baking superpower is her sense of smell, which is why when she gets a concussion at work, she's worried that she's ruined her one chance to host her own baking show.
Luckily for Charlie, she has an equally talented twin sister, Cass, who agrees to swap places with her. Charlie heads to her family's small hometown bakery while Cass takes over for her in L.A.
What could possibly go wrong? Pretty much everything, especially when they both start falling in love.
The Holiday Swap is the perfect read if you love novels about food and baking, devour The Great British Bake Off, or are looking for a story set around Christmastime.
Plus, you'll enjoy the sisters' bond along with the juxtaposition of big-city life versus small-town roots. Find feminism, heart, finding yourself, and lovable friends and family.
Foodie fiction doesn't get more feel-good than this.
Read The Holiday Swap: Amazon | Goodreads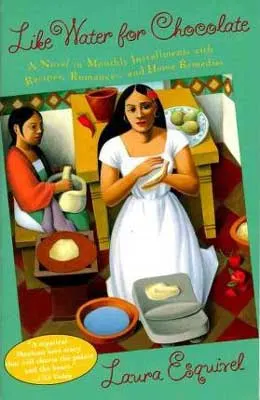 25. Like Water For Chocolate by Laura Esquivel
Translated into English by Carol and Thomas Christensen: For kick-butt women in historical fiction and one of the most well-known books set in Mexico, every foodie fiction list should include Like Water For Chocolate.
Meet Tita De La Garza. She is the youngest daughter in her Mexican family, which means that she is forbidden to marry.
Her true love, Pedro Muzquiz, marries her older sister to stay closer to her. Tita, meanwhile, takes to the kitchen where her storm of emotions becomes trapped in her food.
A story filled with forbidden love, magical recipes, and heartbreak during the Mexican Revolution, Tita and Pedro must find each other over the course of a lifetime through marriages, children, and death.
If you enjoy magical realism, this also makes for a fantastic Mexican movie.
Read Like Water For Chocolate: Amazon | Goodreads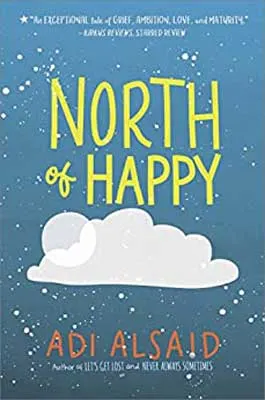 26. North of Happy by Adi Alsaid
Craving tacos? That's the story of our lives here at TUL.
One of our favorite Anti-Valentine's books, North of Happy is a novel about restaurants.
Carlos and his older brother, Felix, decide to taste test their way through the food stands of Mexico City. They are in search of the perfect taco.
When a stray bullet kills the free-spirited, nomadic Felix, Carlos desperately needs to recover his own happiness.
During his high school graduation party, Carlos runs away from his privileged and pre-determined life, heading to a small island off of Washington State. His brother's ghost follows him.
Carlos visits Provecho, a bucket list restaurant in his brother's diary. Needing a job and place to stay, the restaurant's master chef takes in Carlos.
With the threatening promise of termination, if he does not stop dating the chef's daughter, Emma, Carlos is in a bind.
One of the best YA novels about food, love, and life, North of Happy makes readers feel as though they are experiencing life for the first time.
Encounter enchanting backdrops and heartfelt, raw emotions.
Read North Of Happy: Amazon | Goodreads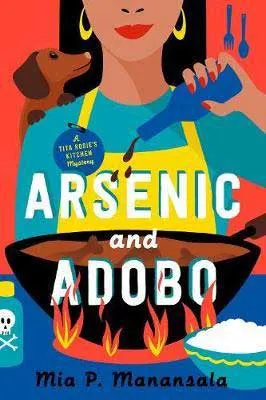 27. Arsenic And Adobo by Mia P. Manansala
Arsenic And Adobo is endearing and light multicultural foodie fiction for readers looking for a suspenseful Filipino-American mystery.
While we enjoyed this more unique story, some of our Uncorked Readers felt lukewarm about the plot.
If you enjoyed Jesse Q. Sutanto's Dial A For Aunties, though, Arsenic And Adobo makes for a great read-alike.
Head to Illinois where Lila Macapagal moves back home to save her aunt's failing restaurant. She has an adorable dog.
Unfortunately, Lila's loathsome food critic ex-boyfriend dies after another terrible restaurant review and confrontation with Lila.
Of course, this leaves Lila as the number one murder suspect even though he's the most despised man in town.
Can Lila solve the mystery before anyone else ends up hurt? Is something else going on here?
You'll love Lila's nosy aunties, and you'll find bits of romance and entrepreneurship. Can you truly go home again?
Plus, if you are craving food fiction books and cozy mysteries, this story promises a bit of everything. Discover even more books about the Philippines and Filipino culture.
Read Arsenic And Adobo: Amazon | Goodreads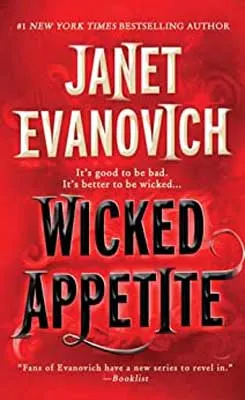 28. Wicked Appetite by Janet Evanovich
Here at TUL, we are pretty Janet Evanovich obsessed. She is the perfect author if you are looking for a junk-foody series. Stephanie Plum anyone?
For food fiction, however, Evanovich's Lizzy & Diesel series is where you want to start, especially if you enjoy magical books set in Salem and cupcakes.
The first in the series, Wicked Appetite is one of the best novels about food and baking incorporating magic, mystery, and cupcakes.
Elizabeth Tucker is a new pastry chef at Dazzle's Bakery, and her colleague, Gloria Binkly, is an aspiring witch on a quest to find stones that hold the seven deadly sins.
Genghis Khan, Alexander the Great, and Napoleon were just a few of the previous treasure hunters after these stones along with the present-day and dangerous Gerwulf Grimoire.
When Diesel shows up, offering to protect Lizzy, she's not so sure what to make of him. Find an enchantingly cozy culinary mystery with a monkey, an old house, and a cat.
Full disclosure that we love Stephanie a tad more, and just be aware that Evanovich's books are formulaic and predictable – which is sometimes needed in our reading lives.
Read Wicked Appetite: Amazon | Goodreads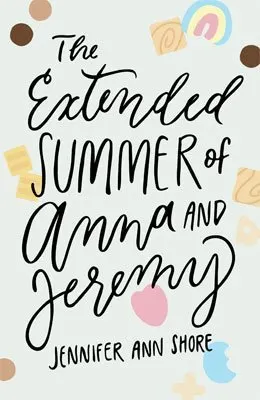 29. The Extended Summer Of Anna And Jeremy by Jennifer Ann Shore
Although a bit more of a stretch into food fiction books, if you love cereal, you'll devour Shore's The Extended Summer Of Anna And Jeremy.
A young adult indie romance set in PA, Anna is entering her junior year of high school and looking for a change of pace. A list-maker and strong student, Anna is a play-it-safe and practical kind of woman.
Anna enlists her brother's handsome friend, Jeremy, to help her fulfill a mini-bucket list filled with brave adventures outside of her comfort zone throughout the summer.
Get a tattoo. Cross the state border. Be romantically intimate.
Throughout the summer, readers watch as Anna and Jeremy's relationship blossoms. Worried about making her family situation more awkward and ruining her brother's friendship, though, Anna has a tough decision to make.
Should she follow her heart or her brain?
Shore is infamous for her love of snacks, candy, and treats. If you follow her TikTok and IG accounts, you know that she is always commissioning incredible bakes and ice cream cakes to market her books.
Each book offers a nod to desserts and snacks, and you can find Shore snacking for writing inspiration – in fact, she coined the term "snacksgiving." Bless her vampire black heart.
Explore even more tales of friendship that blossom into something more.
Read The Extended Summer Of Anna And Jeremy: Amazon | Goodreads | Book Review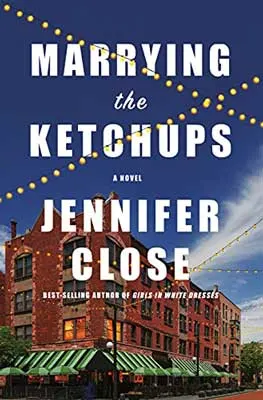 30. Marrying the Ketchups by Jennifer Close
The year 2022 produced fabulous foodie fiction books, and Close's Marrying the Ketchups won't disappoint, especially if you enjoy novels like Empire Falls.
Right before his beloved Cubs head to the World Series and near Donald Trump's presidential win, Bud unexpectedly passes away.
The founder of Chicago's old-school burger bar, JP Sullivans, Bud's death unhinges his family in already tumultuous times.
His grandkids, kids, and cousins' lives are falling apart, especially in regard to their relationships and careers. All have flocked back to their family restaurant – a safe and familiar haven – and are in need of help.
Teddy needs to fully disengage from toxic relationships. Jane knows her husband is cheating, but can she save her marriage and herself?
Will Gretchen mature and find her purpose? And, how about Rose who is struggling to gracefully age without her beloved Bud?
Books about restaurants don't get any more realistic and heartfelt than this. We appreciate the political commentary – and feel just as angry as Jane.
Close is a master at character development, and as for mouthwatering foodie fiction, you'll find yourself craving that comforting cinnamon toast after a rough night.

Read Marrying the Ketchups: Amazon | Goodreads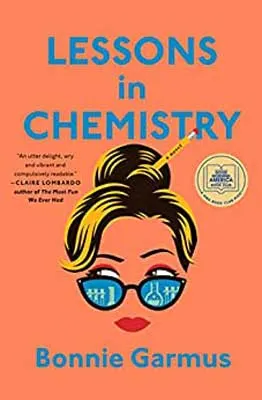 31. Lessons In Chemistry by Bonnie Garmus
Lessons in Chemistry is disguised as one of those novels about food and cooking shows that is loaded with so much more.
Plus, get ready to meet one of our favorite fictional dogs, Six-Thirty.
In a story about misogyny in sports and science in the 1960s, Elizabeth Zott refuses to fall victim to her time.
Struggling to become a renowned scientist, Elizabeth Zott's bosses and teachers sexually assault her, her colleagues steal and take credit for her work, and gosh forbid she falls in love with another scientist just for love.
Finding herself a single mother with a brilliant dog and as a new host for a cooking show, Elizabeth wants to empower women and truly change the world.
As she guides her viewers, can Elizabeth help herself and fulfill her dreams and goals? For food fiction, Lessons in Chemistry promises all of the chemistry and heart behind what you eat.
Explore more books about and from the 60s on this reading list. And, did you know that Lessons In Chemistry is a new movie for 2023?
Read Lessons In Chemistry: Amazon | Goodreads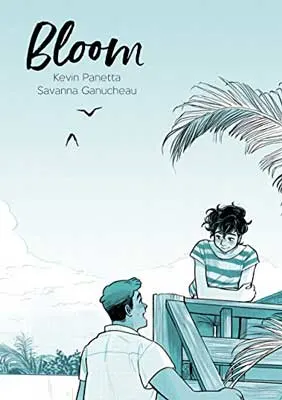 32. Bloom by Kevin Panetta and Savanna Ganucheau
If you love watching Paul Hollywood make those gorgeous bread twists and are wowed by the lamentation process on The Great British Bake Off, Bloom is the perfect foodie fiction LGBTQ+ graphic novel to pick up next.
A recent high school graduate, Ari needs to figure out his next steps. His family cannot afford college, and he craves nothing more than leaving home to pursue a career with his band.
However, his family's bakery desperately needs him; the business is in jeopardy of going under. Ari hires cooking student, Hector, as his potential replacement.
Hector's passion for baking is infectious, and Hector finds himself falling for both Ari's sweet parents and Ari. Ari's not the easiest or most selfless, self-aware catch, though.
When a major accident at the bakery compromises everything, who will Ari become – and where will leave that Hector?
Fiction books about food paired with a little romance don't get any more delicious than this. We ate up the illustrations of Ari's home and Hector's baking.
Enjoy even more gorgeous and evocative teen graphic novels.
Read Bloom: Amazon | Goodreads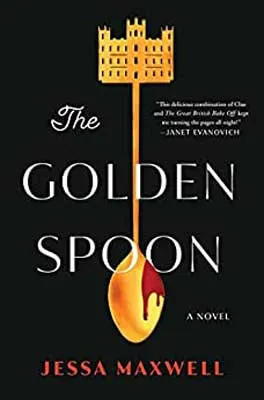 33. The Golden Spoon by Jessa Maxwell
TWs: misogyny, ageism, sexual harassment, and sexual assault
Another food fiction book for lovers of the GBBO, our Uncorked Readers were obsessed with The Golden Spoon, a 2023 new release.
Betsy Martin, "America's Grandmother" – who unfortunately will not turn out to be Mary Berry, cough, cough – hosts Bake Week, a cooking competition in her gothic home.
Yet, this season is different, especially with a dead body dangling from that famous white tent. Not to mention her new gross host, Archie Morris.
As we meet the line-up of characters – each with their own baggage, trauma, and quirks – this is both a whodunit and a nod to the rise of our love for culinary TV.
For novels about food, The Golden Spoon makes for a solid audiobook, too, especially with the abundance of characters and their distinct personalities and voices.
However, if you are craving more of a murder mystery, know that much of the killer action doesn't happen until more than halfway through the novel.
Pick up The Golden Spoon for its cast of characters and delicious bakes and less for the gripping suspense – which might disappoint you, otherwise.
Read The Golden Spoon: Amazon | Goodreads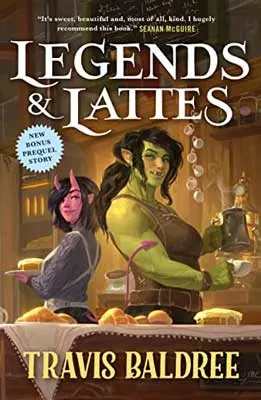 34. Legends & Lattes by Travis Baldree
We jokingly and lovingly say that this little indie novel gone viral via social media should be titled, "How to start a coffee shop."
Not to mention that for the best books about food, Legends & Lattes is sweet in every sense of the word – from Thimble's chocolates, biscuits, and croissants to the endearing and rich friendships.
Viv is an orc, and she's retiring from murdering people, Robin Hood-style. Settling down for the first time in her life in the small village of Thune, she wants to bring people a magical new beverage. Coffee!
Yet, Viv knows nothing about running a business besides that she loves coffee – more than the Gilmore Girls. Can she convince the townspeople to try it?
With her new gaggle of friends, Viv also has to worry about paying the local gang until a scorned friend arrives in town. Will these threats put her out of business?
LGBT fantasy lovers will enjoy this easy-to-read, cozy romance and one of our top books of 2022. Food novels don't get any more delicious than this!
Find even more great fantasy books featuring monsters.
Read Legends and Lattes: Amazon | Goodreads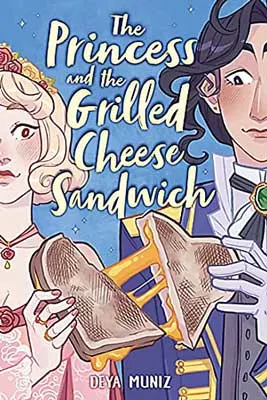 35. The Princess and the Grilled Cheese Sandwich by Deya Muniz
For sapphic graphic novels about food, The Princess and the Grilled Cheese Sandwich is an ode to our cheese lovers.
On Lady Camembert's father's deathbed, they decide the only way for her to get her inheritance under current law is to pretend she is a man.
Cam is indifferent to gender and has no problem dressing as Count Camembert. However, she begins to fall for Princess Brie, who doesn't know her real identity.
With a love of sustainable fashion – and a terrific friend circle – the two fall in love. But, what happens with the Count's true identity is revealed? Can they live happily ever after?
Perfect for tweens and teens (and cheese-loving adults), this is endearing and dare we say cheesy food fiction at its best.
With characters named after cheese as well as Cam's love of cheese t-shirts, you'll close this novel certainly wanting to make a grilled cheese for yourself or a loved one.
Read The Princess and the Grilled Cheese Sandwich: Amazon | Goodreads
Grab your favorite fiction books about food:
Save Your Favorite Food Fiction Novels For Later: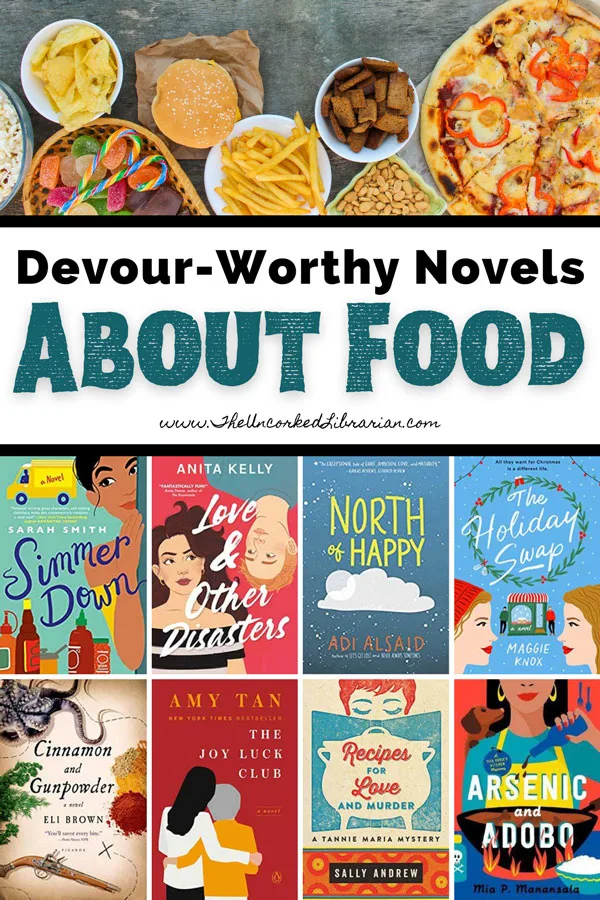 What are your favorite fiction books about food to read?
Did this foodie fiction reading list make you hungry? What are your favorite novels about food? How about novels about restaurants and baking shows? Let us know in the comments.
Related Articles:
This reading list is originally part of our 2022 Uncorked Reading Challenge.