Grab a drink across the globe with the best wine podcasts to listen to right now.
Whether you are a casual wine drinker or a wine professional, we have just the must-listen-to wine podcast list for you…
As winos, we are sharing just a few of our favorite podcasts about wine tastings, food pairings, history, wine trends, and even celebrity collectors.
Some of these podcasts promise to dive deeper into varietals and regions while others discuss the lack of diversity in the field.
Meet women in wine, and laugh aloud as a husband and wife jovially bicker over a glass or two. Plus, pair your podcast listening with books, online classes, and even a few wine documentaries.
Discover your next favorite wine blogger, and travel around the world seeking – and sipping – terrific wines.
Let's get started, and be sure to let us know your favorite podcast about wine in the comments!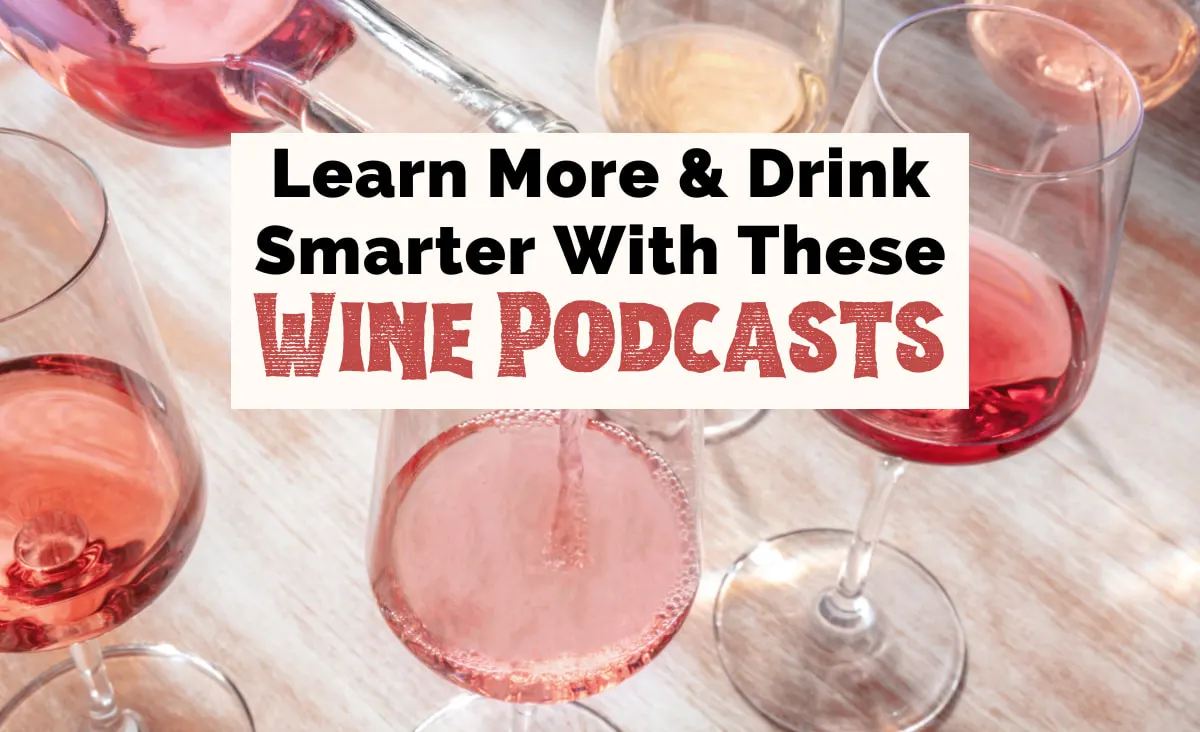 Grab your favorite podcasts, books, and movies here:
13 Best Wine Podcasts
1. Wine Crush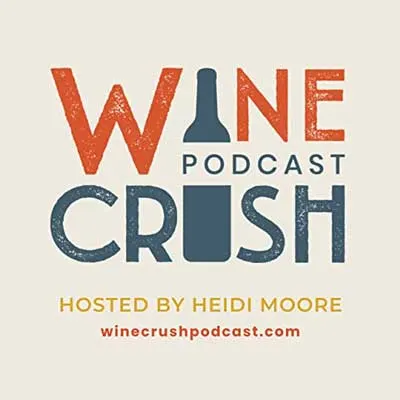 If you think wine has been portrayed as a snobby, rich person's hobby, Wine Crush is here to change your mind.
The host, Heidi, has set out to prove that wine is for all drinkers and for all budgets. She will demystify the world of wine while interviewing both large and small-batch winemakers, as well as other industry professionals.
While we wouldn't say it's an ideal wine podcast for beginners, Wine Crush is perfect for anyone looking to elevate their knowledge.
It also fulfills a niche gap, providing information for buyers and professionals looking to diversify their wine offerings.
2. Wine Enthusiast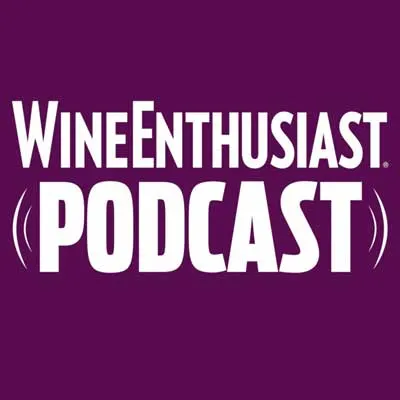 It probably comes as no surprise that Wine Enthusiast's broadcast is one of the top wine podcasts out there.
Head behind the scenes and into the world of wine, beer, and spirits with one of the industry's most respected publications.
Podcast episodes focus on emerging wine trends, wine education, and the passionate wine professionals who make the world of wine what it is today.
Curious about food pairings? Looking for an in-depth 101 on Rosé? Want the scoop on the rules about champagne?
Wine Enthusiast's podcast covers all of that and more when it comes to our favorite libations!
3. SOMM TV Podcast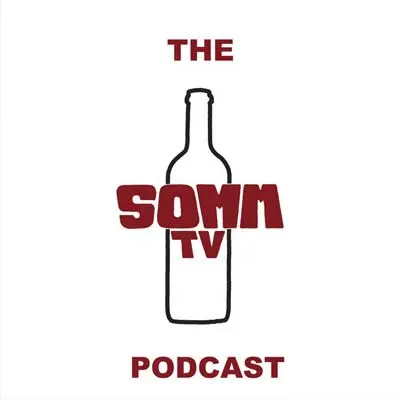 It's no secret that the SOMM documentaries were some of our favorite wine movies. We love inside scoop when it comes to the fantastic and mysterious world of wine and sommeliers.
The SOMM TV Podcast brings more wine storytelling right to your device.
Take a deep dive into the great wines of the world, food pairings, celebrity collectors, history, and so much more.
Simply put, it's about anything and everything wine-related.
If you're looking for more by SOMM TV, they publish additional wine podcasts as well: Reading and Drinking (focusing on wine-related reads), A Glass for Every Palate (discussing wine and the culinary world), and The History of Wine (covering, you guessed it, the comprehensive history of wine and viticulture).
4. Wine for Normal People
Wine for Normal People is one of our favorite laid-back platforms that proves wine can be fun, chill, and inclusive, especially with their endless wine books, classes, and resources.
And, if you're looking for podcasts about wine that are simple and educational, you'll find that their podcast hits the spot.
Created for those who like wine, but not the pretense surrounding it, listeners will find that the Wine for Normal People podcast treats wine with the respect it deserves, but balances this reverence out with humor, candor, and honest conversation.
Host Elizabeth, a sommelier, works in the industry and interviews other professionals, as well as her husband who simply likes to drink wine.
If you find that her platform is just the thing you've been looking for, take one of her online educational courses. She also makes guest appearances at wine shops.
You might also enjoy these books about wine.
Listen to Wine for Normal People
5. Wine Chats with Bildo and Lindalin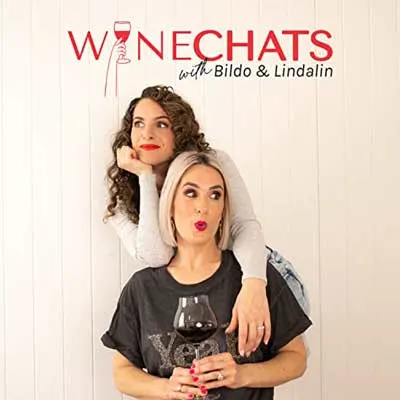 Meet your new boozy podcast BFFs.
Billi and Lindsey – affectionately called Bildo and Lindalin – proudly present what they consider to be an offensively funny podcast about drinking wine and chatting about life.
They'll feature different wines – along with some strong opinions about them. If you're a Chardonnay fan, don't say we didn't warn you!
Plus their conversations aren't for the faint of heart. They'll chat all things relationships, bedroom, motherhood, friendships, and more, over their extra large pours of vino.
Sometimes, you just need an informal and easygoing wine podcast and a host you feel like you've known for ages, and Wine Chats definitely fits the bill.
Listen to Wine Chats with Bildo and Lindalin
6. Matthew's World of Wine and Drink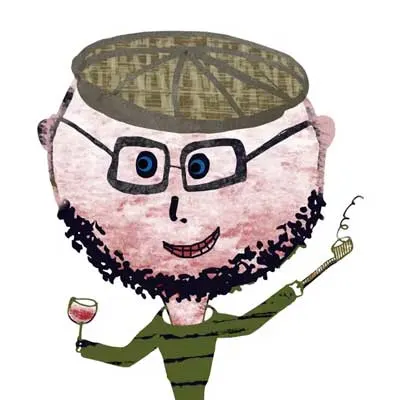 Matthew's blog and podcast focus on breaking down wine and grapes by region and varietal.
You'll read and hear all about popular regions and grapes in France, Napa, Australia, and more, along with lesser-known areas like Slovenia and scarce Italian varieties.
A certified WSET Educator, his knowledge shines through, and it's clear his passion is to simply teach about and break down wine for those interested.
This includes interviewing some of the most unique winemakers and professionals.
He believes wine is the gateway to culture, history, geography, people, and so much more, and this philosophy weaves its way into his interviews and episodes.
His broadcasts are perfect for anyone looking to break into the world of wine education or those seeking to further their appreciation via great wine podcasts.
Listen to Matthew's World of Wine and Drink
7. Cork and Taylor Wine Podcast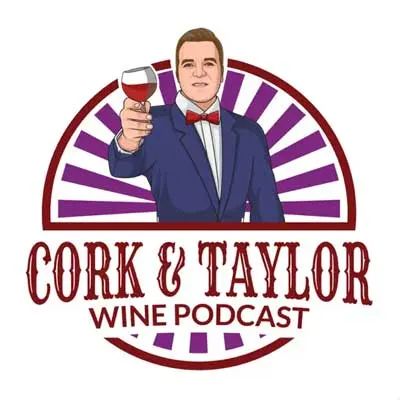 For more approachable podcasts about wine, Luke Taylor presents the lighter side of our favorite bevvie via candid conversations with unique people in the wine industry.
Each week, Taylor, a wine distributor himself, interviews winemakers, vineyard owners, celebrities, and other avid drinkers about their relationships with wine.
He also seamlessly weaves in his own tremendous knowledge, without the pretense or snobbery.
We have a penchant for wine educators who share their knowledge in an easy-to-understand, welcoming manner.
A beautiful blend of education and information, The Cork and Taylor Wine Podcast humanizes wine and, unlike other wine podcasts, shows us how wine can bring us together.
Listen to Cork and Taylor Wine Podcast
8. The James Suckling Wine Podcast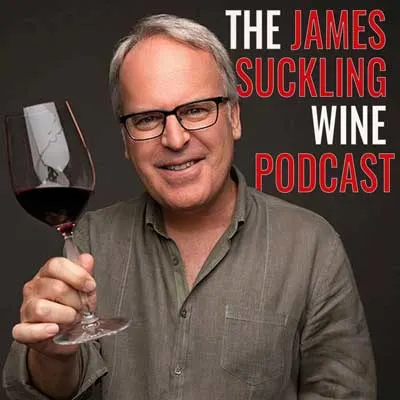 James Suckling is a well-respected and long-term journalist and wine critic. His work focuses on the great wine regions of the world, from France to Argentina to Italy and beyond.
His informative podcast about wine brings his comprehensive tasting notes and his rating scale to listeners all over the world.
Suckling and his editors taste thousands of wines each year, and host conversations with those he considers "titans of the industry," including some of the most renowned winemakers.
Beyond the podcast, his wine media site has a host of informative articles about wine regions, tastings, and articles about enjoying wine.
Listen to The James Suckling Wine Podcast
9. The Wine CEO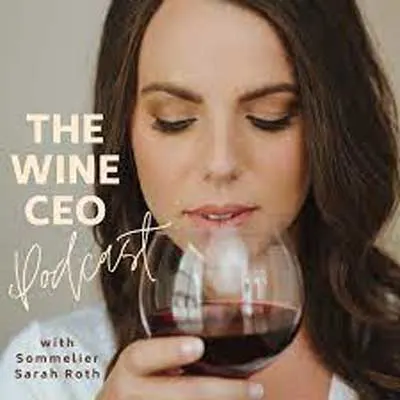 Sarah Roth is a sommelier and host of one of the best wine podcasts dedicated to making wine approachable.
Her unique episodes cover an array of wine-related topics, such as tasting wine that's been shunned for 10+ years, breakfast pairings, AI and sommeliers, and holiday wine picks.
And, if you're curious about trends like Dry January and wine-themed advent calendars, she'll break those down, too.
Roth also hosts dedicated episodes geared towards wine regions, including Italy, Georgia, Slovenia, and more, as well as mini-series that deep dive into topics such as fortified wines and Greek wines.
We personally think her approachable stance and often catchy topics – think Does Wine Taste Like Cat Pee? – makes Roth one of the top wine podcast hosts out there.
Join The Uncorked Reading Challenge Today
---
Travel around the world with the Uncorked Reading Challenge. Get the best book and movie recs straight to your inbox. Sign Up Now.
10. GuildSomm Podcast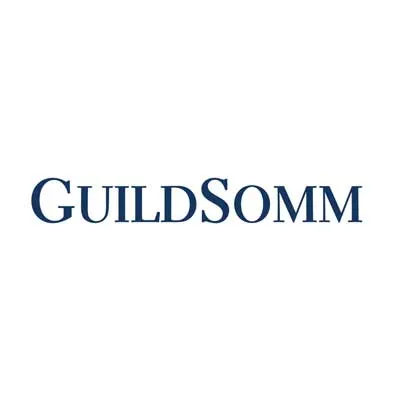 While we've broken down and recommended quite a few of the approachable and easygoing podcasts about wine, we'd be doing a disservice if we neglected to mention any of the more "professionally" geared ones.
GuildSomm is presented by the official Guild of Sommeliers.
You know you're getting some of the top industry names, the most well-respected and top-shelf wines, and a ton of nitty gritty, uber-specific information on the industry.
While much of it goes over our heads, thousands of listeners dive into episodes on tannin management, Champagne sustainability, and regenerative farming.
This wine podcast may be for professionals versus casual drinkers, but we also can't overlook the gap filled by the GuildSomm Podcast.
11. Unreserved Wine Talk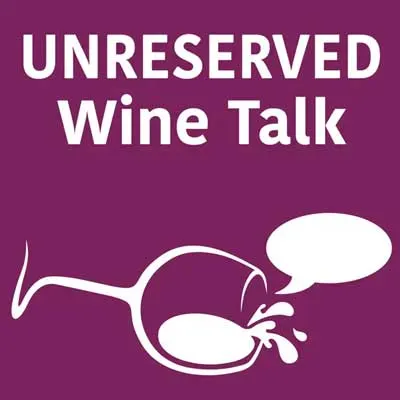 Journalist Natalie McLean has candid conversations and confessions with some of the most unique names in the wine industry.
What is it like to participate in a sommelier competition? What competition put California wines on the map? Who hosted a funeral for a cork?
These are the questions MacLean and her guests answer, along with how to select wine off of a menu, find good value, and food pairings.
Every second episode, MacLean flies solo and shares her own wine-fueled stories, including the embarrassing ones, that she's collected over the years.
Uniquely, she also discusses what it's like to be a female in the still male-dominated wine industry.
Her storytelling angle makes Unreserved Wine Talk one of the best wine podcasts out there!
Listen to Unreserved Wine Talk
12. The Swirl Suite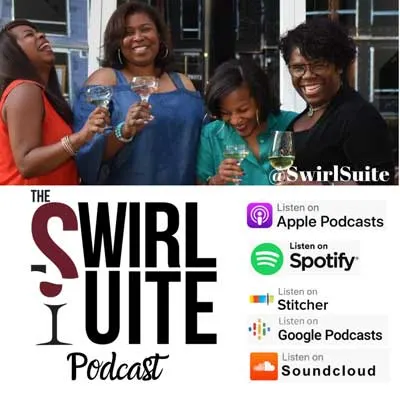 The Swirl Suite is a wine podcast hosted by four Black women in the wine industry.
Sarita, Tanisha, Leslie, and Glynis discuss their perspectives in a white, male-dominated field.
The women share Black-owned vineyards and labels, as well as their local and global experiences tasting and guiding tours from DC – where some of them are from – all the way to Paris.
With experience in sales, tourism, and wine education, there's no other podcast out there like The Swirl Suite, aimed at breaking racial barriers in wine.
13. Wine Blast with Susie and Peter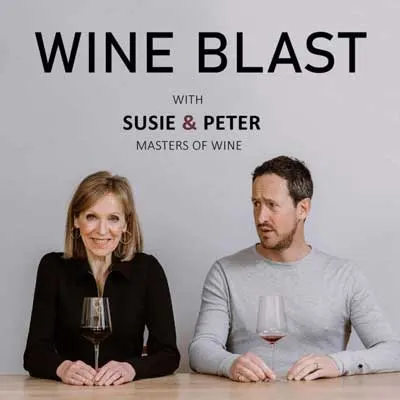 Susie and Peter and both masters of wine and happen to be married to each other.
Now in the top one percent of podcasts globally, Wine Blast, as Susie and Peter say, brings wine to life.
The duo blends interesting people and conversations with information, food tips, giveaways, and – because they are married – a healthy dose of banter.
In fact, it is the bickering and relatability that makes Wine Blast one of our favorite wine podcasts. Who doesn't want to learn about wine from two professional over-sharers?
More than learning about wine, listeners will come to understand that a glass and some giggles are the antidotes to any marital argument.
Listen to Wine Blast with Susie and Peter
Grab your favorite podcasts, books, and movies here:
Save The Top Podcasts About Wine For Later: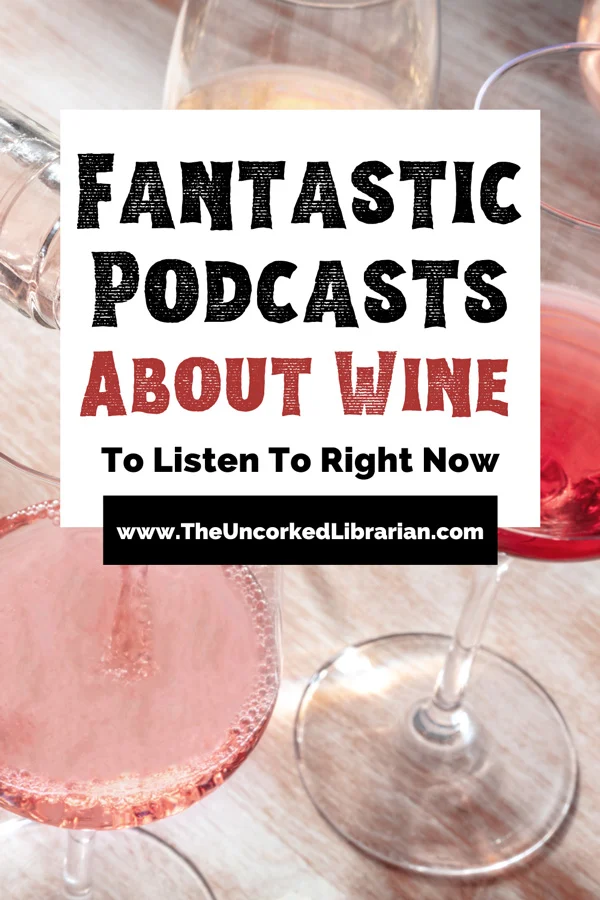 What is your favorite wine podcast?
What boozy podcasts do you love? Let us know in the comments.
Related Articles: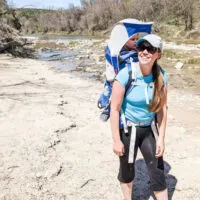 Tori (pronouns: she/her) is a mom to two boys, living in New York but adventuring everywhere, usually with a toddler on her back. She's an avid traveler, nature junkie, and writer, encouraging families to get outside and start exploring the world. When she's not hiking or traveling, you can find her lost in a book, watching Bravo reruns, or obsessively decluttering her home. Tori owns the family and adventure blog, Explore with Tori.