This post may contain affiliate links for products and services I recommend. If you make a purchase through these links, at no additional cost to you, I will earn a small commission. Read the full disclosure here.
Are you looking for something fun to do at home? Why not try one of these drinking board games? Discover boozy trivia, DIY ideas for board games that you already own, and so much more.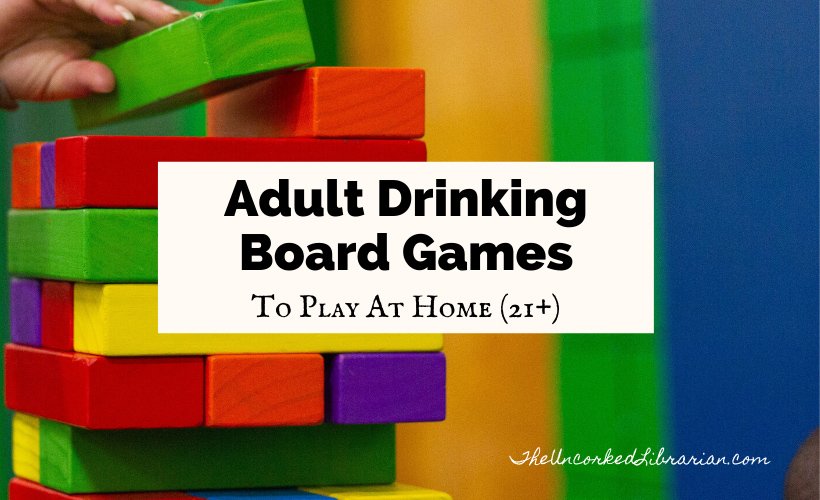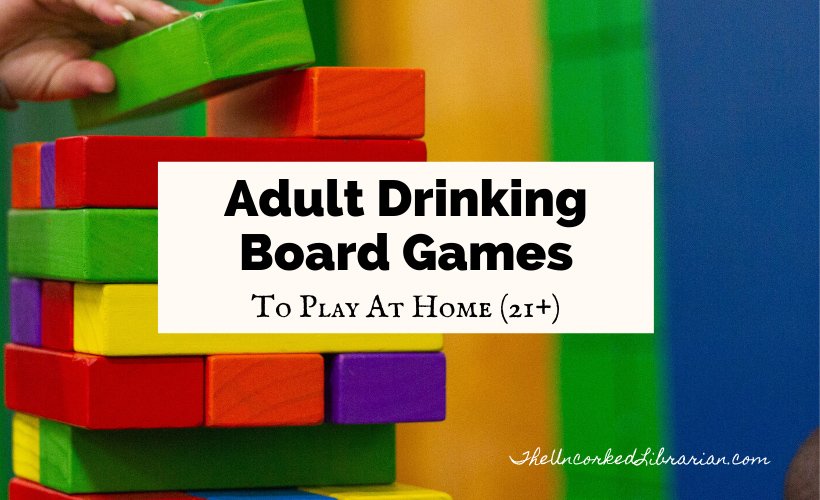 What can you do on a rainy weekend with friends or family while you are stuck at home? I know for my birthday this year, I plan on watching Cats featuring James Cordon and Taylor Swift with a lovely bottle of Biltmore wine. I heard it's a complete sh*tshow.
In my household, we also love playing games, whether there are just two of us or we are entertaining. Because I am The Uncorked Librarian, of course, we also love to shake up a good cocktail or pour a glass of bubbly. So why not combine our nerdy hobbies with some booze?
And let's face it, we also like to level out the competition. We all have that one annoying friend who we adore but always kicks our board game-loving a*sses.
Below find some of the best drinking board games for adults that we love to play or are eyeing for future get-togethers. Discover trivia, more DIY board games, and new takes on games that you may already have lying around. Plus, who knew that so many boozy games already come packaged up just for this occasion?
I swear that the creation of this post threw me into a delicious and fun rabbit hole that I never wanted to leave.
**Please drink responsibly, and remember that this post is intended only for readers of legal drinking age based on your country's regulations (21+ in the United States). Alcohol consumption is not required for any of these games and many we modified to be drinking games. Feel free to substitute juice, water, or soda.**
Drinking Board Games You May Already Own
1. Drunk 'Jenga'
Who doesn't love Jenga or pre-made tower stacking blocks? I'm not going to lie: back in my librarian days, I received a $100 gift card for being "Employee of the Month." Know what I bought? GIANT mother f'ing JENGA! Best investment ever. We also have the coolest friends who have built their own towers.
So what is adult Jenga besides the easiest drinking game ever? Each block has a hidden drinking task that is revealed once you pull it out of the stack. That sounds wrong. "Take a shot!"
You can either use the Jenga set you already own and write on the blocks (and never give it back to your kids) or you can purchase a pre-made set like Drunken Tower. Some blocks are blank, since you know, you don't want to drink too much.
Players: Two to four players are ideal.

Booze: I personally hate vodka from college, but vodka, tequila, or just a sip of gin or whiskey would work
2. Cards Against Humanity or Apples To Apples
Our two personal favorite card games that you can easily turn into drinking games include Apples to Apples and Cards Against Humanity. There is one small difference here.
Cards Against Humanity is definitely an adult-only board game. There is dark humor, and even though we have played this one with our parents, you still might blush. A player puts down a black card that has fill-in-the-blanks while everyone else tries to match a white card that is the funniest and best response.
One of the examples on the box is: "Dude, do not go in that bathroom, there is a [blank] in there." People might put down something like "gloryholes" or much worse… For some, this game may be triggering.
Apples to Apples is the same idea but slightly less traumatizing and PG without the blanks. One player places down a green card with a descriptive word on it. Everyone else is holding 5 red cards that are usually nouns; you have to try to put together the best and most hilarious combination.
But, how do you make Apples to Apples and Cards Against Humanity drinking board games, you ask? If your card totally falls flat, DRINK!!!!
Players: Four to eight people can play, although they say up to twenty.
Booze: Either a shot of your choosing or a sip of wine or a cocktail.
3. Drunk Twister
I am not sure if you technically count Twister as a board game, but I do. Twister is all about using a spinner and placing your body part on the right color until you fall over. And you will fall over.
This one is pretty obvious, but you can easily play Twister as usual and whoever falls, DRINKS. Of course, the fun really starts on Round 5… You could also doctor up your spinner…
Players: At least 2 players are required for Twister.
Booze: A shot of vodka will do.
4. Drunk Monopoly
Guys, did you know that there is a Monopoly board game called Unicorn vs Llamas. Can someone please GET ME THIS?!?!
Monopoly is some truly f'ed up version of the American Dream, or so I think. Why not make it more interesting? As Hasbro advertises, "Buy, sell, dream and scheme your way to riches." You roll the dice, move your player around the board, buy up property, and charge the h*ll out of people.
How can you make Monopoly into an adult drinking board game? Designate spots on the board to be drinking triggers like 'go to jail' or if someone has a hotel there.
Players: There are 8 tokens, one for each player.
Booze: This one is all up to you, but I think sophisticated Manhattans and Old Fashioneds sound fabulous.
You may also like Drinkopoly.
Adult Drinking Board Games You Can Order Online
5. Shot Glass Tic Tac Toe
I've definitely gifted shot glass Tic Tac Toe before, and I have no regrets. Shot glass Tic Tac Toe is essentially a down and dirty adulting drinking board game that you might only want to play once or more slowly.
You can devise your own rules so that the loser drinks or if you both lose, bottoms up. Better yet, pace yourself and only down one shot per match to make the game last longer.
Players: 2 at a time because this is Tic Tac Toe…
Booze: Tequila or vodka would easily work. Bleh.
6. Drink-A-Palooza
Drink-A-Palooza is like Pong, Kings Cup, Flip Cup, and Quarters all in one. You get ping-pong balls, a deck of cards, dice, and game pieces. You do not need your own ping-pong table. Players navigate the board and compete in mini-challenges to fill their six-pack.
Players: Two to twelve people can play, and you can form teams.
Booze: While the game claims that it is not intended for alcohol drinking, grab your plastic cups from college and pour a cheapo mixed drink like a vodka and cranberry or OJ and vodka. Sounds like a drinking game to me…
7. Buzzed
Buzzed is one of the simplest 21+ drinking board games. Draw one of the 180 cards, and do what the card says like, "If you drink milk with your meals, take a drink."
Players: Buzzed is designed for three to twenty players.
Booze: Grab a beer or glass of wine.
8. Unstable Unicorns
"Build a Unicorn Army. Betray your friends. Unicorns are your friends now." Did you know that Unstable Unicorns won the 2019 People's Choice Award for Toy of the Year? Is that even a real thing?
I have yet to play this adult drinking card game, but it boasts of having both drinking and stripping add-on rules. It also looks cute AF.
The goal is to collect 7 unicorns in your Stable while you build and protect it. At the same time, you are trying to sabotage your opponents.
Players: Two to eight people can play Unstable Unicorns.
Booze: Your choice.
9. These Cards Will Get You Drunk
If you are looking for another boozy adult card game, try These Cards Will Get You Drunk. Like Buzzed, take turns drawing a card and do what it says. For example: "Everyone votes on who is the most indecisive. That person picks someone to drink."
Players: These Cards Will Get You Drunk is perfect for two to eight players.
Booze: Beer, wine, or shots will work here.
10. Sotally Tober Drinking Games for Adults
If you are looking for an adults-only board game, try Sotally Tober. Draw one of the five types of cards from the deck. Orange cards indicate something you must perform. Green cards give you 'special abilities.' Blue cards are meant to make you uncomfortable, yellow cards showcase your hidden talents, and red cards involve the group.
Players: A minimum of four players is recommended.
Booze: Drink of your choice.
What Other Boozy Drinking Board Games For Adults Do You Love?
What are some of the best drinking board games that you've played or created? Are there any drinking games that we are missing that you absolutely love? Or, are there any adult games that have bored you? No pun intended. Let us know in the comments.
You May Also Enjoy:
Entertaining Word Board Games For Everyone
Gifts for Champagne Lovers
How To Prepare Your Bar Cart For Guests (our collaborative post with Tara from Hammer & a Headband)