Perfect for two to six players, grab your friends and family to play the best dart board drinking games with beer – and more!
Somewhere on our phones, there is a photo of our new dartboard hanging on the wall. Christine has an apple in her mouth and darts in her hand. The cats are nowhere to be seen.
There are libations on the table… and maybe a few holes in the wall. Music is playing; Christine is giggling.
Of course, using a full-blown, professional dart board is not the smartest idea for a dart drinking game, which is why we've rounded up a few more ideas that promise to be safer for you – and your walls.
From the funniest beer dart game – and also the perfect gift or travel companion – to dart boards specifically labeled for us tipsy folk, have a blast with both indoor and outdoor darts drinking games.
We are including a few dart board alternatives, too, like our favorite, lawn darts, and a version of the best nostalgic Price is Right game. Let's get started!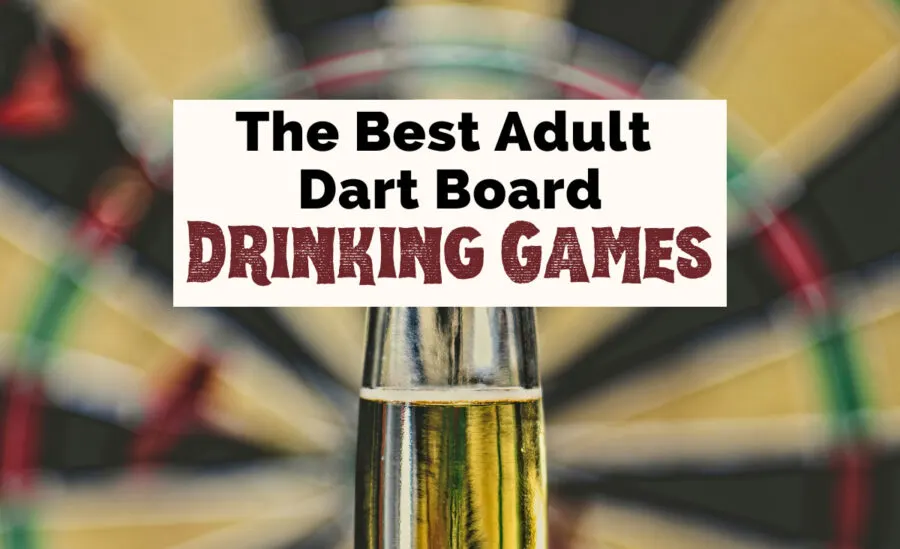 Best Dart Board Drinking Games
We are all about simple and easy dart board games. Order your favorite drinking dart game below, and jump right in. A few are ready to go while others require a bit of creativity.
And, if you enjoy games like this, be sure to explore our overall best board games for drinking, including adult games like Druken Tower, shot glass Tic, Tac, Toe, Buzzed, and Drink-A-Palooza.
Please drink responsibly and have a designated driver.
Just keep in mind that this list is intended for readers of legal drinking age based on your country's regulations (21+ in the United States).
Alcohol consumption is not required for any of these games. Many games can be modified to be drinking games. Non-alcoholic drinkers may wish to substitute alcohol with juice, water, or soda.
Shot Glass Darts Bar Game Set
Complete with shot glasses, Game Night's Shots Darts Bar Game is small and fun, making it the perfect gift and ideal party game. This board is not intended for a serious game of darts, though.
If you are looking for a great game perfect for small spaces – such as dorms, apartments, or even hotel rooms – grab this fun shot-glass dart game by Game Night.
Best with 2 to 4 players, divide into teams.
The first player takes their shot; be sure to aim carefully as you must follow the command each dart lands on. Find actions such as "everybody drinks," "drink with a friend," and "pass."
The second player shoots, and the game continues until you choose to stop or take a break.
Of course, fill your shot glasses with either a spirit of your choice or beer. We suggest playing beer darts, though, using beer, hard cider, or hard seltzer for the longevity of the game and your liver.
If you are playing more than one round, swap in some water.
Features of this dart drinking game:
Magnetic dart board
Games rules
4 magnetic darts
4 shot glasses
Metal stand
Just keep in mind that this drinking dart game is small and might require propping against a wall. If you are hoping to let off some steam, this board might not be sturdy enough for you.
And, because of its size, you will have to shoot from closer up than traditional dart board games. The bonus, though, is that there are no sharp darts to poke holes in your wall.
Buy this shot glass dart game here.
Large Dart Board With Sticky Balls
One of the best dart games to purchase online, BooTaa's sticky dartboard is perfect for families during the day and boozy adults at night. Get the most bang for your buck.
If you are looking for "safe" drinking darts – no sharp objects here – why not go with a sticky dartboard? We cannot tell you how many times we've put pointy darts through our walls.
Picture colorful balls wrapped with soft fabric that stick to the board when you toss them with just the right force.
However, not all sticky dart boards are terrifically sticky, which is why we recommend this multi-use and colorful dart board by BooTaa.
Customize your own darts drinking game by playing any traditional darts game or making rules about certain numbers and colors.
For instance, the opposing player might drink if you hit a red spot. Or, the player with the least points per round takes a sip of their favorite drink.
Features of this soft throw darts game:
29″ sticky and colorful dart board
12 sticky balls in 4 colors
Hook attached to suspend dart board
Indoor and outdoor use
Or, designed specifically for dart board drinking games, Fairly Odd Novelties makes this fun drinking darts board. Similar to Game Night's shot darts, find spots with drinking prompts.
However, it's gotten mixed reviews on its stickiness, which means you might have to rig it up a bit.
Beach Game Dart Coozy
Play the best beer dart board game at the beach or by the pool while keeping your beverage cool. This is an inexpensive and silly fun darts game with simple rules.
Created by Drinky Games, this "drinky darts" coozy makes for the perfect silly gift or party conversation starter.
Grab your favorite canned drink, like beer, cider, soda, or even wine, and place it in the coozy. Each coozy has a very simply numbered and colored dart board on it.
Then, try and stick your soft-tip darts to your opponent's beer coozy. Play for drinks or points. It's that easy! Just be careful not to spill your drink.
This coozy dart board game comes with:
2 drinky dart coozies
4 plastic throwing darts with hook and loop ties
Directions (printed inside the packaging)
Because of their small size, these drinky dart coozies are great for traveling, including tailgating, bachelor and bachelorette/hen and stag parties, the beach, a camping trip, favorite vacation destinations, BBQs, and more.
And, for non-alcoholic dart game players, quickly and easily swap in soda, juice, or another N/A beverage of choice.
This is our top pick for a beer dart game.
Buy these fun beach game dart coozies.
Lawn Darts
Transform a favorite classic family game into a little tipsy adult competition. Lawn darts are great for sunny days, large outdoor spaces, and not throwing things around your home (or into your walls!).
One of our all-time favorite games to play with adult family, we love lawn darts.
Ironically, ours belonged to our grandparents and were… well, let's just say they are sharp AF (giant steel tip darts, anyone?!), no longer legally sold, and had some not-so-PC wartime marketing on them…
However, lawn darts have come a long way, and they make for one of the best darts drinking games for outdoor use. Trust us; we know!
HAKOL makes one of the most popular lawn dart sets that you can easily find online. Even better: they glow in the dark!
These lawn darts include:
Four darts
Four rings
Box that is also a carrying case
These darts are also made of rubber so while they might pummel your grass a bit, they are safe to use while under the influence. No stabbing those toes!
With two to four players, we typically split into two teams.
The first team throws both their lawn darts, aiming for a ring placed within a reachable – but not too easy or hard – distance near the other team.
Of course, the goal is to get your dart in the ring. Then, the next team throws, and you essentially keep score however you wish. We alternate between teams and players.
Drink if you miss, make the other team take a sip if you hit the target area, or drink for points. It's up to you and completely customizable.
Buy glow-in-the-dark lawn darts here.
Similar Dart Drinking Games To Play
If you are looking for ideas similar to dart board drinking games, there are quite a few fun options too! These games are perfect if you are looking to mix things up.
They still require hand-eye coordination and hitting a target too!
Drop Cup Pong
Beer pong meets ping pong with this family-friendly but also adult Drop Cup game. Instead of throwing the ball, you roll it like a skeeball.
Another great idea for a dart drinking game – but if you feel too old for beer pong – grab this Drop Cup party game.
This is a tabletop game where players roll the ball to the other side of the table, aiming for a cup attached to a countertop or table.
Play one-on-one or with a team. Add obstacles and even place drinking commands on cups with paper and tape. Customize this game as much or as little as you like,
Drop Cup includes:
10 cup clips & 10 ramps
8 large plastic cups
2 small plastic cups
2 ping pong balls
Buy Drop Cup to start playing.
DRINKO Drinking Game
Channel your Price is Right nostalgia with this "DRINKO" shot glass party game. Just like darts, your target matters.
If you are looking for an alternative darts drinking game and remember Bob Barker and "Plinko" – we see you, mom – grab this fun DRINKO party game by Fairly Odd Novelties.
Designed for up to six players, pick your colored chip and take aim from the top of the game board.
Below are six shot glasses filled with your favorite drinks and labeled with a corresponding letter on the board.
Let that chip drop, and watch as it bounces down metal pegs, falling into a lettered compartment. Drink from the corresponding lettered glass. It's extremely easy.
DRINKO includes:
6 colored shot glasses
6 colored chips
1 playing board
To make this game a little more fun, we suggest filling some of the colored glasses with water, soda, or juice. Alternate with spirits, wine, cider, or beer.
Buy DRINKO for your next party.
More Games To Play:
Save Your Favorite Darts Drinking Game For Later: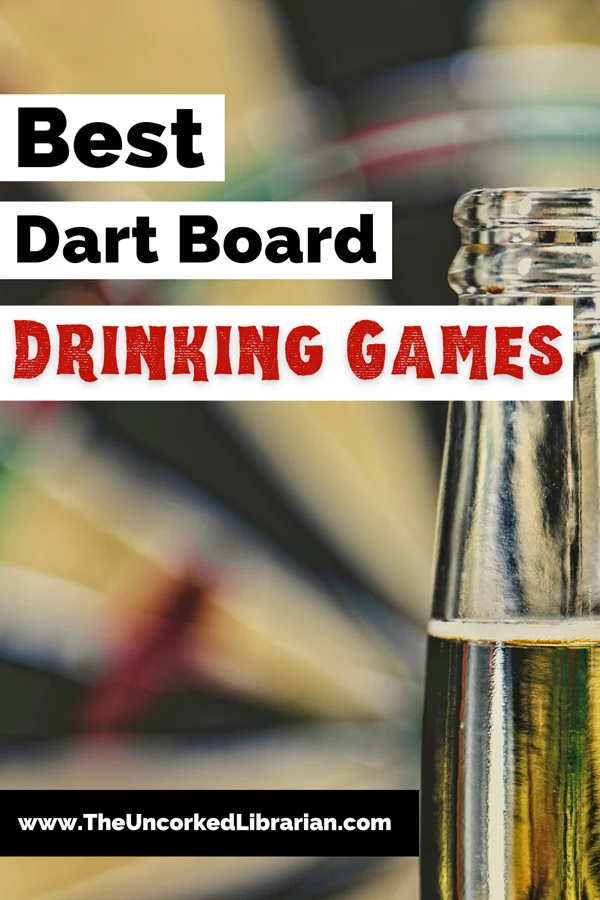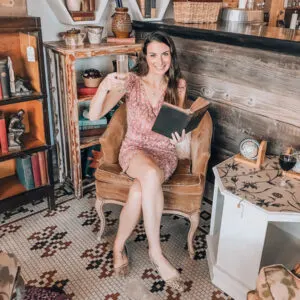 Christine (she/her) is the owner, lead editor, and tipsy book sommelier of The Uncorked Librarian LLC, an online literary publication showcasing books and movies to inspire travel and home to the famed Uncorked Reading Challenge.
With a BA in English & History from Smith College, an MLIS from USF-Tampa, and a U.S. Fulbright Fellowship in Christine's back pocket, there isn't a bookstore, library, or winery that can hide from her. Christine loves brewery yoga, adopting all of the kitties, and a glass of oaked Chardonnay. Charcuterie is her favorite food group.