23 Laughter-Inducing Word Board Games
We love playing word board games. Discover some of the best board games with words for adults, kids, and families. Card word games included.
We grew up in households filled with board games. We had Hungry Hippos, Pictionary, Operation, Battleship, and of course, card games like Uno and Old Maid.
Can you tell what era we grew up in? We also obsessively watched Garfield and Friends on Saturday mornings.
As we grew older and found our true loves — books, adult grape juice, and travel — our gaming habits matured.
We started playing more word board games like Taboo and Scattergories. We also craved the best classic word-based board games like Balderdash, Scrabble, and Boggle.
Today, our coat closets and desk shelves are nearly bursting from the seams with word board games for adults. And, nothing beats playing card games with words over drinks.
With so many games out there, how do you choose the best word board games? Which games are family-friendly and adults only?
Below, discover some of our favorite classic word board games along with newer games that are perfect for a rainy day inside with friends and family.
Don't forget to let us know your favorite word board game in the comments. Let's get started!
Explore all of our gift guides, including more board games.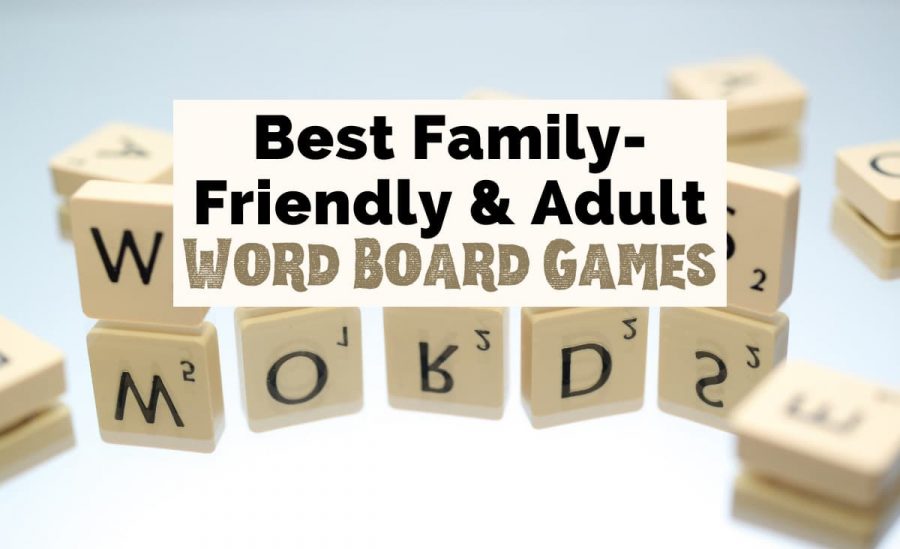 Classic Word Board Games
What are some sentimental classic word games that remind you of your childhood? Here are a few of ours:
Although we've never been amazing at Boggle — our minds just don't work like that — set the timer, shake up letters, and watch where they fall.
Try to make as many four-letter plus words as you can before time runs out. Super Boggle is a tad bigger so each round lasts for 3-minutes.
Scrabble is probably one of the most well-known classic word board games perfect for ages 8+. Players take turns making words with letter tiles to earn points.
Bananagrams is a word board game like Scrabble fit for the whole family. Players attempt to make crossword word grids and is all about spelling.
Bananagrams is super portable and great for traveling.
One of our favorite word games as a kid, every household needs Scattergories.
Roll the letter dice. In a set amount of time, fill in categories using only words that start with that letter. The more unique and longer, the better.
Word Search is a classic game with words. Search for the words in the puzzle. These are incredibly easy to print out at home too.
Mad Libs was all the rage in the 90s. Mad Libs is one of the most fun board games with words for writers in the making. Get creative and thoughtful with your vocabulary.
Grab a pen to fill in the blanks for a half-completed story. Each blank asks for an adjective, noun, or something slightly more specific.
Make your narrative as silly or as serious and real as you like.
Word Board Games Like Scrabble
Are you looking for word board games similar to Scrabble? Try these:
Dabble is a word board game that the entire family can play. Recommended for 8+ years old, players race to spell out 5 words using their 20 tiles.
Two to four people can participate, and this word creation game is perfect for spelling and vocabulary building.
A fast-paced card game with words perfect for 1 to 10 players, Quiddler asks participants to organize the letter cards in their hands into short words.
With each round, players take on more cards and the highest score wins.
Upwords is exactly like Scrabble except that players can build words on top of existing ones. The higher you stack your letters, the more points you earn. Upwords is for 2-4 players, ages 8+.
Be the first person to make a word out of the tiles flipped upside down in the center of the table. But, beware as players can steal your word by adding their own letters.
Family-Friendly Word Board Games
What are some of the best word board games that you can play with the entire family? Here are a few:
There are a ton of versions of the word board game, Boggle. Super Big Boggle is one of them.
Imagine Boggle but with a 6×6 letter grid. Players have 6-minutes to create as many words as they can.
Pass The Pen is a fun and fast-paced game for families that incorporates words and drawing. You have 10 seconds to draw a picture while all of the other players have to guess what it is.
If someone guesses correctly, you earn points. If not, you pass the pen to the next player.
P For Pizza is a family-friendly board game with words for children 8+. This game is best for 2 and 4 players.
The goal is to shout out a word that links the letter on one card to the category on another. Find color-coated cards of varying difficulty and with different categories.
The first player to collect nine pizza cards and build their giant pizza slice wins the game.
Herd Mentality is another fun card game with words perfect with 4 to 20 players that are ages 10+.
Read aloud a random question: "What is the best way to cook an egg?" Players must quickly write down their answers.
The goal is to figure out what everyone else is thinking. If your answer is in the majority, you win cows.
If your answer is unique, you get stuck with the pink cow.
Word A Round is an award-winning board game that is fun for everyone. Words are positioned in one continuous ring.
Players must figure out where the word starts and be the first to read it aloud.
Created by Ellen DeGeneres, Danger Word is best for ages 10+ and is one of the most fun card word games.
Guess the winning word to win. If you accidentally say the danger word, you lose the card.
If you love card games with words like charades and Pictionary, try It's In The Bag.
There are three rounds: describe the word, describe the word using only one word, and act out the word.
If you need a word-guessing board game for family game night, Blank Slate asks players to predict what everyone else is thinking.
Write a word to complete the phrase, and earn points if you match only one other person.
Word Board Games For Adults (and Teens)
In need of word games for adults and teens? Try these:
A game recommended for 17+, 4-Bidden Words players compete against a timer to guess the Buzz Word without using any of the forbidden words.
This adult guessing word board game is recommended for holidays, reunions, and party nights.
Balderdash is the perfect board game for adults, tweens, and teens. Players roll the dice for one of 5 categories: famous people, words, initials, laws, and movies.
Each player writes down what they think the real definition or explanation is while one player records the correct answer.
Players then vote on which answer they think is right.
Codenames is a contemporary and social word board game recommended for ages 14+. This game is best with 4 players.
Teams compete to see who can make contact with all of their secret agents first. Spymasters give one-word clues, which indicate multiple words on the board.
Teammates must avoid guessing words that belong to their opponents. Don't get caught by the assassin.
A classic card word game for adults and teens, Taboo is recommended for 13+.
We love to play this one around the holidays. Guess the word based on clues without saying the forbidden word.
Recommended for 17+, compete to create the funniest memes.
What Do You Meme? is a newer word board game for adults only that is sure to make you laugh. You can also order expansion packs.
If you are looking for more adult games to play…
For more great games to play, specifically for adults who appreciate a libation or two, we have just the tipsy game ideas for you.
Drinking Board Games For Adults – Find a wide variety of boozy board games for adults, including games specifically designed with beer and shot glasses in mind. Or, get creative with your favorite classic games; learn how to re-purpose them into drinking games.


Darts Drinking Games – We own both a dartboard and lawn darts. What originally started as just simple darts and drinks has now turned into so much more. Shop for the best pre-made dart board drinking games for adults, and find a few creative alternatives.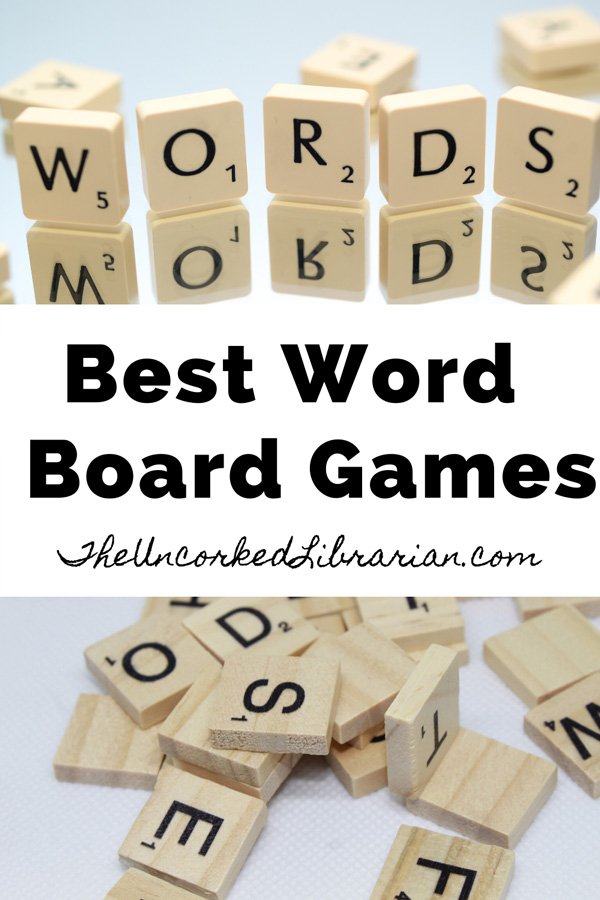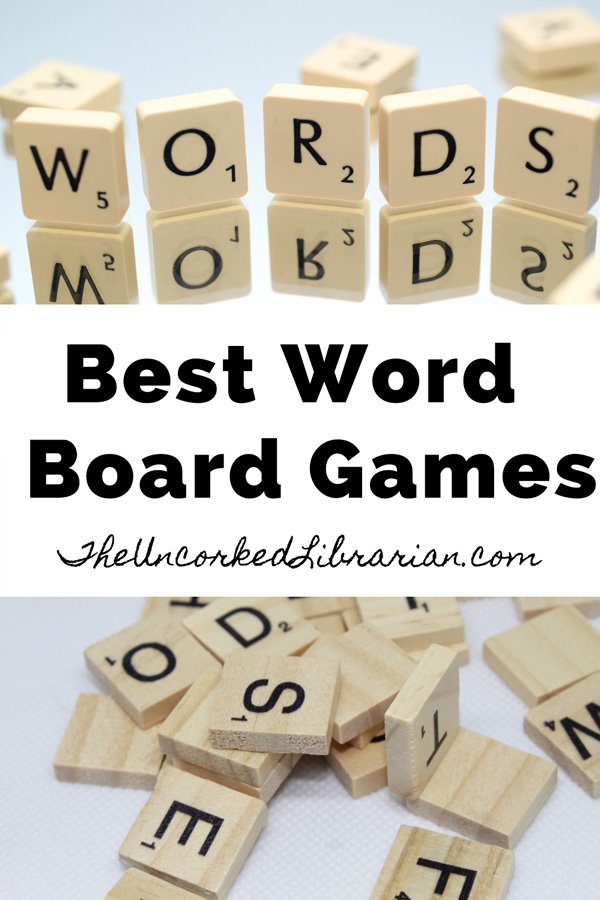 What Other Word Board Games Do You Love?
What are some of the best word board games that you've played or created? Are there any word card games that we are missing that you absolutely love? Let us know in the comments.
You May Also Enjoy: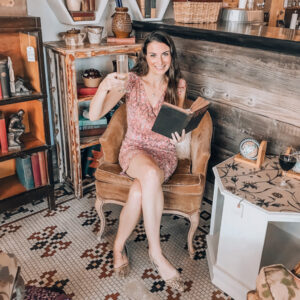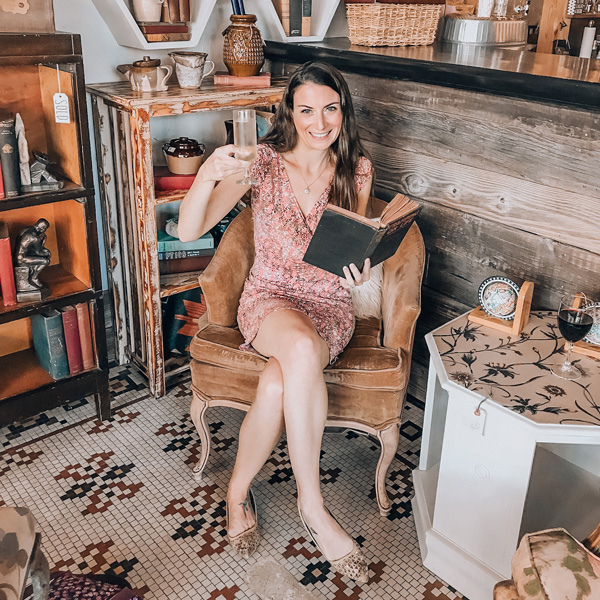 Christine (she/her) is the owner, lead editor, and tipsy book sommelier of The Uncorked Librarian LLC, an online literary publication showcasing books and movies to inspire travel and home to the famed Uncorked Reading Challenge.
With a BA in English & History from Smith College, an MLIS from USF-Tampa, and a U.S. Fulbright Fellowship in Christine's back pocket, there isn't a bookstore, library, or winery that can hide from her. Christine loves brewery yoga, adopting all of the kitties, and a glass of oaked Chardonnay. Charcuterie is her favorite food group.