A subject near and dear to our hearts, uncover the best books about books to read from across the globe.
It's no secret that we are a little book-obsessed here at The Uncorked Librarian.
Our writing team consists of two members with Master in Library Science degrees as well as book bloggers and avid readers. Books are our lives.
We especially crave books about books and libraries – picture the American Library in Paris and the New York and Boston Public libraries – which can be a hard list to narrow down.
Not to mention great books about reading – you know, those childhood stories that shape us into who we are and captivate our imaginations during hard times.
So, fall in love between the stacks and meet up with your vamp-fighting book club. Watch characters jump off of the pages and re-write new endings. Maybe even find yourself lost in a good book.
Below, discover just a few fiction and nonfiction books about books sure to inspire and transport you abroad.
Find translated literature, murder mysteries, indie YA romances, and more. And, of course, we couldn't leave out books on books, writers, aspiring novelists, and the writing process. Let's get started!
You might also enjoy these books about libraries and librarians.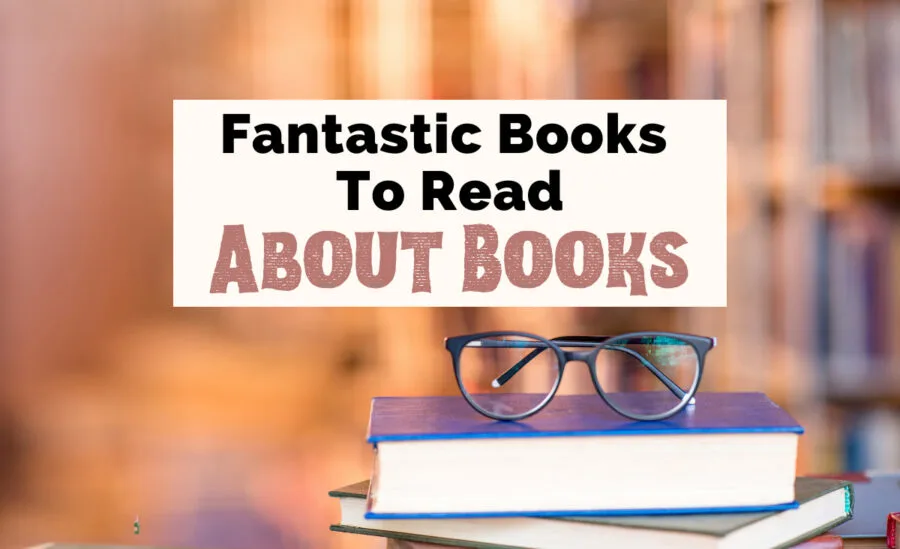 Grab the best fiction and nonfiction books about books here:
29 Best Books About Books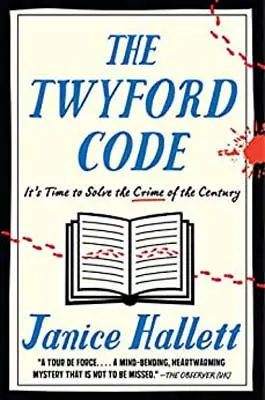 The Twyford Code by Janice Hallett
When he was still in school, Steven Smith found an old book on a bus that he showed to his remedial English teacher, Miss Isles.
Recognizing the title from famous children's author Edith Twyford, Miss Isles believes there might be some sort of code in the book; a piece of an enormous puzzle present across all the Twyford books.
But then things take a mysterious turn when Miss Isles disappears on a school field trip.
40 years later, Steve still has questions about Miss Isles.
Where did she disappear to? Was it an accident? Or, was she onto something that clandestine forces didn't want people to find?
Author Janice Hallett's mystery thriller is presented in the form of transcriptions of Steve's audio recordings about the Twyford books.
This makes The Twyford Code very engaging, and one of the best books about books of recent years.

Read The Twyford Code: Amazon | Goodreads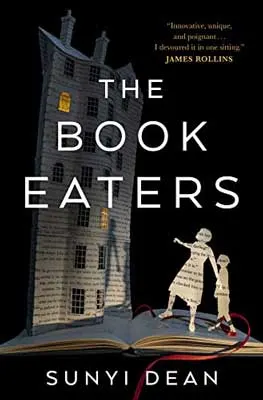 The Book Eaters by Sunyi Dean
Do you love great novels about monsters?
Unbeknownst to the rest of humanity, there is a race of people living in secret across the UK.
They are the book eaters; devourers of literature, stories, maps, and anything else written on paper.
Devon is a part of The Family, one of the last remaining clans. Or she was until she took her young son Cai and ran away from their patriarchal tyranny forever.
Devon also has other problems to deal with; the main one being, that while she eats books, her son is one of a rare breed that eats minds.
The Book Eaters is dark, delightfully twisted, and very creative, and is an interesting take on the idea of books about book lovers.
Through hints and suggestions, the reader is given the flavor of a richly textured world hidden beneath the main events, which will leave you hungry for more.
This was one of TUL's best books of 2022, which we highly recommend if you are just dipping your toes into the folk horror genre.
Discover even more queer horror novels.

Read The Book Eaters: Amazon | Goodreads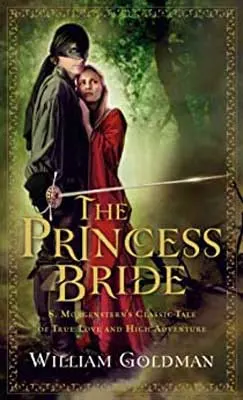 The Princess Bride by William Goldman
The beautiful maiden Buttercup becomes betrothed to Prince Humperdinck, heir to the kingdom of Florin. But her heart belongs to Westley, a lowly "farm boy" long since thought dead at sea.
To add to her dismay, one day, Buttercup is kidnapped by three bandits while out riding through the forest.
Even worse, the bandits are also being pursued by a mysterious masked man in black. There's fighting, torture, chases, escapes, true love, and miracle; how will it end?
That's the story William Goldman remembers his father reading to him as a boy, from a book by the author S. Morgenstern.
But now that he's grown up, it turns out that's not the full story.
Apparently, his father deliberately left out the "boring parts." So William is going to take his turn telling the tale, making the best version of the story he can, with plenty of his own "good parts!"
Like some books about books, The Princess Bride is quite meta, with "annotations" from the author throughout.
But it is also highly enjoyable as well and was adapted into the popular movie of the same name in 1987.
Thanks to the film, it's one of the most famous books on books and storytelling – but the book is very different!
Check out even more movies based on books, and see what other popular stories came from the 1970s.

Read The Princess Bride: Amazon | Goodreads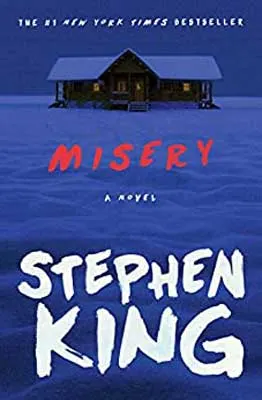 Misery by Stephen King
Given his love of writer's stories, it's no surprise that author Stephen King wrote one of the top books about books. He's also a prolific author if you enjoy spooky stories.
Having lived with the character of Misery Chastain for so long, bestselling author Paul Sheldon finally kills her off in the latest of Misery's series of books.
Now he can branch out into some new and exciting creative areas. But all this is brought to a stop when he is involved in a brutal car accident.
To his rescue comes Annie Wilkes, a local lady who takes it upon herself to nurse Paul back to health. She's his Number One Fan and is very invested in the Misery Chastain series.
In fact, she wants Paul to write her favorite character back to life somehow, so the series can continue. And she's willing to go to some extreme lengths to make sure that happens.
Anyone familiar with Stephen King's reputation will know a little of what to expect from his novels, and his books on books and their fans – such as Misery – are no exception.
This claustrophobic psychological horror will definitely have you squirming in your seat by the end.

Read Misery: Amazon | Goodreads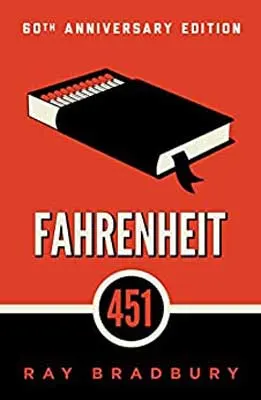 Fahrenheit 451 by Ray Bradbury
Set in a dystopian future, Fahrenheit 451 tells the story of Guy Montag, an average citizen employed as a fireman.
However, in this world, firemen do not put out fires; instead, their role is to find and burn printed books, which are considered to be illegal, and the houses they're found in.
When Guy meets his new neighbor, the free-thinking Clarisse, he finds himself going through an internal crisis.
Unlike his wife Mildred, who is urbane and morose, Clarisse challenges Guy to start questioning why he does what he does.
One of the classics of twentieth-century literature, Fahrenheit 451 is one of the most influential books about books ever written.
Discover even more iconic books from the 1950s.

Read Fahrenheit 451: Amazon | Goodreads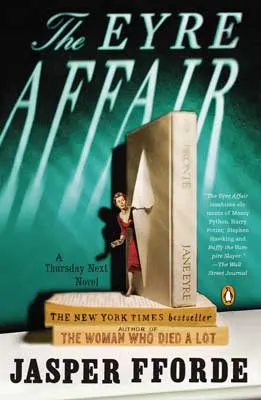 The Eyre Affair by Jasper Fforde
In an alternate 1985, things such as time travel and cloning are commonplace, and political superpowers argue about literature with deadly seriousness.
While the rich parade their pet dodos and advocates of Francis Bacon try to convince everyone that he actually wrote Shakespeare, unusual literary crimes are being committed.
A minor character from Martin Chuzzlewit has been killed and has vanished from all the manuscripts.
Next on the chopping block is apparently Jane Eyre, who's already been kidnapped from the pages of Bronté's novel.
Tasked with entering the novel and rescuing its titular character is renowned literary detective Thursday Next.
Can she complete her mission without being sucked into a black hole?
There's a lot going on in author Jasper Fforde's debut novel, which is the first in a series of books about books involving Detective Next.
If you're happy to be taken for a ride, you'll enjoy the huge amount of creativity in all these books about reading!

Read The Eyre Affair: Amazon | Goodreads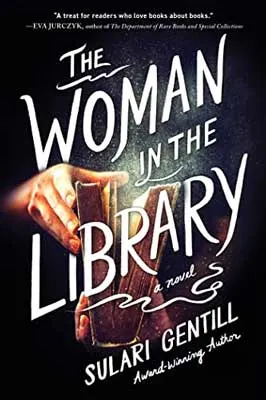 The Woman in the Library by Sulari Gentill
One morning, in the pleasant quiet of the ornate reading room at the Boston Public Library, the atmosphere is disrupted by the piercing scream of a woman in peril.
Security directs everyone to stay where they are, which leaves four strangers sitting around a table together as the investigation proceeds.
Over time, small talk and casual chit-chat lead to new friendships, with everyone – including the murderer – discussing why they happened to be in the reading room that day.
There's definitely a mystery – and a mystery within a mystery – but just how many stories are there to be found here?
Author Sulari Gentill delivers one of the most complex books about books and libraries that will have fans of mysteries and metafiction gripped right from the start.
Travel to Massachusetts with even more great books set there.

Read The Woman in the Library: Amazon | Goodreads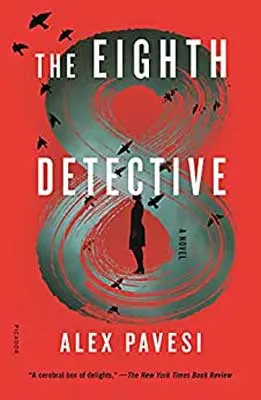 The Eighth Detective by Alex Pavesi
Thirty years ago, mathematics professor Grant McAllister worked out the perfect set of detective narratives to display all the mechanics of mystery fiction.
By calculating the staple plot elements – crime, victim, detective, suspects – McAllister distilled the rules of the genre into 7 stories.
But that was then; today, Grant lives a reclusive lifestyle on a Mediterranean island, just waiting out the clock.
So when the determined editor Julia Hart comes calling, looking to republish Grant's book, it shakes up his world, and hers.
This love letter to detective stories is a fun meta journey into the rules of detective fiction and how to break them.
The Eighth Detective is one of the best books about books for crime fiction enthusiasts.

Read The Eighth Detective: Amazon | Goodreads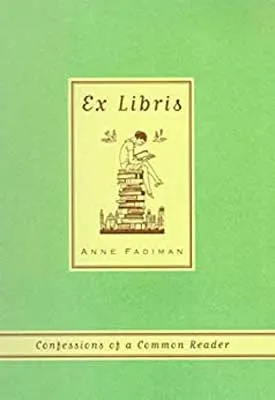 Ex Libris: Confessions of a Common Reader by Anne Fadiman
Author Anne Fadiman is a bibliophile – and who better to write one of the best books about reading?
Coming from a profoundly literary family, she has grown up surrounded by books and has been in love with books her whole life.
Her toddler play blocks were editions of Trollope owned by her father; she and her husband merged their book collections to make their marriage "official."
Through this collection of humorous and charming essays, Fadiman guides the reader through a life spent loving books and reading.
This is the most personal and joyous entry in the nonfiction books about books category. If you didn't love reading before reading this, then you will afterward.

Read Ex Libris: Confessions of a Common Reader: Amazon | Goodreads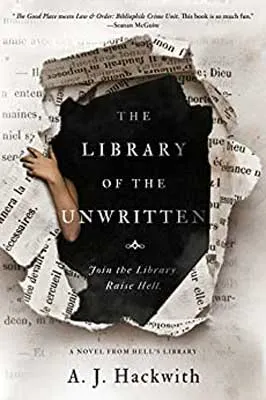 The Library of the Unwritten by A. J. Hackwith
Deep in the dark circles of Hell, there is a place where books unfinished by their authors are sent.
These half-written tomes are collected and cataloged by the Librarian, who ensures that no characters escape from within their pages and attempt to return to their authors.
For a long time now, the Library of the Unwritten has been run by Claire Hadley, who spends her time repairing and organizing the books.
But one day an escaped hero leads her into the path of the Angel Ramiel, who has a piece of the Devil's Bible and is looking for more.
This unholy manuscript has the power to reshape the realities of Heaven, Hell, and even Earth, so it's up to Claire, her assistant Brevity, and the courier demon Leto to find it first.
Assuming that your religious beliefs allow for some creative license and madcap fun, most readers will enjoy the creativity in books about books and libraries such as this!

Read The Library of the Unwritten: Amazon | Goodreads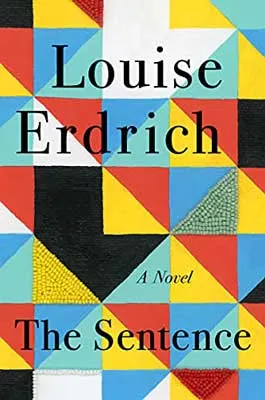 The Sentence by Louise Erdrich
Trigger warning: content related to the Coronavirus pandemic and racial tension
Any independent bookstore will tell you about that one annoying customer who just won't go away.
For Tookie, that customer is Flora. So it's not entirely a bad thing in her opinion when Flora dies on All Souls Day in 2019.
That soon changes when the ghost of Flora proves to be just as irritating when she begins to haunt the bookstore she frequented so often in life.
Now it's up to Tookie to solve the mystery of Flora's haunting while going through one of the most turbulent years in American history.
Complete with plenty of stark reminders of just how awful 2020 was as a year, The Sentence is nonetheless one of the most profound and culturally relevant books about books.
Discover even more books with ghosts.

Read The Sentence: Amazon | Goodreads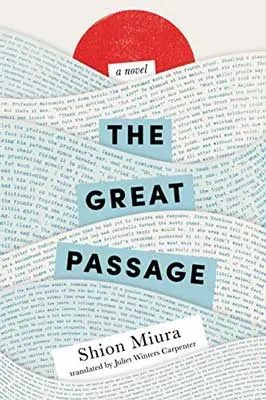 The Great Passage by Shion Miura
Translated in English by Juliet Winters Carpenter
Sometimes, all it takes to find your path in life is one powerful moment of inspiration.
After enjoying the fact that one word in the dictionary can have multiple meanings, Kohei Araki dedicates himself to creating more dictionaries.
37 years later, it's time to retire. But not before finding a suitable protégé. Luckily, there's young Mitsuya Majime, in whom Araki sees a lot of himself.
Majime will have his work cut out for him; he's going to be tasked with completing The Great Passage, which is the most comprehensive 2,900 page codex of the Japanese language.
Considering the amount of discussion around the meaning and value of words, translator Juliet Winters Carpenter has done an excellent job with author Shion Miura's text.
Books on books are rarely as nerdy, charming and heartwarming as this one!
Find even more books about, from, and set in Japan.
Read The Great Passage: Amazon | Goodreads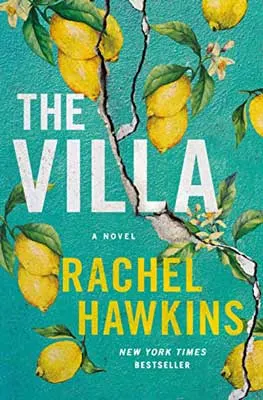 The Villa by Rachel Hawkins
If you love fictional books about books that promise to transport you, The Villa is a fun, fast-paced literary thriller with gothic overtones and engaging dual timelines.
Emily is in the throes of a messy divorce and writer's block while still recovering from the mysterious illness that recently took over her life.
So when her childhood best friend turned lifestyle guru, Chess, invites her to Italy for a girl's getaway, she readily agrees.
Emily is shocked to discover their beautiful Italian home, Villa Aestas, was once the site of a violent murder in the 70s.
But even more shocking is that Emily finds herself writing again… except it's not the book she's contracted for. Now she's writing about the woman Villa Aestas made famous.
In 1974, step-sisters Mari and Lara accompany their musician boyfriends to the villa for the summer.
Noel Gordon is a certified rockstar while Pierce Sheldon is hoping that working with Noel will be his big break. With Noel, is another aspiring musician (and drug dealer), Johnnie.
By the end of the summer, one of these men will be dead. Meanwhile, both Mari and Lara's careers will explode at only 19 years old.
Emily is drawn to Mari. After that summer, she wrote the feminist horror masterpiece, Lilith Rising, which redefined the genre.
The more obsessed Emily becomes with Mari's story, the more she's convinced there are clues to what really happened that summer within Lilith Rising – and the house itself.
This is perfect for anyone who wants books about books for summer reading or atmospheric books about Italy.

Read The Villa: Amazon | Goodreads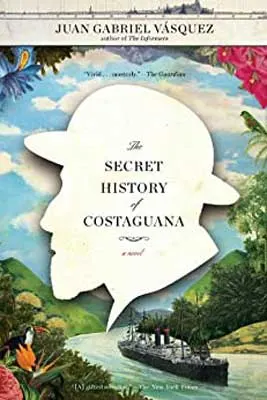 The Secret History of Costaguana by Juan Gabriel Vásquez
Translated into English by Anne McLean
We love books about books that have something to say about problematic authors – and The Secret History of Costaguana does just that!
Having spent barely three days in Colombia in the late 19th century, author Joseph Conrad wrote about the fictionalized republic of Costaguana in his 1904 novel Nostromo.
But what many do not know is that Conrad gained all his inside knowledge from a young Colombian-born man named José Altamirano.
Altamirano gave Conrad all the details of his life – the good and the bad – and Conrad stole them all.
Now, with Conrad finally deceased, Altamirano begins to write his own book; one that will right the wrongs of Conrad's "literary classic" and set the record straight for the whole world to hear.
This might be the most divisive entry of the books about books on this list, especially for those who are also Joseph Conrad readers!
Read The Secret History of Costaguana: Amazon | Goodreads
Join The Uncorked Reading Challenge Today
---
Travel around the world with the Uncorked Reading Challenge. Get the best book and movie recs straight to your inbox. Sign Up Now.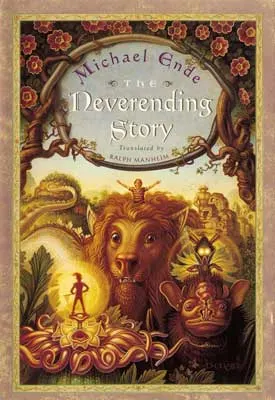 The Neverending Story by Michael Ende
Translated into English by Ralph Manheim & Illustrated by Roswitha Quadflieg
Young Bastian is distressed to find himself chased by bullies on his way to school one morning.
He manages to avoid them by hiding in an old bookshop run by the mysterious Mr. Coreander.
Here, he discovers a book called The Neverending Story. Unable to resist its allure, he steals it and hides out in his school's attic in order to read it.
Inside he discovers the magical world of Fantastica, which is sadly doomed unless someone can provide its ruler – the Childlike Empress – with a new name.
As the boy warrior Atreyu sets out on a quest to find the new name, Bastian finds that the lines between fiction and reality are beginning to blur and that some books truly are dangerous.
The Neverending Story is one of the most famous books about books ever written, thanks in part to the hugely popular movie adaptation of the same name in the 1980s.

Read The Neverending Story: Amazon | Goodreads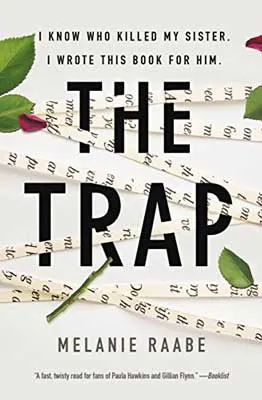 The Trap by Melanie Raabe
Translated into English by Imogen Taylor
For anyone who loves books about sisters and explorations of grief, The Trap is one of the best books about books.
Linda Conrads never forgot the face of the man who murdered her sister, Anna. But it's been 11 years, and he's still out there.
Now a very successful author (under a pseudonym), Linda uses her books as a means to escape and try to move on.
However, now agoraphobic, Linda never leaves her home and never grants interviews.
But that's about to change. Linda just saw the man who murdered Anna on TV, and he's a journalist. And she's going to grant him her first interview.
Linda's new book is something completely different from her other works.
This one is about a murder, a murder she knows her interviewer will recognize the details of, and be unable to pass up a chance to find out just what she knows.
This slow-burn cat-and-mouse tale is one of the twistiest books about books.

Read The Trap: Amazon | Goodreads
More Books About Books, Reading, & Libraries From Christine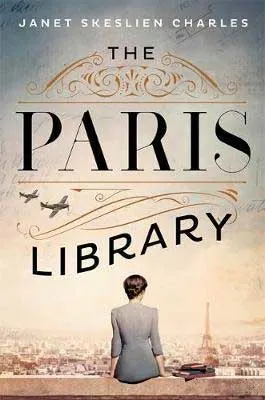 The Paris Library by Janet Skeslien Charles
Of course, there certainly is no shortage of books about books and libraries set during WWII, and Janet Skeslien Charles' The Paris Library transports readers to The American Library In Paris – yes; we've been there!
Based on a true story, travel to Paris to meet the courageous librarians who join the French Resistance from between the stacks and reference desk.
Prickly Odile might just capture your heart with her love of the Dewey Decimal System and the "management" of her patrons.
Throughout the war, these librarians promise to not only protect their beloved books but also care for the lives of their patrons, oftentimes putting their own lives and collections in danger.
Watch as they aid Jewish residents as well as deliver news and escapist books to soldiers. Witness the transformative power of information and stories.
There is an alternating storyline of a young girl, Lily, who is growing up in Montana in 1983 – and we will say that we didn't necessarily need or enjoy this part of the narrative.
If you champion books with strong female leads or are hoping to visit France via armchair, The Paris Library is most especially for you, though.
Explore more books about WW2.

Read The Paris Library: Amazon | Goodreads | Book Information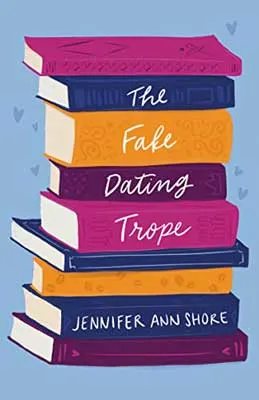 The Fake Dating Trope by Jennifer Ann Shore
One of the best YA books on books and book tropes, award-winning indie author Jennifer Ann Shore twists the "fake dating trope" – and many other classic tropes – in one of the most endearing and vulnerable high school romances.
Kate struggles with anxiety and sensory issues, especially after her parent's divorce and her mother's battle with alcoholism.
In fact, Kate is raising herself and has special locks on her door just to keep her hard-earned valuables safe as she saves up for college, working at her aunt's bookstore, Books & Beans.
When her car breaks down and Lucas offers to repair it in exchange for pretending that they are dating, she agrees. However, Kate knows how this trope goes in the books…
Yet, this is Shore; not only can we expect the best feminist commentary but also a reimagining of a somewhat tired romance trope.
While the scenes are magical, there is no fluff here – just thought-provoking commentary about faulty "norms" being smashed.
Plan on finishing The Fake Dating Trope in a weekend with your heart swelling.
And, for YA books about reading, Kate and Lukas are full of dimension – and both love that alien…romance.
Read The Fake Dating Trope: Amazon | Goodreads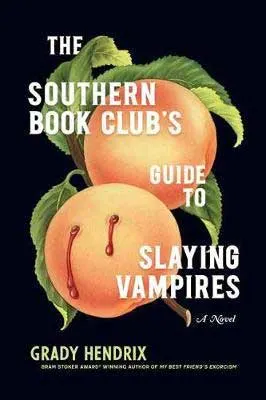 The Southern Book Club's Guide To Slaying Vampires by Grady Hendrix
Trigger warning: suicide, domestic abuse, violence, and sexual assault.
Nothing beats a good vampire novel, especially a Southern-set one.
For books about book lovers – specifically our favorite kind, book clubbeers! – The Southern Book Club's Guide To Slaying Vampires will have you on your toes… and locking your windows and doors.
Life in the South is quite mundane for Patricia Campbell, and a bit frustrating, especially when all of the husbands see their wives as hysterical and weak homemakers.
In fact, the only activity Patricia looks forward to is her true crime book club – of course, the men don't know it's about that.
And, when community members start mysteriously disappearing, the group puts their reading knowledge to the test.
All of this trouble cannot be coincidental as the new guy, James Harris, comes to town. Of course, James is a "guy's guy," bringing their husbands great fortune; they'd never question him or his vampire ways.
Can these women save their families from James before it's too late? He's one cocky SOB – so we can only hope so.
Read The Southern Book Club's Guide To Slaying Vampires: Amazon | Goodreads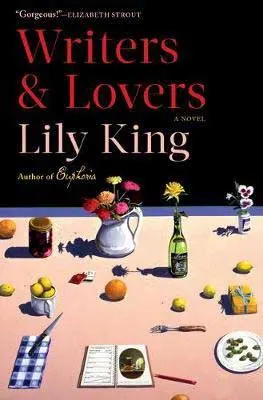 Writers & Lovers by Lily King
You cannot have a "books about books" reading list without discussing novelists.
Set in Massachusetts, King's Writers & Lovers is a story about creativity, finding love, and overcoming debilitating loss.
It was also one of our favorite books of 2020 when at first, we didn't even think we'd enjoy the storyline.
Upon the death of her mother, Casey Peabody is still an aspiring novelist. Yet, she has college loans, needs health insurance, and must waitress to pay her bills.
She's also estranged from her father and falls in and out of romantic relationships.
With Bridget Jones's-like men in her life and a personality resembling Girls' Hannah Horvath, our hearts open to Casey as she pursues the creative life in a society obsessed with norms and specific definitions of success.
Can she find romantic love and achieve her dreams in a way that is deeply authentic to herself?
With rawness that exudes off of the pages, find a bit of yourself in Casey.

Read Writers & Lovers: Amazon | Goodreads | Book Information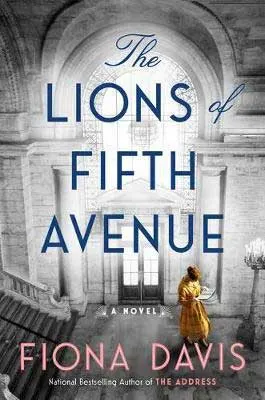 The Lions of Fifth Avenue by Fiona Davis
New York is one of our favorite places to visit via armchair, especially when it's a trip to the New York Public Library (NYPL).
It's 1913 and Laura Lyons and her husband are living in the superintendent's apartment inside the library where he works.
Trapped in a suffocating time period for women, Laura demands more, joining a women's rights club and earning a degree in journalism while raising her family.
Unfortunately, valuable books start mysteriously disappearing from the library. Is her family to blame?
Told in alternating timelines, Davis also introduces readers to Laura's granddaughter, Sadie. It's now the 1990s, and once again, rare materials are missing.
What can Sadie learn from the past to save her job?
The Lions Of Fifth Avenue is one of the best books about books and libraries filled with mysterious, strong, and passionate women.
Find yourself both enraged and utterly captivated.
Read The Lions Of Fifth Avenue: Amazon | Goodreads | Book Information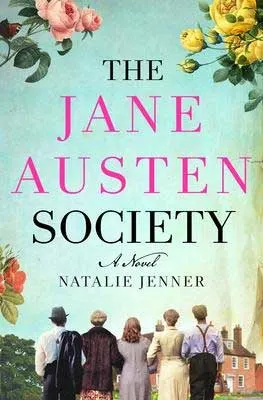 The Jane Austen Society by Natalie Jenner
One of the most endearing books about reading – and adoring authors – The Jane Austen Society will appeal to you if you enjoyed The Guernsey Literary And Potato Peel Society.
Here, we meet a similar gaggle of lovable characters who band together at the end of WW2.
However, this English town is a bit obsessed with Jane Austen, and they must work past their eccentricities, shortcomings, and misgivings to save her legacy and home.
In effect, they form the Jane Austen Society – and true to their namesake, they must overcome their pasts as genuine romances bloom from their vulnerabilities.
Read The Jane Austen Society: Amazon | Goodreads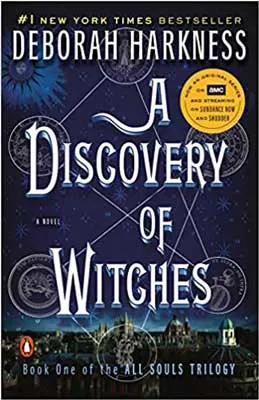 A Discovery Of Witches by Deborah Harkness
One of the best books about books for dark academia lovers, A Discovery Of Witches is full of our favorite elements: witches, vampires, time travel, and history.
A Discovery Of Witches is the first in the All Souls Trilogy – and a forewarning that these books are long.
Witches, vampires, and demons meet on the same council to ensure that their existence is largely kept secret from the human world. Yet, they don't quite get along or trust each other.
All of this is about to come crashing down when Diana Bishop learns that she comes from a long line of powerful witches.
Having accidentally discovered Ashmole 782, a magical book also known as the "Book of Life" that's been missing for centuries, all of the creatures want access to it.
Add in a steamy romance with Matthew Clairmont – a sexy but deadly vampire and geneticist – Diana must not only accept her powers but learn how to use them to save all species from imminent war.
With such a captivating story, we also enjoyed the A Discovery Of Witches TV series.
Find even more riveting time travel novels.
Read A Discovery Of Witches: Amazon | Goodreads | Read More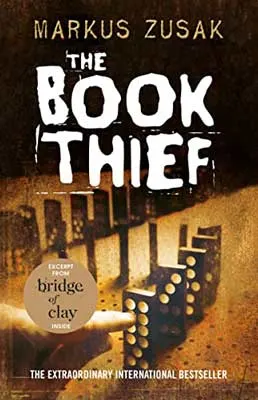 The Book Thief By Markus Zusak
A popular young adult and tween WW2 book and movie, The Book Thief is one of PBS's "The Great American Read" selections.
Uniquely, the story is narrated by Death in 1939 Nazi Germany, which means that this will also be one of the saddest titles on this list.
It is here we meet Liesel and her loving foster family doing their best to raise her during such horrific times.
Beginning with a "stolen" copy of The Gravedigger's Handbook, Liesel learns to read; she "borrows" many more books throughout the war and shares them with others.
When her foster family begins hiding a Jewish man in their basement, an epic friendship begins. Will they survive, and who will they become along the way?
For books about reading and the power of human connection, Liesel is our hero. Find even more thought-provoking books here.
Read The Book Thief: Amazon | Goodreads | Read More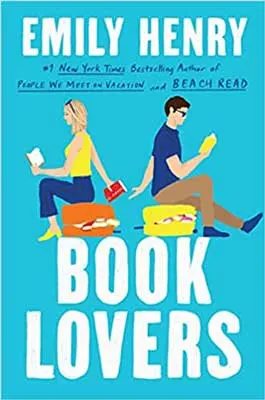 Book Lovers by Emily Henry
Travel close to our Asheville home in Henry's Book Lovers, one of the best books on books, the writing process, and bookstores.
When their mother dies from cancer, Nora takes over caring for her sister Libby, who is now pregnant. Nora never stops working for herself or Libby.
Both need a vacation from their lives, so they head to Sunshine Falls, NC – also the setting of one of Nora's author's books – for a month-long getaway.
Unlike her sister, Libby is carefree and creates a bucket list of fun, which entails helping the local bookstore from going under and finding Nora a boyfriend.
In meet-cute (not-so-cute) fashion, Nora and Charlie – an editor from her past – decide to work together to improve the author's manuscript.
Will there be romance? And, does Libby have secrets of her own? Do Libby and Nora need to redefine their relationship?
One of the ultimate books about book lovers, enjoy a breezy, feel-good story about overcoming loss and the power of family. What happens when we really see each other?
P.S. If you are familiar with Asheville, you might recognize the Cuban rooftop bar…
Find more Asheville-set books on our sister site, Uncorked Asheville, and travel to North Carolina with this reading list.
Another great book about books, try Henry's Beach Read, too!

Read Book Lovers: Amazon | Goodreads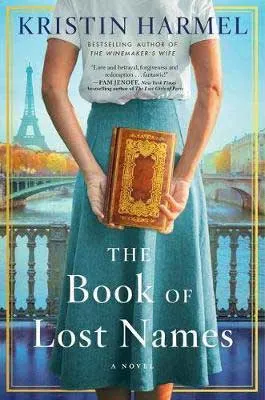 The Book of Lost Names by Kristin Harmel
WW2 books about books and librarians are a common theme on this list – and we just love Kristin Harmel as a historical fiction writer.
The Book of Lost Names is a harrowing story about the essential need to document, protect, and preserve information.
Florida librarian Eva discovers a magazine article about the raiding of libraries during WWII and the goal to reunite owners with their books.
When she sees a photo of The Book of Lost Names – filled with a secret code – Eva knows that she is one of the only people who can translate its meaning.
In her youth, Eva fled Paris for the Free Zone – sacrificing a lot – and it is here where she forges identity documents for WWII refugees.
The Book of Lost Names is one of the best historical fiction books about books based loosely on a true story – and there's a little romance.

Read The Book of Lost Names: Amazon | Goodreads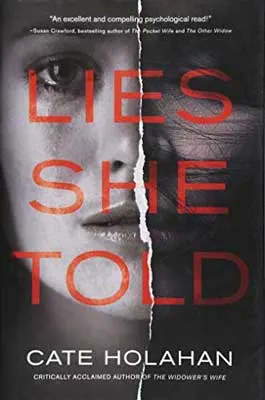 Lies She Told by Cate Holahan
If you are craving suspense books about books and the writing process, Lies She Told is truly a story within a story.
Masterfully crafted, watch as Liza starts to blur the lines of the novel she is writing with her real life.
Trying to get pregnant via experimental hormones is putting a lot of stress on Liza's marriage. Not to mention that after her first blockbuster success, her succeeding books have been duds.
With her gorgeous editor hounding her about edgy new storylines combining affairs and murder, Liza is feeling the pressure.
Not to mention that her husband's best friend and business partner, Nick, has been missing for months.
Can Liza save her marriage, and what happened to Nick?
With her memory seemingly growing foggier by the day and the failure to separate her characters from real life, something is very wrong here.
Read Lies She Told: Amazon | Goodreads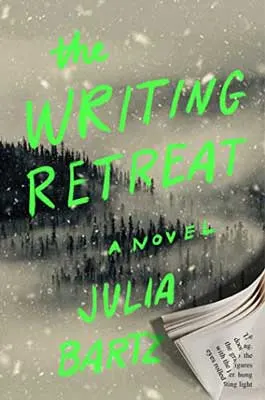 The Writing Retreat by Julia Bartz
TWs for drink spiking, sex, and violence
How far would you go to get published?
Bartz's 2023 book release, The Writing Retreat takes on books on books, publishing, and the writing process in the most thrilling, dark, and deadly fashion.
Plus, this one is for our readers who enjoy seriously creepy books and novels with potentially haunted houses…
Successful author Roza Vallo is hosting a coveted writers' retreat at her secluded mansion. Let's just say that her unorthodox ways are just as dark as her books.
All of the writers invited have been unsuccessful so far, so when Roza dangles the carrot of publishing one of their books over their heads, they go all in – no matter how intense their days look.
When one of the women disappears during a blizzard, though, appearances start to fall apart. Add in spiked drinks, ghost stories, feuding friends, and toxic relationships, you have quite the story.
Who will survive the retreat, and at what cost? And even if you find yourself not liking any of these women, you might find yourself cheering for them next to Roza.
The Writing Retreat is one of the most thrilling books about books on this list. Find even more books with great ghost stories.

Read The Writing Retreat: Amazon | Goodreads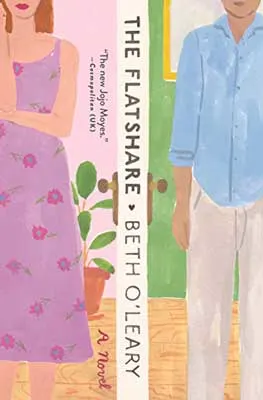 The Flatshare by Beth O'Leary
Would you ever share a flat with someone you've never met? And not only the space but also the bed?
This is exactly the situation that Leon and Tiffy find themselves in when Tiffy needs a new place to live in order to leave her emotionally abusive ex-boyfriend.
The catch is that Leon is an overnight hospice nurse, meaning that he'll be in the apartment while Tiffy is at work and vice versa. They'll never even see each other.
And, while Tiffy is dealing with the trauma of her past relationship and trying to move up in the indie publishing world, Leon is helping his wrongfully imprisoned brother try to seek an appeal.
What happens when Tiffy and Leon meet, and can they help each other?
An utterly sweet and vulnerable romance set in London and filled with handwritten notes, The Flatshare is unputdownable and unforgettable.
Find themes of mental health, overcoming trauma, family, terminal illness, and love.
Plus, for books on books and the publishing industry, you'll love Tiffy's supportive co-workers (well, most of them) and her efforts to get her authors to succeed.
Leon goes above and beyond for his patients too – and his kindness will melt your heart.

Read The Flatshare: Amazon | Goodreads
Grab the best books about reading here:
Save Your Favorite Books On Books, Reading, & Writing For Later: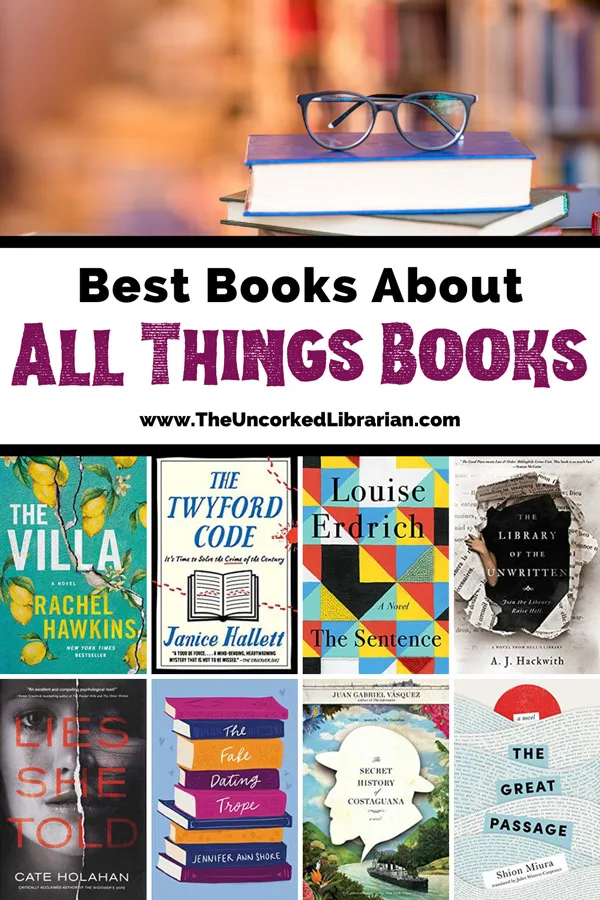 What books about books and libraries (and reading) do you enjoy?
There are so many books about books, libraries, bookstores, authors, and librarians, it's hard to choose. What are your favorites? Let us know in the comments.
This reading list is perfect for our 2023 Reading Challenge Winter Bingo Card.
Related Articles: