Sink your teeth into these terrifying and fun vampire comics for adults and teens set across the globe.
Where else can you find a talking garlic bulb, teenage vampires from classic American comics, and… ninjas?
Below, we are showcasing some of the best vampire graphic novels for teens, tweens, and adults in all genres.
Find cozy middle-grade comics, LGBT+ horror stories, steamy romances, and a bit of whimsical fun set against a backdrop of bloody violence.
Plus, meet your new favorite vampires in comics, including Wynd, Vampironica, En, Carmilla, and Elsie, and travel to Japan, New York City, spooky forests, the future, and more.
Be sure to let us know your favorite vampire graphic novel in the comments. Let's get started!
You may also enjoy these must-read vampire books.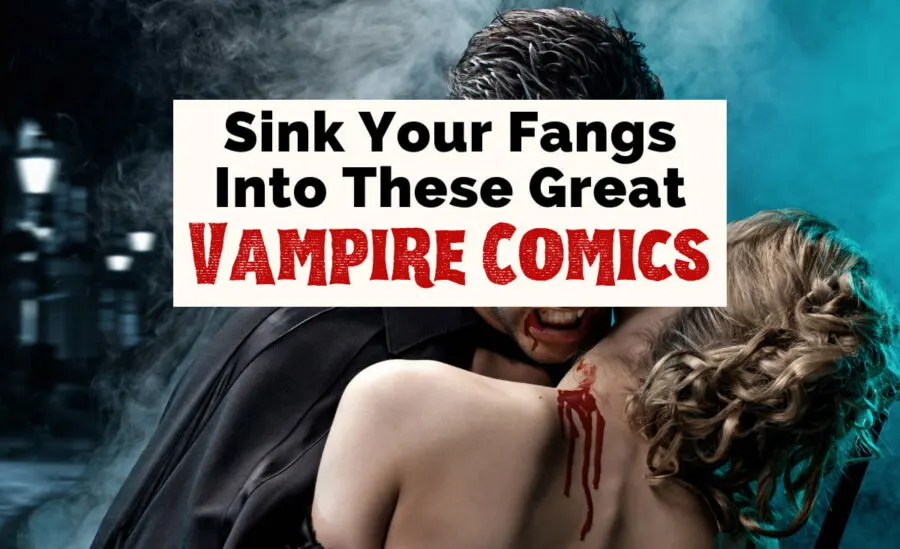 Grab your favorites here:
12 Terrific Vampire Comics & Graphic Novels
1. Garlic and the Vampire by Bree Paulsen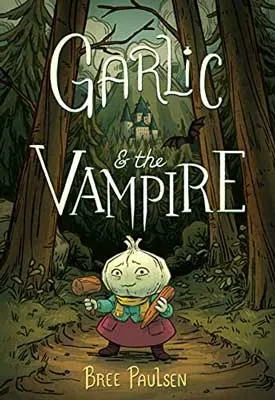 Get ready for a cute AF graphic novel with witches and vamps.
Garlic, as her name suggests, is a garlic bulb. She has anxiety and worries she's always messing up and letting her friends down – especially her best friend Carrot and Witch Agnes.
Witch Agnes put an enchantment on Garlic and several other vegetables so that they are now able to help her grow and sell crops.
But although Garlic enjoys gardening with Agnes, she often feels like she's getting in the way more than helping.
One day, the vegetables notice a strange light in the castle in the forest and, due to old local legends, they begin to suspect there might be a vampire living there.
They decide someone must investigate to protect the village! But who will go and face the terrifying monster?
Well, everyone knows vampires are allergic to garlic, and so Garlic unwittingly finds herself on an adventure. Luckily, Garlic is one brave bulb!
Garlic and the Vampire is one of the coziest vampire comics out there. You can't help but fall in love with Garlic and root for her to succeed!
Discover even more vampire books for teens and tweens.
Read Garlic and the Vampire: Amazon | Goodreads
2. Carmilla: The First Vampire by Amy Chu & Illustrated by Soo Lee and Sal Cipriano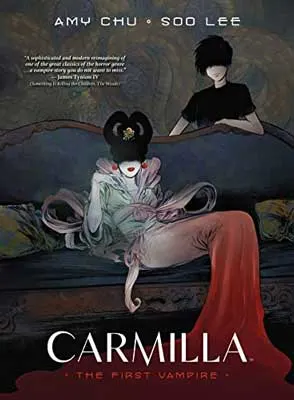 Before Dracula … there was Carmilla. She was the first vampire, and she hasn't survived this long without getting her, er, fangs wet.
Based on the 1872 Gothic novella, Carmilla: The First Vampire gets a modern-ish queer revamp (haha) in 1990s NYC.
Athena Lo, a social worker, is concerned about the increasing number of murders involving young women across the city.
But when no one will listen to her concerns, she decides to investigate herself.
Athena winds up at a nightclub in Chinatown and finds herself inexplicably drawn to a young girl she finds working there.
Is there something more sinister going on at this nightclub, or is Athena chasing clues that lead nowhere?
Steeped in Chinese folklore, Carmilla: The First Vampire is one of the best vampire comics for those who love both Gothic and noir aesthetics.
Travel to New York with even more books set there.
Read Carmilla: Amazon | Goodreads
3. Bleed Them Dry by Eliot Rahal & Illustrated by Dike Ruan
Miquel Muerto (Colorist)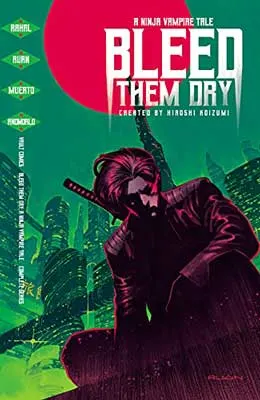 Imagine a future in which vampires are real, and they get along with humans in a (mostly) peaceful fashion. What would happen if that peace was shattered by a spree of violent murders?
And also there are ninjas?
That's the main premise in author Eliot Rahal's futuristic tech-noir ninja vampire detective mystery thriller, an enjoyable ride with more genre keywords than most vampire comics out there.
These murders are occurring in the year 3333, in the Japanese-engineered mega-city called Asylum, which sits on a gradually recovering Earth.
Assigned to the case is Detective Harper Halloway, whose investigations may just lead her to more revelations than she initially bargained for.
Gritty, gory, and definitely hard-boiled, this vampire graphic novel comes with a crisp, clear art style from illustrator Dike Ruan.
Bleed Them Dry is perfect for anyone who wants to see humans and vampires in comics actually getting along for a change (for the most part).
Travel to Japan with even more great books.
Read Bleed Them Dry: Amazon | Goodreads
4. Fangs by Sarah Andersen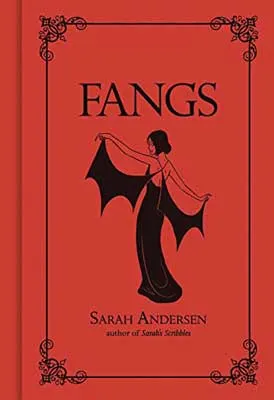 Hanging out at a bar that welcomes monsters, Elsie and Jimmy feel an instant connection.
And by the end of the night, they've confessed their big secrets: Elsie is a vampire and Jimmy is a werewolf.
But does Elsie want a romance – or does she want a meal?
What follows is easily one of the cutest, sweetest vampire graphic novels you'll ever read, as these two monsters learn to navigate this unconventional relationship.
Told mostly in little snapshots of the couple's life, Fangs is full of adorable and weirdly relatable moments with tons of cheesy jokes.
Author and illustrator, Sarah Andersen, is more well-known for her 'Sarah Scribbles' comics, and fans of hers will love this equally fun collection of her vampire comics.
If you love monsters, find even more books with werewolves.
Read Fangs: Amazon | Goodreads
5. Wynd by James Tynion IV & Illustrated by Michael Dialynas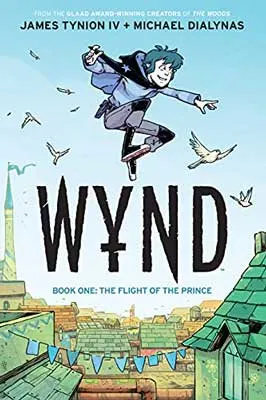 Life in Pipetown is relatively quiet for Wynd, and he'd like to keep it that way.
When not working away in the kitchen at the tavern where he lives, he spends his time hiding from the patrons and sneaking off to snatch glimpses of the very athletic son of the castle groundskeeper.
Wynd doesn't want to attract attention, because any form of magic or magical creature does not last long in Pipetown, thanks to the militant, anti-magic city watch.
And Wynd is magical indeed – one look at his pointy ears will tell you that.
When tragedy strikes, Wynd finds himself set on a course for adventure, and all the chaos and catastrophe that comes with it.
With a vibrant mixture of queer whimsy and merciless violence, Wynd is one of the more imaginative and compelling vampire comic series available.
Discover more terrific LGBT fantasy books!
6. Zombillénium by Arthur de Pins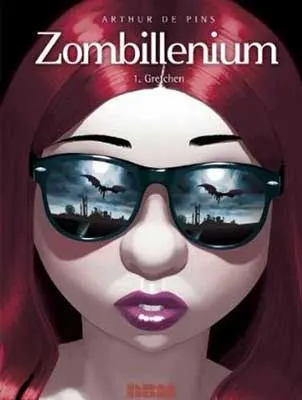 Welcome to Zombillénium, the theme park where the fun never – EVER – stops! That's because all the workers here are undead, but don't tell anyone.
Owned and led by the vampire Francis von Bloodt, this collection of scary attractions and even scarier employees welcomes any and all visitors. Some of them might even survive their stay!
And that's as it should be; the Zombillénium is just as beholden to the global economy as the next business, and repeat customers mean repeat profits.
Those profits are down right now, but that could be about to change with the appearance of a new arrival who might shake things up in just the right way.
Zombillénium started as a comic strip, and that is very evident in the cartoony panels and fun character designs.
This volume is the first in the series, and there are plenty of hijinks both supernatural and all-too-relatable in this, one of the best vampire comics for those who enjoy dark humor.
Read Zombillénium: Amazon | Goodreads
7. When I Arrived at the Castle by Emily Carroll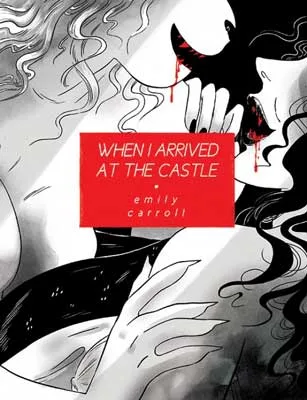 Sometimes, the less said about a book before you read it the better because you get to experience the most amount of surprise and/or shock value that way.
So it is with When I Arrived at the Castle, one of the least conventional vampire comics on this list.
We follow a cat-eared human who makes her way to a castle in order to kill its only occupant: a vampire Countess.
She is not the first to attempt to slay this creature, and her reasons for wanting to do so are not immediately known.
But when she arrives, she is surprised to find that the Countess is expecting her.
From there, we are taken on a surreal and fantastical journey – one fraught with danger, horror… and seduction.
Canadian author Emily Carroll has created one of the best vampire graphic novels that is definitely not for children.
Uncover more of the best LGBT graphic novels, and find Carroll's other graphic novel, Through The Woods, on our spooky books reading list.
Read When I Arrived at the Castle: Amazon | Goodreads
8. American Vampire by Scott Snyder & Stephen King & Illustrated by Rafael Albuquerque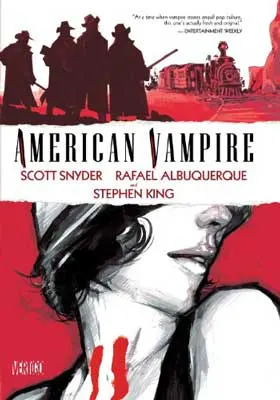 In this take on vampire comics, two writers offer up a new, all-American addition to the vampire mythos.
Set initially during the 1920s, our first story concerns aspiring actress Pearl who, after arriving in Los Angeles, is brutally killed and turned into a vampire.
She then embarks upon a bloody quest to find those responsible and get her revenge, in more ways than one.
The second story covers the Wild West origins of the first of a new breed of American vampires; genetically different – and superior – to the original undead beings.
Authors Scott Snyder and Stephen King are the minds behind the first and second stories respectively, but this is Snyder's creation, originally running in DC Comics' Vertigo offshoot.
This is just as violent and uncompromising as you would expect (considering King's involvement) and is one of the more brutal vampire comics on this list.
Read American Vampire: Amazon | Goodreads
Join The Uncorked Reading Challenge Today
---
Travel around the world with the Uncorked Reading Challenge. Get the best book and movie recs straight to your inbox. Sign Up Now.
9. 30 Days of Night by Scott Niles & Illustrated by Ben Templesmith
Every year, the town of Barrow, Alaska experiences a period of prolonged continuous darkness.
Once the sun has set at this time of year, it will be 30 days and nights before it rises again.
Unfortunately for the people of Barrow, the lack of sunlight means that hordes of vampires can descend on the town, free from the dangers of daytime or the need to sleep.
Can one steadfast sheriff manage to use what little he has to defend against this nightmarish attack until the sun shines once more?
30 Days of Night has a very distinct artistic style, with illustrator Ben Templesmith using the stark red of blood against the murky grays and blacks of darkness to create some truly terrifying panels.
This intense series of vampire graphic novels was made into a movie of the same name in 2007.
Find even more great book-to-movie adaptations.
Read 30 Days of Night: Amazon | Goodreads
10. Hellsing by Kohta Hirano & Translated by Duane Johnson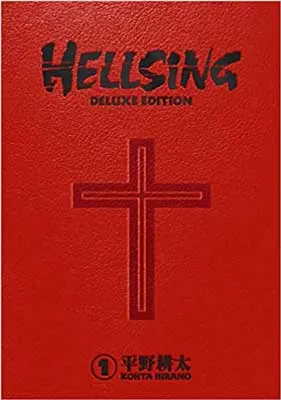 In a time of monsters, the Hellsing Organization is dedicated to fighting the forces of darkness that prey upon humanity.
This English institution was founded by the legendary Abraham Van Helsing and is currently led by his descendant, the formidable Sir Integra Fairbrook Wingates Hellsing.
Aided by Walter C. Dornez, her faithful family butler, and Alucard, himself a powerful vampire and the Organization's secret weapon, they protect the nation – nay, the world – from total destruction.
And they look good doing it.
If you're after some vampire comics that will let your brain blow off some steam, this manic manga should be just right for you.
Read Hellsing: Amazon | Goodreads
11. Vampironica by Greg Smallwood and Meg Smallwood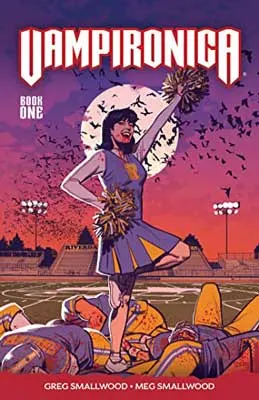 The undead comes to Riverdale in this vampire comics spinoff from one of the oldest American comics ever printed.
As if high school wasn't complicated enough; fashionable, wealthy, and popular cheerleader Veronica Lodge has been attacked and bitten by a vampire centuries older than herself.
Now she's been reborn in the darkness as Vampironica – creature of the night, and devourer of the blood of the townsfolk of Riverdale.
Except, does she really want to start killing and draining her friends and neighbors?
Going on a bloodthirsty rampage is what her instincts are now telling her to do, but she could also become a powerful defender against evil. Decisions, decisions …
If you thought your vampire comics collection was missing some OG pedigree that's also a bunch of dark fun, then the creative team of siblings Greg and Meg Smallwood has the answer.
Read Vampironica: Amazon | Goodreads
12. FANGS by Billy Balibally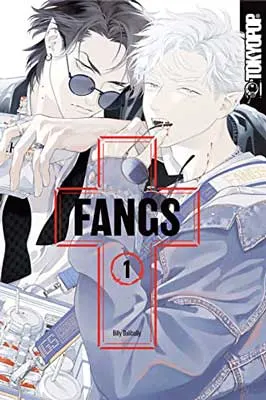 What do you do if you're unceremoniously turned into a vampire, develop a craving for your own blood, and your hair has turned white as snow?
Fortunately, the incredibly helpful FANGS organization is on hand when this calamitous turn of events befalls En, the (un)lucky sole survivor of a vampire attack.
They're here to make sure all new vampires make the transition from life to un-life smoothly.
Soon enough, he's introduced to the world of vampires and even given a guardian and mentor in the form of the gorgeous Ichii.
But vampires are expected to get partnered up, in every possible definition of the word, and En shocks everyone by declaring in a panic that Ichii will be his choice.
What will Ichii say to this? And how will En navigate this new bloodthirsty society?
FANGS will tick the boxes of queer vampire comics fans who are looking for more adult reading material.
Read FANGS: Amazon | Goodreads
Grab your favorites here:
Save The Best Vampire Graphic Novels For Later: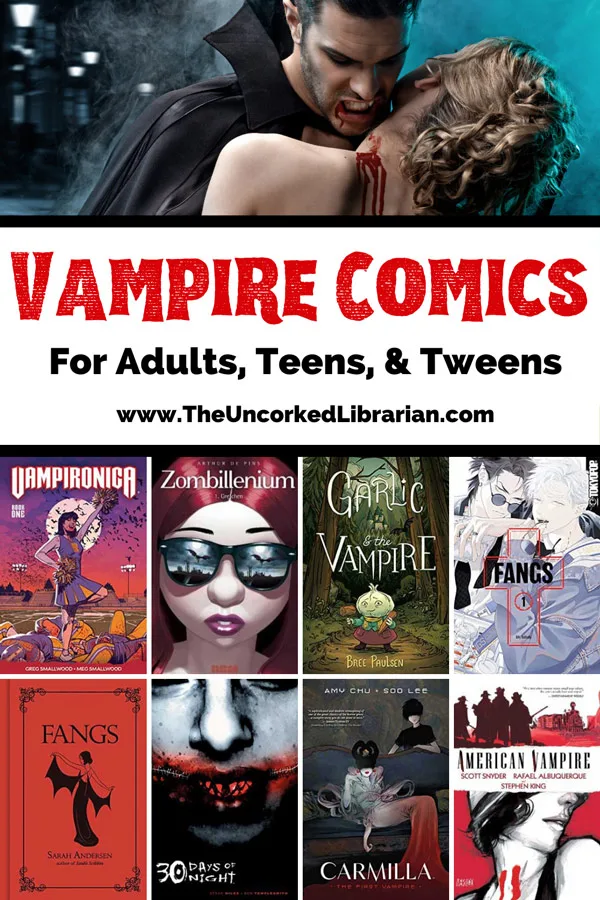 Who are your favorite vampires in comics?
Did you have a favorite vamp or vampire book? How about vamp comics and graphic novels?
Christine is a bit of a fan of Eric Northman and Bill Compton in the Sookie Stackhouse series… Let us know in the comments.
Before you go…
If you love scary comics, you might also want to peruse our horror graphic novel reading list, filled with werewolves, witches, ghosts vampires, and haunted houses. With over 20 titles, find books for adults and teens.
Related Posts: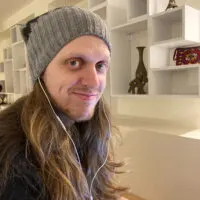 Jeremy (pronouns: any) is an autistic writer, hobbyist, and movie buff, as long as that movie is Labyrinth. Since leaving the corporate world behind in 2018, he has read more books than he thought possible. True to his British upbringing, his first instinct in any given situation is to put the kettle on.