Are you looking for the best vampire books for teens? Discover favorite YA vampire books that you'll want to sink your teeth into ASAP.
Here at The Uncorked Librarian, we love fall reading lists all year long. We especially covet books with vampires, witches, and all things spooky but not too scary.
Below, find indie vampire books for young adults as well as some of the best teen vampire romance books.
Many of these stories are great selections for teens who enjoyed Twilight or are looking for an introduction to vampire YA books.
A few of these novels will be more fitting for mature teen audiences, but we'll also share lighter vampire books for tweens.
Uncover love stories, murder mysteries, and some pretty cheesy and contentious teen vampire books. Why does all of the good stuff happen at boarding schools?
Are you ready to sink your fangs into a good YA vampire book or two? Let's get started!
Don't skip our adult vampire books reading list too.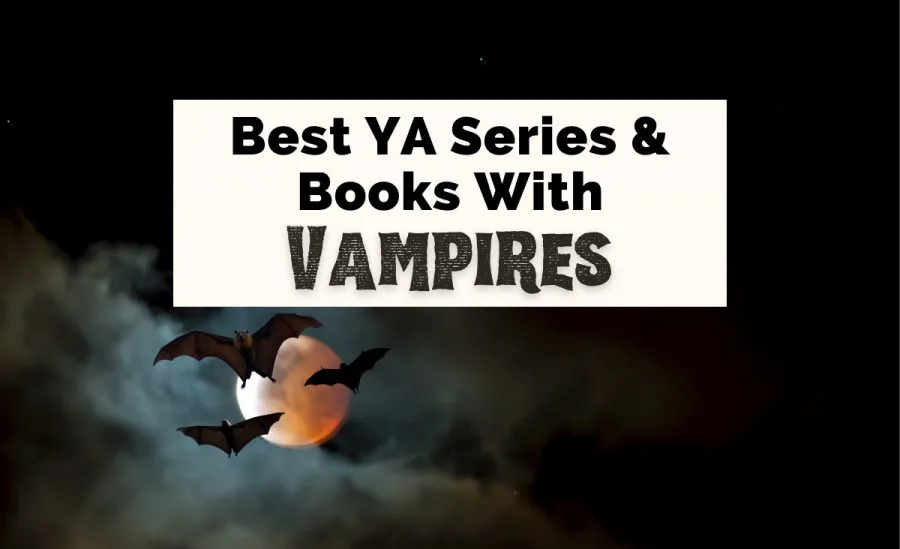 Grab your favorite teenage vampire series here:
Best Vampire Books For Teens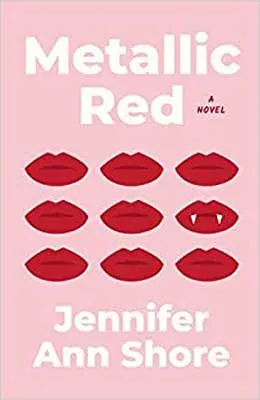 Metallic Red by Jennifer Ann Shore
For lesser-known YA vampire books, books with red in the title, and if you are hoping to read more indie authors this year, don't miss Jennifer Ann Shore's The Royally Human Vampire series.
The first novel in this two-book series, Metallic Red is both endearing and hilarious. Readers that love feminism, junk food, and high school nostalgia will sink their fangs into this quick read.
Mina is half-vampire and half-human with a powerful vampire family. She is also destined to take over as the Queen of Appalachia.
However, Mina also wants to experience a 'normal' senior year in high school. If only she knew…
Can Mina successfully manage both vamp and human worlds without accidentally devouring her gorgeous boyfriend?
It doesn't help that a rogue vampire is murdering humans. Amazon | Goodreads | Book Information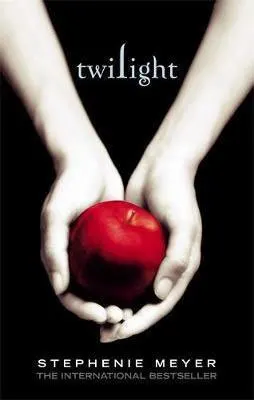 Twilight by Stephenie Meyer
You are probably going to click right off this page now… It goes without saying, but Twilight is probably the most well-known vampire book for teens. Plus, it's a popular teen werewolf novel.
You either love it, pretend to hate it, or well, really don't love Twilight. But we see you.
Plus, you know that you have watched at least one of the Twilight series movies… if not all of them. In fact, you probably have one on in the background right now.
Head to dreary Forks, Washington as Bella Swan falls into a love triangle over a vampire and a werewolf. Are you Team Jacob or Edward?
Who will Bella choose, and under what consequences? This isn't one of the most well-written YA vampire books, but still, the story is full of gripping teen romance.
Read even more books with werewolves for adults, tweens, and teens. Amazon | Goodreads | Read More
More In The Twilight Saga Series:
New Moon (Book 2) by Stephenie Meyer
Eclipse (Book 3) by Stephenie Meyer
Breaking Dawn (Book 4) by Stephenie Meyer
Join The Uncorked Reading Challenge Today
---
Travel around the world with the Uncorked Reading Challenge. Get the best book and movie recs straight to your inbox. Sign Up Now.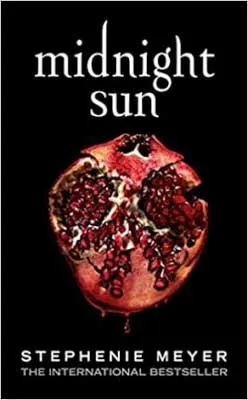 Midnight Sun by Stephenie Meyer
Because this more sophisticated Twilight book is from Edward's perspective, we decided to give Midnight Sun its own special shoutout.
Plus, this YA vampire novel was published a full decade+ after the rest of the series.
Midnight Sun is the fifth book in Meyer's Twilight series. The story is one of the longer vampire books for young adults on this reading list, clocking in at 655 pages.
As always, readers loved it and loved to hate on it.
One of the most talked-about books of 2020, learn more about Edward's past and hear his inner thoughts as he meets Bella Swan.
If you weren't Team Edward before, you might (or might not be) now. Amazon | Goodreads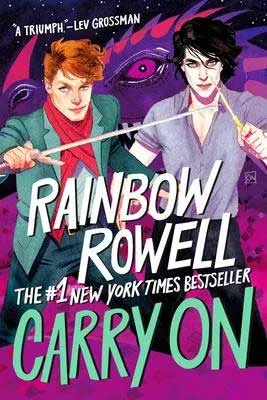 Carry On by Rainbow Rowell
For YA books with vampires, witches, wizards, and ghosts, don't miss Carry On. Carry On is the fanfiction spinoff for Rainbow Rowell's Fangirl, which we loved.
One of the YA LGBT+ books on this reading list, if you like Harry Potter (minus the gosh awful author), Carry On is for you.
Orphaned Simon Snow is starting his 8th year at magic school. Simon sucks at magic. Unfortunately, he is the 'Chosen One' meant to defeat the evil Humdrum in the UK.
Simon and his roommate/vampire nemesis, Baz – which is also a romantic relationship carried over from Fangirl – try to defeat the Humdrum and kill the Mage. Amazon | Goodreads
Read even more wickedly witchy books for adults and teens.
More Books In The Simon Snow Series:
Wayward Son (Book 2) by Rainbow Rowell
Any Way The Wind Blows (Book 3) by Rainbow Rowell
Vampire Academy by Richelle Mead
One of the popular YA vampire books that also took to the big screen, don't skip Vampire Academy.
St. Vladimir's Academy is more like a mean and mature Hogwarts that trains young vampires in all things magic.
After being on the run for years and now caught, best friends Rose and Lissa are back at St. Vladimir's Academy. The usual boarding school drama, gossip, and life-threatening vampires greet them.
Meanwhile, half-human creatures protect and train students. Like most prep schools in YA books, danger lurks in the shadows, including the world's most dangerous vampire.
Vampire Academy is the first in this YA vampire book series and is suggested for more mature readers for language and steamy lovemaking. Amazon | Goodreads
More Vampire Books In The Series:
Frostbite (Book 2) by Richelle Mead
Shadow Kiss (Book 3) by Richelle Mead
Blood Promise (Book 4) by Richelle Mead
Spirit Bound (Book 5) by Richelle Mead
Last Sacrifice (Book 6) by Richelle Mead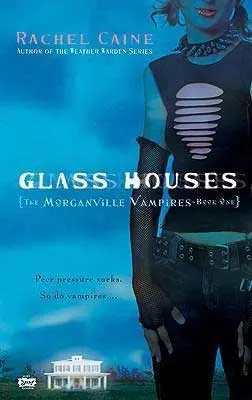 Glass Houses by Rachel Caine
Head to Texas in Glass Houses in this extensive YA vampire book series. Claire Danvers is struggling through her freshman year of college filled with mean girls.
She decides to move out of her dorm and into an old house off of campus where she meets a new set of mysterious and special roommates.
Unfortunately, the town has a few secrets, including an underground vampire world. Amazon | Goodreads
More YA Vampire Books In The Morganville Vampire Series:
The Dead Girls' Dance (Book 2) by Rachel Caine
Midnight Alley (Book 3) by Rachel Caine
Feast Of Fools (Book 4) by Rachel Caine
Lord Of Misrule (Book 5) by Rachel Caine
*There are 15 books in the series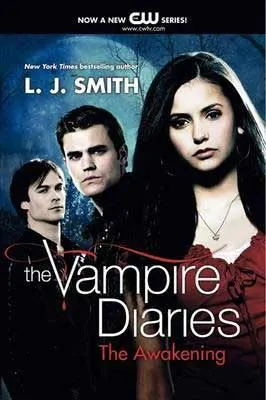 The Vampire Diaries: The Awakening by L.J. Smith
If you are looking for vampire books for teens similar to Twilight, The Vampire Diaries will fulfill your Mean Girls plus Gossip Girls meets vampire needs.
Plus, this is a bestselling YA vampire novel with its own TV show. Start with the first in the series, The Awakening.
When hunky Stefan ignores the interests of Elena Gilbert, she cannot figure out why. Of course, like Edward in Twilight, Stefan is a vamp with a bad boy brother.
Find suspense and high school drama. Amazon | Goodreads
More Books In The Vampire Diaries Series:
The Vampire Diaries: The Struggle by L.J. Smith
The Vampire Diaries: The Fury by L.J. Smith
The Vampire Diaries: Dark Reunion by L.J. Smith
*There are also newer trilogies as part of this series.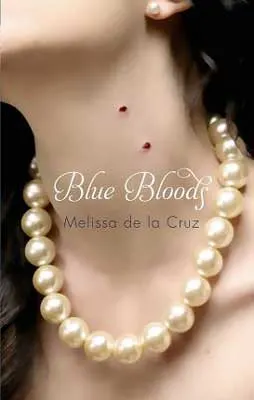 Blue Bloods by Melissa de la Cruz
Here at TUL, we are always suckers for YA vampire books where all of the good stuff happens at private schools among the overly privileged. Did you know that vampires have their own elite in Manhattan, the Blue Bloods?
Their veins even run blue, and they love some juicy…meat. Of course, they are popular, rich, and gorgeous, too.
Schuyler is a new Blue Blood, risking her own life to learn more about this secret society while solving a murder mystery. Blue Bloods is the first in this teen vampire romance book series. Amazon | Goodreads
More In The Blue Bloods Series:
Masquerade (Book 2) by Melissa de la Cruz
Revelations (Book 3) by Melissa de la Cruz
Van Alen Legacy (Book 4) by Melissa de la Cruz
Misguided Angel (Book 5) by Melissa de la Cruz
Lost In Time (Book 6) by Melissa de la Cruz
Gates of Paradise (Book 7) by Melissa de la Cruz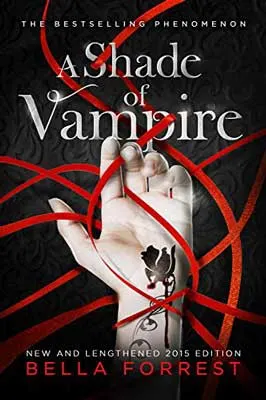 A Shade Of Vampire by Bella Forrest
One of the best teen vampire romance books and series, don't miss A Shade Of Vampire.
Described as "Twilight meets Avatar," a pale being kidnaps Sofia Claremont, taking her to an enchanted island called The Shade.
Ruled by a vampire, Sofia finds herself a slave invited into the royal prince's harem. If Sofia wishes to survive, she must win over the Prince. Amazon | Goodreads
More Vampire Books In A Shade Of Vampire Book Series:
A Shade of Vampire 2: A Shade Of Blood
A Shade of Vampire 3: A Castle Of Sand
A Shade of Vampire 4: A Shadow Of Light
A Shade of Vampire 5: A Blaze Of Sun
*There are a ton of YA vampire books in this series.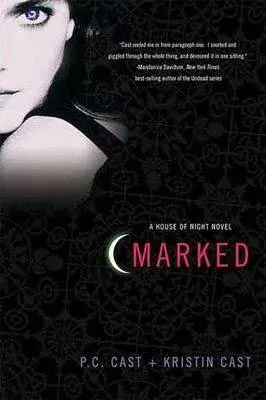 Marked by P.C. Cast and Kristin Cast
Indie author Jennifer Ann Shore – listed above – highly recommends House of Night. In the first of these YA vampire books, Marked, Zoey Redbird transforms into a fledgling vampyre.
As if high school isn't already hard enough, now Zoey has to deal with boyfriend troubles and her newly discovered special vampyre abilities.
When Zoey uncovers others abusing their power, she must learn how to survive in this new life. Amazon | Goodreads
More Vampire Books In The House Of Night Series:
Betrayed (House of Night Book 2) by P.C. Cast and Kristin Cast
Chosen (House of Night Book 3) by P.C. Cast and Kristin Cast
Untamed (House of Night Book 4) by P.C. Cast and Kristin Cast
Hunted (House of Night Book 5) by P.C. Cast and Kristin Cast
*There are 12 books in the series.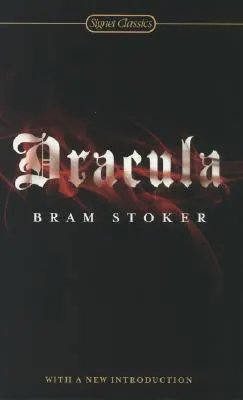 Dracula by Bram Stoker
Dracula is one of those drier high school classic vampire books for teens.
Jonathan Harker thinks something is up in Count's castle. Women with glassy eyes lethargically roam the halls.
When Harker watches the Count fly away to London to drink from the city's beauties, he knows that Dracula must be stopped.
For more mature audiences, don't miss our short horror novels reading list too. Amazon | Goodreads | Book Information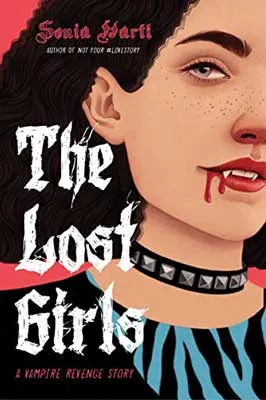 The Lost Girls by Sonia Hartl
Sometimes, we'll do nearly anything when we are young and in love, and that's just what happens with Holly Liddell.
Unfortunately, the consequences are longer-lasting as Holly has let her now ex-boyfriend turn her into a vampire.
Today, never-aging Holly works the late-night shift at Taco Bell and follows her ex around from place to place.
Holly isn't Elton's first victim, though, but she certainly can be one of his last; when she meets his other duped exes, they decide to team up and seek revenge.
In the process, Holly just happens to fall for one of Elton's upcoming conquests, Parker. Being a murderer might not be so attractive, though.
You cannot go wrong with The Lost Girls if you are looking for YA vampire books filled with revenge.
Plus, this is a fast-paced LGBT fantasy that both adults and teens can appreciate. Amazon | Goodreads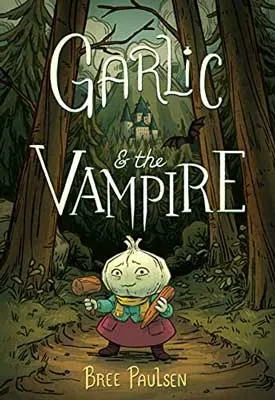 Garlic and the Vampire by Bree Paulsen
What's one of the cutest teen vampire books out there? We just adore Garlic and the Vampire, a middle-grade graphic novel about living with anxiety.
Garlic loves working in Witch Agnes's enchanted garden, but she's always worried that she is doing something wrong.
When the other fruits and vegetables spy smoke billowing out of the once-deserted vampire's castle, they pressure Garlic into seeing if he is a friend or foe; everyone knows vampires hate garlic, after all.
Garlic channels her inner strength and courage to confront the vampire. Will she leave the castle alive? What will she learn in the process?
From Garlic's sweet friendship with Carrot to the mental health messaging, Garlic and the Vampire is a quick and endearing read for any tween struggling with anxiety.
Let's just say our favorite illustrated scene towards the end involves a library too… Plus, Witch Agnes is one of the sweetest witches in comic books. Amazon | Goodreads
Save These YA Vampire Books For Later: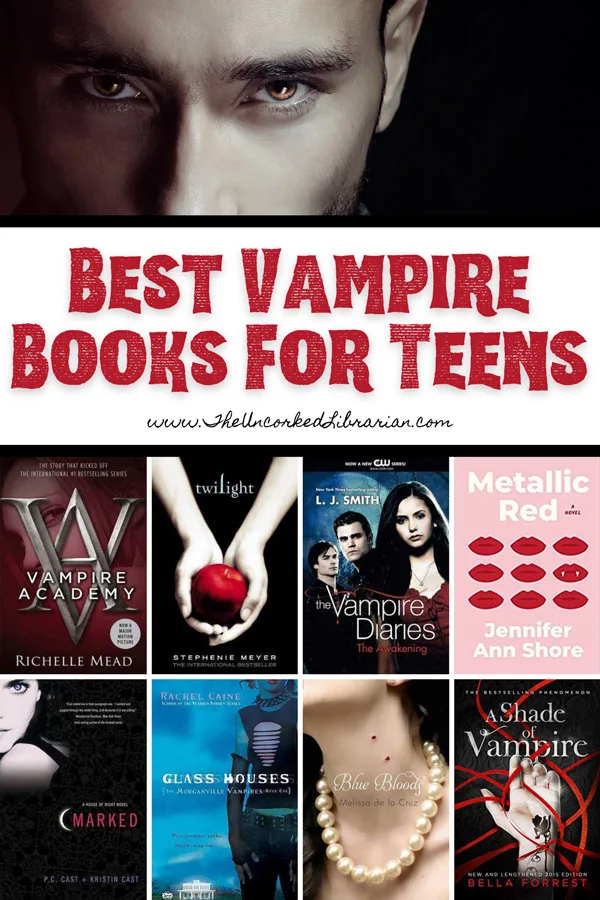 Grab your favorite vampire books for young adults here:
What are your favorite vampire books for tweens & teens?
Which of these vampire books for young adults have you read? What is your favorite teenage vampire book series? Are there any teenage vampire romance books and series that make you roll your eyes? Let us know in the comments.
Before you go…
If you enjoy vampire stories, find a few more YA and middle-grade vampire comics and graphic novels on this reading list. Just keep in mind that not all are age-appropriate and some are meant for adults.
If You Love These Vampire Books, You May Also Enjoy:
More YA Reading Lists: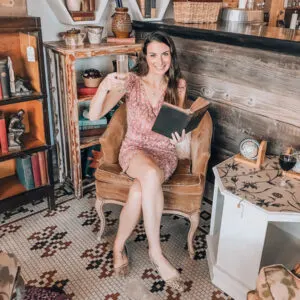 Christine (she/her) is the owner, lead editor, and tipsy book sommelier of The Uncorked Librarian LLC, an online literary publication showcasing books and movies to inspire travel and home to the famed Uncorked Reading Challenge.
With a BA in English & History from Smith College, an MLIS from USF-Tampa, and a U.S. Fulbright Fellowship in Christine's back pocket, there isn't a bookstore, library, or winery that can hide from her. Christine loves brewery yoga, adopting all of the kitties, and a glass of oaked Chardonnay. Charcuterie is her favorite food group.