Howl across the globe with the best teenage werewolf books for middle-graders and high schoolers (and adults too!).
Settle into the night with these werewolf books for young adults, including supernatural stories, paranormal romances, and a horror novel or two.
Everything seems to go wrong when that creepy full moon is out, and being a teen makes it that much harder.
You have high school drama, heartbreak, and enough transformation without the sharp teeth and claws.
So, if you are looking for YA werewolf books, where should you start?
We are pretty sure you already know about popular titles like Twilight and Shiver. But how about The Alpha's Son, Squad, and Wicked Fox?
From graphic novels to teenage romance books, keep reading to discover the best werewolf books set across the world. You might want to have those silver bullets ready… Let's get started.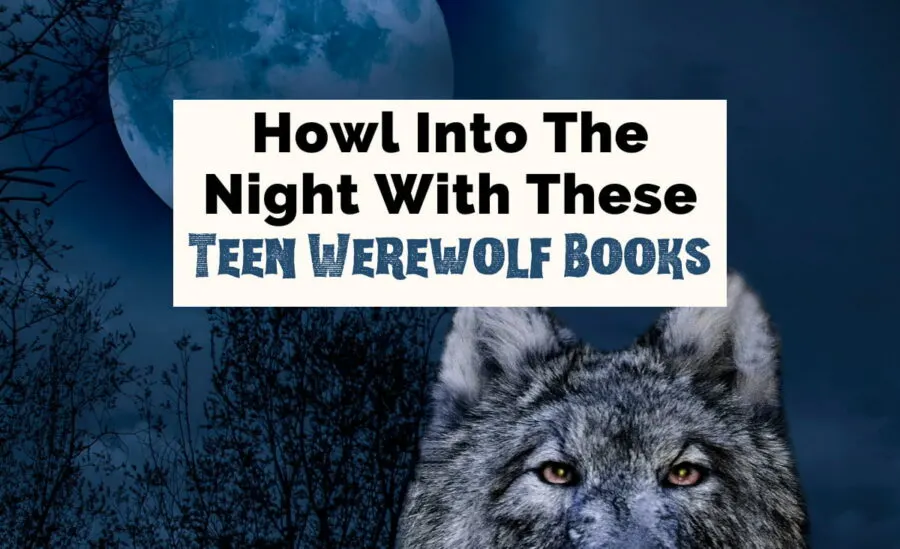 Grab your favorite books and movies here:
15 Teenage Werewolf Books
1. The Alpha's Son by Penny Jessup
Every teenager feels like they don't fit in at one point or another, which is why teenage werewolf books feel so relatable.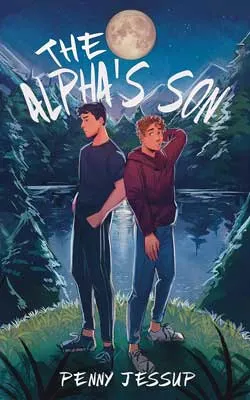 The Alpha's Son is unusual, though, because the main character – Max Remus – doesn't feel like an outsider due to his shapeshifting.
In fact, he's headed to a summer camp, the Blue Moon Festival, with the rest of the Elite wolf pack.
He's just the only one of them who's not particularly interested in finding his mate; he'd rather be hanging out with his best friend Katie, or doodling in his notebook.
So, of course, he ends up fated to be with the handsome jerk, Jasper – the one every wolf at camp is talking about (and drooling over).
This is a fun, young paranormal romance, and the first in what promises to be an exciting series of young adult fiction from a new indie press.
Read The Alpha's Son: Amazon | Goodreads
2. Twilight by Stephenie Meyer
Would we even have a list of YA werewolf books if it weren't for Twilight? Stephenie Myer didn't write the first series of vampire-slash-werewolf books for teens, but hers is certainly the one that brought the sub-genre to the mainstream.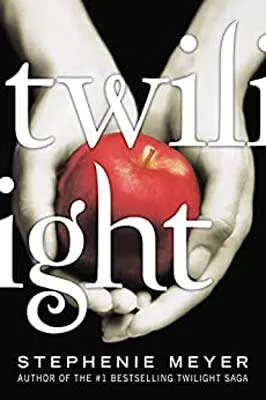 Bella Swan is a teenage girl who finds herself in a love triangle that conveniently parallels an age-old struggle between vampires and werewolves.
The story proved so addictive that the first book went on to become a bestseller, as did each book in the series after (and the companion books).
Meyer has hinted that she's working on more from the same universe, so it's a good time to revisit these high school favorites.
Plus, werewolf romance books for teenagers don't get any more cheesy or angsty than this. And, if you enjoy Twilight, peruse our reading list filled with good adult vampire novels.
Read Twilight : Amazon | Goodreads | Book Information
3. Born At Midnight by C.C. Hunter
All rebellious teenage girls run the risk of facing some parentally imposed consequences for their actions, and Kylie Galen is no exception. But surely sending her to a summer camp full of paranormal freaks is a bit much?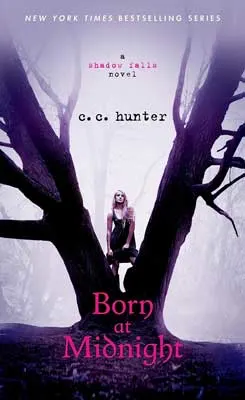 In Born At Midnight, the first book in the Shadow Falls series, vampires, werewolves, shapeshifters, witches, and fairies train side by side at a camp for "troubled teens."
Kylie doesn't think she's one of them – but that begins to change when she finds herself caught in a fae-werewolf love triangle.
This award-winning teenage werewolf book series is just begging to be devoured.
For even more terrific selections, be sure to read our master werewolf fantasy and horror novels reading list.
Read Born At Midnight: Amazon | Goodreads
4. Wicked Fox by Kat Cho
If you like your teenage werewolf books diverse, combining the best of folklore and urban fantasy with a feminist bent, you must pick up Wicked Fox.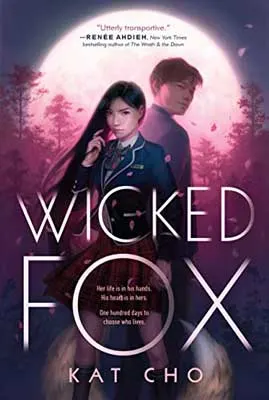 Gu Miyoung is a gumiho, a nine-tailed fox, who must devour the energy of men in order to survive.
She does a good job of keeping her secret while hunting on the streets of Seoul until a full moon feeding goes terribly wrong.
She's forced to reveal her true identity to save a human boy from a goblin and loses her gumiho soul in the process.
She believes he'll keep her secret – but the sparks that fly between them complicate matters.
If you enjoy Wicked Fox, read even more books on Korean culture, history, and folklore.
Read Wicked Fox: Amazon | Goodreads
5. Shiver by Maggie Stiefvater
Let's not kid ourselves: the best YA werewolf books are the ones filled with angst and romantic yearning. That's why Shiver has been beloved by teen readers for over a decade.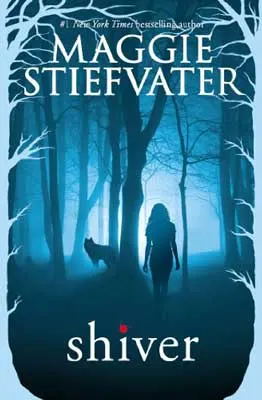 The story revolves around Grace, who is captivated – rather than terrified – by the glimmering eyes of wolves in the woods behind her house.
There's one wolf in particular, the one with yellow eyes, that she can't help but watch for – and he gets to take human form for the summer.
Their connection intensifies over the warmest months of the year, but will it be strong enough to fight his wolfish return once the cold winter winds pick up?
Read Shiver: Amazon | Goodreads
6. Blood And Chocolate by Annette Curtis Klause
It might be jarring for millennial readers to realize that their favorite werewolf novel of their '90s adolescence is now a "classic," but that's the price we pay for growing up!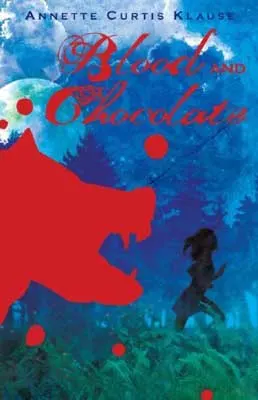 Blood And Chocolate is indeed now one of the old-time werewolf books for young adults, but it's just as good as you remember.
Vivian Gandillon is a sixteen-year-old Homo lupus, paranormal creatures with both wolfish characteristics and human souls.
Against her mother's wishes, Vivian falls in love with Aiden, a boy who is fascinated by magic.
Can she safely reveal herself to him, or will exposure end in tragedy, as it did in her last hometown?
Read Blood And Chocolate: Amazon | Goodreads
7. Sisters Red by Jackson Pearce
There's no bond like that between sisters – especially sisters on a mission.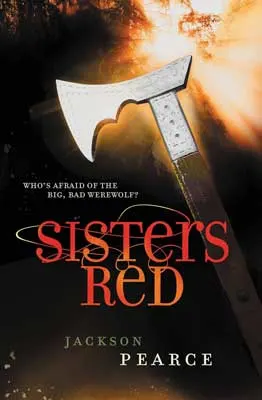 In Sisters Red, Scarlett and Rosie March are highly skilled hunters determined to destroy the Fenris, werewolves that prey on vulnerable teenage girls.
Lately, the Fenris have been stronger and harder to fight, the sisters discover that they are banding together to lure a Potential Fenris over to their side.
This urban fantasy turns into a race against the clock, with the sisters tracking down the Potential Fenris to use as bait against their foe.
This is a highly-charged thrill ride from start to finish, so pick it up if you like your teenage werewolf books action-packed.
Read Sisters Red: Amazon | Goodreads
8. Weregirl by C.D. Bell
Weregirl is the first in a series of paranormal urban fantasy books for teens, and it's a story that will be familiar to any fan of YA werewolf books.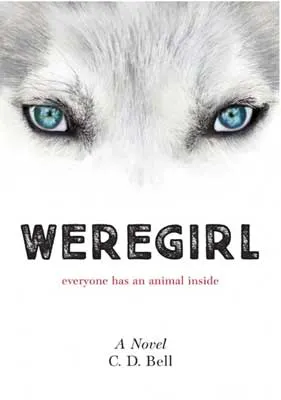 Nessa Kurland is a junior in high school, one of your regular all-American teenage girls, when a chance encounter with a trapped wolf changes her life forever.
Nessa has no choice but to adapt and learn to navigate the already scary life of a twenty-first-century teen with her new wild nature.
On the upside, her transformation greatly improves her performance on the track team. The downside? Nearly everything else!
Read Weregirl: Amazon | Goodreads
9. Squad by Maggie Tokuda-Hall & Lisa Sterle
"Pretty Little Liars meets Teen Wolf"? Say no more!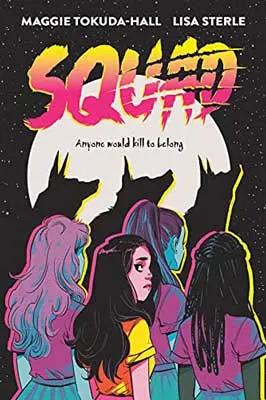 Squad isn't just one of the most intriguing werewolf books for young adults, it's also one of the most gorgeous LGBTQ+ graphic novels you'll ever place on your shelf (illustrated by Lisa Sterle).
New girl Becca can't believe her luck when she's invited to join the most exclusive clique at her elite San Francisco high school.
Marley, Arianna, and Mandy seem to have everything teenage girls could want – but the first full moon that rolls around reveals they have a dark secret, too.
Becca is going to have to go further than she ever could have imagined if she truly wants to fit in. Bonus points for the feminist themes and queer teen storyline, too!
Read Squad: Amazon | Goodreads
Join The Uncorked Reading Challenge Today
---
Travel around the world with the Uncorked Reading Challenge. Get the best book and movie recs straight to your inbox. Sign Up Now.
10. Once In A Full Moon by Ellen Schreiber
"Beware of a kiss under the full moon. It will change your life forever."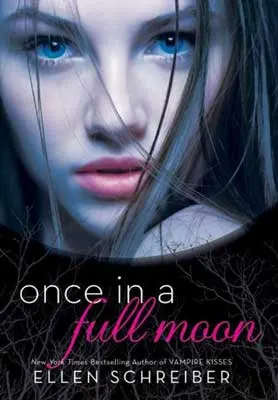 Celeste has learned to tune out the rumors and fairy tales about werewolves in her hometown of Legend's Run.
But an unnerving visit to a psychic and an encounter with the gorgeous new boy Brandon has her thinking twice – maybe there's more to the local legends than she thought?
Once In A Full Moon is the first in Ellen Schreiber's teenage werewolf book series Full Moon, the perfect paranormal romance pick for readers who love adolescent love triangles and supernatural spookiness.
Read Once In A Full Moon: Amazon | Goodreads
11. Six Moon Summer by S.M. Reine
S.M. Reine is a super-prolific indie author of werewolf books for young adults. If you're wondering where to start with her huge backlist, try Six Moon Summer, the first novel in the Seasons Of The Moon teenage werewolf book series.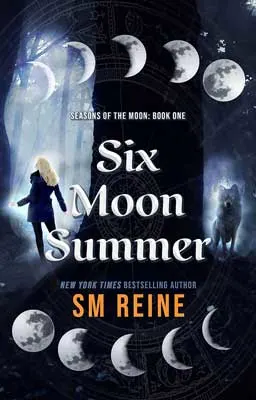 Riley is a relatable, angsty adolescent; she hates being at summer camp, she doesn't get along with the other teenage girls, and she can't stand all the enforced "fun."
Everything goes from bad to worse when she's bitten.
She has until the end of the summer to figure out how to halt her transformation, or she'll have to return home a monster. …Although we do love our monster books for adults and teens…
Read Six Moon Summer: Amazon | Goodreads
12. Fateful by Claudia Gray
With the recent boom in teenage werewolf books, it can be tough for authors to find a new twist or take on the tropes – but Claudia Gray has managed it with Fateful. This paranormal romance is set on board the RMS Titanic (yes, that Titanic).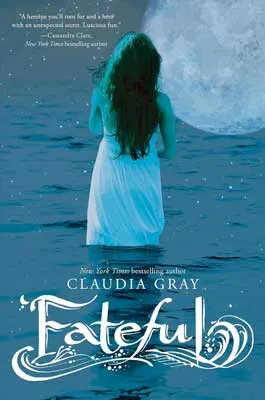 Tess Davies is eighteen years old, and the luxury cruise liner feels more like an ocean-bound prison.
The only bright spot is Alec, the handsome and charming first-class passenger who might just be her ticket out.
If only it weren't for the dark brotherhood trying to induct him into their order, using Tess as a pawn in their twisted games…
Fateful is a great selection if you enjoy reading books on shipwrecks (fiction and nonfiction).
Read Fateful: Amazon | Goodreads
13. A Pack Of Blood And Lies by Olivia Wildenstein
Could an all-male wolf pack ever accept a teenage girl as their leader? How thin is the line between love and hate?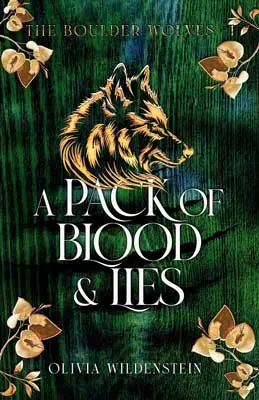 These are the questions at the heart of A Pack Of Blood And Lies, one of the best YA werewolf books for readers on the upper end of the age bracket.
Ness is forced to return to her Colorado hometown and the Boulder Pack. When their cruel Alpha leader dies, his son is the heir apparent – until Ness decides to challenge him.
She'll have to set aside her racing heart because this is going to be a winner-takes-all fight to the death.
Read A Pack Of Blood And Lies: Amazon | Goodreads
14. Tinder by Sally Gardner
Tinder is a Costa Award-winning graphic novel, written by Sally Gardner and beautifully illustrated by David Roberts. It's their take on the fairy tales of Hans Christian Anderson, specifically The Tinderbox, a story of great love and loss.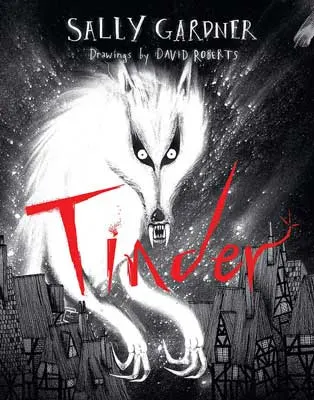 Otto Hundebiss manages to defy death to escape the horrors of war, but his journey is just beginning.
He's lured by a beautiful woman into a web of dark magic, searching for riches beyond imagining, master of a wolf pack, and haunted by the tinderbox that reappears everywhere he goes.
This is definitely one of the darkest teenage werewolf books you'll ever pick up.
Read Tinder: Amazon | Goodreads
15. Lycanthropy and Other Chronic Illnesses by Kristen O'Neal
Not all werewolf books for teens are horror novels with sharp teeth and gory battles. Lycanthropy And Other Chronic Illnesses is a brilliant, light-hearted, and witty take on the paranormal.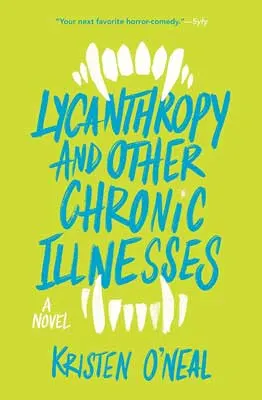 Priya has had to give up her dream of attending Stanford to recuperate at home from Lyme disease.
Her only comfort is connecting with other chronically ill teens in a virtual support group that meets on Discord.
Brigid is her online bestie, the only one who really gets what Priya's going through. But, when she suddenly goes (and stays) offline, Priya decides to track her down and make sure she's okay.
It's "Teen Wolf meets Emergency Contact," and it's an absolute delight.
Read Lycanthropy and Other Chronic Illnesses: Amazon | Goodreads
If you love werewolf books, you might also enjoy…
We have plenty of sci-fi and fantasy reading lists on The Uncorked Librarian, filled with ghosts, haunted houses, aliens, dragons, monsters, and more. If you love spooky graphic novels, you might want to check out these reading lists:
Grab your favorite books and movies here:
Save this werewolf reading list for later: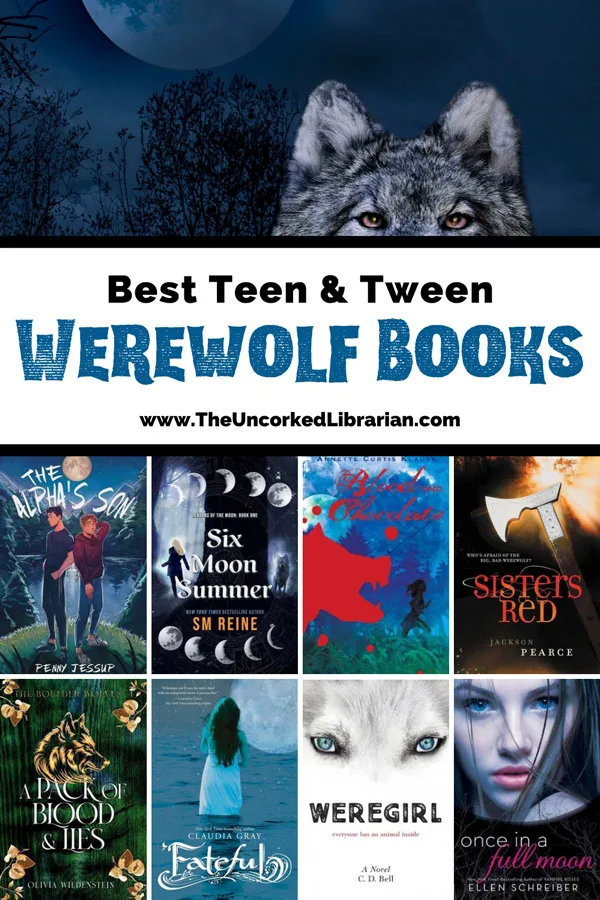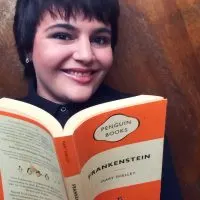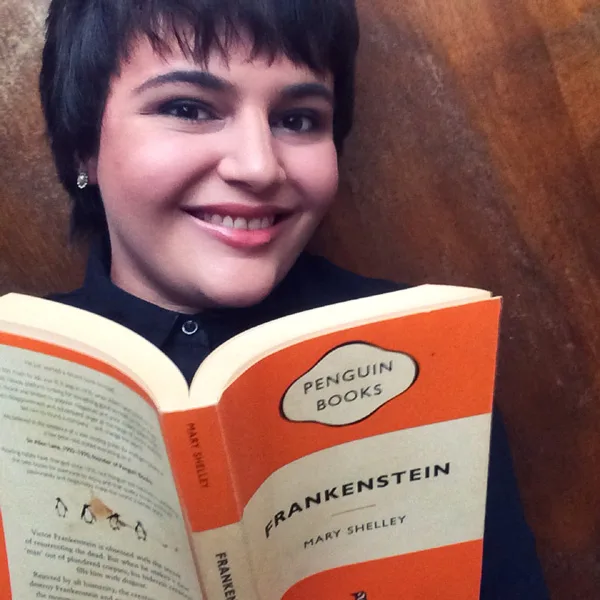 Sheree (pronouns: she/her) is a writer and book reviewer living on the land of the Gadigal people of the Eora nation (known as Sydney, Australia). She has been reviewing books on her blog, Keeping Up With The Penguins, since 2017. She reads books of all kinds and shares her thoughts on them all across the internet.