31 Best Irish Movies To Watch (2024)
Travel to Europe with the best Irish movies to take you there, teach you more, and enhance your next trip.
Ireland was one of our favorite countries to visit for the gorgeous libraries, fluffy sheep, scenic landscape, and of course, Irish whiskey and beer.
If you are headed to Ireland or wish to travel abroad via armchair, there are plenty of movies about Ireland to watch before you go.
For comedic Irish films – many laden with dark humor – we have tales of mutant, killer cows alongside uncoupled people threatened with becoming lobsters if they don't find a partner.
For more serious films about Ireland, encounter movies that recreate pivotal historical moments and address Ireland's most complex issues.
Explore inspiring films about overcoming hardship and war as well as Irish movies that will make your foot tap along to the beat.
Laugh, cry, and find love… and maybe a mythical creature or two.
So, what are the best Irish films to watch before you go? Of course, "best" is subjective, and we'd love to know your favorite Irish movie in the comments. Let's get started!
If you love these Ireland movies, you may also enjoy these Irish books.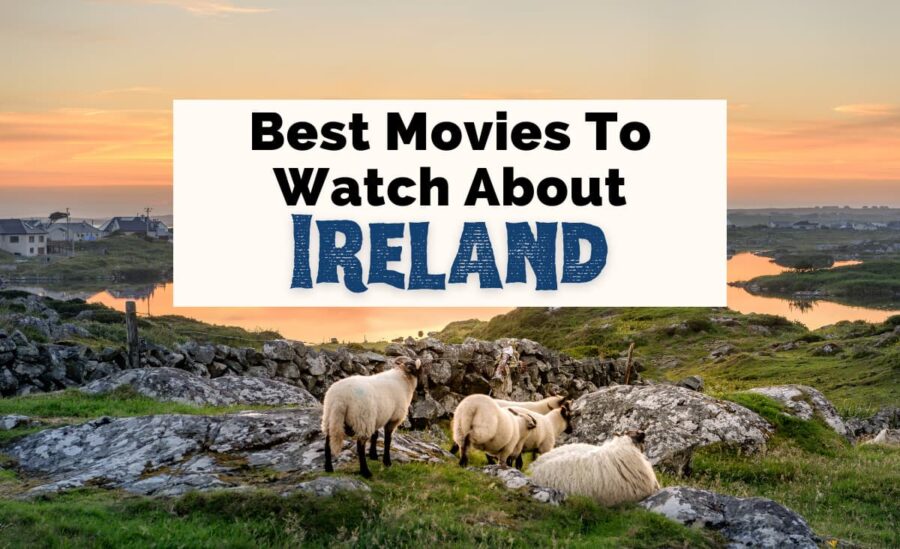 Grab your favorite books and movies set in Ireland here:
Express VPN – Using Virtual Private Networks (VPNs) allows you to view movies worldwide – and they help keep your information safe. Our writers couldn't have such diverse film reviews without a VPN.

Amazon Prime Video – Stream thousands of ad-free movies and TV series on demand with Prime Video.

Audible Plus: From Amazon, listen to Amazon Originals, podcasts, and audiobooks. They add new titles every week.
31 Best Irish Movies & Movies About Ireland
Author's Note: This article includes films set in both the Republic of Ireland and Northern Ireland. Although Northern Ireland is officially part of the United Kingdom, it is culturally and historically Irish. And as several of the films below will show, there is a complex issue between the three.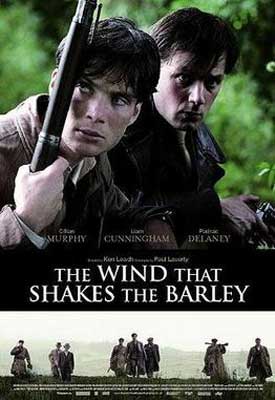 The Wind that Shakes the Barley (2006)
In 1920s Ireland, medical graduate Damien is about to leave his village and travel to London to practice medicine.
During the journey, he witnesses abuse and cruelty at the hands of British soldiers stationed in his occupied homeland and decides instead to stay and join his brother Teddy as a member of the IRA.
Once conflict breaks out across the country, the brothers fight guerrilla warfare against the British.
When peace is brokered, a new crisis emerges amongst the Irish population; many want to accept the proposed terms to avoid more bloodshed, even though it means remaining part of the British Empire.
However, others say that there must be an independent Irish Republic instead.
With Damien and Teddy caught on opposite sides of the conflict, their brotherly bond will be sorely tested.
Bleak and uncompromising, yet one of the most beautifully shot films about Ireland brought to the big screen, this fictional historical drama occurs during one of Ireland's most turbulent periods.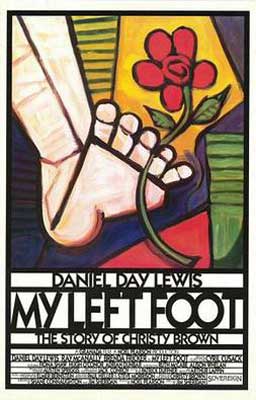 My Left Foot (1989)
When Christy Brown is born into a working-class family of 15 in 1930s Ireland, doctors informed his parents that he has severe cerebral palsy and will be unable to walk or talk.
But despite suggestions that he be committed to a hospital, Christy is brought home and cared for by his family.
One day, following an accident in which his pregnant mother is injured, Christy manages to attract the attention of neighbors who arrive in time to help.
He then astounds everyone by showing that he can in fact control one part of his body – his left leg – and that he can both read and write, despite having no formal education.
Following this, Christy becomes more involved in the community and begins a long path to becoming the artist and author he is remembered as today.
Based on Christy Brown's own autobiography, My Left Foot is one of the most critically acclaimed Irish movies and features an Academy Award-winning performance from Daniel Day-Lewis in the title role.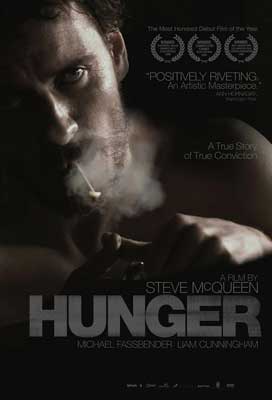 Hunger (2008)
Set in Maze Prison, Northern Ireland, this is the dramatization of the 1981 hunger strike undertaken by Irish Republican prisoners during the Troubles.
Hunger focuses mainly on inmate Bobby Sands, the leader of the hunger strike.
Through not eating, and by using other physical methods such as "no wash" protests, Sands and the other striking inmates pit themselves directly against British Prime Minister Margaret Thatcher.
As time wears on and the men become increasingly weak, the harsh conditions of the prison and the brutality of the treatment of the inmates lead the tension on both sides to breaking point.
Unflinchingly raw, intense, and uncompromising, this historical drama is one of the most serious and adult movies about Ireland on this list and acts as a deep exploration of the limits of the human body.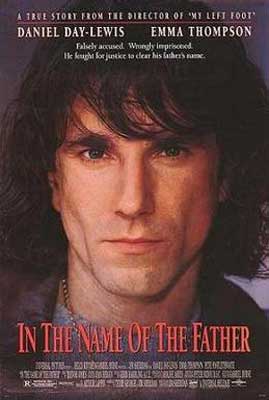 In the Name of the Father (1993)
On October 5th, 1974, at 8:30 pm, two bombs placed by the IRA are detonated at two pubs in Guildford, England.
At the same time, Irishman Gerry Conlan is nearby, having committed a small and unrelated robbery.
Despite having nothing to do with the bombings, Conlan is arrested and, along with three others who are also uninvolved, charged with terrorism offenses.
Due to the interrogation methods of the police, which involve torture and the threatening of Conlan's father, Conlan signs a confession; the four are imprisoned.
Even with the false confession, the police arrest Gerry's father Giuseppe anyway, as a further accessory to the bombings.
Eventually, the wrongly imprisoned captives are able to enlist the help of an English lawyer, and together they try to overturn this miscarriage of justice.
Adapted from Gerry Conlan's autobiography, In the Name of the Father is one of the most critically acclaimed movies about Ireland ever made, and is considered one of the best Irish movies of the decade.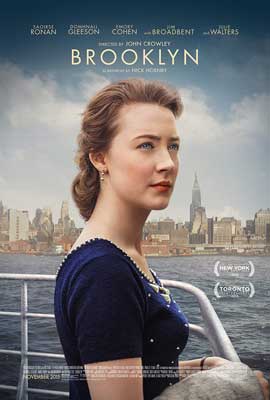 Brooklyn (2015)
Young Eilis Lacey is not enjoying her life in the 1950s in the small southern Irish town of Enniscorthy.
Uninterested in the local boys and working part-time under a spiteful employer, she is saved from her unhappy existence by her sister, who writes to an Irish priest in Brooklyn and arranges for Eilis to travel there for a new job.
Away from the people and the country that she knows, Eilis finds it initially hard to adjust to her new circumstances.
However, after a while, she begins studying for a career in accountancy and even begins a relationship with the Italian plumber Tony.
But when Eilis receives news that forces her to return to Enniscorthy, she finds that she may not be able to continue the new life she has made for herself in America.
Torn between two worlds – the old and the new – she faces a difficult decision that will have far-reaching consequences.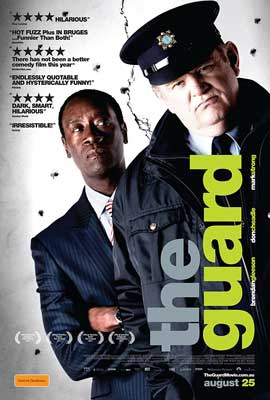 The Guard (2011)
International crime is heading for the Connemara district of West Ireland.
In an effort to stop the cocaine imports of an Irish drug trafficker, the FBI has sent straight-laced Agent Wendell Everett to work with the Irish police (known locally as Garda – the "Guard" of the title).
Agent Everett's only obstacles to successfully solving this case lie in the initial lack of clues and evidence and the fact that his Garda partner for this project is the unscrupulous and irreverent Sergeant Gerry Boyle.
With Boyle's subversive sense of humor and taste for prostitutes, it's unclear whether Agent Everett will have to whip him into shape or if Sergeant Boyle needs to get Agent Everett to chill out a little.
Either way, those drug smugglers won't know what hit them.
Movies in Ireland don't usually have humor as dark as this.
Sergeant Boyle's politically incorrect opinions – which he has no trouble or hesitation sharing with anyone around him – have the potential to shock, even if you do find yourself laughing regardless.
The Guard is a buddy cop movie for those with an acquired taste.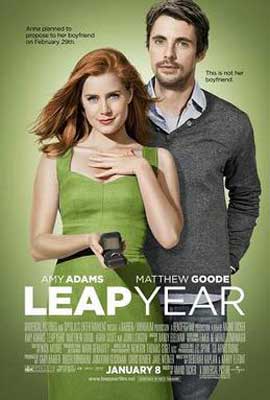 Leap Year (2010)
What do you do when your boyfriend of 4 years just won't propose to you?
That's the question on real estate agent Anna Brady's mind. They're both young, successful, and happy, so what's taking so long?
Fortunately, Anna knows that her boyfriend Jeremy will be in Ireland at a conference on February 29th, and she also knows about the Irish tradition that if a woman proposes on a leap day, it must be accepted.
Soon, a plan is in action, and Anna is on her way from Boston to Dublin to surprise Jeremy and pop the question. But a storm forces her plane to be diverted, landing in nearby Wales instead.
With both time and her options running out, will she make it in time? And will her unlikely Irish chauffeur Declan teach her anything about love along the way?
This is absolutely an unapologetic by-the-numbers rom-com but, like many movies set in Ireland, it has an undeniable charm and a very likable cast.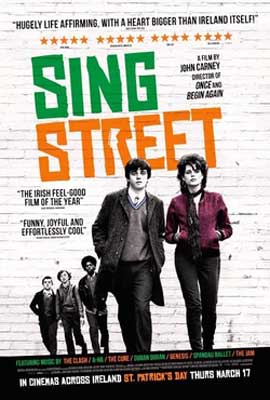 Sing Street (2016)
Inner-city Dublin, 1985: Due to financial troubles and in order to save some money, Robert Lawlor decides to remove his youngest son Conor from his current expensive school and instead send him to Synge Street CBS; a much cheaper public school.
While trying to adjust to this big change, Conor is enchanted by a mysterious girl named Raphina, who also goes to the same school.
In order to get her attention – and prove to her that he isn't a loser – he starts a band with some of the other students.
As they play more shows and Conor begins to write his own songs, it looks like he might be in with a chance of a relationship with Raphina. But can love triumph through the power of music?
The aesthetic of the 1980s is an instant draw for plenty of movie fans, and the best movies about Ireland often have music as a prominent feature.
For these reasons, Sing Street is a great choice if you're in the mood for a feel-good Irish movie.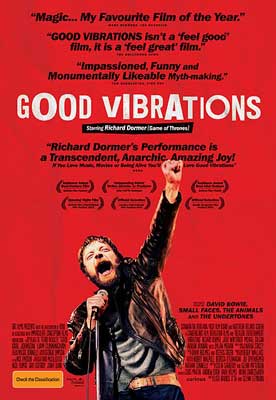 Good Vibrations (2012)
During the intense and volatile Troubles of 1970s Belfast, one man took it upon himself to try and create some harmony through the power of music.
This is the biographical story of Terri Hooley – founder of the Good Vibrations record store and music label.
Inspired by the effect of reggae music in politically turbulent Jamaica, Hooley opened Good Vibrations – a record store that could supply the people of Belfast with reggae music and perhaps spread some positivity.
By doing this, Hooley stumbles upon a newly emerging genre of music: punk rock.
With its youthful power and vibrancy galvanizing a new passion, Hooley starts to champion local bands by producing records and organizing gigs wherever he can, in an attempt to get the punk rock scene alive and thriving in one of Ireland's darkest periods.
With some heartfelt and emotional moments, plus an iconic and highly memorable soundtrack, Good Vibrations is one of the best Irish movies about the punk rock music scene.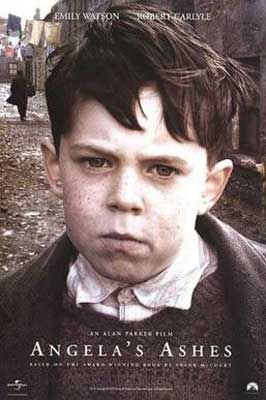 Angela's Ashes (1999)
The McCourt family is struggling to make a living in 1930s Brooklyn.
After the death of their youngest child, they make the move across the Atlantic to the city of Limerick in the west of Ireland.
Enduring conditions of extreme squalor, the family suffers through continuous hardships.
Many of these hardships are brought about by the family's father, Malachi McCourt, whose struggles with alcoholism combined with local prejudice against his Northern Irish accent lead to the McCourts' near-starvation.
All of this is shown to us through the eyes of Frank, one of the older McCourt children, who carries much of his family's stress on his shoulders as he tries to make sense of his family's situation.
Based on the Pulitzer Prize-winning memoir by the real Frank McCourt, Angela's Ashes has plenty of tragedy but comes with some humor and levity mixed in.
It is widely considered to be one of the best Irish films to be adapted from literature.
Watch even more great book-to-movie adaptations.
Take The Uncorked Reading Challenge!
Travel around the world with our Uncorked Reading Challenge. Never be late to the party with unique new book releases. Get the latest movie and book lists straight to your inbox.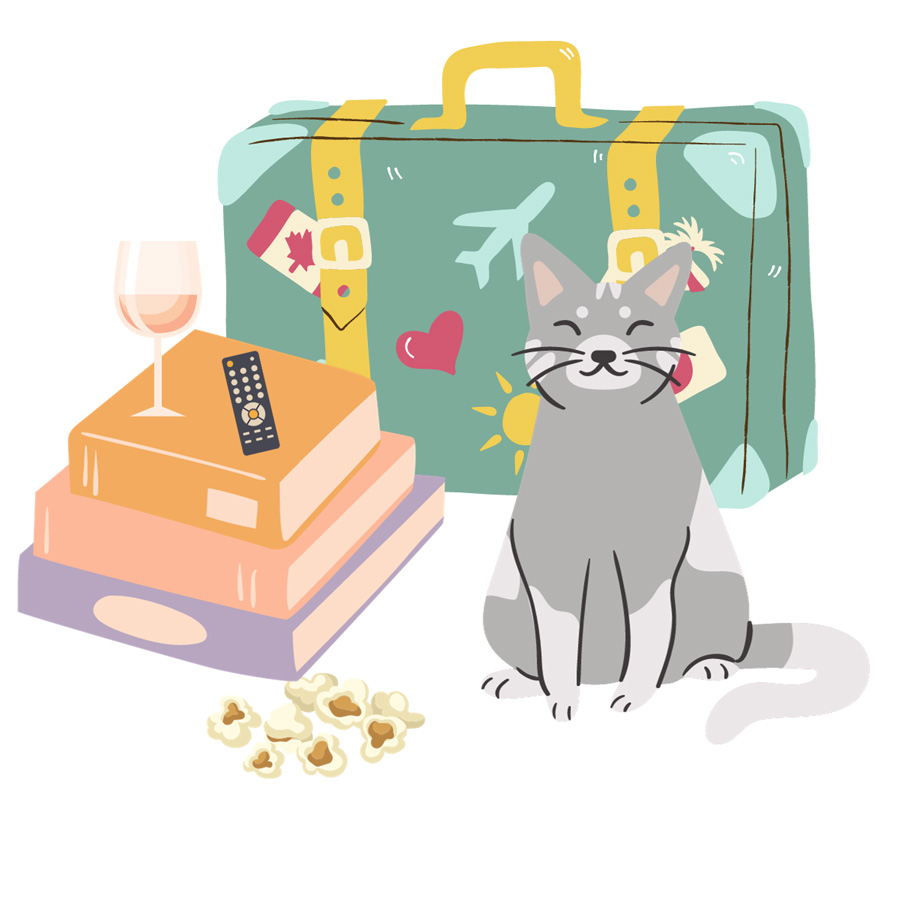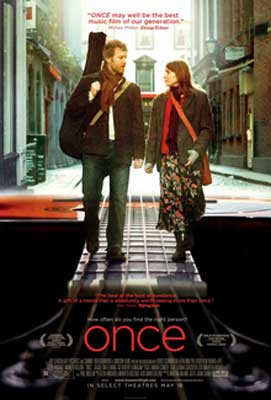 Once (2007)
On the streets of Dublin, a man known only as "guy" regularly spends his spare time busking, playing his acoustic guitar, and singing.
He earns a living working in his father's vacuum cleaner repair shop, but music is where his passion lies.
One day, while performing in the street, he attracts the attention of "girl" – a Czech flower seller – and the two begin a conversation.
When she learns that he can fix vacuum cleaners, she asks him to fix hers, and he learns that she is also a musician.
As their friendship blossoms and the two begin playing music together, they both begin to learn about each other's previous relationships.
By turning to songwriting, they help each other experience and learn about love and life.
As romantic Irish movies about music go, this is possibly the most wholesome.
Lead actors Glen Hansard and Markéta Irglová were both in a band previous to this film being made, and their original songs for the Once soundtrack earned them an Academy Award.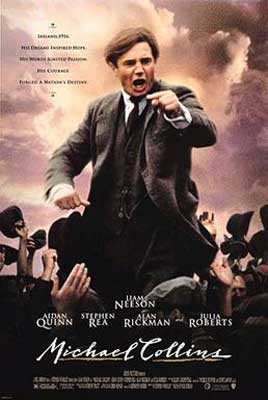 Michael Collins (1996)
This historical biographical drama gives viewers a glimpse into the life of prominent Irish political figure Michael Collins.
Following the 1918 Irish general election, the newly instated Sinn Féin party declares Irish independence, which begins the appropriately-named Irish War of Independence.
As Director of Intelligence of the IRA, Michael Collins begins a series of operations against the British government and British Intelligence.
These operations include guerrilla warfare tactics, such as targeted assassinations of informers and undercover agents.
After a ceasefire, Collins is sent to London to negotiate a truce. But when he returns with a treaty that merely divides Ireland without a Republic, he must now deal with the outbreak of civil war.
Liam Neeson anchors the film with a solid central performance as Collins.
While it takes some liberties with historical accuracy in favor of a more entertaining narrative, Michael Collins still stands as one of the best films about Ireland for those interested in Irish politics.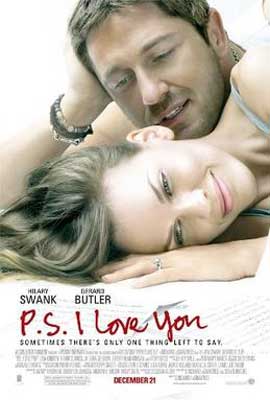 P.S. I Love You (2007)
Holly and Gerry are deeply in love. Some would say that they have a perfect life. So it comes as a shock when Gerry falls victim to illness and passes away so young.
Grieving and depressed, Holly feels as though she has lost the only person who knew her best. But on her 30th birthday, she discovers that Gerry did one last thing before he died.
Her birthday cake arrives with a tape recording from Gerry, offering advice and affection, and ending with the message "P.S. I love you."
Over the course of the next few months, Holly continues to receive notes from the departed Gerry, all ending with "P.S. I love you."
With the encouragement of Gerry guiding her forward, Holly gradually learns to appreciate and enjoy both herself and her life among the living.
When you add in the extremely attractive cast to this heartwarming premise, you have one of the world's most famous romantic Ireland movies – and truly a romantic classic.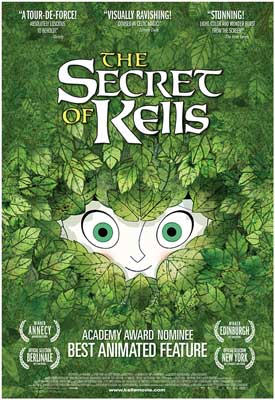 The Secret of Kells (2009)
In one of the most beautifully animated family-friendly movies about Ireland from the studio Cartoon Saloon, The Secret of Kells tells the story of Brendan.
Brendan is a young boy living in the remote Abbey of Kells in 9th-century Ireland.
Because of the threat of the Viking invasion, the abbot – Brendan's uncle Cellach – wants to build a wall around the abbey in order to keep it safe.
During this undertaking, Brendan hears of the upcoming arrival of Brother Aidan, the mysterious creator of the powerful, yet unfinished, Book of Iona.
When Brother Aidan arrives in Kells, Brendan finds himself at the beginning of a fantastical journey, which will see him enter a magical forest, meet faeries and wolf-girls, and come up against barbarian hordes in a dangerous quest to complete the unfinished book.
Will he be brave enough to use his light and knowledge to defeat the darkness and despair?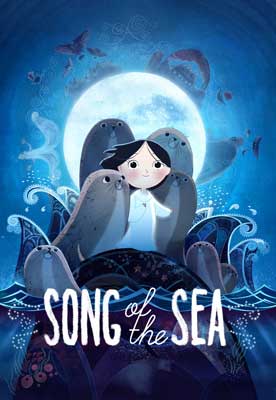 Song of the Sea (2014)
Conor and his pregnant wife Bronagh live with their young son Ben and their dog Cú in a lighthouse in 1980s Ireland.
One night, Branagh gives birth to a daughter, Saoirse, but mysteriously disappears, and is presumed dead.
Years later, with Saoirse now six years old, Conor is a broken man and Ben feels animosity towards the mute Saoirse because of the disappearance of his mother.
When their grandmother comes to visit, she decides the lighthouse is no place for children, and after an incident, Ben and Saoirse are taken to live in the city.
However, the incident was far from normal; it turns out, Saoirse is a selkie – a mythical creature of the sea!
With the help of a sealskin coat and a magical seashell horn that used to belong to their mother, Ben and Saoirse are pulled into a magical world full of dangerous beings. Is their mother alive after all?
Song of the Sea is the second of Cartoon Saloon's animated films about Ireland on this list. Fortunately, it is just as visually arresting and entertaining.
Watch even more fantastic fantasy animation movies.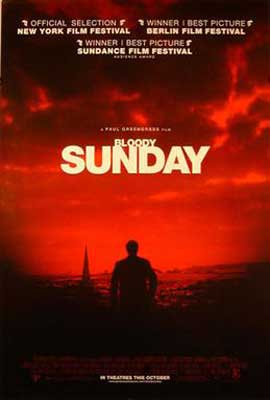 Bloody Sunday (2002)
On January 30th, 1972, a protest march against internment without trial took place in the city of Derry, Northern Ireland.
In one of the worst atrocities of the Troubles, during that protest, British soldiers fired on unarmed civilians, killing 14 people and wounding more than a dozen others.
Named "Bloody Sunday," the event has been dramatized in this 2002 feature film, adapted by writer/director Paul Greengrass from the book Eyewitness Bloody Sunday by Don Mullan, who was himself taking part in the protest and witnessed the events firsthand, aged 15.
As a depiction of the brutal events that transpired, Bloody Sunday stands as one of the most powerful and intense movies about Ireland ever made.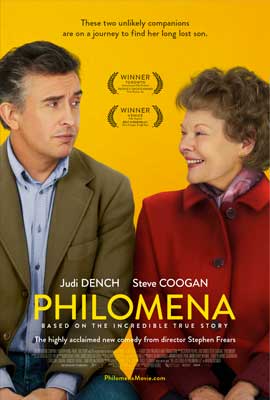 Philomena (2013)
Having lost his job working as a government advisor, journalist Martin Sixsmith is approached by a woman who asks him to write about her mother, who was forced to give her infant son up for adoption fifty years ago.
Upon meeting the mother, whose name is Philomena, Sixsmith travels with her to the convent in Roscrea, Ireland where she was sent by her father for becoming pregnant out of wedlock.
There they find that the records of her son were lost in a fire some years ago.
Despite the lack of leads, Sixsmith arranges to write about Philomena's search.
Through their investigations, the two find themselves journeying across the Atlantic, as they learn more about both Philomena's son and each other.
A powerful drama based on the real Sixsmith's book The Lost Child of Philomena Lee, fans of poignant yet funny Irish movies will enjoy this unlikely buddy dramedy.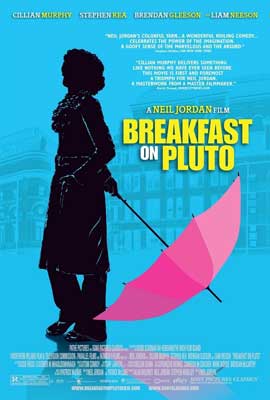 Breakfast on Pluto (2005)
After being abandoned as a baby in the late 1970s, and having come of age in a town near the border of Northern Ireland, protagonist Kitten flees when she comes out as transgender.
She embarks on a search for her birth mother. While on this emotional odyssey, she experiences a rollercoaster of unusual situations.
She has encounters with a whole host of strange characters, from glam rock musicians and IRA gun smugglers to costumed children's entertainers, prostitutes, stage magicians, and British soldiers.
Breakfast on Pluto has moments of the surreal, the shocking, the comedic, and the heartfelt.
Based on the novel of the same name by Patrick McCabe, you're unlikely to find many Irish films as distinctive as this.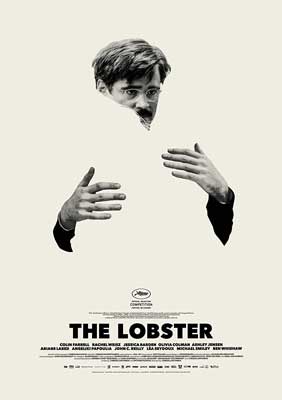 The Lobster (2015)
Sometimes there comes a movie so unusual that it's almost worth knowing absolutely nothing about it before watching it. The Lobster is one of those movies.
However, for those who would like at least a little preparation, The Lobster is set in a dystopian near-future, where single people are forced to find a partner or be taken to a facility and transformed into an animal of their choice.
One such newly single person is David, whose wife has recently left him for another man, triggering his move to such a facility.
Once arrived, he is told he has 45 days to match with one of the residents of the facility or be transformed. If he fails, David asks to be made into a lobster.
If you're on the same wavelength you will enjoy The Lobster greatly. It is certainly one of the most creative Ireland movies of recent years, but it is definitely an acquired taste.
Watch even more unique and dark romantic movies about love, war, and family, including bestselling books made into movies.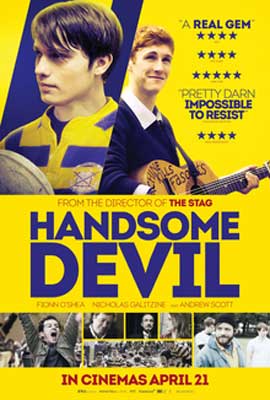 Handsome Devil (2016)
At Wood Hill College, life revolves around rugby. Every student at this elite, all-boys boarding school is obsessed with rugby, except Ned.
Ned doesn't care about rugby at all, and would much rather be writing or listening to music.
So when Ned gets a new roommate – the star rugby player Conor – it seems like life at Wood Hill can only get worse.
But the two boys eventually start to forge a close friendship, and before long they're starting to find their own voices amongst the crowd, thanks in part to the encouragement of English teacher Mr. Sherry.
The only problem is the school rugby coach, Pascal. He thinks that Ned and Conor might be more than just friends – and he's not going to stand for it.
Handsome Devil is a sporty comedy drama perfect for anyone looking for queer, coming-of-age movies set in Ireland.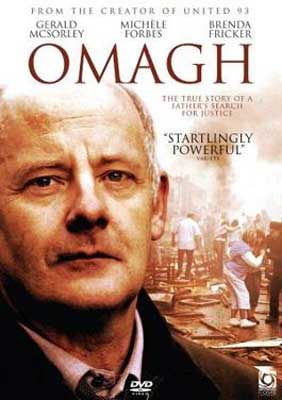 Omagh (2004)
This powerful drama focuses on a family's attempts to find answers and come to terms with the loss of their son following a terrorist attack.
Following the Good Friday Agreement that brought about a ceasefire towards the end of the Troubles, on August 15th, 1998 a splinter group of the IRA (known as the Real IRA) detonated a car bomb on a crowded street in Omagh, Northern Ireland.
The blast killed 29 people and injured over 300, and caused mass outrage that brought momentum to the Northern Ireland peace process.
Through the eyes of Michael Gallagher, whose son Aiden was one of the casualties, we see the gritty realism of the deadliest single incident of the Troubles.
With strong acting performances and a difficult subject, Omagh can be considered a companion piece to writer/producer Paul Greengrass' film Bloody Sunday, and one of the best movies about Ireland sure to move viewers.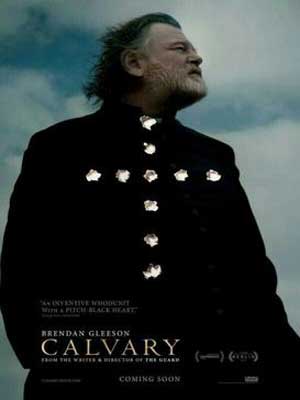 Calvary (2014)
While taking confession at his Catholic church, Father James is told by an unseen man that he will be killed in one week's time in retribution for the unknown man's suffering and abuse at the hands of a priest as a child.
With supposedly one week to live, Father James spends his time attending to the needs of the community and attempting to reconcile with his daughter.
She had attempted suicide after she felt abandoned by her mother's death and her father's entry into the church.
During this week, he talks with a couple experiencing marital troubles, a grieving widow, a convicted cannibal murderer, a directionless millionaire, an aging American writer, and a number of suicidal people.
As a meditation on guilt, depression, and forgiveness, Calvary works as an effective character drama.
Brendan Gleeson's central performance as Father James cements it as one of the best Irish films.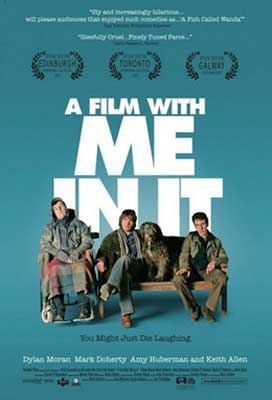 A Film With Me In It (2008)
They say that when it rains, it pours, and this is unfortunately true for out-of-work actor Mark. His basement apartment is a wreck, he's behind on the rent, and his girlfriend is leaving him.
Then, in the space of a few minutes, he has multiple bodies on his hands – all of them from separate innocent accidents, but it really does look suspicious.
Enlisting the help of his neighbor Pierce – himself an out-of-work writer – Mark attempts to try and work out how to avoid going to prison for a very long time.
They'd originally hoped to make a movie together, but now real life seems to be much more exciting than anything they could have imagined.
Hopefully, their luck won't continue to be this bad… right?
In the continued tradition of Ireland producing black comedies with very dark subject matter, A Film With Me In It gets right to the ghoulish jokes and is one of the best funny Irish movies for those with a morbid sense of humor.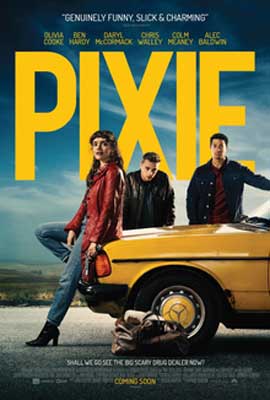 Pixie (2020)
Pixie is looking to get even. In order to avenge the death of her mother, she's going to rob some drug-peddling gangsters and frame a couple of her former lovers in the process.
Then she'll be able to afford to head to San Francisco and the art school of her dreams.
But as these things usually turn out, the heist goes wrong. Now, she's on the run, with a stash of drugs and a body in the trunk, and two idiots from the local pub.
It's up to her brains, beauty, and cunning to get out of this alive.
This crime comedy movie has a lot of dark humor.
The screenplay borrows a lot of things from a lot of different references; there are shadows of Quentin Tarantino, the McDonagh brothers, and Guy Ritchie movies in the mix to name but a few.
Sure, it's not the most innovative movie ever made, but if you're looking for fun gangster films set in Ireland, this one will keep you entertained.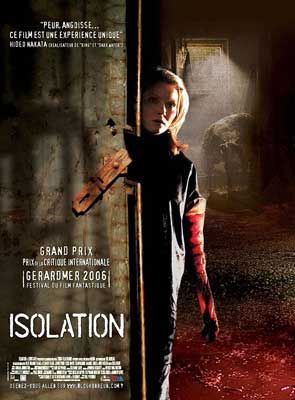 Isolation (2005)
On a remote Irish farm, a bio-genetics firm is working to increase the breeding and growth rate of cows, in order to speed up the cattle production business.
Local farmer Dan is enlisted by the firm to have his cows participate in some experiments.
While performing an inspection, veterinarian Orla is bitten by one of Dan's cows, and later that night Dan is also bitten by a calf he is delivering.
After that, the cows begin to act strangely. They behave very aggressively, and the calf that was birthed the night before is found to have what looks like fangs.
Before long, things begin to escalate, and everyone living both on and near the farm is in danger from a threat no one could have seen coming.
Ok, unlike the characters, you may have seen it coming. This is an unashamedly gruesome horror-filled Irish movie with mutant cows.
If that sounds like one of the Irish films you might enjoy, you probably don't need any more information than that. But take a little precaution if you're squeamish.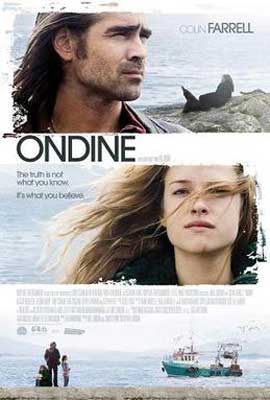 Ondine (2009)
While out fishing one day, Corke fisherman Syracuse finds a woman tangled up in his nets. Calling herself Ondine, he brings her back to shore, though she hides from other people.
On a visit to his daughter Annie, who lives with her mother, Syracuse tells her a story of a woman brought onto land by a fisherman.
Annie tells Syracuse that the woman in the story is a selkie – a mythical sea creature – and will bring good luck to the fisherman.
During his next trip out to sea, Ondine accompanies him and sings in an unknown language, which causes Syracuse to catch more fish than ever before.
He knows he shouldn't believe in fairytales, but as he spends more time with Ondine, Syracuse begins to wonder if she really is a selkie.
Ondine is one of those romantic Irish movies that received mixed reviews for its strong performances, messaging, and charm but somewhat flawed execution.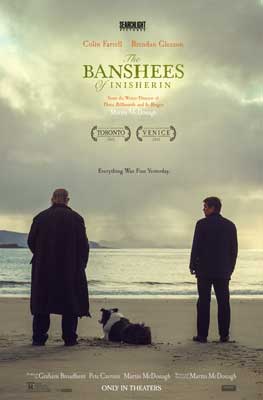 The Banshees of Inisherin (2022)
If you're after funny movies about Ireland – and everyday Irish life – and you have a very dark sense of humor, The Banshees of Inisherin could be one of your new favorite films.
During the Spring of 1923, towards the end of the Irish Civil War, rural life on the island of Inisherin is suddenly disrupted by an unusual domestic dispute.
Colm and Pádraic have been friends and drinking buddies for almost their entire lives, yet one day Colm abruptly breaks off his friendship with Pádraic entirely.
He has decided that Pádraic is boring and is holding him back from focusing on the artistic accomplishments he wants to achieve so that he will be remembered after his death.
Pádraic, confused and angry, refuses to accept that their friendship – which has lasted decades – can be ended by Colm just like that, and continues to try and make amends.
This leads to an ultimatum that will have brutal and devastating consequences, both for the two men and for their community.
On its release in 2022, The Banshees of Inisherin was a contender for the Best Picture Academy Award and is considered one of the best Irish films of recent years.
Watch even more gripping movies about best friends.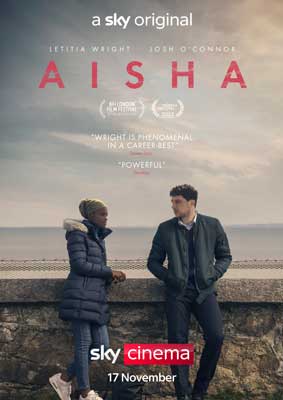 Aisha (2022)
The story of the young Aisha parallels the stories of many immigrants trying to find a new place of safety in the world.
With her father dead and she and her mother brutally treated, Nigerian worker Aisha Osagie has made her way to Ireland with the hopes of being able to settle there.
However, for years she has been shuffled around the Irish immigration system, repeating her tragic story at hearing after hearing to people who see her as just another source of paperwork.
The one light in the darkness comes when she befriends ex-convict Conor Healy, who works as a security guard at a shelter.
But their friendship is threatened when Aisha's ability to stay in Ireland comes into question.
With strong performances from the two leads, Aisha is one of the most topical and poignant Irish movies in the context of today's world.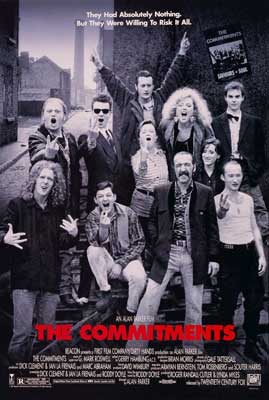 The Commitments (1991)
Whilst living as an unemployed young man in northern Dublin, Jimmy Rabbitte dreams of bigger and better things.
He happens to be a music fanatic and decides one day to form one of the less likely musical groups that a working-class Irishman might form: an American-style soul band.
With the help of his family, friends, and an unlikely series of strangers, Jimmy pulls a group together, under the name "The Commitments."
From there, it's time to hit the rocky road to stardom, beginning with persuading the local community center to give them their first gig.
The trouble is, Jimmy's ambition might outstrip the band's talents.
This very relatable musical comedy-drama is one of the best Ireland movies for anyone who needs a feel-good lift with a fantastic soundtrack.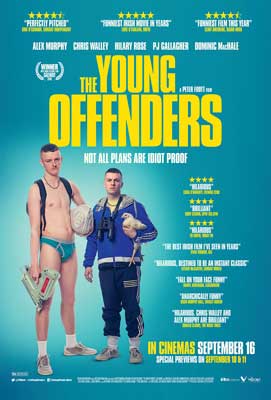 The Young Offenders (2016)
Inspired by the true story of one of Ireland's largest drugs-based events, The Young Offenders takes place in 2007, following the two friends, Conor and Jock.
When a boat carrying smuggled drugs capsizes off the coast of West Cork, dozens of bales of cocaine end up in the ocean.
The police manage to seize the record-breaking amount of narcotics, but word spreads that one bale is missing.
Given that the bale would be worth 7 million Euros, young delinquents Conor and Jock steal some bikes and set off on a road trip that could mean the end of their troubled lives.
It should be said that the humor and atmosphere of this comedy crime caper are very Irish, but if you're in tune with those kinds of films about Ireland, you'll be laughing right through to the end.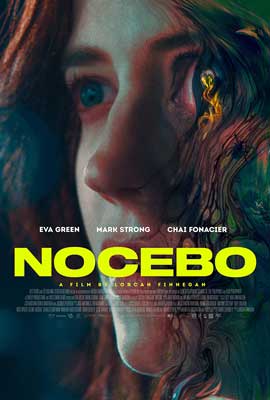 Nocebo (2022)
In one of the creepier Irish films on this list, we are introduced to the successful fashion designer Christine, who is suffering from a mysterious debilitating illness.
Despite the efforts of her doctors, no one knows exactly what is causing Christine's sickness, and her family is struggling because of it.
Then one day, a mysterious visitor arrives. Her name is Diana, and she claims to be a caregiver hired by Christine to care for her.
Christine has no memory of hiring Diana, and her husband Felix and daughter Bobs are also suspicious of her.
However, with Diana's help, Christine begins to recover. But Diana's methods appear to be highly unusual, perhaps even supernatural …
Fans of the psychological thriller genre will have much to enjoy in this unsettling and atmospheric horror movie.
Grab the best Irish movies and books here:
Express VPN – Using Virtual Private Networks (VPNs) allows you to view movies worldwide – and they help keep your information safe. Our writers couldn't have such diverse film reviews without a VPN.

Amazon Prime Video – Stream thousands of ad-free movies and TV series on demand with Prime Video.

Audible Plus: From Amazon, listen to Amazon Originals, podcasts, and audiobooks. They add new titles every week.
Where we love to stream movies:
Amazon Prime Video | Netflix | IMDb | Hulu | Max
Save The Best Movies About Ireland For Later: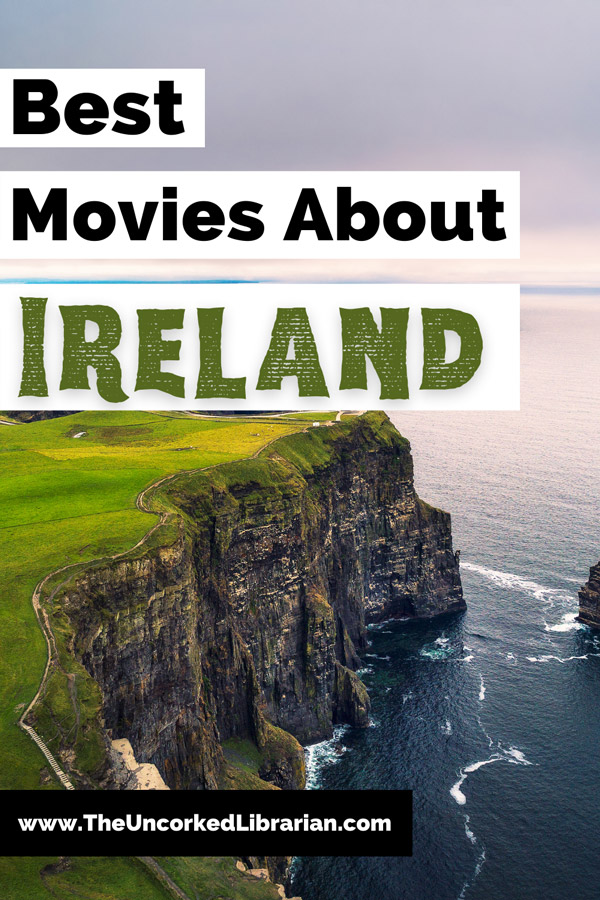 What are your Irish films?
Which Irish films do you love? Are there movies set in Ireland that you think we should add to our list? Let us know in the comments.
Movies Across Europe: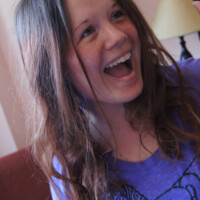 Dagney (pronouns: any) is a neurodivergent writer and book nerd who is drawn to all things weird and macabre. She also loves anything to do with fast cars, unhinged anti-heroes, and salt. When she isn't working or reading, you're likely to find her eating Indian food, playing board games, or hiding out somewhere dark and quiet, stuck down an internet rabbit hole. The easiest way to win her over is through cats and camels.