20 Best French Romantic Movies Great For Movie Night
Here at The Uncorked Librarian, we love romance films, especially for a cozy weekend at home when we need a little pick-me-up. While not all romance movies have happy endings, many remind us about human connection and the power of the human spirit, which is why we are showcasing the best French romantic movies to watch across the decades.
And, of course, after visiting and falling in love with Paris, it's no secret that the City of Light is full of romance. We most loved dinner at quaint restaurants with views of the glimmering Eiffel Tower after a day of museum and bookstore hopping. We'll watch any movie that will transport us back there.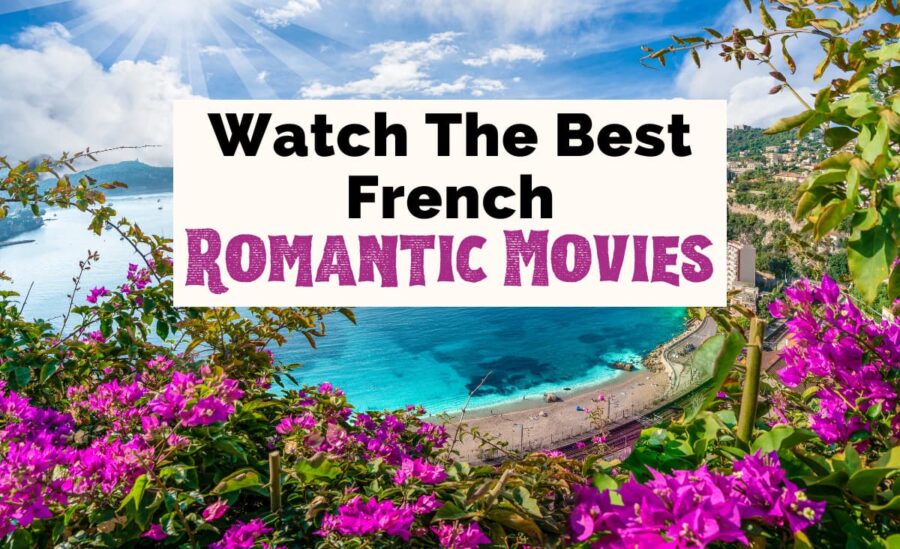 Features Of French Films
Many of these films have English subtitle options for our readers, and older French films may be shot in black and white. Some discuss heavier themes of war. Others emphasize philosophical undertones, including those angsty romantic dilemmas and love triangles.
More distinctive elements of French romance movies include their emotional depth, artistic cinematography, strong visual storytelling, and nuanced and sophisticated sensuality. As world travelers, we appreciate their cultural and historical context – perfect if you are planning a trip to France or just returning.
Start With These Movies
We know that a list of twenty movies may be overwhelming to some if you are in a hurry to start movie night. If you are looking for four top romantic French movies to start with, we'd highly recommend:
Blue Is the Warmest Color (2013)
The Umbrellas of Cherbourg (1964)
Amélie (2001)
Children of Paradise (1945)
Keep reading for our thoughts, movie summaries, awards won, famous stars, and movie trailers. And, if you also love reading about a destination, be sure to check out our France Books reading list as well as these terrific Paris books.
Best French Romantic Movies 2000 – Present
While classic movies make for some of the most iconic romances, we are starting with contemporary films filled with love. Find iconic titles along with LGBT+ films and stories of aging.
La Vie d'Adèle | Blue Is the Warmest Color (2013)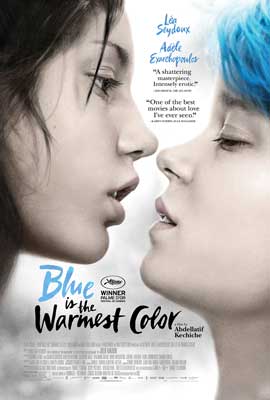 La Vie d'Adèle is an exquisite but highly controversial LGBTQ French movie that explores the extremes of love along with sexual identity.
French teen, Adèle, meets an older, blue-haired art student named Emma at a lesbian bar. After first becoming friends, the two embark on a passionate, erotic, and eventually tumultuous relationship.
The film received the Palme d'Or at the Cannes Film Festival; for the first time, it was awarded not just to the film and director, Abdellatif Kechiche, but to the two lead stars, Léa Seydoux and Adèle Exarchopoulos. While the success of the film speaks for itself, the stars were critical of the director; many felt the intimate scenes were too graphic in nature.
Still, the simple story achieves so much when it comes to the natural ebbs and flows of a relationship that spans many years.
The Artist (2011)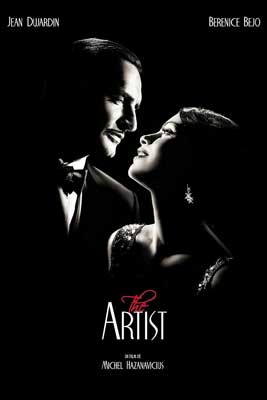 Taking place in Hollywood between 1927 and 1932, The Artist follows the relationship between a rising actress and an older silent film star as silent films are replaced with "talkies."
Jean Dujardin and Bernice Bejo delight as George Valentin and Peppy Miller. The two meet when Peppy bumps into George as he is taking photos to commemorate his recent hit movie. George responds with humor and poses with Peppy, who monopolizes on her newfound fame after being photographed with George.
They develop feelings for one another, but George is reluctant to cheat on his wife. Their connection is further complicated by Peppy's rise in stardom, and George's fading career, along with the rise of sound in film.
A silent film that won Best Actor at the 2011 Cannes Film Fest and Best Actor, Best Picture, and Best Original Score at the Academy Awards, The Artist isn't just one of the best French romance films, but one of the greatest movies of all time.
Le Fabuleux Destin d'Amélie Poulain | Amelie (2001)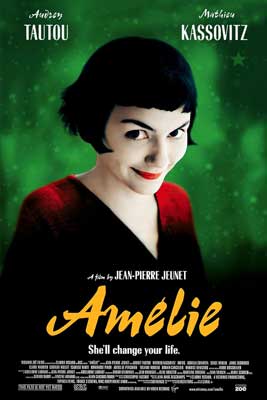 Starring Audrey Tautou and Mathieu Kassovitz, Amelie is one of the most popular French romantic comedies, a cult classic, and, according to the BBC, one of the 100 greatest films of the 21st century.
Director Jean-Pierre Jeunet invokes a very whimsical feel of contemporary Paris as his film is shot across over eighty locations in the City of Light while following Amelie, a quirky young waitress who discretely helps others find happiness.
Amelie, who battles her own loneliness and isolation, soon meets Nino and, after a game of cat and mouse, may just find the avenue to her own happiness.
Watch even more iconic movies that showcase France's beauty.
Chocolat (2000)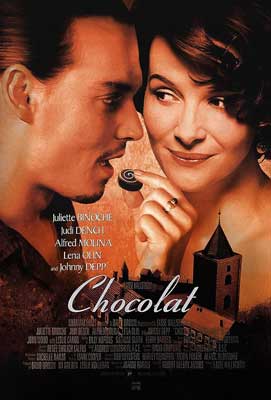 One of the iconic movies based on a bestselling book, Chocolat is actually an English film set in France, and stars acclaimed French actress Juliette Binoche, alongside Johnny Depp and Judi Dench.
Vianne and her six-year-old daughter arrive mysteriously in a fictional French community where she opens a chocolate shop. While she doesn't fit in well with all of the townspeople, especially Reynaud, she begins to win some over with her shop.
When a Romani group arrives, they are largely unwelcomed. However, Vianne embraces them with open arms and develops a mutual attraction to their leader, Roux. Bittersweet in nature, Chocolat delivers a message of temperance and pleasure. OK, and maybe a little indulgence.
Amour | Love (2012)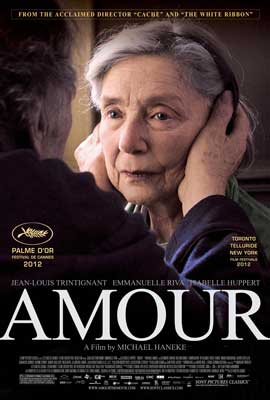 As the 85th Academy Award recipient for Best Foreign Language film, and the 2012 Palme d'Or recipient at the Cannes Film Festival, Amour has quickly become one of the best French romantic movies of all time.
An emotional romantic drama starring Jean-Louis Trintignant and Emmanuelle Riva, Amour follows Georges and Anne, two retired music teachers dedicated to their careers and to one another. When Anne suffers a stroke, Georges sets aside his own age-related ailments to serve as her caregiver. Determined to keep his promise to not let her end up back at the hospital, Georges is faced with the reality of Anne's worsening situation.
The film will have viewers craving the type of love portrayed, and contemplating what compassionate care and dignity mean for those we care for.
L'Arnacoeur | Heartbreaker (2010)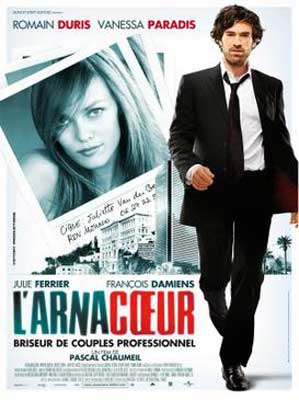 In Heartbreaker, discover the story of Alex, who, along with his sister and her husband, runs a business splitting up couples.
The task at hand: break up the wedding of a wealthy man's daughter, Juliette, played by Vanessa Paradis. Naturally, as Alex, who is portrayed by Romain Duris, grows closer to Juliette, they develop a connection.
Things go sideways when Alex's brother-in-law drops Juliette's file, and she learns what her father and Alex are up to. Will Juliette go through with her planned wedding, or has Alex already charmed her?
Les Emotifs Anonymes | Romantics Anonymous (2010)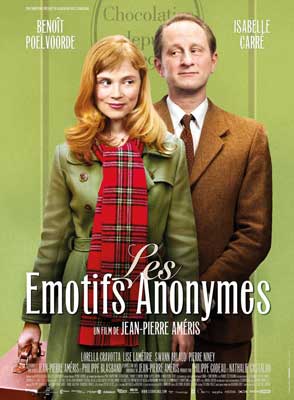 A fearful and socially anxious young woman, Angelique, has worked as a baker in seclusion for years. When her employer dies, she applies for a job at the Chocolate Mill, a struggling chocolate shop owned by another sufferer of anxiety, Jean-Rene.
A misunderstanding leaves Angelique as the Chocolate Mill's sales representative. She grows closer to Jean-Rene but their awkwardness and social anxiety prove to get in the way of a potential romance. That is until other chocolate shop employees grow suspicious and start stepping in!
One of the most bittersweet French rom-coms, Romantics Anonymous will have viewers relating to the joy and the pain it takes to make modern love work.
Un Long Dimanche de Fiancilles | A Very Long Engagement (2004)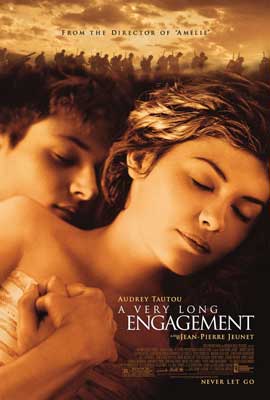 Manech is condemned to No Man's Land during The Great War after trying to escape service. It appears that he died, but his fiancee Mathilde refuses to give up hope.
As she uncovers clues as to what happened to her beloved fiancee, her eyes are opened to government corruption and heartbreaking stories of trench warfare in No Man's Land.
With a star-studded cast including Audrey Tautou, as well as Marion Cotillard and Gaspard Ulliel who won Cesar awards for their roles, A Very Long Engagement is brilliant, heartbreaking, and one of the more meaningful romance films.
3 Coeurs | 3 Hearts (2014)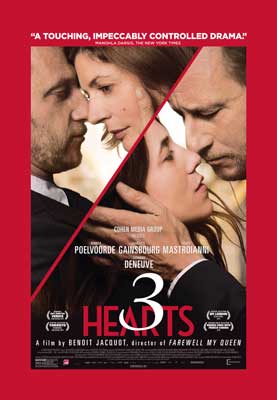 In 3 Hearts, Charlotte Gainsbourg, Catherine Deneuve, Deneuve's daughter – Chiara Mastroianni, and Benoît Poelvoorde star in a complicated love triangle involving two sisters.
Marc meets and falls for Sylvie after missing a train. Without exchanging information, they agree to meet in Paris at a set time and location. When the time comes, however, Marc is caught in a meeting, resulting in a missed connection.
Sylvie moves to the U.S. with her husband, disappointed. Marc moves on, as well, when he meets Sophie. The situation grows understandably complicated when Marc discovers that Sophie is actually Sylvie's sister. This is one of those movies that explores impossible choices.
Jeux d'Enfants | Love Me if You Dare (2003)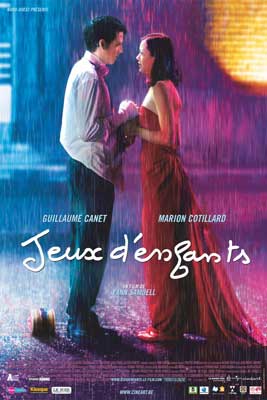 TW: possible suicide
Julien and Sophie, played by Guillaume Canet and Marion Cotillard, are embattled in a game to outdo one another through dares since becoming childhood best friends.
As they grow older, they each realize the game has become a way to hide their true and growing romantic feelings for one another. The wake of destruction left behind by their dares has also grown, and they nearly ruin Julien's own wedding.
After swearing each other off for ten years, they reconnect to continue the game. One of the more unique French romance movies, Love Me if You Dare has two alternate endings, one of which is tender and sweet, while the other dramatic and destructive.
Take The Uncorked Reading Challenge!
Travel around the world with our Uncorked Reading Challenge. Never be late to the party with unique new book releases. Get the latest movie and book lists straight to your inbox.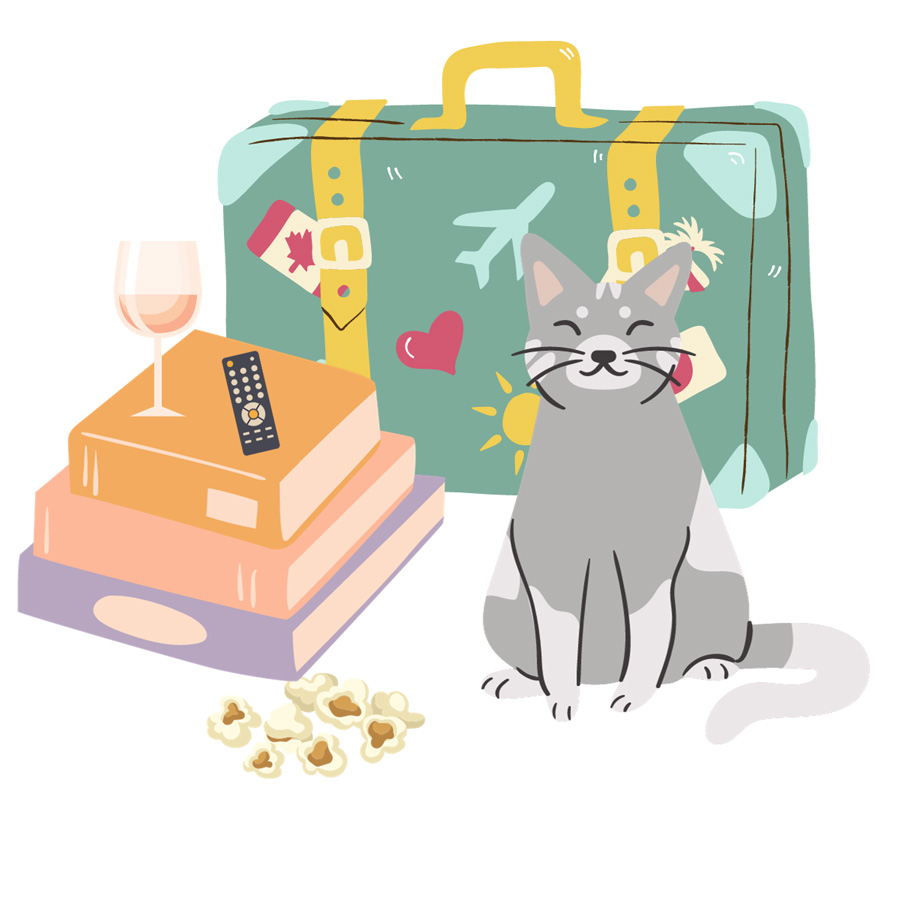 Older & Classic Films
Travel back in time with these beautiful French romance films filled with tales of love. Many will be in black and white and of their time. You might also enjoy our classic romance movie list.
Cyrano de Bergerac (1990)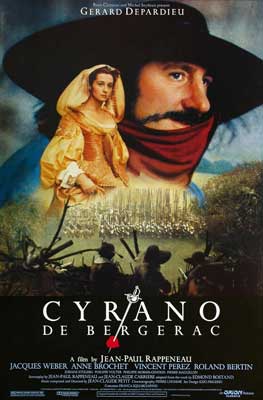 One of the most iconic films in French Cinema, Cyrano de Bergerac is a French period drama directed by Jean-Paul Rappeneau and starring Gerard Depardieu, Anne Brochet, and Vincent Perez.
Based on the 1897 play of the same name by Edmond Rostand, the film follows Cyrano de Bergerac, a swordsman and poet with an unusually large nose. His nose causes a lack of self-confidence that prevents him from telling Roxanne, his cousin, that he is in love with her.
Cyrano resorts to penning letters to Roxanne on behalf of a cadet, Christian, who is also in love with Roxanne. Naturally, Roxanne begins to fall for Christian, not only for his good looks but for his charming letters.
Set against the backdrop of the Thirty Years' War in the 1600s, Cyrano de Bergerac is one of the best French romantic movies of all time – but have those tissues ready.
And, if you are looking for a more modern version, watch Cyrano (2022). There is also this 1950s version.
La Fille sur la Pont | Girl on the Bridge (1990)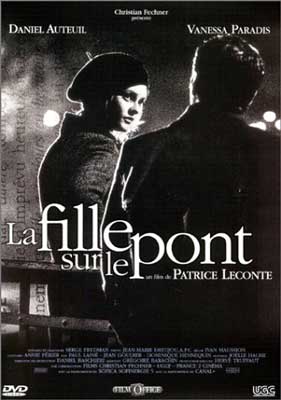 TW: suicide intent
Consistently topping lists of top French films, La Fille sur la Pont stars Vanessa Paradis and Daniel Auteuil and is filmed entirely in black and white.
Gabor, a once famous knife thrower and fading performer, stops Adele – who is facing suicide – from throwing herself into the Seine. Down on both their luck, Gabor convinces Adele to be his target girl. They travel to Italy, Monaco, and aboard a cruise ship with great success, while developing a wildly unpredictable and evocative relationship.
They are soon separated, and their luck once again turns, but the two will eventually find themselves face to face, in a similar situation as before.
La Belle et la Bete | Beauty and the Beast (1946)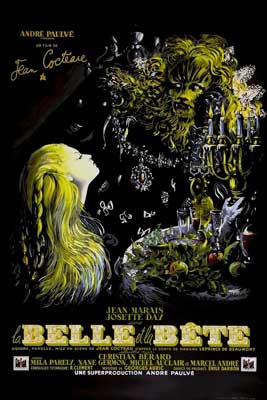 Jean Cocteau directs one of the oldest movies on our list, a 1940s adaptation of the classic fairy tale, Beauty and the Beast.
After her father is sentenced to death for picking a rose in the Beast's garden, Belle offers to go to the Beast's palace in his place. The Beast becomes infatuated with Belle and proposes marriage to her every night. Belle refuses but grows more and more drawn to the Beast. The Beast eventually releases Belle to her family for one week but will die of grief if she does not return to him.
Unlike its modern Disney counterpart, this French classic has a sorrowful conclusion.
Pierrot le Fou | Pierrot the Fool (1965)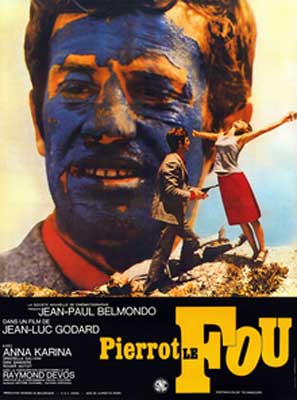 One of the best French romantic crime dramas, Pierrot le Fou is critically acclaimed and was nominated for Best Foreign Film at the 38th Academy Awards.
Directed by Jean Luc Godard, and starring Jean-Paul Belmondo and Ana Karina, the film follows Ferdinand, also known as Pierrot, an unhappily married man who was recently fired from his job.
He takes to the road with his babysitter, Marianne, in an effort to escape his life and family, but quickly realizes his mistress is not who she seems. Being pursued by Algerian thugs, the two embark on a crime spree through the French countryside and around the Mediterranean.
When even more secrets are revealed about Marianne, Ferdinand comes to realize that he has been a fool.
Watch even more crime films with love at the forefront.
Europa Europa (1990)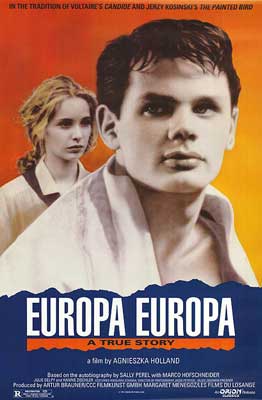 If you are looking for World War II romance movies that take place in France, Europa Europa is a Golden Globe-winning movie and one of acclaimed actress Julie Delpy's most successful films. It is based on the autobiography of Solomon Perel.
As a Jewish teenager, Solomon is separated from his family following Kristallnacht. He conceals his identity, after spending two years in a Russian orphanage, by convincing Nazi troops that he is an Aryan named Josef. He becomes a valuable interpreter.
After joining the Hitler Youth, his identity is harder to conceal. Things are even further complicated when he falls in love with Leni, who is openly anti-Semitic.
Hiroshima Mon Amour | Hiroshima my Love (1959)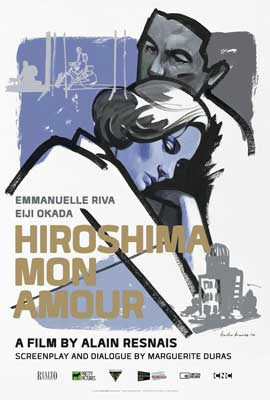 Set in post-World War II Hiroshima, a Japanese architect, and a French actress, portrayed by Emanuelle Riva, discuss their past via intimate and personal conversations over a twenty-four-hour period. As former lovers, now friends, they flash back to their intertwining histories. They ponder the destruction following the Hiroshima bomb.
The film, which is the first full-length film for director Alain Resnais, is considered to have paved the way for the French New Wave Movement, which is known for exploring existential themes and experimenting with filmmaking techniques.
Hiroshima Mon Amour also earned an Academy Award nomination for writer Marguerite Duras for Best Original Screenplay and is one of the best romantic French movies of the '50s.
Les Enfants du Paradis | Children of Paradise (1945)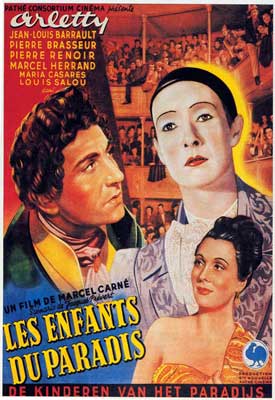 Set in an 1830s Parisian Theatrical world, Les Enfants du Paradis is one of the best French romance movies and most critically acclaimed French films of all time. In fact, many French critics consider it to be the best film ever made.
It follows a beautiful Parisian courtesan, played by French actress Arletty, and four very different men – a mime, an actor, a criminal, and an aristocrat – who love her in very different ways. Though she has an undeniable connection to one of the men, Jean Baptiste, played by actor Jean-Louis Barrault, they are left to pursue other relationships as fate continues to push them apart and bring them back together.
Les Parapluies de Cherbourg | Umbrellas of Cherbourg (1964)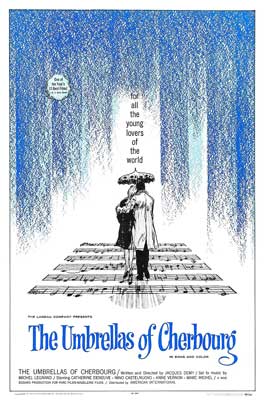 Another one of our favorite classic French romantic movies, Umbrellas of Cherbourg is one of actress Catherine Deneuve's masterpieces.
Deneuve plays Genevieve, a seventeen-year-old running a boutique umbrella store with her mother. Though her mother disapproves, she is deeply in love with Guy, a mechanic. The two plan to run away together and marry.
Guy is drafted to serve in the Algerian war, and soon after, Genevieve learns she is pregnant. Only sporadically hearing from Guy, she agrees to marry Roland, an older and wealthy jeweler.
Guy eventually returns home and tries to build a life with someone else, as Genevieve did. But can either of them ever truly move on?
l'Histoire d'Adele H. | The Story of Adele H. (1975)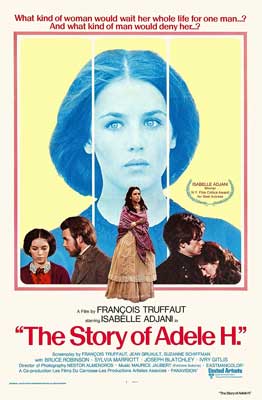 Directed and written by Francois Truffaut, this French historical drama centers around Adele Hugo, daughter of author Victor Hugo, and her unrequited love for a military lieutenant.
Lt. Pinson does not share Adele's affections, yet she obsessively chases him across the globe, taking on an alias to find him in Nova Scotia. Despite Pinson's rejection of her, Adele then follows him to the West Indies, trying to win him over yet causing her own downward spiral.
Based on the real diaries of Adele Hugo, l'Histoire d'Adele H., which showcases self-destruction related to pursuit, is one of the top-rated movies for history buffs.
Jules et Jim | Jules and Jim (1962)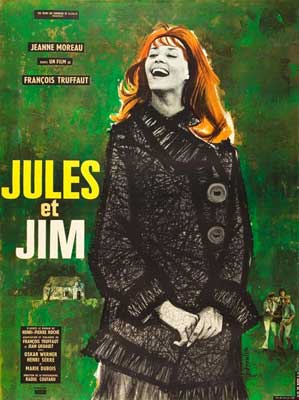 TW: suicide
For even more classic French romance films by Francois Truffaut, Jules et Jim explores another tragic love triangle.
Jules, a shy Austrian author, develops an unlikely friendship with an outgoing Frenchman, Jim. Just before World War I, they both fall for Catherine, played by Jeanne Moreau. But, Jules is the one who gets her hand in marriage.
After the war, Jim comes to stay with Jules and Catherine and learns that Catherine reciprocates the feelings he still has for her.
With a rocky marriage plagued by infidelity, Jules gives Jim his blessing to pursue Catherine. However, it is not without an ensuing tragedy.
Great ways to grab these movies (and their books!):
Express VPN – Using Virtual Private Networks (VPNs) allows you to view movies worldwide – and they help keep your information safe. Our writers couldn't have such diverse film reviews without a VPN.

Amazon Prime Video – Stream thousands of ad-free movies and TV series on demand with Prime Video.

Audible Plus: From Amazon, listen to Amazon Originals, podcasts, and audiobooks. They add new titles every week.
More Movies For Romance Lovers
After you find love in France, travel to even more European countries and across the world with these romance films: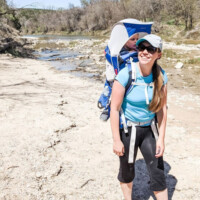 Tori (pronouns: she/her) is a mom to two boys, living in New York but adventuring everywhere, usually with a toddler on her back. She's an avid traveler, nature junkie, and writer, encouraging families to get outside and start exploring the world. When she's not hiking or traveling, you can find her lost in a book, watching Bravo reruns, or obsessively decluttering her home. Tori owns the family and adventure blog, Explore with Tori.