16 Light & Funny Wedding Movies
Laugh out loud and fall in love across the globe with these funny wedding movies.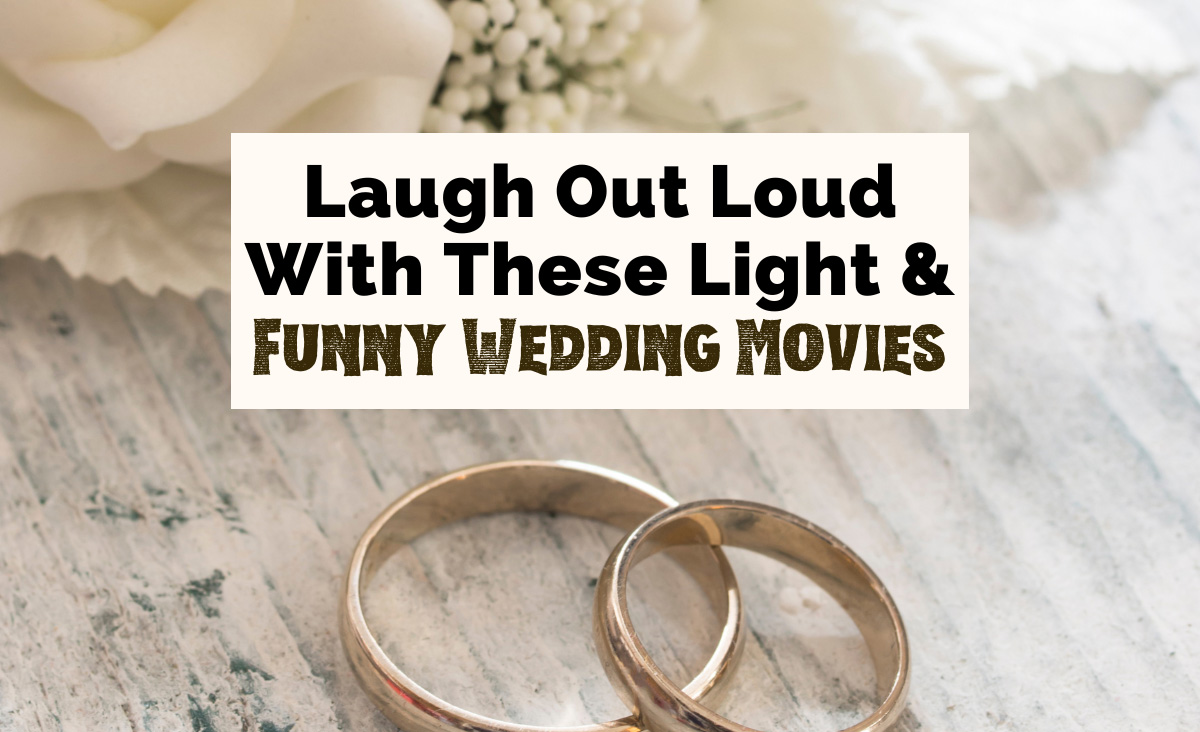 If you are looking for something hilarious and light to watch tonight, you cannot go wrong with one of these fun wedding comedy movies sure to make you smile. We all know The Hangover and have probably watched it multiple times – along with every sequel that has come out.
And of course, we still covet films like Wedding Crashers, Mamma Mia!, My Big Fat Greek Wedding, and Father of the Bride.
Paired with cult classics, grab that popcorn and keep reading to uncover some of the best old and new marriage comedy movies across the decades and the world. Let's get started!
P.S. You may also enjoy these movies about weddings, brides, love, and more.
16 Best Funny Wedding Movies
1. Mike and Dave Need Wedding Dates (2016)
Mike and Dave are brothers with a strong penchant for ruining family gatherings with their antics.
With their sister's wedding in Hawaii approaching, their mother insists they both bring respectable wedding dates to keep them out of trouble.
After their Craigslist ad goes viral, the brothers choose Tatiana and Alice, who seem normal and put together.
Once on the island, though, it's clear the girls are only looking to party.
A disastrous pre-wedding celebration ensues and the duos are left scrambling to keep the wedding from imploding.
It's not one of the top-rated funny wedding movies, but the alcohol-fueled shenanigans certainly do make for some lightheaded, albeit inappropriate, humor.
2. Made of Honor (2008)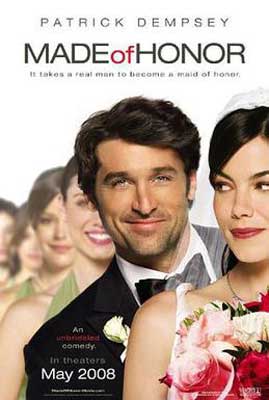 Tom, a wealthy inventor, is afraid of commitment and sleeps with a different girl each week.
His best friend since college, Hannah, is focused on her career and settling down. The two couldn't be more different, yet their friendship is strong.
As with many comedy wedding movies, though, the guy realizes he loves the girl a little too late.
Hannah returns home from a work trip with Colin, her new fiancee, and asks Tom to be her Maid of Honor. Tom accepts, but only to spend more time with Hannah.
As the movie unfolds, Tom finds it increasingly difficult to keep his feelings to himself. Will he be able to follow through on his Maid of Honor duties?
If you enjoy Made of Honor, watch even more best friend movies.
3. Wedding Crashers (2005)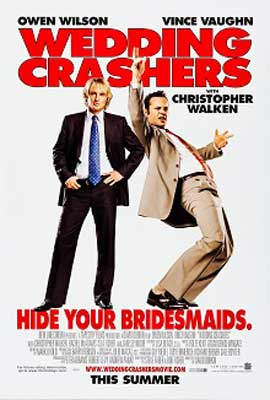 Without a doubt, Wedding Crashers is one of the greatest wedding comedy movies of all time.
Jeremy and John are divorce mediators and womanizers who crash weddings to take advantage of women sucked under the umbrella of romance. …And score free booze.
After they manage to crash the wedding of a political figure's daughter, though, their antics go awry.
The mother of the bride invites the duo on an extended wedding weekend, and they reluctantly accept so John can have more time with a pretty bridesmaid.
You know things get out of control, though, when their covers are blown and Claire learns their identities.
4. Revenge of the Bridesmaids (2010)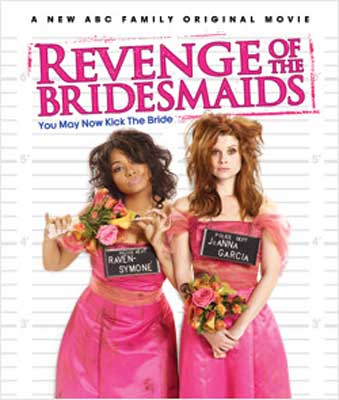 Best friends Abigail and Parker return home to Louisiana and learn that their friend Rachel has lost her man, Tony, to their ex-friend, Caitlyn.
A gold digger after Tony's money, Caitlyn is pretending to be pregnant to trick Tony into marrying her.
Abigail and Parker decide to go undercover as Caitlyn's bridesmaids, intent on sabotaging the wedding.
Their best-laid plans go south, though, as Caitlyn's over-involved mother interferes at every turn. Perhaps kidnapping the bride will do the trick!
This film differs from other funny bride movies with revenge antics in that it will have you rooting for the saboteurs.
5. Shotgun Wedding (2022)
The plot behind Shotgun Wedding doesn't seem like it would fit with other funny wedding movies, but this action-comedy drama gives its fair share of laughs.
Darcy and Tom have planned their dream destination wedding, but plans are put on hold when the wedding party is taken hostage by gunmen.
The couple must now shift focus to saving themselves and their guests.
The pair discovers that Darcy's ex-fiance is behind the kidnapping, and matters are further complicated when doubts about the wedding, in general, surface.
Will the wedding ever happen? Or, more importantly, will they make it out alive?
6. My Big Fat Greek Wedding (2002)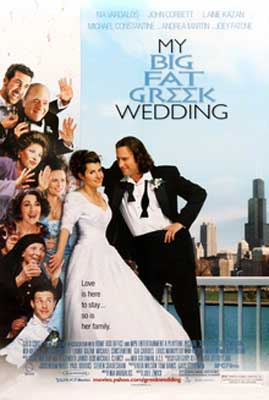 My Big Fat Greek Wedding is one of the sweetest marriage comedy movies of all time.
Both funny and heartwarming, everyone loves the story of thirty-year-old Toula who is unmarried and working at her family's Greek restaurant.
Toula meets and falls for Ian, a teacher, but her over-involved family disapproves of him because he is not Greek.
Toula dates him regardless, but will her family ever accept that she chose love over culture?
Watch more movies from, about, and set in Greece.
7. The People We Hate at the Wedding (2022)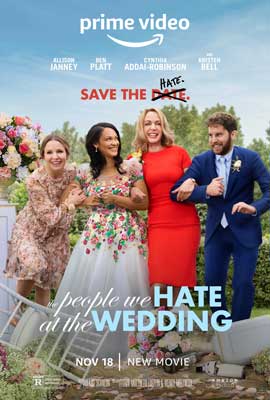 We sometimes think there's nothing funnier than comedy wedding movies about dysfunctional family drama.
In The People We Hate at the Wedding, American siblings, Paul and Alice, agree to attend the wedding of their estranged and wealthy half-sister, Eloise, in England.
Throughout the course of the wedding, family skeletons are unearthed, and the family is continually reminded of why it may be best to keep the distance they've grown accustomed to.
This is one film for anyone who's ever dreaded attending a family wedding.
8. The Hangover (2009)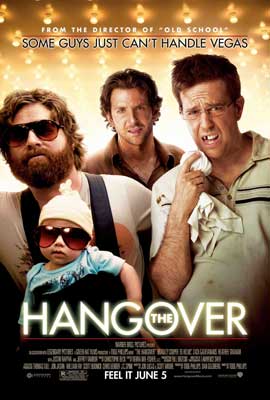 Groom-to-be Doug and his three groomsmen head to Las Vegas for what should be an epic Bachelor Party.
When his friends wake up the next morning, with no memory of the night before, and without Doug anywhere in sight, they realize they may have partied a little too hard.
Hungover, they attempt to retrace their steps and piece together their trip, which turns out to be wilder than they ever anticipated.
Not to mention, they need to find Doug and get him back in time for his wedding.
Wildly outlandish and hysterical, The Hangover continues to be regarded as one of the funniest wedding movies of all time.
9. Mamma Mia (2008)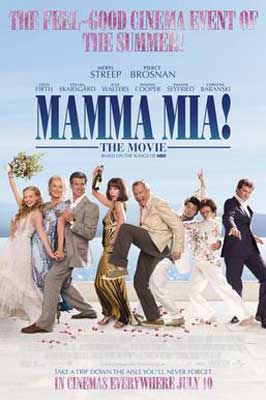 Days ahead of her wedding, Sophie wants to know who her real father is so he can walk her down the aisle.
She secretly invites the three men whom she believes could be her father, believing that if she spends time with each of them, she'll figure it out.
But when Sophie's mother discovers her three former lovers, a rift develops between her and her daughter. Plus, she isn't quite sure she can even answer Sophie's burning questions.
If you're looking for funny marriage movies that are less about the wedding day and more about genuine relationships, Mamma Mia won't disappoint.
Travel across islands with even more great movies.
10. The Week Of (2018)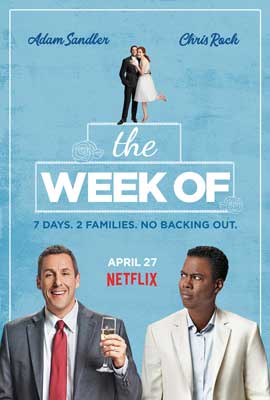 Sarah's father, Kenny, insists on paying for everything for his daughter Sarah's wedding, despite her fiance, Tyler, coming from a rich family.
This results in a budget wedding and Kenny trying to impress his daughter's future in-laws.
Kenny's efforts over the week leading up to the wedding prove futile and comedic, while damage to the wedding venue presents a whole slew of additional problems.
Can Kenny manage to do one final thing for his daughter, or will the whole wedding be a disaster?
If you're looking for funny wedding movies that aren't always on the radar, The Week Of has a beautiful blend of comedy and meaning.
11. Father of the Bride (1991)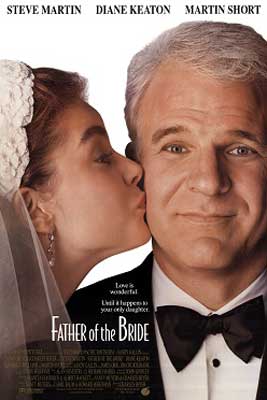 George is shocked to learn that his daughter returns home from studying abroad with a fiance, Bryan – a kind and wealthy European whom she's only known for a few months.
Overprotective of his daughter, George refuses to accept Bryan.
To make matters worse, Bryan's parents are keen on an expensive, over-the-top wedding, and George is over it.
It seems as if George just can't keep himself out of trouble in this lovable Spencer Tracy comedy.
Father of the Bride is one of our favorite funny wedding movies with a heartfelt meaning and sappy undertones.
Take The Uncorked Reading Challenge!
Travel around the world with our Uncorked Reading Challenge. Never be late to the party with unique new book releases. Get the latest movie and book lists straight to your inbox.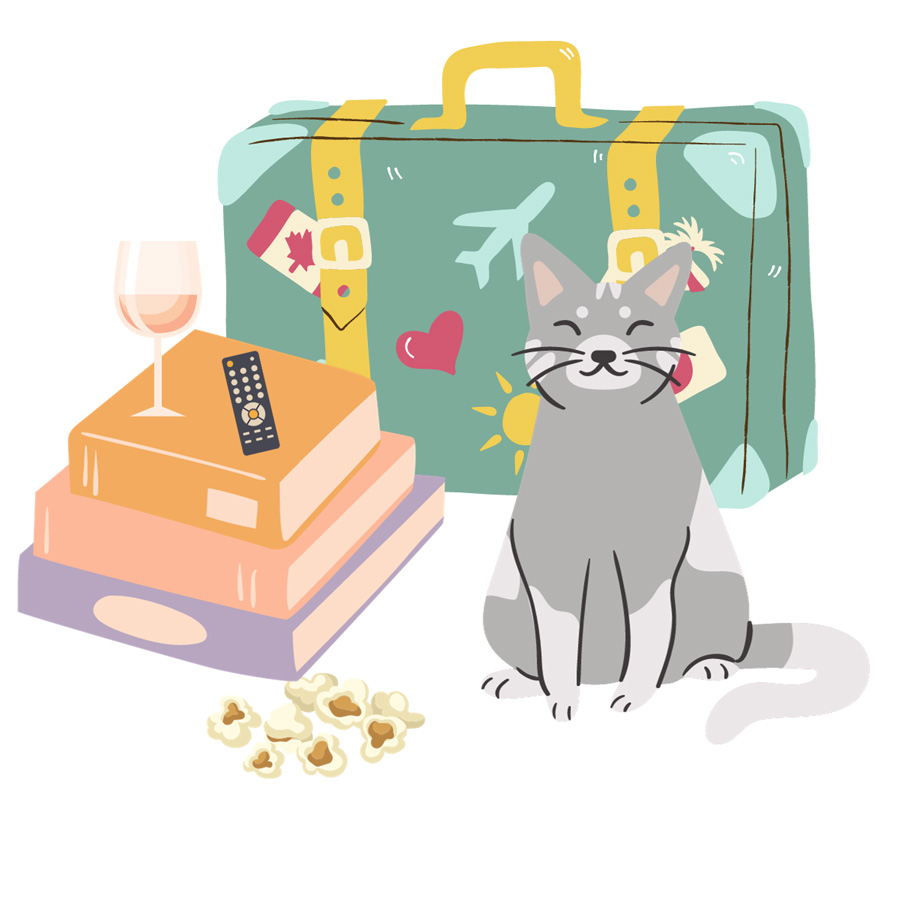 12. I Love You, Man (2009)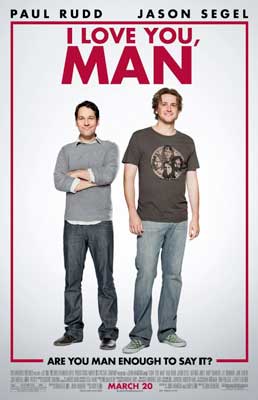 What's a friendless man to do with an upcoming wedding and no best man?
With his wedding to Zooey approaching, Peter makes several hilarious attempts to find a best guy friend.
Just when he thinks all is lost, he meets Sydney, and the two seem to bond. But Zooey becomes increasingly suspicious of Sydney, and this mistrust begins to strain their relationship.
After Peter agrees to loan Sydney money, the film almost takes a turn south, as does the upcoming wedding.
But some wedding comedy movies are redeemable, and I Love You Man reminds us that friendship, along with love, matters most.
13. Table 19 (2017)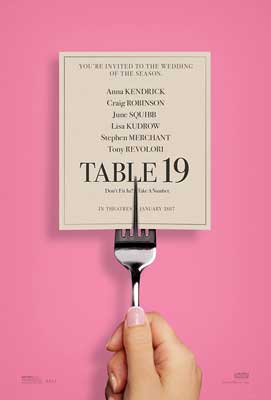 Eloise gives up her Maid of Honor title at the wedding of her friend Francie after being dumped by Francie's brother.
She probably should have declined the wedding invite altogether.
But when she shows up seated at table 19, along with the other outcast wedding guests, the group decides to make the most of it; hilarious wedding shenanigans ensue.
Somewhere throughout the night, the group begins to develop genuine friendships and learn more about one another.
Table 19 isn't considered one of the best funny wedding movies of all time, but we think it's one of the more relatable ones, as we've all felt like an outcast before.
14. Bridesmaids (2011)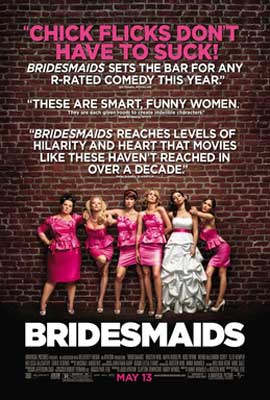 No list of comedy wedding movies is complete without Bridesmaids.
Follow a hilarious bridal party, including a cynical cousin, a foul-mouthed sister, a trophy wife, and Annie, who's down on her luck and still single in her thirties.
Annie, who's been asked to be the Maid of Honor for her best friend, Lillian, finds herself at odds with Helen, another bridesmaid who's far better off than Annie is.
When Annie's casual Bachelorette Party is overtaken by Helen's grand plan for Las Vegas, things begin to spiral.
Throw in some food poisoning, adult tantrums, and gallons of booze, and you've got a recipe for a bridal party disaster.
As a rift grows between Annie and Lillian, reparations may no longer be possible.
15. The Wedding Ringer (2015)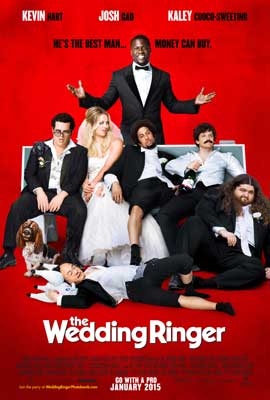 For more lovable marriage comedy movies about a friendless groom, The Wedding Ringer follows Doug ahead of his wedding to Gretchen.
With the nuptials approaching, Doug calls Timmy, owner of Best Man Inc, a company that provides wedding parties for lonely grooms.
Jimmy enlists some of his own friends, including a prison escapee, and interviews other misfits for the remaining spots.
As Doug attempts to keep the charade going, friendship blossoms between him and Timmy. The wedding proves to be fateful, but Doug may gain a friend for life.
16. The Wedding Singer (1998)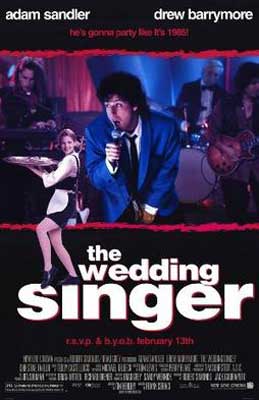 Left at the altar by his own fiancee, Robbie Hart is a wedding singer who's almost lost hope in marriage.
To keep himself busy, he agrees to help a new friend, Julia, plan her wedding to Glen. But it turns out that Glen isn't exactly marriage material, and Robbie has developed feelings for Julia himself.
With constant missed connections and awkward situations, it seems Robbie and Julia will grow apart.
We all know the famous airplane scene, but as popular and predictable as the ending is, The Wedding Singer is one of our favorite funny wedding movies to watch over and over again. In fact, it's a classic!
What are your favorite comedy wedding movies?
Is there a funny wedding movie that you could watch over and over again? Let us know in the comments.
You May Also Enjoy:
This movie list pairs well with the 2023 Uncorked Reading Challenge.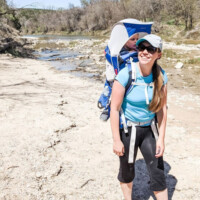 Tori (pronouns: she/her) is a mom to two boys, living in New York but adventuring everywhere, usually with a toddler on her back. She's an avid traveler, nature junkie, and writer, encouraging families to get outside and start exploring the world. When she's not hiking or traveling, you can find her lost in a book, watching Bravo reruns, or obsessively decluttering her home. Tori owns the family and adventure blog, Explore with Tori.