Fall in love, laugh out loud, and get hitched with these great wedding movies from across the globe.
There certainly is no shortage of wedding-themed movies – and chances are, if the film is from the 90s, Julia Roberts was one of the main wedding stars.
Not to mention that many of the best wedding movies also became cult classics – The Princess Bride, Father of the Bride, My Big Fat Greek Wedding, and Mamma Mia! – just to name a few.
So, if you are in the mood for a good wedding movie – most of which are light, fluffy, hilarious, and fun – keep reading to see our top picks, both newer releases as well as classics.
However, we've also included a few that cover heavier topics about family, culture, affairs, cancer, and death.
Plus, we've got quite a few book-to-movie adaptations, an animated film, and movies based on true stories. Let's get started!
You might also enjoy these wedding books.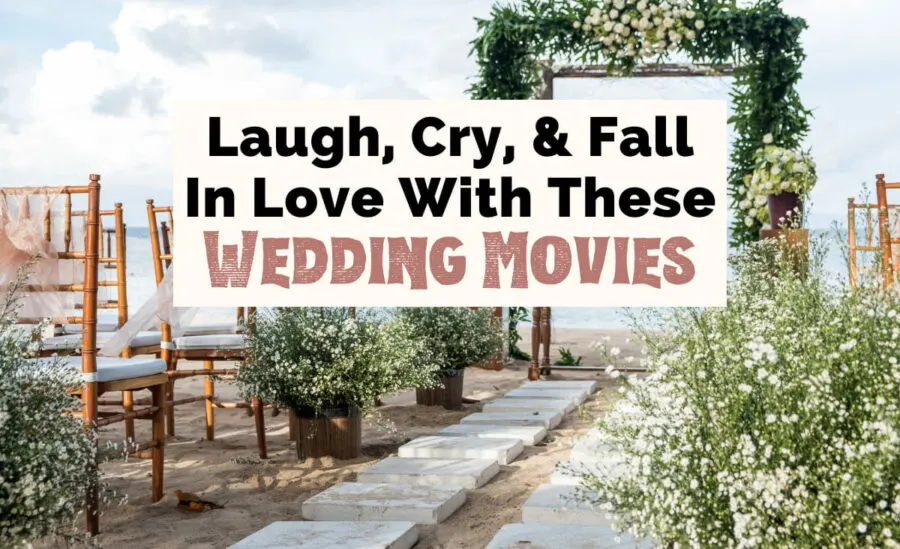 Grab your favorite books and movies with weddings here:
35 Wedding Movies We Love
1. My Big Fat Greek Wedding (2002)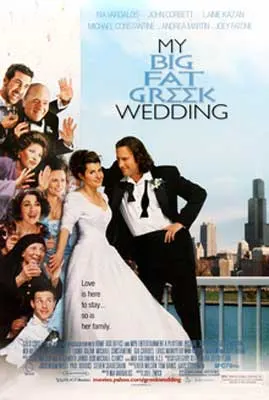 One of the funniest and most heartwarming wedding movies, My Big Fat Greek Wedding remains a hit over a decade after its release.
The Portakalos family is worried about Toula, who is thirty, unmarried, and still working at her family's Greek restaurant.
Toula wants more out of life, so she takes a job at her aunt's travel agency.
She meets and falls for Ian, a teacher who is tall, handsome, and not Greek.
She continues to date him anyway, but when her father, Gus, learns that Ian hasn't asked his permission to date his daughter – despite them being grown adults – he refuses to let them see one another anymore.
Gus's efforts to introduce his daughter to a nice Greek man are futile, but will he ever accept Ian?
Find even more movies about Greek culture, families, and travel.
2. Father of the Bride (1991)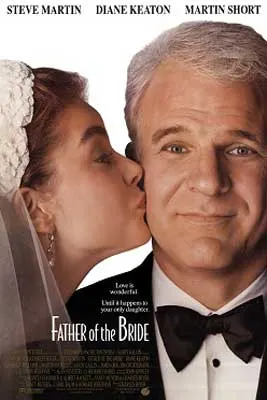 George is shocked when his daughter Annie returns home from Europe to announce she is engaged to Bryan, whom she's only known for three months.
Despite Bryan's wealthy financial status and kind demeanor, George can't accept him. He gets himself into trouble when he starts snooping around Bryan's family's home.
To make matters worse, George gets sick of paying for an extravagant wedding, and ends up getting arrested after a meltdown in the grocery store!
Despite the humorous storyline and George's antics, at its core, Father of the Bride is one of those bittersweet movies about getting married and letting your children leave the nest.
3. The Wedding Singer (1998)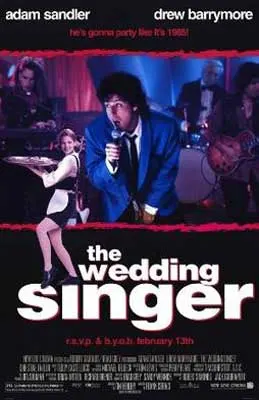 Robbie Hart is a wedding singer down on his luck after his own fiancée left him at the altar. He meets Julia, who is engaged to Glen and agrees to help her plan the wedding.
The friendship leads to deeper feelings, and Robbie must now win over Julia before she says 'I do' to Glen.
Julia has also developed feelings for Robbie, but a couple of missed opportunities push the two apart.
Will Julia end up with Glen, or will Robbie win the girl in the end?
Both hilarious and heartfelt, The Wedding Singer is one of the best wedding movies of all time.
4. Four Weddings and a Funeral (1994)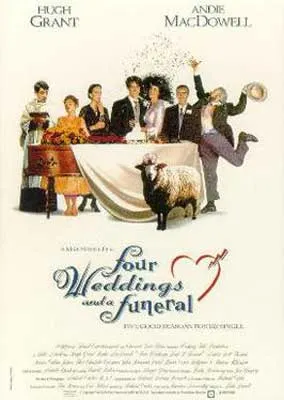 If you are looking for British romance films, Four Weddings and a Funeral is one of our favorite wedding-themed movies by Richard Curtis.
Charles, played by Hugh Grant, and his friends are perpetually unlucky in love.
When Charles meets Carrie at a wedding, they're instantly drawn together. But after a night together, Carrie must return to the US.
Their paths continue to cross – at three more weddings and a funeral – and Charles begins to believe the two are destined to be together.
In spite of their poor timing, and finding partners elsewhere, will their fates ever link up?
5. My Best Friend's Wedding (1997)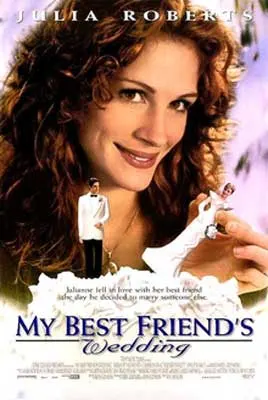 Julianne and Michael – played by Julia Roberts and Dermot Mulroney – are best friends who vowed to marry one another if they were still single at 28.
Just shy of Julianne's birthday, Michael announces that he is marrying Kimberly, a twenty-year-old college student from a well-to-do family, in just four days.
Julianne, realizing that she's been in love with Michael all along, vows to stop the wedding.
Matters are complicated when Julianne is asked to be the Maid of Honor.
My Best Friend's Wedding is a funny and heartwarming wedding movie with a decent moral and a good lesson.
6. Bridesmaids (2011)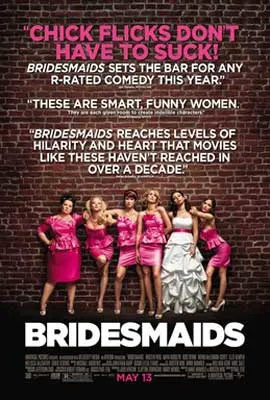 Annie, a single thirty-something with a failed business, is clearly down on her luck when her best friend, Lillian, asks her to be her Maid of Honor at the upcoming wedding.
Annie meets the wedding party – including a cynical cousin and a foul-mouthed sister – and instantly finds herself at odds with Helen, a trophy wife and one of the other bridesmaids.
Annie's plans for a casual bachelorette party by the lake are overruled by Helen's extravagant plans for Las Vegas.
Matters are only made worse by the alcohol-fueled shenanigans, food poisoning, and a tantrum at Lillian's bridal shower.
As tensions between Annie and Helen grow, it causes a rift between Annie and Lillian. Ahead of the big day, can the two best friends make reparations?
Watch even more terrific movies about best friends.
7. Mamma Mia (2008)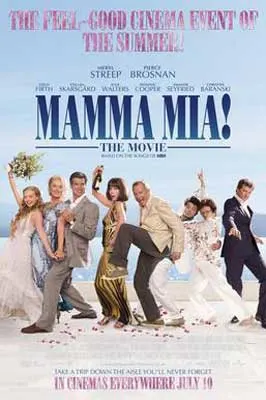 Donna – played by Meryl Streep – is busy planning her daughter's wedding at her hotel on a Greek island.
Her free-spirited daughter, Sophie, has her own plans ahead of the wedding.
Wanting to know who her real father is so he can walk her down the aisle, Sophie secretly invites the three men she believes could be her dad.
After spending time with them, Sophie is confident she'll know the answer.
When Donna discovers her three former lovers, she admits to not actually knowing which one of them fathered Sophie.
As wedding plans and festivities take place, it seems the scandal is all that's on Donna's mind and causes a rift between her and her daughter.
More than just one of the movies about getting married, though, Mamma Mia, while funny, is a heartfelt story of broken and mended relationships.
Of course, the Abba music doesn't hurt either!
Watch even more movies set on and about islands.
8. Crazy Rich Asians (2018)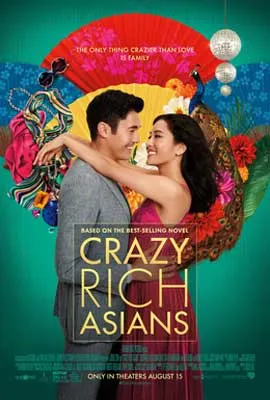 If you enjoy wedding movies based on bestselling books, be sure to watch (and read!) Crazy Rich Asians.
Rachel is thrilled to accompany her longtime boyfriend, Nick, to his friend's wedding in Singapore and finally meet his family.
In Singapore, Rachel learns that her boyfriend's family is extremely wealthy and disapproves of her humble background.
The disdain from Nick's mother is palpable, while a run-in with Nick's former girlfriend only intensifies Rachel's feeling of being an outsider.
When Nick's mother uncovers a family secret of Rachel's, she demands the two stop seeing one another.
Forcing Nick into a situation with no happy ending, Rachel decides to leave – but will love or family triumph? Or, will Nick and Rachel find a way to have both?
Watch even more terrific movies set across and about Asia.
9. Wedding Crashers (2005)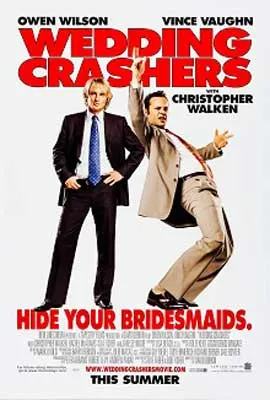 One of the most well-known and best movies about weddings, Wedding Crashers is absolutely hilarious, albeit inappropriate for a young audience.
Divorce mediators Jeremy and John spend their weekends crashing weddings under false identities.
Where else can two single guys score free beer and meet beautiful women?
When a prominent political figure announces his daughter's wedding, the dynamic duo set their sights on the event.
But once they infiltrate, their plan is complicated when Kathleen, the mother of the bride, takes a liking to the guys and invites them on an extended weekend.
John accepts to spend more time with the gorgeous bridesmaid, Claire. What will the duo do, though, when their cover is blown?
10. The Wedding Planner (2001)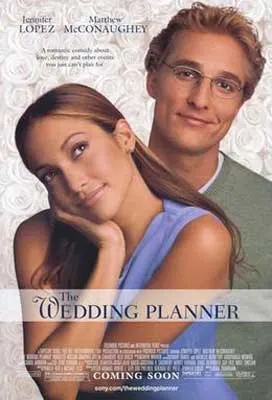 Mary is a wedding planner hoping that her recent gig planning the nuptials of an heiress, Fran, lands her a promotion.
Busy on the phone planning the event, she finds herself almost at the center of a car crash.
She's pulled out of the way by Steve, a handsome pediatrician, just in time. After spending a lovely night together, Mary's thoughts on love are renewed.
But when she shows up to a dance lesson for Fran, she's introduced to Fran's fiancee: who turns out to be none other than Steve.
What is Mary to do when her career and love interest collide?
11. Sweet Home Alabama (2002)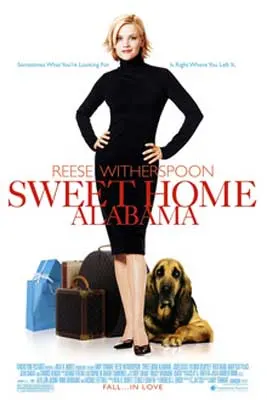 Sweet Home Alabama is a romantic comedy wedding movie about Melanie, a girl from the South who finds herself engaged to one of New York's most eligible bachelors.
A successful fashion designer herself, Melanie has a few secrets she's been keeping, including Jake, the high school sweetheart and first husband who refuses to divorce her.
Ahead of her wedding to Andrew, Melanie heads home to Alabama to finalize her history with Jake.
But once she returns home, Melanie realizes that ending things might not be so simple.
Watch even more movies across the South on our sister site, Uncorked Asheville.
12. Runaway Bride (1999)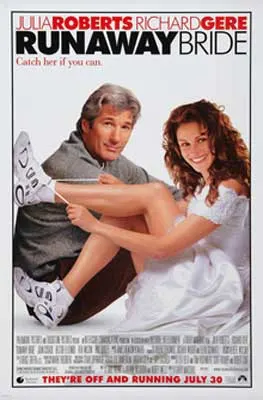 Maggie Carpenter – played by Julia Roberts – has already ditched three men at the altar.
She is dubbed "the Runaway Bride" by journalist Ike Graham.
When it's revealed that one of Ike's sources happens to be one of Maggie's jaded former fiancees, his journalistic integrity is called into question.
Ike heads to Maryland, ahead of Maggie's fourth attempt at getting down the aisle, to save his reputation. As Ike gets to know his article subject, he soon develops feelings for her
We're not going to say that this is one of the best wedding movies ever, but it's relatable for anyone who enjoys a satirical romantic comedy with a happy, but realistic (albeit predictable) ending.
13. Table 19 (2017)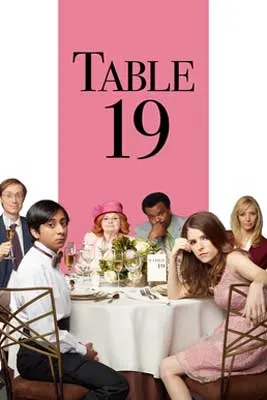 Eloise decides to still attend the wedding of her oldest friend, Francie, after rescinding her Maid of Honor duties.
Two months ago, she was dumped via text message by Teddy, her boyfriend of two years and Francie's brother.
Along with a colorful cast of other misfit wedding guests who probably should have declined their invitation, Eloise finds herself at table 19.
But amidst destroying a cake, wedding crashers, and getting high, connection, friendship, and love lie at the heart of the movie.
While not rated one of the all-time top movies about weddings, viewers may relate to being an outcast.
14. All My Life (2020)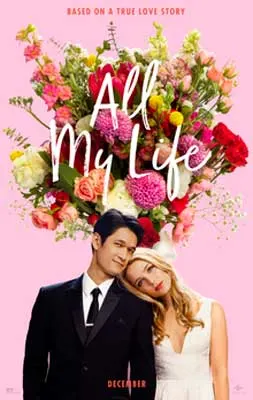 Jenn and Sol are a sweet, adoring, and recently engaged couple planning a summer wedding.
But when Sol is unexpectedly diagnosed with cancer, their plans must change.
Now planning a quick, three-week wedding while undergoing clinical trials and treatments, Solomon and Jennifer will be facing the exact opposite of their dream wedding.
All My Life is one of the most heartbreaking wedding movies, simply for the fact that it's based on the true story of Jennifer and Solomon who chose each other, knowing their time was limited.
15. Imagine Me and You (2005)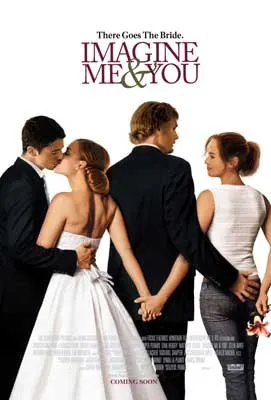 During her wedding to Heck, Rachel spots Luce in the crowd. The two women become close friends and Rachel attempts to set Luce up with a friend.
When Rachel learns, however, that Luce is a lesbian, she realizes that she's developed feelings for Luce.
Amidst questions of sexual orientation, Rachel struggles between her happy marriage and a whirlwind romance with Luce.
Imagine Me and You is a cute and quirky romance if you're looking for LGBTQ movies with weddings and love.
16. 27 Dresses (2008)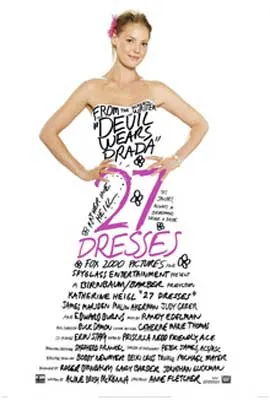 For twenty-seven weddings, Jane has been the bridesmaid…never the bride.
When her sister suddenly falls for her boss, George – whom Jane also secretly has feelings for – Jane finds it difficult to lovingly fulfill her duties.
Meanwhile, a handsome reporter, Kevin, sees Jane's story as a journalistic piece and begins covering the perpetual bridesmaid.
If you're looking for sweet and romantic bridal movies, 27 Dresses will restore anyone's faith in waiting for the right one.
17. Steel Magnolias (1989)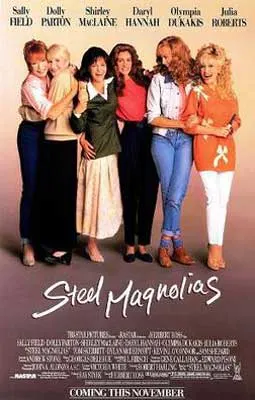 We certainly love wedding-themed movies with Julia Roberts!
In Steel Magnolias, she plays Shelby, who, along with her mother M'Lynn, is busy planning her wedding.
The women are getting their hair done by friend Truvy and aspiring beautician Annelle when Shelby has a diabetic health scare.
It is revealed that due to her condition, it is inadvisable to have children.
Shelby considers calling off her engagement in order not to deprive her future husband of being a father.
The women grow closer after the wedding as they experience both joy and tragedy.
Based on a true story, Steel Magnolias is more than just one of the best wedding movies; it is a testament to lifelong friendships and the desire to experience motherhood.
18. Rachel Getting Married (2008)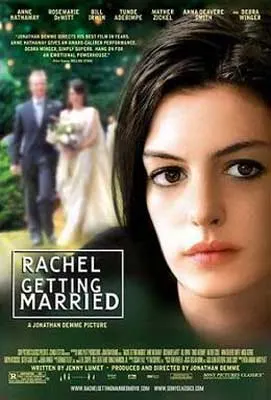 Working toward sobriety, Kym is released from rehab for a few days for her sister, Rachel's, wedding.
Kym's bitter behavior contrasts against Rachel's small and intimate wedding, as years of tension and secrets surface.
When their father tries to mediate, it becomes clear that Rachel's self-destructive behavior has caused a palpable rift in the family.
Rachel Getting Married is one of the more dramatic movies with weddings as, at the core, it is really about broken families, drug addiction, and reparations.
19. Bride Wars (2009)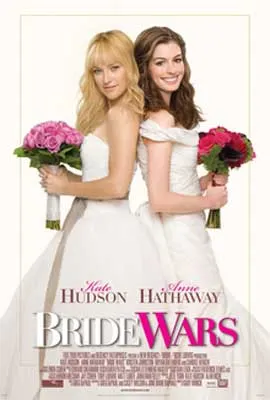 What could go wrong when best friends Emma and Liv, who are planning their dream weddings at the Plaza, discover they are accidentally booked for the same day?
Just about everything.
When the two friends realize that neither will back down, the competition grows fierce and sabotage ensues.
Once best friends, Emma and Liv resort to spreading pregnancy rumors, ruining hair dye, and public shaming.
It all comes to a head when Emma and Liv share a moment together before their respective weddings, but will reconciliation be possible?
20. Emma (2020)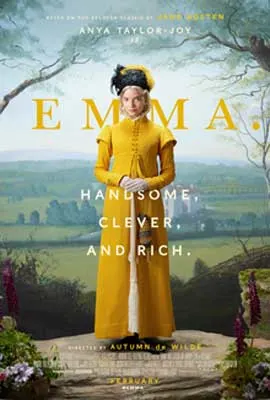 Based on the novel by Jane Austen, Emma is a period romantic comedy and wedding movie following the life of wealthy Emma Woodhouse.
Emma meddles in the romantic lives and weddings of others and entertains herself with her supposed matchmaking abilities.
But her meddling gets her into trouble, especially with Mr. Knightly, her biggest critic. Naturally, romantic feelings start to brew and Mr. Knightly may not be her critic for long.
It's one of our favorite bridal movies based on books, especially for those who love movies and television set in England.
Travel to Europe with even more great movies.
Join The Uncorked Reading Challenge Today
---
Travel around the world with the Uncorked Reading Challenge. Get the best book and movie recs straight to your inbox. Sign Up Now.
21. Palm Springs (2020)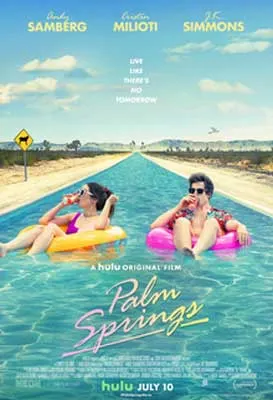 Where wedding movies meet science fiction, Palm Springs is one of the more interesting titles on our list.
The film follows two strangers who meet at a wedding in Palm Springs and end up stuck in a time loop.
Nyles bonds with Sarah at the wedding of Sarah's sister, and the two leave the party to hook up.
Before they can, Nyles is shot by an arrow and crawls toward a cave. Sarah doesn't heed his warnings to stay out of the cave and inadvertently gets stuck in the time loop.
After discovering that Nyles has already been in the loop for some time, along with his assailant, Sarah vows to use quantum physics to escape.
Watch even more fantastic time loop movies.
22. The Farewell (2019)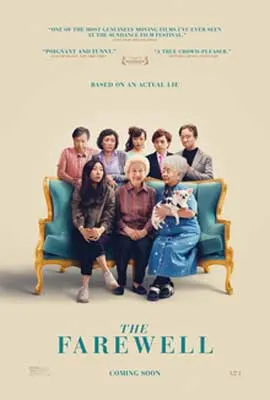 An aspiring writer in New York, Billi has always been close with her grandmother in China.
She learns from her parents that her beloved grandmother has been diagnosed with terminal cancer and has been given a few months to live.
The results from the tests, however, have been kept from her grandmother.
While the family plans a wedding for Billi's cousin, Billi is asked to remain in New York since the family believes she won't keep the secret.
Billi defies her parents and flies to China anyway. But tensions come to a head when Billi grows increasingly distasteful at her family's deception.
The Farewell is one of the incredibly moving movies about weddings with family bonds at the center.
Watch even more movies about, from, or set in China.
23. Monsoon Wedding (2001)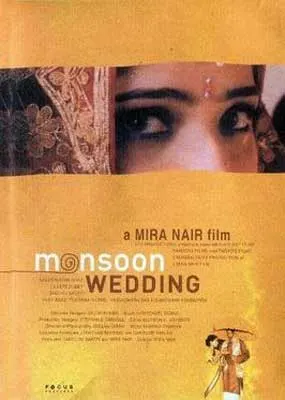 While Monsoon Wedding is one of the best wedding movies, it is not very well known.
Aditi is the daughter of a modern Indian family, set to marry Hemnat, the son of a family friend she's only known for a few weeks, in an extravagant ceremony.
Meanwhile, their wedding planner falls for their maid.
But the lavish wedding becomes too expensive for Aditi's parents, and her father's brother-in-law steps in to help.
His presence, however, brings the unearthing of family secrets of abuse.
Monsoon Wedding deals with numerous difficult subjects in a tactful manner, but it is far from a light and fun wedding movie.
Watch even more Indian movies.
24. About Schmidt (2002)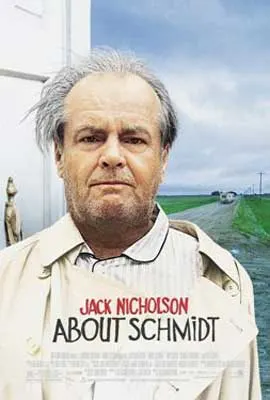 Warren Schmidt is struggling with retirement in an unhappy marriage with Helen and is bitter about his daughter's upcoming wedding to Randall.
After Helen dies suddenly, and Warren discovers a stack of love letters to Helen from his best friend, Warren decides it is up to him to stop his daughter from marrying someone not good enough for her.
On his way out to the wedding, he travels down memory lane in a Winnebago, eventually finding himself staying with Randall's quirky mother.
Slowly, Warren will discover that it is up to him to make the most of the time he has left.
25. The Proposal (2009)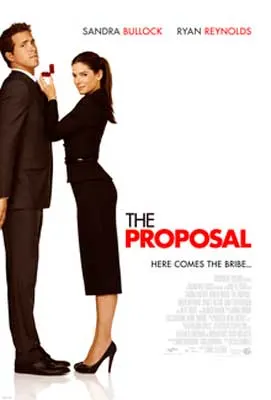 Who doesn't love predictable yet funny movies with weddings?
Book editor Margaret is facing deportation to Canada when she claims she is engaged to her assistant, Andrew.
Andrew agrees to maintain the facade… under a few conditions, including meeting his family in Alaska.
A couple of snafus – including an elderly exotic dancer and an immigration official lurking nearby – threaten their plans, but the two, inevitably, begin to develop true feelings for one another.
26. Ticket to Paradise (2022)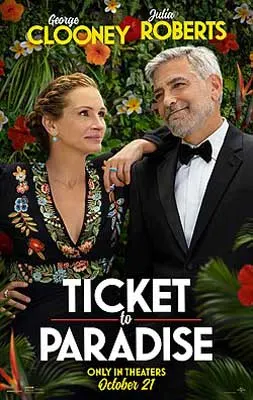 George Clooney and Julia Roberts star as a divorced couple who attempt to stop their daughter's wedding.
And yes, clearly Julia Roberts is in a ton of wedding-themed movies!
Georgia and David only agree on one thing – that they are both desperate to halt their daughter Lily's impending nuptials to a seaweed farmer in Bali where Lily will remain permanently.
As the divorced parents attempt to sabotage the wedding, they get to know Lily's future in-laws and rekindle old feelings for one another.
While this isn't exactly the best or most original movie – we felt very lukewarm about it – who can resist the cast line-up and setting?
Travel to Indonesia with even more movies set, about, and from there.
27. Princess Bride (1987)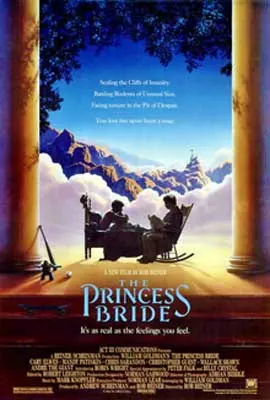 On a farm in the fictional kingdom of Florian, Buttercup and Westley have fallen in love.
After Westley leaves to find fortune to marry Buttercup, his ship is attacked and Westley is presumed dead.
Years later, Buttercup is betrothed to Prince Humperdink, but she is kidnapped and the prince ensues her kidnappers.
Buttercup is shockingly reunited with Westley, who is still alive.
The two face numerous obstacles and battles to remain together, all while Prince Humperdink attempts to go through with the wedding.
Not just one of the best wedding movies ever made, we think The Princess Bride is one of the best films of all time (and a cult classic).
28. Jenny's Wedding (2005)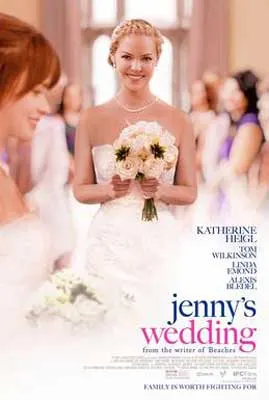 Coming from a conservative Catholic family, Jenny has led an openly gay life with everyone except her family.
After constant reminders from her family to settle down, she decides to propose to her girlfriend, Kitty, whom her parents have believed is her roommate of five years.
In spite of her family's disapproval and requests that she remain closeted around their conservative friends, Jenny defies her family.
Will Jenny's parents accept their daughter for who she is or risk losing her forever?
For more LGBTQ wedding movies, Jenny's Wedding is cute and inspirational.
29. Wedding Season (2022)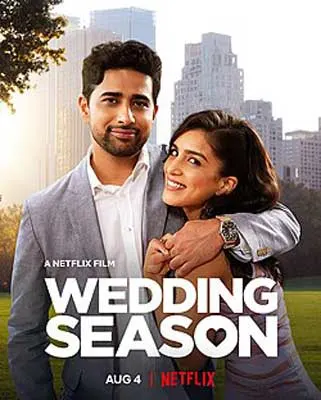 Asha calls off her engagement and leaves a steady job for a startup.
Her mother, concerned for Asha's future, creates an online dating profile for her. She matches with Ravi, who is also feeling pressured by his parents to settle down.
Their first date goes poorly, but they agree to a ruse; pretend they are dating to alleviate the pressure from their parents during wedding season.
While the two begin to genuinely develop feelings for one another, deception surfaces and the pressure from their families boils over.
30. Margot at the Wedding (2007)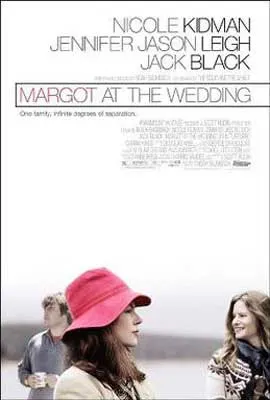 Margot and her son show up, uninvited, to the wedding of her estranged sister, Pauline.
A reconciliation between the siblings seems possible at first until Margot attempts to convince Pauline not to marry her fiance.
Years of resentment are unleashed, as Pauline and Margot take their anger out on their fiance and son, respectively.
Ultimately, not all movies about weddings have happy endings, as we learn that family members may love one another, but not understand each other.
31. Ready or Not (2019)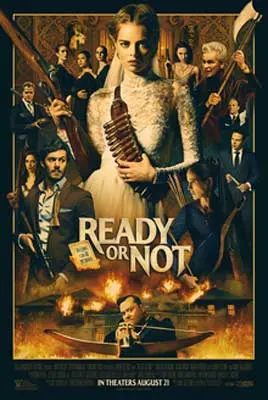 Grace just married the man of her dreams.
But her perfect night turns into a horror show as she now must hide from midnight until dawn as she is hunted by Satan-worshipping new in-laws.
Grace not only tries to survive, but she looks for a way to outsmart the family.
Part comedy, part satire, fans of scary movies will enjoy this horror-inspired wedding movie.
32. The Corpse Bride (2005)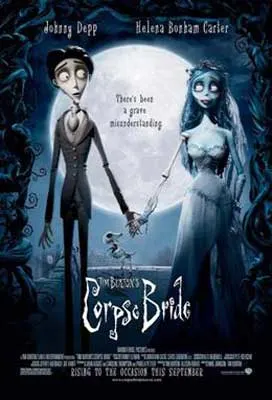 In an unnamed Victoria era, Victor and Victoria are arranged to marry. They like one another but are apprehensive.
Just shy of the wedding, Victor is dragged by a tree branch that becomes a hand into the land of the dead.
There, he meets Emily and learns that she was murdered after eloping with the love of her life.
Now, she wants to marry Victor, who must do everything he can to trick Emily into returning to the land of the living so he can reunite with Victoria.
The Corpse Bride is a Tim Burton masterpiece, perfect for fans of his other cult classics.
Watch even more top animated fantasy films.
33. The Best Man (1999)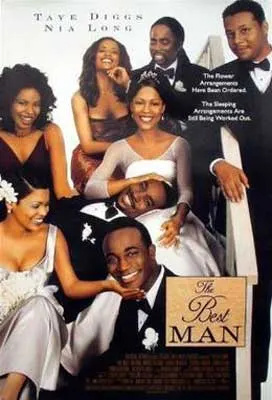 Harper is an author on the edge of success with his debut novel. There's only one problem – the steamy book is loosely based on the love lives of his friends.
Harper is also the best man in his friend Lance's wedding, but when an advanced copy of the book makes its way into the hands of Harper's ex-girlfriend, trouble arises.
Can Harper keep his book – and the secrets it spills – under wraps, at least until the wedding is over?
Though up there in age, The Best Man continually makes many "best of" wedding movie lists.
34. Destination Wedding (2018)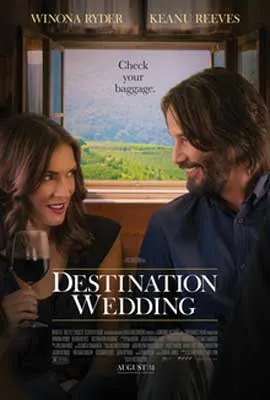 Looking for more enemies-to-lovers wedding movies?
Frank and Lindsay meet at an airport where they strike up an argument.
They are further aggravated when they end up seated next to one another on a flight to Paso Robles for the same wedding.
The groom is Frank's half-brother and Lindsay's ex.
Both Lindsay and Frank harbor negative feelings over the wedding, but as the wedding events keep bringing them together, they find a few things to bond over.
35. Our Family Wedding (2010)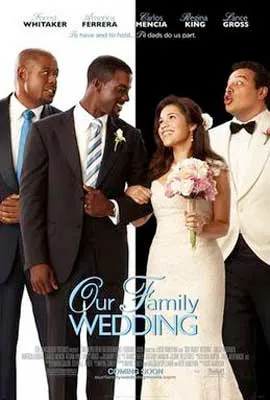 Marcus, who is African American, and Lucia, who is Mexican American, announce their engagement to their families.
But no good wedding movie is complete without some family drama.
A simple feud between their fathers – that began with a towed car – turns into an all-out culture war.
With each family wanting their customs represented, it seems the wedding is more about the families than the couple.
Can the feuding fathers come together, at least for a day?
Where to watch & read more about these movies:
Amazon Prime Video | Netflix | IMDb | Hulu | Max
Save The Best Movies About Weddings For Later: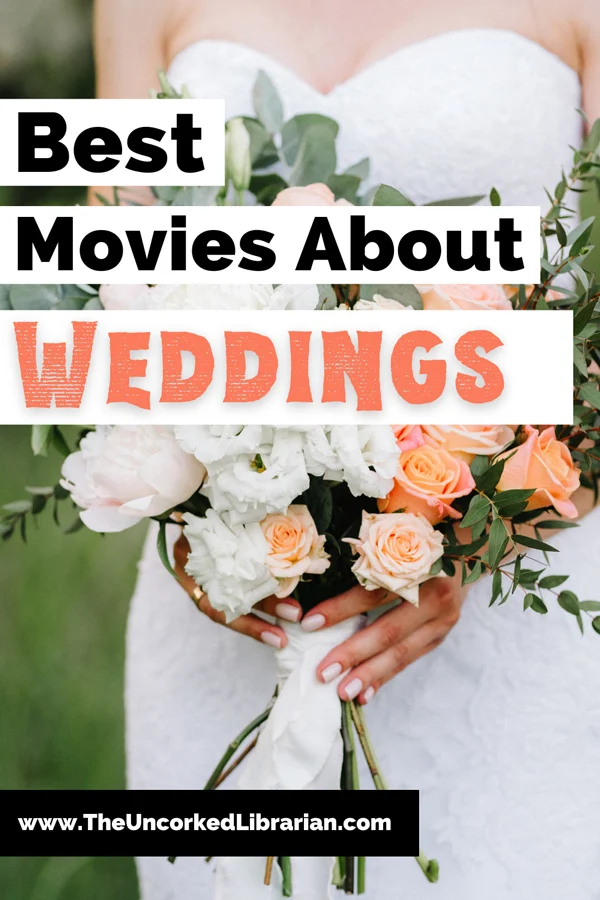 Grab books and movies with weddings here:
Express VPN – Using Virtual Private Networks (VPNs) allows you to view movies worldwide – and they help keep your information safe. Our writers couldn't have such diverse film reviews without a VPN.

Amazon Prime Video – Stream thousands of ad-free movies and TV series on demand with Prime Video.

Audible Plus: From Amazon, listen to Amazon Originals, podcasts, and audiobooks. They add new titles every week.
What wedding-themed movies do you enjoy?
Do you have a favorite wedding movie? Let us know in the comments.
This movie list pairs well with 2023 Uncorked Reading/Bingo.
You May Also Enjoy: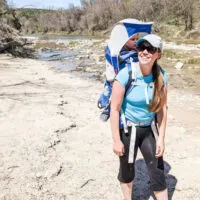 Tori (pronouns: she/her) is a mom to two boys, living in New York but adventuring everywhere, usually with a toddler on her back. She's an avid traveler, nature junkie, and writer, encouraging families to get outside and start exploring the world. When she's not hiking or traveling, you can find her lost in a book, watching Bravo reruns, or obsessively decluttering her home. Tori owns the family and adventure blog, Explore with Tori.