13 Captivating Baltic Books For Lit & History Lovers
Are you looking for the best books set in the Baltics? Uncover Baltic books set in Estonia, Lithuania, and Latvia to read before you go.
Truth be told, we had never read any Baltic books before planning a road trip across Eastern Europe — man, were we missing out.
Prior to jet-setting off to Riga, we headed to the library for books set in Lithuania, Latvia, and Estonia. Once abroad, we hungrily perused the shelves of an Estonian bookstore.
Unfortunately, some lesser-known and translated Baltic literature can be hard to find in the U.S. public library system.
Below are the Baltic books our libraries had as well as a few we had to purchase or borrow from friends. Most should be easily accessible for you, and many are famous or brand new.
We also craved a local's opinion on which books we should read before going to the Baltic States.
The Uncorked Librarian is thrilled to have two Estonian contributors for our "books set in Estonia" section.
So, keep reading for the best books set in Latvia, Lithuania, and Estonia that are mysteries, YA fantasy, literature, historical fiction, and contemporary fiction.
You'll find a few nonfiction books about the Baltics and WW2 too. Memoirs, poetry, and magical realism — we got you!
Learn more about Baltic history, fire up that wanderlust, discover more to romanticized cities than meets the eye, and enhance your next Baltic vacation. Let's get started!
Travel across Europe with all of our European Book Lists.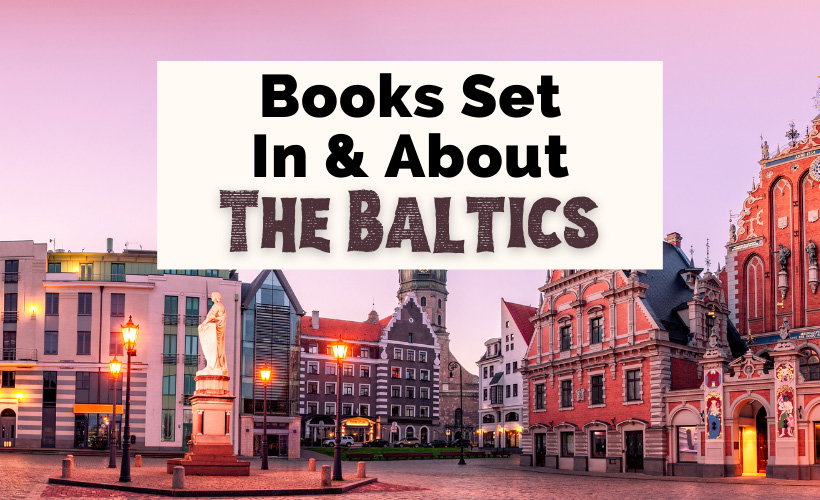 Grab your favorite books about Estonia, Latvia, and Lithuania here:
Best Baltic Books To Read Before Going
Books Set In Lithuania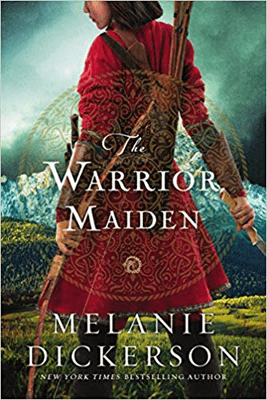 The Warrior Maiden by Melanie Dickerson
If you enjoy retellings and Christian fiction, Dickerson is 100% for you. The Warrior Maiden is the 7th in a series of standalone titles and reimagines the classic story of Mulan.
For YA Lithuanian books, The Warrior Maiden is also one of our favorites – although our readers have given this one mixed reviews.
With Mulan's father dead, she must either marry the town's degrading butcher or pretend she is a forgotten son in order to save her mother's Lithuanian home.
Deciding that honor and traveling the world is more important than good meat, Mulan heads off to war. 
Her mission is to not only go unnoticed as a woman but also to save Poland from the Teutonic Knights.
Gender, class, and ethnicity unwind as Mulan smashes all barriers while finding love with the hunky Wolfgang.
Dickerson incorporates religion and history to make this a captivating young adult novel perfect for adults.
Read The Warrior Maiden: Amazon | Goodreads | Review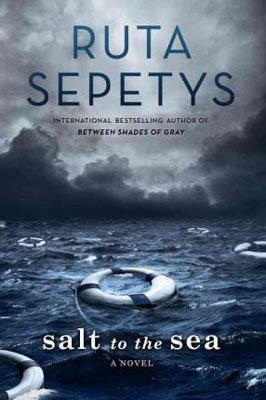 Salt to the Sea by Ruta Sepetys
Although Salt to the Sea takes place across the Baltic Sea, including mentions of Poland and Prussia, Joana's Lithuanian roots truly ground the story in Baltic history.
This is why we placed the title under books set in Lithuania – so, put those trolling thumbs down.
Salt to the Sea is also a fantastic selection if you are looking for YA WWII books or ship books.
Readers follow four teens' perspectives – some likable and others not so much – in 1945 during the war. 
With the Soviet army advancing on Hitler's fallen territory, refugees Emilia, Joana, and Florian scramble to find safe passage to Germany. 
Unfortunately, the youth board the unlucky Wilhelm Gustloff, which 10,000 passengers cram into to flee to safety.
True to history, Soviet torpedoes strike and sink the ship. Over 9,000 innocent souls – mostly women and children – perish.
Even though the Wilhelm Gustloff is the largest maritime disaster in history, the Titanic and Lusitania tragedies overshadow its story.
Sepetys is one of our favorite Lithuanian-American authors, bringing awareness to tragedies that others have left behind while depicting the effects of war on youth.
YA Baltic books don't get any more poignant than this. Explore more books about Polish history too.

Read Salt to the Sea: Amazon | Goodreads | Review | Discussion Guide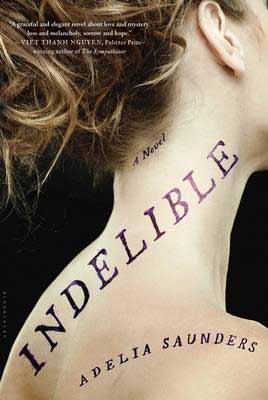 Indelible by Adelia Saunders
Imagine if you knew everything about a person before even speaking to them.
This is the difficult situation that Magdalena finds herself in on a daily basis in one of the lesser-known books set in Lithuania (and Paris), Indelible.
Magdalena sees tattoos on strangers that speak to their pasts, presents, and futures.
Growing up in Lithuania and living in Paris, Magdalena's life intersects with Neil and Richard — two equally hurt and lost travelers seeking out their personal truths.
The story alternates among each of their perspectives.
Richard tries to learn more about his estranged and famous mother. Neil navigates a testy relationship with his father. Magdalena must bring the ashes of her Lithuanian friend to rest.
Notable for Baltic books, Saunders takes readers back into post-Soviet as well as modern-day Lithuania in a commentary about self-discovery and moving forward from tragic histories.
Indelible is truly a magical, slow-burn novel for readers who enjoy books about France and top WW2 books for adults.

Read Indelible: Amazon | Goodreads | Review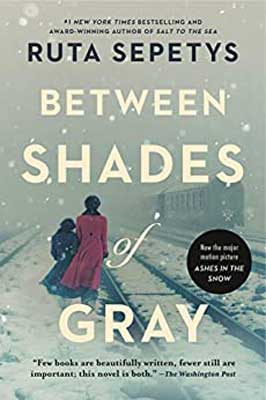 Between Shades of Gray by Ruta Sepetys
Between Shades of Gray is one of the best YA books set in Lithuania about war. We especially enjoyed this one as an audiobook for a medium-length drive.
Like many Lithuanians at the time, 15-year-old Lina is thrown into a crowded train headed for a Siberian work camp along with her mother and brother.
Separated from their father, Lina sends coveted drawings along illegal lines to let her father know that she is alive.
Similar to Salt to the Sea, Sepetys sheds light on the effects of war on youth and civilians. Lina is also a minor crossover character from Salt to the Sea.
Between Shades of Gray is one of the most award-winning Baltic books on this list as a Carnegie Medal nominee, a William C. Morris Award finalist, a Golden Kite Award winner, and an NYT bestseller.
Read more books with the color gray in the title.
And, if you enjoy Ruta Sepetys as much as we do, travel to Spain with The Fountains of Silence.
Read Between Shades of Gray: Amazon | Goodreads
Take The Uncorked Reading Challenge!
Travel around the world with our Uncorked Reading Challenge. Never be late to the party with unique new book releases. Get the latest movie and book lists straight to your inbox.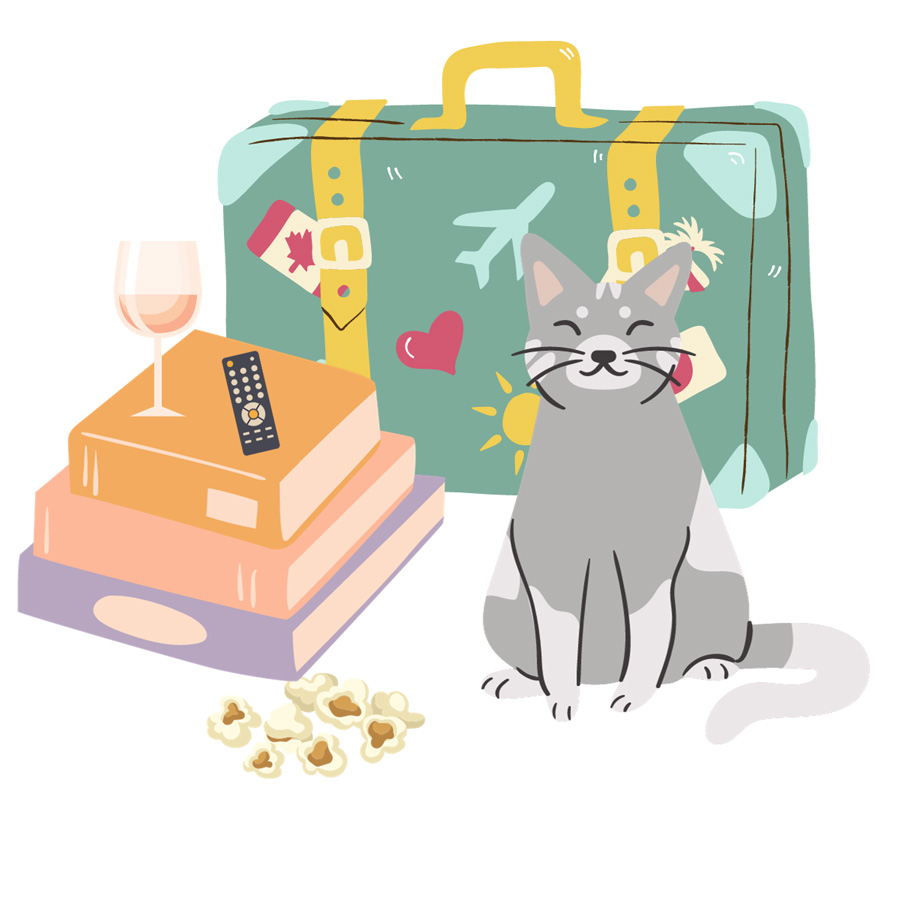 Books Set In Latvia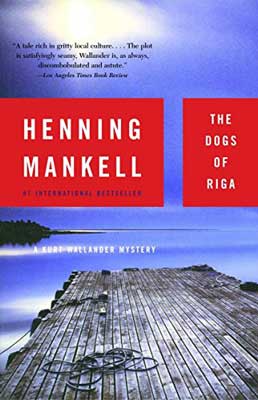 The Dogs Of Riga by Henning Mankell
Translated into English by Laurie Thompson:
Written in the 1990s, The Dogs Of Riga is one of the most suspenseful Baltic books set in Latvia. It addresses post-war Latvia struggling for independence from Soviet Russia in the midst of a murder mystery.
Kurt Wallander, a Swedish police officer, hates living on the edge.
When two bodies wash up on Sweden's shore, Wallander lands in a dangerous murder scenario full of escalating political tension, the drug trade, and cutthroat killings.
Heading into Latvia to solve the crime, Wallander navigates a barely surviving country trying to reclaim independence and a sense of home.
With his own life in danger, Wallander must out the corrupt officials within the Latvian police department. Will he survive?
Although the second of a series, you can read The Dogs Of Riga as a standalone novel. There are only minor references to the first in the series.
Explore more books about Sweden.
Read The Dogs Of Riga: Amazon | Goodreads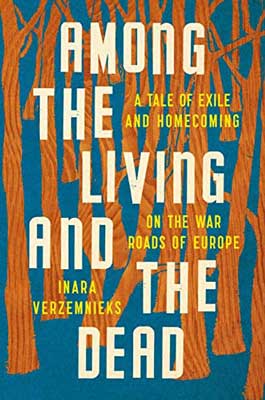 Among The Living And The Dead: A Tale of Exile and Homecoming on the War Roads of Europe by Inara Verzemnieks
For gripping nonfiction books about Latvia, Among The Living And The Dead showcases the stark reality of Latvia during WWII and the remnants of a torn country.
Raised by her grandparents, Inara returns to her grandmother's motherland, Latvia. Desiring to know more about Livija's life as a refugee, Inara seeks answers from her aunt, Asuma's, stories.
As Hitler and Stalin fought for control over Latvia, Asuma and most of the family became exiles of Siberia. The sisters never knew if the other was alive until 50 years later.
Although one of the slower-paced books set in Latvia on this list, witness a land full of ghosts with families who persevere in the name of home.
Read Among The Living And The Dead: Amazon | Goodreads
Books Set In Estonia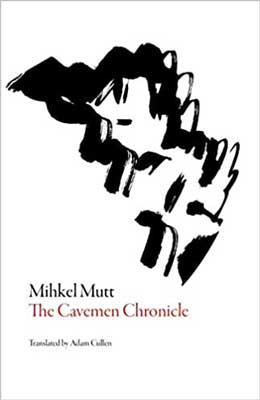 The Caveman Chronicle by Mihkel Mutt
Translated into English by Adam Cullen
The Caveman Chronicle is one of the densest Baltic literature books on this list but also the most thought-provoking; it won't be for everyone (it's a bit of a tedious tome at times).
On the fringes of independence from the Soviets, an eccentric and lost group of artists, writers, and politicians gather at the elite Cave for drinks and conversation.
Although the narrator tells the stories of these misfits like a gossip columnist, The Caveman Chronicle reads more like a dry humor memoir.
Here in the bar, members act as though the Soviets do not exist; while outside, each of their lives is affected by politics, religion, and beliefs.
Through numerous marriages, forbidden friendships, and failed careers we see Estonia try to recover its own sense of nationalism and being after Soviet rule.
Readers learn more about Estonian independence and its effects on this new "free" population.
The Caveman Chronicle is by far one of the most philosophical Baltic books about Estonia you can read.
Read The Caveman Chronicle: Amazon | Goodreads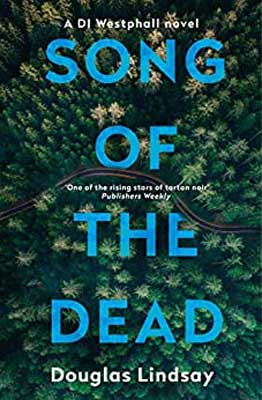 Song Of The Dead by Douglas Lindsay
For thrilling mystery books set in Estonia, Song Of The Dead will transport you to some of Estonia's most popular cities.
Former spy, Ben Westphall, heads to Tallinn and Tartu, Estonia to look into an old case now reopened. Ten years ago, John Baden went missing on his Baltic vacation.
Found dead with correctly matching DNA and family identification, the impossible has happened. Is this man truly Baden?
A victim of torture and having his body parts sold on the Black Market, this "Baden" is in bad shape.
Westphall struggles with the pieces of this mystery, even though he has a strong intuition and sense for lies in peoples' hearts.
With double identities and a surreal feel, Westphall can't separate ghosts from reality.
A somber Estonian murder mystery, Westphall must crack the case before everyone involved meets their untimely demise.
For Baltic books, though, Song Of The Dead has the potential to un-inspire that wanderlust…
Read Song Of The Dead: Amazon | Goodreads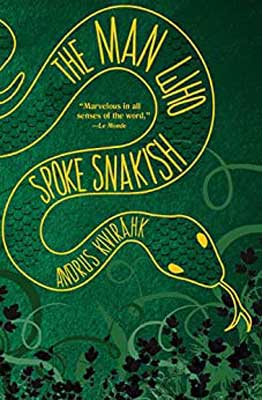 The Man Who Spoke Snakish by Andrus Kivirähk
Translated by Christopher Moseley:
One of the top bestselling Estonian books now popular around the world, The Man Who Spoke Snakish is a folktale-like fantasy about traditionalism versus modernity.
Like The Caveman Chronicle, this Estonian book may not speak to everyone, though.
Young Leemet lives in the forest and understands the ancient tongue of Snakish. Snakish is a dying language used to communicate with animals and nature.
Unfortunately, Leemet is coming of age in a world where his upbringing in the woods falls into conflict with all of the people moving to villages, aka "civilization."
Not quite a Tarzan or Jungle Book story, encounter cheating bears, flying frogs, and of course, talking snakes.
The Man Who Spoke Snakish is Baltic literature that meets fantasy and magical realism.
Read The Man Who Spoke Snakish: Amazon | Goodreads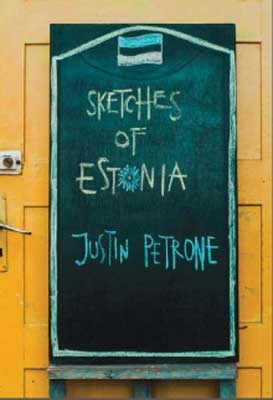 Sketches of Estonia by Justin Petrone
While book hunting at Rahva Raamat in Tallinn's Old Town, we picked up another Baltic book from hilarious memoirist, Justin Petrone: Sketches of Estonia (our Estonian contributors you'll meet below suggested him).
Having lived in Estonia for over 15 years, Petrone pieces together stories about the people he has met along the way.
From surreal Estonian grandmothers to hippies and boozy pals, laugh along with Petrone and his Baltic wanderings as an expat.
Like much expat nonfiction, though, read Petrone's words with knowledge, awareness, and caution.
We picture Petrone as a less-sophisticated Bill Bryson — one of our favorite travel writers — with more booze. Maybe he's Katz…
Read Sketches of Estonia: Goodreads
Books About Estonia From Estonian Contributors, Anne-Grete and Helle-Mari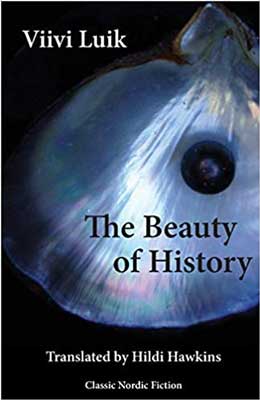 The Beauty of History by Viivi Luik
Translated in English by Hildi Hawkins:
Viivi Luik is a beloved Estonian poet and writer. The Beauty of History is one of the most poetic Baltic literature titles that she has ever written.
Taking place in 1968, learn more about life under Soviet occupation and watch Latvia and Estonia on the brink of independence.
Encounter themes of opposing ideas, including power and freedom, communism and individuality, and common versus the extraordinary.
Estonian books don't get any more beautifully intense and insightful than this.
Read The Beauty of History: Amazon | Goodreads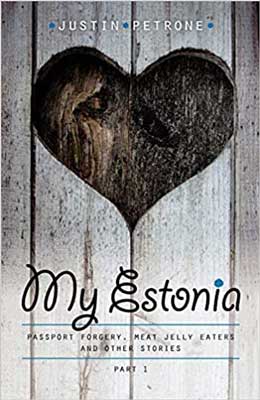 My Estonia by Justin Petrone
My Estonia: Passport Forgery, Meat Jelly Eaters, and Other Stories follows an American man moving to Estonia and falling in love with the country.
He also relocates because he has taken interest in an Estonian woman.
Petrone makes comical remarks about how Estonians behave and cultural quirks that are sometimes difficult for outsiders to understand.
My Estonia is an easy and fun read, especially when planning a visit to the Baltics.
Included is a real story about love but also how to survive in a country where winters are long.
Read My Estonia: Amazon | Goodreads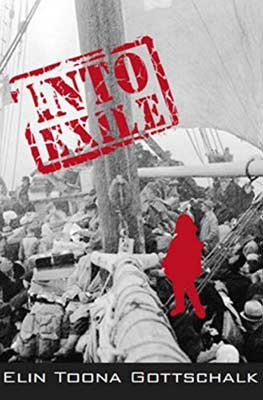 Into Exile: a Life Story of War and Peace by Elin Toona Gottschalk
If you love WWII nonfiction, you'll enjoy this Estonian biography, Into Exile.
Into Exile was first published in English in 2013 and later translated into Estonian. Yet, the author is actually Estonian with Baltic roots.
The autobiography follows a young girl forced to escape Estonia during WWII with her grandmother and mother.
Intimate and delicate, this is one of the most enlightening books about Estonia and the horrors people faced during the war.
Read Into Exile: Amazon | Goodreads
Grab your favorite Baltic books set in Lithuania, Latvia, and Estonia:
Save Your Favorite Books Set In The Baltics For Later: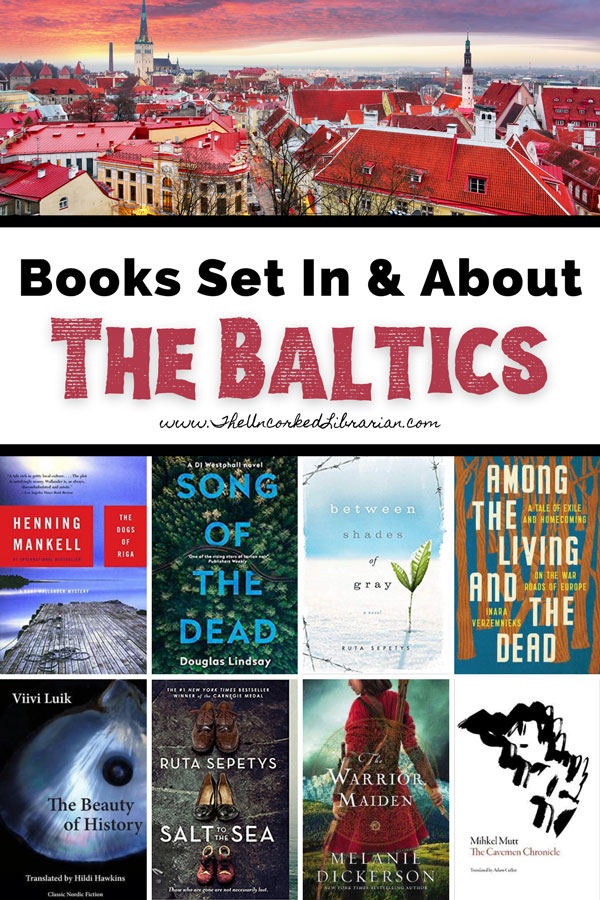 What are your favorite books about the Baltics? Have you visited Lithuania, Latvia, or Estonia?
We loved road-tripping around the Baltic States. Vilnius, Lithuania houses an entire street dedicated to its writers, authors, and poets.
Riga, Latvia is home to a 10-story library known as the Castle of Light — it's utterly stunning to visit. We also met up with two of our writers here, Dagney and Jeremy.
And of course, most have heard of Tallinn, Estonia with its historically gorgeous buildings; however, we also loved lesser-known Parnu, an Estonian shore town and local vacation spot.
Before heading to the Baltics, we enjoyed reading books to learn more and transport us there — fiction and nonfiction.
Have you read any of the Baltic books above? Have you visited any of the Baltic States?
What are your favorite books set in Lithuania, Latvia, and Estonia? Let us know in the comments!
A Thank You To Our Local Contributors
Anne-Grete
Anne-Grete is a researcher working in the Netherlands. Books and traveling are big passions of hers. However, she also enjoys cooking, tennis, and spending time with friends. Lately, books are invading Anne-Grete's life in all ways imaginable and she is loving every second. Anne-Grete's huge dream is to connect her everyday life and work with books and reading.
Helle-Mari
Helle-Mari is an Estonian high school and literature teacher. She passionately loves her job. Helle-Mari notes that she has loved reading since she was little. As a very curious soul, she always has multiple and competing hobbies: Right now, Helle-Mari also loves nerdy geocaching, playing tennis, visiting art galleries, and just people watching with cocktails in cafes.
Baltics Posts You May Also Enjoy:
7-Day Baltics Itinerary
Meet The Glass Castle: The National Library of Latvia
Discover the Baltics for Book Lovers
Check out our favorite Baltic city, Parnu
More European-Based Book Lists:
Polish Books
Books About Ukraine
Icelandic Novels As Beautiful As The Northern Lights
Books Set In And About Switzerland
Books Set In Italy
Head To Norway With These Books
Greek Books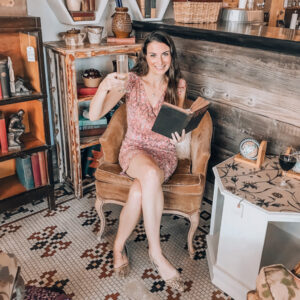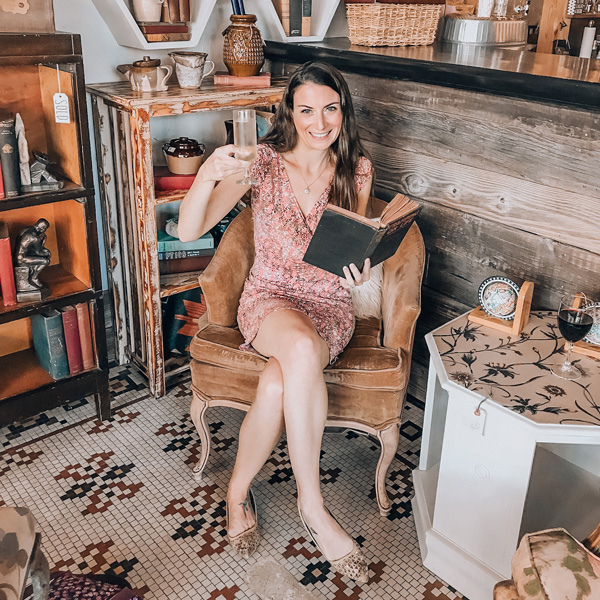 Christine (she/her) is the owner, lead editor, and tipsy book sommelier of The Uncorked Librarian LLC, an online literary publication showcasing books and movies to inspire travel and home to the famed Uncorked Reading Challenge.
With a BA in English & History from Smith College, an MLIS from USF-Tampa, and a U.S. Fulbright Fellowship in Christine's back pocket, there isn't a bookstore, library, or winery that can hide from her. Christine loves brewery yoga, adopting all of the kitties, and a glass of oaked Chardonnay. Charcuterie is her favorite food group.