Scream across the globe with the best Thai horror movies to watch right now across your favorite streaming stations.
Get ready to enter the haunting world of Thai horror films, where chilling suspense and dark narratives are showcased on the big screen.
Renowned for their captivating psychological tension and supernatural elements, Thai horror movies have captured the souls of audiences worldwide.
Directors like Banjong Pisanthanakun, whose hit film Shutter sent chills down spines – and Pee Mak, which showcased the tale of a famous legend – have propelled Thai horror onto the global stage.
These terrifying Asian horror films often incorporate traditional Thai folklore along with ghostly apparitions and demons that will haunt you long after the credits roll.
So, get ready to spend ominous nights inside getting hooked on Thai horror cinema filled with masterful – and sometimes humorous – storytelling and gory graphic effects. We are including a few romances too.
Just watch with awareness as some of the scariest Thai horror movies contain suicide, body horror, and more. Let's get started!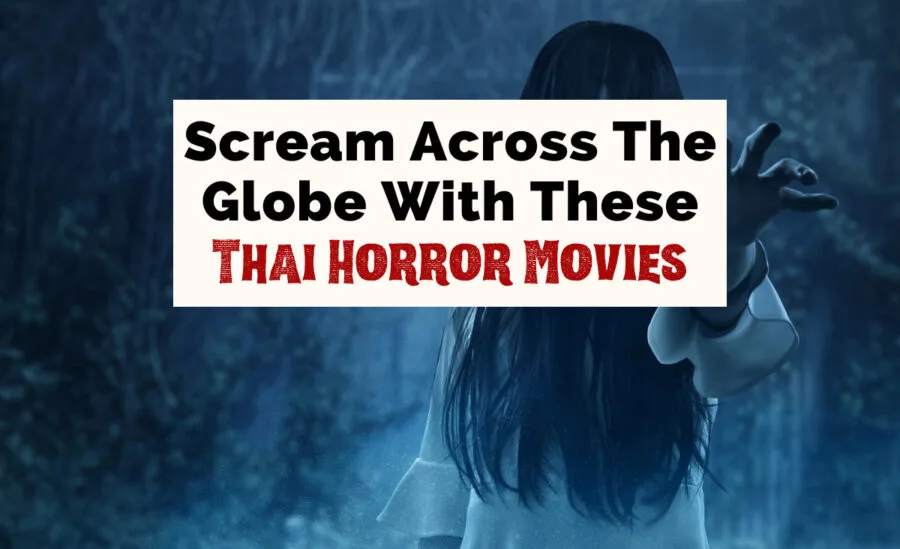 Grab the best Thai movies and books here:
Express VPN – Using Virtual Private Networks (VPNs) allows you to view movies worldwide – and they help keep your information safe. Our writers couldn't have such diverse film reviews without a VPN.

Amazon Prime Video – Stream thousands of ad-free movies and TV series on demand with Prime Video.

Audible Plus: From Amazon, listen to Amazon Originals, podcasts, and audiobooks. They add new titles every week.
20 Scariest Thai Horror Movies
1. Shutter (2004)
Have you ever noticed something small yet out of the ordinary that might start to make you paranoid? Only the best Thai horror movies can give you that sense of feeling slightly "off" in such a distinct way, and Shutter is one such cult classic.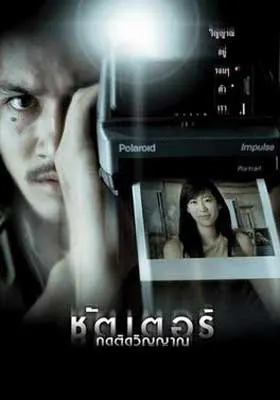 While driving home from a friend's party one evening, Jane and her photographer boyfriend Tun are involved in a severe car accident along with an unknown young woman.
Later on, after fleeing the scene, strange and unsettling events begin to occur; the most noticeable is that Tun starts to see inexplicable shadows and faces in his photographs.
He's also experiencing severe neck pain and appears to now weigh twice as much as he did before, despite looking the same.
Is there an evil spirit following them? Or something else? Just what kind of black magic is this?
This psychological horror is one of the top Thai movies for anyone looking to get creeped out.
Plus, Shutter attributed to director Banjong Pisanthanakun's early success followed by Alone and Pee Mak – both mentioned below.
2. Nang Nak (1999)
Based on one of the most popular Thai ghost stories, this period piece was so scary that director Nonzee Nimibutr visited several Thai temples asking for the goodwill of the spirits involved. It remains one of the scariest Thai horror movies ever made.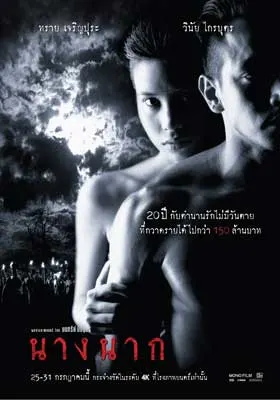 Set in a rural village to the west of Bangkok during the early 19th century, we are shown the tragic tale of Nak, her husband Mak, and their infant son.
Having left behind his pregnant young wife Nak, Mak is gravely injured in the Siamese-Vietnamese war but eventually makes it back home to his family.
However, after arriving back in the village, Mak finds that the villagers are treating his wife and child with open hostility and wariness.
Rumors among the community are that there is something wrong with Nak, yet no one will tell Mak exactly what they mean.
But after a while, Mak makes a shocking discovery that will change the fate of his family forever.
For another good movie about this famous Thai legend, be sure to also watch Ghost of Mae Nak (2005).
3. Inhuman Kiss (2019)
If you are looking for unique Thai horror films, learn about one of the most interesting creatures in Thai folklore.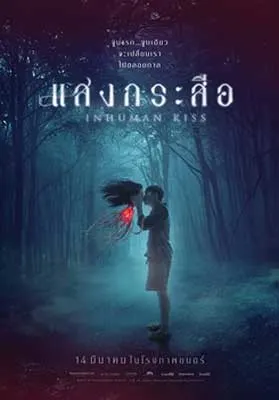 Inhuman Kiss starts with four young friends, Sai, Noi, Jerd, and Ting playing hide and seek in the forest. Sai and Noi hide where a krasue is rumored to live.
As she hides inside a box, Sai realizes too late that there is a krasue inside.
The film then fast forwards to 1940s Thailand when the four are now older teens and WWII is affecting the country. Noi is reunited with Sai and learns that the locals are hunting a krasue.
In Thai folklore, a krasue is a woman who lives a normal life during the day. However, at night, her disembodied head floats around seeking blood, not dissimilar to a vampire.
If this sounds cool to you, you'll love Inhuman Kiss, which is one of the scariest Thai horror movies available.
Watch even more of the best movies in the folk horror genre.
4. Laddaland (2011)
A family hoping for a better life finds their new living situation descending into a surreal nightmare in this prime example of great suburban Thai horror movies.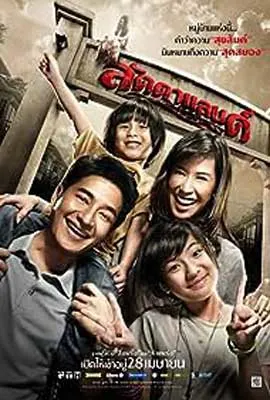 By moving his family from Bangkok to the upmarket Laddaland housing estate, 40-year-old father Thee hopes to solve at least one – if not both – of his family's problems.
First, he hopes to solve all of his financial problems; he's working for a company that sells dietary supplements, and his boss may not be entirely on the same level.
Second, he hopes to repair the relationship with his teenage daughter, Nan, who has become distant and rebellious thanks in part to Thee's disapproving mother-in-law.
But this seemingly quiet town has more than its share of disturbing aspects for each family member.
This psychological horror has plenty of disturbing scenes, including child endangerment and domestic violence, and should be watched with caution.
5. Dorm (2006)
When you're looking for possible settings for the scariest Thai horror movies, it's only a matter of time before you find yourself in a school. And that's the case with Dorm, in which a young, new student finds themselves battling against ghost stories while dealing with their own feelings of alienation.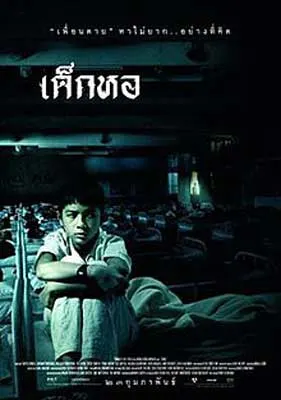 Heading to a boarding school would be daunting for any young child, but for our main character Ton, it's both a challenge and, perhaps, a punishment.
His father says he's there to make sure he studies harder and spends less time watching television. However, it may also be to keep Ton quiet about his father's extramarital liaisons.
As a new face in an enclosed institution, Ton feels distant from the other students. He manages to make friends with Vichien, a similarly lonely boy at the school.
But things get worse when soon he learns of the school's tragic and deadly past, involving the untimely death of a student in the school swimming pool.
Are there really tormented spirits haunting these foreboding corridors? And can anything be done to help them find rest?
In addition to the gripping plot and ghost story, the production design of Dorm – especially the boarding school setting – is something to be praised, as well as the performances of the relatively young cast.
6. The Medium (2021)
It's usually not a good sign when someone appears to be becoming possessed, and even less so when it appears that the entity manifesting itself might not be all too friendly. But once the process starts, the characters in Thai horror movies like The Medium tend to find that it's almost impossible to stop.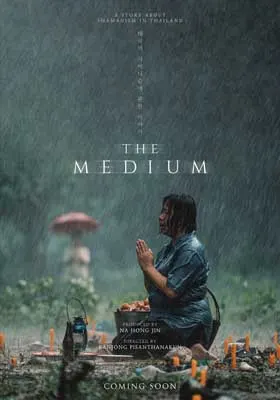 We begin by following a documentary crew, who are heading to a remote village in the mountains of Thailand to interview a local medium named Nim.
Nim claims to be the vessel of the benevolent deity Ba Yan, and the crew wishes to capture some of her less believable actions on film.
However, Nim's niece Mink begins to exhibit highly unnatural behavior, both physical and mental, and Nim believes that Ba Yan has chosen her as the next mortal vessel.
But when things start to spiral out of control, everyone starts to question exactly who or what is trying to take over Mink's body.
7. 4bia/Phobia (2008)
In the style of REC, 4bia (also called Phobia) is a horror anthology movie made up of four interconnected short (and unnerving) Thai horror films.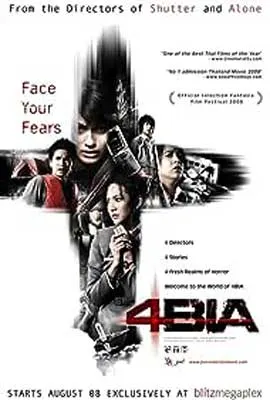 The first story centers around a girl confined to her apartment after a horrible accident.
Bored and lonely, she starts to text a mysterious stranger, only for their exchange to become increasingly weird and uncomfortable.
The second story is a revenge tale about the vengeful spirit of a bullied teen boy seeking payback for the kids who beat him to death.
Third is a story about four friends on a camping trip that goes horribly wrong.
Lastly, the fourth and final story is about a flight attendant who finds herself trapped alone on a plane with a dead body.
If you prefer your horror in small pieces, 4bia is one of the best Thai horror movies for you.
8. Pee Mak (2013)
Having previously talked about a more serious adaptation of the well-known Thai folklore character Nang Nak, we now move from the sublime to the ridiculous with Pee Mak.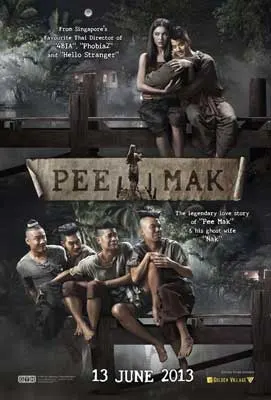 In this more recent retelling of the ghostly legend, Thai horror is now mixed with a healthy amount of romantic comedy.
As per the folktale, Mak returns from being conscripted into war and reunites with his beautiful wife Nak, and their baby boy, Dang.
However, this time he brings with him the four friends he made while off fighting: Ter, Shin, Aey, and Puak. They all try to help out Mak when they discover that his wife may in fact be dead.
Despite the silly hijinks and outrageous, non-period-appropriate hairstyles, there are still plenty of jump-scares and disturbing scenes to keep Thai horror film fans happy.
And, clearly, the formula worked; upon its release, Pee Mak became the highest-grossing Thai movie ever, earning three times the revenue of the previous record holder.
If you looking to learn more about Thailand, including its legends and history, be sure to check out our Thailand reading list.
9. Alone (2007)
Fans of tense psychological horror will certainly find it in Alone. This is also one of the best Thai horror movies about complicated sister relationships.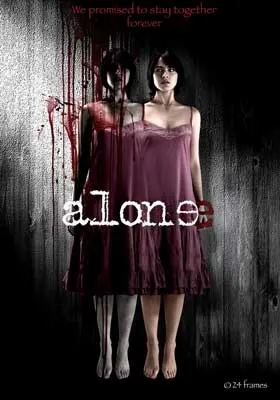 Pim and her twin sister, Ploy, are conjoined at the waist. Because of this, they are exceptionally close and protective of each other.
And though their relationship is not without its struggles, the two have decided they never want to be separated.
But then a disagreement leads Pim to demand an operation doing just that. Tragically, Ploy does not survive.
Years later, Pim has tried to move on from the grief of losing her sister; she is married and now living in South Korea.
When another tragedy pulls Pim back home to Thailand, a series of increasingly strange events leads her to believe she is being haunted by her dead twin.
Is it all in Pim's head as her husband believes? Or is something more sinister and supernatural really going on in this unsettling Thai horror movie?
10. The Unseeable (2006)
A mysterious mansion; a suspicious hostess; a gathering of ghoulish guests; an abandoned pregnant woman; there are plenty of questions in this unsettling Asian horror film.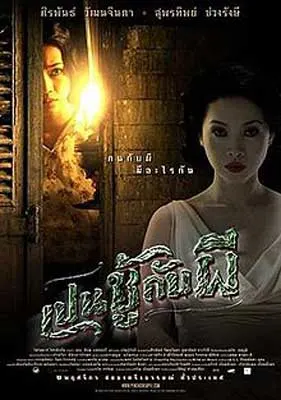 When Nualjan first laid eyes on violin player Chob, it was love at first sight. Before long, they were expecting a child.
However, Chob left for Bangkok and was supposed to return after a few days. However, it's been months and there's still no sign of him.
Taking matters into her own hands, Nualjan heads off in search of him. She finds herself at the doors of a creepy rural mansion, owned and run by the widow Runjuan.
This unusual place is populated by even more unusual people.
Who is the old woman living in the shed? Why does the man dig a hole in the garden at night? And what are those moving shadows?
Watch even more great movies with spooky mansions and haunted houses.
11. Coming Soon (2008)
For something a bit meta and very unsettling, Thai horror movies don't get better than Coming Soon. There are plot twists, jump scares, special effects, and ghosts.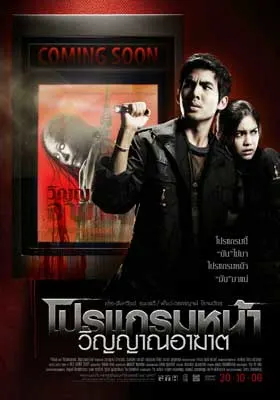 The film opens with a woman kidnapping three children, murdering two of them, and then being hanged by the local townspeople.
But it turns out, this is just a film that many moviegoers are watching at the cinema where a young man named Shane works.
To make some extra cash, Shane also pirates and sells the movies – which he has dutifully done with this new release.
There's something different about this film, though; strange things happen to those who watch it, and Shane is no exception.
Shane starts researching and becomes obsessed with understanding the pull of the film and why it seems to have an effect on people. It might just be based on a true story.
Coming Soon is a fun horror flick with solid acting and some very creepy visual effects. It's easy to see why it's one of the most popular Thai horror films.
12. The Antique Shop (2022)
This mini-anthology plays out like three separate Thai horror movies following similar themes of the supernatural and the malevolent.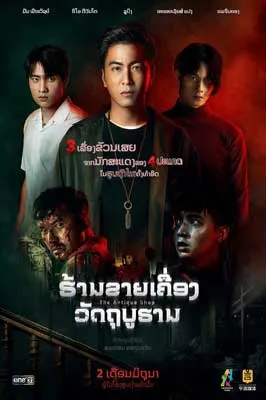 Our first protagonist is Wadi, an Indonesian immigrant to Thailand who unfortunately becomes involved in criminal gang activities.
He finds himself alone and tied to a chair in an abandoned building, only to be visited by the spirits of those who have been tied to that chair before.
Next is Ryan, a Singaporean man who buys a bracelet that eventually lands him in a prison cell, facing up against a mysterious and shapeless evil spirit.
Last is the young Korean boy Song, who decides to invite three of his school bullies to his birthday party, where he plans to take his dark revenge.
If you find that the more extreme Thai horror films are too much for your tastes, this is an excellent alternative.
Like Thailand, Indonesia also makes a plethora of terrifying horror movies filled with legends, ghosts, and demons.
13. The Swimmers (2014)
For a fast-paced, psychological thriller to ease you into the horror genre, The Swimmers is one of the best Thai horror movies.
Tan and Perth are best friends, but also fierce rivals in the pool. And when Tan starts dating the beautiful Ice, Perth can't help liking her too.
Unable to stop himself from falling for Ice, Perth offers to teach Ice how to swim, leading to the two having an affair.
Then Ice finds out she's pregnant. In desperation, she decides to commit suicide rather than confess her infidelity to Tan.
But Ice's death is only the beginning of Perth's nightmare; now he is seemingly being haunted by Ice's ghost, who cannot rest peacefully.
Meanwhile, Tan is searching for the person responsible for Ice's death to exact his own revenge. Haunted by Ice and hunted by Tan, Perth's life is quickly unraveling.
14. The Whole Truth (2021)
The best Thai horror films can be full of twists and turns and supernatural terror, and The Whole Truth is the perfect example of such a film.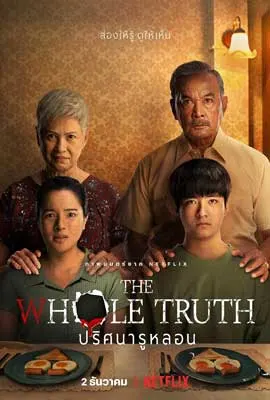 Teenage siblings Pim and Putt live with their single mom, Mai, who works hard to provide for them and has recently been promoted.
But one night, on her way home, she gets into an accident and winds up in hospital.
However, Pim and Putt are just as worried for their mom as they are confused that the person knocking on their door with this news is the grandfather they never knew they had.
Their grandfather, Phong, insists on taking them home to stay with him and his wife until their mom is better.
Already uneasy about staying with strangers, the siblings become even more uncomfortable when a mysterious hole that only they can see appears on the wall of their new bedroom.
Join The Uncorked Reading Challenge Today
---
Travel around the world with the Uncorked Reading Challenge. Get the best book and movie recs straight to your inbox. Sign Up Now.
15. Bangkok Haunted (2001)
Bangkok Haunted is the first film in this trilogy of Thai horror movies in which three young women gather together at a dark and mysterious coffee bar in Bangkok to share ghost stories.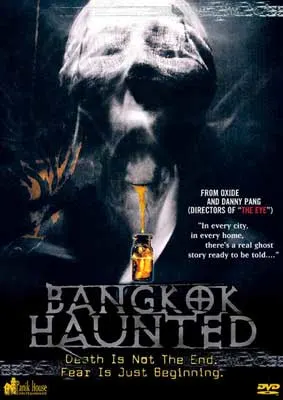 The first story concerns a mysterious drum that appears unexpectedly in an antique shop.
It may be connected to the sad tale of a beautiful dancer who met a tragic fate in the early 20th century.
We then hear about a woman who procures a supposedly irresistible love potion, but who does not know that the ingredients are extremely unsavory.
Lastly, there is a detective investigating what appears to be an open-and-shut case of suicide – who decides instead that there is more to the case and ends up on the road to tragedy.
With atmospheric stylistic flourishes and some clever cinematic techniques, Bangkok Haunted is by turns creepy, disturbing, and at times, a little icky.
16. Home for Rent (2023)
Reportedly based on real life, true events, Home for Rent is one of the best Thai horror movies ever made – and with a cult at its center!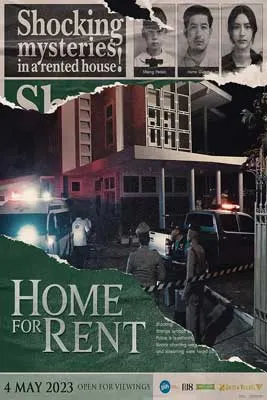 Young couple Ning and Kwin decide to move to a condo with their daughter and rent out their house for some extra money.
However, not long after the new tenants move in, they begin to act strangely, including hanging trinkets that indicate they may be practicing black magic.
When Kwin's behavior also becomes increasingly erratic, Ning really starts to worry.
Fearing for her daughter's safety, Ning is determined to find out just what is happening in their house and put a stop to it before it's too late.
Can Ning save her family, or is her husband already in too deep with the cult? This terrifying Thai horror movie will have you on the edge of your seat until the end credits.
17. 6:66 Death Happens (2009)
In one of the goriest and most gruesome Thai horror films on this list, the natural laws of death and birth are disrupted in a truly disturbing way.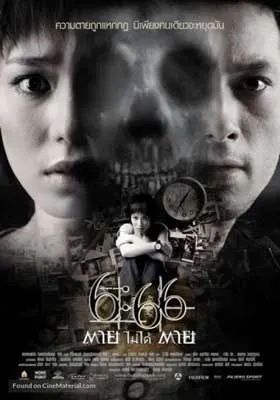 A crime reporter starts to investigate when a series of deaths occur within a few minutes of each other, beginning at 7:06 p.m.
When photographing each of the bodies, she finds that the victims of the various incidents are alive, despite the fact that their injuries should have ensured their demise.
The circumstances get increasingly impossible. Eventually, it becomes clear: the dead are not being allowed to stay dead… and conversely, the newly born are not being allowed to be born.
Life is at a standstill; neither the reporter nor the police officer she teams up with knows why this is happening, or how to stop it.
The special effects in 6:66 Death Happens are on point, with some moments proving a tough watch for those less experienced in Thai horror cinema.
But if you've got a strong stomach for body horror, this could be one of your new favorite non-English language scary movies!
18. Art of the Devil (2004)
A secret affair leads to all kinds of tragedy and bloodshed in this supernatural psychological Thai horror film.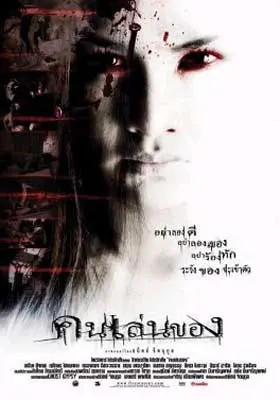 Following a brief relationship with the otherwise married Prathan, young Thai girl Boom learns that she is pregnant.
Upon telling Prathan, he buys her silence with money but then seems to have a change of heart.
Later, it becomes clear that this change of heart is insincere; Prathan not only intends to abandon Boom but he also allows his friends to fully take advantage of her.
Reeling from the many levels of betrayal, Boom hires the services of a shaman to curse Prathan – and the rest of his family – as revenge.
Pretty soon, the dead bodies start to pile up as a series of accidents befall Prathan and his family.
Things become even more complicated, however, when another supposed mistress of Prathan arrives on the scene with her 4 children and tries to claim Prathan's inheritance.
This surprisingly gruesome film shows the perils of losing your way from the right and moral path and the consequences of greed.
19. Siam Square (2017)
If you enjoy stories about urban legends and the teens obsessed with them – and want Thai horror movies that feature just that – Siam Square is the perfect pick for you.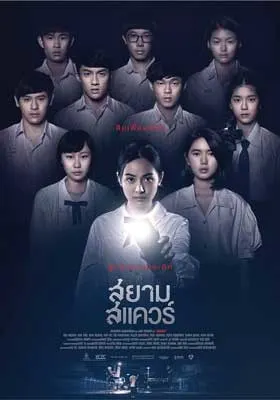 One night while friends May and Jublek are studying at Siam Square in Bangkok, there is a sudden blackout across the entire complex.
Following the blackout, the friends remember a local urban legend – that every time there is a blackout, the spirit of a young girl will appear to take away another person.
May and Jublek, along with several other young students, decide to try to prove whether the urban legend is real.
But as this is a Thai horror film, you can guess that things go horribly wrong. Now, it seems, the friends are being hunted by a vengeful spirit.
20. The Forest (2016)
The line between fantasy and reality begins to blur in this exploration of what it means to face up to the cruel realities of the world.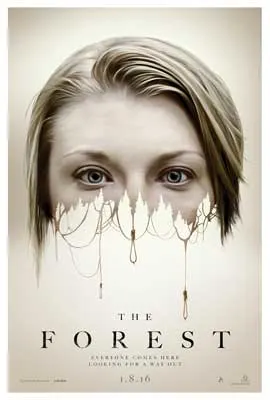 Having left his former calling as a monk, a new teacher ventures to a small rural village in northeast Thailand in order to see the world outside the monastery.
There he encounters a young girl who appears to be completely mute, and who is suffering from bullying from both the other students and her teachers.
In order to escape their torment, she often disappears into the woods, where she discovers a seemingly feral young boy.
But this strange child, who lives in the woods without clothes, tools, or shelter, is well-groomed and speaks eloquently.
As the teacher attempts to help the girl, he himself begins to question what is real.
Fans of mind-bending cinema will enjoy supernatural Thai horror movies like this one.
If you love horror movies set across the globe, you might just scream for these movie lists:
Scariest UK & British Horror Movies – Travel across the UK for some of the scariest movies set in the Scottish Highlands, London, and more. Meet thirsty vampires and terrifying werewolves.


Top Horror Movies Set At Hotels – In the horror genre, hotels are the breeding ground for affairs, secrets, and kidnappings. Watch revenge stories, and run from ghosts.
Grab the best Asian horror movies and books here:
Express VPN – Using Virtual Private Networks (VPNs) allows you to view movies worldwide – and they help keep your information safe. Our writers couldn't have such diverse film reviews without a VPN.

Amazon Prime Video – Stream thousands of ad-free movies and TV series on demand with Prime Video.

Audible Plus: From Amazon, listen to Amazon Originals, podcasts, and audiobooks. They add new titles every week.
Save your favorite Thai horror films for later: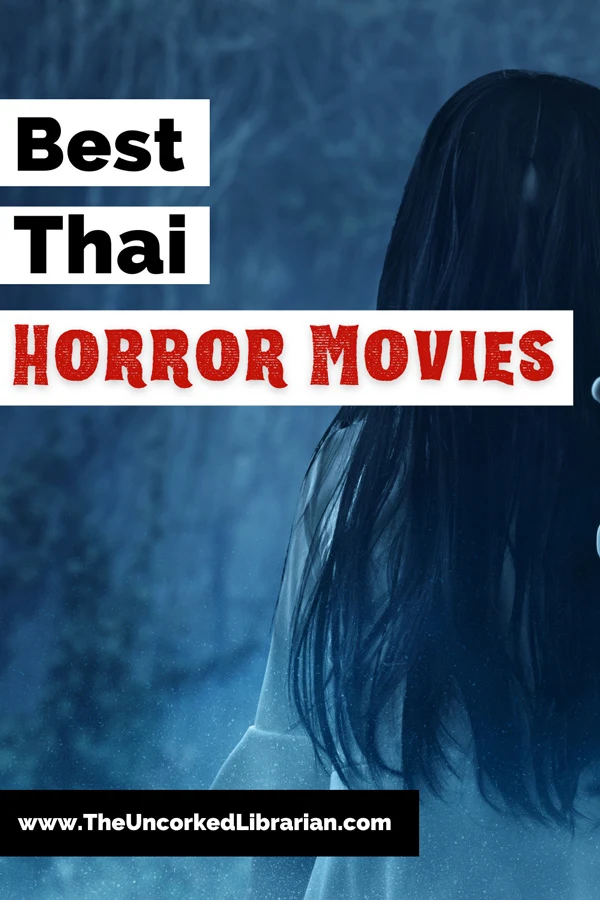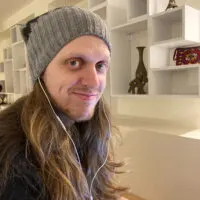 Jeremy (pronouns: any) is an autistic writer, hobbyist, and movie buff, as long as that movie is Labyrinth. Since leaving the corporate world behind in 2018, he has read more books than he thought possible. True to his British upbringing, his first instinct in any given situation is to put the kettle on.