Travel around the world with the best Japanese fantasy movies to watch right now.
If you enjoy Asian movies that transport you to magical lands, you won't want to skip these fantasy Japanese movies.
Find a historical drama and time travel romance along with some of the best animated Japanese fantasy films – some of which are perfect for the entire family.
Watch as our protagonists fight to lift curses, save the world from monsters, and raise magical children.
Many of these movies are unique in their formatting too – with one even mirroring a short story novel.
So, keep reading to uncover our top picks, and be sure to let us know your favorite Japanese fantasy movie in the comments. Let's get started!
Watch even more great movies across Asia.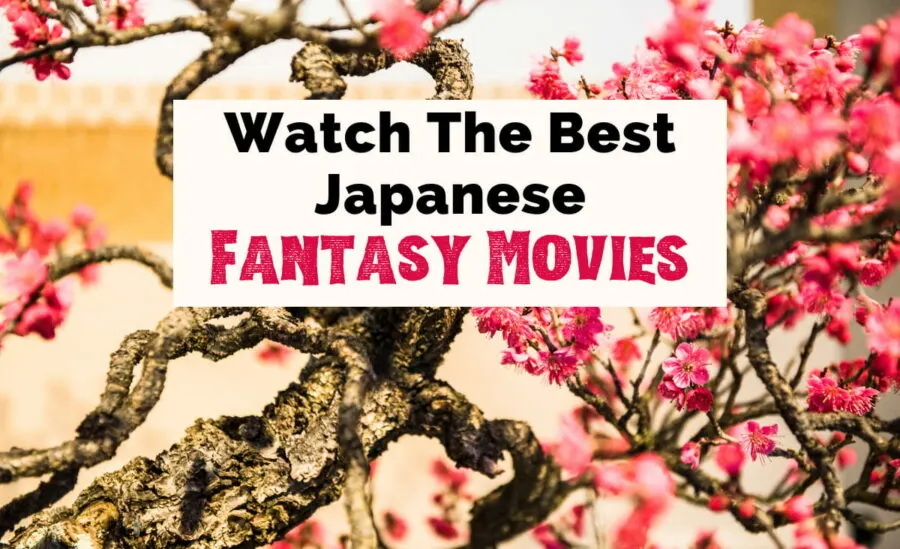 Grab your favorite Japanese fantasy films and books here:
10 Amazing Japanese Fantasy Movies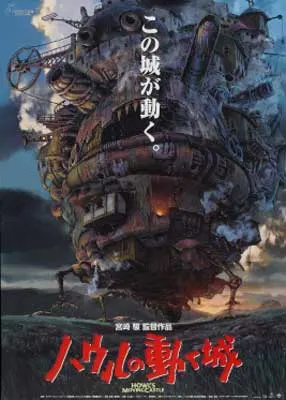 Howl's Moving Castle (2004)
You can't talk about Japanese fantasy movies without talking about Studio Ghibli.
The acclaimed studio has an embarrassment of fantastical riches in its catalog, and Howl's Moving Castle is one of the world's favorites.
After a chance meeting with the infamous magician Howl, young hat-maker Sophie becomes the target of a curse from the unpleasant Witch of the Wastes.
Now, not only does she look far older than she actually is, but she also can't tell anyone what has happened.
She's left with no choice but to track down Howl and his legendary moving castle, where she manages to talk her way into becoming part of the household, albeit as a cleaner.
All she has to do now is get the curse lifted, but war is about to break out across the land.
With a western voice cast including Christian Bale, Emily Mortimer, and Billy Crystal, this is one of the best Japanese fantasy films for families with older kids.
Watch more amazing animated fantasy movies.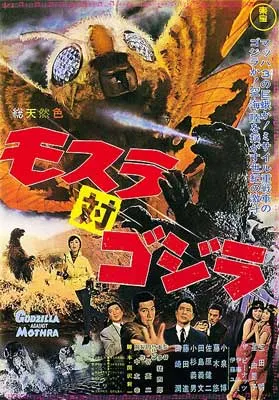 Mothra vs Godzilla (1964)
When a typhoon strikes Kurata Beach, the local villagers discover a large egg in the aftermath.
Journalist Ichiro Saki and his photographer Junko Nakanishi head out to the location, along with the scientist Professor Miura, to investigate.
But when they arrive, they find that the villagers have sold the egg to a businessman named Kumayama, who plans to exploit the egg for profit for his Happy Enterprises firm.
In addition to the trio trying to dissuade Kumayama from using the egg for selfish reasons, small fairies also arrive to try and retrieve the egg.
The fairies are emissaries of Mothra, the colossal insect god whose larvae are inside the egg.
But before a resolution can be reached, Godzilla, king of monsters, awakens and starts to attack!
The Godzilla series of Japanese fantasy movies has a special place in the hearts of Japanese film fans, and this installment is one of the most fun.
Just enjoy this classic creature feature and all of the 1960s special effects!
You may also enjoy these terrific Japanese movies across genres.
Dreams (1990)
Written and directed by legendary filmmaker Akira Kurosawa, Dreams is one of the most surreal and thematic fantasy Japanese movies on this list.
There is no single narrative here; instead, the movie is a collection of 8 short films, much like the visual representation of a book of short stories.
Each tale is inspired by genuine recurring dreams that Kurosawa had.
In one story, an art student enters the world of Vincent van Gogh's art and talks with the artist himself in a field.
During another, a young boy secretly witnesses the wedding procession of a group of fox spirits even though he was forbidden to do so.
There's even a tale of a group of mountaineers, struggling to climb a mountain path during a fierce blizzard, who one by one gradually succumb to the elements.
With striking imagery, vibrant colors, and strong thematic links, Dreams is one of the best Japanese fantasy movies for anyone looking for a stream-of-consciousness experience.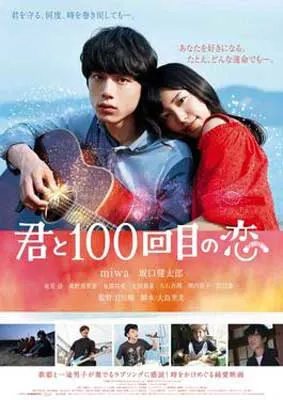 The 100th Love with You (2017)
Ever since they were five years old, Aoi and Riku have been friends, and while studying at the same university, they form a band with other students.
As the band plays together, over time, Riku gets a reputation for being pretty much perfect; he's never rattled and plays with amazing skill.
In the last week of July, their band has a falling out and gives a bad performance at a festival on Aoki's birthday, after which Aoki is involved in a traffic accident.
However, when Aoki wakes up after the incident, she finds that it is the week before. It is then that Riku reveals he can turn back time, which explains his "perfect" nature.
As they begin to repeat the past, the two friends gradually become even closer.
The 100th Love with You is a Japanese fantasy movie romance – with time travel! Laugh, cry, and feel warm and fuzzy with this magical realism gem.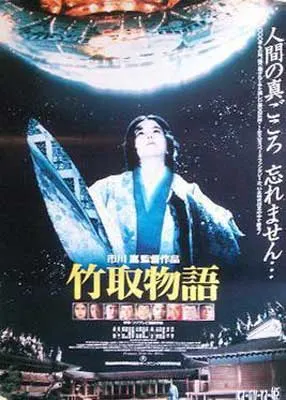 Princess from the Moon (1987)
One day, while visiting his daughter's grave, the bamboo cutter Taketori-no-Miyatsuko finds a newborn baby in the woods.
He and his wife decide to take the foundling into their home, partly to fill the void left by their daughter's early passing and also because the baby shares a resemblance to her.
However, it soon becomes clear that the baby is no ordinary infant, as she grows up much faster than a human child, and soon is a woman of incredible beauty.
Named Kaya, she attracts the attention of plenty of men vying for her hand in marriage, including the Emperor.
But to keep them from marrying her, Kaya sets them a series of impossible tasks.
Based on an ancient Japanese fairytale, Princess from the Moon is a more unusual Japanese fantasy drama.
It's a bit like E.T. the Extra-Terrestrial if it had been set in feudal Japan.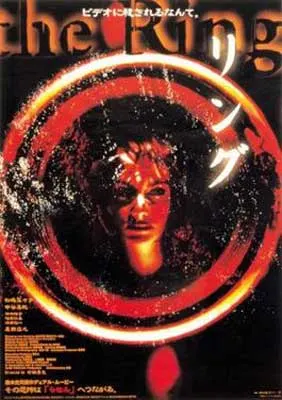 Ringu [The Ring] (1998)
At a sleepover, a group of high school girls starts talking about an urban legend; a video that, after you watch it, you die within 7 days.
One of the girls, Tomoko, says that she watched an unusual video the week before, and then later that evening is found dead, with an expression of unadulterated horror on her face.
Tomoko's aunt, journalist Reiko Asakawa, launches an investigation into her death and into the possibility of the lethal videotape.
Little does she know she's about to descend down one of the darkest rabbit holes the world has ever known – the legend of The Ring.
Before the western remake, Ringu (as it is known in Japan) was one of the most terrifying Japanese fantasy movies you could find.
Today it has a place amongst the most feared, parodied, and cosplayed horrors of all time. Watch at your own peril…
You'll also find the translated novel on our spooky books reading list.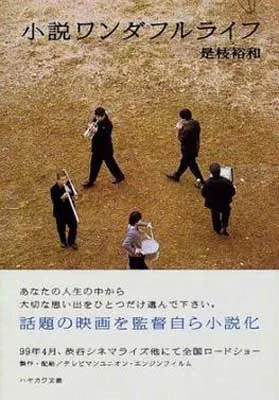 After Life (1998)
In this metaphysical meditation on life and happiness, people who die find themselves at a particular way station styled to look like a mid-20th century social care center.
Here, newcomers are met by workers who help the newly deceased look back on their lives and choose their happiest memory.
The workers then recreate this memory and film it so that the new arrivals will have their happiest memory to spend eternity with.
When a group of 22 newly deceased people arrives, they are a very mixed bunch; some are old, some are young, some believe they have no happy memories, and one refuses to choose at all.
A tender, offbeat take on life after death and the meaning of happiness, After Life is one of the best Japanese fantasy films to deal with love and self-reflection.
Join The Uncorked Reading Challenge Today
---
Travel around the world with the Uncorked Reading Challenge. Get the best book and movie recs straight to your inbox. Sign Up Now.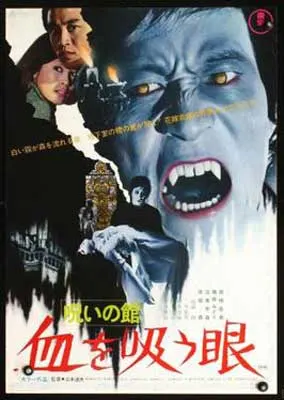 Lake of Dracula (1971)
As a child, Akiko had a surreal experience; she dreamt that she was walking her dog and found herself in a large European-style mansion where she found a vampire.
Years later, Akiko is now an adult and working as a teacher. While speaking with her friend Kusaku, a boat operator, he tells her that he has an unusual shipment: a white coffin.
Soon after, people start to turn up at the local hospital with bite marks on their necks.
Akiko's fiancé, Dr. Takashi Saeki, begins to investigate the matter, and Akiko starts to think that her "dream" was not a dream after all…
Plotwise, Lake of Dracula is not particularly taxing, but if you're looking for fantasy Japanese movies that crossover into European vampire romps, plot complexity should not be a priority.
This gruesome and stylish 1970s horror is exciting, turn-off-your-brain fun.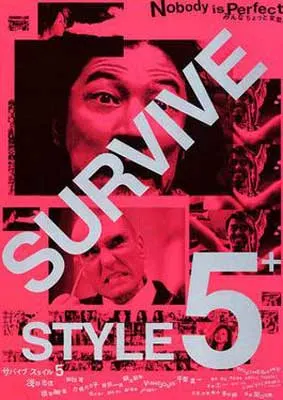 Survive Style 5+ (2004)
This hyper-stylized compilation of interconnected stories takes the viewer on an urban fantasy ride through a surreal world that's not unlike a trip of the mind.
Each group of characters plays out their tales simultaneously with their connections being at times subtle and at other times overt.
A suburban family tries to cope with the fact that the father has been hypnotized to think he's a bird and is trying to learn how to fly.
At the same time, a man keeps on murdering his wife, only to find her alive – and angry – every time he gets back home.
And, a thuggish English hitman weaves his way through each story, yelling at everyone and making sure his translator puts in some work.
Japanese fantasy dramas often benefit from repeat viewing and Survive Style 5+ is no exception.
…Even if it's just to witness the acting talents of former UK footballer turned thespian Vinnie Jones as the menacing assassin.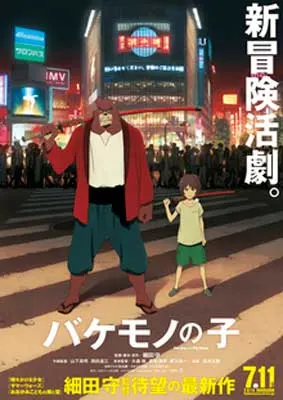 The Boy and the Beast (2015)
Having recently lost his mother and with no knowledge of his father, 9-year-old Ren begins a hard life living on the streets of Shibuya, Tokyo.
However, he is unexpectedly met by a stranger who turns out to be Kumatetsu – a fearsome warrior, and a beast!
Taking Ren back to the Beast Kingdom, Kumatetsu declares that Ren is now his apprentice, and will be learning the ways of the warrior.
Ren and Kumatetsu initially have a quarrelsome relationship, but over time, the two begin to bond in ways neither of them could have predicted.
This is one of the most enjoyable animated Japanese fantasy movies on this list.
The visuals are striking and beautiful, and the gruff-father-and-disobedient-son antagonism between the two main characters is both engaging and delightful.
Where To Learn More About & Watch These Movies:
Amazon Prime Video | Netflix | IMDb | Hulu | Max
Save These Fantasy Japanese Movies For Later: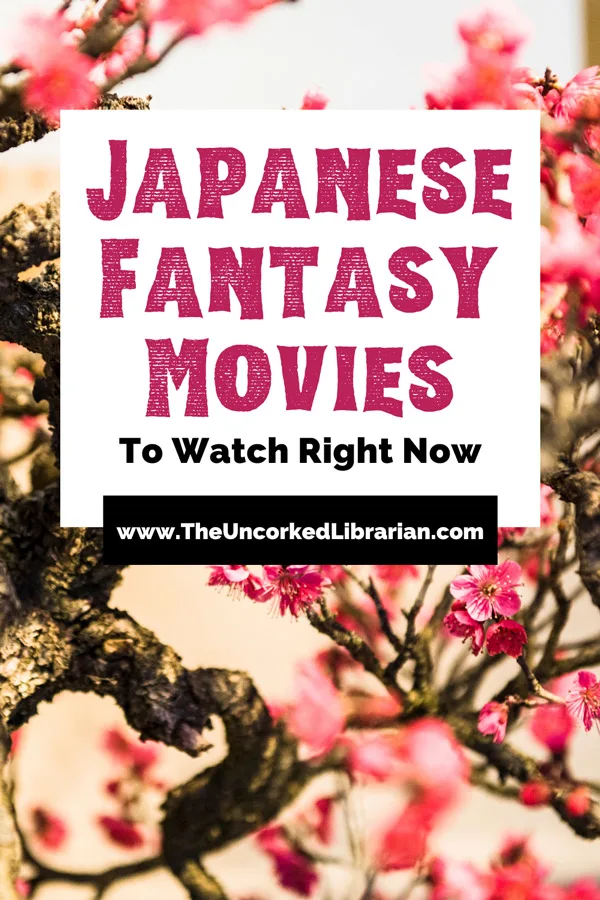 Grab these Japanese fantasy films and books here:
What is your favorite Japanese fantasy movie?
Do you have a favorite Japanese fantasy drama? How about a favorite fantasy romance or historical fiction movie? Let us know in the comments!
You May Also Like:
This movie list also pairs well with Winter 2023 Uncorked Reading.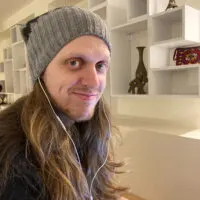 Jeremy (pronouns: any) is an autistic writer, hobbyist, and movie buff, as long as that movie is Labyrinth. Since leaving the corporate world behind in 2018, he has read more books than he thought possible. True to his British upbringing, his first instinct in any given situation is to put the kettle on.